The time had come to make what was my now annual trip to the auditorium of the Hauppage High School, located in the rural centre portion of Long Island, some forty odd miles away from the seething and exciting metropolis that is Manhattan. The hall is large and capable of seating of around 1600 people - indeed it was announced from that stage that again over 3,000 people will pass through the doors at this festival. The sight lines are excellent as are the acoustics. It was just like participating in a Hollywood movie.
I had no problems with anticipating that the standard of Volume Eight in this on-going series would be up to previous standards and so it duly turned out to be. What unraveled before both my eyes and ears was a marvelous weekend of music with around thirty acts appearing. The majority was from the immediate tri-state area and ranged, with a couple of exceptions, from excellent to downright brilliant. Most appearances were limited to two or three numbers and this made for fast moving shows. Atmospheric is an ideal way to describe the overall happenings and, musically, it was superb.
Saturday, 24th April 2010
The proceedings opened up with a fitting tribute to the late Johnny Maestro with a projected picture display, accompanied by snatches of relevant records. Bobby Jay and Cool Bobby B then took the stage and introduced the house band (and back up vocalists) Pure Gold from Pittsburg. This collection of musicians and singers were to back up the vast majority of the artists during the next two days. The festival proper kicked of with a strong performance from the Excellents Their harmonies on 'Here I Am' were great and this was followed by 'You Baby'', the flip to their calling card and close-out number, the classic 'Coney Island Baby'. During this number, there was a back drop montage of photographs of the group and of Coney Island, both being taken around the time of recording this song. This had been a corker of a show opening act.
After a brief appearance by New York area radio legend Don K. Reed, it was the turn of The 3 Friends featuring Joey Villa to present their wares. Joey had also been the lead singer of The Royal Teens and thus we were treated to both 'Believe Me' and 'Short Shorts' in a humorous and entertaining manner. Joey announced that he had been the lead singer on both of the foregoing. With regard to 'Short Shorts', this may be a case of history being rewritten as I had, for a long time, understood that when the Royal Teens laid down this monster hit at the Bellsound Studios, 1650 Broadway, New York City in 1957, it was drummer Tommy Austin providing the whistle, Billy Dalton mimicking this on guitar, and saxophonist Billy Crandal declaring 'Man dig those crazy chicks.' With Bob Gaudio pounding the keyboards, it was left to Diana Lee and another femme singer to respond with the answer lines from the aforementioned guys on the recording. Whatever, Joey still possessed that magic, especially on the concluding song 'Blanche' from his days in The 3 Friends, truly haunting vocals.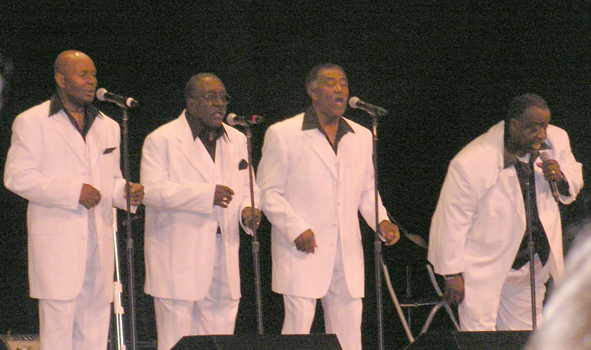 The Heartbeats
Then came one of those all time musical memories with Arlene Smith (backed up two attractive girl singers) taking the stage and, seated, sang her heart out on 'He's Gone' and 'Maybe'. Arlene had been the original lead singer of the Chantelles and showed that she still had that haunting, almost ethereal, quality in her voice. This was like going back to the fifties, it was that good. The Heartbeats were the next act to appear and it was straight into their answer song (to the Silhouettes) 'I Found a Job', a great rockin' work out. With an original Heartbeat now handling the lead vocals this time around, we then had 'Down On My Knees' and the truly awe inspiring 'A 1000 Milles Away. The vocals had been spot on and the routines were a delight to the eyes. Then came The Four Preps who served up a mixture of medlies and straight songs. In all honesty, I found this performance rather middle of the road and, whilst there were good harmonies, it was only with 'Big Man' and '26 Miles (From Catalina)' that any sparks flew.
All was redeemed with a sparkling show from Harold Winley's Clovers. The vocals were spot on and the stage routines were delightfully coordinated as we were treated to great readings of 'One Mint Julep', 'Devil Or Angel' and a wonderful 'Love Potion No. 9'. I certainly could have done with a longer spot from this great group. After a quick band change-over, it was time for The Demensions complete with their own musicians. It was very professional readings of 'Zing Went The Strings Of My Heart' and 'My Foolish Heart' plus a spell binding performance on their biggie 'Over The Rainbow'. It was good to see this group again and, indeed the same can be applied to Cleve Duncan, this time appearing as a solo singer without the rest of The Penguins. Looking ridiculously young, that voice still had its haunting edge and it was another set of magical musical moments with 'Love will Make Your Mind Go Wild', Memories of El Monte' (which had been an early composing effort from the pen of Frank Zappa) and the doo wop classic 'Earth Angel'. Spell binding stuff and over all too soon.
One of the many highlights of last year's show had bee the recreation of the Battle of the Groups between The Paragons and The Jesters. This success was repeated again for this festival. The Paragons were up front with 'Let's Start all Over Again' whilst The Jesters performed a series of great dance steps behind them. Then The Jesters took centre stage with 'The Wind', and it was the turn of The Paragons to work out their routines behind them. This was repeated for another couple of numbers, truly entertaining, with the whole show being a knock out. Then came long serving vocal outfit The Harptones. Without doubt, they were popular with the audience but, for myself, they left me cold. Not sure what it was, maybe the inclusion of two Tamla Motown numbers which to me were way out of place, or the smooth vocals which were harmonious but lacked that spark. Jimmy Clanton followed and opened up with 'Go Jimmy Go, followed by 'A Lover's Question', 'It's All n The Game' and 'Since I Met You Baby'. It was puzzling that he took on other artists song when he has such a strong back catalogue of his own. However, he did close out with his own 'Just A Dream' and 'Venus In Blue Jeans' - all in all, an okay performance but which failed to really ignite.
Much the same can be said about the next act, The Students. They cam complete with their own six piece backing band and had the original bass singer handling the lead vocals and this should have taken off like a rocket. Sadly, this line-up's treatment of 'My Vow To You' and 'I'm So Lonely' stalled on the launch pad. . All was redeemed with The Bobettes who launched into 'Look At The Stars' in a heavenly manner (if you will excuse the pun). Following up with 'I Love You So' and their renowned 'Mr. Lee', it was over all too quickly with 'I Shot Mr. Lee'. This had been a great set of sparkling vocals from the four ladies who clearly knew their stage craft and blended in an element of humour. The close out act for Saturday was the legendary Fred Parris along with a line-up of The Satins that contained another two original members. As befits a man with his classic reputation, he also carried his own band for this performance. Fred's vocals were oh so wonderful and the Satins were pretty marvelous too, as were the backing musicians. In this set, we had 'To The Aisle', 'The Jones Girl' and ''In The Still Of The Night' amongst others. Normally, I have an intense dislike of medlies but in this act's capable hands, it worked like magic. Truly breathtaking stuff!
On both nights, prior to the shows commencing and during the interval, several of the acts appearing had set up stalls in the main corridor for the purpose of signing autographs, chatting with the fans and selling photographs and CDs. All were most approachable and this served to enhance the already great buzz and air of friendliness that existed.
I retired back to my hotel a tired but very fluffy bunny.
Sunday, 25th April 2010.
Gathering again at Hauppauge High School, but this time in mid-afternoon as opposed to early evening, it was hot but inside the music was about to make things even hotter. After a brief set by the vocalists of Pure Gold, Jimmy Stevens was the first of the named acts to appear. He was, of course, the lead singer for The Safaris and he demonstrated that he still has a great set of vocal tubes and really knows his stage craft. Jimmy started with the Pentagons 'To Be Loved', carried on with a slightly incongruous 'Teenager In Love' in view of the mature audience and closed out with 'Image Of A Girl'. This was good stuff but a festival highlight was to happen next. Sonny Til's Orioles, lead by Diz Russell who has been an Oriole since 1954. They tailored their set oh so brilliantly with a rockin' 'Baby Please Don't Go' along with the smooth but very professional harmonies of 'It's Too Soon To Know' and a superb 'Crying In The Chapel'. This was a killer set form a top group, more Mr. Promoter please. The likeable Carl Dobkins Jr. then took centre stage and served up a mixture of of hits such as a medley of 'Chantilly Lace/Party Doll/Whole Lotta Shakin' Goin' On/Blue Suede Shoes' along with his own 'My Heart's An Open Book'. One of the favourites at this festival is the young Kid Kyle, and it is so easy to understand his popularity. He has a great voice, knows how to use the stage and has undoubted audience appeal. Surely, it can only be a matter of time before he breaks through to making it really big? His set included a sincere tribute to Johnny Maestro and a great work out on 'Why Do Fools Fall In Love'.
The Jive 5
The very attractive Dodie Stevens, along with her equally attractive daughter Stephanie, followed and opened with the rockin' 'I'm Walking' and a tasty version of '(Remember) Walkin' In The Sand'. These two ladies have first rate singing voices, were bright and breezy and knew how to entertain. The highlight of their short set was 'Pink Shoe Laces' , I certainly could have done with more. Dressed in bright red suits, it was now time for another classic vocal group in the form of Eugene Pitt and The Jive 5. The spot on vocals and brilliant choreography were evident from the opening bars of 'What Time Is It' through 'I'm A Happy Man' to the legendary 'What Time Is It'. This was oh so professional and Eugene was in powerful voice mode, truly spell binding. Their show concluded with 'Goodnight My Love' to rapturous applause. Another regular on this series of doo wop shows is The Classics lead by Emil Stucchio, and also featuring the lovely voice of Teresa McClean. They made their customary entrance from the rear of the auditorium to the stage singing 'Hold Me, Thrill Me' and once in front of us, proceeded with 'The Heart Of Rock 'n' Roll'. Stucchio has a great voice but McClean nearly overshadowed him with a great reading of 'Til'. The harmonies on their biggie 'Til Then' were great.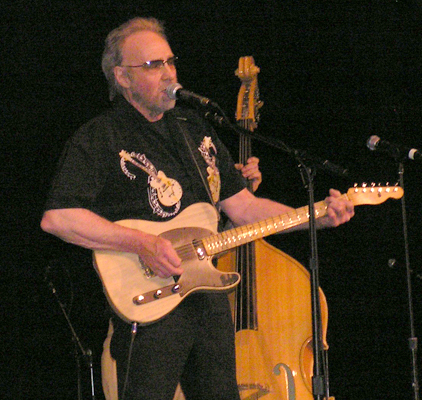 Jack Scott
When he appears in Europe, Jack Scott, along with his band The Top Rankers, is used to playing a 90 minute plus set and it is always one of the great rock 'n' roll performances that one could hope to catch. For this New York appearance, he opened with 'Baby She's Gone' and quickly followed with 'My True Love' and Geraldine'. Again, yet another to notch show was evolving. He proceeded onwards with 'What In The World's Come Over You' and a really great 'Burning Bridges'. This was rock 'n' roll music of the highest standard. Scott appeared to be settling in for the night but after a version of 'Old Mountain Dew', compere Bobby Jay appeared on stage and abruptly bought the proceedings to a halt. Shame on him but understandable as there were plenty of other acts readying to take their turn on the stage.
The Hauppage shows are known for featuring quality girl groups and the next act, The Chiffons, aptly complied with this description. Lead by original lead singer Judy Craig and accompanied by her daughter and niece, this was a tasty nostalgic trip to the days of the girl group era of the early to mid sixties. We were treated, and that is the correct word to use, to sparkling versions of the Chiffons greatest hits in the form of 'One Fine Day', 'Sweet Taking Guy' and 'He's So Fine'. Appearing as a duo, Eddie Hodges Paul Peterson were the next to appear. They each sung a couple of their American hits and chatted about past experiences.
Show business veteran Diamond Dave Somerville then took centre stage. Looking in great shape, he knocked out 'versions of 'Why Doo Fools Fall In Love', 'The Stroll' and 'Silhouettes' which were, of course, hits when he lead The Diamonds. He then played us a snatch of Elvis Presley learning the words of 'Little Darling' whilst listening to the Diamonds hit version. Somerville closed out his spot with by then singing the song in full. All in all, another enjoyable piece of nostalgia.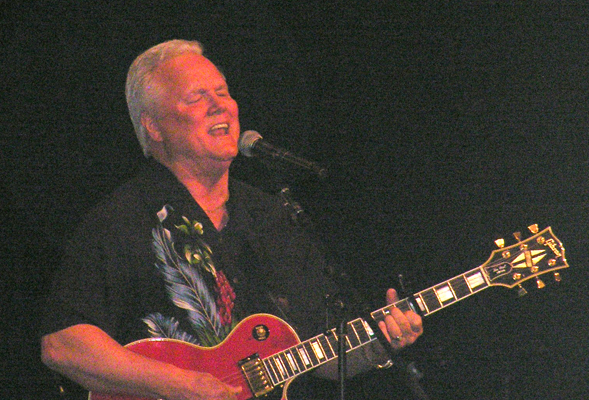 Robin Luke
Maurice Williams and The Zodiacs were scheduled to appear but Maurice was forced to cancel due to ill health. Taking his place was the great Robin Luke and, for yours truly, this was another festival highlight. Still currently pursing his successful academic career in Missouri, there again was no sign of stage rust as he confidently launched into and a great interpretation of 'You Can't Stop Me From Dreaming' followed by a real rockin' 'Everlovin', - he had the original of this song and passed it over to Ricky Nelson. All through this set, he demonstrated that he still possesses a great singing voice, has that magical stage presence and is a first rate rhythm guitarist. He closed out with his number that has become a rock 'n' roll standard, namely Susie 'Darlin'. Simply put, this had been musical excellence. Then it was the turn of Charlie Thomas' Drifters, a line up with pedigree as Charlie had been with The Drifters in the sixties. . They were oh so polished with 'On Broadway', 'Sweets For My Sweet', 'Up On The Roof' and 'Under the Boardwalk'. I understand that Charlie and his set of Drifters have a full appearance schedule and based on this professional show, that is easy to understand. The harmonies were spot on, as were the stage routines.
Taking centre stage after them was Jimmy Beaumont & The Skyliners who remain a class act. Jimmy, along with Donna Groom, Nick Pociask and Dick Muse featured four of their biggies, 'Pennies From Heaven', 'This I Swear', 'My Lonely Way' and the haunting 'Since I Don't Have You'. The last mentioned sounds as fresh today as it did way back when. Sadly, it was time for the final act of the festival to appear, and as is the custom, it was the New York Legends Kenny Vance & The Planotones. Apart from Kenny, the band consists of guitarist and singer Johnny Gale, Kurt 'Frenchy' Yahjian and Jimmy Bense on back-up vocals plus the unique Planotone walk, Chip Degaard on keyboards and Tony Galliono on drums. This is a tried and trusted line-up who can read each other in an instant and so each show that I have seen comes across as near perfection. The excitement developed in layers as they opened with 'Come Go With Me', 'Hey Baby' and 'Those Oldies But Goodies'. In their routines, there is an element of humour accompanied by splendid musicianship and superb vocals. One could not ask for more. They proceeded onwards with 'Angel Baby', their calling card song 'Looking For An Echo' before closing the eighth doo wop festival with 'Oh What A Nite'. There simply could not have been a better act to finish this superb musical gathering.
Totally recommended to anyone who enjoys good music performed well and who has rock 'n' roll blood coursing through their veins. I hope to get back for the event next April and it is recommended that one either keeps a watching eye on the web site www.larentr.com or calls telephone number (631) 587 3565 or writes to LAR Enterprises Inc., PO Box 340, West Islip, NY 11795 for further details. You will not be disappointedÉ
© Tony Wilkinson
May 2010.

Page Posted October, 2010