SPONSORED LINKS:

Shaun Mather's
SONG OF THE WEEK
2008
Rockin' Song of the Week - Number 53
Johnny Burnette and the Rock 'n' Roll Trio -
Tear It Up (live)
Wins LP 1010 / Hydra BCK 27110
I'm not sure what the world record is for using the word legend in one sentence but you could slip the world into so many places in the following. This live track comes from the Johnny Burnette Trio, from the Paramount Theatre in New York in the summer of 1956 with an introduction from the mc, Alan Freed. His show band play alongside the trio, among their ranks, Panama Francis, Big Al Sears and Sam "The Man" Taylor. Anyone who doubted Paul Burlison's ability will be blown away by his playing, including a pepped up intro. I can only imagine what it must have been like to be there, as JB and his southern boys gave the Big Apple kids a taste of manic southern rockabilly. The sound quality is excellent, but not clear enough to hear much from the brass department! Who needs sax when the Trio can play like this. The screaming girls and the storming beat make this more exciting than Coral managed to capture. A breathtaking performance.

Shaun Mather
September 2008.



Rockin' Song of the Week - Number 52
Hot Rockin' - One More Star
Foot Tapping Records
Hot Rockin' front man Porky is a legend. Larger than life, he has a wonderful voice that although at times can sound a bit flat, it has a delightful soulfulness. As readers of my page will know, I loved his version of the early 60's Elvis song, Angel, which was so much better than the original. A song I've been playing to death lately comes from an earlier album, One More Star, a tribute to Britain's finest, Billy Fury. The lyrics incorporate some of his song titles to a backing that at times sounds like Fury's Cross My Heart. Guitarist Chris Finn should take some credit for some apt picking that echoes the early 60's era. A heartfelt tribute that is one of the best of this type, up there with Carl Perkins' EP Express and the Stray Cats' Gene And Eddie.

Recommended downloads: No Heart To Spare, Suzie's Got A New Hairdo, the western flavoured Lowdown in El Paso and a pepped up version of Jack Scott's My True Love.

Shaun Mather
September 2008.



Rockin' Song of the Week - Number 51
Los Raw Meat - Shots!
Sleazy Records
This manic Spanish quartet are a more potent Barcelona foresome than Eto'o, Henry, Messi and Ronaldinho ever were. Oscar Novell is a wild vocalist, Marti Gallen plays an explosive guitar and Alvar Costache and Juan Garces maintain a formidable rhythm. Shots! Is a modern day classic, a relentless bopper full of energy and menace. The chorus is full of hiccupy vocals with loads of chuggin', scratchin' pickin'. If you like Runnin' Wild's Killer Taco Stomp (who couldn't?), you'll love this and their Sleazy LP could be just for you. Whilst the Spanish take the sporting world apart with the tennis, soccer and cycling, their rockabilly bands continue to shine as well.

Recommended downloads: Raw Meat, the boppers Beat of Love and La Puri and the two hot instros Aauuuaaahhh! And Armadillo Hurricane.

Shaun Mather
August 2008.



Rockin' Song of the Week - Number 50
Elvis Presley -
(Let Me Be Your) Teddy Bear
RCA
I don't know what happened here, but last night changed my mind completely about this song. It's always struck me as a bit of a kiddies song that was too cute to be of any substance. That's probably true, but for some reason, last night when it came on my iPod on random play, it just sounded so fantastic.

Elvis' voice is so engaging, it sounds more playful than the teddy bear, and if you forget the Loving You cowboy suit and just enjoy the vocals, I'm sure you'll love it to. Perhaps you do already, somebody did, it sold a million copies. He works in perfect tandom with the Jordannaires for a slice of magic that runs at less than two minutes.

Shaun Mather
August 2008.



Rockin' Song of the Week - Number 49
Ken Craig - Silver Coin
Bertram Int. 45-216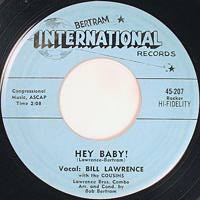 Another artist who has managed to keep below the radar and for all that's known about him I'm probably right in assuming that despite the title, this record didn't make him much silver coin. Craig was serving in the US Air Force at Hickham Field, Hawaii when he cut this for the Honolulu label.

The label might not have been prolific but it did give us Robin Luke and Bill Lawrence's brilliant Hey Baby! From the ass end of the ''50s, Silver Coin is an atmospheric number that has a western feel. It sounds like the soundtrack for a gunslinger movie that would have Glenn Ford walking into the sunset with his pistol still smouldering in his hand.

As far as I know, Ken Craig only had one other release, a duet with his wife Karol from 1961.

Shaun Mather
July 2008.



Rockin' Song of the Week - Number 48
The Upsetters - Baldhead Baby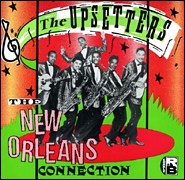 While Little Richard was on a sabatical trying to get closer to God, his backing band the Upsetters were in Chicago getting closer to the Devil. The band were a hardened group of musos who had learnt their trade working the tough club circuit for a couple of years before Dinky Dick called it a day - for a while anyway. Everything with the Georgia Peach was overboard, and that included his jewels once he's seen his message from Above. This left the Upsetters to make a name for themselves. They signed with Vee Jay and used their sax-man Wilbert "Lee Diamond" Smith as vocalist on a couple numbers. Grady gaines was the mainman of a quality band that included drummer Chuck Conner and guitarist Nathaniel Douglas among its throng. Baldhead Baby from '58 is a sax lead rocker with obvious nods to Little Richard and Fats Domino.

Recommended downloads: Mama Loochie, Pig Tails & Blue Jeans, Take It Home to Grandma and two great instrumentals, Jay Walking and Wake Up.

Shaun Mather
July 2008.



Rockin' Song of the Week - Number 47
Dennis Binder - Early Times
Modern 930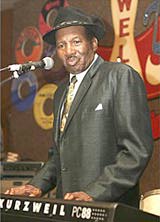 Dennis Binder was a singing piano pounder from Rosedale, Mississippi who'd recorded in Chicago and Memphis in the early '50s. By 1954 he was working with the Delta dynamo Ike Turner and his Kings of Rhythm having apparently ventured into Clarksdale with his band to challenge Ike and his guys to a battle of he bands. I'm not sure who won the battle, but Ike was impressed enough to take Binder into a Clarksdale, MS studio with Jesse Knight, Willie Sims and a twin tenor sax attack of Eugene Fox and Bobby Fields. They recorded a quartet of tracks that had quality stamped on every note. A tribute to Early Times whiskey the song is powered by Ike's boogie guitar riff and the vamping saxes doing the da na na - da na na that was to be all the rage for future show closures. Binder's vocals had that hypnotic, almost lazy feel that was not unlike another Turner frontman, Jackie Brenston. Within twelve months Turner and Binder had parted following a dispute over pay. Ike had bigger troubles down the road, but for the moment he was recording some of the best music in the south, be it tough r'n'b or gut-wrenching blues. Best place to find Early Times is the Rhythm Rockin' Blues: Ike Turner & His Kings of Rhythm CD on Ace (CDCHD553) which showcases the extraordinary work Ike Turner was producing at this time. Binder will be 80 later this year and is still playing, amazingly having his first album released just two years ago. I knew whiskey was good for you.

Recommended downloads: The New Orleans style I Miss You So and the slower call-and-responce barroom baller, You Got Me Way Down here, both from the same session as Early Times. Shaun Mather
July 2008.




Rockin' Song of the Week - Number 46
Don Feger with The Embers -
Look Out Baby
Ebony 103 (Greasy Rock 'n' Roll Vol. 5)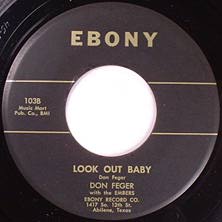 I know next to nothing about Don Feger and what I have gathered has come pretty much from Terry Gordon's awesome Rockin' Country Style website (the photo is also courtesy of the site). Feger appears to have had two releases on the Abilene, Texas label, Ebony. As they also appear to be the only releases on the label, I suppose it's safe to assume that Ebony is a vanity label started by Feger to get his records out there. Look Out Baby is one of those joyous numbers that has the full package of backing vocals, excitable vocals (oh yay-a) and a piano player working his fingers to the bone even though he's so low in the mixx you can almost miss him. I love it, it's everything I love about rockin' music. As it says on the Greasy Rock n' Roll album, "they'll be jiving in the urinals to this one" - can't say better than that.

Recommended downloads: The wonderful drooling vocals on the rockabilly classic, Date On The Corner.

Shaun Mather
July 2008.




Rockin' Song of the Week - Number 45
The Globetrotters -
Rainy Day Bells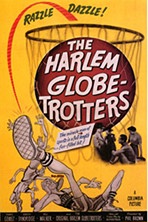 This is a real oddity. When I first heard this track I was blown away by it's happy-go-lucky swing. It's a joyous, romping track that is everything that's wonderful about uptempo doo-wop. I didn't realise that the group, The Globetrotters really are the Harlem Globetrotters basketball team. The sportsmen were enjoying world acclaim with sold out games and even a cartoon series, so to cash in, Don Kirshner (Monkees and Archies) and Jeff Barry were asked to produce an album. Among an album full of rubbish sits the wistful Rainy Day Bells, written as with most of the album by the legendary team of Neil Sedaka and Howie Greenfield. The Globetrotters including Meadowlark Lemon were joined by none other than Sammy Turner and some session singers including James "JR" Bailey. The quality of the song resulted in a single release which resulted in pretty good sales, eventually becoming a "beach music" cult number.
Shaun Mather
July 2008.




Rockin' Song of the Week - Number 44
Edwin Bruce -
Sweet Woman
Sun 292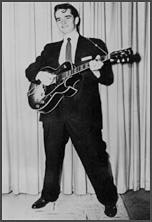 Eighteen year old local memphis boy Edwin Bruce walked into the Sun Studio on 26th January 1958 and gave a commanding performance that belied his tender age. Sounding like a veteran of the rockabilly circuit he impressed Sam Phillips enough to get a release, no mean feat in 1958 when most sessions led to can-fillers. It was a typical Sun rocker with Billy Lee Riley on guitar, Stan Kesler on bass, Jimmy Wilson on piano and Jimmy Van Eaton doing overtime on the cymbol. Unlike some Sun rockers the vocals were rasping and manic, but a calm and laid back - more Carl Mann than Ray Harris. The interplay between the guitars of Bruce and Billy Lee is the songs driving force. He never made it to rock 'n' roll stardom but the ensuing decades were more rewarding once he swapped the pompadour for a cowboy hat. It's hard to believe that the vocalist on his country classics like Diane was the same guy who turned up his collar for Sweet Woman and Rock Boppin' Baby. Then again, the photo of him with his quiff and rock 'n' roll pose is a long way from the weathered cowboy photos with his moustache and stetson. Whatever, his voice is great in either vein and I love his country stuff as well as is all too few rockers.

Recommended listening: Rock Boppin' Baby, Diane, The Last Cowby Song, Mama Don't Let Your Babies Grown Up To Be Cowboys and the great Waylonesque Girls, Women and Ladies.

Shaun Mather June 2008.







Rockin' Song of the Week - Number 43
Ronnie Dawson - Party Town
No Hit Records

It seems hard to believe that there was a life before Ronny Dawson, but it's true. I don't remember being aware of him until the release of the ridiculously brilliant album on No Hit Records which gave us all his early boppers from Do Do Do to Jump And Run. Maybe his songs had come out on compilations but if so they'd never registered with me. As great as those 50's songs were, it was only the beginning. I'm struggling to think of any other artist who came out of that era but produced their premier body of work 40 years later. He sort of reinvented himself and blew away the crowds with some propane fuelled rockabilly that simply scorched like no-one else on the scene. Always employing the best musicians from Lisa Pankratz to Tjarko Jeen his live shows were a sweaty mesmeric affair that were virtually impossible to follow. The best thing was, he made albums in the 90's which were just as good as the live shows, original songs that became as legendary as the man. Part Town is one such number, written by Ronnie and former Planet Rocker Eddie Angel for the sublime Just Rockin' & Rollin' album that Ronnie produced with Liam Watson of Toe Rag Studios and Barney Koumis, owner of the No Hit. This is big sound rockabilly with Angel on lead guitar supported by Ronnie and Tjarko, Naokazu Tone on bass and Bruce Brand on drums. As on most of the album the sound is further enhanced with the vamping of horn-men Alex Bland and Ned Bennett.

Recommended listening: From the early days there's Rockin' Bones, Who's Been Here, Do Do Do and Action Packed to start with. From the second coming there's pretty much anything on the Just Rockin' & Rollin' and Monkey Beat albums including the title songs, Mexigo, Roadhouse Rock, a great interpretation of Ghost Riders In The Sky and my favourite, Veronica. Shaun Mather
June 2008.



Rockin' Song of the Week - Number 42
Johnny Cash -
The Ways Of A Woman In Love
Sun 302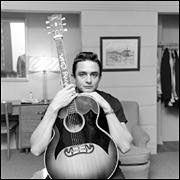 It's fifty years since the parting of the ways between the once wonderful marriage of Johnny Cash and Sun Records. With his association with the label going south quicker than the big river than runs under the Memphis-Arkansas Bridge, Sam Phillips tried to milk the cow a couple more times. Getting all he could in the can for the dry spells ahead, Sam held two July sessions with Johnny, Luther and Marshall and 706 regulars Billy Lee Riley, Jimmy Van Eaton and Jimmy Wilson (replaced by Charlie Rich for the second session). These songs had a lot more meat on the bone than the Cry Cry Cry days of three short years earlier. The Gene Lowery Singers were also used to give a commercial edge that was never on the original agenda. A lot of the elements that made their name are still there, from Luther's simple guitar intro to JC's wonderful way with words, it's just you now have hoo's and ah's and a piano solo. A great going-away present to Sam, that being the generous man he was, he shared with us all.

Recommended listening: You must be joking.

Shaun Mather
June 2008.



Rockin' Song of the Week - Number 41
Smokestack Lightnin' -
Gentle On My Mind
EMI Records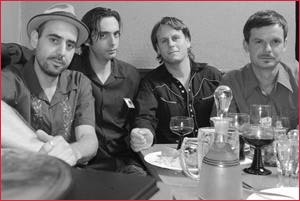 Current band members Bernie Batke (Vocals & Bass), Michael Kargel (Drums), Frieder Graef (Guitars & Vocals), Dirk Hess (Guitars), Oliver Stangl (Pedal Steel & Strings) formed their apprenticeships in bands like The Blue Jays And The Brewsters before getting together in 1997. Smokestack Lightnin' are one hell of a hot rockin' band, blending hard slap-based rockabilly with a retro-country twang. They have a sound all of their own but if you had to compare them with anyone I would say it was the Road Hammers. Their Soulbeat (2000) and Homecooking (2005) albums are great and paved the way for a bit of fame courtesy of EMI and their cover of the Unknown Stuntman being used on a Honda TV commercial. I don't know if this makes sense to anyone but the heavily echoed vocals and the relentless stompin' boogie compares to the early stuff John lee Hooker did for Modern. I've always loved the song Gentle On My Mind, particularly Elvis' version, and it's a perfect vehicle for Smokestack Lightnin's jangling guitars and driving rhythm.

Recommended downloads: 2007's Modern Twang was a sort of Best of compilation and is well worth buying, otherwise I'd go for The Unknown Stuntman, Soulbeat, Guns n Roses' Paradise City, a rockin' Real Gone Daddy, JC's Ring of Fire and Girl On The Billboard with Paul Ansell.

Shaun Mather
April 2008.



Rockin' Song of the Week - Number 40
John D Loudermilk -
Blue Train (On A Heartbreak Track)
RCA 47-8308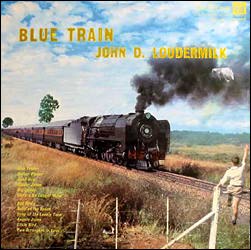 Never one of your run-of-the-mill artists, John D. Loudermilk was one of the most prolific and creative songwriters in country music history. The son of white collar, illiterate parents he was encouraged by them to pursue his education, but music was never far from his mind. He was a local radio attraction throughout his school years, eventually being heard on the radio performing his own composition A Rose And A Baby Ruth, which wound up with George Hamilton IV, giving him a number one record. JD landed a deal with Colonial Records and his first single for them, Sittin' In The Balcony got covered by Eddie Cochran who took it into the charts. Over the years, further releases followed on Colonial, Dot, Columbia and RCA but it was as a writer that he achieved his biggest successes, among them Talk Back Trembling Lips, Waterloo, Tobacco Road and Ebony Eyes. As a singer, JD has an engaging, easy-on-the-ear sound that was prefect for his country/rock 'òn' roll songs. Blue Train was cut at the RCA Studios in Nashville on 17th April 1961 (ironically, on the first anniversary of Eddie Cochran's death) under the expert production and engineering of Chet Atkins and Bill Porter respectively. Charlie McCoy's train whistle harmonica commences proceedings before the band kick in with a tight acoustic rhythm. Future Jerry lee Lewis drummer Jimmy Isbell and bass from either Henry Strzelecki or Roy Huskey maintain the train rhythm. The backing vocals from Anita Kerr, Norro Wilson and the usual crew aid a fine element to the song, and the whole thing is a blast. As with virtually everything he released it failed to register on the charts but it did see an extended shelf-life thanks to be part of the excellent Language Of Love album late in '61. Even if the folks back home weren't excited enough to buy the single in droves, the South Africans made it a hit thanks to it being linked to the famed railroad line between Johannesburg and Capetown, die Blou Trein (Blue Train). So why didn't the people of Wales make Railroad Bills' Aberystwyth Sprinter a hit?

Recommended downloads: Angela Jones, Jimmie's Song, Th' Wife, the Big O sounding Language of Love and the Jack Scott style ballad What Would You Take For Me.

Shaun Mather
April 2008.



Rockin' Song of the Week - Number 39
The Velaires -
Ubangi Stomp
Jamie
I'm not really much of a fan of garage rock 'n' roll with most early 60's covers of rock classics leaving me cold, but I do like this. The band started in Sioux City as the Screamers but soon changed it to the Flairs. This name didn't last long either due to the commoness of it and so following a goig at the legendary Val Air Ballroom in Des Moines they became the Velaires. The group consisted of Dan Matousek on rhythm guitar, Bob Dawdy on lead guitar, Jerry DeMers on bass, and Don Bourret on drums. Their manager and booking agent was Dan's older brother, Dick Matousek. Following a brief spell on Palms Records they were signed to Jamie Records in 1961 and hit the charts with a fine cover of Chuck Berry's immortal Roll Over Beethoven. Further releases appeared over the years on Mercury, Palms, Ramco and Brent. The original members parted in 1963, after which the band became known as Danny & The Velaires. They were more than just a cover band but from what I've heard, I think their covers are better than their originals. Ubangi Stomp being perhaps the finest example. It kicks off with a ringing guitar that reminds me of Johnny Otis' Castin' My Spell. The drumming is suffienciently jungly to back up the lyrics and the song has a great energy. I'm not sure whether Warren Smith ever heard and if so what he though about it, but I'm sure Charles Underwood was happy enough.

Recommended downloads: Sticks And Stones and Roll Over Beethoven.

Shaun Mather
March 2008



Rockin' Song of the Week - Number 38
Go-Katz -
Walkin' Talkin' Johnny Cash Blues
RAUCD215
Classic neo-rockabilly quartet The Go-Katz are the brainchild of Raucous Records owner Howard Raucous who formed the band back in 1986. With himself on lead vocals the earliest line-up was a five piece with Giles " Beaker" Brett and Andy Young on guitars, Mark "Moff" Moffat on bass and Johnny "Wolf" Basford on drums. They started off in Loughborough, England, a town more famous for it's sports college than it's rockabilly bands. As a vehicle for their first EP Howard launched Raucous Records and the rest as they say is history. Walkin' Talkin' Johnny Cash Blues is taken from their Maniac EP which features a demo from their first session together with two great covers of Johnny Powers' Long Blond Hair and the Meteors' Maniac. WTJCB is about taking speed, something the drummer and guitarist must have done before this take. It's breathless stuff and should appeal to rockabillies and psychos alike. If you don't want to jump around to this you better get the doctor, coz you're coming down with something.

Recommended downloads: Maniac, Long Blond Hair and the gloriously frantic Real Gone Demented Hillbilly Cat, which does pretty much what the title suggests.

Shaun Mather
March 2008



Rockin' Song of the Week - Number 37
Curtis Gordon -
Please Baby Please
Mercury 183
Written in vain for Fats Domino, Please Baby please sees honky-tonk rocker Curtis Gordon go as close to the blues as he ever went. Cut at the Bradley studios in Nashville in October 1957 it was to be his last Mercury session. Backed by the legendary A-Team the song gives Floyd Cramer plenty of scope to flex the fingers and an all too brief cameo from Sugarfoot Garland. Never a hit artist, CG's songs didn't really gain much attention until the rockabilly revival with tracks like Draggin' and Mobile, Alabama cropping up on compilations. As neat as those songs are, it's the almost swamp-pop blues of Please Baby Please that's pleasures me most. It hit's the spot ma'am.

Recommended downloads: Play The Music Louder, Cry Cry, I Wouldn't (from the same Oct 57 session) and So Tired of Crying which was gloriously covered by the much-missed Rimshots.

Shaun Mather
shaky@shaunmather.wanadoo.co.uk
February 2008



Rockin' Song of the Week - Number 36
The Starliters -
Tom the Boogie Woogie Tom Cat
Tail Records
From Milan, Italy, The Starliters are a hot rockabilly band that have now been on the scene for over a decade. They sound like Jack Baymoore with a slightly bigger nod in the direction of hillbilly. Over the years they've recorded for Rockhouse, Favourite, On the Hill and Tail Records and have provided the backing for American artists, Robert Gordon, Marvin Rainwater and Marti Brom during their tours of Europe. I think they've now signed to El Toro and look forward to their forthcoming album. The only album I've got is the Tail Records effort, Pickin' Up Speed and it's a corker. Recorded at Tails studio in Sweden in 1999 the sound is high quality thanks to the stellar engineering of Lars Strandhiem. Tom the Boogie Woogie Tom Cat is, as Big Sandy might describe it, "hi-billy" music, a rockin' hillbilly boogie which hot steel and electric licks together with a hot piano solo from Boppin' Steve. Max Ammons' vocals are excellent, controlled and exciting at the same time.

Recommended listening: Super Trucker, Rocking & Knocking and Gonna Move In.

Shaun Mather
shaky@shaunmather.wanadoo.co.uk
January 2008



Rockin' Song of the Week - Number 35
Wayne Raney - Heads Or Tails, I Win
King 1058
Wayne Raney and the Delmore Brothers were as close as country music ever got to the blues. From the harmonica and the guitar boogie lines to the simple lyric structure, their work for King Records of Cincinnati could have been mistaken for "race records'" if it wasn't for the pure hillbilly vocals. From an October 21st 1951 session the musicians on Heads Or Tails, I Win are to northern hillbilly what Jimmy Van Eaton, Roland Janes and Billy Lee Riley were to southern rockabilly. Raney is joined on twin harmonica by Lonnie Glosson with Alton and Rabon Delmore picking the geetars. Al Myers also plays a lick and the bass comes courtesy of the prolific Louis Innes. Raney's vocals are as playful as the lyrics on what is a great, but sadly overlooked slab of bautiful mid-tempo hillbilly boogie.

Recommended downloads: Anything on the Ace CD "That Real Hot Boogie Boy'" or the Fan records bootleg from 2001. The bootleg is hard to find but amazingly the Ace one doesn't have Heads Or Tails, I Win.




---
---
2007
Rockin' Song of the Week - Number 34
Railroad Bill and the Boxcar Stompers -
Aberystwyth Sprinter
Railroad Bill and the Boxcar Stompers are legends of the Aberystwyth pub scene. They played all the bars in town during the mid to late 80's when they were students here. It used to be great to be able to pop out for a few beers and listen to some live skiffle. With the usual array of skiffle instruments, washboard, tea chest bass, guitar and mandolin they sounded rough and loose, just like skiffle should. Highlights of the live show used to be Jesse James and Mama Don't Allow, which allowed everyone to take a solo for the encouraging crowd. They released a casette during this period, which I've still got somewhere. I can't remember what it was called but I remember the inlay was cheap and cheerful and brown. The star of the album was the self written classic, Aberystwyth Sprinter, a heartfelt tribute to the only train that runs into Aberystwyth - it still is! Known near and far as the Sprinter it was a sprinter in the same sense that Eddie The Eagle was an Olympic ski-jumper. I think they got to perform it on Radio 1 when the Roadshow came to town. It was probably the last skiffle song played on Radio 1. "I don't know the Welsh for piston, I don't know the Welsh for train, but I do know that I would like to come back here again, tourists come in summer, students come in winter, but everybody comes here on the Aberystwyth Sprinter". Classic. The last time I saw them was at a brilliant night at the King's Hotel in Newport, where the line-up also included the Rimshots (no mean skifflers themselves) and skiffle king, Lonnie Donnegan. It seems like Rainroad Bill still play the occasional gig, I look forward to them coming back to Aber.
Shaun Mather
November, 2007.



Rockin' Song of the Week - Number 33
Hot Boogie Chillun -
Chillun Walk
As the bands name suggests there's a strong John Lee Hooker influence here. The hypnotic groove that JLH made his own is given the impetus of a strong rockabilly vocal, clicking bass and some dirty sax. The band came from German and in the late 90' s were the cult band on the rocking scene, with their singles constantly blasting out to throbbing dance floors across Europe. More Roy Gaines than Roy Orbison, Hot Boogie Chillun aren't for the faint hearted. Chillun Walk is a low-down mean stroller that builds to a crescendo of wailing guitars, vocals and a touch of heavily amplified harmonica. A barnstormer.

Recommended downloads: Desperado Love, Dirty Robber and Hey, Girl.
Shaun Mather
November, 2007.



Rockin' Song of the Week - Number 32
Joe Hill Louis -
Boogie In The Park
Modern 20-813 (1950)
One man band Joe Hill Louis was tailor made to work with Sam Phillips who seemed drawn to eccentric people like a moth to a flame. A drummer, harmonica player, guitarist and no mean singer either, Joe Hill had recorded in Sun during July 1950 and returned on 27th November for a legendary session that ranged from the relentless bop of Boogie In the Park to his finest slow blues, Cold Chills. Everything that was ggood about Memphis blues was encapsulated in those two tracks. Apparantly Memphis deejay Dewey Phillips was a massive fan of JHL and was eager to push his records and make a star of him, no doubt having soaked up his imprompto one-man street corner gigs around town. In an interview Sam Phillips did with Martin Hawkins in 2000 he said that Boogie In The Park was written about either Handy Park or the local black baseball arena, Russwood Park, home of the Memphis Red Socks. For sheer hypnotic, unadulterated blues boogie, it was the equal of anything the wonderful John Lee Hooker ever conjured up.

Recommended downloads: I Feel Like A Million, the overdubbed 1953 stomper Western Union Man and a superb cover of the Sonny Boy Williamson classic Eyesight To The Blind.
Shaun Mather
November, 2007.



Rockin' Song of the Week - Number 31
Jesse Al Tuscan and the Lumberjacks -
88 AM
Tail Records (2000)
Jesse Al Tuscan and the Lumberjacks are a dynamic quartet from Berlin, Germany who recorded for the great Swedish label Tail Records. I'm not sure whether the band are still going because they're website seems to have stopped updating a couple of years ago - hopefully they're still drinking good German beer and ripping the joints apart with their brand of fireball rock 'n' roll. Singer and rhythm guitarist Alexander Arndt has got a great Elvisy style, swooning and swaggering with Martin Herzog playing some tasty lead licks. Tail Records uses a 50's recording studio using vintage recording equipment which gives all their releases that authentic rocking sound. 88 AM sounds for all the world like it was cut at Sun circa 1956 - it's full of rumbling guitar, menacing vocals and I could picture this little ditty spinning around on a yellow 45.

Recommended downloads: Rockin Motorcycle, You're Tempting Me, Set Him Free and Bear Hug a duet with Eva Eastwood.
Shaun Mather
November, 2007.



Rockin' Song of the Week - Number 30
Flatfoot Shakers -
Gold Diggin' Mama
As mad as this might sound, Gold Diggin' Mama sounds for all the world like Jack Baymoore & the Bandits on Meteor Records circa 1956. Curled lipped vocals, authentic rockabilly guitar licks and oodles of feel-good factor. The Flatfoot Shakers area quartet from Down Under and they're further evidence of the excellent Australian scene. Singer Kieron McDonald has the perfect blend of hiccups and tease while lead guitarist Peter Baylor has obviously done his homework and studied the genre's greatest pickers. Gold Diggin' Mama is one of those relentless rockabilly boogies that makes you wanna move your feet and grab the air mic. I just played it for a girl here in work and she didn't really like it - proof to me that it's a classic!

Recommended downloads; I'm Getting Rid Of You, a great cover of Louisiana Mama and Hey There Friend.
Shaun Mather
November, 2007.



Rockin' Song of the Week - Number 29
Jerry King & the Rivertown Ramblers -
You Forgot Your Name
El Toro Records (2006)
Although this fourpiece come from Cincinnati, Ohio they relocated to the home of rockabilly, Memphis, Tennessee where they've built a reputation as one of the best bands on the scene. Lead singer and principal songwriter Jerry King has a real 50's voice and this, combined with the bands mellow rocking sound gives them a Go Cat Go feeling. They recorded their first three albums at Sun Studios and signed with one of Europe's top labels, El Toro. You Forgot Your Name is more Don't Be Cruel than Baby Let's Play House. It's hiccupy, echo-laden and you'd swear it was cut in 1957. The backing vocals are spot on and lead guitarist Jason Roeper keeps it simple with a couple of authentic solos. If you dig the melodic rock 'n' roll of Ral Donner, you'll dig this and most of the A Date With Jerry King & the Rivertown Ramblers album.

Recommended downloads: Honky Tonk Bop, Bad Dreams (surely this is Ral Donner!), My Baby Said Goodbye.
Shaun Mather
September, 2007.





Rockin' Song of the Week - Number 28
Billy Nelson -
Pack, Shack And Stack Your Blues Away
Sun (Savoy 1183)
Big band rock 'n' roll from the glorious Savoy label, Pack, Shack And Stack Your Blues Away was the b-side to Walk Along. Bluesman Nelson was more of a singer than a shouter and this little ditty has New York stamped all over it. The label credits the 5 Wings with the backing vocals but the reality is that only three of them are heard. They became the Dubs, but in November 1955 when this session took place they were happy to get what work they could. It's a fine slab of rock 'n' roll with a sax break that blows the roof-off.
Shaun Mather
September, 2007.



Rockin' Song of the Week - Number 27
Narvel Felts ­
Kiss-A-Me Baby
Sun (unissued)
They say only two things are certain ­ death and taxes. Well you can a third to the list ­ Narvel Felts will always reply to his fan mail. One of the great, sincere people of the music industry this choice is made not because he's a good guy but because of the quality of the music. Despite a handful of red hot rockers for Sun Records he left the label within five months with no releases seeing the light of day at the time ­ sound familiar? Kiss-A-Me Baby was cut on Union Avenue on April 5th 1957 with his regular band of JW Grubbs, Jerry Tuttle, Bob Taylor and Leon Barrett. The song kicks off with jungle-drum rhythm and builds as it leads to the chorus. It was re-cut for Mercury a month later than the Sun session and was released as a single but the version pales compared to the Sun take. The addition of a sax adds nothing and the lack of drive and passion makes it hard to believe that the band was virtually the same.

Recommended downloads: Did You Tell Me, Lonesome Feeling, I'm Headin' Home.
Shaun Mather
September, 2007.





Rockin' Song of the Week - Number 26
Al Willis & The Swingsters ­
Rock Your Little Baby To Sleep
Tail Records
Makes Buddy Knox sound like Jimmy Bowen. Actually that suggests that Al Willis' version is all crash, bang, whollop but in honesty it's anything but. It's hard driving and relentless but it's very controlled and expertly played. The band take the song at a quicker pace than Buddy Knox's original without sacrificing the songs melody. The band are French and have been going for over a decade. Both their Tail Records, Rock The Bop and Got What It Takes are well worth checking out.

Recommended downloads: The great I've Gotta Find Someone, Angelina and When I'm Gone.
Shaun Mather
August, 2007.



Rockin' Song of the Week - Number 25
Eddie & the Flatheads ­
Green Man
On The Hill Records
Think Billy Lee Riley's Flyin' Saucer Rock 'n' Roll meets the new Millenium and you're getting close to Eddie & the Flatheads Green Man. It's relentless rockabilly boogie with a pulsating beat. Front man William Svensson is a formidable singer and an uncompromising guitarist, a good combination for a rockabilly main man. The Flatheads sound like the Little Green Men, with equal measures of urgency and technique. Don't know much about them other than they're Swedish, but I like what I've heard.

Recommended downloads: Gonna Love My Baby Now, Record Hop, Stop Shakin' That Tree, Woodchopper.
Shaun Mather
August, 2007.



Rockin' Song of the Week - Number 24
James Intveld ­
Perfect World
Bear Family
From the excellent Bear Family CD Introducing James Intveld, Perfect World was the opening cut and laid the foundation for a thirty minute pleasure trip. I first heard James Intveld on the Cry Baby soundtrack where he provided the vocals for Johnny Depp to lip-synch to. He was born in Holland but grew up in Compton, California. By the early 1980's he was fronting the local rockabilly band The Rockin' Shadows , before getting to film "My Heart is Achin' For You" for the 1984 movie Roadhouse 66 starring a young William Dafoe. It was whilst opening for Ricky Nelson at The Rumbleseat Garage in Long Beach that The Rockin' Shadows impressed Ricky so much that he invited James's brother Ricky and Pat Woodward to join his Stone Canyon Band. On December 31, 1985, Ricky and all his band perished in a plane crash with James taking the death of his brother bad. He laid low on the music scene for a long time just playing back-up in bands for the likes of Rosie Flores, Ray Campi and Billy Swan. In 1995 Bear Family asked James to do a song called "Barely Hangin' On", for a 20th anniversary compilation they were releasing. This led to the Introducing JI album which won the award for the best country roots CD from Music Connection for 1996. More albums have followed as well as a reputation as a fine live act. Perfect World is a loping, easy going rockaballad in the style he has made his own. His melodic vocals show the influence of Ricky Nelson/Roy Orbison and the band sound more like the Nashville A team than Bill Haley's Comets.

Recommended downloads: Samantha, My Heart Is Achin? For You, Cryin? Over You and the Cry baby soundtrack is also worth checking out.
Shaun Mather
August, 2007.



Rockin' Song of the Week - Number 23
Bobby Day ­
Beep Beep Beep
Class 215
Bobby Day gives a nod to the Coasters with this novelty rocker. Sax man Plas Johnson takes the role of King Curtis, the only surprise is that it's not written by Leiber and Stoller. Cut at Barney's Studio in Los Angeles in 1957 the band comprise the cream of the West Coast session men, including Johnson, Barney Kessell, Red Callender and Earl Palmer. Bobby Day had been a part of the CA scene pretty much since he'd moved there as a teenager from Texas, and his work with the Hollywood Flames and his solo singles for Class oozed the famous West Coast sound. Yeah, it had a sound long before the Beach Boys!

   Recommended downloads: Over And Over, Three Young Rebs From Georgia, and the brilliant Ain't Gonna Cry No More.  
Shaun Mather
August, 2007.



Rockin' Song of the Week - Number 22
Mac Curtis ­
Goosebumps
King (unissued)
Mac Curtis was a natural rockabilly star. Like most teenage Texans in the '50s he grew up on a diet of country music before becoming aware of rhythm and blues. By the middle of the decade Texas had become a regular stomping ground for the mad Memphis rockabillies who were cutting up the South. Youngsters from bob Luman to Buddy Holly were hooked and before long the recording studios in Fort Worth and Dallas were being bombarded by young hopefuls. Mac was great from the get-go. His first session in April 1956 had yielded a couple of crackers in Granddaddy's Rockin' and If I Had Me A Woman, followed a couple of months later with That Ain't Nothin' But Right. By the time Curtis recorded his third session he'd worked an Alan Freed package tour with no less a star than Little Richard. It was at this session that he recorded Goosebumps, which inexplicably went unreleased for two decades. The band cook in the controlled manner that enchanted many a Texas rockabilly record from Peanuts Wilson to Sid King. It was restrained and melodic and if most of them had been cut 4 or 5 years later they could have made more impact. Cut at the Jim Beck Studio in Dallas on 10 February 1957, the session was produced by the songs writer Louis Innis and featured Bill Peck on drums, Kenny Cobb on bass and Jay Brinkley on lead guitar.
Recommended downloads: Granddaddy's Rockin', If I Had Me A Woman, That Ain't Nothin' But Right, Say So, You Ain't Treatin' Me Right.
Shaun Mather
July, 2007.



Rockin' Song of the Week - Number 21
The Marquees -
Wyatt Earp / Hey Little School Girl
Okeh 4-7096
Not to be confused with the Marquees on Grand, the Marquees on Len, the Marquees on Daysel or the Marquees on Warner Brothers, these Marquees recorded for Okeh in 1957. From Washington D.C. they consisted of Reese Palmer (first tenor), Marvin Gaye (second tenor/baritone), James Nolan (second tenor/baritone) and Chester Simmons (bass). They played local shows, sometimes with the addition of Peasie Adams who introduced them to Bo Diddley who was living in D.C. at this time. They were soon signed by Bo's manager Phil Landwehr who landed them Columbia Records' Okeh subsidiary. They cut Wyatt Earp and Hey Little School Girl at their first session at CBS Building on Broadway on 25th September 1957. They were backed by Bo and his band and it was beautiful. Hey Little School Girl is an up tempo jiver with a deadly combination of extreme-doowopping and a crack r&b band. Palmer takes the lead vocals and he's so full of life but the star of the show for me is Simmons with his "bbbrrrrmmm's". Jerome Green sparkles on maracas and there's a tasty sax solo in the middle. Okeh weren't impressed by the recording of Wyatt Earp so they sent them back to the studio on November 12 to re-record it with Bo's band. Simmons is again the star turn and the guitar solo is hot as well - anyone know if that's Mickey Baker? Despite good reviews the song went no-where and the Marquees left both Okeh and Phil Landwehr. Chester Simmons became a driver and valet for Bo Diddley and through this managed to persuade Harvey Fuqua of the Moonglows to come on board and from there the dynamics of the group changed constantly including become the new Moonglows for Fuqua. I think it's fair to say that Marvin Gaye went on to bigger things but he never went to anything better than Okeh 4-7096, a rock 'n' roll gem.
Shaun Mather
July, 2007.



Rockin' Song of the Week - Number 20
John Lee Hooker -
Boogie Chillun
Modern 627
John Lee Hooker was working the juke joints in Detroit during the late '40s when he started to make a name for himself on the local record scene. Sensation owner Bernie Besman took him into the Union Sound Studio on Second Boulevard on November 3rd, 1948, together with sound engineer Joe Siracuse. They worked hard to get the right sound in the studio, even amplifying the guitar via the toilet next door, using the water in the bowl to bounce the sound around, giving it a unique echo effect. There was another mic placed under the wooden plank that Hooker stomped his foot on - not the type of drum set-up that Phil Collins would be happy with!! The first three songs on the session were simple blues, the type that could have been recorded by any Delta bluesman. It was the fourth song that hit the spot though, and it laid the foundation for virtually every up tempo number he would record for the next half decade. From the opening riff, Hooker lays down a relentless boogie. The mumbled vocals are a treasure and the only thing that lets the side down is the guitar solo, which at best could be described as pretty shitty. "One night I was laying down, I heard mama and papa talking, I heard papa tell mama, let that boy boogie, coz it's in him and it's got to come out". Classic.
Recommended downloads: Rock House Boogie - if only Eddie Kirkland's solo could be transposed onto Boogie Chillun. 
Shaun Mather
June, 2007.



Rockin' Song of the Week - Number 19
Conway Twitty -
Make Me Know You're Mine
&nbsp Conway Twitty really had a fine set of vocal cords, one of the best in the business. A couple of years at Sun Records had proved more successful artistically than financially, but his new tenure at MGM had proved fruitful from the get-go with It's Only Make Believe becoming one of the biggest hits of 1958. Twitty had landed himself a sympathetic producer in Jim Vienneau, who gave Conway free license to growl and toy with the words. The sound was less rockabilly, more purified, mainstream rock 'n' roll. It suited Conway to a tee and when the song was right, the results were glorious, as is the case with this Shroeder-Hill number. Recorded in December '58 at the Bradley Studio in Music City, Conway is backed by the cream of the crop, Grady Martin and Ray Edenton on guitars, Harold Bradley on electric bass, Lightnin' Chance on slap bass, Floyd Cramer on piano and possibly Jack Nance on drums. The guitar and vocals purr together, with Conway singing like Duane Eddy plays guitar. Had the song been around 12 months later I'm sure Elvis would have cut it for the Elvis Is Back album.
&nbsp Recommended listening: Apart from the obvious, try, I Vibrate, Long Black Train, Don't You Know, Give Me Some Love, Is A Bluebird Blue.
Shaun Mather
June, 2007.


Rockin' Song of the Week - Number 18
Wilbert Harrison - 1960
Fury 1028M
&nbsp After spending most of the '50s recording without success for the likes of Savoy and Deluxe, Wilbert Harrison finally hit the big time in 1959 when his first single on Fury, Kansas City, became a million selling smash. Frustration followed behind, a mood that was to follow him for the rest of his life. As great as Kansas City was and it really is great, my favourite Wilbert song is 1960, the flip-side of Goodbye Kansas City. An hypnotic stroller with the brilliant Big Apple session man Wild Jimmy Spruill on guitar and an unknown pianist who takes a marvellously controlled solo. Harrison sings with such vigour and with the uncontrollable enthusiasm of youth, telling everyone who'll listen "this is 1960 and today I'm only 21, you only live but once and when you're dead, you're done". It's a bit of a porky really because he was 31, but who cared.
&nbsp Recommended downloads; The Horse, Da-De-Ya-Da, Pretty Little Woman, his great version of Stagger Lee and does anyone here not have Kansas City.
Shaun Mather
June, 2007.


Rockin' Song of the Week - Number 17
Frankie Allan -
Just A Country Boy
&nbsp He might not be the most famous of the Welsh rock 'n' rollers, but none of the others, Shaky included, have ever come closer to capturing the sound of Elvis Presley. From the South Wales valley town of Merthyr Tydfil, he fell in love with the music of the King and by the early 60s was fronting a local band called The Emeralds. It was following Elvis' death in 1977 that Frankie was invited by Kingsley Ward to record Just a Country Boy (from Memphis, Tennessee) at his renowned Rockfield Studios in Monmouth, South Wales. The song is so atmospheric and the sound defies it's vintage. Apart from the guitar solo (very Kirsty MacColl) the double bass, drums and Jordanairesque backing vocals, you'd swear it came from 1957 not 1977. "His music make me dance all night, and his sad songs made me cry, and I'll always feel the same way 'til I die". If only all tribute songs could be like this - think about Danny Mirror.
Shaun Mather
June, 2007.


Rockin' Song of the Week - Number 16
Ronnie Hawkins -
Hayride
Roulette 4249
&nbsp By the summer of 1959 Ronnie Hawkins and his Hawks had displaced from their Arkansas homes to Canada where Ronnie has remained for the rest of his life. Bass player Jimmy Evans joined them up north that summer and allegedly sold Hayride to Ronnie for 50 bucks. It was recorded a couple of months later during an eight song demo session in New York. When the troupe returned to the Big Apple for a 26th October recording date at the Bell Sound Studio, Hayride was the only one of the demos to be re-cut. It was a great session that yielded classics such as Baby Jean, Southern Love and Hey Boba Lou. The band were as tight as the proverbial nun's snatch by this time with Levon Helm, Luke Paulman and Fred Carter Jnr pulling the strings. Hayride is a swinging rockabilly hoedown, with Ronnie playing with the phrasing. Ronnie Hawkins is a really underrated singer, one of the true greats of rock 'n' roll. Hayride, and the way he sings it, is for me, what Don't Be Cruel was for Elvis. Pure pop 'n' roll with both vocalists showing complete command over the artistry of singing.
Shaun Mather
June, 2007.


Rockin' Song of the Week - Number 15
Lonesome Long John Roller -
Long John's Flagpole Rock
Flagpole 301
&nbsp Whereas today's big stars record their songs over a 30 day period full of re-mixing and adding untold layers of extra guitar, the songs of the '50s were often recorded in half an hour during off-the-cuff recording sessions. The stories behind some of these sessions makes for fascinating reading but nothing can quite compare with this little beauty. Phoenix Arizona DJ, Lonesome Long John Roller spent 211 days and 23 hours in his 1958 Ford Fairlane 40 feet above the ground setting the world's flagpole sitting record! He had on board his cat for company and continued to broadcast live on the air. One day the legendary guitarist Al Casey and his wife Corky were lifted into the Fairlane together with instruments and a tape recorder and they proceeded to cut Long John's Flagpole Rock. It's a jaunty rural rockabilly with Casey hitting the heights (sorry about that) on his solo. Customers who wanted to buy a copy had to put their money in a bucket which Roller hoisted up to the car and then lowered back down with a copy of the record inside. Totally unique, and another reason to love our music.
Shaun Mather
June, 2007.


Rockin' Song of the Week - Number 14
Hawkshaw Hawkins -
Car Hoppin' Mama
RCA 6211 (1955)
&nbsp Hawkshaw Hawkins is best remembered these days as one of the guys that died in the 1963 plane crash with Patsy Cline. There's so much more to this long streak of sunshine (6' 6" in his stocking feet) than that though. He was one of the finest country singers of the 50s who enjoyed eight top twenty singles, six of which went top 10. All but one were on the King label, and it took the morbidity of the plane crash for him to hit his only number one with Lonesome 7-7203.
&nbsp He enjoyed great success between 1948 and 1951, but hit a dry spell before hitting the charts for Columbia with Soldier's Joy. It was during this barren period that he joined RCA and became a member of the Grand Ole Opry.
&nbsp He cut Car Hoppin' Mama for RCA at their studios on McGavock Street in Nashville on 27th May 1955 under the production of Chet Atkins. With a crack band that included Atkins on guitar, Bob Moore on bass, Walter Haynes on steel guitar and the twin fiddles of Tommy Jackson and Grady Martin, the session produced three numbers, Oh How I Cried, The Love You Steal and my fave, Car Hoppin' Mama.
&nbsp Written by Hank Thompson, the highlights of the song are many. Haynes kicks the whole shebang off in fine style, followed by the lovely soft deep tones of Hawkins. Underpinning it throughout is the fluent guitar of Chet, playing in the Atkins-style he'd perfected. Jackson and Martin saw away to great effect. A mid tempo number, the combination of pure country accompaniment and Hawkins' mellow baritone, make this one of my favourite country songs. Why it never became a hit (The Love You Steal was on the b-side) is anyone's guess. Whether it was thought the mama was some sort of hooker or just a honky tonk queen is never quite clear, but surely that couldn't have kept the public at bay. Whatever, it's a slab of honky tonk that should be in everybody's collection.
Shaun Mather
June, 2007.


Rockin' Song of the Week - Number 13
Wild Wax Combo -
Hot Rod Racer
(ABC Paramount (Enviken Records)
&nbsp Another in a long line of Scandinavian rockabilly bands, the Wild Wax Combo have been going since 1996, releasing 4 albums to date, all of them on the Swedish Enviken label. The trio write most of their own songs, including Hot Rod Racer, a rockabilly stomper that has set my heart racing this week. There's blood thirsty guitar solos, primitive backing vocals and above all, pounding drums which make this the highlight of their 2006 release, Rumble In The Jungle.
&nbsp This is rockabilly music for the present day, great energy, full sound and a heart on your sleeve delivery. With songs like this still being written, rockabilly will never die. The theme might be old with hot rods being part of the rockabilly fabric since it's earliest days, but the freshness of the sound and the lifestyle of a lot of rockers keep it relevant.
&nbsp Recommended downloads: Mad Dog Mama, a great Betty Page tribute Miss Betty and a strolling take on Billy Fury's Phone Call - a great choice.
Shaun Mather
April, 2007.


Rockin' Song of the Week - Number 12
Vince Everett -
Box of Candy
(ABC Paramount (unissued)
&nbsp I love Ral Donner but to me Vince Everett is the greatest Elvisette ever. Born Marvin Benefield, he took his stage name from the character Elvis played in Jailhouse Rock, and dedicated his career to singing in the Elvis Presley style. The beauty is that he never sounds like he's forcing it, it appears to come naturally and it's pure ear candy. If it's a replica you're after, take a listen his stunning version of Such A Night or the bopping Baby Let's Play House.
&nbsp From the pen of Elvis scribes Fred Wise and Ben Weisman, Box of Candy sounds like a castoff from the Elvis Is Back album. Instead it comes from the relatively late vintage of 1964, a time when the crappy Beatles were starting to make waves. This could be the only reason ABC Paramount chose to leave this and the equally great Sweet Flavours in the can. Box of Candy is mid tempo rock 'n' roll with Jordanaires ooh-ahs, hand claps and above all, fabulous vocals. It's upturned collar time, and it's one of those songs that it's impossible to listen to without curling your lip and leaning into an imaginary mic as your treat the bathroom mirror to your finest Elvis impression. Surely it's not just me!
&nbsp Recommended downloads: Such a Night, I Ain't Gonna Be Your Low Down Dog No More, Livin' High, Sweet Flavours and Baby Let's Play House.
Shaun Mather
March, 2007.


Rockin' Song of the Week - Number 11
George Thorogood -
Madison Blues (demo)
(Rounder Records)
&nbsp This demo was recorded at Music Designers Inc, Boston in September 1974. It's three and a half minutes of pure blues. George sounded so young and raw, much rawer than his sound today. I know that happens with virtually every band, where they smooth out the rough edges as the years go by and the band get tighter. I just think this uncut roughness works really well with hard driving blues like this. His slide playing shows that he was already there, and his voice hasn't really changed over the years.
&nbsp I know I've written about Crazy Cavan a lot lately but I make no apologies for mentioning him here - I George Thorogood and the Destroyers are to the blues what CC and the Rhythm Rockers are to rockabilly. It's got a heavy backbeat that plods along hypnotically and a singer that gives it from the soul. It's rough, tough and ready, and that's what these GT demos proved to any label that heard them.
&nbsp Recommended downloads: Bad To the Bone, Get A Haircut, I Drink Alone, One Bourbon, One Scotch, One Beer, Gear Jammer and for some reason I love Ballad of Maverick.
Shaun Mather
March, 2007.


Rockin' Song of the Week - Number 10
Glen Glenn ­
Everybody's Movin'
(Era 1063)
It was January 8th 1958 and Elvis was celebrating his 23rd birthday shacked up in the arms of his latest Hollywood starlet planning a trip in two days to Los Angeles. Already out there at the Gold Star Studios is LA rockabilly Glen Glenn, in the middle of one of the greatest sessions ever to take place. With his pals Gary Lambert and Guybo Smith, together with drummer Joe O'Dell and country singer come wannabee rocker Wynn Stewart, they recorded a foursome of rockabilly classics, One Cup of Coffee, I'm Glad My Baby's Gone Away, Would Ya and Everybody's Movin'.
I first heard Everybody's Movin' on the 1977 Chiswick album, Hollywood Rock 'n' Roll. It was the standout track then and it's been the standout track on just about every release it's been on since. Guybo's bass is a treat and keeps this Glen Glenn original flowing smoothly from start to finish. Lambert takes a neat solo and his simple picking proves that less or more. Great song from a great guy.
Recommended listening: all 4 from the 8 Jan '58 session, Blue Jeans and a Boys Shirt, Don't You Love Me, Kitty Cat, Kathleen.
Shaun Mather
March, 2007.


Rockin' Song of the Week - Number 9
Big Maybelle -
Gabbin' Blues
(Okeh 6931)
From Jackson, Tennessee, Big Maybelle is perhaps best remembered in rock 'n' roll circuits as the gal who gave the world, well the black part of the States anyway, one of the immortals, Whole Lotta Shakin' Goin' On. She started her recording career with Decca before moving to King, Okeh and Savoy among others. She cut Gabbin' Blues in New York on 8th October 1952 with Sam The Man Taylor among the band.   
For those who've never heard the song, I'd say it was like this - picture the scene in King Creole where Elvis is leaning over the balcony whilst the big black woman peddles the streets below shouting out the song "crawfish". Now instead of young Danny Fisher singing back to her, imagine he's also a big black woman and he starts singing back to her that the fish she's selling are crap and that she's nothing but trash! 
The bitching starts before the musicians, and just like two woman it doesn't let up until the guy running the soundboard turns the volume down. "Here comes ole evil chick always telling everybody she's from Chicago - got Mississippi written all over her". Co-writer Rosemary McCoy plays the bitchy broad brilliantly, running down Big Maybelle, who drowns out the comments with some of the greatest blues singing ever committed to wax. This is one of those songs where you just wish videos had been invented at the time. I'd love to see these two sassy ladies chewing one another out, in a low-down speak-easy setting - guys in fedoras smoking big cigars in the background, just waiting for the scratching and clawing to start.
Recommended downloads: My Country Man, One Monkey Don't Stop No Show, Hair Dressin' Women, Candy, Tell Me Who and obviously, Whole Lotta Shakin' Goin' On.
Shaun Mather
March, 2007.


Rockin' Song of the Week - Number 8
Ray Smith -
You Made A Hit
(Sun 308)
Possessor of one of the finest Presleyesque vocal chords in the whole of Rockabilly Town, Ray Smith should have been a big star. He did have a fleeting spell in the charts with the wonderful Rockin' Little Angel on Judd, but I reckon that today we should be able to look at his old guitars and stage clothes in Cleveland. To say he should be in the Rock 'n' Roll Hall of Fame might sound like I've been at the Jack Daniels, but I'm serious, and sober. On September 13th, 1958 when he cut You Made A Hit, I wouldn't be surprised if Sam had put a loving arm around his shoulders and said "you sure did Ray". Written by Memphis songwriter Walt Maynard, the song is quintessential Sun rockabilly with its totally engaging beat. Backed by his own guys Stanley Walker and Dean Perkins on guitar, together with studio guys Stan Kesler, Jimmy Van Eaton and the quiet guy who seemed to be his mentor, Charlie Rich on piano. Released a month after the session, the song went nowhere, much like the singles that preceded and followed it. Can anyone tell me why Ray Smith doesn't get a mention in what's considered the Sun bible, Good Rockin' Tonight by Colin Escott and Martin Hawkins? The same with Dave Marsh's For the Record: Sun Records ­ An Oral History? He did manage to get a few mentions in Escott and Hawkins' original Sun volume Catalyst, but they aren't exactly gushing. He had 5 singles on our favourite little label, not many can beat that!
Recommended downloads: Right Behind You Baby, So Young (great voice), Shake Around, Rockin' Bandit, Breakup, Rockin' Little Angel, That's Alright, the ral Donnerish Nice Guy and best of, the glorious Elvisy vocals on Candy Doll.  
Shaun Mather
February 2007.


Rockin' Song of the Week - Number 7
Runnin' Wild -
Killer Taco Stomp
(El Toro)
With it's heavy stompin' beat, Killer Taco Stomp is rockabilly for the 21st Century. The frenzied vocals are deep and strong, the beat is unrelenting and as menacing as the vocals. The drums and bass give a hint of how rockabilly is going to sound once the purists run for the hills. Song kicks of with heavily echoed slapping bass, before the rockin' western guitar kicks in and the track gets bops into orbit. The vocals are something else, savage and scary, sounding more like Link Wray's Good Rockin' Tonight than Elvis'. This is great music to drive to at night, to bop to, to scare your granny with or to just sit and listen. If this is the future, I wanna live for years.
Runnin' Wild were formed from the remnants of The Domino's and are the best  rockabilly band Belgium has produced. After early work on Rockhouse and Red Comet Records they began to make a name for themselves on the European scene during the late '90s. They joined Rock Therapy/El Toro and made a huge impression at the May 2000 Hemsby festival, thanks to their wild live show and Killer Taco Stomp becoming a dancehall favourite. Check out the video clip below where KTS is used to showcase the Screamin' Weekender.
   http://www.youtube.com/watch?v=5yKuVtuU07c
Recommended downloads: Loretta, Hello, Mr Lowdown Blues, Sure Do Love You Baby and Here Comes Johnny.
Shaun Mather
February 2007.


Rockin' Song of the Week - Number 6
Lavern Baker -
Hey Memphis
(Atlantic 2119)
Hey Memphis is Lavern Baker's raunchy tribute to the Tupelo Flash, Elvis Presley, using his Little Sister note for note. Both were penned by the prolific team Doc Pomus and Mort Shuman. Elvis had cut Little Sister in June 1961 with Hank Sugarfoot Garland borrowing Harold Bradley's Fender to get the growling tone that drove the song along. Three months later Lavern used the equally fabulous Mickey Baker to get the same growl. Gary Chester plays the DJ Fontana part to a tee and Lavern sings with all the authority you'd expect from her. Although King Curtis was on the session he sat this one out, a shame really as a couple of his honks would have been interesting.
Can you imagine what it would have been like if Steve Binder had got Lavern and Elvis to combine the two songs for Elvis' Comeback Special in 1968. Forget Tweedle Dee which they both did, this is the song that would have slayed us ­ Colonel Tom woulda had a heart attack, another reason why Binder should have done it. Does anyone out there know what Elvis thought of Hey Memphis? How the flipside of it, Voodoo Voodoo, remained in the can for 3 years is a mystery. An astonishingly dark rocker it is one of the great fusions of rock 'n' roll and rhythm 'n' blues.
Recommended downloads: Voodoo Voodoo, Bumble Bee, Whipper Snapper, Humpty Dumpty Heart and On Revival Day.
Shaun Mather
February 2007.



Rockin' Song of the Week - Number 5
Janis Martin -
Bang Bang
(RCA 47-7318)
After just two years and just five previous sessions (three in New York and two in Nashville), Janis Martin entered the RCA Victor Studio in Nashville for the final time on July 7th, 1958. Under the production of Chet Atkins she was teamed up with the big boys of the south, Hank Sugarfoot Garland, Bob Moore, Buddy Harman and the Jordanaires included. The Jordanaires featured heavily on the other three tracks recorded, but played no role (at least to these ears!) on Bang Bang. They played a fine role in making "William" a top-notch rock 'n' roller but I think Chet was on the money when he decided to go without them on the Banger. Bang Bang is a stop starter with Janis giving Wanda a run for her money as the queen of rockabilly. Sugarfoot shines throughout before exploding into a truly memorable solo. Despite the heroics of Janis and Sugarfoot, the star of the show has to be Buddy Harman whose shotgun-drumming is a showstopper. Released with the rockaballad Please Be My Love as by Janis and her Boyfriends, the song failed to chart, whereas it should have launched her into the big time.
Recommended downloads: Drugstore Rock 'n' Roll, My Boy Elvis, Barefoot Baby and her second best number Crackerjack.
Shaun Mather
January 2007.



Rockin' Song of the Week - Number 4
Benny Joy -
Ittie Bittie Everything
(Ram 1000-1)
Don't get fooled by the cute little title. This ain't the sort of thing thing to play the sister's little daughter expecting to send her into a peaceful spell of slumber. This is a "wake all neighbours and let's have a riot" slab of rock 'n' roll. With it's heavy beat and driving vocals, the song was not the usual fair for Buck Ram's self-named label who thrived in the 50's thanks to the beautiful tones of Tony Williams and his Platters. If ever a guy was called the right thing, it was Benny Joy who in a few short years recorded a dozen solid gone boppers, with his musical partner Big John Taylor.
After singles on Tri-Dec and Dixie, Buck Ram took him by the horns with the promise of a career to match the Platters or better still Elvis, who had thrilled Joy when he'd played his hometown of Tampa, Florida a few years before. Colonel Tom parker may have been a dog-catcher in Tampa but he let this puppy get away. Buck Ram shepherded him to his new stable though and the big time looked on. As is the theme with everything on this website though, the cream seemed to fall to the bottom whilst the shite rose to the top. Despite big tours, including a couple to Europe, the hits eluded Benny Joy and he drifted away from the spot light, becoming a Nashville songwriter for Cedarwood. By the 70's he was back in Florida where he lived until his death in 1988.
The first track of his I ever heard was Spin The Bottle, a breathless rocker taken at breakneck speed. Any number of a dozen of his songs were good enough to go all the way, he had the right voice, the right songs, the right name, just not the four leaf clover.
Recommended downloads: Crash The party, Miss Bobby Sox, Spin The Bottle, Steady With Betty, Rollin' To The Jukebox Rock, Money Money, Hey High School Baby. Best thing to do is just buy the Ace CD (CDCHD703) ­ Benny Joy. Crash The Rockabilly Party.
Shaun Mather
January 2007.



Rockin' Song of the Week - Number 3
Thurston Harris -
Hey Baba Leba / I'm Out To Getcha
(Aladdin 3415)
More of a single of the week than just a song. Both sides here are prime slabs of black rock 'n' roll. Following a couple of years with the doo-wopping Lamplighters on Federal, Thurston Harris went out on his own with Aladdin Records. Formed in 1945 Aladdin was tailor made for Harris, with a roster than included like minded revelers of the big beat Amos Milburn, Big Jay McNeely and Shirley and Lee. The first session, cut in Los Angeles on 27 August 1957 was a scorcher which produced two classics in Little Bitty Pretty One and Do What You Did. He scored a massive hit at his first attempt, with LBPO outselling Bobby Day's original and peaking at number 6. DWYD somehow stalled just outside the top 50, but the standard had been set, and pretty high it was too. The second session only yielded one track, another bitch of a song, I Got Loaded (In Smokey Joe's Joint), which was held back for over six months until released as his fourth single.
So to January 1958 and these two songs of the week. Both Hey Baba Leba and I'm Out To Getcha feature strong bass lines that drive the songs along. Helen Humes' Leba rocks like the dickens and the drums keep a relentless back beat. The sax has 50's r'n'b written all over it complete with a rip-roaring extended solo. Getcha, from the prolific pen of Otis Blackwell, sees the guitarist wear out the bass strings - man they must have been bopping when they laid this down. This must have been what the martians were dancing too as they circulated the skies above the States throughout the decade! Music for flying saucers. Although the standard of his work remained high for a few years he was never able to replicate the success of Little Bitty Pretty One and by the early '60s both Aladdin and Thurston had run their course. What a beautiful ride it was though.
Recommended downloads: Hey Little Girl, Purple Stew, One Scotch One Bourbon One Beer, Fine Fine Frame and the biggies, LBPO, DWYD and Over and Over. Finally, the brilliant doo-wop-n-roller-stroller My Last Will Last.
Shaun Mather
14 January 2007.



Rockin' Song of the Week - Number 2
Gene Wyatt -
Lover Boy
(Ebb 123)
Gene Wyatt got involved in the music industry from an early age as he is hometown was Shreveport, Louisiana, a hot bed of country music and rockabilly. Gene worked with local boys Coach Floyd (bass), Leon Post (piano), Ronnie Lewis (drums) and the future hall-of-fame guitarist James Burton. In 1957 Wyatt fell under the influence of songwriter Dee Marias who took him to the KWKH studios behind the Louisiana Hayride auditorium. They cut four tracks with Burton on fire, not for the last time.
&nbsp They found an outlet for the songs when Ronnie Lewis' esteemed uncle, Stan Lewis sold the masters to the LA based Ebb Records. The label was hot at the time thanks to the Hollywood Flames' Buzz Buzz Buzz and the Shreveport boys must have been dreaming of big things. Ebb owner Leona Rupe chose the fine piano bopper Love Fever as the a-side with Lover Boy on the flip when it came out in January '58. Lover Boy has a swampy rockabilly beat with Ronnie Lewis sounding like Lennox Lewis on the drums. Burton takes two guitar solos that lift the song an extra notch and must have sounded from another world as it blasted out of car radios along the West Coast. Wyatt sings with great enthusiasm, but it's that guitar that makes this so memorable fully 50 years on. Sadly, Gene Wyatt committed suicide in 1980.
&nbsp Recommended downloads; Love Fever and Prettiest Girl At The Dance, the first song I heard by him.
Shaun Mather
shaky@shaunmather.wanadoo.co.uk
January, 2007



Rockin' Song of the Week - Number 1
Jimmy Pritchett -
That's The Way I Feel
(Crystal 503)
Recorded in the spring of 1958 with Nothing On My Mind on the flip, That's The Way I Feel is one of those feel good rockabilly boppers that became synonymous with Memphis. The band is believed to be the Clyde Leopard band, a staple of the local Memphis scene who among others gave a start to Warren Smith. Another legend of the Memphis crowd, Stan Kesler was hell bent on recording his new discovery Jimmy Pritchett but soon ran into problems with the equipment at the WHBQ studio. He called his old pal Sam Phillips who let them use his Sun Studios on Union. Kesler certainly knew his was around that soundboard and he produced a cracker.
&nbsp Drummer Jimmy van Eaton is outstanding and dominates the backing like he does on so many Memphis recordings, whilst. Smokey Joe Baugh takes a flight into the stratosphere for his piano solo. When the song kicks off in JLL style you half expect the Killer to start singing. However, it's our man Jimmy, whose vocals have a great energy to them with the perfect combination of enthusiasm and control.
&nbsp The song was released on Kesler's short lived Crystal label, while Pritchett's career was even shorter. Pityfully, this was his only release. He probably came on the rockabilly scene two years too late to have ruffled Sam's hair, a shame because he seemed to have the exuberant voice that was made for rockabilly.
Shaun Mather
shaky@shaunmather.wanadoo.co.uk
January 2, 2007





Page Created January 2, 2007