SPONSORED LINKS:





December 4, 1956, the so-called "Million Dollar Quartet"
jam session took place at Sun Studios in Memphis
with Elvis Presley, Jerry Lee Lewis, Johnny Cash and Carl Perkins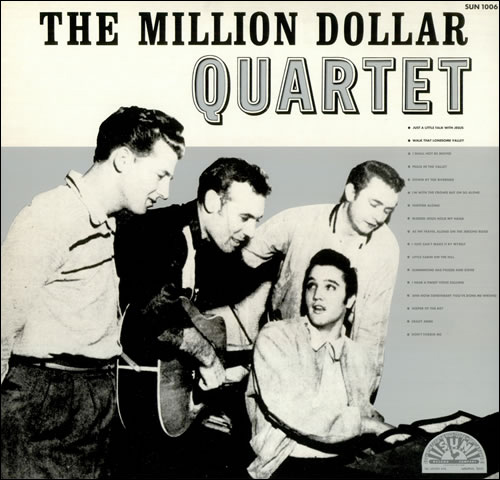 If you were carving a Mount Rushmore of early rock, or at least rockabilly, you'd be hard-pressed to find four more deserving visages than those that assembled at Sam Phillips' Sun Studios on this date in 1956. On that day, fate conspired to place Elvis Presley, Jerry Lee Lewis, Johnny Cash and Carl Perkins in the now-legendary Memphis recording studio for an afternoon of impromptu, but historic magic.

The day started like most other days at the studio, with a booked session by a young Sun artist. On this day, that artist was Carl Perkins, who was looking to recapture the magic he had garnered on "Blue Suede Shoes" the year before. Perkins was accompanied by his brothers, Clayton and Jay, and drummer W.S. 'Fluke' Holland (later of Johnny Cash's Tennessee Three). An outside musician was brought in my Phillips to fatten up the mix with some additional piano. That outsider was a recent Sun Records signee from Louisiana - a fireball named Jerry Lee Lewis. The session (as one can imagine) was absolutely rollicking, as evidenced by the recording of "Matchbox".

The sequence of events to follow has grown a bit fuzzy over the course of time. At some time in the early afternoon, Elvis Presley arrived with a Vegas showgirl named Marilyn Evans in tow. Evans had been a guest of Presley's at his Memphis home, having met The King after hours at a coffee shop in the Frontier Casino a few weeks before. Elvis was showing her around town with a few friends, including a young singer named Cliff Greaves, when he decided to stop by his old stomping grounds to visit Sam Phillips.

Presley, who had left Sun for RCA in November 1955, entered the studio and the formal session quickly became an informal, good-humored jam session. Phillips, sensing that something special was materializing, ran tape - capturing the magic session for posterity. And somewhere along the way, Johnny Cash joined the party. Cash, who would release "Folsom Prison Blues" just 11 days later, later claimed that he was already hanging out when Presley arrived. Whatever the sequence of events, when the four future Rock and Roll Hall of Famers settled into the studio, it was a full-fledged hootenanny.

The quartet traded bits and pieces of over 40 songs, most of them gospel and country numbers like "Peace in the Valley" and "Little Cabin Home on the Hill". But they also threw down rock and roll hits from Chuck Berry, Little Richard and even nuggets from Presley's own songbook. The result, while hardly a polished, rehearsed performance, is a priceless time capsule of the dawn of rock and roll. Phillips, again prescient enough to recognize the importance of the occasion, called the local newspaper, which sent a photographer to capture the moment.

The ad hoc band, dubbed "The Million Dollar Quartet" in the Memphis Press-Scimitar in the next day's issue, was something of legend until Shelby Singleton bought Sun Records from Phillips in 1969 and unearthed the tapes. The Million Dollar Quartet was released in 1981 as a 17-track LP, with more completist versions to follow. Though the recordings are of fair-to-middlin' quality and the songs are mostly sketches rather than complete works, they nevertheless stand as an eternal document of the raw youth, enthusiasm and sheer talent that launched rock and roll into the stratosphere.


Tracks, writers and duration
Instrumental (Unknown) - 1:44
Love Me Tender - Instrumental (Presley/Matson) - 1:02
Jingle Bells - Instrumental (Traditional) Ð 1:57
White Christmas - Instrumental (Berlin) - 2:05
Reconsider Baby (Fulsom) - 2:45
Don't Be Cruel (Presley/Blackwell) - 2:20
Don't Be Cruel (Presley/Blackwell) - 2:20
Paralyzed (Presley/Blackwell) - 3:00
Don't Be Cruel (Presley/Blackwell) - 0:36
There's No Place Like Home (Payne/Bishop) - 3:36
When The Saints Go Marchin'In (Traditional) - 2:18
Softly And Tenderly (Traditional) - 2:42
When God Dips His Love In My Heart (Traditional) - 0:23
Just A Little Talk With Jesus (Derricks) - 4:09
Jesus Walked That Lonesome Valley (Traditional) - 3:28
I Shall Not Be Moved (Traditional) - 3:49
Peace In The Valley (Dorsey) - 1:33
Down By the Riverside (Traditional) - 2:26
I'm With A Crowd But So Alone (Tubb/Story) - 1:16
Farther Along (Traditional) - 2:08
Blessed Jesus (Hold My Hand) (Traditional) - 1:26
On The Jericho Road (Traditional) - 0:52
I Just Can't Make It By Myself (Brewster) - 1:04
Little Cabin Home On The Hill (Monroe/Flatt) - 0:46
Summertime Is Past And Gone (Monroe) - 0:14
I Hear A Sweet Voice Calling (Monroe) - 0:36
Sweetheart You Done Me Wrong (Monroe) - 0:28
Keeper Of The Key (Stewart/Howard/Devine/Guynes) - 2:08
Crazy Arms (Mooney/Seals) - 0:17
Don't Forbid Me (Singleton) - 1:19
Too Much Monkey Business (Berry) - 0:05
Brown Eyed Handsome Man (Berry) - 1:14
Out Of Sight, Out Of Mind (Hunter/Otis) - 0:37
Brown Eyed Handsome Man (Berry) - 1:53
Don't Forbid Me (Singleton) - 0:50
You Belong To My Heart (Gilbert/Lara) - 1:10
Is It So Strange (Young) - 1:21
That's When Your Heartaches Begin (Hill/Fisher/Raskin) - 4:58
Brown Eyed Handsome Man (Berry) - 0:17
Rip It Up (Blackwell/Marascalco) - 0:23
I'm Gonna Bid My Blues Goodbye (Snow) - 0:55
Crazy Arms (Mooney/Seals) - 3:36
That's My Desire (Loveday/Kresa) - 2:02
End Of The Road (Lewis) - 1:44
Black Bottom Stomp (Morton)) - 1:11
You're The Only Star In My Blue Heaven (Autry) - 1:12
Elvis Says Goodbye - 0:40

Courtesy: jerryleelewis.org
SPONSORED LINKS:


Page Created December, 2010