This page is available for sponsorship

Jimmy "Luke" Paulman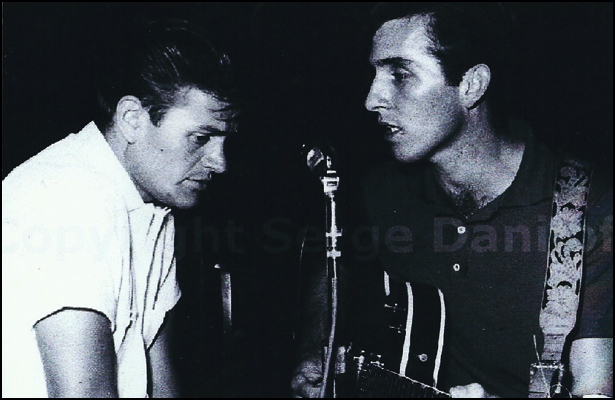 Jimmy Evans and Luke
Luke has a great rockabilly musical background working with artists like: Conway Twitty, Billy Lee Riley (part of the "Little Green Men"), Sonny Burgess & The Pacers, Ronnie Hawkins & The Hawks and Jimmy Evans. He was "Sun" studio musician, from 1956-1957.




Jimmy Luke and the Griffs Band
Paul Westbrook, drums; Jerry Catawok, piano; Ed McFadden, bass guitar



Luke has played on many hits for the Sun, Mercury, Roulette and M.C.A. record labels. He was the guitar man on Billy Lee Riley's "Red Hot" ... played on Ronnie Hawkins' "Mary Lou", "Forty Days", and "Ruby Baby" ... and ... was on Conway's "Need Your Lovin'". A side note: his friend Billy Weir (see article below) played drums on one of Conway's Mercury sessions, but left the band before Conway got famous.




Will Pop Jones, piano; Ronnie Hawkins, singer; Jimmy Evans, bass;
Levin Helms, drums, Jimmy Luke Paulman, guitar



Luke and Rockabilly Hall of Famer Jimmy Evans co-wrote "Memphis 1955.".





Ronnie Hawkins and The Hawks at a jam Session in London
1959


Luke, Levon Helms and Ronnie Hawkins,
Off camera: Jimmy Evans and Will Pop Jones





Bill Weir
55 Years in the Making and Reunion
Newspaper Article - Author Unknown
February 2, 2011 - That's how log it has taken Gumball Studio's owner/engineer, Bill Weir, to release his first CD, despite having recorded nearly 100 projects for other musicians. Billy, as his friends call him, has quietly operated his studio, in Fayette County for over 10 years with "word of mouth only," clientele. This is off season for entertainers, so in the past month alone, Bill has produced a double CD for singer Eddie Cash, now in Palm Beach California, cut demos for "Latin Pulse," a salsa band, the "Memphis Road Dawgs," old friends with credentials such as working with Sam the Sham and Bo Diddly, and Anastasia Domashova Wiseman, a Russian singer/model. Jonathan Gilland was able to complete the Classical theatre project during school "breaks" this year. One of the songs was sung in Italian, accompanied by Nicole Jordan, the reigning "Miss Tennessee." You can never be sure what is going to happen when the "Record Light" comes on at Gumball. "Italian opera in Fayette Co?" Yes!

Billy's credentials have been well chronicled in his autobiography, entitled, "Rock A' Billy, A Slice of Rock N' Roll History – and more." There's a demand for American music, especially about the formative years of Rock A Billy and early Rock n' Roll, which is unparalleled in the UK, France and even Australia. Since the release of his book, Bill has been working with a music enthusiast/historian, Dominique Anglares, in France sharing information about working with the bands of the 50's and 60's. Conway Twitty wasn't the only known artist, that Bill played for, but he did not want to give away too many details in his still available book. Dominique was very helpful in writing book reviews in London, Paris and one in the US for the Rock A Billy, Hall of Fame! Bob Hayden, music enthusiast and radio announcer in Australia, wrote a review in the magazine, "Rock and Roll Appreciation Society of Australia, - edition 109." Bill has gotten reviews in languages that he could not read. "I definitely had more success overseas with my book, than stateside," states Billy.

55 years for the reunion! This past year, Billy teamed up once again with Jimmy "Luke" Paulman and began writing, recording and producing their own music. Jimmy Luke and Billy are the two surviving members of Conway Twitty's original Rockhouser Band, and had not seen each other since the late 1950's. Jimmy has written over 300 songs himself, including the first major release that Conway had on the Mercury Record label, entitled, "I Need Your Loving." Incidentally, Jimmy and Billy were on that session, as well as all of the Mercury releases. Jimmy Luke is responsible for Levon Helm going to Canada to be a member of Ronnie Hawkins band, "The Hawks." The name was changed to simply, "The Band," and the rest is history. Levon gives credit to Jimmy Luke, in his most popular song of the late 1960s, "The Weight," by writing a verse about Luke, and more recently, giving him credit in a TV interview, as a defining factor in his sound. On a more humorous note, "Dance Party" with Dick Clark, will never be the same as when Jimmy Luke ran with his guitar and slid on his knees, up to the TV camera, smiling, and never missing a beat!

"It's rather hard to just tell people that you have released a CD of your own for the 1st time when you have been in the music business most of your life. Harder still, is doing it, without "dusting" off some of the history that's inherently there."

To date and together, the duo has created enough new material, that Billy decided, "It's Time." "I just didn't want to sing someone else's songs," says Billy, and "now, we have something that Jim and I have created, and I'm proud of it." Bill is currently cutting his first promo for Bob Hayden, music enthusiast and disc jockey in Victoria, Australia for a radio broadcast, Shake Rattle and Roll on 92.3 Young – FM. Together, PAULMAN & WEIR PUBLISHING has copyrighted over 50 songs of which 24 are registered with BMI and Jimmy probably has another 20 songs written prior to their reunion.

"We didn't have to take a crash course to know that we're in a very tightly controlled market. But to not try would be quite out of character. Songs keep coming and who knows, it only takes one. Only one!"



Page Posted March, 2011-- ©Rockabilly Hall of Fame®