ROCKABILLY HALL OF FAME® MERCHANDISE & SERVICES

This page is available for "SPONSORSHIP"

(by Jean-Marc Pezet, 2002)



Gene Vincent with The Blue Caps recorded for a mere 3 years for Capitol USA, from 1956 to late 1958, yielding 16 singles, 13 EPs (culled from LPs apart from "Hot Rod Gang") and 5 LPs. This represents a legacy of approximately 97 recorded tracks (not counting stereo versions, demo sessions and live appearances). Further recordings were done by Gene Vincent without The Blue Caps both in the USA and the UK, 2 more LPs were released "Crazy Times" and "The Crazy Beat Of " (albeit the latter not in the USA). For the sake of this article, I limited myself to the sessions of Gene Vincent and The Blue Caps as a group. One can consider this is the most influential part of his work, in the studio and on the road.

Gene Vincent's story is quite well-known and the recording sessions have already been discussed in details over the years. I will try to take a new approach to these ground-breaking recordings by pin-pointing Gene's musical influences in the choice of covers done through the recording sessions.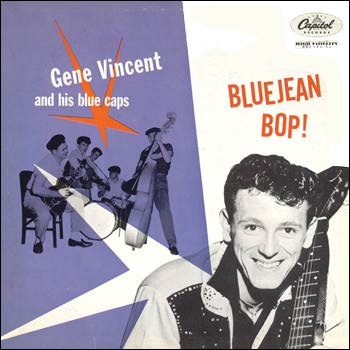 After the initial demo session from April 9th 1956, Gene & the Caps were invited by Capitol producer Ken Nelson to recut the three numbers at Owen Bradley's Studios in Nashville. This historical session took place on May 4th 1956 and Gene covered "Woman Love", a hillbilly song whose original from Jimmy Johnson (vocalist for the Jack Rhodes band) had appeared on a Starday single (Starday 561, May 1956), and was written by Jack Rhodes, who will also provide several other songs for Gene and also gives an early link to Dallas where Gene will settle just a few months later. "Woman Love" originally made the A side of the first single with "Be Bop A Lula" on the flip side.
Following the great success of "Be Bop A Lula", it is clear that Capitol tried to market Gene as an answer to RCA's Elvis Presley, thus they needed to have an LP out very quickly. This is quite surprising as LPs were not at the time teen-market orientated and only the best selling artists were favoured with LP releases. Gene had had only one single out when the "Blue Jean Bop" LP, Capitol T 764, was released in August 1956.
The sessions for the "Blue Jean Bop" LP were also held at Owen Bradley's Studio in Nashville over Monday 25 and Tuesday 26 June 1956. Albeit some fresh material was brought in from Gene or other songwriters, Ken Nelson had to draw on the vast American musical heritage and have Gene cover some Tin Pan Alley classics and old time favorites. This album contains 7 covers (out of 12 tracks).
Considering Gene's Southern roots in country music and the fact he was presented with Black R&B and Gospel music during his childhood, it may well be likely that he chooses to cover Hank Williams' "Waltz Of The Wind" (MGM 12535, recorded 1949, released circa 1954-55) and Hadda Brooks' "Jump Back Honey" (Okeh 6924, recorded August 18th 1952).
The lyrics to "Jump Back Honey" were apparently drawn from a very old song, "Negro Love Song", written by Paul Lawrence Dunbarr (1872-1906) and performed by Herbert Woodward Martin. Though, this has to be verified.



The other covers were:
"Jezebel" (Wayne Shanklin)
the oldest known version is by Frankie Laine, Columbia 39376 (recorded 4th April 1951), 1951
"Ain't She Sweet" (Milton Ager, Jack Yellen)
Introduced by Paul Ash & His Orchestra, it is believed the first version has been recorded by Ben Bernie & His Orchestra, on Brunswick 3444. A version by Paul Whiteman's Rhythm Boys (including Bing Crosby) was recorded on 20th June 1927, issued on Victor 20783, 1927
"Wedding Bells (Are Breaking Up That Old Gang Of Mine)"(Sammy Fain, Irving Kahal, Raskin) - Introduced in 1929 and recorded first by Gene Austin (Victor 21893), other versions by:
Steve Gibson & The 5 Red Caps, rec NY Sept 1947, Mercury 21893, hit no 21 on the pop chart, 1948
(Gene Vincent's version is really similar to the 5 Red Caps') The Four Aces (with Al Alberts), Brunswick 05308, July 1954
"Up A Lazy River" (Hoagy Carmichael, Sidney Arodin)
Hoagy Carmichael sang it in the 1946 William Wyler movie "The Best Years Of Our Lives", starring Myrna Loy, Frederic March, Dana Andrews, Teresa Wright and Virgina Mayo (Hoagy played the role of Uncle Butch, a barkeeper). The film was acclaimed at the time of its release and won 7 Oscars. Gene Vincent's version is close to the Mills Brothers', issued on Decca 25046 (circa 1948-1950).
"Peg O' My Heart" (Fred Fischer & Alfred Bryan),
This song was written for the Broadway show "Ziegfield Folies Of 1913", (1913) where it was introduced by Charles Harrison . There is also a movie of this name in 1933.
Jerry Murad And The Harmonicats, Mercury, 1947
Pee Wee Hunt And His Orchestra Capitol T492, circa 1952-1954
These are run-of-the-mill Tin Pan Alley standards and oldies and have been fired-up to classic rock'n'roll thanks to Gene's voice and the out-of-this-world Cliff Gallup guitar playing. How many young guitarists broke their teeth on the "Up A Lazy River" solo?
After a relentless touring schedule during the summer 1956 and the failure of his second single "Race With The Devil / Gonna Back Up Baby" ("Devil" was recorded at the first May session and "Back Up" on June 25th), The Blue Caps were back in the studio for a 4 day marathon session (15/16/17/18 October 1956) during which they recorded 15 titles, including classics such as "Cat Man", "Double Talkin' Baby" or "Cruisin'". Fortunately, Cliff Gallup agreed to take the lead guitar on that session, having already left the group along with Willie Williams during the summer.
Twelve tracks made the classic LP "Gene Vincent & The Blue Caps" Capitol T 811, March 1957, regarded as one of the best rock'n'roll albums (without mentioning the cover art that has been heavily copied over the years). But the situation had changed following the "Be Bop A Lula" success, and much more original material was available to record. From the material brought in, further Jack Rhodes songs and one Danny Wolfe song connects Gene once more with Dallas, Tx.
Danny Wolfe wrote "Double Talkin' Baby" that was demoed by future Challenge recording rocker Huelyn Duvall. Danny was influential in the career of the latter and other Texan Rocker Tooter Boatman (of "Thunder And Lightning" fame).




Covers were down to only 2 songs:

Unchained Melody (Alex North, Hy Zaret)
the original version is by Al Hibbler, Decca 29441, 1955
The song was written by North & Zaret (well known movie music writers) for the movie "Unchained", Warner Brothers, 1955.

There are some amusing coincidences and links between this movie and Gene Vincent : the movie starred an actor (and football player) called Elroy "Crazy Legs" Hirsch, and "Unchained Melody" was actually sang in the film by Todd Duncan, the famous baritone in the Porgy and Bess movie that included the original version of "Summertime" which Gene covered in 1958. Al Hibbler was a former singer with the Duke Ellington band (from 1942 to 1951) and left to pursue a solo career. The song was a huge hit in 1955 for several artists, notably Al Hibbler, Les Baxter, Roy Hamilton and June Valli.

Blues Stay Away From Me (A & R Delmore, Raney, Glover)
Original version by The Delmore Brothers, King 803, 1949.
Once more, Gene shows his country roots by covering a song from one of the most influential country duo. The Delmore Brothers recorded hillbilly boogies on King from the mid 40s to the early 50s and it can be said they are one of the founders of rockabilly music. They have been often covered, from The Johnny Burnette Rock'n' Roll Trio (who recorded their version on July 2, 1956) to Ray Campi.




By the end of 1956, and after 6 months of crazy hard work, The Blue Caps disbanded and Gene needed to have some rest because of his bad leg. In early 1957, thanks to Paul Peek, Gene was able to form a new Blue Caps combo with the hiring of guitarist Johnny Meeks, Bill Mack and Tommy "Bubba" Facenda, still with Dickie Harrell on the drums. Bassist Bill Mack was however soon replaced by Bobby Lee Jones. This is this formation that toured England several times since 1982.

The Caps were back in the studio by June 1957 (19th and 20th), this time at the Capitol Tower in Hollywood, and two singles were issued: "Lotta Lovin/Wear My Ring" Capitol F3763 on July 22th and "Dance To The Bop/I Got It" Capitol F3839 on November 18th.

The strong combination of "Lotta Lovin" and the ballad "Wear My Ring" put Gene back on the Top 10, leading him to an Australian tour with Eddie Cochran and Little Richard. Upon his return to the USA in September, "Dance To The Bop" has been issued, given him his third hit record (and the last for the USA).

Can we call "Wear My Ring" a cover? Although Bobby Darin recorded it in May 1957 (before Gene's), it will not appear until 1958 on an LP, Atco LP 33-102. Apparently, the writers, Bobby Darin and Don Kirschner sent a demo of the track to Ken Nelson for Gene, surely trying to pitch a song to a hitmaker!

It seems that a demo of "Dance To The Bop" was done by Dallas group Gene Rambo & The Flames, they also recorded "My Little Mama" in a sound close to Gene & the Blue Caps'.





Studio sessions were booked for four days over December 1957 (6th, 9th, 10th and 15th) and 15 tracks were recorded, 12 forming Gene's third album "Gene Vincent Rocks And The Blue Caps Roll" Capitol T 970, issued in March 1958. It is clear that with so little time and a complete new band, new songs were not available, the only one song from the pen of Gene and Paul Peek was "Time Will Bring You Everything". The rest was sourced from music writers such as Joe & Audrey Allison ("Brand New Beat") who also composed for other Capitol artists such as Tommy Sands and Jerry Reed, Otis Blackwell ("It's No Lie"), basically a Rhythm & Blues artist (he recorded for RCA in the early 50s, "Daddy Rollin Stone" is a well known blues track), he became a successful rock'n'roll composer with many hits ("Great Balls Of Fire" for Jerry Lee Lewis, "Don't Be Cruel" or "All Shook Up" for Elvis Presley, to name but a few). A further Bernice Bedwell song ("In My Dreams") was recorded. Bernice Bedwell headed from Dallas, Tx, and she already had provided Gene with "Lotta Lovin" earlier this year.





The same formula was reused in the choice of covers:

By The Light Of The Silvery Moon (Gus Edwards, Ed Madden)
is an old song, written in 1909. The best known version from the rock'n'roll era is that by Little Richard who recorded it for Specialty in 1956. It was not issued until July 1958 on Richard's second LP « The Fabulous », Specialty 2104 and the accompagning EP, SEP 404 (it made a single, SP 660, as late as 1959). It is likely that Gene became aware of this track after the October 1957 Australian tour he made with Little Richard, but it's only a guess.

You'll Never Walk Alone (Richard Rodgers, Oscar Hammerstein II) This song comes from the Broadway musical "Carousel", 1945 where it was introduced by Christine Johnson. A version by Roy Hamilton, Epic 9015 from 1954 pre-dates Gene's.

Frankie And Johnnie (trad)
This is an old traditional folk songs from the 19th century, one of the earliest known version being by one Mommy Lou (any info ?). It has been played to death over the years and was part of the 1930's country-blues repertoire of Mississippi John Hurt, Big Bill Broonzy or Jimmy Rodgers. It is not clear which version Gene's is based on, but "Frankie And Johnnie" became a rock'n'roll standard by the mid-to-late 1950s with versions by Charlie Gracie (circa 1953-1954), Charlie Feathers (1956), Jerry Lee Lewis (1958) or Johnny Cash (1959).

You Belong To Me (Pee Wee King, Redd Stewart, Chilton Price)
Written by West Coast Western Swing pioneer Pee Wee King (Redd Stewart was vocalist with Pee Wee King's orchestra), the original version is by Joni James, her very first recording, MGM 11295, 1952, but Jo Stafford covered it and had the hit in 1953 on Columbia 39811.

Your Cheatin' Heart (Hank Williams)
Original version by Hank Williams, MGM 11416, released February 2nd, 1953. No introduction needed for "Your Cheatin' Heart", a song that should be in the Top 5 of the best country songs ever. Back to Gene's country roots, he must have really dug Hank as this is his second cover. Two more to come next year.

Should I Ever Love Again (Edward Gates, H.M. Cockel)
Original version by Wynona Carr, Specialty SP 589, 1956. Wynona Carr recorded Gospel for Specialty under the name of Sister Wynona Carr in the early 1950s. In 1955, she decided to go for secular music and recorded some good rock'n'roll sides for Specialty but success never really came. Gene's version had the lyrics slightly modified.
ED. NOTE: When Gene and the Caps used to hang out at Kay Wheeler's house in Dallas, Kay used to play Wynona's version when the gang was partying. Gene decided to record that song, but couldn't remember the words when doing the session. Ken Nelson kept asking Gene, "What are the rest of the words?" Gene replied, "Those are all the words" and bluffed his way through the song using his great voice to fill in with "now, nows" and "yes, yesses". -Info courtesy Kay Wheeler and Johnny Meeks.





By the end 1957, further changes in the Blue Caps line-up happened with the departure of original 1956 drummer Dickie Harrell and clapper-boys Paul Peek and Bobby Facenda. Though the two latter agreed to appear in the forthcoming "Hot Rod Gang" movie and to participate to the next recording session that was to be held at the Capitol Tower, Hollywood, on 25 to 29 March 1958. These recordings sessions are of particular interest as Gene's good friend Eddie Cochran made uncredited appearances on backing vocals and appears to have given a hand at producing the session.

From this session was culled the beautiful "Hot Rod Gang" EP with 4 songs performed in the film of the same name and the "Gene Vincent Record Date" Capitol T1059, Gene's fourth LP, out on September 1958.

The LP has 6 covers out of 12 tracks. Gene recut two unreleased tracks from the 1956 sessions, "Five Feet Of Lovin" and "Teenage Partner", Dallasian Bob Kelly provided two songs, the magnificent "Git It" and "Somebody Help Me". The two other left are from either Gene or some Blue Caps members, "Look What You Gone And Done To Me", "I Love You".

Not surprisingly, the covers derived from the same sources as before, current hit, Comedy, Country and Black Vocal R&B.

Keep It Secret (Jessie Mae Robinson)
The original version is believed to be by Slim Whitman, as "Keep It A Secret" on Imperial 8169, 1952 (recorded in October). Others are by Bing Crosby & Jo Stafford, Columbia 39891, 1953 and Cliff Shepherd, Choice 840, 1956.
Jessie Mae Robinson later wrote "Let's Have A Party" for Elvis Presley. (This track was cut at the 10/12/1957 sessions)

The Wayward Wind (S Lebowsky, H Newman)
Gogie Grant, Era 1013, a Top records in 1956, it remained at No 1 for 8 weeks and went Gold on 28/04/1956.

(You Gave Me) Peace Of Mind (J Bracken)
original by The Spaniels Vee Jay 229, November 1956. A beautiful and moving black vocal ballad that perfectly fits Gene's voice.

Summertime (George Gershwin)
George Gershwin needs no introduction, he is one of the most well known song-writers and artists of the 20th Century, being on the bridge between classical music, jazz and pop. He wrote the melody to "Summertime" for his opera "Porgy And Bess".
There have already been versions of "Summertime" on the market before Gene's, notably Sam Cooke, on Keen 34013, which made No 81, 4/11/57 and Jesse Belvin, on Modern 1025, 1957. It may have been Sam Cooke's success that prompted Gene to record it. Anyway, Gene's adaptation will remain one of his brightest songs ever.

I Can't Help It (If I'm Still In Love With You) (Hank Williams), MGM 10961, 16/03/51
Hey Good Lookin (Hank Williams), MGM 11000, 16/03/51
No comments on these classical country song. Hank Williams is the master at telling heart-breaking stories.

Rocky Road Blues (Bill Monroe)
Original by Bill Monroe, the father of Bluegrass, Columbia 45541 1945.
Bill Monroe is also the writer of "Blue Moon Of Kentucky", covered by Elvis as the B-Side of his first SUN single. A rockabilly version of "Rocky Road Blues" had already been recorded by Ronnie Self on Columbia 4-40989, 1957.

Now Is The Hour (Scott, Mailhau) Also known as "Maori Farewell Song", it was introduced in 1946 by England's Grace Fields, but Bing Crosby had the #1 hit with it on Decca 24279 in early 1948. Gale Storm made No 59 with it on 15/09/1956 (Dot 15492).





The Blue Caps were one of the wildest rockin' bands working on the circuit, and albeit they had no hit records, toured extensively during 1958, leading to inevitable personnel turn-over. By October 1958, when Gene was back in the studio (13th to 17th, 20th and 21st), it was the last time he was accompanied by The Blue Caps, Johnny Meeks was always on lead guitar, and sax session men Jackie Kelso and Plas Johnson were brought in. 23 tracks were put in the can over those 6 days. 12 were used on "Sounds Like Gene Vincent" Capitol T1207 issued on 12/1959, and 5 others (along with "Right Now", recorded in December 1957) made up the 3 singles issued between 11/1958 and 11/1959. Despite the quality of rockers like "Say Mama" or the impressive reading of "Over The Rainbow", Gene failed to make the charts. Material was this time mainly original (only 8 covers out of 23 tracks) from the pen of some of the Blue Caps, and two tracks written by Johnny Burnette.

The covers were mainly drawn from current rock'n'roll hits (Little Richard, Chuck Berry, Huey Piano Smith), a further Delmore Brothers track, and an old Musical number, "Over The Rainbow".

Beautiful Brown Eyes (A Delmore, R Delmore, A Smith, J Capehart)
The Delmore Brothers, King ?. Jerry Capehart was Eddie Cochran's manager. It is surprising that his name appears in the composers list!

Rip It Up (R Blackwell, J Marascalco)
Little Richard Specialty 579, recorded 9/5/1956

Ready Teddy (R Blackwell, J Marascalco)
Little Richard, Specialty 579, recorded 9/5/1956, No 44 on 07/07/1956.
Richard sang them both in the movie "The Girl Can't Help It", in which Gene also appeared.

I Can't Believe You Wanna Leave (L Price, R Penniman)
Little Richard, Specialty 611, 01/08/1956, co-written with Specialty co-star Lloyd Price.

Maybelline (C Berry, R Fratto, A Freed)
Chess 1604, recorded 5/1955, No 5 on 20/08/1955 (sole composer was evidently Chuck Berry, as credited on the first Chess pressing, Fratto's and Freed's name were added later). Maybellene needs no introduction, it is a milestone recording in american music.

High Blood Pressure (Huey Piano Smith)
Huey Piano Smith & The Clowns (as Bobby Marchan & The Clowns), Ace 545, 1958

My Baby Don't Low (signed Gene Vincent)
An old tune, usually titled "My Babe", original version in this form attributed to Little Walter, Chess 811, 1955 though a version by James Cotton, titled "My Baby" was issued on Sun 199, 15/04/1954.

Over The Rainbow (H Arlen, EY Harburg)
Judy Garland, in the movie "The Wizard Of Oz", 1939, Decca 2673, 1939
Other versions, preceding Gene's:
The Checkers, King 4719, 1954
The Dell Vikings, Luniverse 106, 1957





As one says, "and the rest is history". Gene went to tour Japan, and eventually found some recognition (if not fame) in Europe (mainly in UK and France) where in toured regularly in the 1960s. After his stint with Capitol, he recorded for Columbia, Challenge, Dandelion, Kama Sutra and Rollin Rock before his untimely death on 12th October 1971.

The amount and diversity of the material covered shows how much Gene Vincent & The Blue Caps' music was drawn from the rich US musical culture. It is far much more than only a few words on the success of "Be-Bop A Lula" and a bare mention of their appearance in the "Girl Can't Help It" as we too often see. Gene's music is an indispensable element of this culture.


Acknowledgment/sources:
"Gene Vincent The Story Behind His Songs" Thierry Liesenfield
Liner Notes to the Gene Vincent Box Set by Steve Aynsley and Roger Nunn, 1990
Thanks to Dave Penny for additional infos and to Colin Kilgour for proof reading.






© Rockabilly Hall of Fame ®