WEDNESDAY, APRIL 13th
Green Bay, 2005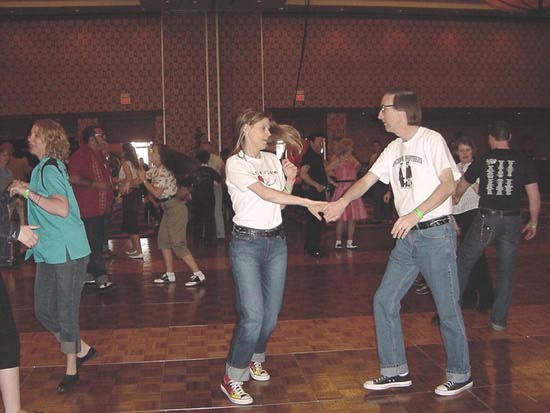 JIVE BOOT CAMP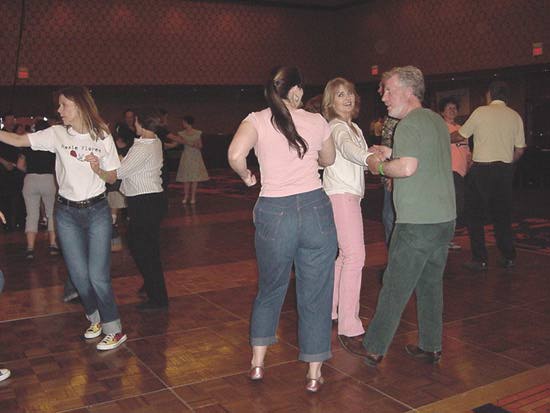 Once again, I was one of the minority who was up and around before noon, and I saw that the free dance lessons with Miss Wolff's Jiving School was still well attended and everyone still seemed to be having a good time, and dancing better!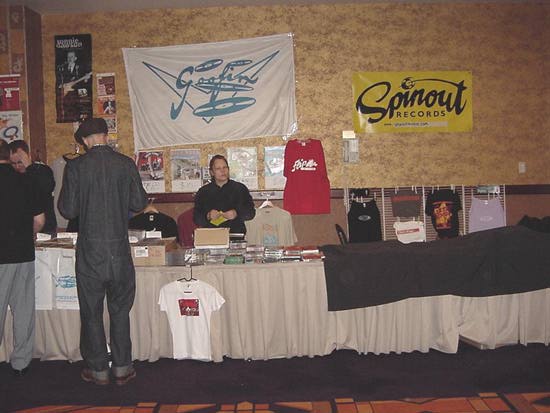 VENDORS IN BALLROOM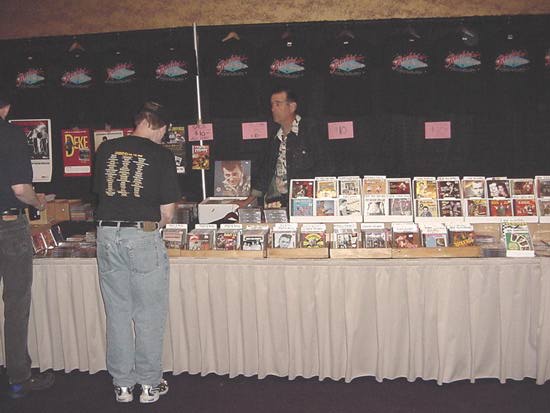 MORE VENDORS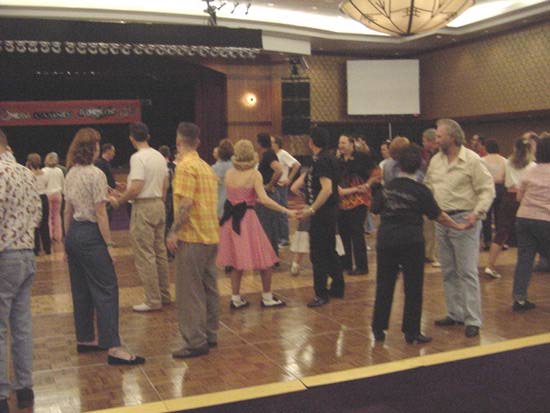 MISS WOLFF'S JIVE DANCE LESSONS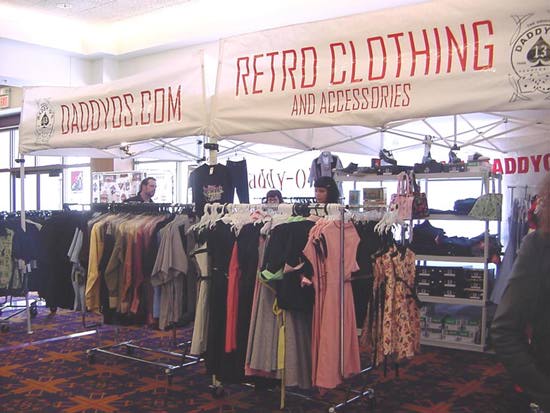 MORE VENDORS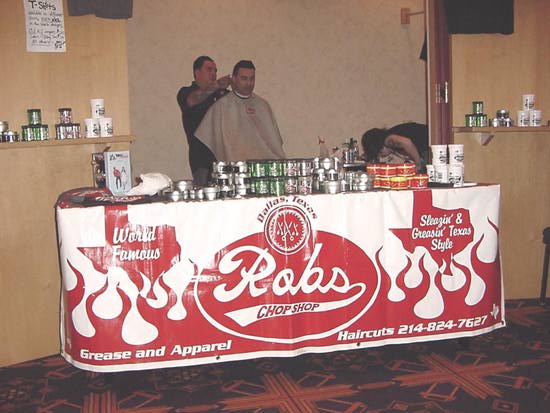 RUDY LA CRIOUS FROM UK GETTING HIS HAIR CUT AT ROB'S CHOP SHOP
(FROM DALLAS, TEXAS)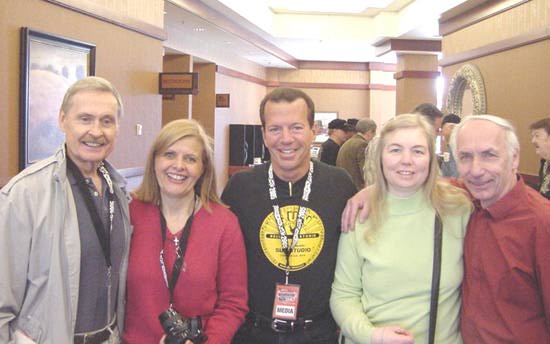 FROM LEFT TO RIGHT: LEW AND ANITA WILLIAMS, BARRY,
AND ERICH AND ANNA HERBST, A COUPLE FROM VIENNA, AUSTRIA
(WHO ALSO ATTENDED GREEN BAY IN 2002)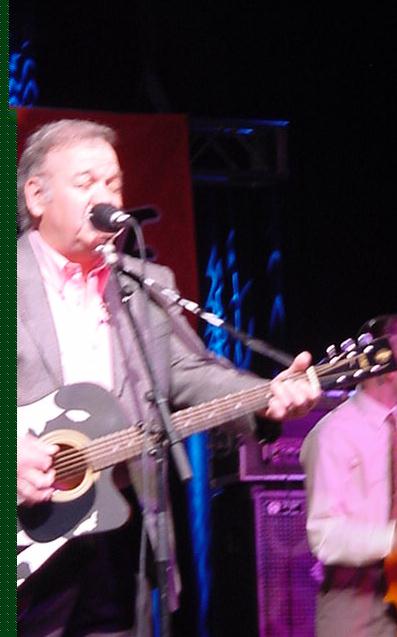 BOBBY CROWN



The first act in the big Ballroom at 2 p.m. was Bobby Crown, who was backed by the Wildfire Willie band. Bobby Krajca, son of Louis and Erin Lorene Krajca, was born in Fort Worth, Texas on March 7, 1941. His mother was part Irish and part Indian, while his father was a second-generation American/Czechoslovakian. It wasn't until after Bobby recorded for Jimmy Fields and Joe Bill at Feldco and Kick Records that Jimmy Fields changed Bobby's stage name to Crown.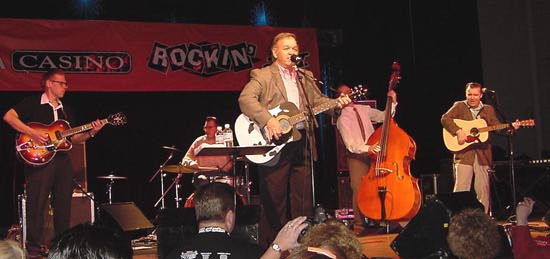 BOBBY CROWN WITH THE WILDFIRE WILLY BAND



Bobby's dad played bass fiddle in a western swing band when he was young, and Bobby remembers the first two songs he learned: "Herijima Isle" and "Remember Me." His mom taught him his first chord on guitar and at the age of 14, while he was messing around with an A chord, he wrote a song called "One Way Ticket." By the mid-50's, Bobby was playing with his dad, and they were called The Krajcas. They mostly did cover songs of Jim Reeves, Marty Robbins, etc. From there they formed a band and played at a wild place called the Lavida Club, and they started to draw some good crowds. At this time Bobby was mixing rockabilly into the country repertoire, and a cousin named Eddie Conley joined the band. Bobby's first two acetate recordings were "Shake, Rattle and Roll" and "Frauline." Eventually they started to play on the "Country Picnic" TV show in Dallas, and the producers of the show were Jimmy Fields and his partner, Joe Bill. Jimmy liked "Your Conscience," which he sang on the TV show and asked Bobby if he had another song for the B side. Bobby told him he had written "One Way Ticket" a few years back.
Bobby has released his own CD, "Bobby Crown Songs From 1956 to 1966" on the Texan Records label, and has both a demo and a released version of the "One Way Ticket" song on the CD.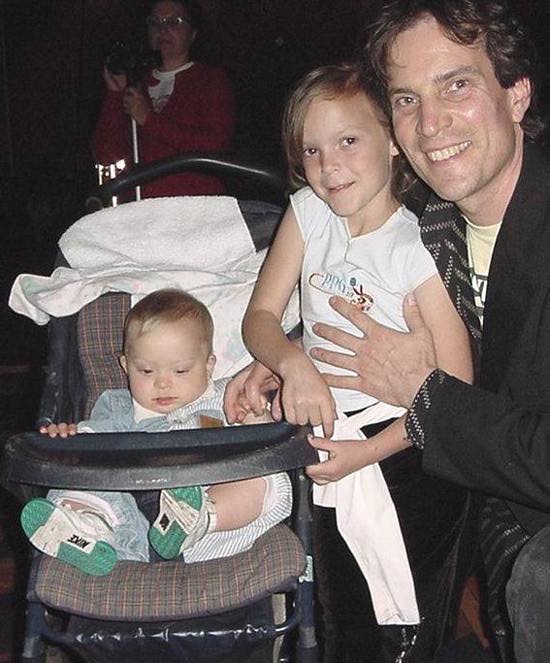 "IT'S A FAMILY AFFAIR"



Overlapping a bit with Bobby Crown's set was a set in the Casino Lounge from 2:00-3:30 p.m. by The Stumbleweeds. The Stumbleweeds are an authentic 1950's/1960's style country and western rockabilly band out of the New England area featuring female vocals from Lynnette Lenker, and red-hot playing from Dennis Kelly on lead guitar, Jack Hanlon on doghouse bass, and Johnny "Cocktail" Cote on his favorite cocktail drum set. They all share a great love of "roots" music. Their debut CD, "Pickin' and Sinnin'," was released in 2001 on Rawk Records label. The Stumbleweeds' own composition, "Honky Tonk Christmas," was also featured on a 2002 Christmas compilation from Dusty Records of Sweden. Their swinging set on Wednesday included many of their own compositions, including "Foot Stompin' Friday Night," "Pickin' and Sinnin'," "Nashville to Nashua," "Had Enough," and "Heart on Fire" along with other great renditions of the likes of "My Baby Just Walked Right Out on Me," "Hard Times Ahead," "The Trouble With Girls," "Look Out Heart," "Evil On Your Mind," "Only Mama," "Boo-hoo Boogie," "Mercy," "Starlight, Starbright," "Mean, Mean, Man," and "Rock Boppin' Baby." Good News! A new CD is in the works and should be out before the end of this year.




I really enjoyed listening to the "Pickin' and Sinnin'" CD when I returned home. Tight, enjoyable music, and the singing chores get spread around a bit, including some nice vocal harmonies.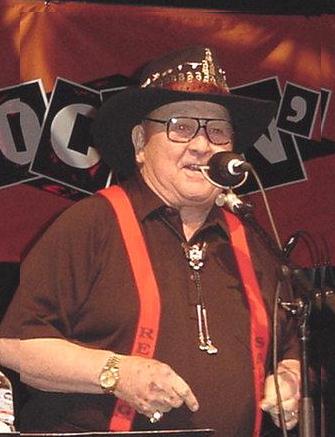 HARDROCK GUNTER



At 3:15 in the Ballroom, Hardrock Gunter took the stage, backed by the Ragtime Wranglers and Carl Sonny Leyland. Born Sidney Louis Gunter, Jr. in 1925 in Birmingham, Alabama, Hardrock Gunter was one of the earliest country boogie artists to start shifting his music into full-fledged rockabilly. Although many people believe that Jackie Brenston's (actually the Ike Turner Band with Jackie Brenston on vocals) 1951 song "Rocket 88" was the first rock and roll record, one year earlier Hardrock Gunter released "Birmingham Bounce." Hardrock's "Birmingham Bounce" was covered by Red Foley for a hit on the country charts, and Amos Milburn on the R&B charts. After releasing several more singles on Decca through 1953, Hardrock Gunter released material for MGM and Sun, among others, and his Sun singles "Gonna Dance All Night" backed with "Fallen Angel" in 1954, and "Jukebox Help Me Find My Baby" in 1956, have appeared on many compilations. Hardrock Gunter has been backed up by the Ragtime Wranglers for several years now, and the set was thoroughly enjoyed and well received by an enthusiastic audience.




HARDROCK GUNTER WITH THE RAGTIME WRANGLERS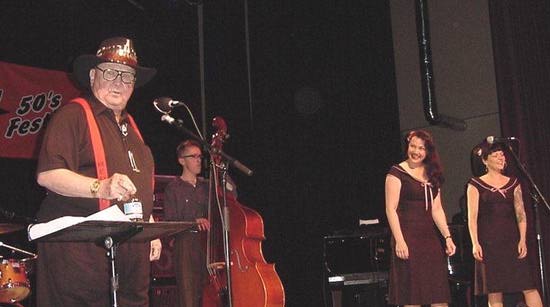 HARDROCK GUNTER WITH THE ORIGINAL RANCH GIRLS



Hardrock Gunter has quite a stage presence and a still-strong voice. He might have leaned on the music stand a bit while he was performing, but the audience couldn't stop moving, whether they were on the dance floor or just getting a closer look at him on the stage. I don't have a set list, but I do remember him doing "Birmingham Bounce," "Gonna Dance All Night," "My Buckets Been Fixed," "Rockin' Boppin' Baby," "Don't Roll Them Bloodshot Eyes At Me," "Right Key But The Wrong Keyhole" and "Honky-tonk Baby." What a great and memorable performance by both Hardrock Gunter and The Ragtime Wranglers! Oh, and by the way: The "Original" Ranch Girls came on stage to sing a song with Hardrock too!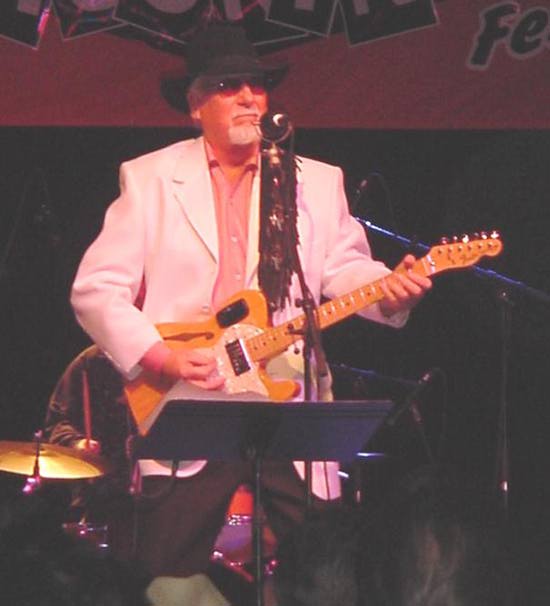 SONNY BURGESS



I have seen Sonny Burgess perform several times since 1999, usually with the group billed "The Original Pacers." However, I never saw him with Jack Nance or a suitable substitute playing that great trumpet I heard on all the earlier Pacers' recordings. Well for Green Bay 2005, Sonny had some of his usual backing band, but also enlisted others, including a member from Mars Attacks, who played the trumpet and made the set sound more authentic than I had ever heard in person before.
Sonny was born in rural Arkansas in 1931, and his stage presence is just as lively as when I first saw him in 1999. Keep Rockin' Sonny!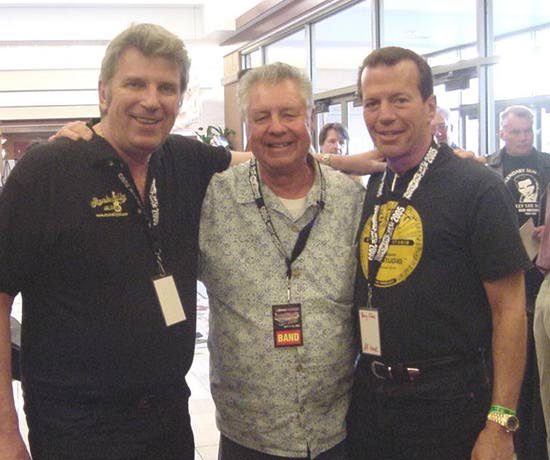 BOB TIMMERS, GLEN GLENN, BARRY KLEIN



LEE DRESSER, LEADER OF KRAZY KATS



The Krazy Kats were formed in 1957 when guitarist Lee Dresser, pianist Willie Craig and drummer Fred Fletcher, three high schoolers from Moberly, Missouri, decided they wanted to rock just like Elvis, Jerry Lee, Fats and all the rest of their favorites.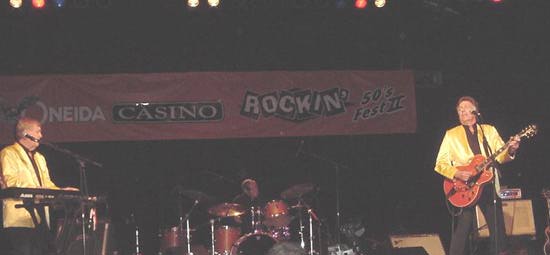 KRAZY KATS



Now based in the Kansas City area, this trio has performed together over 3,000 times, bringing their style of classic 50's and 60's music all over the world. They were voted "Best Band in Kansas City" in 1991 and were inducted into the Rockabilly Hall of Fame in 1999. Their autobiographical song, "Still Rockin' After All These Years!" says it all.
Lee Dresser, who handles guitar, harmonica and most of the lead vocals, is a self-made man whose parents died when he was very young. He was drafted in 1966 and promptly sent to Viet Nam, and Lee started doing a solo act, including some USO work. After his discharge, Lee moved to Los Angeles and began his performing career.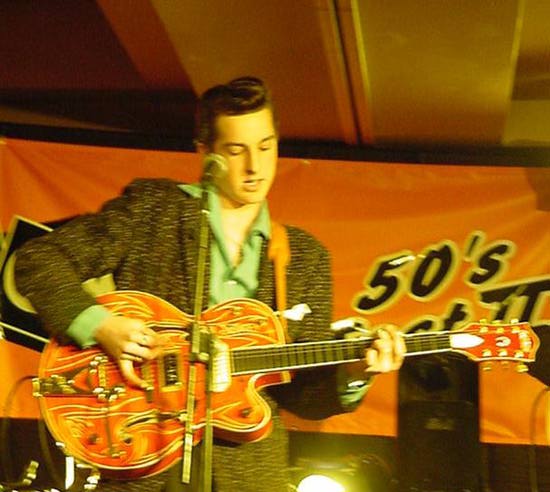 RORY JUSTICE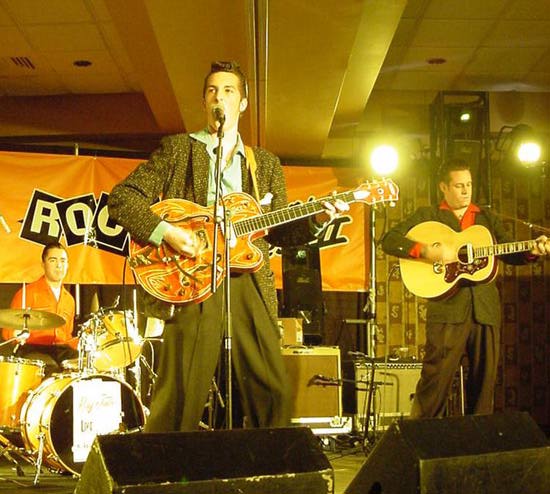 RORY JUSTICE AND GROUP



Rory Justice, a phenomenon of 15 years of age, took the stage in the Iroquois Room at 6:30. A Californian whose dad, Crash, nurtured him with musicianship and showmanship, Rory has quite a lot of talent and stage presence, and seems very respectful of his dad and other influences in his life including Glen Glenn. Rory even called Glen Glenn up to the stage to perform one of my favorite Glen Glenn songs, "Blue Jeans and a Boy's Shirt."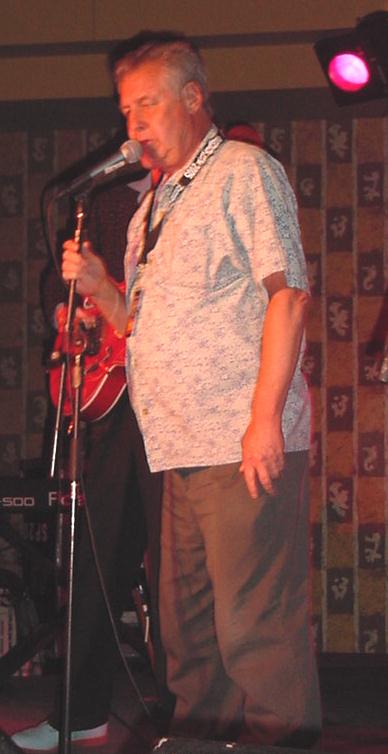 RORY CALLS UP GLEN GLENN TO DO "BLUE JEANS IN A BOY'S SHIRT."


Rory really rocked, and it was fun to think about his promising future.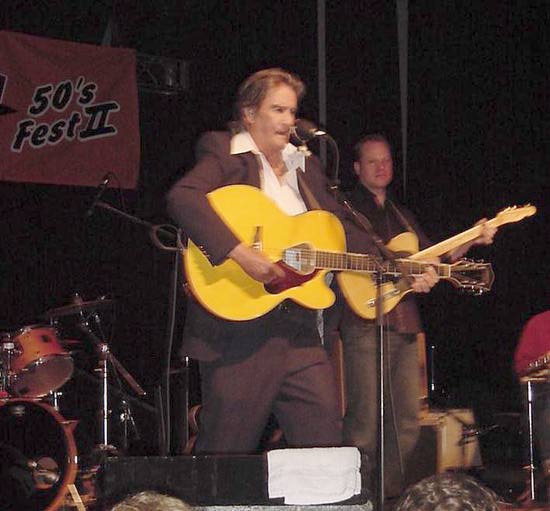 AL URBAN



Al Urban took the stage in the Ballroom at 7 p.m. With Tjarko Jeen on guitar, Jussi Huhtakangas on steel, Kevin Smith of High Noon on bass and Lisa Pankratz on drums, it was a super combination.
Al Urban, who was born near Gonzales, Texas, recorded for Sarge Records in Ś57 and '58 including the songs "Lookin' for Money," "I Don't Want To Be Alone," "Gonna Be Better Times," and "Won't Tell You Her Name." Hal Harris played lead guitar on these songs. Hal himself did "I Don't Know When" and "Jitterbop Baby." In later years, Al's songs would become so popular, they would appear on many compilations including CD's on the ACE, Bear Family, Buffalo Bop, and Collector labels. With Tjarko Jeen now living in Texas, I guess we can call this an all Texas band! At any rate, it was good to see Al Urban looking and performing well, and seeing the face behind the songs we often hear.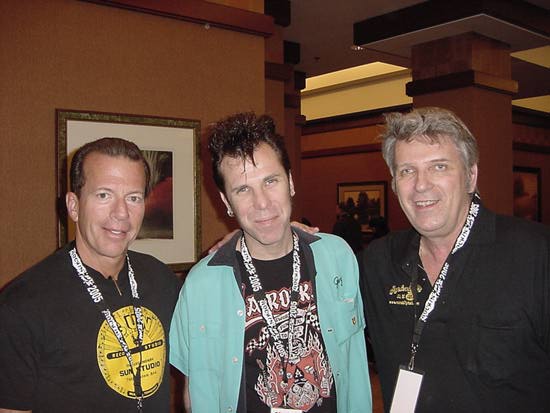 BARRY, SLIM JIM PHANTOM OF THE STRAY CATS, AND BOB TIMMERS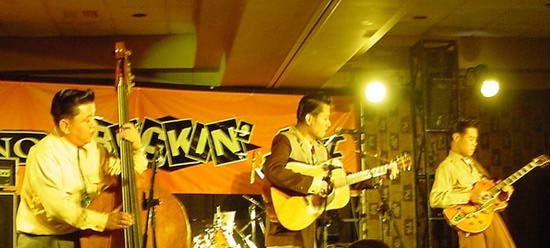 YOUCHI AND THE HILLTONE BOYS, A VERY GOOD TRIO FROM OSAKA, JAPAN.



At 7:45 p.m. in the Iroquois Room, another Japanese band, Youchi & the Hilltone Boys were substituted for The Rizlaz, who I heard had immigration issues getting into the country. I can tell you that this trio, an Elvis, Scotty and Bill-type set up (minus drums) sounded very good, and this Osaka, Japan group has a CD out on the Thousands Record label. Youchi & The Hilltone Boys elicited a raucous, well-received reception and the crowd really went nuts when Youchi yodeled on Hank Williams' classic "Long Gone Lonesome Blues."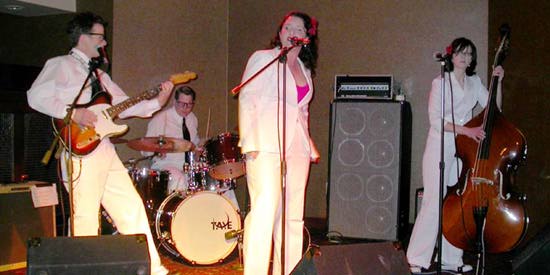 THE DONETTES APPEARED IN PURCELL'S LOUNGE FROM
8 TO 9 PM ON WEDNESDAY, APRIL 13.
(Photo courtesy of Frederic Schroers of KBOO Radio, Portland Oregon.)



The Donettes are a Seattle-based, female-fronted band featuring Rebecca Kemberling, Kirsten Ballweg, Sarah Bratsch, Jonathan Stuart and Tom Forster.
Some of the songs in their set included "Bad Monkey 500," "Oh Boy," "Tom Cat," "5-10-15 Hours," "Whipper Snapper," "Action Slacks," "Rocket 69," "Ready If You're Willing," "Straight Shottin' Daddy" and "Bang Bang."
After their set, a worked up audience demanded an encore, which was "Cry Cry Cry." We haven't heard the last of The Donettes!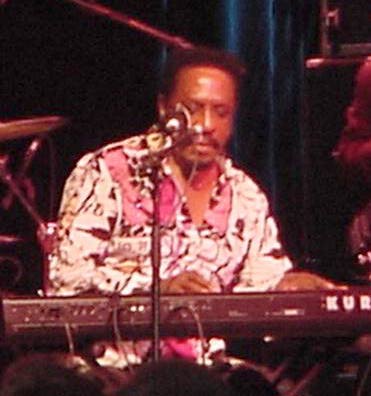 IKE TURNER



At 8:15 p.m. Ike Turner and his big band played in the main Ballroom.




IKE TURNER AND HIS BIG BAND



It is unfortunate that a majority of people do not know the importance of Ike Turner in the genesis of rock and roll. He came to Sun Studio in 1951, almost three years before young Elvis Presley first walked in the door at 706 Union Avenue. It was Ike Turner and the band that he led, The Kings of Rhythm, who recorded what many music connoisseurs refer to as the first rock and roll song, "Rocket 88." As I had mentioned earlier, Jackie Brenston was on the vocals for this song, but it was Ike's leadership in arranging and his band, The Kings of Rhythm, that recorded the song, not the "Delta Cats," Jackie Brenston's side band which was mistakenly credited with the song by Chess Records, who released it and many other Sam Phillips' Sun-produced records in the early 50's. Originally known as well for his guitar playing as his piano pounding, it was Ike Turner, along with BB King and Howlin' Wolf, who were the early R&B Memphis stars emulated by the likes of Elvis Presley a few years later.
There was a big crowd on hand to greet Ike, who also had a bit of a crowd on stage. He was backed by a big band (in 1951 they would have called it an orchestra). Also appearing on stage with Ike was his female vocalist, Audrey Madison, who had a beautiful voice.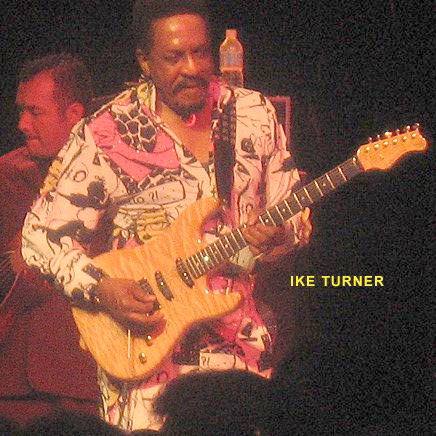 IKE TURNER
(Photo Courtesy of John Hall)



Inducted into the Rock and Roll Hall of Fame in 1999, Ike Turner has been slowly and steadily receiving acclamations that he has deserved for decades. Unfortunately, even though Tina Turner has publicly announced that the film "What's Love Got To Do with It?" was not fair to Ike, that statement was glossed over by the media, and Ike is receiving professional recognition the only way he knows how: earning it. Ike Turner keeps getting more and more of the credit he deserves in his place in the history of rock and roll. Hopefully, he will live long enough to see more of it.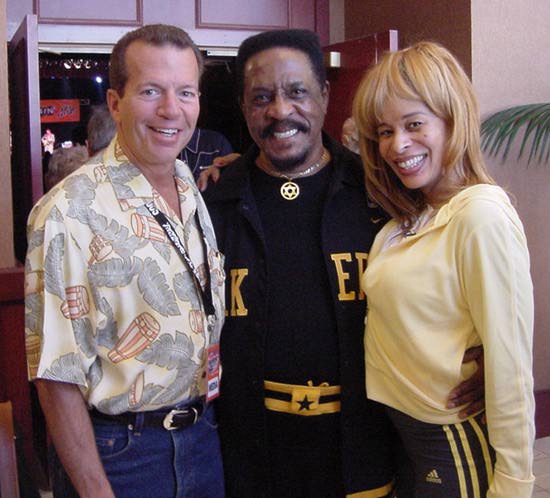 BARRY WITH ROCK & ROLL ICON IKE TURNER AND SINGER AUDREY MADISON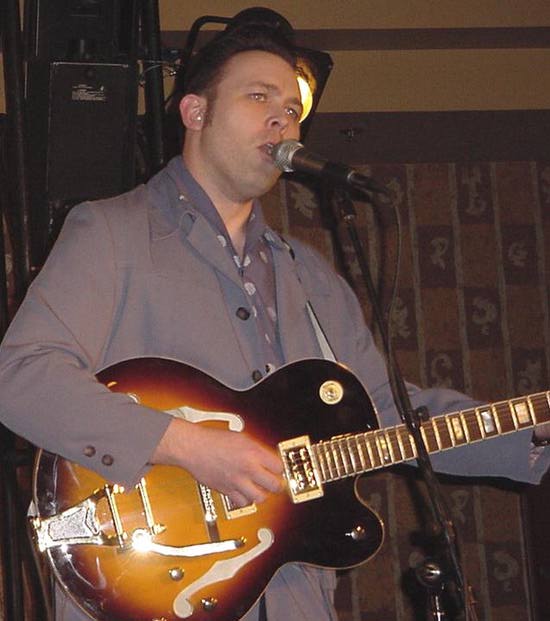 DARRELL HIGHAM



DARRELL HIGHAM & THE ENCORCERS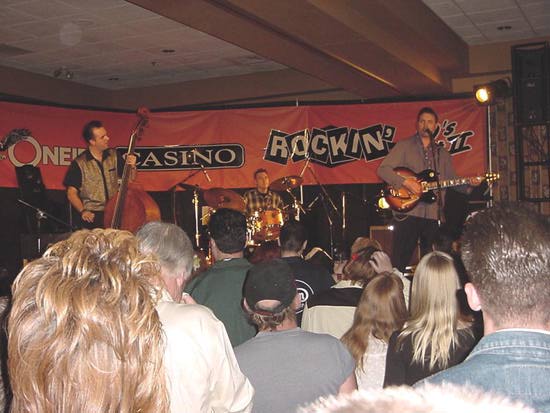 DARRELL HIGHAM & THE ENFORCERS



I heard something very surprising after Darrell Higham & The Enforcers entertained in the Iroquois Room at 9 p.m. Darrell Higham is "taking a break" from performing. This Englishman has been rocking around the world for many years, and his set was up to his usual high standards. I enjoy his recordings and personal appearances, and I hope his hiatus halts soon. And look at the sets he played for the likes of Art Adams, Terry Noland and Roc LaRue!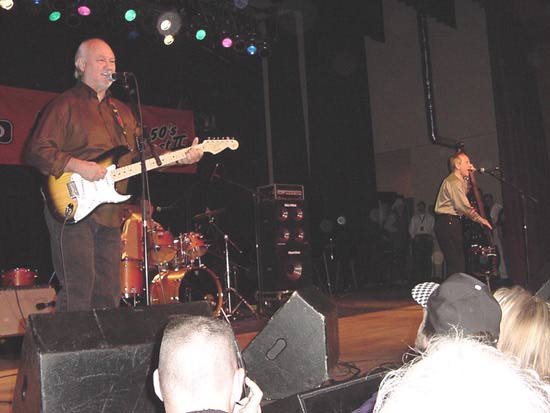 THE CRICKETS



There is a long history of The Crickets, the group that played with Buddy Holly in the 1950's, and this article might become twice as long if I go into their entire history.
In the mid-50's there were no set members of the group. They were a bunch of guys in Lubbock who played with different bands and knew each other.
The regulars of the group in 1957 were Buddy Holly, Jerry Allison, Niki Sullivan and Joe Maudlin. Some songs were released on Brunswick just as "The Crickets," while other songs were released on the Coral Record label as "Buddy Holly." Soon Sonny Curtis and Tommy Allsup also were members of the ever-changing lineup. At the time of Buddy Holly's death, Waylon Jennings was on bass, Charlie Bunch on drums and Tommy Allsup on guitar. Allsup gave up his seat on that Beechcraft Bonanza late February 2, 1959 to Ritchie Valens while Waylon Jennings gave up his seat to J.P. Richardson, The Big Bopper. They crashed just after midnight, making February 3, 1959 "The Day The Music Died."
Fast forward to April 13, 2005: Jerry Allison, Joe Maudlin and Sonny Curtis are The Crickets, although Tommy Allsup, who now plays with The Bob Wills' Texas Playboys band, also played for a spell. Just as they did in 2002, The Crickets played a very enjoyable set to a very large and enthusiastic crowd.
Last year The Crickets released a CD entitled "The Crickets and Their Buddies," a high profile effort produced by Grammy Award winner Greg Ladanyi and featuring guest performances by Peter Case, Eric Clapton, Rodney Crowell, Phil Everly, Nancy Griffith, Waylon Jennings, Tonio K., Albert Lee, Graham Nash, Vince Neil, John Prine, Johnny Rivers, JD Souther and Bobby Vee. Waylon Jennings and Bobby Vee, of course, have performed with The Crickets previously in the 50's and 60's, and we lost Waylon last year.
This just shows what enduring popularity The Crickets have enjoyed, and the great amount of influence they have had with rock, country, alt-country and many contemporary musicians today.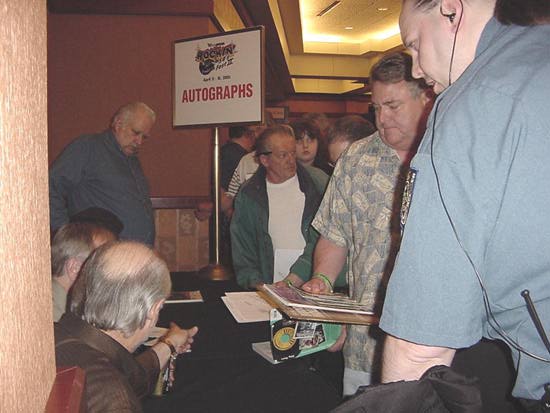 PART OF A LONG AUTOGRAPH LINE FOR THE CRICKETS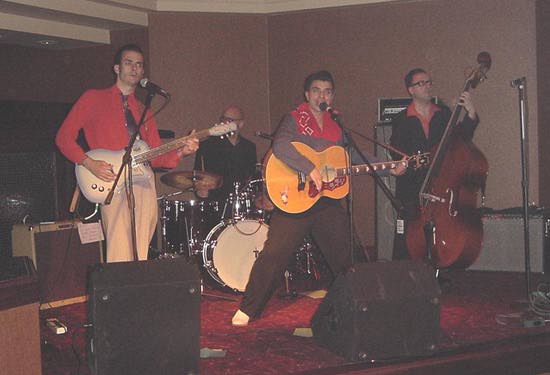 PEP TORRES



Performing at 10 p.m. in Purcell's Lounge was Pep Torres, a Latino-rocker/crooner from Hollywood, California who plays his own blend of 50's-style rock and roll, rockabilly, doo-wop, and rhythm and blues.
Born and raised in Santa Barbara, California, Pep started singing when he was 15 and by the age of 17 was strumming guitar along with his rockabilly records. Pep has already released three albums on the Hollywood Vintage Records label: "Rockabilidad," "You and I," and the most recent, "It Ain't Rocket Science," in 2004.
His music is endemic to the roots music genre in the United States as well as Latin America and Europe, where he has been called by some "The New Ritchie Valens" and "The King of Latin Rock and Roll."
Pep Torres has appeared all over the United States and Canada, including top venues such as The House of Blues, The Derby, the Roxie in Hollywood, the Tractor in Seattle, and the Buddy Holly Center in Lubbock, Texas.
Pep has also crossed the Atlantic and has appeared in Spain three times, the last being a full tour of the country with performances in Madrid, Barcelona, Granollers, L'Hospitalet, Zaragoza and Bilbao.
Pep's Green Bay set included songs in English and Spanish, including "Wow, Wow," (they ought to call you) "Miss Heart Break," "Live It Up," "Dang Me," "Tell Me Why," the old blues number "Mellow Down Easy," and "It Ain't Rocket Science." His Spanish numbers included "Chica Dinamita," "La Novia De Mi Mejor Amigo," "Te Recordare," and "La Chica Alborotada." "Pep" is a good name for this animated, electric performer.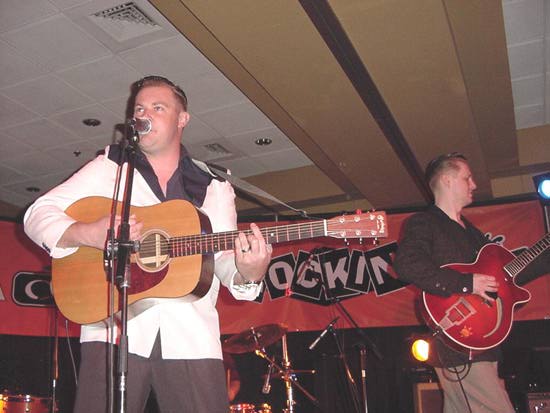 MARS ATTACKS (Swiss Group)



One of the acts that I was looking forward to seeing for the first time was Mars Attacks, who appeared at 10:15 in the Iroquois Room. Mars Attacks is a "super group" from Switzerland and Austria who left other bands to form Mars Attacks. After "launching its attack" and "invading" Switzerland, Austria, Germany, Italy, France, Belgium, Holland and Spain, Mars Attacks made its way twice to perform at Hemsby in England. Their debut album "Run for Your Life!," is available both on CD and 10" LP as well as 7" EP for vinyl fans. It's on the Armadillo Records label. Half of the 14 songs were written by the band. Another 7" vinyl EP called "Snatch It and Grab It" was released after "Run for Your Life!," and their second full-length release, "Dirty Tricks," is available on both 12" vinyl and CD.
They are a terrific band that includes Roland Riedberger on lead vocals and acoustic guitar, Mops Luscher on drums and vocals (they're the Swiss guys), and Austrians Oliver Pfanner on standup bass and vocals, and Martin Telfser on lead guitar.




MARS ATTACKS ­ AND CONQUERS!



I was very impressed with Mars Attacks, as well as their instrumental dexterity, with two of the members able to play trumpet. I couldn't stay for entire set, but the songs in their set list included "Arouse My Curiosity," "Something I Said," "A Gal of My Kind," "Rockin' and a Knockin'," "Diggin' My Steps," Carl Perkins' "Pink Peddle Pushers," Johnny Carroll's "Crazy Crazy Lovin'," "Tattoo Bop," "What A Beat," "You'll Never Break Me" and, of course, "Man From Mars." I would love to take the time to see them do a full set, but there were seven acts I had to catch within a two-hour period.



BARBARA LYNN



Barbara Lynn has had an outstanding 40-year musical career, reaching the No. 1 spot on the R&B charts and No. 8 on the pop charts with her 1962 hit "You'll Lose a Good Thing."
Born Barbara Lynn Ozen in Beaumont, Texas in 1942, she started playing guitar as a teenager. Her early guitar influences were Jimmy Reed and Guitar Slim, and her vocal influences included Connie Francis and Brenda Lee, along with the "swamp rock" sounds of the east Texas/Louisiana area.
Before she was out of high school she was leading her own band, Bobbie Lynn and The Idols. She was discovered by Joe Barry ("I'm A Fool to Care") who introduced her to the famous (and infamous) producer Huey Meaux, who also produced one of Jerry Lee Lewis' best country albums in the 1970's. Meaux was instrumental in getting her a deal with Jamie Records, who released "You'll Lose a Good Thing" and a subsequent LP of the same name. Two charted hits in 1965 were "You're Gonna Need Me" and "Oh Baby (We Gotta a Good Thing Goin')," the latter being covered on the Rolling Stones' third U.S. release, "The Rolling Stones Now" (that album followed "England's Newest Hit Makers" and "12 X 5"). Her last major chart entry was in 1971 with "(Until Then) I'll Suffer," which was No. 31 on the R&B charts on the Atlantic Records label.
Although Barbara dropped out of music for the most part during the 1970's and 1980's, she returned to the music scene in the 1980's and released an LP "You Don't Have To Go," recorded while on a 1984 tour of Japan. She has been touring regularly since then, and releasing new music on blues labels such as Antone's and Bullseye, and she was a headliner at the last Ponderosa Stomp in New Orleans.
Barbara Lynn turned in a fine performance, contributing both vocally and playing her left-handed guitar, with an excellent backing group.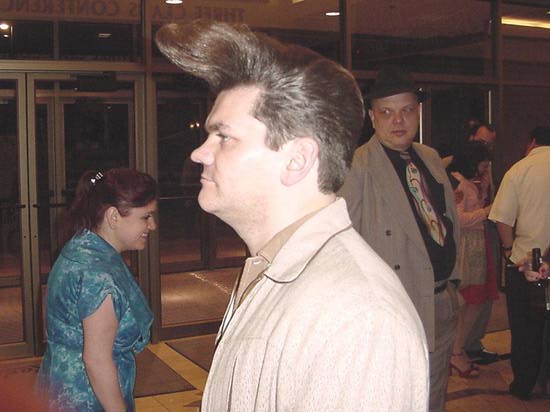 TREVOR COVENEY, FROM CAMBRIDGE, ENGLAND, IS THE UK VERSION
OF CHICAGO'S CARL SCHREIBER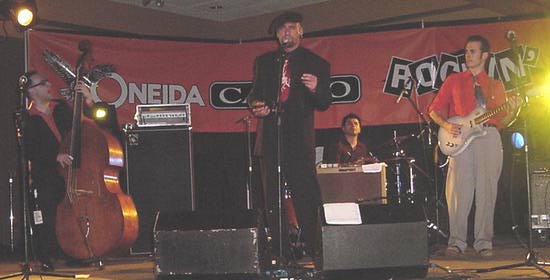 THE LAZY JUMPERS




THE LAZY JUMPERS



The Lazy Jumpers are a jump blues combo who played at 11:30 in the Iroquois. This Spanish combo sounds like they came right out of Chicago, not Spain. The singer, Blas Picon has a terrific sound with his voice and harmonica. They have a CD out on El Torro Records called "Somebody Tell That Woman." The other members of the band are Mario Cobo on guitar, Ivan Kovacevic on upright bass and Marco Antonio on drums.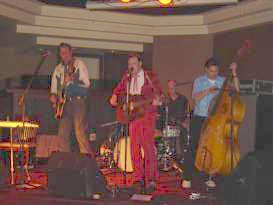 THE STAR DEVILS
(Photo courtesy of Michel and Anneke of the Netherlands.)



The Stardevils performed at midnight in Purcell's Lounge. I had never seen The Stardevils before Green Bay, but I loved their CD "Diagnosis Dee-Licious," which I reviewed in May last year ( http://rockabillyhall.com/barrycdreview0504.html). This Cincinnati-based quartet is still batting 1,000 with me now that I have heard their new CD, "The Devils Music." The Stardevils are led by Lance Kaufman, who handled the production, engineering, mixing and mastering as well as the lead vocals, and many of the song compositions. The band also includes David Rhodes Brown on lead guitar and lap steel, Greg Schramm on drums and Steve Buckel on upright bass. David Rhodes Brown also contributed to the compositions on the CD. My only hope now is that I can stay for an entire performance the next time I see them.
Their set included "Jello Sal," "Miss Froggy," "Six Dollar Trim," "Little Lucy," "I Guess U Figured," "Crazy Lovin'," one of my all-time favorites, "Sugaree," and also featured several songs from the new "The Devil's Music" CD including "Dickity Doo," "Red-Hot Riding Hood," "Rollin'," "Buckboard Boogie," "Off My Rocker," "Leavin' Chicago," "Rockabilly Silly," and "Kat Daddy."
A fellow named Bruce emailed me after the Green Bay festival and commented positively on two groups: The Stardevils and Dr. Snout. Of the Stardevils he said, "The Stardevils are one of the purist rockabilly bands that we sw in the short first 3 days of the show that we were there. Their style, sound and dress were authentic rockabilly. This band was my wife's favorite of all the smaller venue bands. We are both looking forward to seeing them again." What more can I say??!!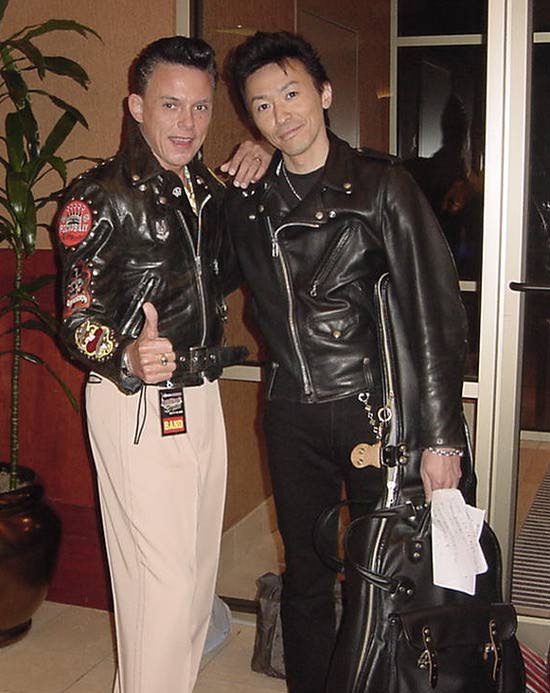 LEVI DEXTER AND LEAD GUITARIST OF MAGIC



Levi Dexter with Magic performed at 12:15 a.m. in the Ballroom.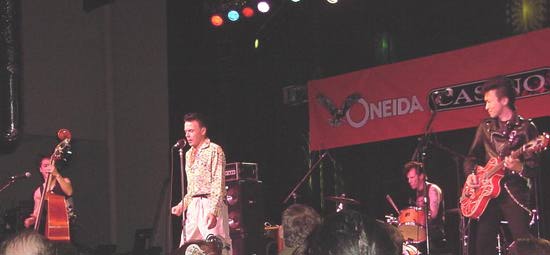 LEVI DEXTER AND MAGIC WITH SLIM JIM PHANTOM ON DRUMS



I have written about Levi Dexter on more than one occasion, and although I try not to be repetitive, the man leaves me no choice: he always puts on a strong performance featuring good backing musicians, a strong vocal performance, sharp clothes and a never-ending, energetic boppin' style that takes him all over the stage and is bound to cause camera pictures to blur. It's always a treat to see Levi Dexter, and he never lets his fans down.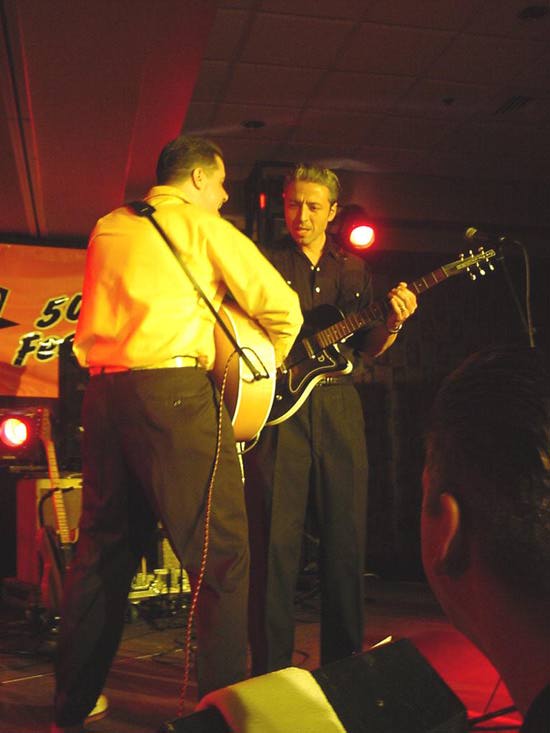 JIMMY SUTTON OF CHICAGO'S FOUR CHARMS IS
LEAD GUITARIST FOR THE HI-Q'S OF DETROIT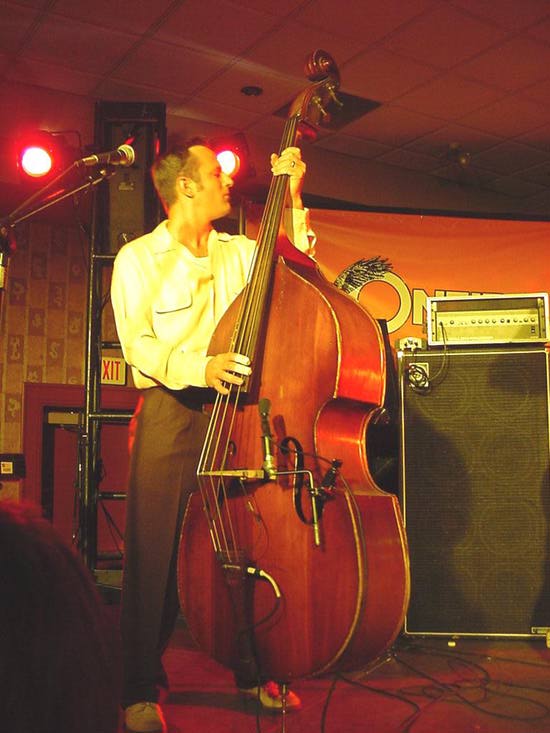 RUDY VARNER IS THE BASSMAN FOR THE HI-Q'S.



The last show I saw on Wednesday night was the 12:45 a.m. (or should I say the first thing Thursday morning) show at the Iroquois Ballroom featuring the Hi-Q's. Despite the fact that I was going to do another 7-mile run early Thursday morning, I just could not miss seeing the Hi-Q's. Founded by front man and singer, Matt Strictland, the Hi-Q's original lineup included half the former members of The Big Barn Combo (also Detroit), Loney Charles on drums and Paul "Smokey Links" Cook on lead guitar. Filling out the quartet is Rudy Varner, who besides being the bass man for Jack Scott and who formerly played with the Starlight Drifters, is also the man behind that great rockabilly web site, Planet Rockabilly ( www.planetrockabilly.com). Being in Naples, Florida since mid-October, I did not know that Paul Cook was no longer with the group, but it wasn't until I saw the band come on stage that I realized that Chicago's Jimmy Sutton was joining the group. Wait a minute! He doesn't have his bass. This guy's gonna play lead guitar! I just couldn't believe how great they all sounded together! Jimmy, you're double bad!!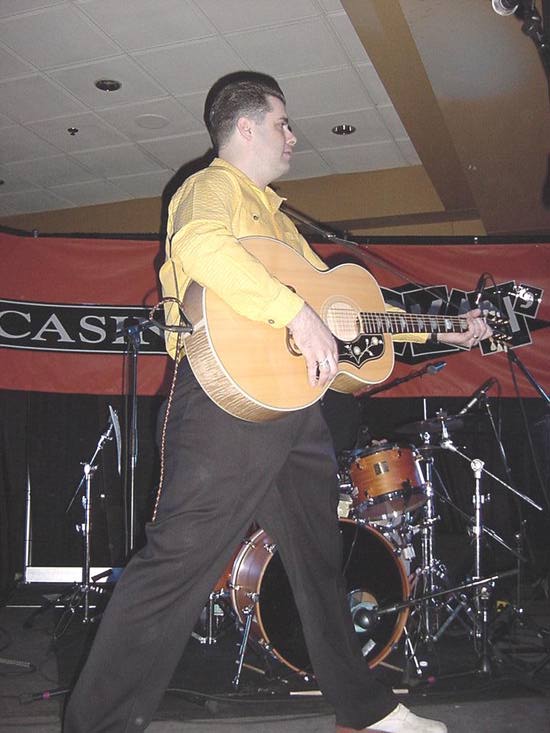 MATT STRICKLAND IS LEAD SINGER OF THE HI-Q'S, WHO,
AS NO SURPRISE TO HEPCAT DETROITERS, THE H-Q'S
HAD QUITE AN ENTHUSIASTIC RECEPTION IN GREEN BAY.



The first time I saw Matt and the Hi-Q's was in an intimate bar in Ferndale, Michigan, The New Way Bar, at one of their earlier live performances. They were very good and I particularly liked both the selections of rockabilly songs they covered and their original compositions. Particularly, when I was at the New Way they did one of my favorite rockabilly songs, Don Woody's "You're Barking Up The Wrong Tree." I mean, Don Woody would be proud of the way the Hi-Q's did that song, right down to the final dog howl at the end.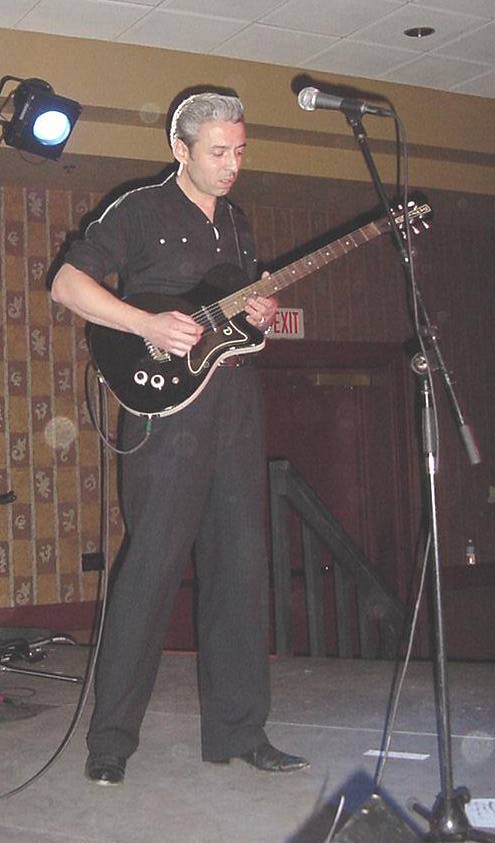 JIMMY SUTTON, LEAD GUITAR!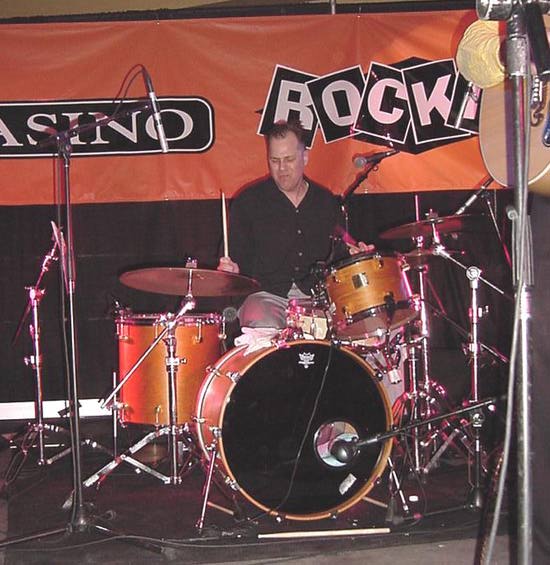 LONEY CHARLES IS THE DRUMMER FOR THE HI-Q'S. LONEY AND RUDY ARE ALSO
THE RHYTHM SECTION FOR GREAT SCOTT! (JACK, THAT IS)



Well, if anybody wanted to hear fantastic, straight-up rockabilly, with great selections of classic rockabilly songs, plus some tasty tunes tomed by Matt Strickland, this was the place to be! Whether it was "Worn Out Baby," or the Peanuts Wilson classic, "Cast Iron Arm," these guys really rock. Matt's vocals are perfect, he has a great command of the stage, and of course the musicians are top notch. I am very familiar with the talents of the rhythm section, Rudy Varner and Loney Charles, but I just couldn't believe how great Jimmy Sutton sounded on the guitar solos. If you missed the Hi-Q's, you really missed something, so you better not let it happen again, and I'm proud of all you guys! By the way, the Hi-Q's debut album "Hoppin' Bop" is available on El Toro Records.
At a stag dinner last summer in Detroit celebrating the marriage of Craig "Bones" Maki, Matt gave me a copy of the new CD. On the cover is a picture of the historic Detroit building that housed the Fortune and Hi-Q record labels. Don't miss a chance to see or hear the Hi-Q's.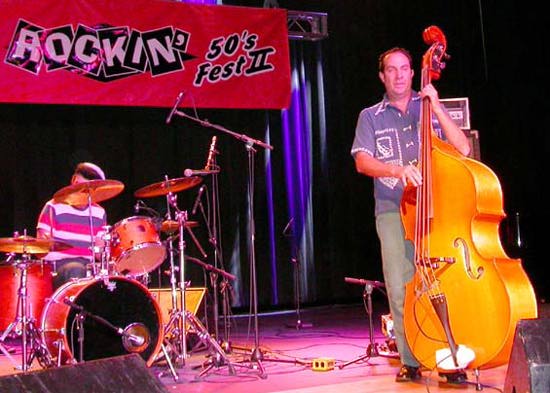 THE PALADINS
(Photo courtesy of Frederic Schroers of KBOO Radio, Portland Oregon.)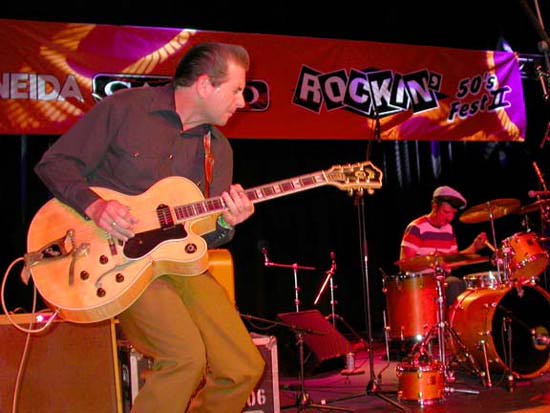 THE PALADINS
(Photo courtesy of Frederic Schroers of KBOO Radio, Portland Oregon.)



Would somebody please book The Paladins and have them play before 1:30 a.m.!!!??? The last time I saw them was at 12 Midnight at the Continental Club in Austin on Thursday, February 24,2000 ( www.rockabillyhall.com/BarryKSXSW2000html). Vegas, Green Bay I, they always play so late!!