TUESDAY, APRIL 12th
Green Bay, 2005


As some of you might recall from my Green Bay 2002 Review ( http://www.rockabillyhall.com/BarryGreenBay2002.html), I am a disciplined runner, running seven miles every other morning, and on Tuesday, I was blessed with cool Green Bay temperatures in the 40ºs, and I began my run at the late hour (for me, at least) of 8 a.m. While running past Vincent T. Lombardi Middle School to 9th Street where I turned right, I was listening to an XM Satellite show I had recorded on April 9th called Rockabilly Road Trip, hosted by Bruce Berenson. His "Road Trip" on that day included a trip though Pennsylvania, so Bruce naturally had to play several early Bill Haley songs from 1951 to 1955, and he addressed the always-controversial subject of "Was Bill Haley rockabilly"? To sum it up, the answer is "in some ways yes and in some ways no." At any rate, many of their songs certainly sound like they are rockabilly, and it made me look forward with anticipation to seeing the Original Comets again later in the week.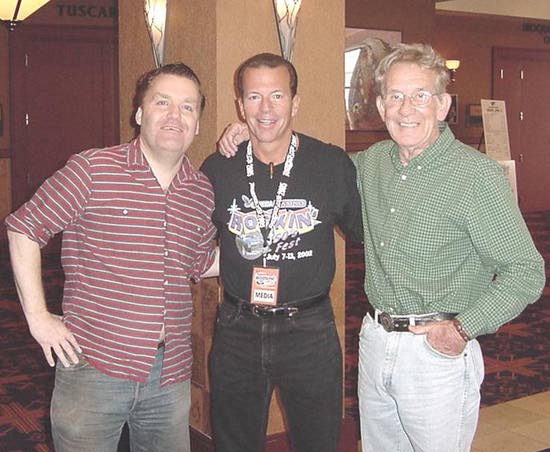 JAN OF WILDFIRE WILLIE, BARRY, RAYBURN ANTHONY



Prior to watching Rayburn Anthony's set at 2 p.m. on Tuesday, I had a few peeks into the Ballroom to see the free dance lessons that were offered by Miss Wolff of Chicago from 12 to 1:30 p.m. Although I kiddingly called it "Jive Boot Camp," it really seemed like everybody was having a good time.
I had the pleasure of introducing Rayburn Anthony at one of the Viva Las Vegas Shows that was hosted by the Rockabilly Hall of Fame in the Lounge at the Gold Coast Hotel a few years ago. This Sun Records recording artist was born and raised in Humboldt, Tennessee, which is close to Jackson (Carl Perkins Country). One of eight children whose father farmed and also painted houses to feed the large family, Ray's career singing began publicly when he joined his older brother Bob's band.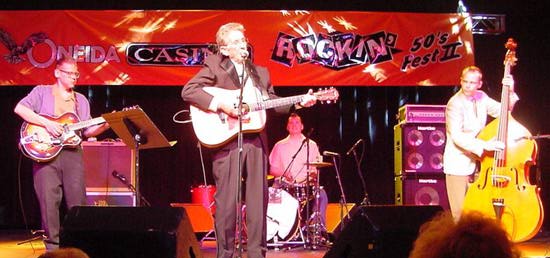 RAYBURN ANTHONY
BACKED BY WILDFIRE WILLIE & THE RAMBLERS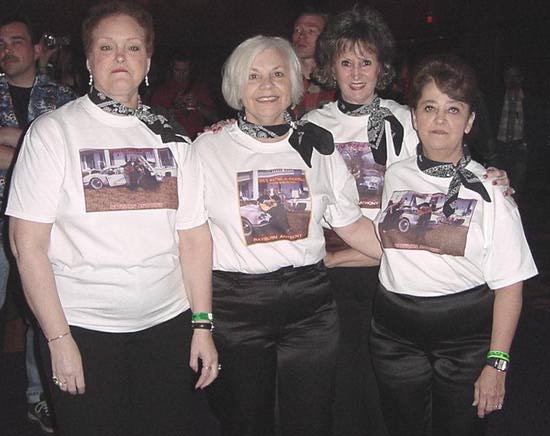 RAYBURN'S "GROUPIES" FROM JACKSON, TENNESSEE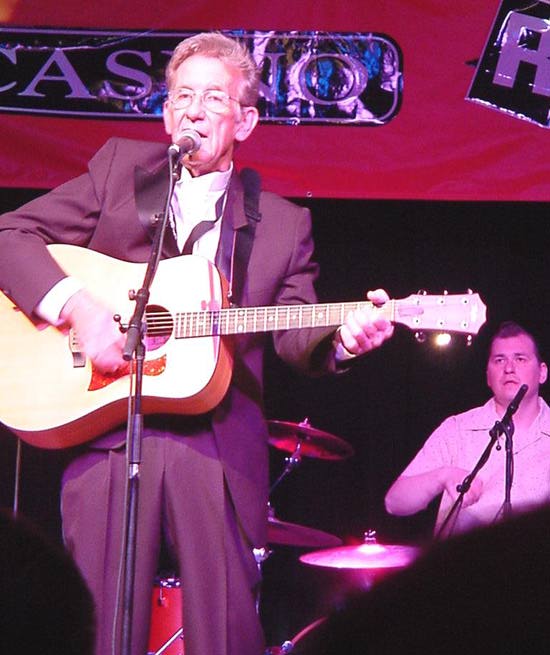 RAYBURN ANTHONY WITH
WILDFIRE WILLIE DRUMMER MARKKU JUVONEN



Rayburn Anthony wound up at Sun Studio thanks to W. S. "Fluke" Holland, who was Carl Perkins' drummer and later played for Johnny Cash. At the time Holland took Rayburn Anthony to Sun Studio, he had left the Perkins band and discovered Carl Mann (the first rock and roll singer to work up an up-tempo version of the song "Mona Lisa"). Rayburn would perform at regular jam sessions with Carl Mann, W. S. Holland and Kenny Parchman at a Memphis club called Pine Ridge, and that's the time that W.S. took Rayburn over to meet Sam Phillips. Phillips liked what he heard and released three singles by Rayburn, "St. Louis Blues," "There's No Tomorrow" and "Big Dream." Rayburn actually recorded a total of about 16 tracks at Sun. Over the years, some of the unreleased tracks have been issued on the many Sun compilations that have emerged in recent decades. Rayburn has remained in the music business, writing songs with friends.
The Honeybees, a sextet from Chicago with 3 women and 3 men, played in the Casino Lounge on Tuesday at 2:00 p.m. I wrote about them when they appeared at Rockabilly Rebel Weekend in Indianapolis last year ( www.rockabillyhall.com/indy12.html).
Because the Honeybees played in the Casino Lounge, where photographs are forbidden, I have no pictures of the show, but I ran into the ladies in Purcell's later in the week and we got a nice picture.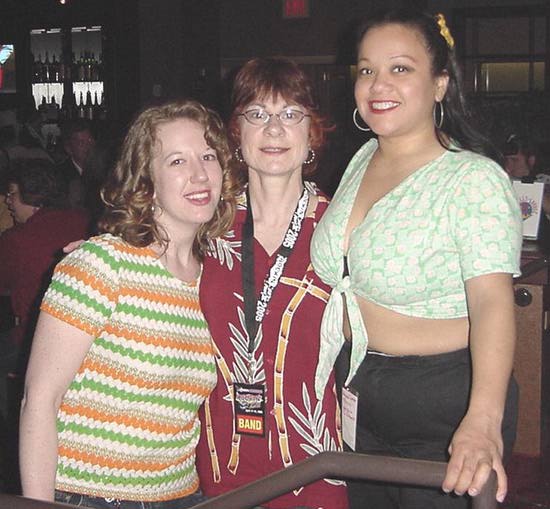 FEMALE MEMBERS OF THE HONEYBEES



Theresa Drda, who I met several years ago in Indianapolis, plays drums, while Barbara Clifford and Rachel Decker handle the vocals. Shawn Koch is the lead guitarist, Mark Braun plays rhythm and steel guitars, and Michael Hogeorges plays bass and happens to be married to Theresa. Were they the only husband-wife rhythm section? Oh, I think Lisa Pankratz and her husband, Brad Fordham, played together some time later in the week!
Anyway, the Honeybees create a terrific sound, meshing magnificent vocals with great instrumentation. I recall their take on "Hip-Shakin' Baby" in the Casino Lounge show, and this song, along with many other Green Bay II artists, appears on "KEXP's Shake the Shack Rockabilly Ball," put together by Dr. Leon Berman, "The Proctologist of Rock 'n Roll," who was DJ'ing in Green Bay, just like he does on KEXP in Seattle. I think at least two-thirds of the performers on this 24-track compilation played at the Green Bay II Festival!
Anyway, the Honeybees were a blast, and they had a big crowd inside and outside of the Casino Lounge.
Incidentally, when I first met Theresa several years ago, she told me she was a drummer for a surf group. Guess what? She's still got that gig too! Called The Greaseballs, they have a 17-track CD out called "Tombstone Wax." Maybe they'll tour with Los Straitjackets!
Anyway, it was a pleasure to see and hear The Honeybees again!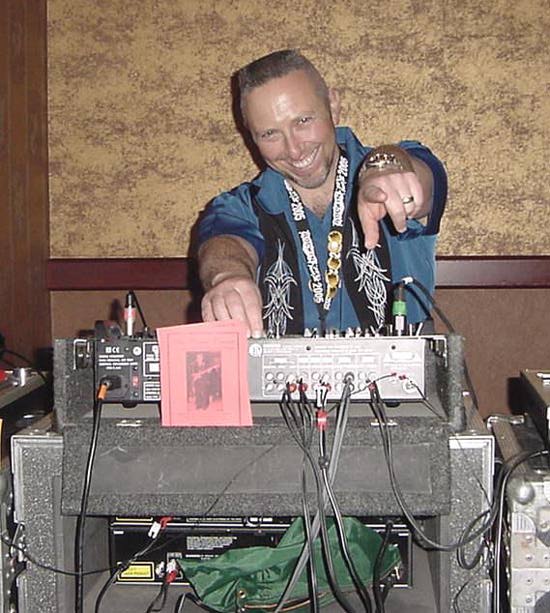 DR. LEON BERMAN, GREAT DJ AND GOOD GUY.



TERRY NOLAND



Terry Noland appeared Tuesday at 3:15 p.m. on the Ballroom stage. Terry Noland, I suspect, is the type of man who becomes successful at everything he does. Not only was he one of the West Texas "originals" who recorded at Norman Petty's Studio in Clovis, New Mexico (Buddy Holly, etc.), but in his next profession, he became a successful structural engineer, and then moved to Oklahoma City to begin a lucrative career in real estate development.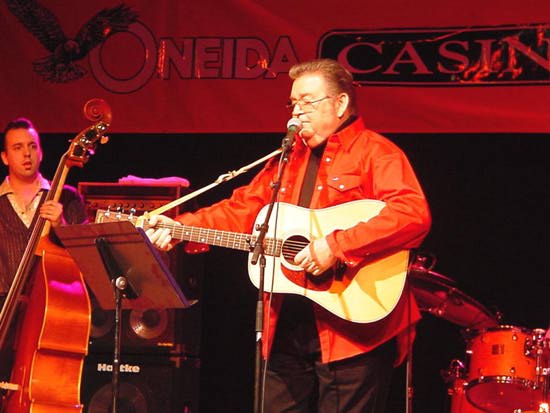 TERRY NOLAND



Born Terry Noland Church in Abilene, Texas, Terry moved to Lubbock as a child. Although Terry was one of the earliest rockabillies to record in Norman Petty's Studio, it was not long after Buddy Holly's death that Terry moved to New York City, seeking stardom as a rock and roller. In New York he cut sides there with Milton DeLugg, who was the Tonight Show musical director in the Johnny Carson era, prior to Doc Severenson's tenure. Another Carson bandleader was Skitch Henderson.
In his post West Texas era, Terry was known for many songs, including one that I remember, "Fungus Among Us," which was actually recorded in Nashville, Tennessee in 1958.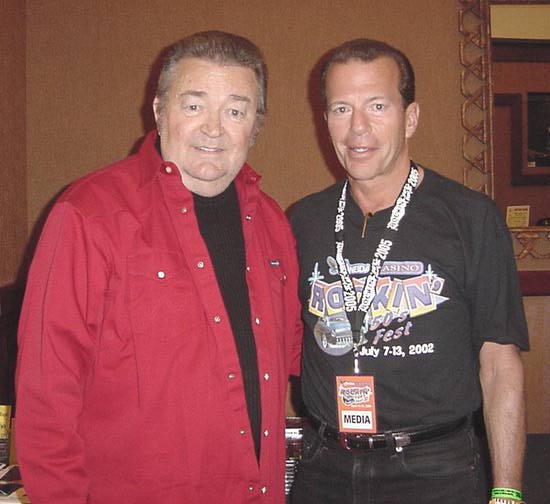 TERRY NOLAND AND BARRY



Terry's set was extremely entertaining and professional, and included backing by Darrell Higham & The Enforcers, who also did such a great job later in the week with Roc LaRue.
For those who were fortunate enough to be in the autograph and merchandise line after Terry's show, Terry had 3 CD's at the show that were each numbered limited editions, with the first 1,000 copies all individually signed. The first CD, "Terry Noland ­ Long Gone BabyŠWest Texas Rockabilly," contains 18 songs, many of which were written by Terry, including "Itsy Bitsy Pain," "Long Gone Baby" and "Fungus Among Us." Another one, "Terry Noland In Concert," has 10 songs recorded live, including "Pretty Baby" (which was first recorded in Norman Petty's Studio in 1957 with Trini Lopez & The Big Beats backing him), "Everyone But Me" (written by Sonny Curtis ­ there are 3 more Sonny Curtis songs on this CD), and "Ten Little Women" and "Hypnotized," two songs written by Terry which were recorded at Terry's first recording session at Norman Petty's Studio in Clovis, New Mexico on February 13 and 14, 1957.
The third CD, "To Terry Noland From Buddy Holly," is another real collector's item. Buddy Holly had been at his new home in New York in late 1958 writing and arranging several songs that he had recorded on magnetic tape that became known as "The Apartment Tapes." Buddy Holly brought these tapes back to Lubbock, Texas for Christmas of 1958, and Buddy then met with Terry Noland and made plans for Terry to go to New York to record five of the six songs. The one excluded, "Peggy Sue Got Married" (the title of the 1986 movie with Nicholas Cage and Kathleen Turner), was a song Buddy wanted to record himself, but the other songs "That's What They Say," "What To Do," "That Makes It Tough," "Crying, Waiting, Hoping" and "Learning The Game" were the songs that Buddy asked Terry to record with him. There is even a letter written by Buddy Holly to Terry on December 14, 1958 that Terry gave to Buddy Holly's parents after Buddy's funeral. Buddy's parents had asked Terry to be an honorary pallbearer at Buddy Holly's funeral. Later, Buddy's widow Maria, sold the letter at an auction in New York for $4,950. After not seeing the letter for 35 years, Terry has a copy, which appears in the CD jacket. Terry's 10 songs on this CD include all 6 of the songs Buddy had recorded on "The Apartment Tapes."
For information on Terry Noland's CD's, etc., go to www.terrynoland.com.
While doing some research on Terry Noland, I found that his recordings appeared on at least 21 compilation LP's and CD's on major labels including Bear Family, MCA, etc. Terry got the "Bear Family" treatment with a CD named "Hypnotized" after his June, 1957 Brunswick release.
It was indeed a pleasure meeting and seeing Terry Noland perform with Darrell Higham & The Enforcers!
Following Terry Noland in the Ballroom was the 50's doo-wop group, The Cleftones. There are not many doo-wop or R&B groups that merit an entire one-hour special on XM Satellite Radio's wonderful weekly show, "Harlem," but during the week of November 15, 2004, that's exactly what happened to The Cleftones!




THE CLEFFTONES



The Cleftones were formed in 1955 by classmates at Jamaica High School in Queens, New York. Herbie Cox, Charles James, Berman Patterson, Fuzzy McClain and Warren Corbin volunteered for the student government organization in school to help out with school elections. According to Herbie, the reason they all did this volunteer work was to get out of having to go to class! They would sing together while working on the student elections, and while helping to support the "nerd party", or the less popular kids in the class, the guys came up with a campaign song to the tune of the Crows' hit "Gee." The school had banned rock and roll music, but because the song was such a hit, they got away with it and actually helped propel the nerd party to victory!
After originally calling themselves The Silvertones (not to be confused with the contemporary rockabilly band from Windsor, Ontario, Canada), they later changed their name to The Clefs, and then later The Cleftones. After auditioning with several of the record labels in New York, their manager David Ralnick (who became manager because he wanted to sing with them, but couldn't make the grade) took the group to a new label, Rama Records on the west side of Manhattan. That was the label owned by George Goldner (later famous for his "Gee" label, among others). In the fall of 1955, The Cleftones released "You Baby You," and on the flip side was a ballad entitled "I Was Dreaming." That record became a huge hit. They started working with some of the best musicians of the time, such as Jimmy Wright and Big Al Sears, and their next release on Gee, "Little Girl of Mine" backed with "You're Driving Me Mad" became a big hit. "Little Girl of Mine" has always been a striking song with a great bass line following the singing of "Little Girl of Mine." Herbie Cox wrote that song and it sold over 1,500,000 copies. After that they had several big hits in 1957, followed by some near misses in 1958. Then two members left the group, McClain and Patterson, and they added Gene Pearson, Henry Glover and George Treadwell. They also added Patricia Spann, their first female member.
In 1961 they released their up-tempo arrangement of "Heart and Soul," which became a big hit and brought The Cleftones back in the limelight. By 1962 The Cleftones were back on the Gee label and had some success with "Earth Angel," "Blues In The Night," "Again," "Do You?" "Lover Come Back to Me," and "There She Goes."
Since the group kept on performing through the 60's, they were one of the first revival show acts produced by Richard Nader, and Herbie says that other than one year (1966), The Cleftones have been performing every year since 1955. Further aided by their appearance in the late 90's on the PBS special "Fifty Years of Doo-Wop," their popularity and visibility became as good or better than it had ever been.
Now you know why The Cleftones were honored with a one hour special last November on XM Satellite Radio's great 50's program, "Harlem"!
Their sets in Green Bay included their hits, as well as classic songs by the likes of Jackie Wilson and Roy Hamilton. By the way, did anyone else notice the number of groups or individuals who included songs by Jackie Wilson in their sets? Everybody from The Cleftones to Big Sandy, and several others!
After The Cleftones' set, The Tinstars played a set in the Casino Lounge. Although this band has caught the attention of Americans in the last few years, they are from the Netherlands and have been in existence since the late 1980's. When I saw them in Green Bay 2002, with and without Little Esther, Tjarko Jeen was the lead guitarist. The band now consists of Rick DeBruijn on lead vocals and acoustic guitar, Ervin Purak on lead guitar and vocals, Peter Kraaijeveld on upright bass and vocals, and Eyves Vaillant on drums and vocals. This musically savvy group has averaged about a gig per week, and in addition to the U.S., they have played in England, Austria, Belgium, France, Germany, Sweden and Switzerland, as well as appearing at famous festivals such as Rockhouse International Rock Œn' Roll Meeting, Sunjay's Rock and Roll Meeting in Sweden, D-day in Amsterdam, and the very big Hemsby Rock and Roll Weekender in England. Various members of the Tinstars have also played in other bands such as The Planet Rockers, Wildfire Willie, and Riley McOwen and The Brewsters.
Tjarko had toured many years with Ronnie Dawson through Europe and has, for a few years, been based in Austin, where various appearances have taken him through almost all the continental United States.
The Tinstars' lively set in the Casino Lounge included "My Babe," "King Fool," "Dancing Doll," "This Is The Night," "Miss Froggy," "Mean Little Mama," "You Look That Good To Me" and "Take Me To That Place." Although they enjoy performing covers of older, obscure rockabilly songs, they infuse some of their own material as well. Keep up the good work, men!



JERRY LEE LEWIS



Well, better late than never! Jerry Lee Lewis' band performed some warm-up numbers, and for just about 45 minutes, the large crowd got what they came for: a set by the legendary, larger-than-life Jerry Lee Lewis. No, I am not going to go into detail about the career of one of the top rock and roll legends of all time.




JERRY LEE LEWIS



Let me share with you that I have seen Jerry Lee Lewis in person several times since the mid-1960's, in places ranging from Toledo, Ohio, Las Vegas, Nevada, and Fort Lauderdale, Florida. Although JLL was not known for composing much of his own material, I have never, ever heard a bad recorded performance, and I have all three Bear Family boxed sets and other CD's and records from his illustrious career.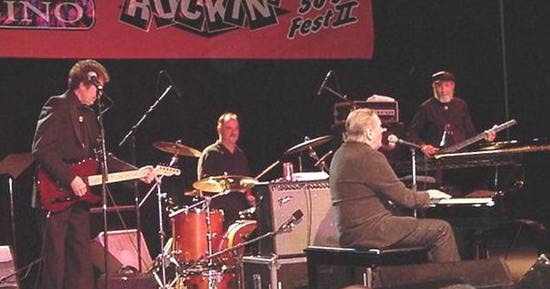 JERRY LEE LEWIS



Jerry Lee Lewis in his country years from the 70's, recorded "39 and Holdin'," and the first thing I thought of about halfway during his set is that he is "69 and holdin'." Was the performance the best he has ever done? No, and probably his most outstanding live shows are behind him, but he did give the audience a solid 45-minute set, which included most of the songs he does frequently in his live shows: "Roll Over Beethoven" and "Sweet Little Sixteen" (Chuck Berry songs), "You Win Again" (Hank Williams), Chuck Willis' "CC Rider," the Stick McGee classic which always gets the Jerry Lee Lewis imprint, "Wine Spo-Dee-O-Dee," "Over the Rainbow," The Big Bopper's "Chantilly Lace," Kris Kristofferson's "Me and Bobby McGee," "Rockin' My Life Away" and finishing with "Whole Lotta Shakin'" and "Great Balls of Fire."
All of the songs were recorded hits from his long career. No standing up and shoving the piano stool away, but considering what the man has been through in his life, near death on more than one occasion, he turned in a credible performance.
The bravura of his performances has lessened, but his on-stage "Killer" bravado has not. The bottom line: good to see him still performing, a nonpareil true living legend, but if you want to get a good idea of what his performances used to be like, I strongly suggest you try to catch a Jason D. Williams show.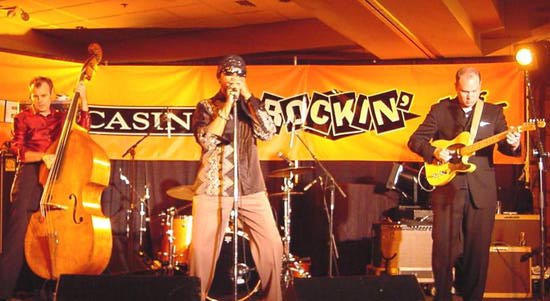 BEVIS GRIFFIN



From 6:30 to 7:15 p.m. on Tuesday at the Iroquois Room, Bevis Griffin did a set. To be very honest, I do not know a lot about Bevis Giffin, except that he is a lead vocalist for Papa Mali' & The Instigators, a funk/soul/rock band from Austin, Texas. I do know that this band has on horns a fellow named Tomas Ramirez, who might be the same Tomas Ramirez that was the excellent original horn man in Jerry Jeff Walker's Lost Gonzo band. Bevis has lived in Austin since his early teens, and although initially working as a drummer, he now performs primarily as a vocalist and brings his deep love and understanding of the music of New Orleans to The Instigators. Anyway, Bevis seemed to be doing a pretty good set when I saw him briefly as I squeezed into the Iroquois Ballroom between the Jerry Lee Lewis and Narvel Felts sets. I do remember that he did a Big Mama Thornton arrangement of the famous Leiber and Stoller tune eventually recorded by Elvis, "Hound Dog" (see from whom Elvis took his arrangement of "Hound Dog" later in this article).



NARVEL FELTS



At 7 p.m. one of the best-loved, talented and nicest people you can meet in rockabilly, Narvel Felts, entertained the large audience with a pro forma top-notch set.
With the backing of the Big Sandy Band, this was a real treat for all who saw him.
Because I have written about Narvel Felts on several other occasions, I am risking repetition, because Narvel Felts is one heck of a consistent guy: always thoughtful, humble, talented, successful and modest. It is now several times that I have seen Narvel Felts perform in person, and he never fails to receive such thunderous ovations after completing a song, that he often reprises the final verse with another feverous finish. I remember another great singer who came to Memphis and had standing ovations that turned into a repeat-of-last-verse encore. That person was the late Roy Orbison. So I was not all surprised that when he performed a hit originally recorded by The Platters, "My Prayer," the audience would not stop applauding until he sang the last verse again. Narvel, whose song "Pink and Black Days," is not only on the Rockabilly Hall of Fame's CD compilation, it is also the theme song for XM Radio's "Pink and Black Days," a weekly show played on the 50's channel and hosted by Memphis music maven, Alex Ward.
Not only was Narvel "there" at Memphis' original Sun Studio in l956 at the age of 17, but he has scored dozens of hits on the country charts, becoming one of the top country artists of the 1970's.
Always a good family man, Narvel has been married for over 40 years and was blessed with a daughter, Stacia, and a son, Narvel "Bub" Felts, Jr. Narvel's greatest tragedy in life came in 1995, when Bub perished in an automobile accident at the age of 31. Narvel never does a show without a song dedicated to Bub.
Narvel's personal character is as strong as his talent and success. I remember in Indianapolis several years ago, Narvel happened to be passing through the city on tour while the Indianapolis Rockabilly Rebel Weekend was happening. Even though he wasn't scheduled to perform there, he stopped to have dinner with Vernon Taylor, Bob Timmers, David Loehr (the gentleman who puts on the Rockabilly Rebel Weekends and curator of the James Dean Gallery), a few others and me. While going into the private room for the dinner, a female fan asked Narvel to autograph a guitar or something she had to get from her room. After dinner, Narvel had to get moving to make his next show, but he said "Hey, where's that gal that wanted my autograph?" He remembered and did not want to leave until he fulfilled her wish. That's the kind of guy that Narvel Felts is.
Narvel will be turning 66 years young later this year, and from judging his appearance, voice, and high-energy stage performance (he still does several push-ups at the end of his set with the guitar still strapped to his shoulder), he shows no signs of slowing down. He is an inspiration and example for all younger musical artists who wish to remain in the music profession for the rest of their lives.




ORBITUNES WITH JAN OF WILDFIRE WILLIE



The Orbitunes, a Swedish band fronted by Jan Svensson of Wildfire Willie & The Ramblers, was rocking up the Iroquois Room, overlapping with Wanda Jackson in the Ballroom and The Tremors in Purcell's Lounge. I did not, unfortunately, stay too long to see this show, nor The Tremors in Purcell's Lounge during the same hour period. And the reason is:
W A N D A - J A C K S O N !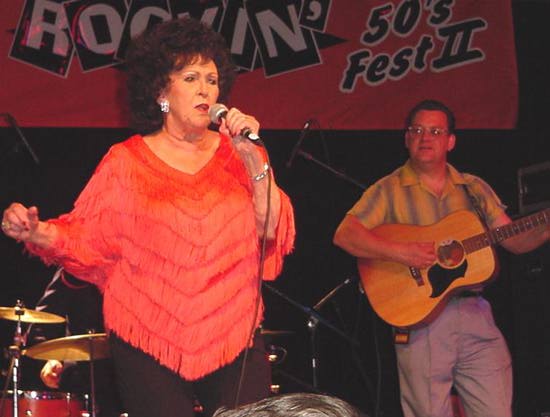 WANDA JACKSON



When I last saw Wanda, in June of 2004, she was headlining the Indianapolis Rockabilly Weekend, and was touring behind her well-received CD "Heart Trouble" ( www.rockabillyhall.com/indy12.html). You would think that the way Wanda's career has been lately, it "couldn't get any better than this." Well since that time, she was selected to be inducted into the Rock and Roll Hall of Fame in Cleveland, Ohio. I also knew that a surprise was coming after she finished her set on Tuesday, April 12th. Bob Timmers, curator for the Rockabilly Hall of Fame, would be presenting Wanda Jackson with an unexpected, but well deserved "Lifetime Achievement Award" from the Rockabilly Hall of Fame. Wanda is such a star now that she merits the best of two great bands to back her up: The Lustre Kings and Big Sandy's band.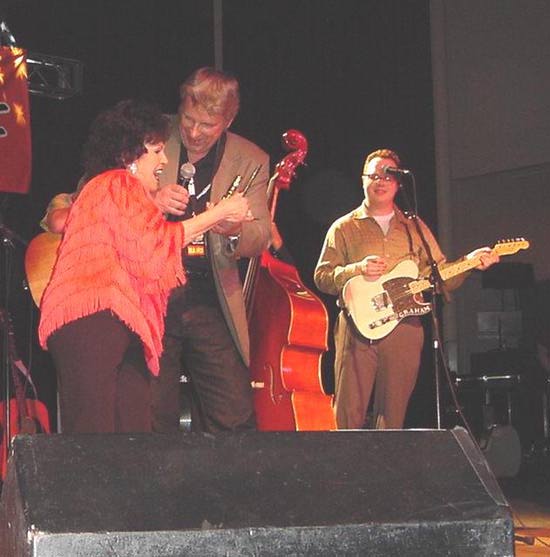 WANDA RECEIVES ROCKABILLY HALL OF FAME LIFETIME ACHIEVEMENT AWARD.



Wanda's set was really mean, mean, man! Oh yes, and "Mean, Mean, Man" was the third song in her set, which started out with "Rockabilly Fever," "Rock Your Baby" and continued with "I Gotta Know," a medley consisting of "Heart Trouble,"
"Cash on The Barrelhead" and "It'll Be Me." With the audience already going crazy, more thunder and lightning struck with her great hit, "Fujiyama Mama," as well as "Funnel Of Love," "Hot Dog," her big country hit "Right or Wrong," her good arrangement of "Riot in Cell Block Number 9," "One Night," "I Saw The Light," "Let's Have a Party," and a mighty medley encore consisting of "Whole Lot of Shakin'," "Rip It Up" and a return to "Let's Have a Party."



WANDA'S BACKUP GROUP INCLUDED MEMBERS OF
THE LUSTRE KINGS AND BIG SANDY'S FLY-RITE BOYS



Speaking of "One Night (With You)," what do Wanda Jackson, Elvis Presley, Sonny Burgess and Fats Domino have in common? The answer is: they all covered Smiley Lewis songs. Smiley Lewis, an early R&B artist and songwriter, first wrote "One Night" as "One Night (of Sin)," with lyrics that made it tough to get airplay on the radio stations at the time. Sonny Burgess recorded a version of "One Night" that was pretty faithful to the Smiley Lewis original, but the big hit by Elvis definitely had the lyrics watered down to receive airplay on the rock and roll stations. Incidentally, songs penned by Fats Domino were covered often by the Johnny Burnett Rock & Roll Trio, but at least on two times that I can recall, Fats Domino himself covered other Smiley Lewis songs, including "Blue Monday" and "I Hear You Knockin'."
Okay, enough of my Smiley Lewis narrative, but he was a very influential singer and songwriter who tragically died at a young age.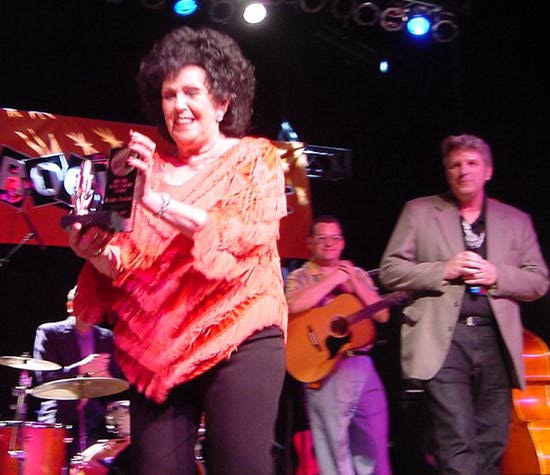 "LOOK WHAT I JUST GOT!"



After Wanda finished her set, Bob Timmers slowly walked to the center stage to greet Wanda and present the Rockabilly Hall of Fame's Lifetime Achievement Award to her. Wanda was surprised, elated and grateful as she showed the audience the award. With respect to Wanda Jackson and her longtime husband/manager, Wendell Goodman, I can surely say: "Good things do happen to good people!"




TWO TIMIN' THREE
LEFT TO RIGHT: SHANE KIEL, ERIC LAUFER, JEFF HERRING



The 9:00 show in the Iroquois Ballroom featured the Two Timin' Three. They are a high voltage trio who reside in Brighton, Massachusetts, and for a group that has only been together less than two years, they make mighty good music.
Besides their wild rockabilly tunes, they are known for hot jazz, blues, honky-tonk and western swing. In 2005, in addition to being booked for the Oneida Rockin' 50's Fest, they also played Viva Las Vegas and have recently released their debut album, "Where Did You Sleep Last Night?," which was produced by the great Sean Mencher, and is available on Vinylux Records. In addition to many bookings in May and June for 2005, the Two Timin' Three have also been booked to play on June 25th at the Indianapolis Rockabilly Rebel Weekender. I look forward to seeing them again!




GLEN HONEYCUTT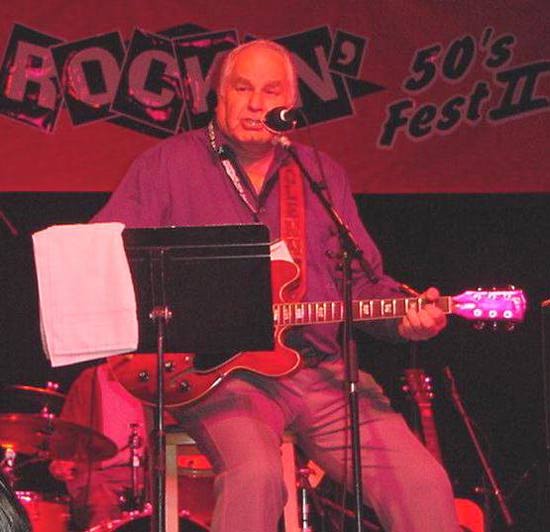 GLEN HONEYCUTT



In any conversation about living legends of rockabilly that were contemporaries of Elvis Presley in Memphis, the name Glen Honeycutt is bound to come up. Like his cousin, Elvis Presley, Honeycutt was born in Mississippi (Belzoni) on May 2, 1933 and moved to Memphis at the age of 7. Glen entered the army in 1952 after holding several jobs in Memphis while playing guitar part time. After he got out of the army In 1955, he formed Glen Honeycutt & The Rhythmaires, which included the legendary Cowboy Jack Clement, who brought Honeycutt into the Sun Studio. Later Glen recorded for Topp-ett, Black Gold and Fernwood. At Sun Records, he had a record released in 1957 called "I'll Be Around" b/w "I'll Wait Forever," and although that might have been the only recording originally issued by Sun, he had several recordings "in the vaults" between 1956 and 1958, which have subsequently appeared on many compilations. You can find them on Avi, Bear Family, Bopcat, Charly, Disky, Stompertime's Fernwood Rock and Roll, and many subsequent Sun releases.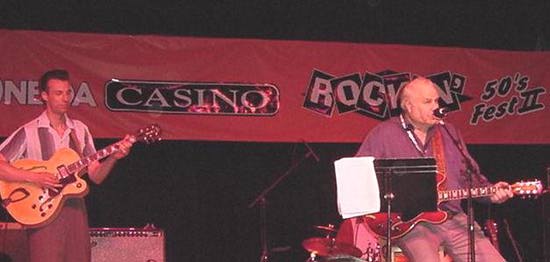 GLEN HONEYCUTT



Glen was ably backed by Randy Rich & the Poor Boys from Berlin, Germany during his set, and certainly made many new fans and friends.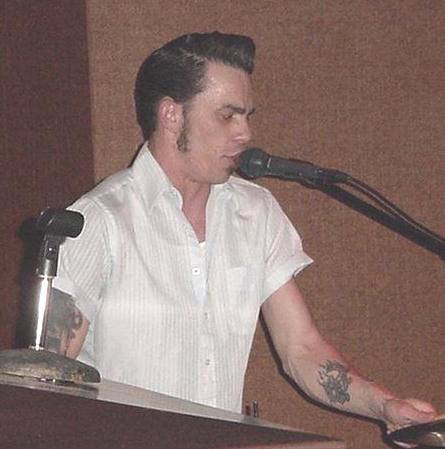 CASH O'RILEY



One of my favorite people in rockabilly is Cash O'Riley, who fronts the band Cash O'Riley & The Downright Daddies.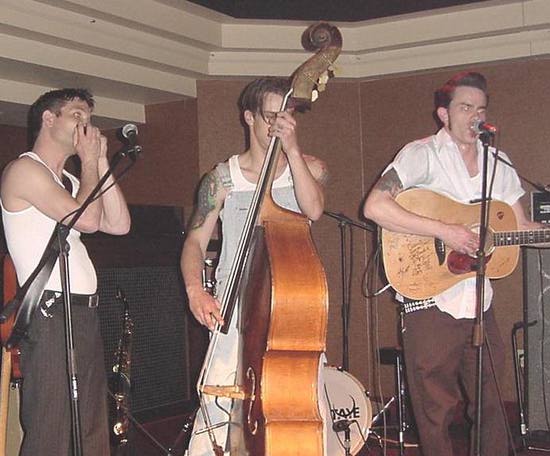 CASH O'RILEY



I have known Cash for over five years now, and I am very proud that I was able to give Cash O'Riley & The Downright Daddies their first shot at exposure to the national and international rockabilly scene by booking them at the Rockabilly Hall of Fame show in the East Lounge at Viva Las Vegas V in 2002. Cash O'Riley & The Downright Daddies set on late Saturday night (actually Easter Sunday morning) at Viva Las Vegas V resulted in so much positive feedback, that the Viva Las Vegas promoters booked the band to perform "upstairs" the following year. As Paul Harvey says, "Now, for the rest of the story..." Actually, halfway between Jackson, Michigan and Las Vegas, Nevada, Cash O'Riley lost the lead guitarist of his band before the show, and had to play rhythm guitar only. Nothing stops Cash O'Riley from being a great entertainer!
Meanwhile, back at Purcell's Lounge at 10 p.m. on Tuesday, April 12, 2005. Cash O'Riley announced that his drummer had just quit, and he started the set playing standup drums instead of his usual guitar, literally not missing a beat and singing the songs like nothing was wrong. After a microphone went bad and Cash quickly put another one in front of him, he told the audience, "We're the Spinal Tap of rockabilly!" Well, I have lots of witnesses that night from Purcell's Lounge who saw the show, and I could honestly say Cash O'Riley & The Downright Daddies did one heck of an animated, rockin', diverse and entertaining set!
Cash moved back and forth between stand-up drums and guitar. Their guitarist is a good harmonica player also, and Jonny was playing the saxophone in addition to his usual bass. It wasn't unusual to hear a rockabilly band play "Baby Let's Play House" this week, but Cash really outdid himself on this one. The next time Phil Doran puts on a Rockin' 50's Fest at his Oneida Casino in Green Bay, he is going to have to bust at least two groups out of Purcell's Lounge: Cash O'Riley & The Downright Daddies and my beloved Go Getters.
At 10:15 p.m. in the Iroquois Ballroom, Howlin' Al & The Sharps performed. Unfortunately, I was at the Glen Honeycutt and Cash O'Riley shows, and didn't make it, nor could I get information on Howlin' Al. Sorry!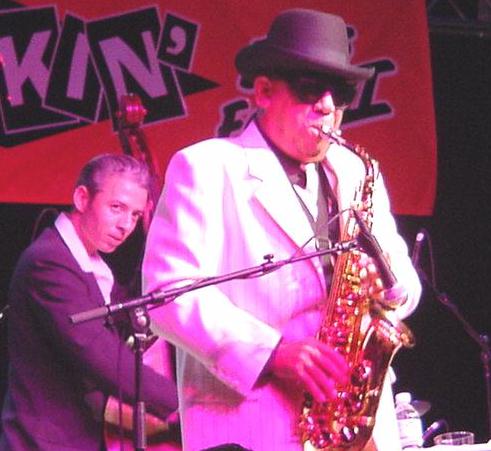 JOE HOUSTON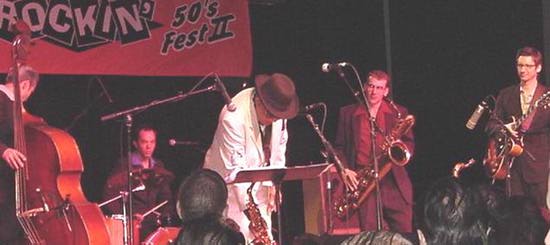 JOE HOUSTON



Joe Houston is a vintage R&B saxophone player known for his hard playing and virtuosity. He recorded for many major independent R&B labels in the Los Angeles area during the 1950's, after playing in the Houston, Texas area in the late 40's with the likes of legendary rock and roll influences Amos Milburn and Big Joe Turner. Moving to the west coast in 1952, Houston recorded for such labels as Modern, RPM, Lucky, Imperial and Dootone. While at the bigger Mercury label, he scored his only nationally R&B hit, "Worry, Worry, Worry" in 1952. Today Joe Houston remains active musically, and now emphasizes his blues vocal talent more than he used to. With ably qualified musicians including Jimmy Sutton behind him, Joe was very well received, and for his encore number, he did a song his former associate made famous, Big Joe Turner's "Flip, Flop & Fly."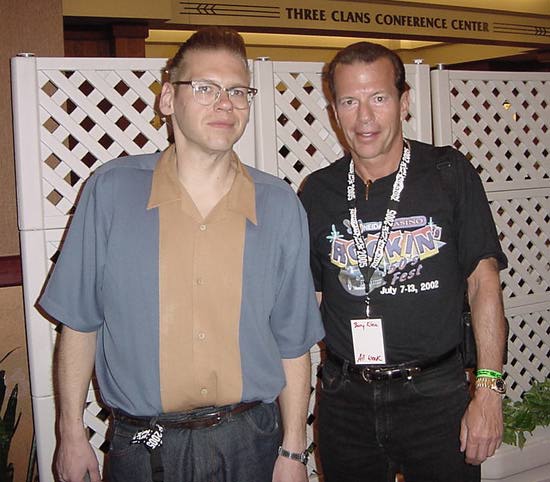 JJ AND BMK



JJ sure looks svelte since the last time I saw him, but he hasn't lost any of his talent.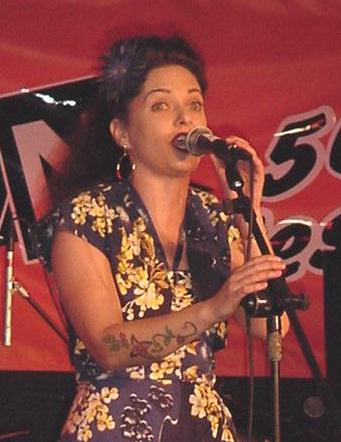 LITTLE ESTHER



Little Esther & Her Tinstars played at 11:30 in the Iroquois Ballroom. Little Esther & Her Tinstars are a group from Holland who have been on the scene from the late 1980's. Little Esther has a voice as good as she looks (she's gorgeous!). Now the bad news for all you red-blooded single rockabilly lads: she is married to Rick DeBruijn, the guitar player for the Tinstars.
Little Esther & Her Tinstars' set started off with "Shake This Town," which they literally did, and included Dorsey Burnett's "Let's Fall In Love," Skeets McDonald's "You're There," Mimi Roman's "Little Lovin," Edwin Bruce's "Rock Boppin' Baby," and The Collins Kids' "Mercy." Other good tunes included "How Long Must I Wait," "Ain't Had No Lovin'," "Arguments and Alibis," "Come Back," and "Flame of Love." There was no doubt about it: Little Esther & Her Tinstars came, saw and conquered, just like they did at Green Bay I.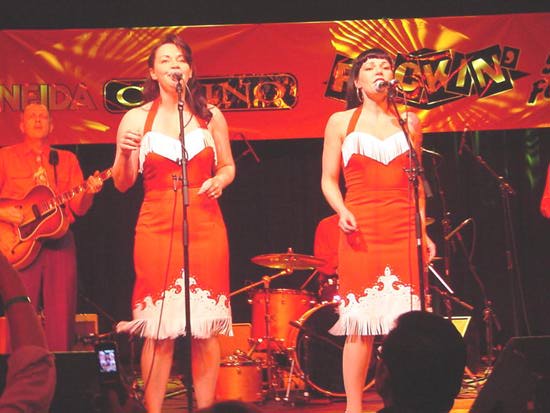 RANCH GIRLS



In the Ballroom at 12:15 a.m. the "Original" Ranch Girls and Ragtime Wranglers appeared. Since I had only seen the Ranch Girls and Ragtime Wranglers perform within the last few years, I was curious to see how Mary Ann and Caroline sounded together in person. They did not disappoint! With Joe Sixpack leading the Ragtime Wranglers on guitar, along with Sietse on drums and percussion, and Huey Moor on upright bass, the city of Rotterdam, Netherlands should establish a shrine in their honor for all the great music they bring to the world.
Just an aside here: there are so many European groups, including The Barnshakers, Wildfire Willie & The Ramblers and The Ragtime Wranglers, who have a great sense of history of the "billy" part of rockabilly. When I see Jussi of the Barnshakers, Jyrki "JJ" Juvonen of Wildfire Willie, and Joe Sixpack play steel guitar on country songs, I know they could turn the heads of many American country music living legends.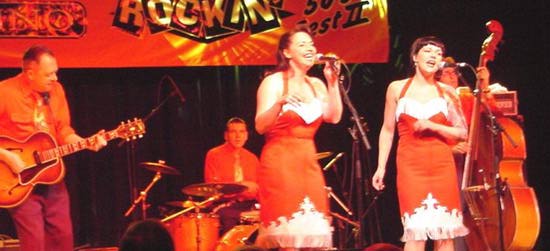 RANCH GIRLS & RAGTIME WRANGLERS



Meanwhile, back at the "Original" Ranch Girls & Ragtime Wranglers' show, the gals and guys had the crowd in the palms of their hands. When I heard the Ranch Girls sing and The Ragtime Wranglers play Carl Perkins' "Sure To Fall," I thought I had gone to heaven! I was never too good at chemistry, but I do know that Ranch Girls + Ragtime Wranglers = Combustible Combination!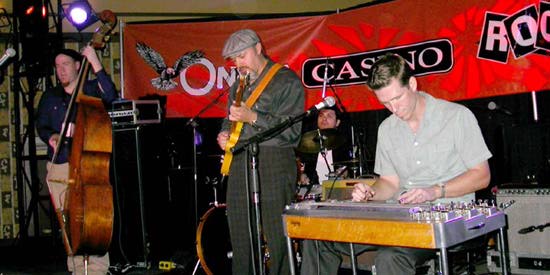 BILLER & WAKEFIELD
(Photo courtesy of Frederic Schroers of KBOO Radio, Portland Oregon.)



Guitarist Dave Biller and steel impresario Jeremy Wakefield are each very talented guitar virtuosos who collaborate on CD releases on public appearances.
David Leroy Biller is in his third decade as a musician, guitarist, songwriter and producer. He has toured internationally with artists the likes of Dale Watson, Wayne Hancock, the Asylum Street Spankers and Deke Dickerson, and has commanded the musical genres of country, rockabilly, blues, jazz and even Django Reinhardt-style gypsy music.
I happened to notice recently that on a steel guitar internet forum, Jussi Huhtakangas, the guitarist for The Barnshakers, couldn't stop raving about Jeremy Wakefield's "Steel Guitar Caviar" CD recently released on Deke Dickerson's Ecco-Fonic label,
Although I did not see the sets following the "Original" Ranch Girls & Ragtime Wranglers, I did catch Biller & Wakefield for a spell, but I have no set list. But even briefly seeing these two legends play together was a real treat. In addition to the "Steel Guitar Caviar," CD recently released by Jeremy Wakefield, I would also recommend Dave Biller's "Travis County Picking" on HMG, and "The Hot Guitars of Biller and Wakefield" on Hightone Records, which features these two greats playing together.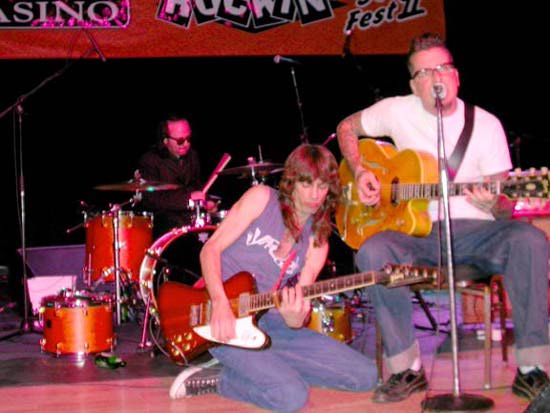 THE WHITE DEVILS WITH FRANTIC FRANK
IN THE BALLROOM 1:30 A.M. WEDNESDAY MORNING
(Photo courtesy of Frederic Schroers of KBOO Radio, Portland Oregon.)