THURSDAY, APRIL 14th
Green Bay, 2005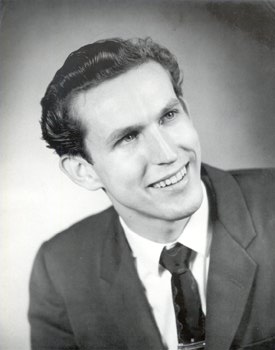 TEDDY RIEDEL (THEN)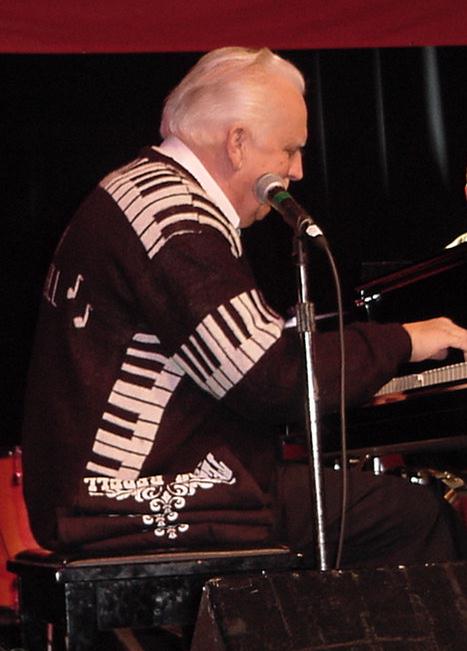 TEDDY RIEDEL (NOW)



Teddy Riedel kicked off the performances on Thursday at 2 p.m. in the Ballroom, backed by the Wildfire Willy Band. Looking very colorful in his black suit with contrasting white piano keys and musical notes, Teddy put on a good show.
He was born Teddy DeLano Riedel in 1937, and his early years were spent on the family farm in Quitman, Arkansas. Teddy's elementary school teacher, Annie Witt, taught him to play piano. Teddy focused lessons around boogie-woogie and ragtime styles. As a teenager, Teddy had developed his own style and began writing songs. After performing on a radio station at the age of 15 in Searcy, Arkansas, the audience response got Teddy a regular gig with Lloyd Sutherland's band on a weekly radio show from the same station. By the time Teddy was 18, Wayne Raney brought Teddy to Missouri to appear on Wayne's television program in Jefferson City. They also went to Wheeling, West Virginia, appearing on Saturday nights on "The World's Original Jamboree" on WWEA radio. During the week Teddy toured with Wayne and his band in Pennsylvania and upstate New York.
Teddy returned to Arkansas and began touring with Tommy Trent in 1956. In 1959, while Teddy was to play backup at a recording session for Arlen Vaden, the lead singer came down with laryngitis, and Teddy was given the studio time to record "Knocking on The Back Side" and its flip side, "Before It Began." It was subsequently released on Barton Records under the stage name "Teddy Redell." He quickly became a fixture in jukeboxes all over eastern Arkansas. Teddy then had a second release, "Corina, Corina," b/w "Gold Dust" that was recorded at King Studios in Cincinnati and released on the Vaden label in 1960. His third release, "I Want to Hold You" b/w "Pipeline," soon followed. But it was his fourth release that would become his most famous. "Judy" was recorded in 1960 and originally released as the B-side of "Can't You See" on the Vaden and Atco labels.
Teddy was drafted into the U.S. armed services in 1960. But even during his army years, he continued his songwriting career with an exclusive arrangement for Sonny James. Teddy married his wife Rose in 1964, and they eventually settled in Rose Bud, Arkansas where he established his own piano service business.
Teddy returned to the music scene in the 1970's, performing at local private clubs. By 1979 Teddy was approached by record producer Cees Klop of the Netherlands, and they released the first compilation of Teddy's Vaden recordings on the White label along with a new LP of Teddy's popular club standards from the 70's. In 1988, Teddy took his first European tour and he was very popular in the Netherlands and Sweden, and released a live album on Collector Records. Again in 1991 he toured the Netherlands, and new venues in Germany. That same year a CD compilation of his greatest works appeared, and in 1997 Teddy returned to tour The Netherlands and Sweden. His fourth and most recent European tour was at the famous Hemsby Music Festival in England in 2002. A new CD, a recording spanning the 50 years of Teddy's musical career, was released for that tour.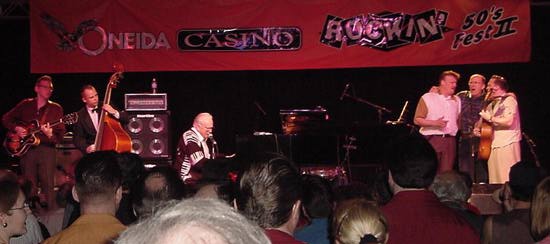 TEDDY RIEDEL AND THE WILDFIRE WILLY BAND



His excellent set in Green Bay included several recordings from 1960, "Knocking On The Back Side," "Gold Dust," "Judy," l979's "Pipliner," and other songs including "That's All Right Mama," "Hello Josephine," "Boogie-Woogie Bill," "Memphis," "Baby What You Want Me To Do," and "Crawling Back To You."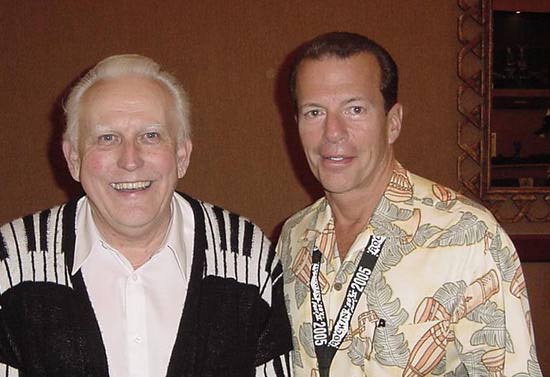 TEDDY RIEDEL AND BARRY KLEIN



It was so nice to see a man like Teddy still displaying his talents after half a century in the music business; he put on a good show, and the crowd responded to it.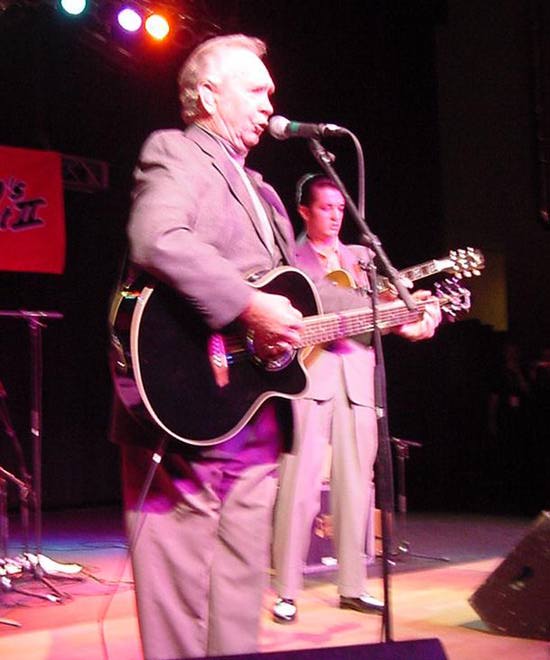 PAT CUPP AND RORY JUSTICE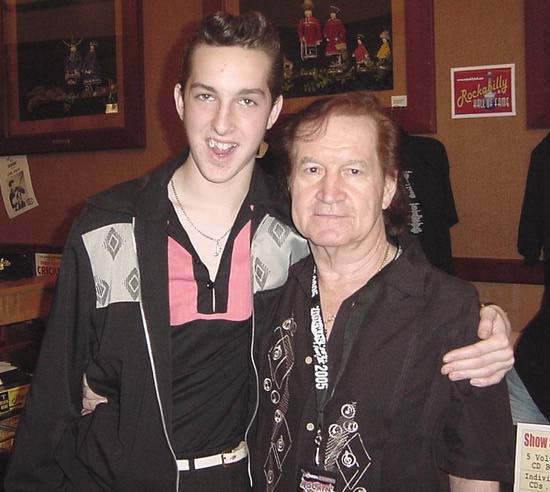 RORY JUSTICE AND MENTOR ART ADAMS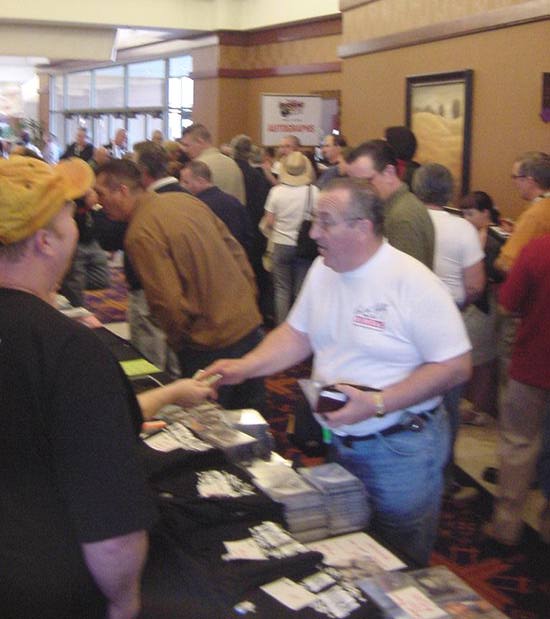 ANOTHER BUSY DAY FOR THE VENDORS AND
AUTOGRAPH SEEKERS NEAR THE ROCKABILLY HALL OF FAME AREA.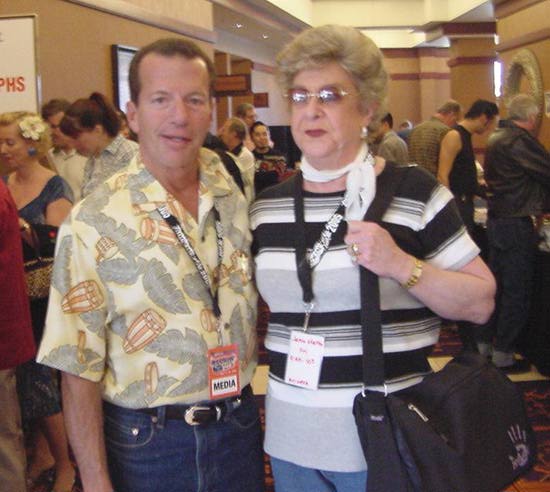 JANICE MARTIN THE EVENING BEFORE HER FANTASTIC SET ON FRIDAY



Also at 2:00 p.m. with the set going past 3:30 p.m., was the Barnshakers' performance in the Casino Lounge. On any continent in this world of ours, it would be difficult to find a roots/rockabilly group that can exceed what the Barnshakers have: talent, creativity, cohesive sound as a group and an impressively long list of recorded and in-person performances, and although Carl Sonny Leyland individually was probably in more sets than anyone else during the week (I believe about 10), the Barnshakers were right alongside members of Big Sandy's band, Deke, The Ragtime Wranglers and Wildfire Willie in a number of appearances. If you include some of the members' participation with Marti Brom, I counted eight times the Barnshakers took the stage during the week.
Boy did they have a crowd at that early afternoon show on Thursday! Although I was probably there only 20 minutes, due to the Teddy Riedel and Pat Cupp performances in the Ballroom, I knew that they would be performing again at 11:30 p.m. in the Iroquois Room, and I dug what I heard for the time I was there!
I remember Vesa Haaja performed a song he wrote called "Sioux Squaw." After the song, Bobby Brom said, "How about appreciating what we just heard: A Finnish group singing an American Indian song in an Indian-owned casino in Wisconsin, U.S.A.!" Well, the big crowd was really digging this show, and when anyone would gaze toward the stage, they would see piles of beer bottles from the back of the bar right in front of the stage. Jussi called them "rockabottles." I promise I will delve more into the Barnshakers in a bit, including their aforementioned set later Thursday evening, and I have also mentioned their rockin' set with Dr. Snout & His Hogs of Rhythm on Monday, and we will still get to their playing in the Lew Williams set, as well as the Hank Thompson set, along with the Ranch Riot set, all on Friday.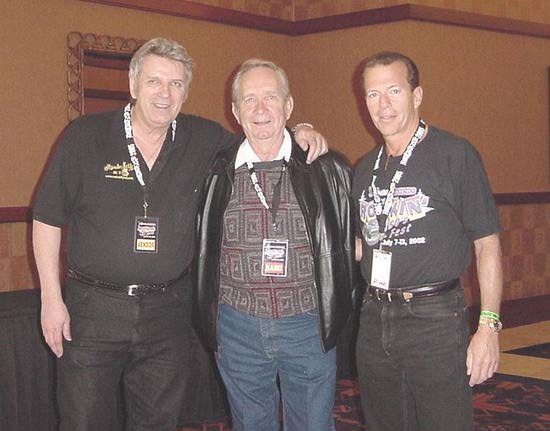 BOB TIMMERS, PAT CUPP, BARRY



Pat Cupp and The Flying Saucers were an early rockabilly group that started releasing records in 1956. Like Johnny Cash, Sleepy LaBeef, Teddy Riedel, and many of the original rockin' daddies performing in Green Bay this week, Pat was born into a musical family in 1938 in Arkansas. His mother, Ruth, was a piano player and his father a drummer. Two brothers and a sister were musicians also. By the time he was 13, Pat had won a talent contest and was awarded a radio show on KVMA Radio in Mangolia, Arkansas. After Pat and his family moved to Texarkana, Arkansas in 1954, Pat met a new friend in high school who introduced him to the world of country music. They played together and performed at local high schools. Like Jack Scott and other rock and roll musicians developing in America at the time, things changed for Pat when he met Elvis, Scotty and Bill, and saw them perform. Once inspired and encouraged by Elvis, Pat started performing, but without a band. At one of the shows he did with Johnny Cash and Carl Perkins, Pat started out on stage by himself, with just his guitar, and Carl walked on stage along with Johnny Cash's bass man, Luther Perkins. A few weeks after that, Pat formed a band and continued touring with Johnny Cash and Carl Perkins. After a show on stage with Tommy Sands in April of 1956, Pat was invited to be on the famous Louisiana Hayride in Shreveport, Louisiana.
Next month Joe Behari of Modern Records signed Pat to record for his RPM Record label, and he recorded "Long Gone Daddy," "Do Me No Wrong," "Baby Come Back," "I Guess It's Meant To Be That Way," "I Won't Remember To Cry," and "That Gal of Mine." Pat was asked what he would call his band, and he just laughed and said he wanted to call them "The Flying Saucers." The band members thought it was a joke, but then realized that Pat was serious, so at that time, it became Pat Cupp & The Flying Saucers.
Things were going well for Pat Cupp & The Flying Saucers until Modern Records tried to mess with his good rockabilly sound and wanted to "mainstream" him into more of an R&B sound that was getting popular. Pretty soon Pat was unhappy with the style of music he was playing and also wanted to get away from his recording contract, as well as his manager's contract. After that, Pat married his high school sweetheart, Loretta Gaye, and began raising a family and had a daughter and two sons. Pat's "day job" for 35 years before retiring was as a technical and project engineer for a government contractor. Pat always continued music as a hobby, but had to retire due to a profound hearing loss. Still, even with progressive hearing loss, Pat was an honored guest at the Hemsby Festival in England in 1995. Well, low and behold here we are at 2005 and Pat, with some very strong hearing aids but only ten percent of his original hearing, had a very good set at 3:15 in the Ballroom, and was backed by his mates at Wild Hair Records. Speaking of that, Pat's new CD, "Pat Cupp," is on Wild Hair Records, and contains some new songs including "Contact With My Baby," "How Can I Tell You," "Get What I'm After" and "You Don't Love Me At All." Of course, he opened his set with "Do Me No Wrong" and ended with "Long Gone Daddy," two of his most famous tunes from 1956. Other songs of Pat's from the 50's that he performed in Green Bay were "Baby Come Back," "I Guess It's Meant That Way" and "That Gal Of Mine." I was very pleased at how good Pat's voice sounded, especially after learning about his hearing loss.
Also, a word about the band on Pat Cupp's CD: Ace Brown, the band leader of Ace Brown & His Helldivers, plays lead guitar on a few tracks, and drums on some others. Johnny Bones is the bassist for Ace Brown & His Helldivers, and Lance LeBeau is heard on drums on 7 of the 10 songs. Lance, you might remember, played in the now legendary rockabilly band, Go Cat Go. Dave Moore, with his wife Kiersten Moore, owns and operates the New Hope Recording Studio, as well as Wild Hair Records. Incidentally, the only reason that Dave and Kiersten were not in Green Bay is that they had a baby just prior to the Rockin' 50's Fest. Another great production by Dave and Kiersten!




BOB WILLS' TEXAS PLAYBOYS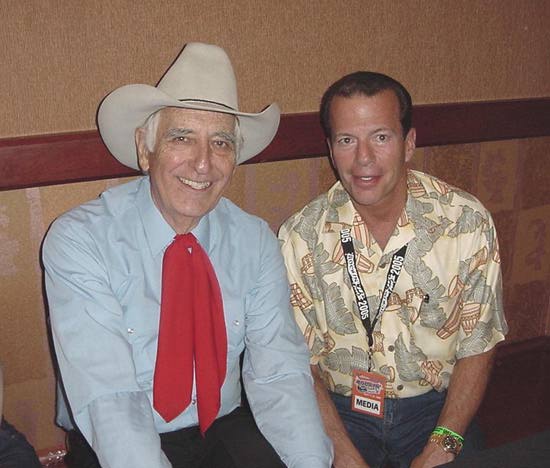 WITH TOMMY ALLSUP, FORMER CRICKET, MEMBER OF BOB WILLS'
TEXAS PLAYBOYS, RECORD PRODUCER (Hank Thompson, Willie Nelson, etc.)
AND GRAMMY AWARD WINNER.



After Pat Cupp, Bob Wills' Texas Playboys took the stage at 4:30 p.m. in the Ballroom. I know Bob Wills has been gone for a long time, but we still had some of the "original" Playboys who played with Bob Wills. Of course, over 600 Playboys played over the years with Bob Wills, but Leon Raush, who was the lead singer for this group, was one of the well-known members. Tommy Allsup, former Cricket with Buddy Holly and who has been playing with The Texas Playboys for several years, has a long and distinguished musical career culminating with a Grammy Award in 1999. I have many recordings of Bob Wills' music that included Leon McAuliffe, Tommy Duncan, Tiny Moore (who played with Merle Haggard for several years), Johnny Gimble, Eldon Shamblin, and many others were famous during or after during their tenures with Bob Wills.
Leon Raush was born October 2, 1927 in Missouri, and began playing guitar with his father at local dances as child. After joining the military, and playing on and off with local bands, he moved to Tulsa in 1955, and then received his first break with an appearance on The Louisiana Hayride in 1956. On March 17, 1958 he was asked to join Bob Wills and His Texas Playboys, replacing the vocalist at the time, Leon Duncan. Raush's stint with Bob Wills lasted until the early 60's. He had also briefly joined Johnnie Lee Wills' band performing before forming his own group, The New Texas Playboys in Fort Worth, Texas.
In 1973, an ailing Bob Wills asked Raush to rejoin His Texas Playboys on what would be Wills' final record, "For The Last Time." Following Wills' death in 1975, Raush and the original Texas Playboys continued to record and play gigs, including a high-profile appearance on The Austin City Limits TV show.
Bob Wills' Texas Playboys were very well received and the autograph line was one of the longest of the festival.
At 5 p.m. in the Casino Lounge, Eddie Clendening and The Blue Ribbon Boys played for an hour and a half.
I first saw Eddie Clendening four years ago at the first Motor City Spinout in Royal Oak, Michigan. Seeing Eddie, who is just 24 years old, is really something, because his talent and confidence have been developing for quite a spell now. "Ruby Ann," "Rock My Blues Away," a little Sonny Fisher here and a little James Burton there, Eddie was really rocking the house. When I saw Eddie called up with Rory Justice to the Casino Lounge stage, those two "young Turks," whose combined age is 39, were one of the many magic moments of the 6-day Rockin' 50's Fest.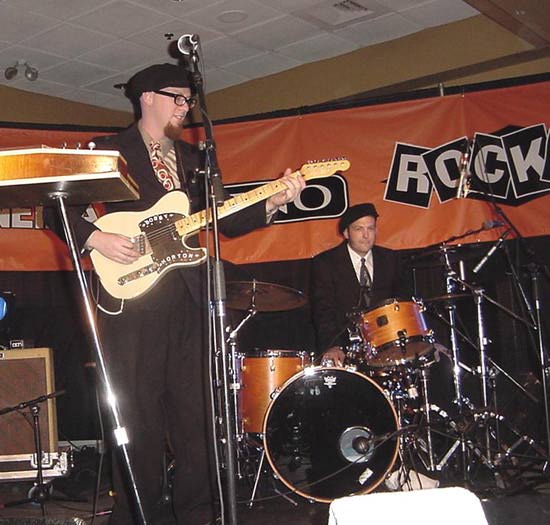 BOBBY HORTON ON VOCALS, STEEL AND ELECTRIC GUITAR.



The Horton Brothers put on a great show in the Iroquois room at 6:30 p.m.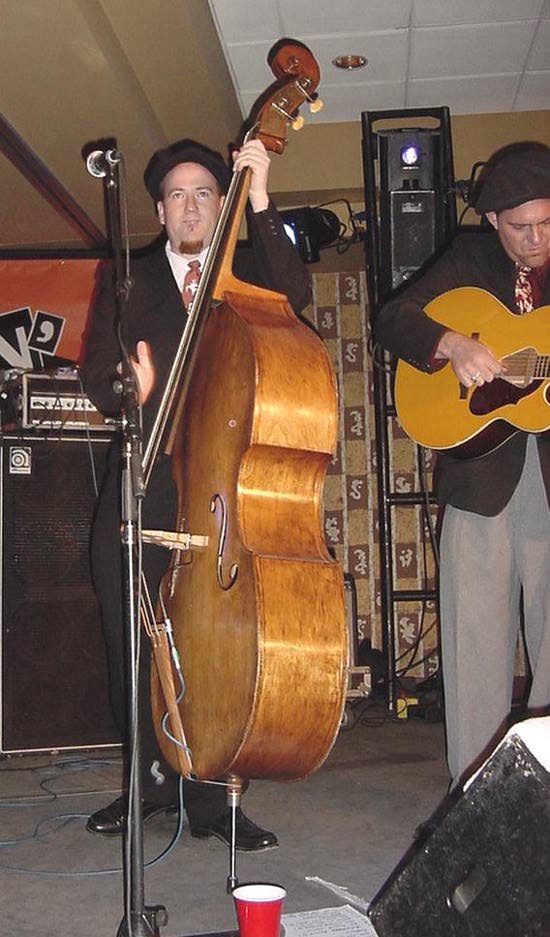 BILLY HORTON ON VOCALS AND BASS.



I have been a fan of the Horton Brothers for several years, and my CD collection includes "Roll Back the Rug It's ... The Horton Brothers," "Heave Ho," and Bobby's appearance on "Bobby Horton vs. Derek Peterson ­ 14 Jaw Breaking Hits."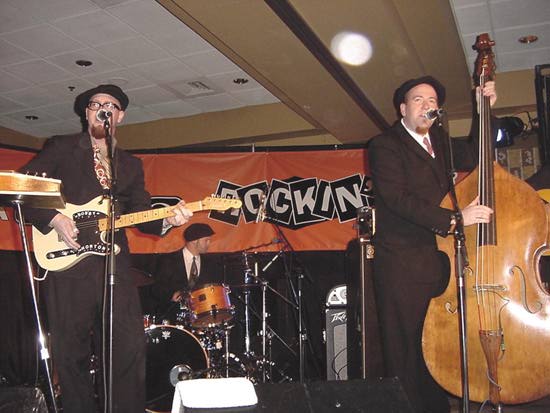 THE HORTON BROTHERS



In the Iroquois Room they had a great band that included Shaun Young on rhythm guitar and some vocals, Bobby Horton on vocals and lead/steel guitar, Billy on vocals and bass, and two other musicians.
They did mention something about a new CD, but my email attempts weren't answered, so please forgive some of the incomplete details. I do remember that the sound for this set was terrific! Shaun sang, "Face to the Wall," and I remember "Blackberry Bounce," "Sixty Minute Man," and "North of Dallas, South of San Antone." Excellent set!




THE FENDERMEN (JIM SUNQUIST IN THE WHITE JACKET)



The Fendermen played at 7:00 p.m. in the Ballroom. Even though it was not a No. 1 national hit, the Fendermen's "Mule Skinner Blues" (it did get to No. 5 in 1960), was a unique, memorable rockabilly-like arrangement of the original song written and recorded by the legendary Singing Brakeman, Jimmie Rodgers. Actually, the Fendermen were two people, Phil Humphrey and Jim Sunquist and their meeting, friendship and subsequent success all came about serendipitously.
They were both born on the exact same day, November 26, 1937, Jim Sunquist in Niagra, Wisconsin north of the upper Michigan border, and Phil Humphrey in Madison, the state capitol and home of the University of Wisconsin. Jim started playing guitar in his mid-teens and performed with a fellow named Bobby Jenson, who also played guitar and harmonica. Jim met Phil in 1957 at a party at a school in Wisconsin. They gave each other their names to keep in touch, but didn't see each other for a while. Then after Jim went back to college and was married, Phil was driving a bread truck and came to an apartment building where Jim lived and saw his name. Phil remembered the name, went up and talked to Jim's wife, and left his phone number. At first Jim didn't even remember who Phil was, but then got on the phone and called him. They got together to see about forming a band. Jim was playing a Gretch and Phil was playing a Fender Telecaster. When Jim heard the Fender, he just had to have one too, so they called themselves the Fendermen.
Their built up a repertoire of songs, but it was about two years before they started experimenting with some rock and roll, which the crowds they played to seemed to like. While playing in a little club in Stoughton called the Oats Bin, they decided to play "Mule Skinner Blues" that, according to Jim, sounded much like what the recording later sounded like. Since they brought down the house with it that night, they kept performing that number. While playing frequently at the Idea Bar in Madison, they were approached by William Draegger, who owned a Music Store in Middleton, Wisconsin. Draegger had been coming in almost every night they played for a month, and he finally asked them if they ever considered recording "Mule Skinner Blues." Draegger sold his music store to get the song released on the Cuca label. After the record was released, Bill Draegger tried to get it going, but none of the DJ's would play it, and Bill even went to Nashville to see Mercury Records, but still no one would give it a listen. While Jim and Phil were playing theaters in Michigan and all around that area, they came to the attention of Lindy Shannon, a DJ in Lacrosse, Wisconsin. He put the Fendermen on a Caravan of Stars show he was putting together and they started off with the Huey "Piano" Smith tune, "Don't You Just Know It," and it brought the crowd to their feet. When they did "Mule Skinner Blues" they really went nuts, and when Shannon came over and said they ought to cut that song, Jim and Phil told him they had, and handed them a box of the Cuca records. Lindy played it on his radio show, and it was his pick hit of the week. It sold 8,000 records in two days. At that time, the Fendermen were signed to Soma Records, and went into the Kay Bank Studio in Minneapolis to rerecord "Mule Skinner Blues" and a new flip side, "Torture," which was written by Jim and Phil. In May of 1960, Soma released "Mule Skinner Blues," and two weeks later they appeared at the Minneapolis Auditorium on the Johnny Cash Show, which featured Cash, Johnny Horton, Kitty Wells and others. Sunquist said that they were booked into that show at the last minute because their record was being played constantly by the DJ's in Minneapolis. The Fendermen were amazed at the 10,000-20,000 people in the audience, and they were so nervous they started to laugh and almost died laughing. But after working through a few songs and then blasting the crowd with "Mule Skinner Blues," they got 4 or 5 curtain calls, and Jim said it was the biggest thrill of his life. From there it was appearances on the Dick Clark Show, as well as other big venues, and "Mule Skinner Blues" peaked at No. 5 on the Billboard charts.
After a couple of other singles and an LP, which didn't make the big splash that "Mule Skinner Blues" did, Jim and Bill parted ways in 1961. Humphrey kept the name of the Fendermen and went back out on the road. Later Sunquist recorded a song called "Molly and Ten Brooks" as Jimmy and the Radiants. It was released on the Cuca label. After 40 years of not appearing together, Jim Sunquist got a call from Phil Humphrey, who now lives in California, and after catching up, they decided to perform together for the first time in 40 years at the Oneida Casino's Rockin' 50's Rockabilly Festival on April 14. Although their reunion did not occur, due to timing and distance, they are making plans for other events, but meanwhile Jim Sunquist and his Fendermen made their appearance in Green Bay and are promoting a new CD, "Skinnin' Again." The Vibro Champs from the twin cities of Minneapolis/St. Paul backed up Jim Sunquist and The Fendermen.
I didn't see any acts in the 8:00 to 9:00 p.m. timeslot on Thursday night, but I have a good excuse: Slim Jim Phantom, Stray Cats drummer and dedicated rockabilly cat, was organizing jam sessions in the Casino Lounge in the evening and invited Bob Timmers and the Rockabilly Hall of Fame Band, and their guests to perform for that hour. After the Rockabilly Hall of Fame "house band" performed a few songs, Glen Glenn did a couple of songs. Then Bob Timmers called me up to do my song and dance routine, which we did to the old Chuck Berry song, "Around and Around," but with more of a Rolling Stones arrangement. Then Kenny King and others also performed to a crowd in and out of the Lounge, which was a pretty good one considering there were acts going on simultaneously in every other venue.
Also included in the Rockabilly Hall of Fame line up was Richie Lee, a 15-year old Buddy Holly look-alike who did several Buddy Holly songs. Richie, incidentally, is not a "one-trick pony," because I saw him, I believe it was Friday night, performing all kinds of rockabilly songs in the Casino Lounge. . . . Let's see, if you add up the ages of Richie Lee, Rory Justice and Eddie Clendening, you have a 54-year old. That's depressing!
Following Richie Lee was the good ol' Kentucky rocker, Art Adams. The show Art Adams put on following Richie Lee would make anyone over the age of 50 proud! After Art Adams, Marti Brom came on stage to sing "Mean, Mean Man" and she had every male in the house wanting to beat the c _ _ p out of whoever that mean, mean man was! Then Eddie Clendening and Rory Justice put their 39 years together, and played and sang just great together. I loved Eddie's rendition of "Baby Let's Play House," as well as Rory's great treatment of the Gene Summers' hit "School of Rock and Roll." To top things off, Pat Cupp came up on stage to perform. The Rockabilly Hall of Fame sure knows how to round up some perfect pairings on a half-day's notice!



CARI LEE AND THE SADDLE-ITES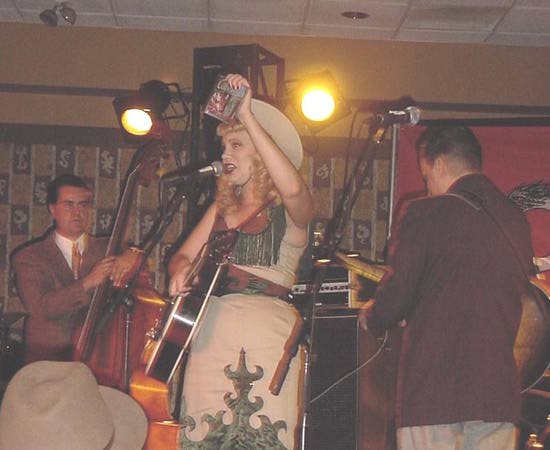 CARI LEE AND HER CD



At 7:45 p.m. in the Iroquois Room, Cari Lee & Her Saddle-Ites took the stage. Cari Lee Merritt is an attractive singer resplendent in western wear, who has been recording and performing with her band, The Saddle-Ites, for several years. I know they have released two CD's on the El Toro label, "Red Barn Baby" and "The Road Less Traveled."



GIN PALACE JESTERS
(Photo courtesy of their web site at www.ginpalacejesters.com)



The Gin Palace Jesters appeared In Purcell's Lounge at 8:00 on Thursday. This Chicago group is known for its mixture of hard-hitting hillbilly bop, honky-tonk, country boogie and western swing. Besides possessing a vast catalogue of the hillbilly and country hit parade, the band has three talented songwriters, and they perform original love songs, novelty numbers, honky-tonk weepers, drinking songs and dark ballads. Dave Sisson plays the hot electric guitar, Casey Stockdon plays the standup bass, Buddy Carters plays steel guitar, Rick Murawski plays drums and Ken Mottet plays rhythm guitar. Ken is also so the perennial MC at the Indianapolis Rockabilly Rebel Weekends, and served as one of the emcees at the Green Bay Rockin' Fifties Fest.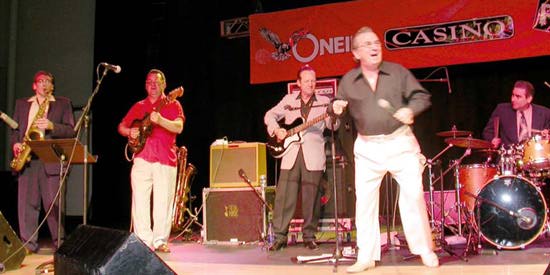 FREDDIE BELL
(Photo courtesy of Frederic Schroers of KBOO Radio, Portland Oregon.)



Freddy Bell took the stage in the Ballroom at 8:15 p.m. Thursday. Freddy Bell & The Bellboys was a band that "bridged" R&B with rock and roll in the early Elvis era. In fact, it was in April of 1956 that Elvis Presley saw them performing their post-Willie Mae "Big Mama" Thornton arrangement of "Hound Dog" that inspired him to record his own single just a couple of months later, almost exactly as Freddy Bell arranged the Leiber and Stoller classic. Freddy Bell and The Bellboys were also famous for their appearance in the movie "Rock Around the Clock" in 1956. That same year, they toured the United Kingdom with England's Tommy Steele, who was England's answer to Elvis Presley and the subject of a comprehensive story in a recent issue of "Blue Suede News" magazine. Freddy Bell and the Bellboys also released "Giddyup Dingdong," that became a No. 4 hit in the UK. Other singles they did included "The Hucklebuck," "Teach You To Rock," and "Rockin' Is My Business." They toured England together again in 1964, sharing the bill with The Animals, The Dave Clark Five and The Standells. Freddy now performs as the Freddy Bell Show, and he is living in Las Vegas, the town where he first played to Elvis 49 years ago. After appearing in the film "Rock Around The Clock" in 1956, they also appeared the same year in a teen gang exploitation movie, "Rumble on the Docks." Freddy received the "Bear Family treatment" with a 27-track CD called "Rockin' Is Our Business."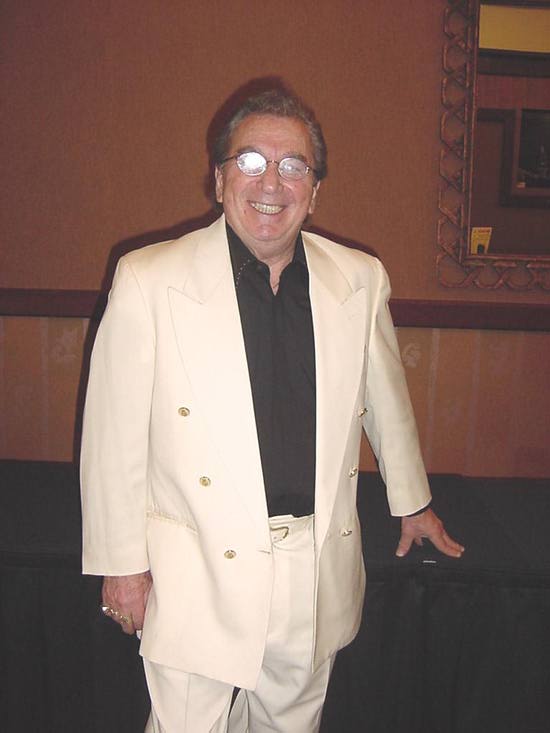 FREDDIE BELL ­ STILL HAS THE SAME SHOWMANSHIP ELVIS SAW 49 YEARS AGO!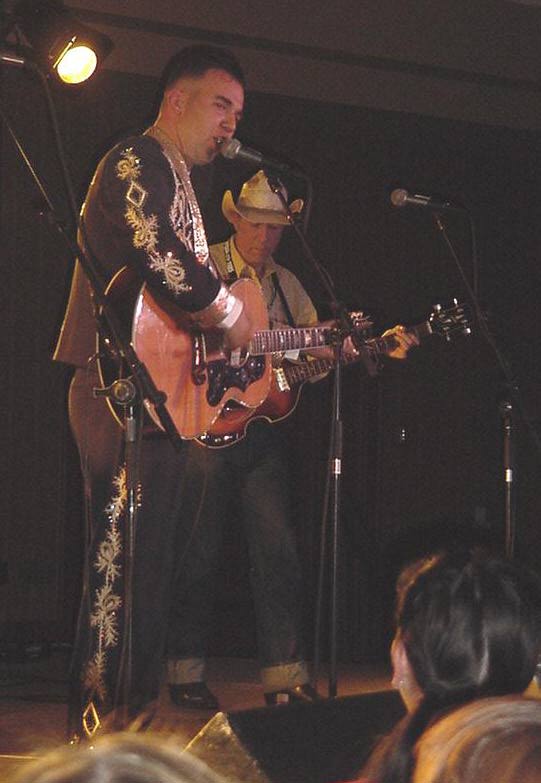 JOHNNY DILKS



JOHNNY DILKS AND BARRY



At 9:00 I wanted to see a guy I wrote about a few years ago when he appeared at the Indianapolis Rockabilly Weekend, Johnny Dilks & His Visitacion Valley Boys. I actually had learned about Johnny and purchased his CD before I saw him in Indianapolis, so I was not surprised to see a V E R Y B I G C R O W D in the Iroquois room. Incidentally, I thought that the sound, especially on vocals, in the Iroquois room in 2002 was often muffled, and this time out, for the most part, the sound came across much better. This was very evident in Johnny Dilks' set, because he is just great, and when he starts yodeling, watch out! Johnny, who really should be releasing another CD soon to his many fans who have been awaiting the next one, did great songs including "This Must Be the Bottom," "Don't Come Crying," "Nitro Express," "Sleep With The Blues," his signature song "Yodel Til I Turn Blue," "Mister Saturday Night," "Full Time Loser," "Half a Heart and Half a Mind" and several others. One song not on the set list that I distinctly remember, as an ex-hippie in my college days, was a little ditty called "LSD Made a Wreck Out of Me." Great band, great music, great vocals, great yodeling. That's Johnny Dilks!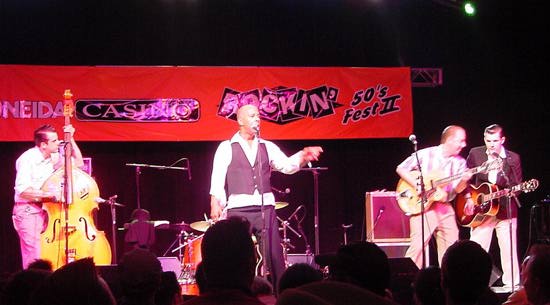 BUZZ WAYNE




BUZZ WAYNE



Buzz Wayne of Buzz & The Flyers took the Ballroom stage at 9:45 p.m. Buzz Wayne was a Midwesterner (Ohio) who came to New York in the late 1970's, formed a band with New York area musicians, and released, as Buzz & The Flyers, a 3-song EP in 1980 on the New York Dolls' Sing Sing label. A subsequent LP was produced by Mickey Most and also Richard Gottherer. The legend of Buzz & The Flyers includes very animated in-person performances, very retro-50's, and Buzz's unique voice.
Although Buzz Wayne might not have enjoyed the same amount of success that The Stray Cats did, many of today's rockabilly artists, including Sean Mencher, were inspired by his performances and work, which people tell me was just as good as The Stray Cats.
Included in Buzz Wayne's band was Sean Mencher on lead guitar, Shane Kiel on bass, Jay Termimi on acoustic rhythm guitar, and Mark Cousins on drums. Joining these fellows on stage for most of the set was Pep Torres on rhythm guitar.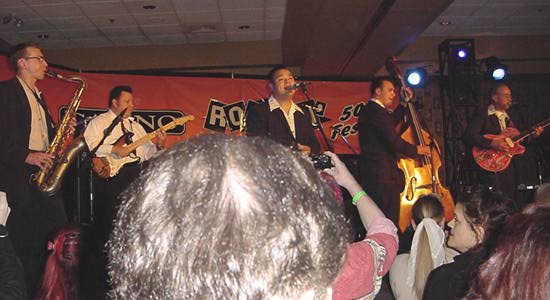 LONELY BLUE BOYS



At 10:15 p.m. The Lonely Blue Boys took the stage in the Iroquois Room. The Lonely Blue Boys are actually three brothers from Hawaiian Gardens, California, Ernie Vargas, Alex Vargas and little Ernie Vargas.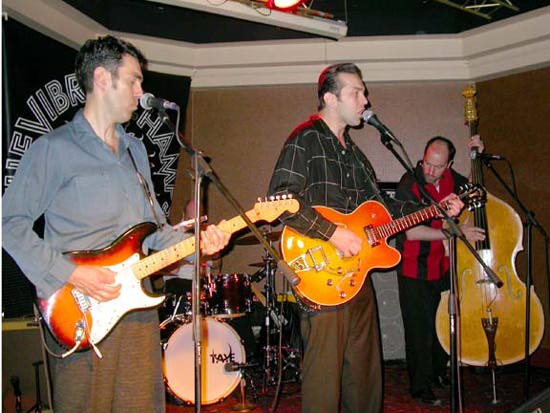 THE VIBRO CHAMPS
(Photo courtesy of Frederic Schroers of KBOO Radio, Portland Oregon.)



The Vibro Champs played Purcell's Lounge from 10 to 11 p.m. on Thursday evening. I didn't make it, but I understand that they are a rockabilly quartet from the twin cities of Minneapolis/St. Paul, Minnesota, with a pretty good following.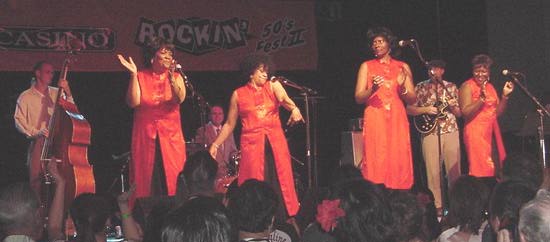 THE BOBBETTES



The early rock and roll/R&B female group, The Bobbettes, took the stage in the Ballroom at 11 p.m. The Bobbettes were most well known for their mega hit in 1957, "Mr. Lee." This Harlem group began singing together in a glee club in 1955, calling themselves The Harlem Queens. Their manager felt that wasn't an appropriate name for a girl group in their early teens, so he changed the name to The Bobbettes. "Mr. Lee" was released just months after signing a recording contract with the inimitable Atlantic Records. Actually, when the girls wrote the song about a teacher at their school, it was not intended to be flattering, and the A&R executives at Atlantic Records cleaned up the lyrics to make it less controversial. Other singles for Atlantic did not fair as well, although they did quite a bit of in-person appearances and also did uncredited background singing for Clyde McPhatter and Ivory Joe Hunter. At their last recording session for Atlantic in 1959, The Bobbettes included a sequel to "Mr. Lee," "I Shot Mr. Lee," but the Atlantic people were still not going to let the country know how they really felt about Mr. Lee, and shelved the record and instead released "You Are My Sweetheart," a nice but undistinguished doo-wop ballad that failed to chart. After the Bobbettes left Atlantic and signed with XXX Records, "I Shot Mr. Lee" shot itself to the top of the charts, which forced Atlantic to release the original version. This incident was thought to have fostered the "five-year clause" in a recording artist's contract, in which an artist could not record the same song for a different label for a minimum of 5 years.
The rest of their career involved many recordings, several label changes, some with better success than others.
Here's a real ditty: The Bobbettes in 1964 recorded "Love That Bomb," which appeared in the classic Stanley Kubrick/Peter Sellers movie, "Dr. Strangelove."
The Bobbettes' last label for which they recorded was Mayhew Records from 1971 to 1974. However, due to their longevity, talent and good stage shows, they remained together during the Oldies Revival, touring both the United States and abroad. I did stay for a good part of The Bobbettes' set and the large crowd, in my opinion, was very pleased with their good performance.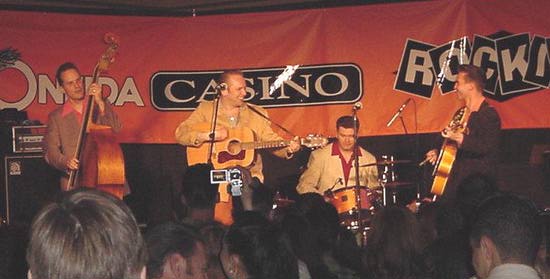 THE BARNSHAKERS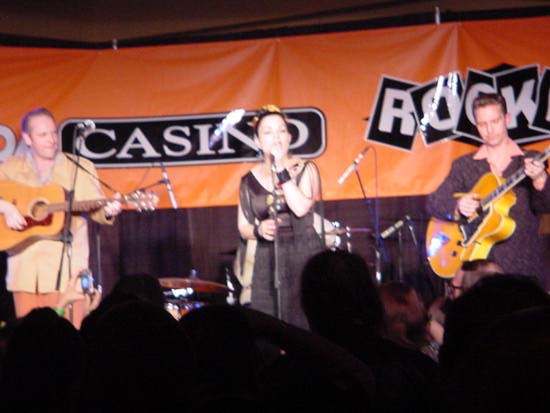 MARTI BROM WITH THE BARNSHAKERS



At 11:30 p.m. The Barnshakers, with Marti Brom joining in for a spell, rocked the Iroquois Room. The Barnshakers include Vesa Haaja on vocals and rhythm guitar, Jussi Huhtakangas (aka Lester Peabody) on lead guitar, Harri Saanio on piano, Mike Salminen on drums and Mika Liikari on upright bass. Among the songs they did were Wynn Stewart's "Come On", "Knock Knock Rattle," "Heartbreak Train," "Hocus Pocus," "Tryin' To Be My Baby," "Nature's Goodness," an instrumental by Jussi, "Boppin' in Roswell" (a favorite of mine which I remember they also did in 2002), "Twenty-One," "Wiggle Like a Worm" (Vesa always wiggles pretty good himself on that one), "Two Gun Daddy," "Ya I'm Movin'," and "Killer Diller." Marti Brom joined the Barnshakers on stage to perform "Maybe I Do," and "Unproclaimed Love."
Marti Brom and The Barnshakers have a longstanding relationship, resulting in wonderful in-person performances, as well as great recordings. I still notice that "Snake Ranch," a 1999 CD of Marti Brom's with The Barnshakers as her band, is still available for sale, and is a good example of their synergy together. Plain and simply, neither The Barnshakers nor Marti Brom were to be missed, and it's a double delight to see them play together.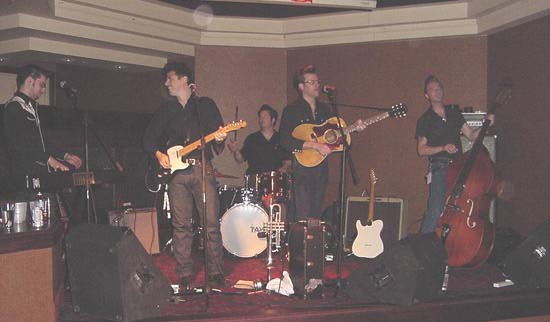 DUSTY 45'S



Several years ago, my friend, DJ, MC, rockabilly booster and impresario, Del Villarreal, gave me a CD by The Dusty 45's, a five-piece Seattle band. It had five cuts, but they were all great numbers that made me thirst for more. I was just not going to miss them, and I really enjoyed seeing them in Purcell's Lounge at midnight on Thursday. There's something about a trumpet I love when I hear The Dusty 45's, Sonny Burgess, Mars Attacks or I guess any group I've been hearing lately that includes a trumpet player. The Dusty 45's did a Screamin' Jay Hawkins arrangement on "I Love Paris," and they even got the polka dancers going a few times. Great sound, fabulous music, inspired dancing and a great time. You guys must tour the Midwest again soon!




JOHNNY BACH & THE MOONSHINE BOOZERS PERFORMED IN THE BALLROOM AT 12:15 A.M.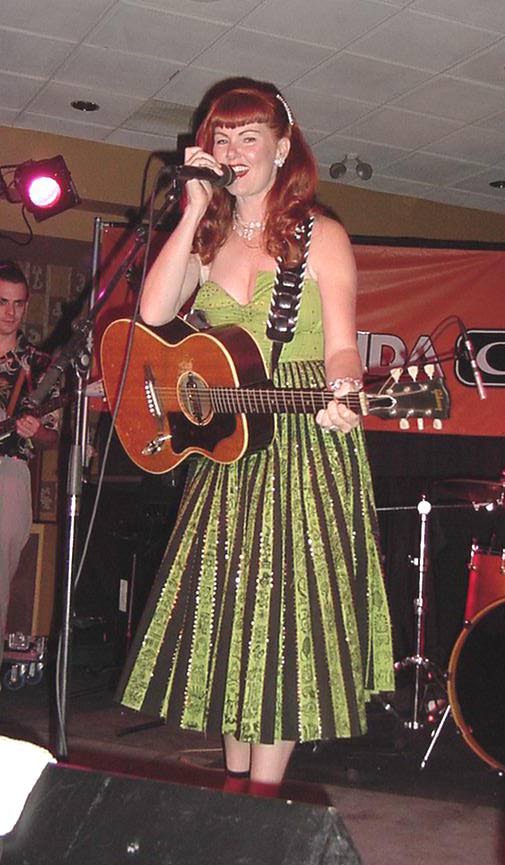 KIM LENZ



I think the last time I saw Kim Lenz perform was in the summer of 1999 in Pontiac, Michigan when she was touring with Wayne Hancock (Wayne Hancock had a cool trombone player then).
Kim Lenz is a native of California who moved to Dallas in 1994, and formed Kim Lenz & Her Jaguars in 1996. Since then, she has toured extensively, recorded "Kim Lenz and Her Jaguars" for Hi-Tone Records' HMG label as well as "The One and Only." I have heard that Kim had "stepped back" from her career for a spell due to family priorities. That also might be why her web site has not been updated for almost a year.
But I can certainly tell you that she looked and sounded absolutely top-notch on the Iroquois Room stage, at a quarter-to-one a.m. late Thursday/early Friday!



BOZ AND THE BOZMEN
(Photo courtesy of Frederic Schroers of KBOO Radio, Portland Oregon.)
Boz Boorer, the co-writer and performer for the British rock and roll group Morrissey, performed in the Ballroom as the last act for Thursday/early Friday. Incidentally, just under two weeks after Boz's performance in Green Bay, Boz signed a worldwide exclusive songwriting agreement with Sanctuary Music Publishing. Sanctuary, with offices in London, New York, Berlin, Houston and Los Angeles, is the world's largest independent owner of music intellectual property rights.
I saw Boz Boorer perform at a pre-Viva Las Vegas show in 2002. Boz is a very familiar figure among rockabilly fans, for his work in the field going back as the guitarist in the Pole Cats. Boz has performed on stage with the likes of David Bowie, Adam Ant, Ronnie Dawson and many others, including his wife Lyn who plays upright bass and is part of the Shillelagh Sisters. Included in the Bozmen in Green Bay were Kid Dean Rocker and Dean (Deano) Butterworth (of Morrissey).