SATURDAY, APRIL 16th
Green Bay, 2005


Once again, free dance lessons with Ms. Wolff's Jiving School from Chicago were given from 12 to 1:30 p.m. in the Ballroom. Hey, those cats and kittens were doing very well with their Jive dancing!



"Who said I couldn't hold a note?!" Sean Mencher demonstrates his thumb-picking technique while I hold the fret, and Sean's frequent drum-playing associate, Lisa Pankratz, enhances the quality of this photo.




The first act of the day in the Ballroom was California rockabilly legend Glen Glenn. Before I get to that special event, I would like to say a few words about Alan Clark.
Alan is a rock and roll performer who is also known as the lead vocalist and guitarist for the Eddie Cochran Band, which has performed the great music of Eddie Cochran in front of live audiences across the nation for many years. He also has produced two CD's of his own recordings that were sold at the Rockabilly Hall of Fame merchandise table. Alan is also a famous archivist of Eddie Cochran, and Alan has brought us many books and memorabilia about Eddie Cochran, and many of his photos, etc., are reprinted, with his permission, in several biographies of Eddie Cochran.
Alan, like Eddie Cochran was in his later career, a Californian, performs frequently with Glen Glenn. In fact, all of the performances that Glen Glenn did for the Rockabilly Hall of Fame stage at Viva Las Vegas throughout this decade included Alan Clark, and Saturday morning was no exception.
Also in the band backing Glen Glenn was Deke Dickerson, who sat in at least seven sets (I'm not including some "walk-on" appearances). Deke also had performed with Jimmy Cavello, The Bobbettes, Deke Dickerson & The Eccofonics, Clarence "Frogman" Henry, The Dave & Deke Combo Reunion, this set with Glen Glenn, and later Saturday evening with Ace Cannon.
Another guest star, Pep Torres, hopped up on stage for a couple of numbers.
Now let's talk about Glen Glenn, who in addition to his celebrated career in rockabilly music, is just one of the nicest guys you will ever meet. He has been tireless in is support of Bob Timmers and the Rockabilly Hall of Fame.
Glen, who was known in the 50's as the "Elvis of California" when he toured with The Maddox Brothers and Rose, had a surprise coming at the end of his set. But the set started off with Alan Clark doing three songs, "Rock Pretty Mama," "Red Hot Saturday Night" and the Eddie Cochran classic, "Twenty Flight Rock," which in the 90's was performed live by The Rolling Stones and Paul McCartney during their American tours. After "Twenty Flight Rock," Glen Glenn was introduced. Glen had been suffering from a sore, hoarse throat for much of the week, and it seemed to be at its worst on this last day of the festival. In fact, Bob Timmers was administering a throat spray to Glen just before he came on stage.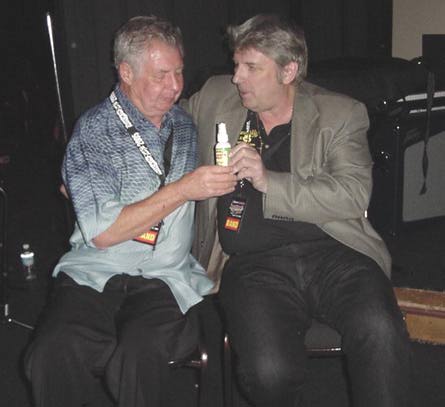 BOB TIMMERS GIVES GLEN GLENN THROAT SPRAY FOR HIS HOARSE THROAT BEFORE
GLEN TAKES THE STAGE SATURDAY AFTERNOON.



Glen Glenn stepped up to the microphone and did his classic "One Cup of Coffee," and just delighted the audience with both his songs and his stories. Other numbers he did included "Down The Line," "I'm Glad My Baby's Gone," "Kitty Kat" (which is a particular favorite of Bob Timmers), "Jack & Jill Boogie," "Kathlene/Lauri Ann," "If I Had Me A Woman" (one of my favorites), "Dim Lights," "Mean Woman Blues," "Baby Let's Play House" (the last show Glen did at the Rockabilly Hall of Fame stage in Vegas in 2002, the crowd kept demanding encores from Glen and he had already done so many, I had to suggest this one, and Glen does this Arthur Gunter song as well as anyone), "Blue Jeans And A Boy's Shirt" (probably my favorite Glen Glenn song), and of course, "Everybody's Movin'."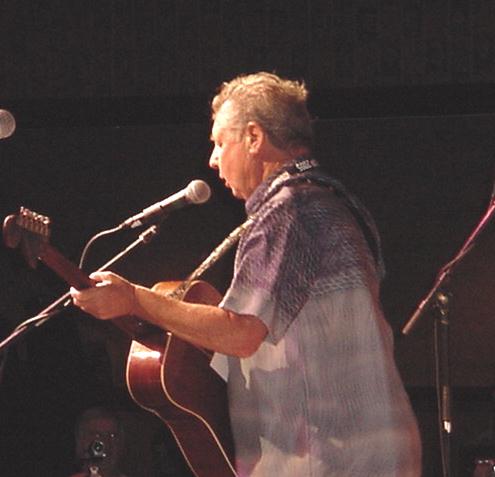 GLEN GLENN STARTS HIS SET SATURDAY.



GLEN'S BAND, INCLUDING DEKE DICKERSON AND ALAN CLARK.



To top off the set, Bob Timmers appeared on stage and bestowed a Rockabilly Hall of Fame Lifetime Achievement Award to Glen Glenn. From the audience's reaction, the set went right from "Everybody's Movin'" to "everybody was moved!"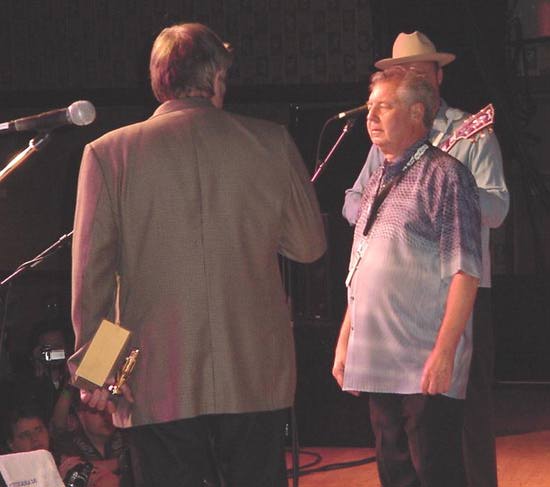 BOB TIMMERS IN PROCESS OF GIVING GLEN GLENN THE LIFETIME ACHIEVEMENT AWARD
FROM THE ROCKABILLY HALL OF FAME.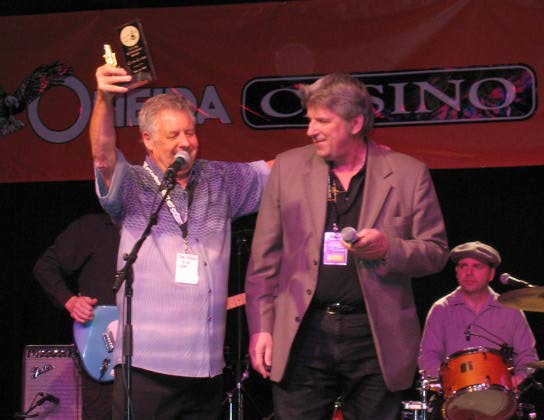 GLEN GLENN RECEIVING THE LIFETIME ACHIEVEMANT AWARD FRO BOB TIMMERS.
(Picture courtesy of Bill Holmes)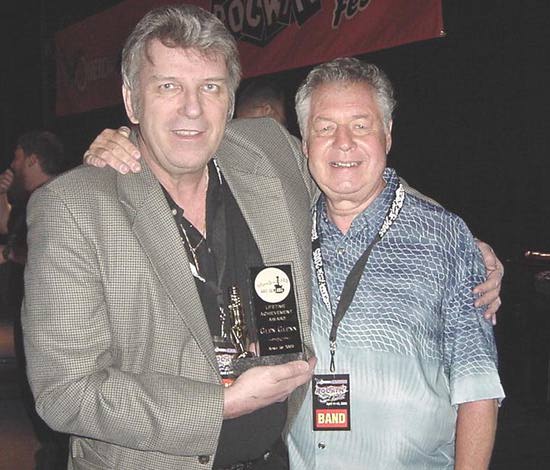 BOB TIMMERS AND GLEN GLENN WITH LIFETIME ACHIEVEMENT AWARD BACKSTAGE
AFTER THE PRESENTATION.



Also at 2:00 p.m.. in the Casino Lounge The Sean Mencher Combo played a rockin' set. The Sean Mencher Combo included Mark Cousins on drums, Jay Termini on acoustical rhythm guitar, Shane Kiel on bass and Zack Ovington on fiddle. I spoke to Mark Cousins later, and learned that he has played drums for many artists, including "alt-country" artist Slade Cleaves. Some of the songs done by The Sean Mencher Combo included "Little Baby Doll," "Don't Big Shot Me," "Dark Eyes," "All The Time" (an early Sleepy LaBeef tune), "Take The A Train," Sean's own "It's The Beat," "Flat Land," "Saturday Night," "Blue Bonnet Boogie" and "Old Habits."
Sean Mencher is not only a very talented musician who can also write, arrange and produce, but is probably one of the most likable and popular figures in the rockabilly community of artists. He is now living in Maine to be closer to his family, but still has ties in the Live Music Capitol, Austin, Texas.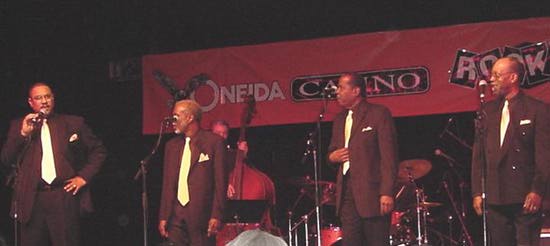 THE CALVANES



The Calvanes, a doo-wop group from southern California dating back to 1954, played in the Ballroom in the 3:15 time slot.
At Manuel Arts High School in south central Los Angeles in 1954, what is now known as the Calvanes, was formed. They actually had two previous group names before settling on "The Calvanes" in 1955.
How about a little trivia in the development of this group: Cornell Gunther of the then popular "Flairs" was recruited to "whip them into professional shape." Mr. Gunther, of course, became famous as a long time member of The Coasters, who recorded most of their hits on the Atlantic Record Company's Atco label.
After initial success with "Don't Take Your Love From Me," on the Dootone label (famous at that time for the Penguin's smash hit, "Earth Angel") and some TV and personal appearances, they had a dry spell and later emerged with a modified lineup on 1958. By 1962, the band broke up again.
Flash forward to late 1990, which is when Bobby, Herman and Freddy resurrected The Calvanes along with a new bass singer, Jimmy Corbitt (who replaced Stuart Krunk who passed on in 1967). After recording with Big Sandy, the group became a fixture, and has appeared ever since in shows done by the Doo-wop Society of Southern California. A pretty good crowd in the Ballroom warmly received their set.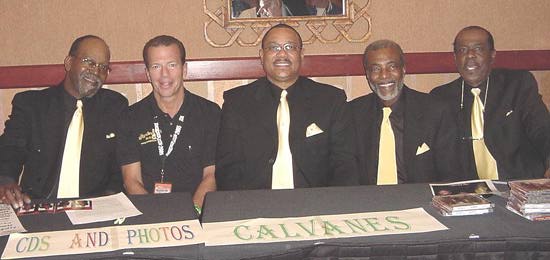 I STARTED TO "AUDITION" MY BASS VOICE, SINCE THE
CALVANES' BASS SINGER WAS NEXT TO ME, ON THE FAR LEFT.
HE'S TELLING HIS BANDMATES I'M TRYING TO GET HIS JOB.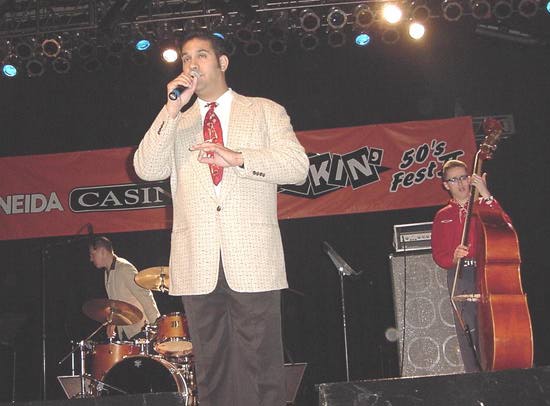 DEL VILLARREAL INTRODUCES CHARLIE LOUVIN



At 4:30 the surviving brother of the famous Louvin Brothers, Charlie Louvin, did a set backed up by The Ragtime Wranglers. Charlie played and sang, but also kibitzed a lot with the audience, giving us a lot of mountain humor to go along with the mountain music. The Ragtime Wranglers were the perfect group to be matched up with Charlie, and the fans seemed to be having a good time.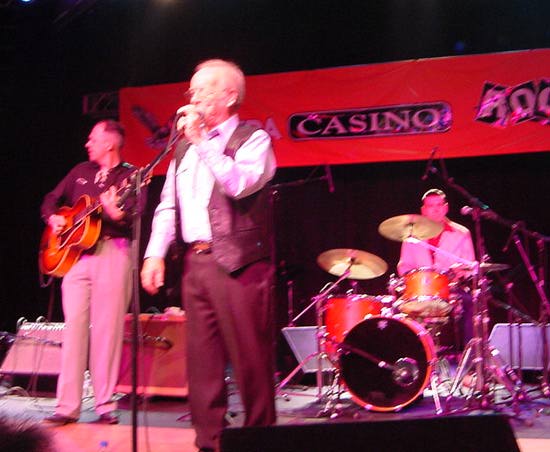 CHARLIE LOUVIN, BACKED BY THE RAGTIME WRANGLERS.




CHARLIE LOUVIN AND THE RAGTIME WRANGLERS



It was a treat to see Charlie Louvin in person, but I did not stay for the last 18 minutes of his set because I just had to see Marti Brom perform at 5:00 in the Casino Lounge.
The Marti Brom set was a "family affair," and I use the term both figuratively and literally. The Barnshakers, who frequently collaborate, record and tour with Marti, had Jussi Huhtakangas playing co-lead guitar along with Tjarko Jeen. Tjarko, of course, is the former guitarist for The Tinstars who has been residing in the Austin area, where Marti Brom and her manager/husband, Bobby, also live. Speaking of Austin and "family affairs," Lisa Pankratz was on drums along with her husband, Brad Fordham, on electric bass. Now, I don't know how often Tjarko Jeen and Jussi Huhtakangas play together, but they were just fantastic! Sometimes each would play the melody chords, while at other times either Jussi or Tjarko would take the lead with the other playing rhythm. Marti, of course, was just fantastic as usual, belting out such numbers as "That Crazy Beat," "My Baby's Gone," "Love Hound," "Wise To You," "Whole Lotta Lonesome," "Eat My Words," "Tom Cat," "Funnel of Love," "Wanna Kiss," "Black Cadillac" and in the middle of her set she did a couple of duets with Big Sandy, "You're The Boss," and "No Good Lover."
I couldn't stay for the entire hour and a half because I had an appointment to melt the wax out of my ears by attending the Link Wray show, but more about that later.
Other numbers that Marti did in her set included "Don't Stop," "They Call Me Crazy," "Blue Tattoo," "Dirty Dog," "Changed My Mind Jack" and Dorsey Burnette's "Great Shakin' Fever." I can assuredly testify that this set with Marti and her all-star Austin band, plus Jussi, was one of the major highlights of the week.
Incidentally, I did stop to talk to Tjarko later in the day, and asked him how much rehearsal time he and Jussi had on the guitar exchanges. Unbelievably, Tjarko admitted that they did not rehearse and had done all of the guitar exchanges by eye contact and slight nodding of the heads. Holy Cow! I wish that set was videotaped for more people to see.
About the time I was going into see Link Wray in the Ballroom, I ran into Don Colclough, a vendor who was helping the casino sell some great souvenir tee-shirts of the festival, most of which on the back had the scheduled band names for each day. Anyone reading this article who might be interested in obtaining any remaining tee shirts can call Don at 800-775-5078. There were still some available at the end of the festival.
I had finally gotten the opportunity to meet Link Wray and see him perform in October 2000 in Detroit ( www.rockabillyhall.com/barrykleinhappenings2.html at the end of the article), and I was looking forward to seeing him again at the 5:45 timeslot in the ballroom.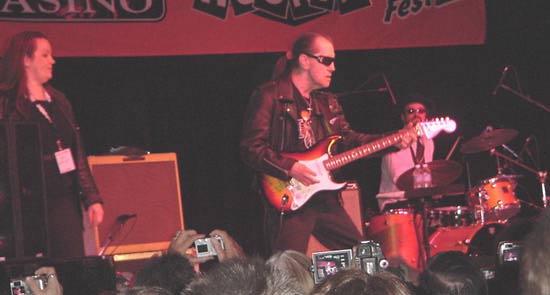 LINK WRAY HASN'T LOST A STEP SINCE I MET HIM
IN DETROIT IN EARLY FALL, 2000.



There was some controversy vis-ŕ-vis the Link Wray set, and that had to do with his turning up the amps much louder than a good percentage of the audience could tolerate, resulting in some significant shrinkage of the large audience. The other unfortunate thing was that for reasons we can only speculate, Link left dozens of disappointed fans waiting at the autograph table, to which he never came.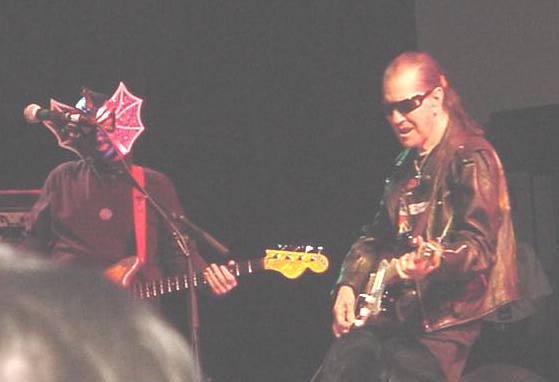 LINK PLAYS ALONGSIDE LOS STRAITJACKETS BASSMAN.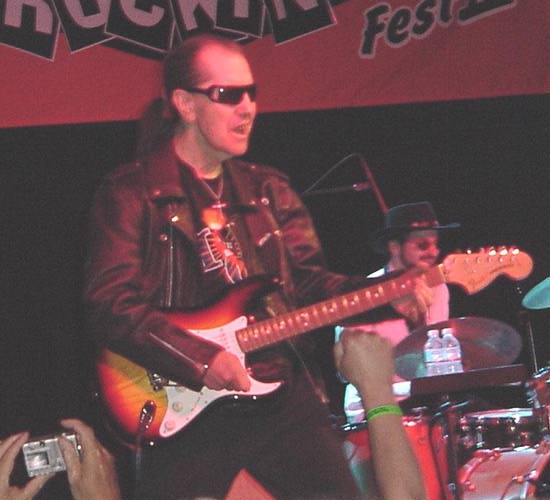 LINK PLAYS "RAWHIDE"



That being said, Link was very loquacious and friendly with the audience, talking with them at the beginning of his set while some technical problems were being addressed. Considering that Link Wray turned 76 two weeks after this show, it is amazing to observe his excellent stage presence and enthusiasm, and for those who could endure the downpour of decibels, it was a great show, including "Rumble," "Rawhide," "The Black Widow," "Run Chicken, Run" and all the many numbers that Link has recorded from his large body of recorded music.



KEEP ROCKIN' IN YOUR 70'S!
LINK WRAY IS STILL "KING OF THE POWER CHORD."



I have read that one of the reasons Link's vocals were rarely heard on his early records was that he only had the use of one lung, and to see him do his thing on April 16, 2005, all I could say is "long live the King of the Power Chord!"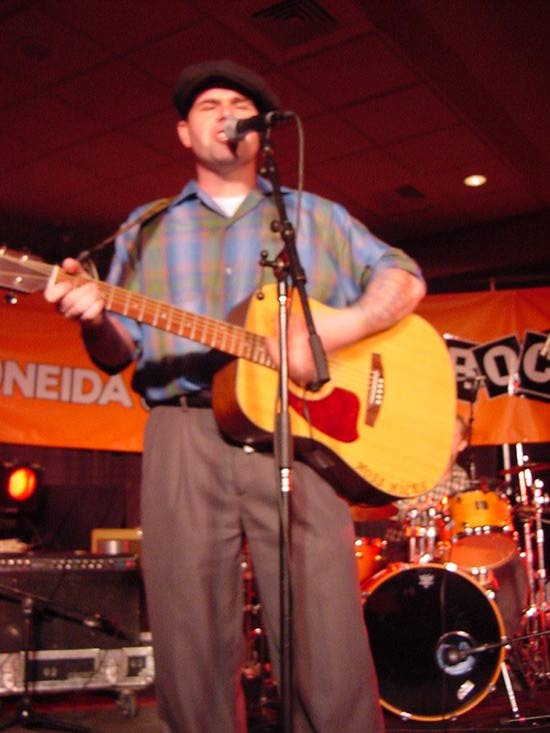 OLD LINE SKIFFLE COMBO'S LEAD SINGER, JASON "HOSS" HICKS.



At 6:30 in the Iroquois room, I saw an absolutely great set by the Old Line Skiffle Combo. The Old Line Skiffle Combo is a Maryland based group whose members have thick resumes in all kinds of roots music. Among the groups members of this quintet have played with include: Peashooters, Steubenville Knights, The Atomics, Blue Moment Jazz, Western Bop and The Boom Boom Cats.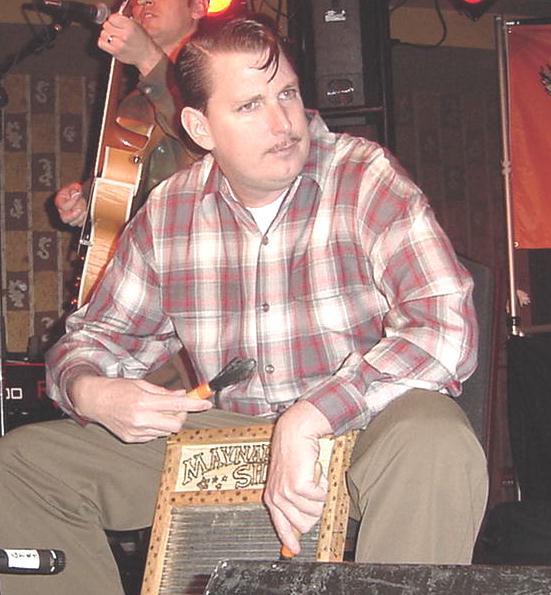 THERE'S THE WASHBOARD MAN, MAYNARD SHEPPARD.



"Skiffle" for those who are not familiar, was a pre-Beatles British sound that included an amalgamation of ragtime, folk and blues. If you remember Lonnie Donegan ("Does Your Chewing Gum Lose Its Flavor On the Bedpost Overnight" was a big USA hit), he was probably the Elvis Presley of skiffle. Even the early Beatles were described as being in that category.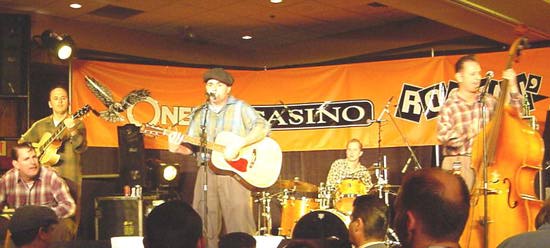 THE OLD LINE SKIFFLE COMBO ­ THEY'RE ... G R E A T!
REALLY GOT THE CROWD MOVIN' AND DANCIN'.



The members of the Old Line Skiffle Combo are Jason "Hoss" Hix on vocals and acoustic guitar, Steve Knight on lead guitar and banjo, Louie Newmyer on bass and vocals, Mark Pettijohn on drums and washboard, and Maynard Sheppard on washboard and ukulele.
I have run into Louie before, and we even were on the same plane from Detroit to Green Bay and back again. Besides The Old Line Skiffle Combo, Louie also plays with Terence McArdle and Big Trouble (a jump blues band) and J. P. McDermott and Western Bop (rockabilly and classic country).
Anyway, these guys really rocked! Good song selection, great vocals ­ V E R Y danceable music. Their songs included "Don't You Rock Me Dadddy-o," "Blue Blue Heartache," "I'm Satisfied," "Last Train to San Fernando," "Hobo Blues," "Jack of Diamonds" (a Lonnie Donegan song), a medley of railroad songs, and others.
They also performed original songs composed by them including "Just Take Me Home," "Please Mister Law," "It's Not Right," "What Really Happened" and "Baby That's Not Enough."
Whether you were dancing, or watching, or listening, the Old Line Skiffle Combo turned in an absolutely great performance for the lucky people that were able to see it. Don't miss this band if they come to your town.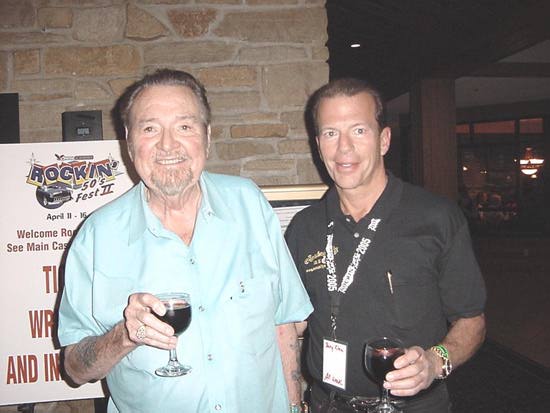 HANK THOMPSON, HIS WIFE AND I ALL DRINK RED WINE.
RECENT STUDIES HAVE SHOWN ITS HEALTH BENEFITS,
IF CONSUMED REGULARLY, IN MODERATION.




THEY'RE WEARING BLACK SLACKS!! JOE BENNETT & THE SPARKELTONES



Joe Bennett & The Sparkeltones can still draw a crowd wherever they go. This group, most famous for "Black Slacks," has been a big draw in recent years, getting a big crowd at Viva Las Vegas a couple of years ago, as well as their 7:00 p.m. set in the Ballroom on Saturday in Green Bay.
Joe Bennett, who writes a column for the Rockabilly Hall of Fame, and The Sparkeltones were teenagers when the band was formed even though 1957's "Black Slacks" backed with "Boppin' Rock Boogie" was their only big hit. They kept their great sound on other songs, including "Penny Loafers and Bobby Socks," which also appears on rockabilly compilations. They perform strong sets, and they capture the respect and admiration of their audience.
HmmmmmmŠI wonder who besides The Sparkeltones among the Green Bay lineup appeared on the Ed Sullivan show? Perhaps Wanda Jackson? Ike Turner? The Crickets? Hank Thompson? Jerry Lee Lewis? Don't know myself, just wondering.
Hey, have you been seeing the TV commercials for the internet phone service Vonage that features "Woo-Hoo," the instrumental rockabilly number that was a hit for the Rock-A-Teens? Well, click here to see an Estonian TV commercial featuring "Black Slacks" ( www.hot.ee/lehva1/kelevi_kommid.mpg).
At 7:45 Arsen Roulette & The Ricochets appeared in the Iroquois Room. Arsen Roulette & The Ricochets are a San Francisco area based group, although Arsen is a native of Argentina.
Arsen's "full-time" Ricochets are: Rory Justice, Rockin' Lloyd Tripp, Bobby Mumbles and Alex Vargas, with Marc Milard of the Blue Rhythm Boys sitting in often on drums.
Arsen's band for his set in Green Bay is now called the Drugstore Romeos, and includes Rory Justice and Rockin' Lloyd Tripp on Guitars, Alex Vargas on stand-up bass, and Danny Magna on drums, who was filling in for Bobby Mumbles.
Arsen Roulette and the Drugstore Romeos' rockin' set included Ronnie Self's "Bob-a-lena," "Messed Up," "Tonite, Tonite," "Strollin' Back to You," Lil' Darlin'," "At the Drugstore," "I Got the Bug," "Gone, Gone, Gone," and several more. Since they started wild with "Bob-a-lena," they also finished wild with another heart-pounder, Mickey Hawks' "Bip Bop Boom." Whew! You could have sweated just watching this!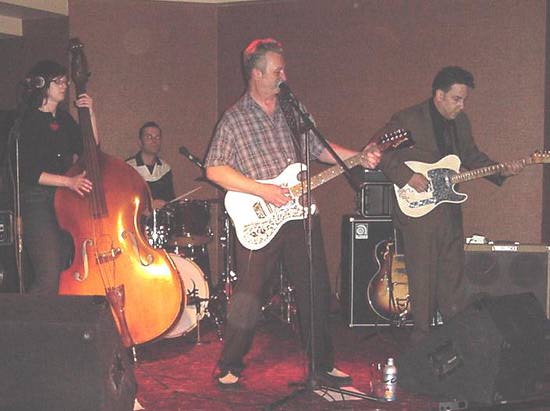 MARC BRISTOL WITH CHRIS CASELLO, CARL SONNY LEYLAND (not in picture),
KIRSTEN BALLWEG AND MARSHALL SCOTT WARNER.



Marc Bristol performed at 8 p.m. in Purcell's Lounge. For those of you who are not "players" in rockabilly music or other roots or Americana music, Marc Bristol is the publisher of Blue Suede News, a Seattle roots music publication that, in February, 2006, will celebrate its 20th Anniversary. Marc's wife has also become instrumental in the magazine's success, pun intended.
Marc, who is originally from Muskegon, Michigan, comes from three generations of performer/musicians.
Now based in Seattle, one of the hottest music towns on the continent, Marc stays very busy as a singer/songwriter, editor and publisher, reviewer and writer, and probably many more things that I can't think of just now.
As a songwriter, Marc should be proud that his song, "Sucker For a Cheap Guitar," had been recorded and was performed often by the late Ronnie Dawson, as well as by Marc.
Like his magazine, Marc can perform rockabilly, country and many types of roots music.
His band on April 16 included Chris Casello on lead guitar. Chris, also from Michigan and now living in Nashville, was the co-leader of The Starlight Drifters. On piano was the omnipresent Carl Sonny Leyland, with Kirsten Ballweg playing bass. (She actually played Kenny Bruce's bass. Kenny is in Bones Maki & The Sun Dodgers, and is an alumnus of The Starlight Drifters himself.) Marshall Warner was on drums. I didn't get a copy of the set list, but before I went over to the Ballroom to see The Comets, I was very pleased by what I heard in Purcell's by Marc Bristol and his band.




THE ORIGINAL COMETS



The Comets, aka The "Original" Comets, played in the ballroom at 8:15. If you read my review of the 2002 Green Bay Rockin' 50's Fest Green Bay 2002 Review ( www.rockabillyhall.com/BarryGreenBay2002.html), you might remember that I felt that the Comets won the unofficial contest as "best performance of the festival" from the feedback I heard from the fans, as well as the crowd's size, noise and behavior. Evidently, three years has not changed anything!




HERE THEY ARE!



Once again, The Comets had the biggest crowd, the longest set, the noisiest and most enthusiastic audience, and a performance on stage that was magic. Forget for a moment that the six men on stage ranged in age from 70 to 84; they were the most polished and audience-friendly act of the festival, and believe me, there were scores of super acts performing the whole week.
They all know what to do, and Marshall Lytle and Joey D'Ambrosio have a great rapport with the audience. Joey's comic timing can rival anyone currently performing in Las Vegas, where he resides. "Rock Around the Clock," "Rock A Beatin' Boogie," "Rock the Joint," "Crazy Man, Crazy," they played the heck out of Œem all! So to Marshall Lytle, Franny Beecher, Dick Richards, Johnny Grande and Joey D'Ambrosio, all I can say is, you guys still have the crown!
Incidentally, other than only two exceptions that I can think of, all of the artists were wonderful about staying at the autograph and merchandise tables after their performances until the last person in line was accommodated. Often, the Rockabilly Hall of Fame's Bob Timmers, who was put in charge of these tables, had to ask the existing group signing autographs to relocate to another table to accommodate the act that had finished the next set and was ready to take their seats at the autograph table. In the case of The Comets, who once again had the longest line, it was just great to see how all of them put in such a hard-working show, and then they stayed until the very last person got autographs, took pictures, etc. Not once did I see any of them without a smile on their face or a pleasant disposition, and that just shows what consummate pros and human beings they are.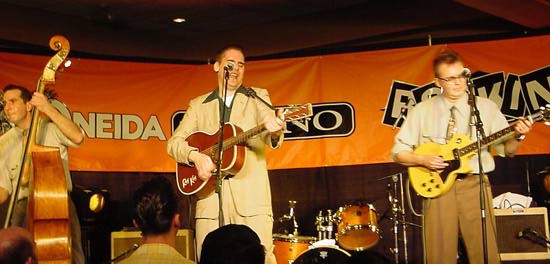 ROY KAY TRIO



The Roy Kay Trio took the stage at 9 p.m. in the Iroquois Room. The Roy Kay Trio is a traditional rockabilly band from Seattle, and the lineup has not changed since they were formed in late 2001. Roy Kay is on vocals and acoustic guitar, Robin Cady on upright bass, and Mike Geglia on electric lead guitar and harmony vocals. They did a very nice job and the crowd couldn't stop dancing and movin' around. They did a very nice version of Johnny Powers' "Long Blond Hair," and the response from the crowd was so great that they did two encores, "The Fickle Chicken" and "Rock Island Line."
A year ago, The Roy Kay Trio released its first CD, "Knockin' ŒEm Back" that is available from Hepcat Records, Barnes & Noble and Amazon.com. Also hot off the presses is a new 45-RPM vinyl record, "Travel Bound." A very nice set, men!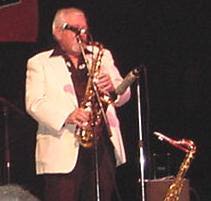 ACE CANNON



At 9:45 in the Ballroom, saxophone legend Ace Cannon performed. The "Godfather of Sax," as he has been referred to for many years, started his career in Memphis, Tennessee, and recorded on many of the 50's hits on Sun Records. Sam Phillips said, "Ace Cannon is the greatest saxophone player who ever livedŠ"
In 1959 Ace was part of The Bill Black Combo (fronted by the former bass player for Elvis), which was one of the most popular instrumental groups at that time. In 1962, Ace recorded the instrumental smash "Tuff," and since that time has recorded 52 albums and 37 singles. He has been nominated for Grammy Awards, has million-selling TV albums, and brought himself further fame when he paired up with trumpet legend Al Hirt. In 1986 he performed on the famous "Class of 55" reunion album which brought together Jerry Lee Lewis, Carl Perkins, Johnny Cash and Roy Orbison. After that, Ace toured with Carl Perkins all over the United States and the tour continued in Norway, Sweden and Denmark, and also the World's Fair in Vancouver, British, Columbia, Canada.
It has been said that Mohammad Ali was probably the most worldwide recognized athlete of all time, and one might also be able to make a case that Ace Cannon is the best-known saxophonist in the world. After many tours all over the world, 1997 found Ace teaming up with Scotty Moore and D.J. Fontana to record an album "All The Kings Men," which consisted of eleven songs by the likes of Keith Richards, Ron Wood, Jeff Beck, Steve Earl and members of The Bill Black Combo. The Bill Black Combo selection was nominated for a Grammy Award.
Ace, who turned 69 on May 5th , still maintains a very active tour schedule, which through October of this year will take him to Mississippi, Trinidad, Barbados, Mexico, Jackson, Tennessee (where Ace will appear at the Ace Cannon Celebrity Golf Tournament and Rockabilly Fest), Miami, Florida, Louisiana and Mississippi again. Ladies and gentlemen, another living legend has appeared before our eyes.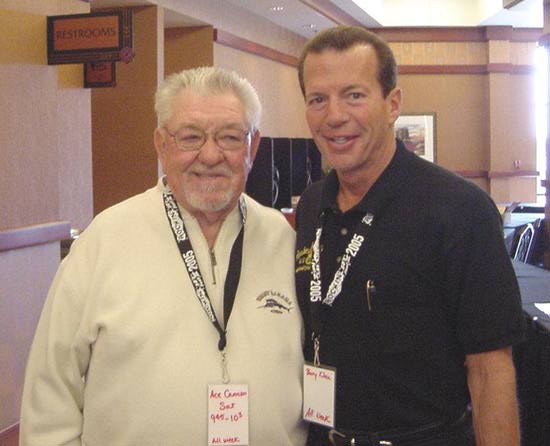 ACE CANNON AND BARRY



From 10 to 11 p.m. the Mezcal Brothers were in Purcell's Lounge. The Mezcal Brothers are from Lincoln, Nebraska, and have been playing together for 6 years.
Specializing in roots rock and rockabilly, the Mezcal Brothers are Gerardo Meza on vocals and guitar, Benny Kushner on lead guitar, Charlie "Fireball" Johnson on upright bass, and Shaun Theye on drums.
They have released 3 CD's, ""Hold on Tight," "Rev It Up," and "Next Town." I regret not catching their act, as I was in the Iroquois to see Big Sandy & Los Straitjackets at the same time.




LOS STRAITJACKETS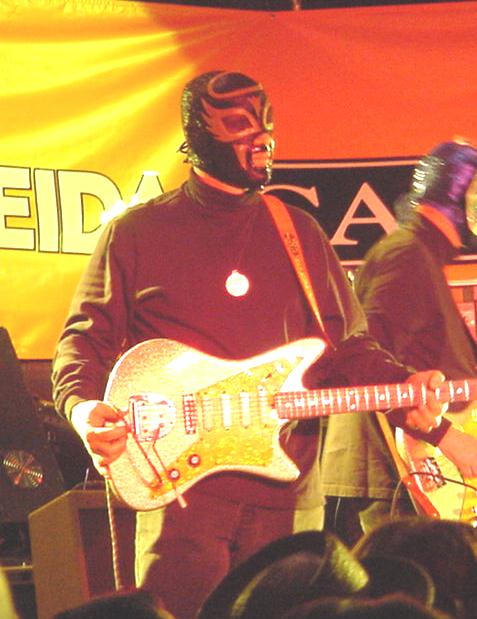 THAT'S EDDIE AGEL ON GUITAR.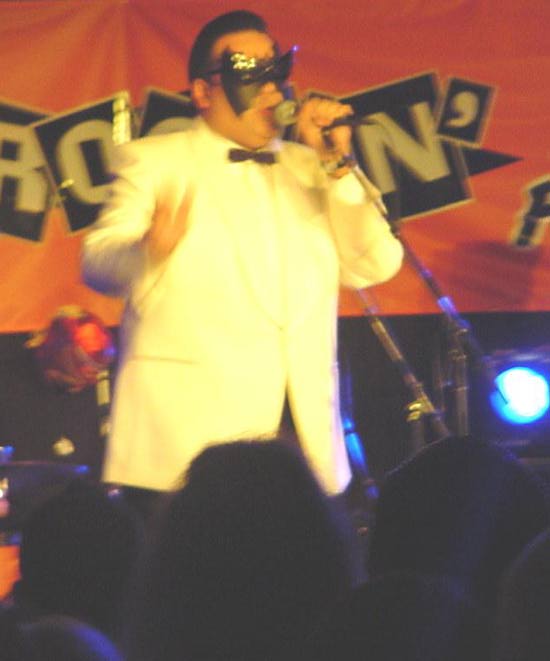 BIG SANDY JOINS LOS STRAITJACKETS.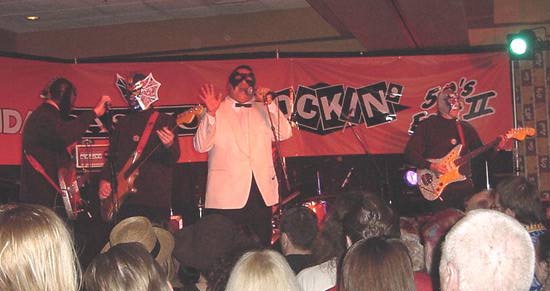 "GOOD GOLLY MISS MOLLY" AND "TALLAHASSEE LASSIE" EN ESPANOL.



At 10:15 in the Iroquois Room I saw one of the best sets of the festival, which featured Big Sandy with Los Straitjackets. First Los Straitjackets hit the stage and took no prisoners. After several songs, Big Sandy appeared on the stage with a white dinner jacket and a big black mask over his eyes, to mesh with the Los Straitjackets "look." Big Sandy played several songs in Spanish, and it blew me away to hear him do Freddy Cannon's "Tallahassee Lassie," and Little Richard's "Good Golly Miss Molly" in Spanish. We also heard a Freddy Fender song, and Ernest K. Doe's "Mother-In-Law," and The Lonely Blue Boys, or two of them at least, appeared on stage to do "Lonely Teardrops" in Spanish. I could have sworn I heard at least four different sets where Jackie Wilson's songs were performed during the week. I'm not complaining!
By the way, do you know who wrote "Tallahassee Lassie?" It was Freddy Cannon's mother, who passed away about three years ago. I saw Freddy Cannon perform just after her death, and it was obvious he still was in pain over his loss.




(Photos courtesy of Frederic Schroers of KBOO Radio, Portland Oregon.)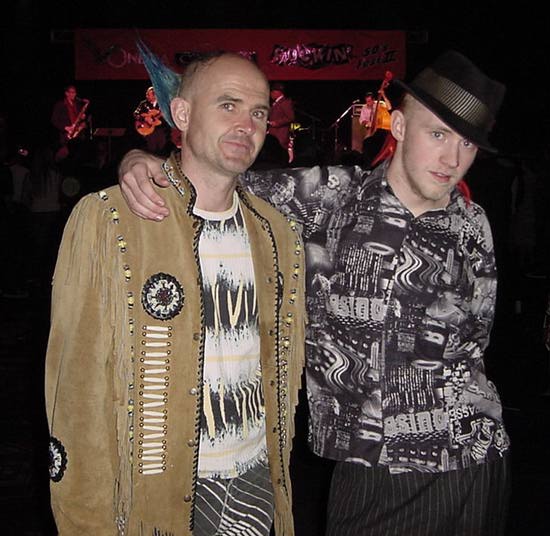 MANY PEOPLE NOTICED THIS COLORFUL PAIR OF GENTS BOPPIN' ON THE DANCE
FLOOR. GUESS WHAT? THEY'RE FATHER AND SON! THAT'S DAD SCOTT (ON LEFT)
AND SON SHELDON, WHO CAME FROM WALES TO ENJOY THE WEEK.




YOUNG JESSIE



Just as he performed on the last day of Green Bay 2002 (Obediah) Young Jessie performed on Saturday in the Ballroom at 11 p.m., backed by Sean Mencher on guitar, Mark Cousins on drums, Carl Sonny Leyland on piano, Shane Kiel on bass and Jonathan Doyle on saxophone.
Young Jessie's most famous song, "Mary Lou," was covered by Ronnie Hawkins in 1959. Before that, Ronnie had covered Chuck Berry's "Forty Days" and in 1958 Hawkins covered Bo Diddley's "Hey Bo Diddley."




YOUNG JESSIE



Meanwhile, Young Jessie's "Mary Lou" is not to be confused with the song that was part of Ricky Nelson's mega double-sided hit, "Travelin' Man" b/w "Hello Mary Lou" (that "Mary Lou" was written by Gene Pitney).
Young Jessie, who was born on December 28, 1936 in Dallas, Texas, was inspired by Roy Brown and Joe Williams. Jefferson High School, where Jessie attended, provided him with the opportunity to team up with fellow classmates Johnny Watson, Richard Berry and Cornel Gunther. In the early 50's they had a vocal group called the Debonaires, and after they were signed to the Bihari Brothers' Flair label, they were renamed the Flairs.
Jessie's solo career was cemented in 1955 by his biggest hit, "Mary Lou." He also recorded a song that will appear every now and then again today, "Hit, Git & Split," and he briefly joined The Coasters (where his Jefferson High pal, Cornel Gunther, was a member).
In the early 70's Jessie sang with the group Seeds of Freedom, and toured Europe in the 80's as both an R&B performer and a jazz singer. He lives near Venice Beach, California with his wife, singer Barbara Prince. In addition to "Mary Lou" and "Hit Git & Split," Young Jessie is also known for "Oochie Coochie."
Three Blue Teardrops rocked the Iroquois Room from 11:30 to 12:15 a.m. on Saturday night.
The Three Blue Teardrops are a Chicago based rockabilly group that originally formed in 1991. Initially, the band played songs that were various combinations of 70's punk, "gut bucket blues," jungle swing, gospel, garage rock, hillbilly jazz and country harmony, and of course 50's-style raw rockabilly. Each band member brings a different background to the group, which results in their unique sound.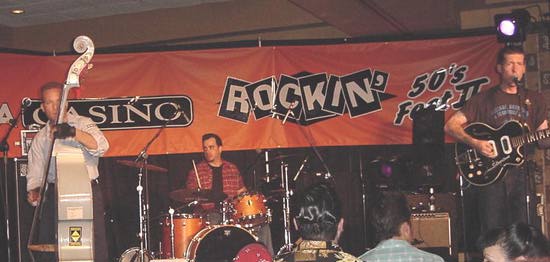 THREE BLUE TEARDROPS
LEFT TO RIGHT: RICK UPPLING, RANDY SABO AND DAVE SISSON



Rick Upling on upright bass is a Chicago native who is described as "percussive like Bill Black and Willie Dixon, and unpredictable like Charles Mingus."
Detroit native Randy Sabo completes the trio's rhythm section. Randy is known for his work ethic, passion and intensity for rhythm, and his aggressive snare-popping drumming style.
Rounding out this hardworking trio is Steel City native David Sisson, and Dave can make his guitar do many things, thanks to his variety of influences including Duane Eddy, Link Wray, Hubert Sumlin of Howlin' Wolf's Band, Merle Travis, Carl Perkins and Stevie Ray Vaughn. Throw in a dash of Johnny Ramone, and add a very original songwriting talent, and you have Three Blue Teardrops.




THREE BLUE TEARDROPS



The Three Blue Teardrops have three CD's of which I am aware, "Readings From Mile Marker 26," "Poised In Hate" and "One Part First."
Their set in Green Bay included a car song, "Lincoln '59," "Cadillac Jack" (a song about a crazy car driver), "Long Hard Night" (a song about drinking and smoking), "Jenny The Generator" (a song about a robotic girl), "Switchblade Pompadour" (a song about juvenile delinquents and hotrod gangs), "Wanted Man," a spaghetti western outlaw song, a truck drivin' song, "Comin' Home," "West Texas Timebomb," a song about a Chicago Westside Hispanic gang war, and "Bad Man," a song about leaving the one you love behind.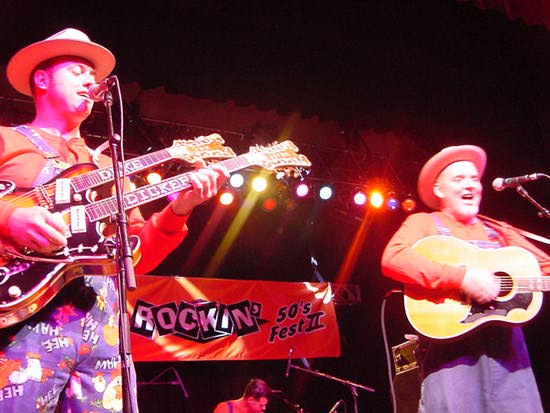 DAVE & DEKE COMBO RIDES AGAIN! ORIGINAL LINE-UP!



One of the most highly anticipated sets was also one of the last, the 12:15 a.m. show late Saturday night featuring the "Original" Dave & Deke Combo. Even though 2005 Viva Las Vegas pre-empted this reunion, I am sure I was not the only person who did not attend Viva Las Vegas, so I made a point of arriving early, and placing myself and my pad, notes, floppy disks and Sony Mavica digital camera right smack in front of center stage.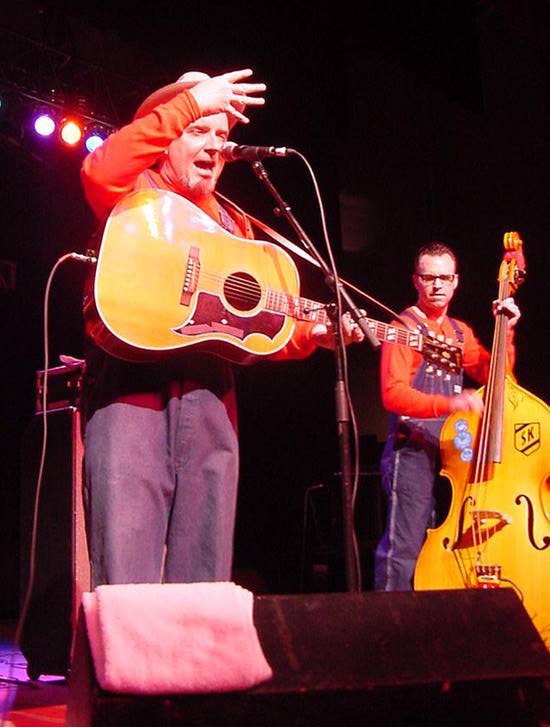 DAVE STUCKEY



Dave Stuckey and Deke Dickerson each had impressive resumes before and after they played in the Dave & Deke Combo, but there was always something about that Dave & Deke Combo: lots of fun, good music, showmanship and good humor. Whether it was their great in-person act or listening to CD's like "There's Nothing Like An Old Hillbilly" and "Hollywood Barn Dance," the Dave & Deke Combo possessed a unique synergy that is hard to duplicate.



DEKE AND DAVE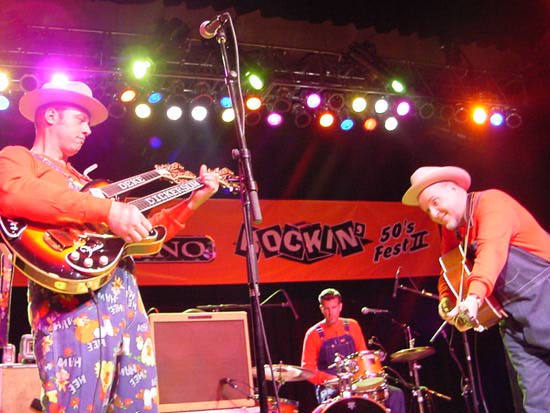 HOW ŒBOUT DEKE'S HEE HAW OVERALLS?



That may be the reason for one of the biggest crowds of the week. Whether it was "Snatchin' and Grabbin'," "Henpecked Peckerwood" or Deke's lamentful ode to the folically challenged, "Chrome Dome: (Deke called it an "inverted pompadour"), the boys put on a good show.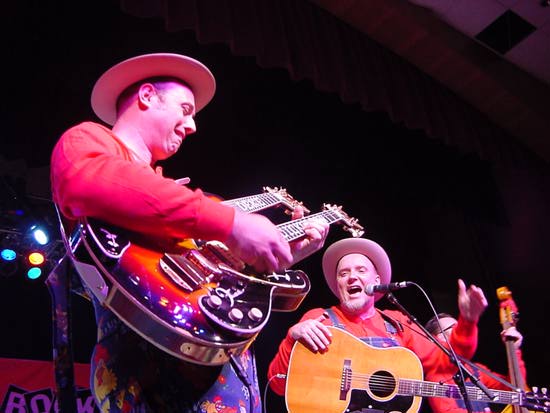 THEY SURE KNOW HOW TO CLOWN AROUND.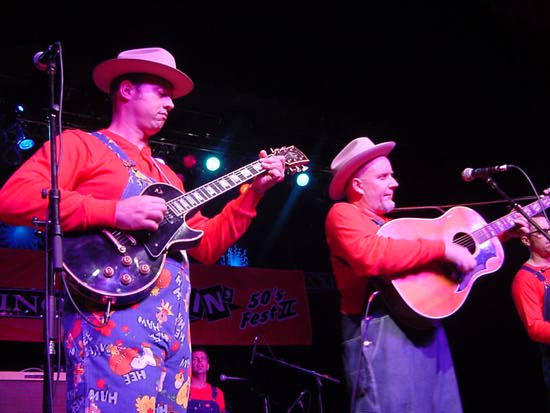 AND PLAY GOOD MUSIC!



Besides Dave Stuckey and Deke Dickerson, the "original" Dave & Deke Combo included Lance Ray Soliday on drums, and the original bass player, Lloyd Martin.
It was really good to see the Dave & Deke Combo get together again, notwithstanding Dave and Deke's successful ventures following the breakup of the band. It was a great spectacle and I enjoyed seeing almost the entire show, but I had to catch a good part of Bones Maki & The Sun Dodgers playing in the Iroquois room at 12:45 a.m.
I recall speaking to Kenny Bruce, the bass player for Bones Maki & The Sun Dodgers, earlier in the day on Saturday. Kenny was very disappointed that because of the overlapping times of Bones Maki & The Sun Dodgers and The Dave & Deke Combo, that Kenny would not be able to see the Dave & Deke Combo show.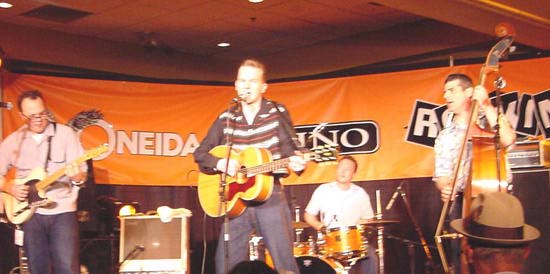 BONES MAKI & THE SUN DODGERS



Bones Maki & The Sun Dodgers played a really rocking set in the Iroquois at 12:45 a.m. I have probably written more about Bones Maki than any other rockabilly person, but there are many reasons for that: Bones is a good person, great singer and songwriter, and hosted his own rockabilly radio shows for many years. The Big Barn Combo was a very popular group, and after that group broke up, Craig "Bones" Maki formed Bones Maki and the Sun Dodgers with former BBC bassman Kenny Bruce, and Graham Tichy of the Lustre Kings on lead guitar.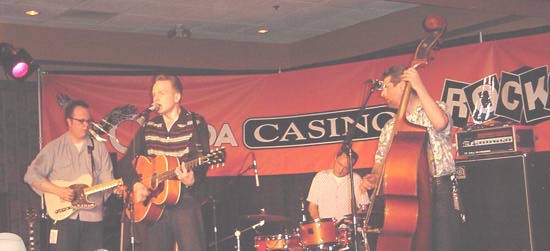 BONES MAKI & THE SUN DODGERS



For the Green Bay show, Bones had Jason Smay of The Lustre Kings on drums, reuniting the lineup that performed in 2004 at the Indy Rockabilly Rebel Weekend. Boy, they sounded good! The crowd, not exactly at capacity due to Dave and Deke's time overlap in the Ballroom, just had more room to dance, get a closer look, and listen to such tunes as "Tiger In My Tank," "Out of the Past," "There's a Lot More Where That Came From," "More Than Anyone I Know," "Waltz of the Wind," "Up Through The Gears," "Been Out on an Island," and a song about his and Sara Jane's young daughter, "Genvieve On My Sleeve," which made its public debut in Green Bay. Great goin', guys!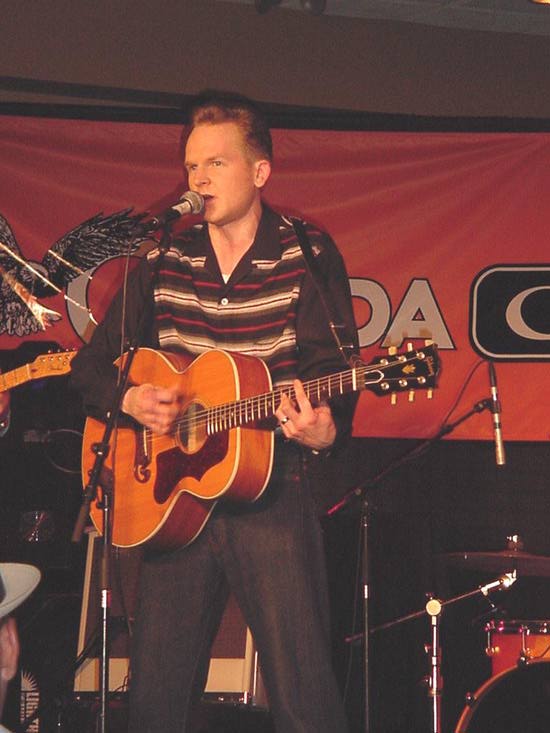 CRAIG "BONES" MAKI SINGS, STRUMS,
AND WRITES SONGS ­ ALL VERY WELL!



Just when Bones Maki thought he might have Jason Smay play more with his group, Jason was signed on to tour with Los Straitjackets, who seem to be getting more and more famous.
I didn't make it to the "Rockin Bones" Tribute to Ronnie Dawson but I heard it was great, and I'm posting some pictures: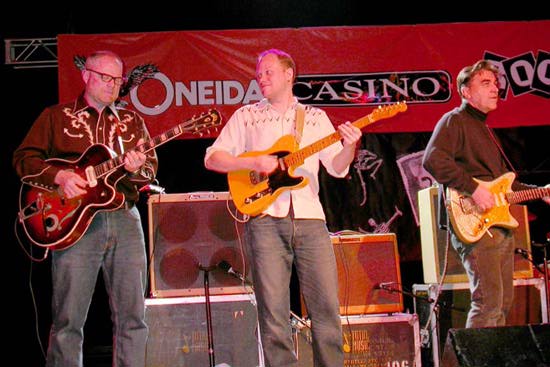 "Rockin Bones" Tribute to Ronnie Dawson
(Photo courtesy of Frederic Schroers of KBOO Radio, Portland Oregon.)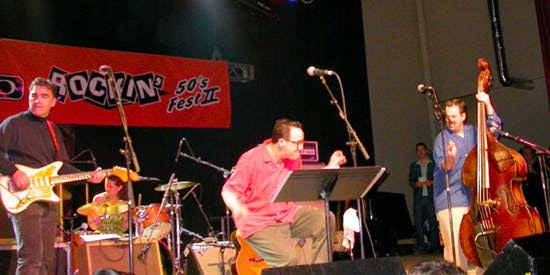 "Rockin Bones" Tribute to Ronnie Dawson
(Photo courtesy of Frederic Schroers of KBOO Radio, Portland Oregon.)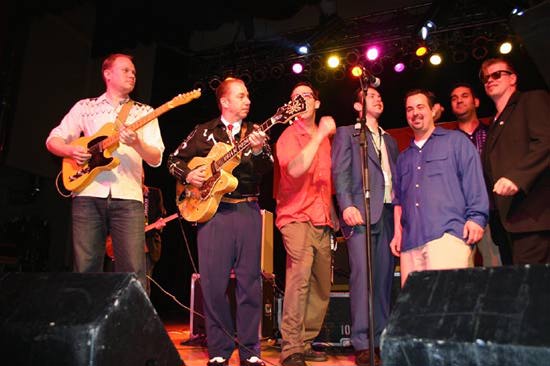 "Rockin Bones" Tribute to Ronnie Dawson
(Photo courtesy of Ned Neuhaus.)





Barry Klein has been writing for Rockabilly Hall of FameŽ for many years. To see his interviews, articles and reviews, CLICK HERE
E-mail: Barry

EDITOR'S NOTE Thanks to Barry for this wonderful review. He spent over 100 hours compiling the text, photos and outside research to make this available to RHOF readers. A special thank you to Pat Bugdalski, also, Barry's secretary, for her transcribing and prep work. -Bob Timmers