MONDAY, APRIL 11
Green Bay, 2005


I was thinking about many things while taking my two flights to Green Bay on Monday, April 11: remembering the great experience in July 2002, looking forward to seeing the great array of talent scheduled to appear, the convenience of staying in the Radisson Hotel, which is expeditiously close to all four stage venues, the daunting challenge of trying to see and experience as many of the scheduled acts as possible, the usually consistent quality of sound, and the substantially reliable punctuality of each set's start. Despite a 4+-hour layover in my own hometown of Detroit, I arrived in time to see Li'l Rachel open the show at 5:45 p.m. in the Ballroom.
In 2002, the Oneida Casino's last 50's rockfest was in July, and was part of the Casino's annual "birthday" blast. I understand that this anniversary event is their biggest bash, and also commands the biggest budget for entertainment. The 2005 event, I was told, would not command the same budget.
This might explain why so many original rockabilly acts from 2002 were not rebooked; legends such as Jack Scott, Billy Lee Riley, Johnny Powers, Hayden Thompson, Mac Curtis, Gene Summers, The Collins Kids, Alvis Wayne, Sid King, Sanford Clark, Sleepy LaBeef, Jack Earls, Vernon Taylor, Sonny West, Billy Adams, Larry Donn, Ray Campi, Eddie Bond, Marvin Rainwater, Rudy Grayzell and Joe Clay.
That said, there were over 100 acts booked, and the inclusion of some non-rockabilly legends, e.g., Ike Turner, Bob Wills' Texas Playboys, Clarence "Frogman" Henry and Hank Thompson, were welcome additions.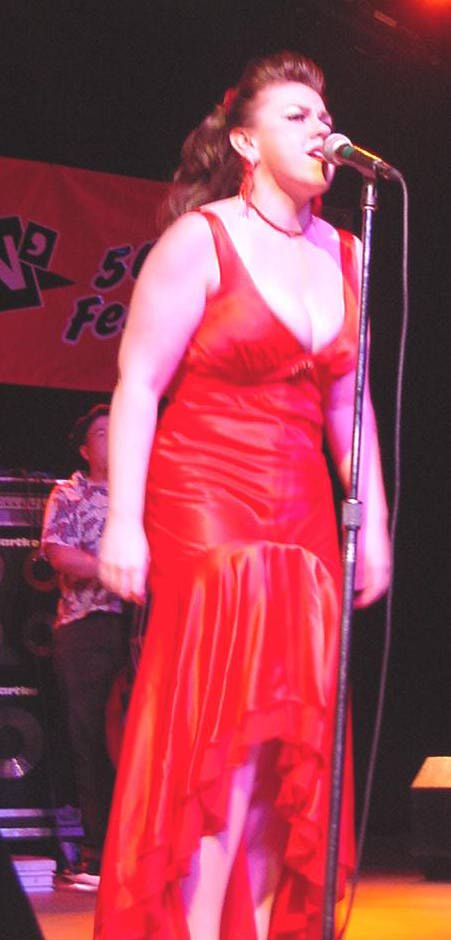 LIL' RACHEL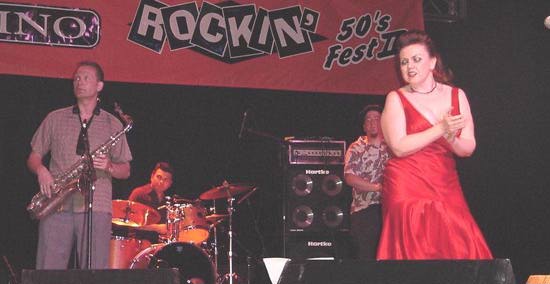 LIL' RACHEL



Li'l Rachel was first known to many of us as one-half of the very talented Casey Sisters (the name "Casey" refers to "KC" or Kansas City, their home town). After touring extensively as the Casey Sisters, Li'l Rachel now performs on this continent and Europe as a solo rhythm and blues queen. Backed by a crack international band consisting of Tjarko Jeen on guitar, Billy Horton of the Horton Brothers of Austin on upright bass, Damien Llanes on drums, Timo Tarkela on sax and The Barnshakers' Harri Saanio on piano, Li'l Rachel belted out many fine tunes including "They Call Me Li'l Rachel," "Ooh, He's Fine," "Back to Kansas City," "His Words Don't Say As Much As His Eyes," "Uh Uh Baby," "Tough Lover," "Scorched," "I Want to Boogie," and "Your Baby's My Baby Now." With Li'l Rachel's hot voice and a radiant red dress to match, plus a great band, it was a wonderful way to start the week. The crowd's loud response elicited an encore, which was "Mama, He Treats Your Daughter Mean." We're off to a rocking, rollicking start!
The next acts, whose times overlapped, were High Noon in the Ballroom, and Little Boy Arnold & His Western Oakies in the Iroquois Room. In addition, the Ragtime Wranglers played an hour and a half set in the in the Casino Lounge from 8 to 9:30. I was running around like a kid in a toy store given one hour to pick up all the toys he could grab.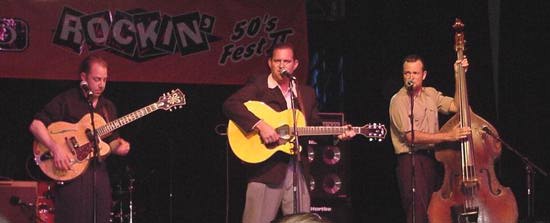 HIGH NOON



High Noon is one of the most respected and revered bands in rockabilly. Formed in Austin, Texas in 1988, the band features lead guitarist Sean Mencher, rhythm guitarist Shaun Young and doghouse bass player Kevin Smith. Although they have each recorded and played with others outside of the High Noon aegis, the synergy that this trio creates together is very special indeed, and their credentials include: being named Austin's best rockabilly band seven years in a row, the release of many records and CD's on national and international labels, touring throughout the United States, Russia, Scandinavia, Japan, Central Europe and the Canary Islands, playing at Carnegie Hall with the late legend Ronnie Dawson, and performing on the Conan O'Brien Show. With Sean Mencher now living in Maine (to be closer to his family), High Noon still manages to reunite, which is a tribute to their fans as well as their mutual respect to each other. If anyone ever teaches a class in contemporary rockabilly, every professor would have High Noon high on their stack of records to play.
Each of the three High Noon members has enjoyed success outside the group. Kevin Smith has played with many Austin-based bands including the Asylum Street Spankers, 8-1/2 Souvenirs, Hot Club of Cow Town as well as others. After Sean Mencher moved to Maine, he produced bands from New York, Boston and Vermont, as well as forming his own group, Sean Mencher & His Pine Tree Three. He has also performed regularly with Austin-based Wayne "The Train" Hancock. Shaun Young formed Shaun Young & His Texas Trio and also has played drums for Austin's Horton Brothers, as well as help form the Jive Bombers.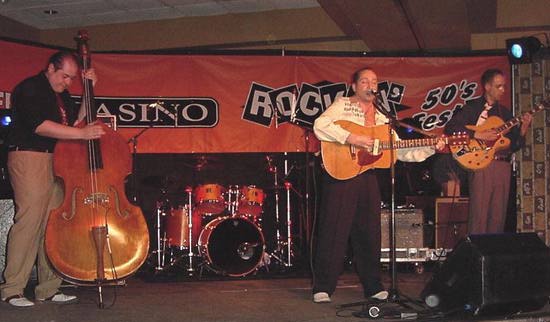 LITTLY BOY ARNOLD & HIS WESTERN OAKIES



Little Boy Arnold & His Western Oakies kicked off the show at the Iroquois Ballroom at 8 p.m. on Monday. The Spanish band that started in Marbella (their bio calls Marbella "a nice touristic city in southern Spain") in February 1994. Actually, I remember one of the most wonderful meals I've had was at the restaurant at the Hotel Don Pepe in Marbella in October of 1971 (I was just a baby). The Marbella location was serendipitous for the band, because they were arranging gigs there for Wildfire Willie & The Ramblers, and became inspired to start a band themselves.
Hector Guerrero (Little Boy Arnold), singer and acoustic guitar, Sebastian Palma on double bass, and Emiliano Vera on guitar, were the original members of the band. From 1994 to 1995 Little Boy Arnold & His Western Oakies performed throughout Spain and played in big festivals in Marbella, Cartagena and Zaragoza. After recording an 8-song demo tape in early 1995, distribution of the demo tape helped them get more gigs all over Spain, and they were soon gaining a solid reputation as an authentic rockabilly band.
Constantly getting exposure in the later 1990's, their first gig at the famous Hemsby Festival in Great Britain was in 1996 when they played with Hardrock Gunter, Ray Campi, The Barnstompers and others. They also completed their first EP in 1996, and continued touring in 1997. In 1998 they were booked again for the Hemsby Festival, with new band members Diego Araoz on lead guitar and Javier Sarmentero on drums, marking the first time they had a steady drummer. In 1999, a new guitar player joined the group, Richard Cuenza, and Hector's brother, Roberto Guerrero, joined the band in the summer of 1999 at the age of 17, and the band returned to the drumless trio lineup. Their first US performance was at Viva Las Vegas V during Easter weekend in 2002.
Some of the many songs they performed in Green Bay were "I Gotta Go," "Big River," "Me and the Blues, " Flyin' Fingers," "Rock, Roll & Rhythm," "Pretty Baby Blues," and "Rock-Bop Tonight," followed by their encore numbers, "Honeymoon on a Rocket Ship" and "Move Around." Fenomenal, hombres!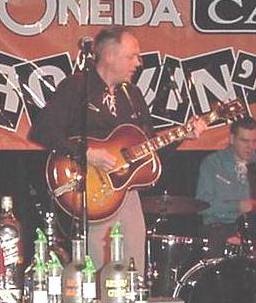 JOE SIXPACK OF THE RAGTIME WRANGLERS



The Ragtime Wranglers (without the Ranch Girls) performed in the Casino Lounge for over an hour and a half on Monday evening. The Ragtime Wranglers are: Joe Sixpack on guitar and steel guitar, Sietse on drums and percussion, and Huey Moor on upright bass. Occasionally an extra fiddler, accordion, mandolin or guitar-picker join the band. They started playing music together in the mid-1980's. This Dutch group, when asked their influences in the music they like to play, answer: "Early country, hillbilly, western swing, rockabilly and everything in between."
The Ranch Girls, as I can best describe succinctly, are the female version of the Everly Brothers, and I intend that to be a very big compliment.
Whenever the Ragtime Wranglers play at a major festival, many famous legendary performers vie for the opportunity to have The Ragtime Wranglers play as their backup band, and as you will see as this article develops, Green Bay 2005 was no exception.
Many Jerry Lee Lewis fans were disappointed to learn that he would not be performing at his scheduled time at 9:15 p.m. on Monday evening. However, JLL's eventual timeslot of Tuesday afternoon at 5:45 resulted in some well-deserved exposure for American original rockabilly artist, Art Adams, and the lively rockabilly trio from Sweden, Wild Wax Combo. Because of the tremendous number of Jerry Lee Lewis fans showing up for his allotted time on Monday night, it was a "win-win" situation for everybody: Art Adams and the Wild Wax Combo turned in wonderful sets at the original JLL timeslot of 9:15 p.m., in the Ballroom and Iroquois room respectively, and the fans who learned that they would see one of the true living legends of rock and roll the next afternoon at 5:15 p.m., got to see two great shows from Art Adams and the Wild Wax Combo on Monday.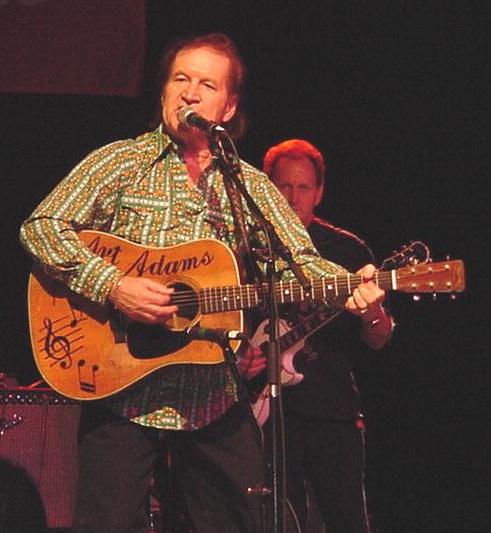 ART ADAMS



Art Adams is a fine gentleman who I met in 2004 at the Indianapolis Rockabilly Rebel Weekend. He performed at a "pre-Indy party" on Wednesday night before the actual Rockabilly Rebel Weekend started, and I missed that show, but we spent some time together in Indianapolis as well as hanging out quite a bit of the time in Green Bay. Art was born in Carrolton, Kentucky in the 1930's, one of seven children who were "poor dirt farmers." As a child he grew up listening to country and the Grand Ole Opry, and almost immediately had a yearning to be a singer. Although he never took singing lessons, his sister married a young guitarist, from whom Art would borrow and practice his guitar.
Art considers Ernest Tubb's "Walkin' The Floor Over You" the first rockabilly song that "got to me." He always seemed to prefer the up-tempo songs to the ballads. In the 50's he enjoyed Johnny Cash, Johnny Horton, Elvis and Carl Perkins, particularly Perkins. Art's first band was called The Kentucky Drifters, which included Dave Logston, the brother-in-law from whom he benefited learning guitar. He then formed the Rhythm Nights, still maintaining Dave Logston and another original band member, Roy Robinette. Via a major record store in Carrolton called Arthur's Music Store, the owner would book The Rhythm Nights in various venues around the city. With their talent, looks and black hair, they "had no problems drawing crowds of girls." They then began recording for Cherry Records, including their first single, "Indian Joe" b/w "Rock Crazy Baby." After pantomiming "Rock Crazy Baby" on a local Saturday night TV show, Art and the Rhythm Nights were pleasantly surprised to see a long line of people waiting to see them at the club they played that evening.
After the Rhythm Kings, Art was in a group called The Epics and he started working with another guitar player named Bill Stewart. Well, Bill Stewart is still with Art in his band today that also includes Mark Cutsinger and Mike Straus.



ART ADAMS THEN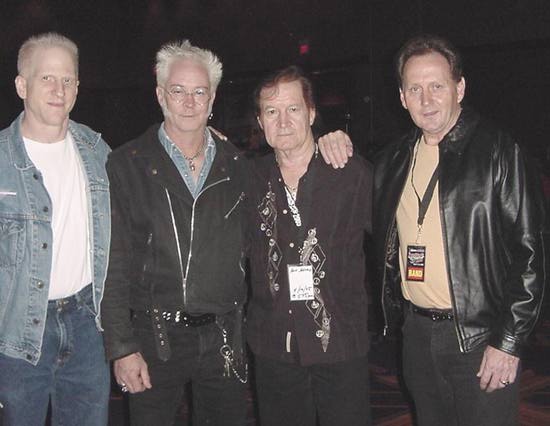 MIKE STRAUS, MARK CUTSINGER, ART ADAMS (NOW), AND BILL STUART.



In Art Adams' Monday night set, substituting (ultimately trading set times) for Jerry Lee Lewis, the crowd was excited by his good, growly voice, and the excellent musicianship of his band.




ART ADAMS



Art's early rockabilly hit, "Dancin' Doll" (which he wrote), remains a very popular and frequently played song.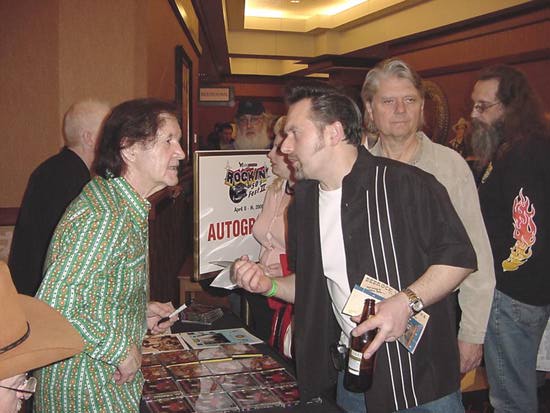 ART ADAMS AT THE AUTOGRAPH LINE



Art has two CD's which are each unique and well-recommended: "Rock Crazy Baby," on the Collector label, has 30 original recordings, alternate takes, rehearsals and interviews; the other is "Art Adams ­ Rockin' My Way Around," also on Collector, and has new material and songs, along with Art's take on classic rock numbers.
Prior to Art Adams' appearance on the stage, his band played "Rhythm Nights Rock," an instrumental written by Art for his first CD. Once Art took the stage, he performed a well-thought-out stage show, including "Dancin' Doll," Rock Crazy Baby," "Indian Joe," and "Memphis Dream," the latter of which is on his new CD. Other originally penned tunes included "Canadian Lady," which is also on the new CD, plus a song called "I Wanna Hear It Again," that is a tribute to Chuck Berry written by Indianapolis rockabilly Ronnie Haig and arranged by Art Adams. Other songs included "Down In Tennessee," which Art wrote in the late 50's, but included on his new CD, as well as "She's From Tennessee," "Sweet Kandi Jean," another new song written about guitarist's Bill Stewart's daughter whose name is Kandi Jean, and the 1960 release "She Don't Live Here No More," which was the flip side of "Dancin' Doll." Other great arrangements included covers of "Red Headed Woman," "Walkin' the Dog," "Get With It," and Chuck Berry's "Promised Land."
Have you ever seen any of the Hollywood movies in which an actor/actress becomes ill and the understudy takes over and becomes famous? This went through my mind when Art Adams took the timeslot of Jerry Lee Lewis, and judging from the very enthusiastic reception of the audience, Art Adams took advantage of an opportunity to show how much of a headliner this original rocker is!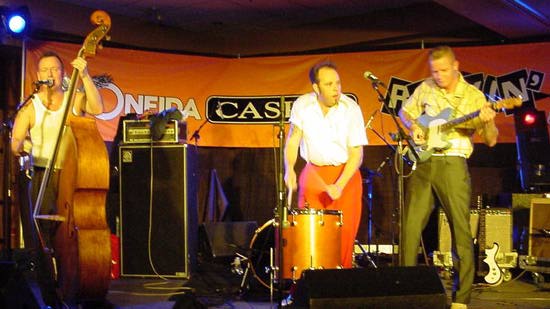 WILD WAX COMBO



I am proud to be one of the first American writers to sing the praises of The Wild Wax Combo. Several years ago, Rene, Mikael and then-lead guitarist, Paolo, would take the stage at Rockin' Ronny Weiser's pre-Viva Las Vegas parties at his home. These guys really rock, and have a bonafide passion for rockabilly music that was imbued in their spirit on stage. When they released their Enviken Record CD, "Hot Rod Doll," I favorably reviewed it for the Rockabilly Hall of Fame. Now with their new lead guitarist, Andre, Wild Wax Combo did their animated set before a large and appreciative crowd in the Iroquois room. Although they write many of their own songs, Wild Wax Combo also got the audience going with some great covers of the Rock and Roll Trio's "Baby Please Don't Leave Me" which, of course, was originally written by Fats Domino. Their encore song was "Woodpecker Rock," originally made famous by Nat Couty and The Braves in 1958, but covered by many of today's rockabilly bands, including Bones Maki & the Sun Dodgers. It may have been an inadvertence, but perhaps we should congratulate Jerry Lee Lewis for causing so many people to attend the excellent sets by Art Adams and The Wild Wax Combo.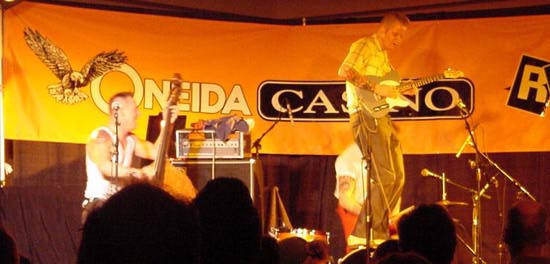 WILD WAX COMBO



WILD WAX COMBO (After Their Set)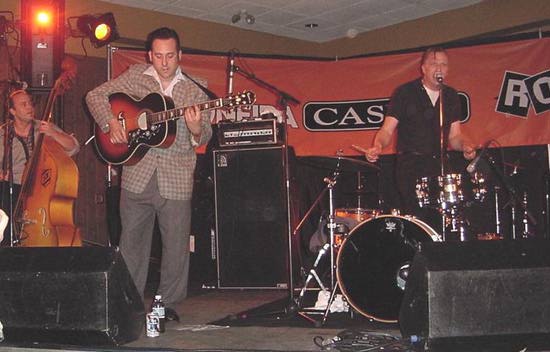 THE OLD HOWARDS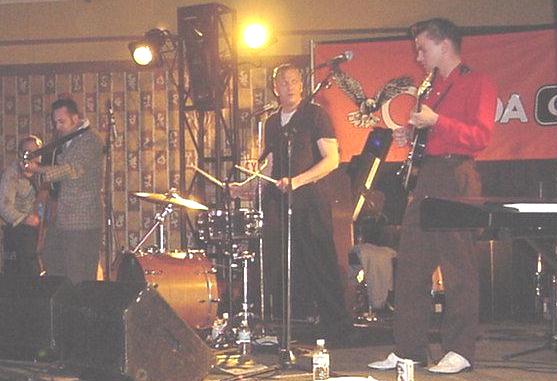 THE OLD HOWARDS



The Old Howards performed in the Iroquois Room Monday night at 10:30. There was something about this band that touched off something in the recesses of my brain matter. I soon realized that their standup drummer/vocalist, Dana Stewart, was also in The Racketeers, a group I enjoyed very much seeing at the Indianapolis Rockabilly Rebel Weekend in 1999 ( www.rockabillyhall.com/Indy1999.html). The Old Howards include Dana as well as Matt Murphy on slap bass, Jeff Herring on lead guitar and Johnny Carlevale on rhythm guitar. Together since August, 2003, they have been booked around the country playing in venues with The Sean Mencher Combo, Southern Culture on the Skids, and legendary surf guitarist Dick Dale (who can challenge Link Wray in volume and feedback intensity on guitar). Dana also plays drums with The Stumbleweeds, while Jeff Herring is lead guitarist for The Two Timin' Three, and Johnny Carlevale started an R&B group called The Broken Rhythm Boys. Better stay tuned or stay confused!
Anyway, in case you are interested, the Old Howards' name comes from the Old Howard Theater that used to be in historic Scollay Square in Boston. It originally began as a temple for a sect of people who gave up all their possessions because they believed the world would come to an end in April 1844. When that didn't happen, the church members sold the property to a group who opened the building as a theater in 1845, and it remained as such until it was closed down in 1953.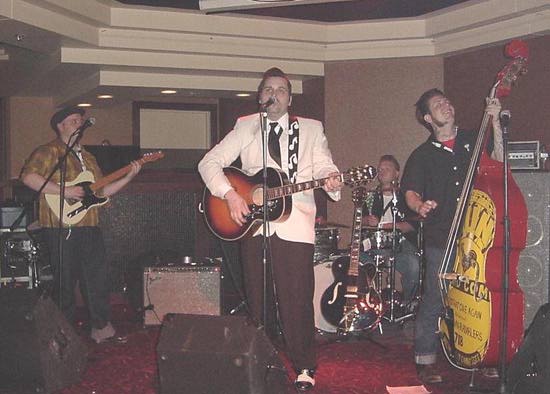 JERRY KING & THE RIVERTOWN RAMBLERS



Good news: Purcell's lounge sure had great acts, including Jerry King and The Rivertown Ramblers, and The Go Getters. Bad news: the tightly packed crowds reminded me of the "before" scene in one of those tragic nightclub fires. In any event, Jerry King and The Rivertown Ramblers played to a large crowd and they played off each other extremely well. I didn't get the set list, but there was one song I believe called "Evelina," that I don't remember them playing in Indianapolis, that I particular enjoyed. We have to find bigger rooms to book acts like Jerry King and The Rivertown Ramblers and my beloved Go Getters. Once again, Jeremiah Bachman was on bass for The Rivertown Ramblers, and his style meshes well with Jerry King's animated performances.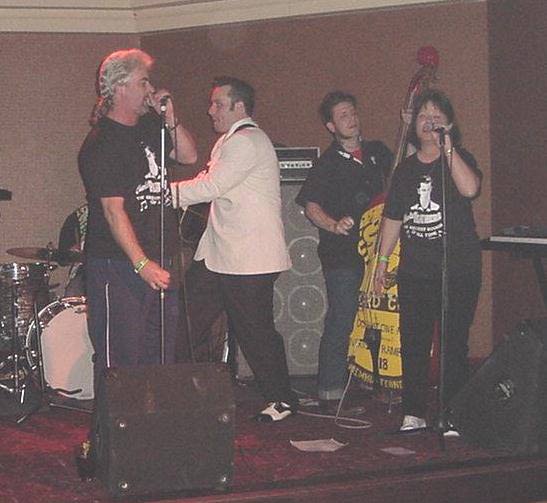 BUBBA AND WANDA FEATHERS, THE OFFSPRING OF THE LATE ROCKABILLY LEGEND,
CHARLIE FEATHERS, SING ONE OF THEIR DAD'S EARLY CLASSICS WITH JERRY KING.




JIMMY CAVELLO



The next act in the Ballroom on Monday was Jimmy Cavello, who was actually born Jimmy Cavallo in 1927. Starting his musical career as a saxophone player in a swing band when he was in high school, he started buying Louis Jordan records and switched from playing alto sax to tenor sax, because that was the lead horn instrument in the type of jump blues he was enjoying at the time.
While in the Navy after World War II, he spent his free time in the black section of Fayetteville, North Carolina, learning the latest in blues and jamming with some of the rising stars of what would soon be called rock and roll. By 1950, Jimmy was back in New York playing in a club called Sorrentos, which was owned by his uncle. Expected to play old standards to a mostly Italian audience, Jimmy's quartet started packing the club by playing all the rhythm and blues they wanted. Soon his reputation spread all over the central New York area from Utica to Rochester to Binghamton, and then the Jimmy Cavello Quartet started to record. Cavello made a recording of Jimmy Preston's "Rock the Joint" which was recorded later by Bill Haley and His Saddlemen.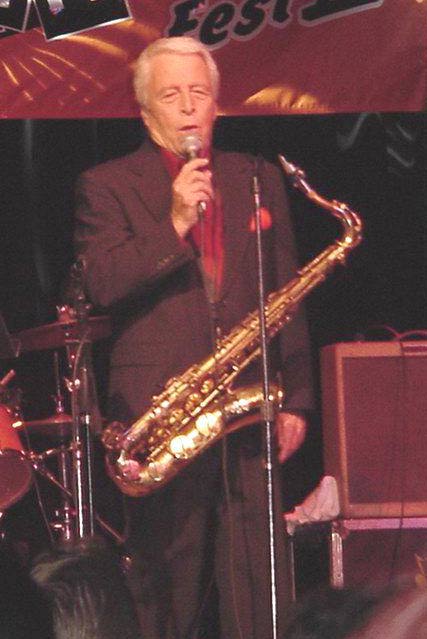 JIMMY CAVELLO



After reforming his band a couple of times in the mid-1950's, Jimmy formed Jimmy Cavello and The House Rockers and auditioned in July 1956 for Alan Freed in his studio in New York City. In August 1956, they played the Brooklyn Paramount with Fats Domino and Big Joe Turner, after which they appeared with Freed in the movie "Rock, Rock, Rock," which featured Jimmy and Joe Marillo on second sax. After that they played the Apollo in December, which was before Buddy Holly played there in 1957. In 1959, Jimmy appeared in another movie, "Go, Johnny, Go," and he continued recording for Coral, then Darcy, then the Romar label in 1965. Although Jimmy still visits his hometown of Syracuse, New York for some gigs every summer, he plays often in Florida, where he has a regular gig at PG Doogie's in Deerfield Beech. Jimmy played his first gig in England in late 2002, and has still been recording and playing. Forget being in his late 70's ­ Jimmy Cavello played to a fervent audience in the Big Ballroom of the Oneida Casino late Monday evening, April 11, 2005.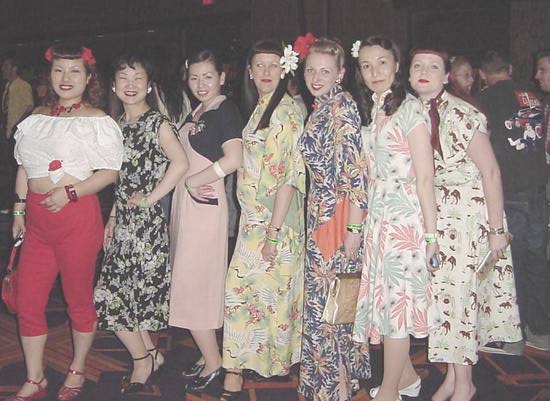 LADIES FROM JAPAN & AUSTRALIA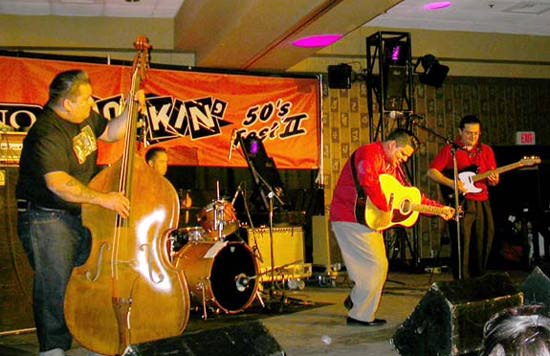 STAR MOUNTAIN DREAMERS
(Photo courtesy of Frederic Schroers of KBOO Radio, Portland Oregon.)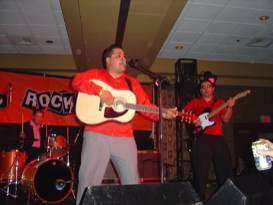 STAR MOUNTAIN DREAMERS
(Photo courtesy of Michel and Anneke of The Netherlands.)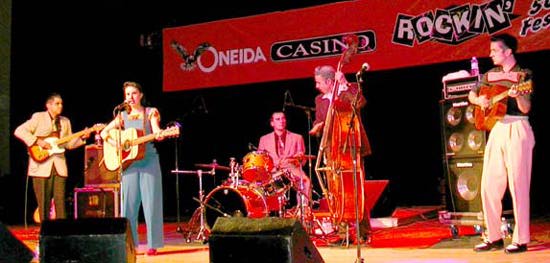 RUBY ANN & THE BOPPIN' BOOZERS
(Photo courtesy of Frederic Schroers of KBOO Radio, Portland Oregon.)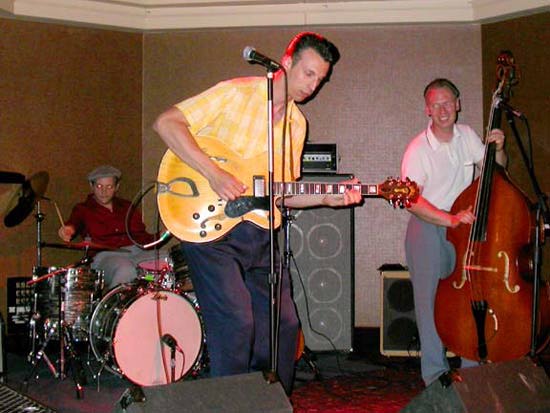 RANDY RICH AND THE POOR BOYS
(Photo courtesy of Frederic Schroers of KBOO Radio, Portland Oregon.)



At midnight Monday night/early Tuesday evening in Purcell's Lounge, Randy Rich & The Poor Boys played. If a cat has nine lives, Randy Rich & The Poor Boys are in their third life. Originally formed in 1997 by Randy, the trio played in a variety of motifs (country, rockabilly and rock and roll), and also in a variety of places from Europe, 20 of the United States, England, etc. By 2000, the band decided to call it quits and went their separate ways. Randy moved to Chicago, Illinois in late 2001, and then returned to Germany for a brief reunion with The Poor Boys. He also played a little lead guitar and drums for Ike & The Capers.
Nowadays, Randy Rich (real name Richer) reunited the band with one new member and a former member who changed instruments. The current band, in addition to Randy Rich, includes Michael Kielas on bass, vocals and drums, and Red Martin on drums and guitar. Each of the three members can play at least two instruments, providing a variety of sounds. They enjoy playing with vintage instruments, microphones, amplifiers, and clothing to capture the essence of the early rock & roll/rockabilly sound.
The band takes pride in their resume´ of rockabilly legends who they have backed up, including Jack Earls and Glen Honeycutt of Sun Records, Janis Martin (RCA), and Alvis Wayne.
I missed all of the acts on Monday from about midnight on (I was up for 21 straight hours in my journey from Florida to Green Bay and I ran over 7 miles on Tuesday morning).
I have heard that Randy Rich & The Poor Boys did a bang up job in Purcell's, which venue seemed to have a knack for explosive, eclectic, and energetic sets for the entire week.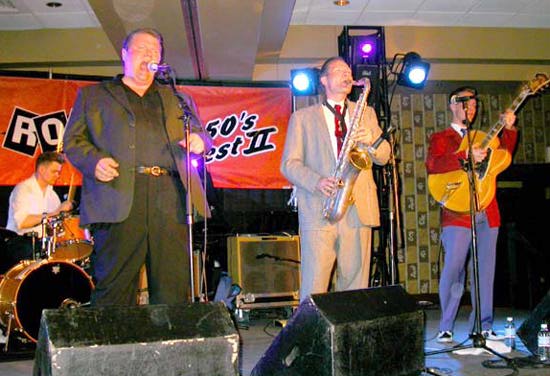 DR. SNOUT & HIS HOGS OF RHYTHM
(Photo courtesy of Frederic Schroers of KBOO Radio, Portland Oregon.)



Dr. Snout & His Hogs of Rhythm played on the Iroquois Room stage at 1:00 a.m. on late Monday/early Tuesday. Dr. Snout & His Hogs of Rhythm consist of Ari "Dr. Snout" Ahvonen on vocals, Timo Tarkela on tenor and baritone sax, and four members of that fantastic Finnish phenomenon, The Barnshakers: Jussi Huhtakangas on lead electric guitar, Harri Saanio on piano, Mike Salminen on drums, and Mika Liikari on upright bass.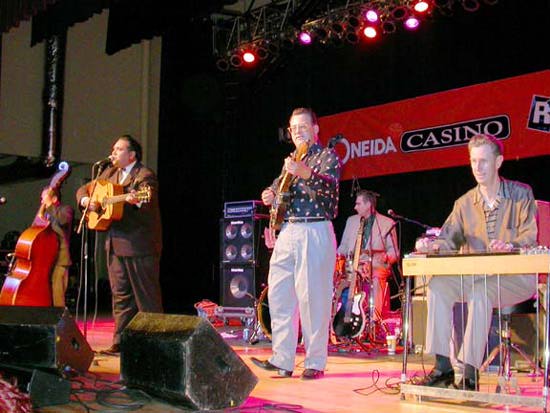 BIG SANDY & HIS FLY-RITE BOYS
(Photo courtesy of Frederic Schroers of KBOO Radio, Portland Oregon.)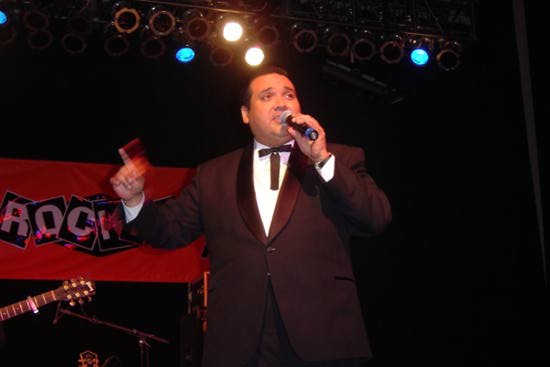 BIG SANDY & HIS FLY-RITE BOYS GIVE
THE LATE MONDAY NIGHT FANS A TREAT.
(Photo courtesy of Matt Strickland and planetrockabilly.com.)