FRIDAY, APRIL 15th
Green Bay, 2005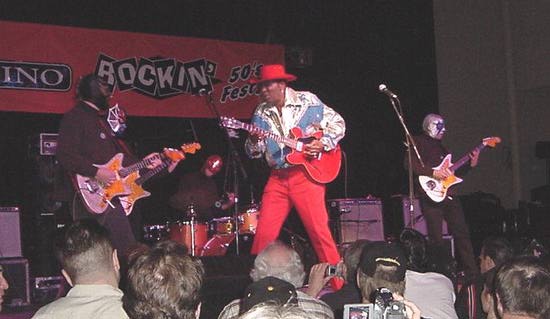 EDDIE "THE CHIEF" CLEARWATER AND LOS STRAITJACKETS



The first act of the day was Eddy "The Chief" Clearwater with Los Straitjackets in the Ballroom.
Actually born Eddy Harrington in 1935 in Macon, Mississippi, Eddy grew up listening to delta blues and country & western records, and his family moved to Birmingham, Alabama when Eddy was 13. It was there Eddy began playing guitar, backing various gospel groups including the now legendary Five Blind Boys of Alabama. He was still playing gospel music when he arrived on Chicago's west side in the latter part of 1950 at age 15. It was just at that time that the west side of Chicago was starting to develop a blues sound with people like Magic Sam, Otis Rush, and Luther Allison. Magic Sam befriended Eddy, and by 1953, Clearwater made his move into blues, performing as Guitar Eddy. In 1957, Eddy happened upon another of his major stylistic influences after hearing Chuck Berry's "Oh Baby Doll" blasting on his car radio. With the dual influences of Chuck Berry rock and Magic Sam west side blues, combined with Eddy's left-handed/upside-down guitar playing and dramatic stage performances, Eddy developed a reputation pretty quickly as a great showman with a diverse repertoire. He then became Eddy Clearwater, as a wordplay against another famous Chicago blues man, Muddy Waters (real name McKinley Morganfield).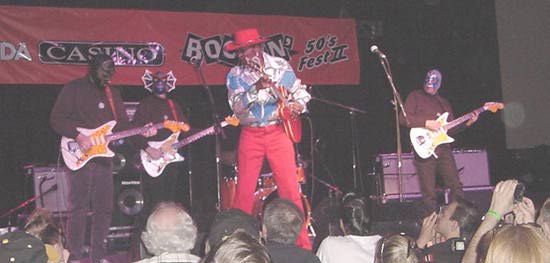 EDDIE "THE CHIEF" CLEARWATER AND LOS STRAITJACKETS



While steadily working in Chicago area nightclubs for the next 20 years, Eddy remained one of Chicago's hidden treasures until, like many of our early rockabilly heroes, the recognition of his talents began to come from over the Atlantic. After touring Europe twice during the 70's, including an appearance on England's BBC television, he debuted his first U.S. album, "The Chief," named after Eddy Clearwater's affinity for wearing the full Indian headdress given to him as a good luck charm. Eddy's steady progress during his long career continued into the 90's with "Mean Case of the Blues," his first album for Bullseye Blues that was issued in 1997, which included Eddy's song "Don't Take My Blues," which received a W.C. Handy Award nomination for blues song of the year. In 1998, the critically acclaimed "Cool Blues Walk" teamed up Eddy Clearwater with guitarist/producer Duke Robilard, and in 1999, Eddy received two W.C. Handy Award nominations for that album.
Eddy's band for his set in Green Bay was Los Straitjackets. This set and the Los Straitjackets set with Big Sandy in Iroquois room on Saturday were two of the best sessions turned in by all of the bands that appeared in Green Bay.
Los Straitjackets were formed in 1988 by musician, songwriter, producer and Spinout record label owner Eddie Angel, along with Jimmy Lester and Danny Amis. They played some local Nashville gigs in the summer, but didn't get together again until 1994, when they added Scott Esbeck. Then they recorded a demo tape, which ultimately became their first CD, "The Utterly Fantastic and Totally Unbelievable Sound of Los Straitjackets." By the end of 1994, they signed with Upstart records. At the end of 1995, the band was touring and in December appeared on Late Night with Conan O'Brien. After that it was recording, touring, and getting nominated for several NAMMIE awards. From then on, it has been heavy touring, more appearances with Conan O'Brien, several appearances with Tom Petty & The Heartbreakers, and they ended the decade with a tour in the Midwest with The Reverend Horton Heat. In September of 2000, they even made an appearance in the film, "Psycho Beach Party," which also has them included in the soundtrack album.
As most of you know, Eddie Angel has quite a career going, between his Spin-out record company, Los Straitjackets, and the group The Planet Rockers, which includes Sonny George.
Some of the tunes performed in Green Bay by Eddy "The Chief" Clearwater and Los Straitjackets included "You're Humbuggin' Me," "Lonesome Town" (not the Ricky Nelson number), which I understand was written by Eddie Angel, "Hillbilly Blues," "Back Down to Earth," "Before This Song is Over," "Old Time Rocker" and "Midnight Groove." A great set, and how can you get more colorful than Eddy "The Chief" Clearwater and Los Straitjackets!?
From 2:00 to 3:30 p.m. The Twilight Ranchers played in the Casino Lounge. The Twilight Ranchers are a Boston area based band, in their third year of playing western swing and hillbilly boogie music.
They have released a CD, "Who Stole That Train" and it is available on Rhythm Bomb Records. Regrettably, because The Twilight Ranchers were performing in the Casino Lounge, I have no pictures available, but if you would like to pick up a copy of their CD, you can order via their web site, www.twilightranchers.com.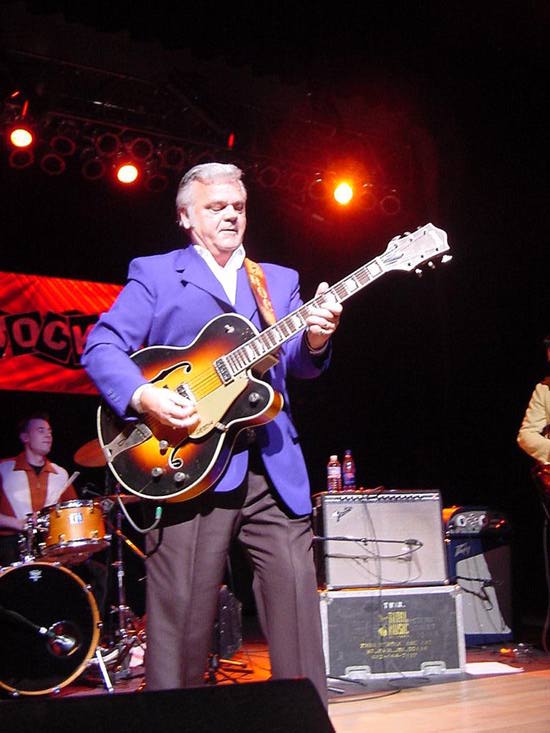 ROC LaRUE



Hitting the stage in the Ballroom at 3:15 was Roc LaRue. If anyone did not see it yet, you might want to take a peek at my review of Indianapolis Rockabilly Rebel Weekend XII, which featured Roc LaRue as a major headliner ( www. rockabillyhall.com/indy12.html).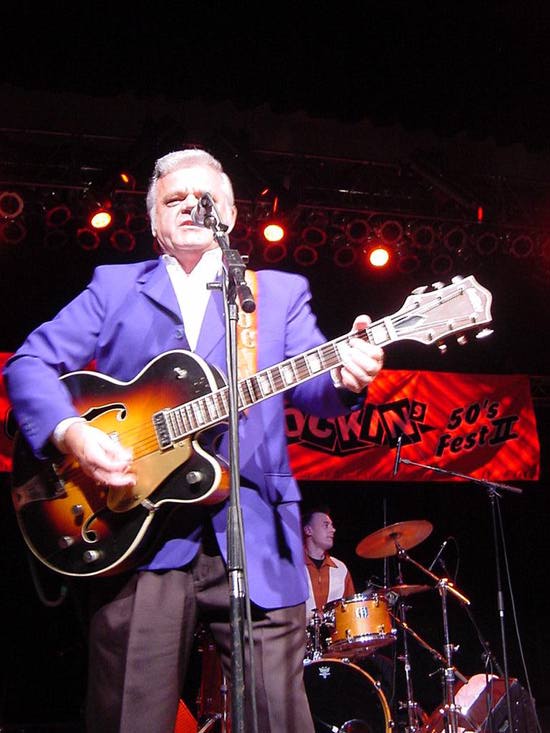 ROC LaRUE HAS A COMMANDING STAGE PRESENCE.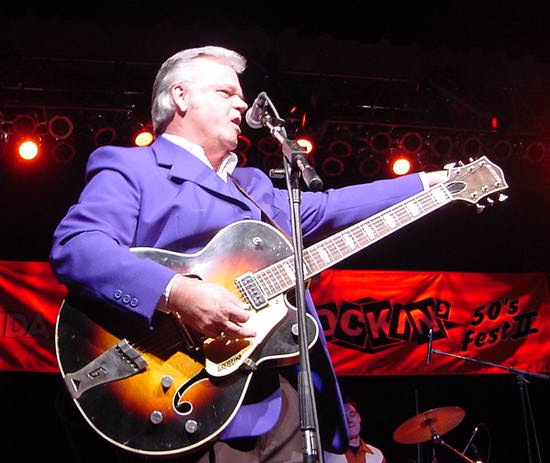 ROC LaRUE



For a 50's rockabilly performer who was "lost" for several decades, Roc has rocked around the world lately. After Green Bay, it was on to England for the big Hemsby show, and it looks like he's a hit everywhere. Roc was backed up in the Oneida Ballroom by Darrell Higham and the Enforcers, who did a great job. I am told that Darrell and the Enforcers played at the wedding of Stella McCartney, Paul's daughter.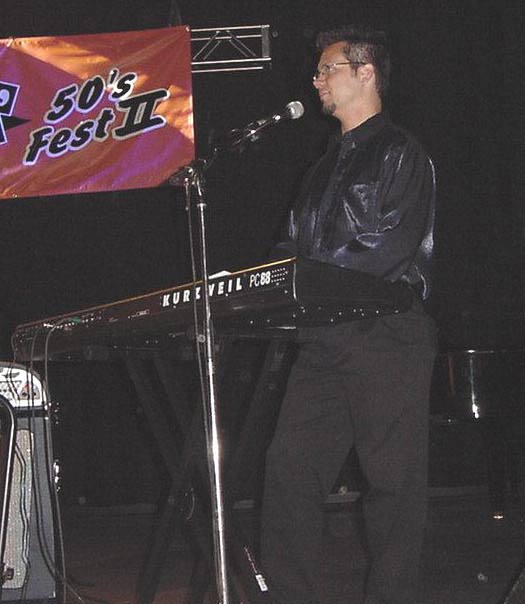 CHRIS LaRUE, ROC'S SON, ON KEYBOARDS.



Roc's set, all killer and no filler, included "One More Time," "Get a Little Closer," "Hey Little Baby," "Baby Take Me Back," "I Don't Care If The Sun Don't Shine," "Red-Headed Mama," "Truck Drivin' Man," "Baby Let's Play House" (a song played many times during the week, but they were all good), "She's My Woman," and his excellent yodeling on "Cute Little Yodeler." After thunderous applause, Roc rocked Œem with an encore, "Never Too Old to Rock & Roll," which was a medley of songs.
Ever see the movie "The Natural" with Robert Redford, about a once-promising baseball player who makes a remarkable comeback years after "disappearing" early in his career? Well, Roc sure is a "Natural"!
At 4:30 p.m. in the Ballroom, there was an act I knew I would not miss: Clarence "Frogman" Henry. I have been a fan since my preteen years, starting when this Louisiana native scored his first big hit in 1957, "Ain't Got No Home."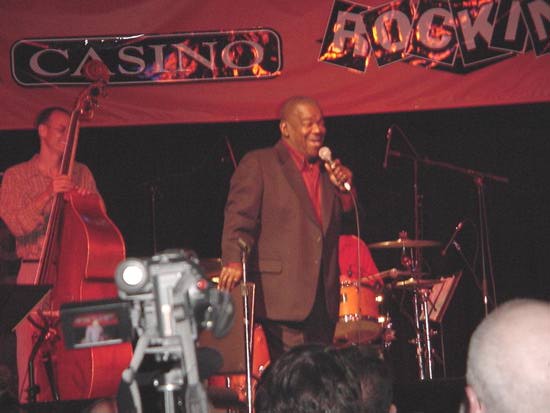 CLARENCE "FROGMAN" HENRY, A LIVING LEGEND



Born on March 19, 1937 in Algiers, Louisiana, Clarence performed with New Orleans R&B groups led by Bobby Mitchell and later with Paul Gayten, who played on "Ain't Got No Home." In 1961, Clarence scored again with "But I Do" (I don't know why I love you but I do). That reached No. 4 in the U.S. and No. 3 in England. After that song, which Clarence co-wrote, he hit again with "You Always Hurt The One You Love," which had also been a hit for the Mills Brothers in 1944. After "Lonely Street," the big hits did not continue, but Clarence "Frogman" Henry continued to record and play in person, particularly in New Orleans, where on Bourbon Street there was a Clarence "Frogman" Henry bar.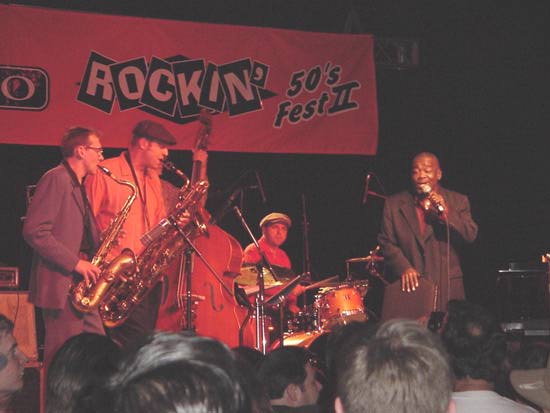 CLARENCE "FROGMAN" HENRY



Clarence looked good, and his voice is still excellent. His backing band included Carl Sonny Leyland on piano, Clarence's son playing the sax, with Deke Dickerson also sitting in on sax and guitar.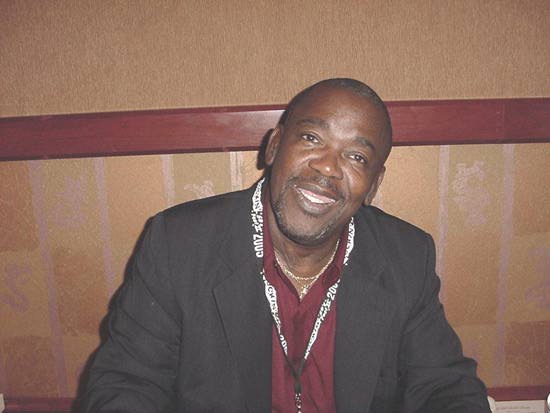 CLARENCE "FROGMAN" HENRY IS QUITE A PERSONABLE FELLOW.



It was a thrill to see him, and his voice, personality and stage presence were all excellent!
A short footnote: The next day I had an opportunity to meet Clarence, who was so nice and friendly, and his manager/publicist, Cleo Banquer. Cleo seemed like a wonderful person too, and was the first person to inform me that John Fred, the singer who scored a hit in the late 60's with "Lucy In Disguise" had just passed away.
In the Casino Lounge performing from 5 p.m. to 6:30 p.m. was The "Original Memphis Mafia." Now, I know that the "Memphis Mafia" was the term that described the Elvis core group of friends/employees that included Sonny West, Red West, etc. But the group that performed in the Casino Lounge, I was told, is from Portland, Maine. At any rate, this quartet put on quite a show. Very energetic and animated stage presence, good musicians, good singing. I enjoyed the few songs I was able to stay and listen to, due to the overlap with Clarence "Frogman" Henry and Lew Williams.
Boy, the stars just kept comin' and comin' on that Ballroom stage on Friday!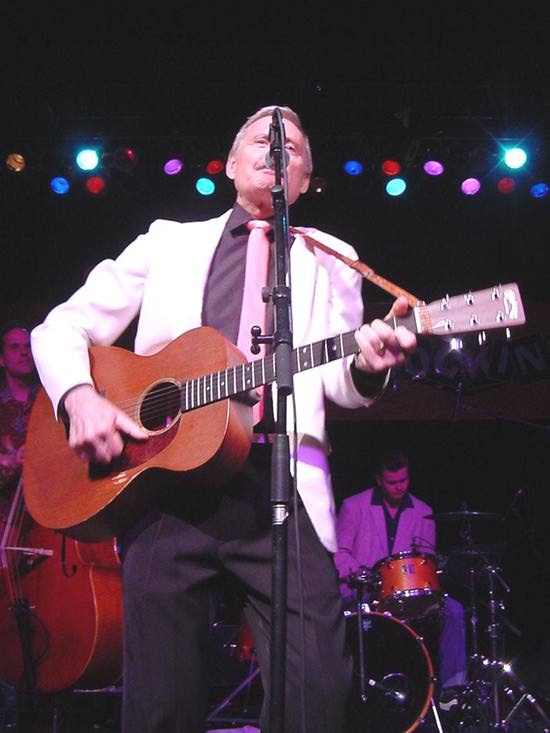 LEW WILLIAMS



Taking the stage in the Ballroom after Clarence "Frogman" Henry was Lew Williams. I first met Lew Williams in Green Bay in 2002 ( www.rockabillyhall.com/barryGreenBay2002.html). About 20% of the way through my article, it mentions how Lew, after his 1950's performing and recording career, went into the commercial mail order business. After Bear Family released his 29-song CD in 1999, demands were made for Lew to appear at some large festivals in Europe. Lew, who for decades hadn't even sung in the shower, had to learn how to sing all over again, and after satisfying himself that he relearned his old vocation, started making appearances again. Lew Williams still looks very fit, and he and his wife Anita make a wonderful couple.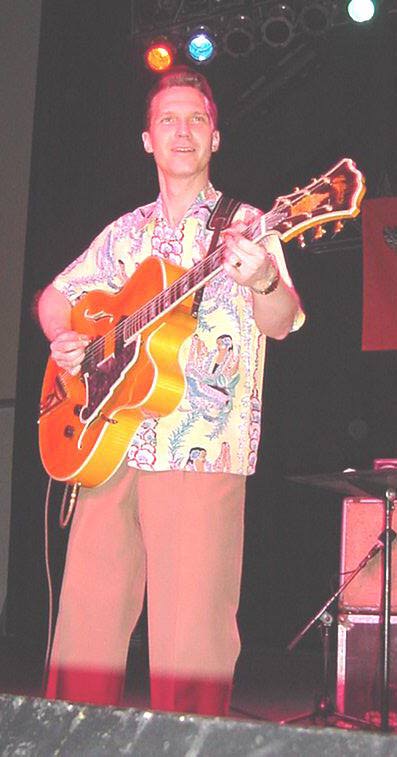 JUSSI FROM THE BARNSHAKERS PLAYS ON THE LEW WILLIAMS SET.



On Lew's set he was accompanied by The Barnshakers (Vesa Haaja, Jussi Huhtakangas, Harri Saanio, Mike Salminen, and Mika Liikari ), and also appearing were Timo Tarkela of Dr. Snout & His Hogs of Rhythm on tenor sax, and Jonathan Doyle of Jimmy Sutton's Four Charms on baritone sax on the song "Teenagers Talkin' On The Telephone." After the band started the set with an instrumental theme to the tune of "Abracadabra," Lew tore into his show, which included many of the songs he had written, including "Bob Bop a Doo-Bop," "Don't Mention My Name," "I'll Play Your Game," "Abracadabra," "Teenagers Talking On The Telephone," "Rock and Roll School," "The Girl I Saw on Bandstand," "My New Pink Shoes," "Gone Ape Man," "Centipede," "Something I Said" and of course, "Cat Talk." How enjoyable it was to watch this set! All of the songs in Lew's set, if I am remembering correctly, are songs that he had originally recorded, not covers that we all inevitably saw so much of during the week (not that all of it is bad). When a guy can take almost an hour and wind up playing less than half the songs that were on his Bear Family CD, "Cat Talk," that is a rarity!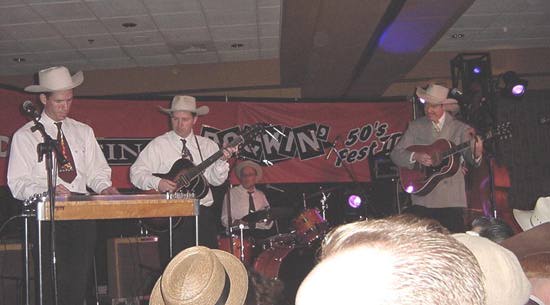 THE LUCKY STARS



In the Iroquois Room from 6:30 to 7:15 p.m., The Lucky Stars performed a very well-received set. The Lucky Stars are out of the Left Coast, Hollywood to be exact. The quintet includes Sage Guyton, who sings, plays acoustic rhythm guitar and writes a majority of the bands original material; the great Jeremy Wakefield on steel; Dave Stuckey (of Dave and Deke Combo fame), who turned a last minute fill-in on drums into a regular gig; Wally Hersom (yep, the same guy from Big Sandy's band); and Russ Blake on lead guitar. With this kind of lineup you know that if you are into western swing, this is the band you've got to see or hear.
They have released a CD, "Hollywood and Western," as well as a 4-song EP on the Bucket-Lid Records label, and a double sided 45-vinyl record also. For more information, check out www.theluckystars.com.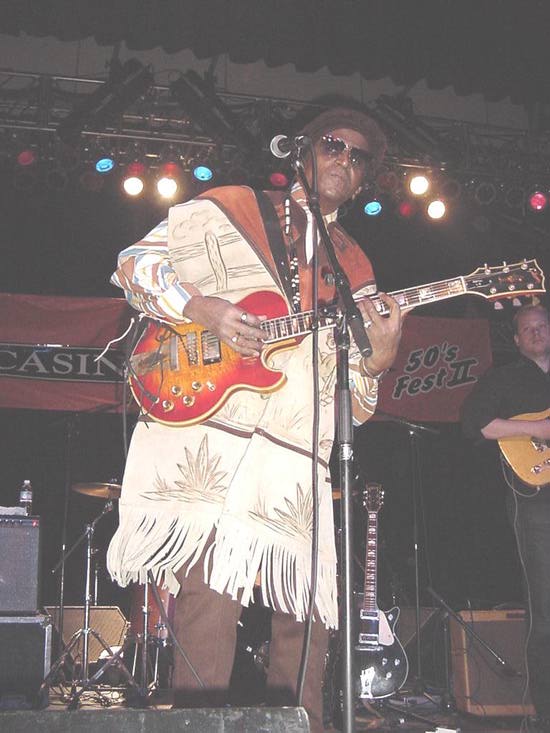 RAY SHARPE



At 7 p.m. Ray Sharpe took the stage. I always loved the song "Linda Lou," which was recorded by Ray Sharpe on the Jamie Label.
Ray Sharpe was born in Fort Worth, Texas on February 8, 1938. Originally a protégé of songwriter/singer/producer Lee Hazelwood, "Linda Lou," the second recording Ray had released, was a hit in 1959. Another Lee Hazelwood protégé, Duane Eddy, played guitar on that recording. Later in the 60's, Ray had some recording sessions under the direction of another Fort Worth native, King Curtis, which featured another guitarist, a fellow named Jimi Hendrix. Ray has always remained popular in his native Fort Worth, and the release about ten years ago of a 27-track CD available on www.amazom.com entitled "Linda Lou," brought Ray continued bookings and popularity. Ray's backing band was a doozy, featuring Carl Sonny Leyland on piano, Tjarko Jeen on lead guitar, Kevin Smith on bass, and Lisa Pankratz on drums.




JIMMY SUTTON'S FOUR CHARMS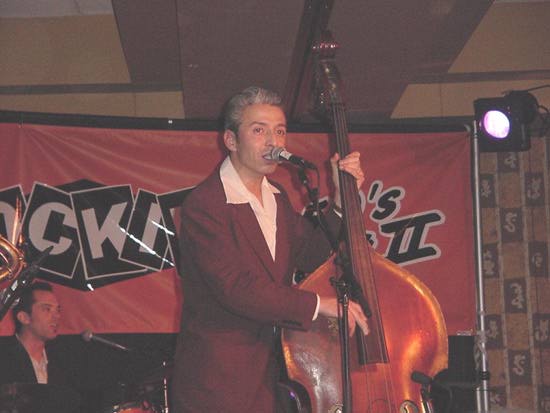 JIMMY SUTTON



At 7:45 p.m. in the Iroquois Room, Del Villarreal introduced Jimmy Sutton's Four Charms. Whether it's singing, bass playing, producing, or even playing lead guitar (you'll read about my review of Bones Maki & The Sun Dodgers' new lead guitarist later on Saturday night), Jimmy Sutton's reputation is nonpareil. A very large crowd gathered in the Iroquois Room, which could have easily rivaled some of the larger crowds in the Ballroom during the week. We heard a lot of up-tempo jump blues and hard rocking sounds, and the crowd kept getting bigger. Even the songwriting stood out, and I especially enjoyed "Triskaidekaphobia," a song about someone with the fear of the number thirteen. Who says you can't think of new ideas for songs these days!?
Playing in Purcell's Lounge between 8 and 9 p.m. on Friday was Gina Lee & Her Texas Three.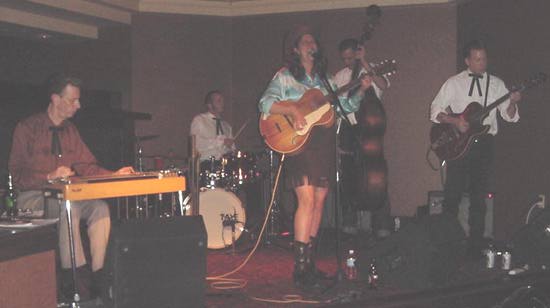 GINA LEE AND HER TEXAS THREE



Gina Lee, who is now based in Austin, Texas, began her career in Nebraska and then moved to Tucson, Arizona for a spell. Her career has taken off very well since her move to Austin. She seems to be quite at home with honky-tonk, hillbilly, rockabilly, Texas swing and she does them all very well.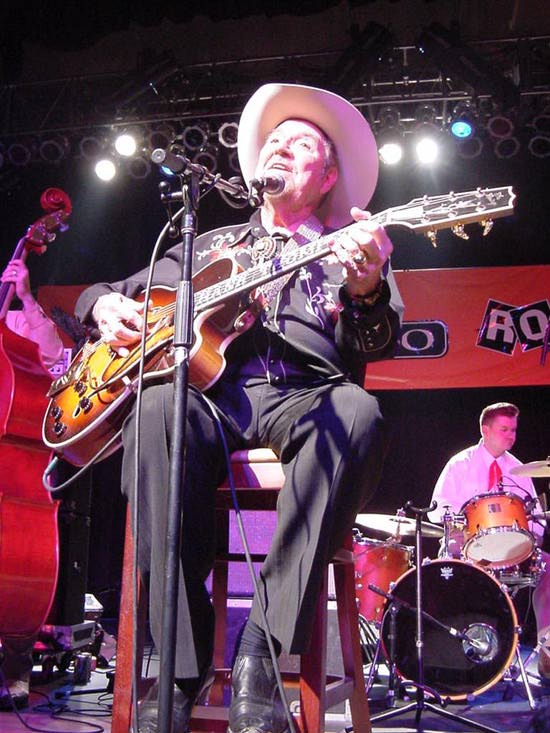 A LIVING NATIONAL TREASURE: HANK THOMPSON



At 8:15 p.m., country music and western swing legend Hank Thompson took the stage in the Ballroom. For anyone wishing to see a more detailed review of Hank Thompson, you can check out the review I did of his November 2, 2002 appearance in Westland, Michigan ( www.rockabillyhall.com/barryhanktlive.html).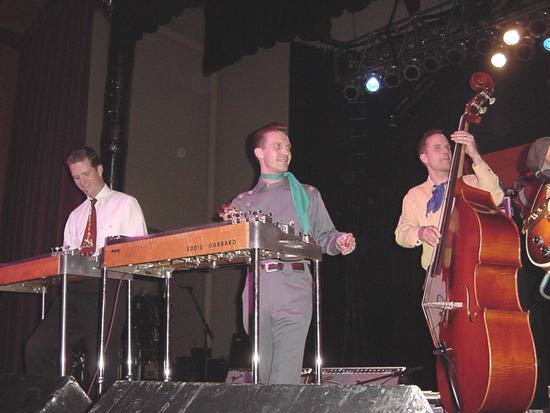 JEREMY WAKEFIELD AND THE BARNSHAKERS PLAY WITH HANK.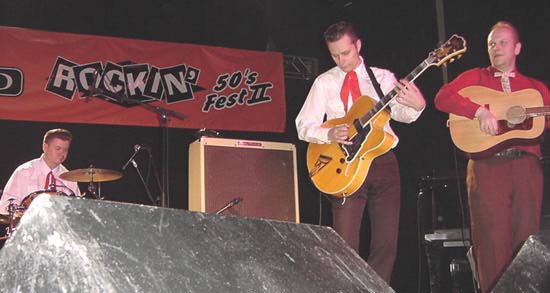 THE REST OF THE BAND INCLUDES JUSSI SYREN OF RANCH RIOT.



Hank Thompson, less than six months from his 80th birthday, still has that wonderful voice and manner that really connects with the audience. I keep thinking about one of his hits that he did in his set, "The Older The Violin (the sweeter the music)." Well, Hank just had 'em all eating out of his hands, with the very able assistance of The Barnshakers backing him up. Also appearing with The Barnshakers were Jeremy Wakefield of The Lucky Stars on second steel guitar, and Jussi Syren of The Ranch Riot on electric guitar.
When Bear Family does a CD box set consisting of twelve separate CD's, which it did for Hank, it can be a challenge to pick out which songs to include in your set. Talk about a "no-lose" suitation!
Hank thrilled us all with "Oklahoma Hills," "Humpty Dumpty Heart," "Rub-a-Dub Dub/Whoa Sailor," "Blackboard of My Heart," "The New Green Light," "Wild Side of Life," "Squaws Along the Yukon," "Most of All/Today," "Gotta Sell Them Chickens," "Sting in This Old Bee," "The Older The Violin," "Wreck of the Old 97," "Wabash Cannonball," "On Tap In The Can or In The Bottle" (they were playing that song for quite frequently on one of XM Satellite radio's classic country stations), "Honky-tonk Girl," "Six Pack to Go" (reverently revived by Commander Cody and His Lost Planet Airmen in the 70's), and to finish things off, "The Star Spangled Banner." Just an unbelievable set to see.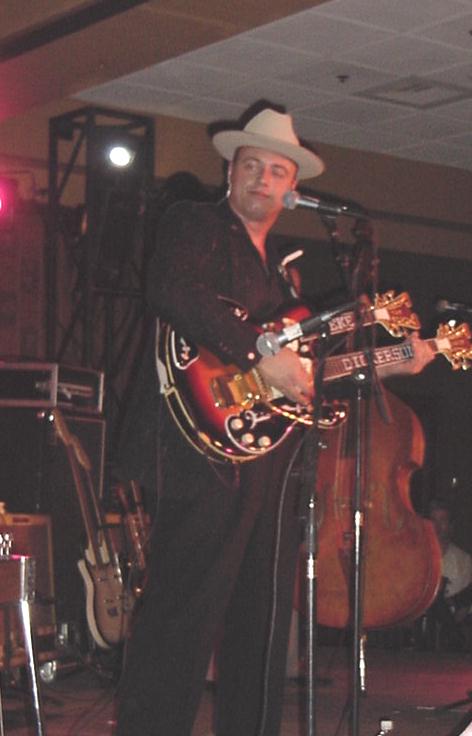 DEKE DICKERSON AND THE ECCO-FONICS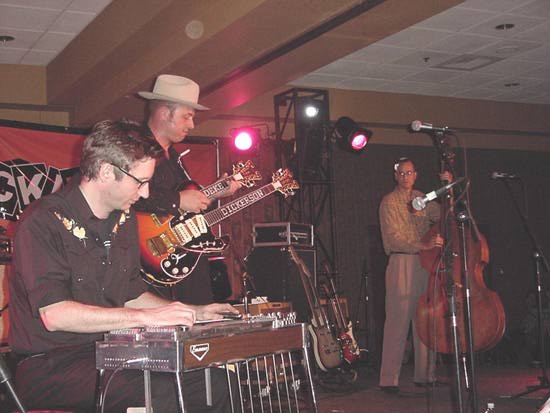 DEKE DICKERSON AND THE ECCO-FONICS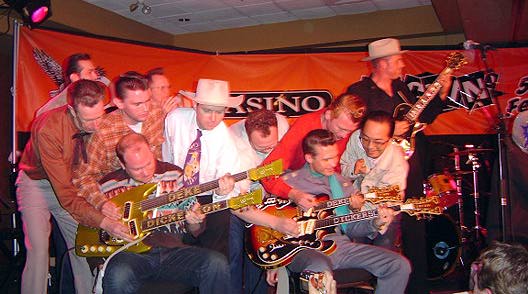 ONCE AGAIN, DEKE HAS OTHER GREAT GUITAR GODS COME ON STAGE
TO PLAY WITH HIM, BUT THIS TIME SHARING SOME
DOUBLE-NECK GUITARS THEMSELVES.
(Photo courtesy of Matt Strickland and planetrockabilly.com.)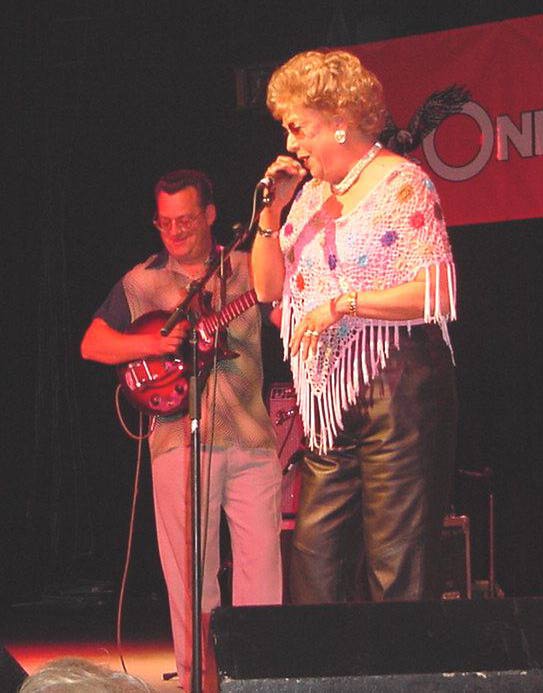 JANIS MARTIN



Janis Martin, who seems to share the title "Queen of Rockabilly" with Wanda Jackson, is an artist who always gives her audience a tip-top performance. The occasion of her taking the stage at 9:45 p.m. on Friday in the Ballroom was the third opportunity I have had to appreciate her talents: I saw her at Viva Las Vegas in 1999, in Green Bay in 2002, as well as the Friday performance. I mentioned in my Green Bay 2002 article ( www.rockabillyhall.com/BarryGreenBay2002.html) that I thought she was even better than her impressive set in Viva Las Vegas in 1999.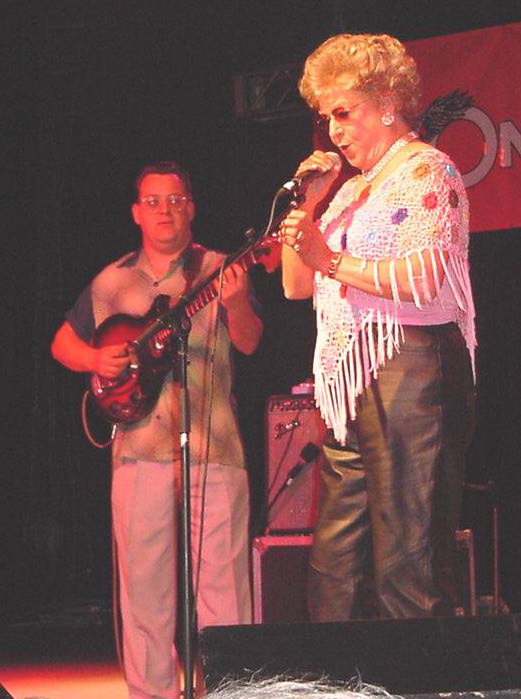 JANIS MARTIN



I think Janis is reversing the human aging process, because her Friday night set was more animated than I had ever seen, and she was moving around with tremendous enthusiasm and stage presence. Backed by members of the Big Sandy band and Joe Patterson of Jimmy Sutton's Four Charms, this was a set that no one should have missed. Carl Sonny Leyland rounded out the all-star band and every song from "Cracker Jack" to "Ooby Dooby" was done with rockin' gusto.




JANIS MARTIN



A lot of talent on the Ballroom stage from 9:45 to 10:30 p.m., and it showed!
On the Iroquois Room stage at 10:15 was Darrin Stout, an LA-based 50's style musician who admirably adhered to several 50's-style musical influences including country, rockabilly, R&B, rock and roll, and crooning vocal ballads.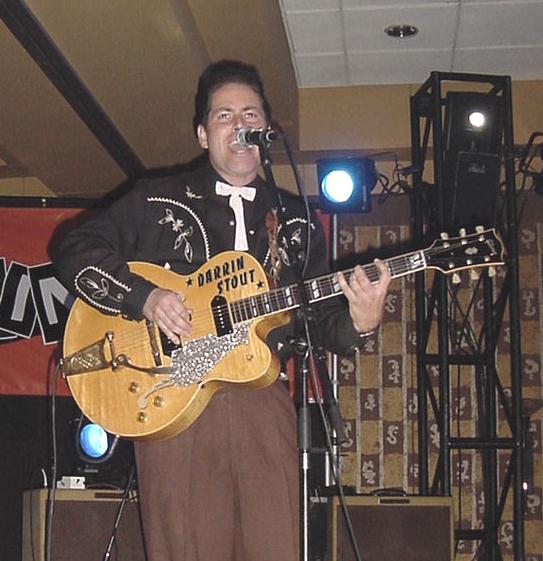 DARRIN STOUT



Originally raised in west Texas, Darrin has accumulated and fused his traditional musical influences to create his own personal touch that does not take him too far away from his musical roots. Darrin's band includes Philippe Aubuchon (of Russell Scott and His Red Hots) on drums and Wally Hersom of Big Sandy & The Fly-Rite Boys on upright bass.
Darrin Stout's impressive resume´ includes playing with Ray Campi, Levi Dexter, Rockin' Lloyd Trip & The Zip Guns, and The King-Sized Rockers. Darrin Stout's CD, "Darrin Stout & The Starlighters," is available at www.amazon.com and at Texas Music Round Up online.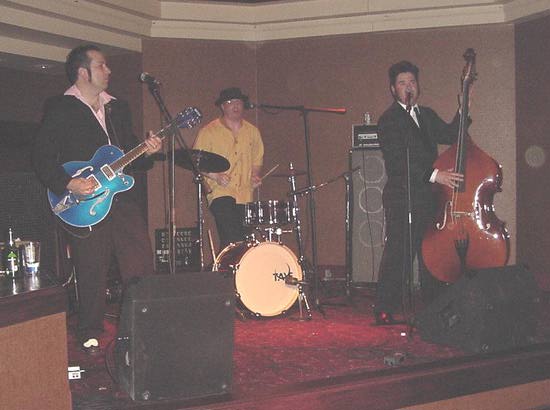 THE RUMBLEJETS



From 10 to 11 p.m.. in Purcell's lounge, The Rumblejets, the Kansas City rockabilly trio, played some hot, hip-shakin' rockabilly music to a packed crowd. Actually, the crowd appeared to be younger than the typical demographics I was seeing in the Ballroom or the Iroquois Room that evening. Perhaps this was due to the Rumblejets' spirited, torrid performance.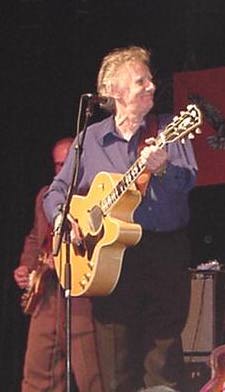 DALE HAWKINS



The very personable and talented legend, Dale Hawkins, played at 11 p.m. on the Ballroom stage. Backed by King Memphis, Dale, in my opinion, was even more impressive than his performance in 2002 on the same stage. Dale's casual manner in communicating with the audience belied his performances, which were just super! It was hard to pick out my favorite song of the set, but right now "Wildcat Tamer" seems to stick in my mind. His toothsome style and top-notch performance demonstrated a man of true talent.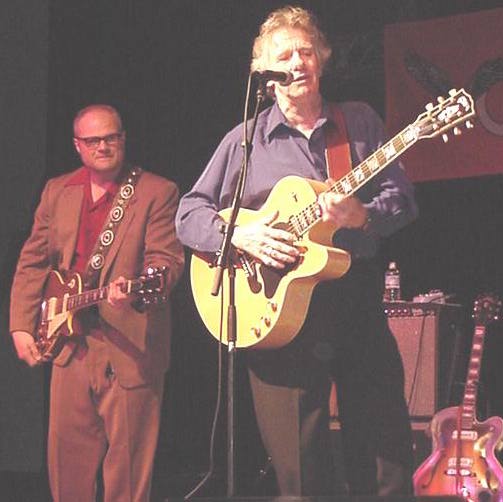 DALE HAWKINS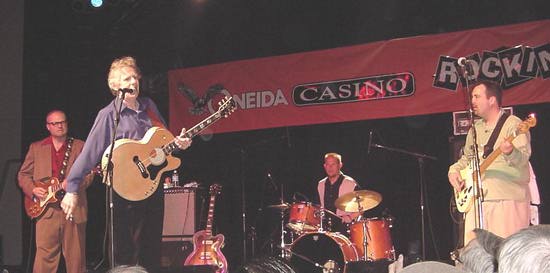 DALE HAWKINS WITH KING MEMPHIS



At 11:30 in the Iroquois Ballroom we were greeted by The Ranch Riot. The Ranch Riot is essentially a merger between Jussi Syren of Jussi Syren & The Groundbreakers and members of The Barnshakers, including Jussi Huhtakangas on steel guitar, Mike Salminen on drums and Mika Liikari on electric bass.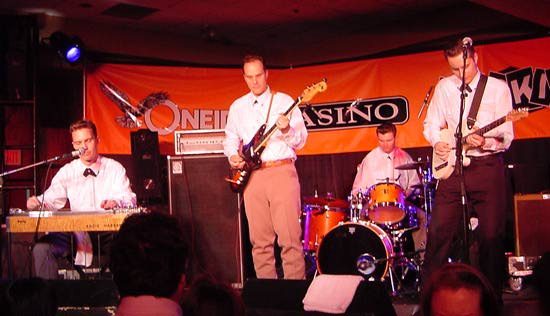 RANCH RIOT



The Ranch Riot is a good title for this group, judging from the audience's response. It just amazes me how Jussi Huhtakangas of The Barnshakers and Jyrki "JJ" Jovonen of The Wildfire Willie & The Ramblers band demonstrate proficiency on the steel guitar, tantamount to their electric guitar playing. Jussi did play lead guitar on "Lonesome Joe from Kokomo" and "Country Guitar" while playing steel with the band on such numbers as "Flash, Crash & Thunder," "Playboy," "Tall,Tall Trees," "That's The Way It's Got To Be," "Blue," "You've Done Me Wrong," "Raisin' the Dickens," Faron Young's "If You Ain't Lovin' You Ain't Livin'," and "White Lightening," a George Jones hit that was actually written by J.P. Richardson, the Big Bopper.
I love how The Ranch Riot puts a "Finnishing" touch on twang.
For those readers who have tenaciously toiled through all of my articles for the Rockabilly Hall of Fame, you might remember that I am a big fan of the Swedish group, The Go Getters. At Viva Las Vegas and again at Green Bay in 2002, I missed seeing The Go Getters because they were on so late at night (e.g. early in the morning) that I knew I would just have to stay up late to see them after midnight on Friday, even though Saturday morning was a running day.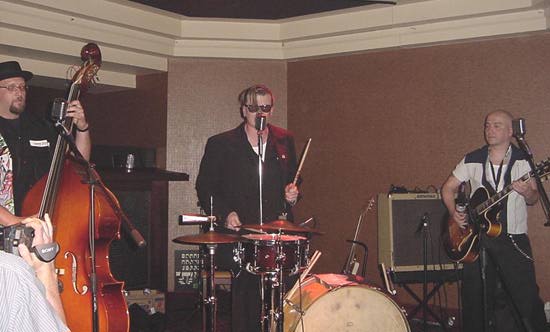 THE GO GETTERS



Putting The Go Getters in Purcell's Lounge is a bit like booking Elvis Presley in a small diner: by the time I got to Purcell's Lounge, just before the set started, it appeared that getting inside the lounge was as easy as swimming upstream in a tsunami, but I wasn't going to let that stop me. I veered left, made my way through the slot machine room, wiggled around through the tables and wiggled on to the dance floor, which was already getting pretty crowded. As it became the only place for the latecomers to have breathing room, I found myself with Mikael, Andre and Rene from The Wild Wax Trio. With my notes, pad and big Sony Mavica camera and a carrying case full of floppy disks, I was able to "park" my stuff at a table and "just be a fan" for a change.




THE GO GETTERS



There is one good reason why people will risk life and limb to see The Go Getters: you just cannot describe in words their music and stage presence! Even though Peter didn't do my favorite, "Loud Pipes/Lead Feet," he did perform "Hip Shakin' Baby" from the same CD, as well as a cornucopia of cool tunes from their 17-year career together.
Notwithstanding the SRO situation on the dance floor, there were some couples brave enough to dance and the guys and gals were boppin' to some of the best music I have ever heard.
For those of us that were there, no written words can truly capture what was going on in Purcell's for that hour.




"WHAT A PARTY!' GO GETTERS AFTER 1:00 A.M. IN PURCELL'S LOUNGE,
BRINGING TO THE STAGE SOME GUESTS.




THE GO GETTERS



If I could single out one set that I attended for the six days and nights in Green Bay where I abdicated my duties as a scribe and "joined the revolution," this was the one! Let's hear it one more time for The Go Getters: Peter Sandburg, Robin Johnson, and Morgan Fredricksson.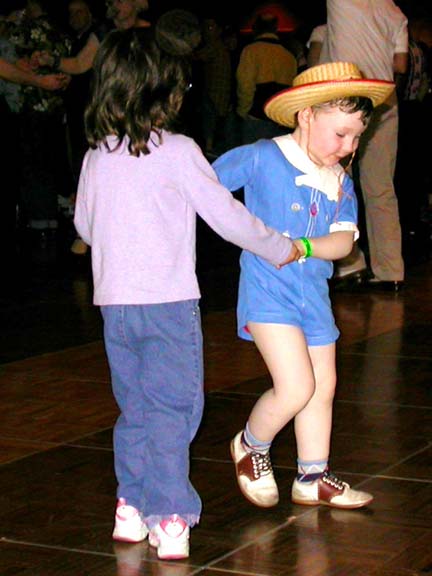 "NO AGE LIMIT ON THE DANCE FLOOR"
(Photo courtesy of Frederic Schroers of KBOO Radio, Portland Oregon.)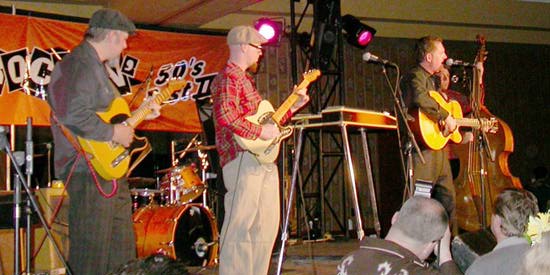 SHAUN YOUNG: 12:45 A.M. ­ 1:30 A.M. IN THE IROQUOIS ROOM
(Photo courtesy of Frederic Schroers of KBOO Radio, Portland Oregon.)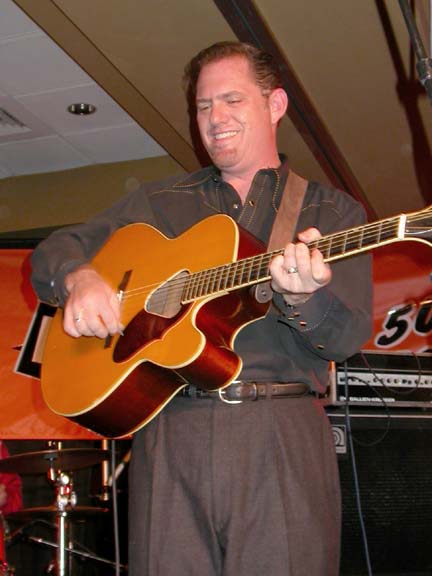 SHAUN YOUNG
(Photo courtesy of Frederic Schroers of KBOO Radio, Portland, Oregon.)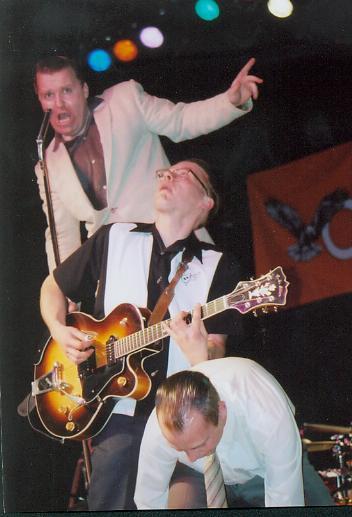 WILDFIRE WILLIE AND THE RAMBLERS DO THEIR FAMOUS PYRAMID PROFILE IN THE
PEAK OF THE LATE FRIDAY/SATURDAY MORNING SET. APPROPRIATELY, NO ONE
COULD FOLLOW THAT ACT.
(Photo COURTESY OF SHEREE HOMER.)