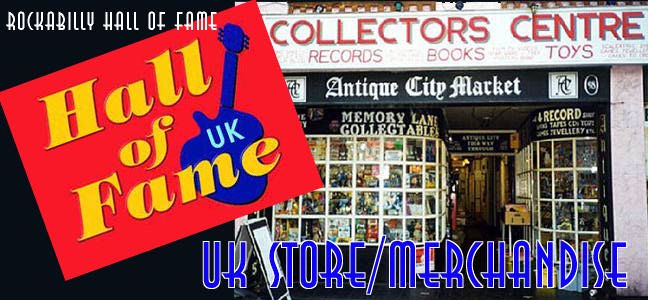 ROD PYKE & DAVE TAYLER
Unit 29/30 - Collectors Centre
98 Wood Street - Walthamstow
London, E17 ENGLAND
Phone: 0181 521 9950 - Fax: 01279 832609
E-mail the HOF UK Store
Open Hours: Mon, Tues, Wed, Fri & Sat 10:00 am - 5.00 pm


---
update: Dec. 11, 1999
If you are in London over Christmas why not check out the Hall Of Fame shop at the Collectors Centre, 98 Wood Street, Walthamstow, London E17. Opening hours 10am - 5pm. Closed on December 25, 26,27 & 28 and January 1, 2, 3, 4. The collector's Centre also houses another 5 record shops to suit all tastes, Book Shop, Cafe, Antiques shop, Hairdressers/Make up, Household goods, Computer games, Cake shop, Bric-A-Brac, Vintage Clothes (Pre 50's) and Art Dealers. Lots of memorabilia to suit all tastes. Check out the UK Hall of Fame store's page: http://www.rockabillyhall.com/UKRABHOFstore.html


Please note that Rod Pyke has now moved to London: P.O. Box 23645, LONDON, ENGLAND, E7 0XR - Fax: 0181 519 7315. E-mail: RodPyke@aol.com - Rod will be happy to send CD's to anywhere in the world. Check availability and a quote by faxing the above number. Purchases can be made by Visa or MasterCard. Mail Order list and details should be on Rod's Hall of Fame UK store Web site in the New Year.


---
AVAILABLE HERE NOW!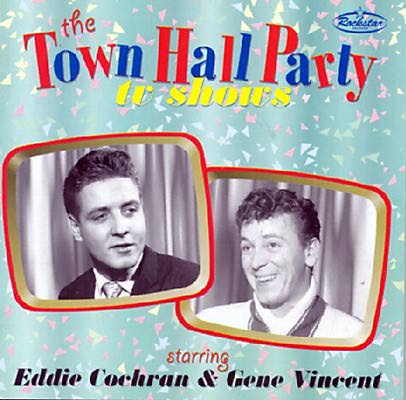 "Town Hall Party" CD
---
The Shop Also Features These "Hot" CDs ...
Rockabilly Hall of Fame merchandise on sale plus all other kinds of Music CD's, Vinyl, Tapes, Videos, Memorabilia, Sheet Music, Photos, T-Shirts, Autographs etc.

All musical tastes catered for not just Rockabilly.

A full range of Rockabilly material available from all over the world. We already stock Stomper Time and Big Beat records, many, many other labels.

Mail Order information, which will be coming soon.

The Collectors Centre has 18 Units which cater for all types of Collectables, Records (6 Units), Stamps, Antiques, Toys, Books, Star Wars etc.



Nearest Station:
Wood Street (BR) turn right out of station into Wood Street, shop 400 yds down on the left.
Walthamstow Central (BR & Underground) One mile.

Rod Pyke and Dave Tayler give an in-depth view of the
UK and Euopean Rockabilly Scene. Click here.



A


PRESENTATION