"That's News to Me" - Archive #16
Back to the Current That's News to Me" Page
A Mix of Music Related Text and Photos That You May Find Interesting






New "Jacksonville-Americana" Website
From Chris Jackson: "The 'new' self-maintained website 'THE JACKSONVILLE-AMERICANA' is now well and truly up and running, as I can update it on an daily basis it gives everybody who has information that needs putting out to the masses a chance to have it seen and read on this site.
It is almost an annexe of the 'official' Americana International website, which sadly has not been updated for quite a while. This is only due to the webmaster (Richard Lamb) currently moving house, he has told me that he will bring it up todate as soon as he can.
I do have some music on the 'new' site, but will hopefully be putting up tracks from this year's artists and also previewing next year's line-up. I intend to do reviews on the many cd's I get sent from artists in the Uk, USA, Canada and Australia (plus a few from other parts of Europe).
Anyway as it stands there will be a thousand pics on the website before the end of August, we have loads of shots of most of the artists whp performed over the weekend, so check it out soon and if you have anything to say please do leave a message on the 'message board' before you leave the site. Enjoy the rest of this summer and drive safely wherever you may go, www.jacksonville-americana.piczo.com." - Chris & Bev - Silvereagleuk@aol.com


---


Bluesman 'Little' Milton Campbell R.I.P.
August 4, 2005 - Blues singer, songwriter and guitarist "Little" Milton Campbell, whose gritty vocals and songwriting recalled B.B. King's rough-edged style, died on Thursday from a stroke.
The 71-year-old Grammy-nominated guitarist and singer known for writing and recording the blues anthem "The Blues Is Alright" never awoke from a coma following a stroke he suffered on July 27 in Memphis.
Born to sharecropping farmers near the Mississippi Delta town of Inverness -- his father, "Big" Milton Campbell, was a local blues musician -- "Little" Milton picked up a guitar at age 12 and recorded his first hit for Sam Phillips' Sun Records at age 18. It was the same year the Memphis label recorded Elvis Presley for the first time.
Discovered by blues-rock pioneer Ike Turner, Campbell went on to score dozens of rhythm and blues hits and was inducted into the Blues Hall of Fame in 1988.
Though acclaimed in blues circles, Campbell never achieved the fame of King and some other American bluesmen. Nevertheless, his nearly constant touring took him all over the world.
After signing with Bobbin Records in East St. Louis, Illinois, Campbell recorded "I'm a Lonely Man" and "That Will Never Do." A long association with Chicago's Chess Records produced the 1965 hit "We're Gonna Make It," which coincided with the civil rights movement. Other hits included "Baby I Love You," "If Walls Could Talk," "Feel So Bad," "Who's Cheating Who?" and "Grits Ain't Groceries."
"Annie Mae's Cafe" and "Little Bluebird" were hits he recorded with Memphis' Stax Records, which he joined in 1971 before the label's demise. Most recently, he recorded for The Malaco Music Group in Jackson, Mississippi, for whom he produced albums entitled "Your Wife is Cheating on Us" and "A Nickel and a Nail."


---


Bim Bam Records Top 20
(Posted August 3, 2005) - Compiled from sales - all available on-line at www.bim-bam.com


1) Mac Curtis & Charlie Feathers ... Rockabilly Kings ... Ace
2) Brian Setzer ... Rockabilly Riot - A Tribute To Sun Records ... Surfdog
3) v/a Wildcat Jamboree - Radio Broadcasts ... Norton
4) The Royals ... The Federal Singles ... Ace
5) various ... King R'n'R vol 2 ... Ace
6) Linda Gail Lewis ... Lie & Deny ... Lantasi
7) v/a ... Okeh Label Rock 'n' Roll ... Okeh
8) v/a ... Kicksville vol 3 ... Norton
9) Hayden Thompson ... Rockabilly Rhythm ... St Georges
10) Gene Vincent ... Blue Gene Bop ... Rockstar
11) The 5 Royales ... It's Hard But It's Fair ... Ace
12) v/a ... Stuck Up ... Buffalo Bop
13) The Modern Downhome Blues Sessions vol 4 ... Ace
14) The Du Droppers ... Boot 'Em Up ... Acrobat
15) v/a ... Knock Out ... Buffalo Bop
16) The di Maggio Connection ... The Wildest Game ... Area Pirate
17) v/a ... Teenage Dreams vol 19 ... Teenie Weenie
18) Mark Kelf & The Valley Boys ... The Best Of ... Scnbt Records
19) v/a ... 1954 British Hit Parade ... Acrobat
20) Mal Gray ... Louisiana Angel ... Amc


---


"Walk the Line" Release: Nov. 18th
20th Century Fox is scheduling "Walk the Line," a Johnny Cash-June Carter biopic starring Joaquin Phoenix and Reese Witherspoon, as an Oscar candidate, with a tentative Nov. 18 release date. "Walk the Line" concentrates on Cash's life in the 1950s and '60s, from the time he made his first rockabilly recordings at Memphis' Sun Records to when he married Carter in 1968 and became a heroic cultural figure for his tours of prisons.
PLAY THE TRAILER.

---
"Rockabilly Riot! Vol. 1: A Tribute to Sun Records"
Brian Setzer's Rockabilly Riot CD
Setzer plays his pompadour off in the first of a proposed series of discs spotlighting rock heroes. Here, the curtain goes up on Sun, the Memphis indie label that brought forth Elvis Presley, Jerry Lee Lewis, Johnny Cash and other greats, who all waxed for Sam Phillips' '50s imprint with the cheerful sunrise logo.
Like most tributes, original versions far outshine remakes, but that's not to say "Rockabilly Riot!" doesn't provide kicks. Teamed with a high-octane band, the well-coiffed Setzer leader takes a good-rockin' romp through classics like "Red Hot," "Real Wild Child," "Blue Suede Shoes" and "Get Rhythm."
As usual, Setzer's big-bodied Gretsch is on target while his voice is probably most convincing on Carl Perkins' "Blue Suede Shoes," among other tunes. The album offers a touch of authenticity with a cameo from the legendary Jordanaires, Elvis' favorite harmonizers.
Courtesy: Ryan Ritchie, LA Times


---
Hemsby #35 Information
Click on the graphics for larger viewing.
---
Posted July 21, 2005
Charlie Gracie Updates
CHARLIE GRACIE UPDATES...at Summer's Midway:

'STILL GRACIE...AFTER ALL THESE YEARS'! Charlie's film biography - a tribute to Philly's first rock 'n' roll star and a 50-year retrospective enters post-production! The documentary, produced by Character Driven Prooductions follows Charlie to perfomances here and in Europe and features tributes from many great perfomers: Andy Williams, Graham Nash, Paul McCartney, Albert Lee, Peter Noone, Buddy Holly's Original Crickets, Bill Haley's Original Comets, Chubby Checker, the Orlons, Danny's Juniors, Jack Scott, Wanda Jackson, Fabian and many others.  STAY TUNED!

CHARLIE WILL PERFORM IN GREAT BRITAIN SEPT. 22 THRU OCT 6TH! Cities, showtimes all coming soon at www.charliegracie.com.

CHARLIE IN SHREVEPORT-LOUISIANA HAYRIDE TRIBUTE!  Charlie headlines with Jack Scott, Tommy Sands, Wanda Jackson, Charlie Rich, Jr. Sleepy LaBeef, Narvel Felts and 50 others at the big Rockabilly Revue Fest. from Sept. 14-18. See schedule page at www.charliegracie.com for ticket info.

CHARLIE, BOBBY RYDELL, FRANKIE AVALON and FABIAN will be inducted into the Wildwood Music Walk Of Fame--in person, on Oct. 8th. Details Coming!

CHARLIE and CHUBBY CHECKER headline an All-Star cast at WILDWOOD'S  2ND ANNUAL FABULOUS 50'S FEST.--with Drifters, Buddy Holly's Original Crickets, Shirley Alston Reeves and the Planotones. Charlie will present the Wildwood Music Appreciation Award to Chubby outside Cool Scoop's 50's Ice Cream Parlour ... Charlie was last year's honoree. OCT. 14-16! See schedule page at  www.charliegracie.com   for all events and ticket information.

CHARLIE'S NEW GERMAN CD SET FOR AUGUST 1ST RELEASE!  Rockabilly fans can let themselves go to this one--recorded in Berlin, Germany last fall. The cd is entitled: 'Charlie Gracie-Just Hangin' Around!" Go to www.rhythmbomb.com to order!

CHARLIE CONTINUES 25TH SUMMER SEASON AT MOORE'S INLET: See Charlie's full summer schedule at Moore's on the schedule page at www.charliegracie.com. THANKS TO ALL OF YOU FOR YOUR CONTINUED SUPPORT. OUR LOVE AND PRAYERS FOR A HAPPY AND SAFE SUMMER SEASON! - Chas., JR.


---
---


Jerry Lee Lewis Divorce Finalized
A judge in Mississippi has approved a divorce settlement between Jerry Lee Lewis and his sixth wife, Kerrie Lynn McCarver Lewis, and promptly sealed the court records. The settlement was reached Wednesday, June 15th the same day the case was to go to trial.
The Commercial Appeal, quoting sources familiar with the case, said Kerrie Lewis, 42, would receive $250,000 immediately and $30,000 a year for five years. He married Kerrie Lynn McCarver on April 24, 1984. They lived together at his 40-acre ranch near Nesbit in north Mississippi.
Lewis also pay $20,000 in child support annually for four years for 18-year-old Jerry Lee Lewis III, the newspaper reported. Lewis will keep his ranch.
Jerry Lee had accused Kerrie of adultery and she had questioned his marital fidelity. Kerrie had claimed that Lewis and his daughter, Phoebe, had hidden assets from her. leaving her and Jerry Lee Lewis III penniless. She claimed her husband's income topped $1 million annually. Attorneys declined comment on the case, citing the judge's order sealing the records.
J.W. Whitten, Lewis' road manager, said uncertainty about court dates had prevented Lewis from accepting a number of long-term bookings. Whitten said the settlement clears the way for Lewis to resume a regular concert schedule and to complete work on an album scheduled to be released this fall. "We leave for Europe June 24," he said. "We needed this to be over just so we could get back to making some money."


---

The "Rock Is Fifty!" Committee proudly presents The World's First
ROCK-AROUND-THE-CLOCK-ATHON!
"we're gonna rock around the clock tonight..."
A Round-The-Clock Celebration Of
The 50th anniversary of "Rock Around The Clock"
Becoming The First-Ever Rock 'n' Roll Record To Top The Charts and
The 80th Anniversary Of The Birth Of Bill Haley
From 6:00pm Tuesday July 5th till 2:00am Thursday July 7th
7 Rockin' Events over 32 Rockin' Hours in Rockin' Hollywood!

SPECIAL GUESTS OF HONOR


THE COMETS
(all five surviving original members)
Mrs. Bill "Cuppy" Haley
(married to Bill Haley: 1952-1960)

THE ROCK-AROUND-THE-CLOCK-ATHON!
Tuesday July 5th - 6:00pm
When the clock strikes SIX...
The Knitting Factory
7021 Hollywood Boulevard ­ Hollywood
(Corner: Hollywood & Sycamore. 1 block East of La Brea Avenue)
Cool Hollywood music club The Knitting Factory gets the ROCK-AROUND-THE-CLOCK-ATHON! off to a flying start with a Double Happy-Hour (from 6:00pm-8:00pm) Half-price drinks and a deejay spinning classic 50's rock 'n roll to celebrate the 50th anniversary! The (septuagenarian and octogenarian!) Comets will drop by to hear the music, sample the drinks and scope the chicks!

Tuesday July 5th - 8:00pm
When the clock strikes EIGHT...
Grauman's Egyptian Theatre
6712 Hollywood Boulevard ­ Hollywood (2 blocks east of Highland Avenue)<
The American Cinematheque presents the Grand Opening Night of The 6th Annual "Mods & Rockers Film Festival" (of Groovy Movies From The Shagadelic Sixties) This year's opening night is a cinematic salute to two of the pioneering jukebox musicals that inspired the rock 'n' roll movies of the 1960's ­ and the band that inspired and starred in both films
"Rock Around The Clock" and "Don't Knock The Rock".
Both starring Bill Haley & The Comets. Both filmed and released in 1956.
Q&A with The Comets (all 5 surviving members of the original lineup) and Mrs. Bill "Cuppy" Haley (married to Bill Haley 1952-1960)

Tuesday July 5th - 11:00pm
When the clock strikes ELEVEN... The Pig & Whistle
6714 Hollywood Boulevard ­ Hollywood
(2 blocks east of Highland Avenue)
Join The Comets for a late-night anniversary toast in one of Hollywood's oldest and most legendary bars ­ situated conveniently next door to Grauman's Egyptian Theatre. "Rock Around The Clock" will be playing loud!

Wednesday July 6th - 8:00am
When the clock strikes EIGHT...
Duke's Coffee Shop
8909 Sunset Boulevard - West Hollywood
(at San Vicente Boulevard)
Join the Comets for an early-morning breakfast salute to "Rock Around The Clock" in Hollywood's favorite rock 'n' roll diner. In honor of the anniversary FIFTY different versions of "Rock Around The Clock" will be played consecutively ­ including classic renditions by artists ranging from the Sex Pistols to Mae West and an all-polka version on accordions!

Wednesday July 6th - 12:00pm
When the clock strikes TWELVE...
RockWalk
7425 Sunset Boulevard ­ West Hollywood
(midway between Fairfax and La Brea)
Bill Haley & The Comets are officially inducted into the Hollywood RockWalk. They join other major rock 'n' roll musicians and producers into the RockWalk's Hall Of Fame. Today is the 80th anniversary of Bill Haley's birth.

Wednesday July 6th - 4:00pm
When the clock strikes FOUR...
The Museum Of Television & Radio
465 North Beverly Drive - Beverly Hills
(corner with Santa Monica Boulevard)
On the 50th anniversary of "Rock Around The Clock" becoming the first rock 'n' roll record to top the charts - The Comets and Mrs. Bill "Cuppy" Haley will visit two major exhibitions celebrating the anniversary that are being presented at The Museum Of Television & Radio in Beverly Hills.
"Rock Is Fifty!" is an exhibit of rare rock 'n' roll memorabilia specially created for the anniversary by The Rock And Roll Hall Of Fame & Museum. "Gibson Rocks!" is a display of classic guitar models that helped launch rock 'n' roll. As they view the exhibits ­ they will also see and hear "Rock Is Fifty!" a museum-only video program of ultra-rare live rock 'n' roll performances from "The Ed Sullivan Show" 1955-1959. The program was created specially for the anniversary by rock filmmaker Andrew Solt and historian/producer Martin Lewis.
The Comets will make the official announcement that in response to the strong public interest ­ the "Rock Is Fifty!" exhibits will be extended in Los Angeles for an extra Fifty Days. One day for each year of rock 'n' roll since the momentous breakthrough of July 1955... The exhibits are open to the public - free of charge.

Wednesday July 6th - 9:00pm
When the clock strikes NINE...
The Viper Room
8852 Sunset Boulevard - West Hollywood
Rock Is Fifty! presents "The Comets Jubilee Ball!" A Party & Concert Celebrating the 50th Anniversary of "Rock Around The Clock" topping the charts. Full-length show by The Comets. Plus Special Guests.
"When the clock strikes twelve, we'll cool off then - start rockin' round the clock again"...


---


Chris Scruggs on the Move
Chris Scruggs will appear at Opry Plaza Party on 7/1/2005. This concert marks Chris' last Nashville performance before moving to Austin.
To join venom and finesse in unholy matrimony, to burn the Grand Ole Opry Retirement Village in order to save it, to kick ass in every key ­ this is the dream of every good Southern boy. But it took the grandson of the 20th-century's most explosive banjo artist to get the dream up and strutting. Every time Chris Scruggs has taken the stage, whether with BR549 or under his own name, he has unloosed the formal skills and precision of the country legends he reveres and the bravado of the hyper snot-nosed punk that, until about yesterday, he was. His hardwired genius encompasses guitar, bass fiddle, steel guitar, singing, and writing.
Chris was born in 1982, to the hit singer, producer, and all-around Nashville maverick Gail Davies. As a boy he sketched compulsively. By the time he was 11, an acoustic guitar had become the object of his obsessive artistic drive. He went on to bass guitar, and at 13 joined his first band, a punk outfit that appeared frequently at Lucy's Record Shop, Nashville's equivalent of CBGB's.
A family move to the U.K. the following year proved pivotal. An Eddie Cochran record Chris happened upon ignited his imagination and sparked connections. Now the Everlys' records his mother played when he was young, the community of his birth, the echoes of the hillbilly heroes down through other generations and idioms, all began to harmonize. 'When I moved to England I had a kind of hometown inferiority complex,' he remembers. 'I was from there ­ but I was not a dumb hick. Then I realized that these English people like the Clash were listening to people from right down the street from me.'
When Chris returned to the States in 1997 his pure-punk period was over. 'I thought it would be cool to mix the Eddie Cochran into what I had been doing,' he says. He formed a band called the Hoptown Tigers with a friend at school. After a year in the basement they went public at the Bluegrass Inn on Nashville's tourist-clotted Lower Broadway. The hip Lower Broadway scene, largely established single-handedly by BR549 in the early Nineties, is a proving ground for rising country talent, particularly traditional country with a rebel-rouser angle. By late 2000 Chris was ready to graduate to full-time roadwork, as bassist for country and rockabilly legend Rosie Flores. Before long roots-country fans far beyond Nashville were talking about the intense wunderkind in the thick-rimmed glasses and rockabilly attire.
It was also in 2000 that Chris began appearing regularly on WSM's Grand Ole Opry, at first as his mother's sideman. He has since appeared on the venerable broadcast about every other month. Having personal access to the true giants of country is a privilege that ­ regardless of his birthright ­ he doesn't take lightly. 'I'm real lucky to be hanging out at the Opry, running into people like Little Jimmy Dickens or Carl Smith,' Chris says. 'And I was lucky enough to meet both Roy Acuff and Minnie Pearl.' This kind of immersion gives Chris one advantage over his competitors: if he stumbles on a lick he's trying to cop off a classic record, he can always ask the guy who played it.
In late 2001 personnel changes in Nashville's hottest roots-country band brought Chris a phone call from BR549. He was enlisted first as bassist, and then took over co-frontman and guitar duties from the departing Gary Bennett. Playing 200 dates a year with BR gave Chris a strong taste of worldwide press and popular attention, recording experience (his playing and his writing helped make the band's Tangled in the Pines CD their finest) and, not least of all, skull-battering roadwork. When he amicably left the band, in January 2005, he was ready to devote all of his toughened chops and brain cells to the sounds in his own head.
His first solo record had in fact come out three years before. A self-released l imited-pressing called Honky Tonkin' Lifestyle, it offered a ferocious, savvy take on rockabilly and honky-tonk that made most other traditionalists sound instantly tepid. No Depression pronounced it the hottest roots-country record since Wayne Hancock's debut. But it's more about what the 22-year-old has yet to reveal with the fullness of time. Asked to describe his latest recordings, Chris says they're hard to describe. 'It has a Western swing flavor, but it's not so tied to nostalgia ­ it's poppy, kind of a mix of Milton Brown and Revolver.' It's this openness to adventure and insistence on musical values over all others that, along with the chops and attitude, make Chris Scruggs a truly rare and delightful animal. And, with his drive and DNA, could it have turned out otherwise? 'If I weren't a musician,' he reflects, 'I'd probably be a drummer.'


---


Update: Dave Brighton's Rockabilly Radio Show
Posted June 8, 2005 - Hello Listeners, Shows on Rockabilly Radio now go out for listeners on the Australasian Continent, Thursday's. This equates to around 4pm in UK and Europe, so unless Europeans have a milk round to do after listening in, most will be snoozing, whereas those down under will be well awake with the Land of the Rising Sun.
See my page for Schedualed Days and Times, links through to Northern Broadcasting and UK Gig Guide, MySpace Page etc.
Just a quick mention and reminder that show's are going out seperately now from both Northern Broadcasting and Rockabilly Radio.
Currently Northern Broadcasting is carying one program from last year whist Rockabilly radio has a progam from when I last visited Radio Caroline, this will be in two parts and possibly a third made up from what has been edited relevent.
Next week , from Monday, on Rockabillly Radio, will be the 2nd part of my guest slot on Dell Richardson's Good Rockin' tonight show, whist from Friday, Northern Broadcasting will be puting out part one of the show, this is to enable anyone who may have missed it first time round to hear it.
This will be the pattern of how shows will go out on each station for the foreseable period, unless there are some special changes needed or Sample & Bitrate streaming is allowed to be higher in MP3 format from Northern Broadcasting, though this is highly unlikely due to their current policies.
Best quality audio at present is from Rockabilly Radio II at 52kbps for Broadband users available on Monday, Wednesday, Thursday and Friday at diferent time scheduals whereas you can listen in anytime you choose on Northern Broadcasting at 24kbps MP3 players or 32kbps in Real Player.
At present you will notice there is no advertising, this is because the intention is to get sponsorship which is cheaper and gets the whole program paid, thereby enabling the Shows to continue each week.
If you would like to sponsor a show, reply to this mail or use the mailboxes on the relevant pages for each Station. $'s for Rockabilly Radio and £'s for Northern Broadcasting. I can give you details and what you get for your donations.
This is particularily of relevance to promoters of large events as shows could be taylored around the promotion whist still giving listeners the same format as has been so far.
One such Event to be aired in this way will be the forthcomming Americana music and lifestyle annual show in the UK, The Rockin' Acts rather than the Country ones will be included with tracks selected from their recorded output.
Another interested party in the USA may also bennefit from a similar Show, negotiations as to detail have yet to be discussed.
If you have any sugestions, comments, Requests, dedications or just to have your name mentioned, please use the Contact mailing facility on either of my pages.
Further to this, in adition, smaller events outside the UK could be mentioned in future shows if there is a large enough demand for such information, this could be incorporated withing the existing hour show or be an additional section after the main hour has been played, though this would need to first be negotiated with particular broadcasters. Thanks for your Support out there.
www.dbrighton.rockabillyradio.net
http://www.northernbroadcasting.co.uk/Presenters/Dave_b.htm
info@thisgigguide.fsnet.co.uk


---


Bim Bam Records Top 20
(Posted June 2, 2005) - Compiled from sales - all available on-line at www.bim-bam.com
1) VARIOUS ... KING ROCK 'N' ROLL VOL 2 ... ACE
2) DARREL HIGHAM. ... MIDNIGHT COMMOTION. ... FOOT TAPPING
3) GENE VINCENT ... BLUE 'GENE' BOP - THE BBC RECORDINGS ... ROCKSTAR
4) HUNKY DORY - KING VOCAL GROUPS VOL 3 ... ACE
5) VARIOUS ... THAT BRITISH SOUND VOL 4 ... BLAKEY
6) HOT BOOGIE CHILLUN ... 15 REASONS TO ROCK 'N' ROLL ... DRUNKABILLY
7) VARIOUS. ... HE R&B HITS OF 1954 ... INDIGO
8) ROY HALL ... ROY HALL ROCKS ... BEAR FAMILY
9) LITTLE RICHARD ... KING OF ROCK 'N' ROLL - THE COMPLETE REPRISE RECORDINGS ... RHINO
10) NUMBER NINE ... LIVE AT SUN ... RAYN
11) LINDA GAIL LEWIS ... LIE & DENY ... LANTASI
12) DEKE DICKERSON ... THE MELODY MAJOR LABEL ... MAJOR
13) JERRY LEE LEWIS ... MEMPHIS BEAT/COUNTRY SONGS FOR CITY FOLKS ... BGO
14) CARL PERKINS ... ROCKS ... BEAR FAMILY
15) VARIOUS ... HOT ROCKIN' MUSIC FROM TENN - THE JAXON RECORD LABEL STORY ... STOMPERTIME
16) VARIOUS ... SUGAR DOLL ... BUFFALO BOP
17) CHARLIE THOMPSON ... VOL 2 - THE HILLBILLY & HONKY TONK SIDE OF. ... TAIL
18) VARIOUS ... SATURDAY NIGHT ON BOP ST VOL 8 ... BOP
19) VARIOUS ... KICKSVILLE VOL 4 - RAW ROCKABILLY ACETATES ... NORTON
20) VARIOUS ... WILDCAT JAMBOREE - RADIO BROADCASTS 1958-1959 ... NORTON


---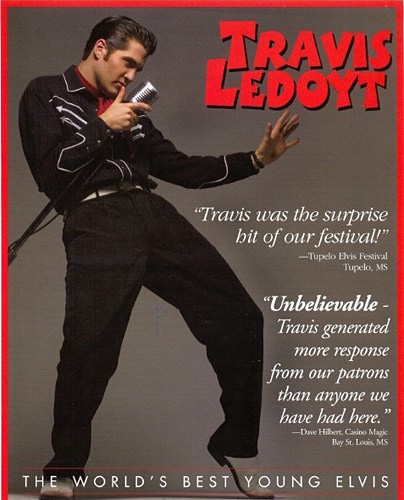 Travis LeDoyt Coming to the UK
From: Chris Jackson - Hi Friends, we are bringing a very exciting, young, good looking male artist and his own band from the USA to do a 15-18 date tour of the UK prior to his major appearance on next year's Americana International Festival. This artist has won over the hearts of tens of thousands of American females (and a few males as well) with his dynamic stage show of pure rock'n'roll/country, his recent tour of China simply blew away the chinese audiences...
To support his appearance at Americana 2006 we are looking for two more dates preferably before the festival (6-9th July)...
If anyone is interested or knows of any venue that has a capacity of over 200, can you please contact me. This very very good artist will undoubtably become the talk of the rock'n'roll/country/MOR scene, he really is that good. His appearance over here will be backed up by national media coverage as well as our own display advert of his all UK gigs. Those of you in Scotland I am looking for possibly three dates up there...
This is an artist who does not cost the earth and one that club/festival organisers will want on their shows once they've heard or seen him perform...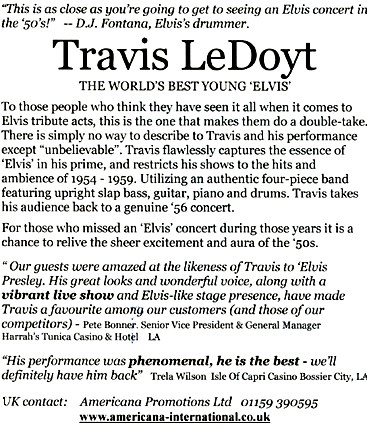 More information will be forwarded to the music press shortly...
Chris R Jackson
Tel. 01159 390595


---

Th' Legendary Shack*Shakers are taking their sideshow antics and dead-on-the-money rhythms  back on the road! The band will be out in support of their Yep Roc debut, Believe, an album that runs the musical gamut from creaky-croaky murder balladry ("County of Graves") on to the cheap-suit, town-drunk swagger of "Piss and Vinegar."  The Shack*Shakers are "Southern by the Grace Of Goth" and proud of it. The band is back from a blockbuster European tour and heading out for a few new US dates. Don't miss your chance to experience a live show that Time Out NY has named one of the "Top Ten Best" in the country.  Check the tour dates below to see when Th' Legendary Shack*Shakers will be coming to a town near you! 
Date - Venue - City
TH 05.26.05 - Castaways - Ithaca, NY
FR 05.27.05 - Mac's Bad Art Bar w/ Crazy Hearse, Thunderosa - Mattydale, NY
SA 05.28.05 - Mohawk Place - Buffalo, NY
MO 05.30.05 - Little Brothers - Columbus, OH
TU 05.31.05 - Mac's Bar - Lansing, MI
WE 06.01.05 - Kraftbrau - Kalamazoo, MI
TH 06.02.05 - Dame - Lexington, KY
FR 06.03.05 - Phoenix Hill - Louisville, KY
SA 06.04.05 - Mercy Lounge - Nashville, TN
http://www.yeproc.com/


---

In September of 2005
Robert Gordon, Chris Spedding Reunion Tour
Between 1978 and 1993, Robert Gordon and Chris Spedding were one of the most electrifying rock 'n' roll acts around. The unique combination of Gordon's powerful baritone voice and Spedding's inventive guitarwork resulted in a lot of terrific music, and albums like "RockBilly Boogie", "Bad Boy", "Are You Gonna Be The One" and "Greetings from New York City" are a testament to their abilities and their special chemistry. Many fans were shocked to learn that their associated ended, in the summer of '93.
Both Gordon and Spedding feel that the time is now right for a reunion. "I first played with Robert more than 25 years ago. It was always great fun to play a Robert Gordon show, and things got pretty wild back then, both onstage and off. We stopped playing together about 12 years ago when I moved West to California, so it's going to be a real treat to get back together with him again", says Spedding. And Gordon adds, "I'm thrilled to be working with Chris again. Wow! It's been about 15 years. I've missed him both on stage, and off. Something very special happens when we perform together. No one plays with such power and sensitivity. I've looked forward to this reunion for a long, long time".
This special reunion tour will open at the Musikstalden in Naestved, Denmark on Friday September 2nd, and will then move on to Falun, Sweden for an appearance at the Enviken Rockabilly Festival (Sept. 3); Bethune, France at Bethune Rétro (Sept. 4); the Tavastia in Helsinki, Finland (Sept. 7); Kåren in Turku, Finland (Sept. 9) and will conclude at the Paradiso in Amsterdam on September 10th.
Both men are greatly looking forward to this reunion, and have picked the best players on the scene for the occasion; the amazing John Willoughby (The Polecats, The Rockats, etc.) on upright bass and Todd Glass, a sensational session-musician from Detroit, on drums.
Preparations have been going on for months to make sure that this reunion will be a truly memorable occasion, with a lot of surprises for the fans. "We'll be reprising some of the well-known favorites from our old live show, plus a few songs that Robert and I recorded together over the years but never played live. There'll be some new surprises, too. I'm really looking forward to it - and I know from past experience how wonderful the audiences are in Scandinavia", says Spedding. For more information about this tour, please contact tour-coordinator Arjan Deelen at: deelen@elvis.dk


---


"Elvis by the Presleys"
Elvis Presley is a pop culture pinata - everyone loves to take a whack at his good fortune. Now his own family steps up in "Elvis by the Presleys," a captivating documentary airing Friday the 13, 2005.
Featuring material from the Presley estate archives and family home movies, the two-hour "Elvis by the Presleys" touches the heart in ways. Seeing Elvis goof around in grainy home movies removes the icon's lofty mythology. From the late 1950s to the '70s, many Americans relaxed and performed for a Super 8 camera; here, Elvis is on the same stage as middle-class America - opening Christmas presents, capturing baby footage (of Lisa Marie) in a bathtub, enjoying a vacation on a distant beach.
The commentary from Lisa Marie, Priscilla Beaulieu Presley and thePresley estate's creative affairs director, Jerry Schilling, is perfunctory and predictable. News flash! Lisa Marie recalls Graceland as "quite the lively house." And Schilling? He and Priscilla co-produced the milquetoast 1990 ABC dramatic series "Elvis."
But Priscilla does dish the dirt on how she and Elvis split an LSD tab and then watched tropical fish at Graceland. But overall, Priscilla's parents, Ann and Paul Beaulieu, are more forthcoming and natural than Priscilla, Lisa Marie or certainly Schilling.
Elvis and Priscilla's wedding will give you goose bumps, as home movies are played over Presley's 1961 hit "Can't Help Falling in Love." Priscilla recalls her wedding day by mentioning that the Memphis mafia (Presley's trusted pals Schilling, Sonny West, Lamar Fike and others) trailed the newlyweds behind the threshold. She also gives props to Frank Sinatra for allowing them to use his plane to fly to Las Vegas for their marriage. Elvis liked to tell Priscilla how to dress, and the home movies of her trying to navigate her sky-high bouffant down the Graceland stairs is also priceless.
As the marriage falls apart, Priscilla is sincere in explaining how she lost her sense of identity in Elvis World. She elaborates on a theme of the CBS movie "Elvis" by recalling how quickie Hollywood films broke the King's spirit. "Elvis by the Presleys" also opens the vaults for sad concert footage of a bloated, sweaty Elvis in his final years.
"Elvis by the Presleys" is accompanied by a coffee-table book (Crown Books, $24.95) and a commemorative two-CD set of the same name. Just what the world needs -- more Elvis books and Elvis greatest-hits collections. The CD includes hits such as "If I Can Dream," "Suspicious Minds" and a stunning version of "Peace in the Valley." When Elvis sang gospel, he was at his best. Completists will enjoy the five previously unreleased tracks, three of which are not even audible. Most interesting is a primitive rockabilly studio version of "Jailhouse Rock" and "Anything That's Part of You," underscored by sexy Charlie Rich-esque piano riffs. - Chicago Sun Times


---


"Lipstick and Dynamite"
May 2005 - Ruth Leitman's lively documentary peers into the past-and-present lives of the superstars of the lady wrestling circuit. Imagine A League of Their Own with fouler language, vicious dropkicks, and grudges that simmer for 50 years. A certain rockabilly vibe permeates the film, which mixes truly astonishing vintage film footage and photographs from matches - most circa the 1950s and '60s - with modern-day chats with the surviving gals, all of whom retain the rebel spirit that made them feisty fighters (including elder stateswoman Gladys "Killem" Gillem, now in her 80s). Lipstick and Dynamite (appropriately subtitled Piss and Vinegar) traces the history of the sport, which ascended from carnival-midway novelty to arena sensation, often scheduled on cards alongside male wrestling acts. The industry's many downfalls - aside from injuries, there were shady promoters galore - are also discussed, but it's clear these "rough, tough broads," many of whom saw wrestling as an escape from their troubled family lives, had enough gumption to persevere. All the personalities represented here are larger-than-life - most of them spawned long-ago (yet still-potent) rivalries - but the film finds its focal point in the Fabulous Moolah, a colorful brawler turned promoter who still pops up at World Wrestling Entertainment matches today.


---

A group of Delta musicians got together for a jam session at the home of Skeet and Rose Seaton in West Helena, AR on Sunday, April 24. Seated left to right front row- Mack Self, C.W. Gatlin and Jimmy Allen. Seated back row are A.G. Seaton, Vince Self and Jim Smith. Standing left to right - Sterling Billingsley, John Pope, Mike Henson, Bubba Webb, Skeet Seaton, Gary Dixon, Jimmy Rogers, Henry Edgin and Burl Boykin. Tom Mathis (not pictured) was also present. C.W. Gatlin, Mack Self, Skeet Seaton, Burl Boydkin and Tom Mathis are all members of the Rockabilly Hall of Fame. Photo: Rose Seaton


---

Book: Philly Rock, Rhythm & Blues
ROCK, RHYTHM & BLUES (A look at the National Recording Artists from the City of Brotherly Love).    Published by the Autumn Road Company, September 2004  Paperback  98 pages plus 68 photos. Retail price $14.95
A look back at the National Recording Artists from the City of Music (Philadelphia)in the golden years of rock n roll. (1954-64) Featured artists include: BILL HALEY AND HIS COMETS, CHARLIE GRACIE, LEE ANDREWS AND THE HEARTS, DANNY AND THE JUNIORS, FRANKIE AVALON, FABIAN, BOBBY RYDELL, JAMES DARREN, CHUBBY CHECKER, DEE DEE SHARP, THE DOVELLS, THE ORLONS, and THE TYMES. With insightful commentary from the artists plus a review of BANDSTAND with BOB HORN, and AMERICAN BANDSTAND with DICK CLARK.
Available online at AMAZON.COM, BARNESANDNOBLE.COM and many major bookstores throughout Pennsylvania, New Jersey and Delaware. Also available at BARNES & NOBLE and BORDERS bookstores nationwide by special order. In the U.K.: at VIRGIN MEGASTORE in London  tel. 0207-631-1234, at HMV (selected store in the London area) tel.0207- 467-1109 (customer service) and A&R BOOKSEARCH tel.  01-503- 220-246.(email: robert.ronald@btopenworld.com) In Germany: contact HYDRA RECORDS tel. 089-311-3918 (email:rockithydra@t-online.com)  


---


   "Satisfied Mind" to Be Released on June 7th
Long-Awaited New Album by Robert Gordon
KOCH Records Nashville is pleased to announce the release of "Satisfied Mind," the new studio album by the legendary Robert Gordon, on June 7th. For more than 30 years, Gordon's unique musical style has mesmerized audiences.
Long before the first rehearsals of The Stray Cats and the numerous rockabilly bands that followed, Robert Gordon reinvented the rockabilly sound of the '50s and introduced it to the punk rock audiences of the '70s. He single-handedly reinvented the genre for an updated audience, and has influenced countless bands with his unique sound.
After a stint in bands like the Tuff Darts in the '70s, Gordon pursued a solo career and began performing raucous rockabilly, the music he grew up on in Washington, D.C. He paired up with veteran guitarist Link Wray for his first two albums, "Robert Gordon with Link Wray" and "Fresh Fish Special." "Fresh Fish Special" also featured Elvis Presley back-up singers The Jordanaires. These critically-acclaimed records were released during punk's heyday and were subsequently embraced by that scene. Besides his own songs, Gordon covered songs made famous by Johnny Horton, Bill Monroe, Gene Vincent and Billy Lee Riley, as well as songs by Bruce Springsteen, Marshall Crenshaw and John Lennon.
Adding to his credibility, Bear Family records, the German record label, released two volumes of his music in the '80s. The label is famous for painstakingly detailed reissues of folk, country and rockabilly catalogs by artists that are highly respected in those genres, and it realized the brilliance of Gordon early on.
"A Satisfied Mind" includes songs originally recorded by Johnny Burnette, The Hollies, Don Gibson, Jerry Reed and others. Gordon's title track on the new album is an amazing rendition of, Jack Rhodes' and Joe Hayes' "Satisfied Mind." Gordon sings with the same deep feeling of his earlier recordings - driven by love, hurt, sadness and absolute conviction - but there is now a maturity and understanding that has come with age.
He's an authentic American voice, and he sings these rock & roll songs as they were meant to sound: with sadness and longing, and with danger and recklessness.

The track listing is:
1. Dear One
2. Your Angel Steps Out of Heaven
3. Ain't Gonna Take It No More
4. Little Boy Sad
5. Sweet Nothin's
6. Sea of Heartbreak
7. Long Cool Woman
8. When I Found You 9. A Satisfied Mind
10. Mama's Little Baby
11. Turn Me Loose
12. Queen of the Hop
13. Do You Love Me
14. These Boots Are Made For Walking


---


RHOF "Stomp" Photos Here
Ponderosa Stomp Highlights
The fourth annual Ponderosa Stomp, the two-night international roots romp held last week (April; 26 & 27) at New Orleans' Mid City Rock'n'Bowl, not only decisively set attendance records, but offered some truly unforgettable moments in the history of blues/soul/rockabilly/surf/garage/Tex Mex/swamp pop.
Ponderosa Stomp promoter and emcee Dr. Ike offers these 15 highlights, although he admits he could have gone on for 50 more:
1. Reclusive Alabama-cum-Memphis guitar prodigy and Little Richard alumnus Travis Wammack gave unbelievable performances of his guitar instrumentals: "Scratchy," "Karate Time." and "Firefly"
2. Lady Bo, who cut her teeth as backing guitarist on many of Bo Diddley's original Checker recordings, reunited with fellow Diddley drummer Clifton James. Lady Bo's duet with Brenton Wood of "Send Me" was a showstopper.
3. Soul singer Brenton Wood's own set was a highlight, featuring "Oogum Boogum." "Gimme A Little Sign" and a great version of Double Shot labelmates Count Five's "Psychotic Reaction" ­ all with Alex Chilton on backing guitar.
4. From "Houston, Texas," Archie Bell in a rousing version of "Tighten Up" with Li'l Buck Sinegal's Top Cats. It was a moment many of us wished would never end.
5. Li'l Buck Sinegal's Top Cats reunited with Stanley "Buckwheat Zydeco" Dural on Hammond B3 organ for five hours ­ backing Archie Bell, Barbara Lynn and Roy Head, among countless others.
6. Texas soul shouter Roy Head gave a performance that belied his age. His onstage moves and energetic performance was topped by a jawdropping  reenactment of how he invented the dance "the Gator."
7. Scotty Moore and D.J. Fontana played a pastiche of songs from their Elvis Presley days, much of it backed by Billy Swan, who did a mean version of "I Can Help." All of this as Link Wray sat backstage, looking like he was in heaven.
8. Link Wray. After seeing his idol Scotty Moore, he set out to scorch everything in his path as he embarked on his own set, leading with "Rumble."
9. Phil Phillips. Time stood still as he crooned the classic "Sea of Love".
10. Betty Harris. One of the Stomp's most awaited career comebacks was even better than expected ­ this first generation R&B singer was soulful, poised and spine-chilling.
11. Nathaniel Mayer. Even at 3 a.m., he had the crowd dancing with abandon with his old R&B hits plus material from his new Fat Possum CD; special guest organist Mr Quintron sat in.
12. Of course 3 a.m. is like the middle of the afternoon for Stompers, and at 4:30 a.m., Louisiana garage band The Bad Roads turned in a crazy rockin' set.
13. Barbara Lynn, the blues singer/guitarist, took a crowd warmed up by fellow Texan Archie Bell and took it to another level.
14. Lonnie Brooks hearkened back to his early '60s sound when he recorded as Guitar Junior with an appearance by Louisiana guitarist Classie Ballou.
15. Mando & the Chili Peppers made their first appearance in 45 years, sounding like it had been just 45 days, also backing Chicago rockabluesman Eddy "The Chief" Clearwater.
According to Dr. Ike, "For two days, we were in rock'n'roll heaven."
Ponderosa Stomp has won numerous citations in the media. The New York Times' Jon Pareles wrote, "The Ponderosa Stomp plunges into the obscure byways of rock'n'roll past ... regional hits and eclectic combinations ... a dream!" Added Gambit magazine, "For roots aficionados, the Stomp was nirvana; you almost had to pinch yourself to make sure it wasn't a dream." And CNN, advancing the event, proclaimed, "History will be in the making at the Stomp." In addition, the festival has been covered by MSNBC, Associated Press, New Orleans Times Picayune, Mojo, Christian Science Monitor, Offbeat, Living Blues, High Times and more.
The Mystic Knights of the Mau-Mau (MKMM Charities, Inc) is a 501(c)(7) organization, seeking to recognize the forgotten and unsung pioneers of blues, rock'n'roll, country, jazz and soul by presenting those pioneers to today's audiences through an annual series of live, intimate house party settings in New Orleans. Their shows have helped resurrect the careers of several lost music legends.
For more information on Ponderosa Stomp or JPEGs from the event (they've got 'em), please contact conqueroo: Cary Baker (818) 501-2001 - cary@conqueroo.com cary@conqueroo.com.


---

Hayden Thompson: "Rockabilly Rhythm" CD
The Hillbilly Cat is back! Hayden has just released a powerful new CD for St. George Records. He performs 14 tracks, each one with a little different style, feel and vocal inflection. You'd swear you were listening to Hayden's early material. Excellent studio music musicians: Rockin' Billy Harnden, Nick "Lightnin'" Lloyd, Warren Storm, Studebaker John and Ruby Harris provide an excellent background flow. It's one of the best efforts from a rockabilly legend that we've heard in a long time. Try St. George Records for more information, or contact George Paulus, P.O. Box 331, Downers Grove, IL 60515 USA.


---


Motorama Movie Images
An FYI from: Chris and Bev Jackson www.americana-international.co.uk - Click on the link and you will be transported to the world of automobile orientated films, there are many that are not listed on this site. Can you add a few more? The one thing that these films had in common was that they all had (in most cases) great soundtracks, predominently rock'n'roll and country music (what else would you expect from the USA). I wonder how many of you have collected these soundtracks, I have a few. but would sure love to collect a lot more... I don't know about you guys'n'gals but music and films always evoke memories from my distant past, some brilliant and some not so good.
When I hear country music it always reminds me of pick up trucks and those huge macks, freightliners and peterbilt semi-trucks barreling down the interstates. Then there's the miles of  back roads that Bev & I have driven through 18 states, beautiful scenery, mountains on one side and huge rivers on the other, golden fields of corn, the orange groves in Florida. etc.
Rock'n'Roll gets my adrenalin flowing, give me a ragtop, Elvis, Eddie and Buddy on the radio and a long straight road, top down and the pedal to the metal. The once land of the 'free' is now only a dream, a sad state of affairs, seems the whole world has gone mad. My salvation is what we put together one weekend every July. and visiting many other car shows, music festivals around the UK meeting up with thousands of like-minded people. Yes for a brief time we can escape from humdrum of daily life and be what we want to be without redicule from others who don't share in our hobby or leisure pursuits.
I know some of our american friends who will receive this email might have a different perception of their own country, but the above is purely my own feelings on a country that I happen to have a great affection for.
Happy cruisin' wherever you drive ... Chris & Bev - Silvereagleuk@aol.com


---


Friends Gather to Jam with Jody Gisbon
By James J. Gillis/Newport Daily News staff - Singer Jody Gibson has loved Newport passionately for nearly 40 years. On Sunday night April 24, 2005, Newport loved him back.
Friends and family packed the stage area at Billy Goode's, sometimes 15 at a time, to sing and play with a musician who seems to know every song ever written. There were no speeches, just music. Gibson's one-time Popeye frame has shrunk a bit, but his customary Greek fishing cap was in place as he sang and played from a wheelchair, loving every moment of it.
Gibson is best known as a local troubadour, a hillbilly singer from way back, a guy who hung out in Greenwich Village as a young man with Woody Guthrie and Leadbelly, and Newport's contribution to the Rockabilly Hall of Fame.
But that's just part of it. Gibson, 75, also is known for forming a hard set of opinions and sharing them with little provocation. He is characteristically direct about his current situation.
"I've had this colon cancer the past two years," he said during a break in the music. "I don't have much time left. That's official."
His wife, Donna, puts it differently: "You know Jody. He says he'll go when he's ready."
There was more joy than tears Sunday night at Billy Goode's. It was a jam session, a sing-along and a hootenanny. Performers took turns leading songs, with John "Fud" Benson starting things off on fiddle, Gibson's daughter Joyce Katzberg leading a rousing "Hey, Good Lookin,'" and everyone sang "Will the Circle Be Unbroken?"
Donna Gibson, who has sung with her husband through the years, took a guitar and led "Jambalaya." She said the night was not a fund-raiser (there was no cover charge) and not a concert, either. "This is different. This is music sharing, not different people getting up and singing," she said. "It's a jam, really, everyone sharing."
As the night unfolded, some players dropped out and new ones joined in. Some were familiar faces on the local scene, including Benson, Jim McGrath, Kevin Sullivan, Mark Quinn, Mickey Scotia, Mike Fischman, another of Gibson's daughters, Kate Katzberg, and Cindy Peloquin. Some, like Roger Sprung of New York, played with Gibson at the Black Pearl more than 30 years ago.
If Gibson were a mere entertainer, he'd still be among Newport's memorable figures. But he's always been a pot-stirrer, too, catching heat as early as the 1940s for forming a mixed-race hillbilly band in the Air Force.
In an interview in the 1980s, he proclaimed his undying love for Newport, only to leap from his kitchen chair and stomp his right foot as he railed against the developers who clogged the waterfront with time-share condos and hotels.
Gibson also holds a well-honed distaste for bigotry. The worst part, he said, is that prejudice keeps people from forming friendships: "You miss out on so much."
Benson, who has known Gibson for decades, said the singer always has given all that he had to audiences. "Sure, he loves being on stage, but he's always been able to see it from the other side," Benson said. "He's worked to make sure people enjoy themselves.
"And to be honest, he's one of the most talented people I've ever met. He's just a terrific guy."
hrough the years, Gibson's worked as a sign maker, toiled on ships, performed with Donna, singing tongue-in-cheekers like "Pave the Bay" and "Tiptoe Through the Tourists," and taken up martial arts. In more recent years, he's lugged a homemade contraption to open-mike nights, an instrument he dubbed a "digeri-don't."
Kevan Campbell, who owns Billy Goode's, helped organize the party. "If you can call someone a music legend around here, it's him," he said of Gibson. "The night was understandably bittersweet for Joyce Katzberg, a longtime singer and arguably the state's leading peace activist. But it was a fitting way to honor her father, she said
"Jody has given so much of himself through the years, it's wonderful to see all these people here tonight," Katzberg said. "It's really a celebration."


---


Direct from His Website
Darrel Higham Retires
Update: March 29th, 2005 - And so it goes ... This will be our last year as a busy gigging band. Next year we're going to only do gigs on the odd Saturday, and as many gigs in Europe as the law will allow. This has been on the cards for quite sometime now, and I'm finally pleased to get it mentioned on here.
The last couple of years have been fairly up and down for this band, and although we've got a good line-up with Darren and Les, the enthusiasm for driving up the M6 on a Friday afternoon - or for driving anywhere in this country on a Friday afternoon - has finally left the building. We've done all we can, and it's time to start getting on with other things and gracefully bow out.
I'll be getting on with working more closely behind the scenes at Foot Tapping Records, getting my CD artwork business off the ground, maybe getting back into playing guitar for other people, and basically sitting around on my fat arse doing bugger all as often as I can. Fortunately, my wife has now been allocated as the star of the Higham clan (well, she always has been), and so it's now up to her to keep us in the style we've grown accustomed to living in. Which shouldn't be difficult. She could work in Cost Cutters and keep us in the style we've grown accustomed to living in...
In fact, the idea of having seven kids, going on the dole and living the life of luxury sounds like a very good idea at the moment. It'd just be a case of swopping one Rock 'n' Roll for another! I love a good joke, me.
Seriously, Sunderland AFC are desperate for a decent third-rate 'keeper at the mo. As I've now made myself available, and have now changed my name by deed-poll to Yahudie Masleef from Yugoslavia, the chances of getting signed for an exorbitant amount of money - even at the relatively advanced age of 35 - looks an odds on certainty. Of course, I'll never get picked to play, and the signing-on fee will cause the match tickets to go up by 300%, but what do I care?
I honestly can't see any point in carrying on making records and playing all over the place anymore. The appeal just isn't there, and I've always said that if the day comes that I'm not enjoying myself I'll call it a day. Well, this will be something of a compromise, because although I hate driving about all over the country and humping bloody great PA's in and out of clubs, the odd promoter, and quite a few people in general, I still enjoy the hour and a half we make a noise onstage. So if we can still do this on occasion, I'll enjoy it more and our gigs will become something of a party instead of a real chore.
In the meantime we've got a lot of recording to do, and a lot of gigs. I'm especially looking forward to Green Bay, USA, as this will most certainly be the last time I play in America, and it will be a real pleasure to bow out with the lads there beside me. I've never played in the States with the band as I've always used pick-up bands. Nothing wrong with that, but I've always come away thinking that the gigs would've been so much better if my band had been with me so we could really play to our full strength. This will be the first and last time it will happen, and I'm sure it'll be fantastic.
All of you lot have been brilliant, and I can't and will never be able to thank you enough for all the support you've given to us. Whether you've been to the gigs, or bought our records, I hope you feel we've always tried to do our best most of the time.
This website will be dismantled at the end of the year, as there will be no need for it to be floating around in cyberspace with no real interest from me to keep it updated - A huge thanks to Karl and Julie Mundy for keeping this going and for all their hard work for making it happen, and to my old mate Tony Keogh for re-designing it and making it look all fancy and lush.
I'll say more thank-you's and such later in the year. But there's still a good few months of Rockabilly mayhem and debauchery left in us, and even though this page will probably not have anymore words typed onto it until December, the gig guide will still be updated as often as it deserves.
Lead on, McDuff - And we'll see you out and about.


---


"Godfather of Modern Steel Guitar"
Jerry Byrd Dies at Age 85
Peter Cooper, TENNESSEAN.COM - Musician's intricate, elegant style stood out. Jerry Byrd, one of the most influential steel guitar players in American music history, died Monday morning at Kaiser Hospital in Honolulu. He was 85 years old and had been suffering from Parkinson's disease.
Mr. Byrd began playing Hawaiian music as a teenager in Lima, Ohio. By the late 1930s, he was playing professionally, and he moved to Nashville around 1944, taking a job on the Grand Ole Opry and playing in a style that was more elegant and intricate than previously had been heard.
"Many of the players of his era sounded like what you heard in the old western movies: They could be cartoonish and primitive," said Lloyd Green, a friend of Mr. Byrd's and fellow Steel Guitar Hall of Famer. "He came along and played with great tone and originality. He was the first steel player I heard who was a true artist, and most players today consider him the godfather of the modern steel guitar."
Mr. Byrd performed with Ernest Tubb, Red Foley and other greats, and in 1953 he joined Chet Atkins for a popular WSM Radio show called Two Guitars. He did numerous recordings for Monument Records, but by 1962 he had ceased doing steel guitar session work and instead played bass on many Nashville albums.
In the early 1970s, Mr. Byrd moved to Hawaii, a region that had long fascinated him, and he settled into a life of teaching steel guitar on the island.

REMEMBERING JERRY BYRD
Biography by Jason Ankeny - Famed guitarist Jerry Byrd was born on March 9, 1920 in Lima, OH. As a child, he developed a passion for Hawaiian music, although he made his first inroads into performing by playing country on an area radio station between 1935 and 1937. After a stint on Cincinnati's WLW, he joined the Renfro Valley Barn Dance in 1941; a year later, he jumped to WJR in Detroit, and remained there until he signed on with Ernie Lee's Pleasant Valley Boys in 1944.
Byrd remained with Lee until 1946, when he formed his own group, the Jay-Bird Trio. Two years later, he joined Red Foley's band and became a session staple at King Records. Also in 1948, Byrd cut his first singles, "Mountain Mambo" and, under the name Jerry Robin, "Sun Shadows." Later in the year, he issued his first 78, "Steelin' the Blues." While at King, Byrd also recorded a handful of Hawaiian songs, and as the years wore on, the music became his primary focus.
Still, Byrd remained an active figure on the country landscape; in 1950 he became a regular on Foley's NBC television program, and from 1954 to 1956 he was featured on the Nashville-based series Home Folks. An eight-year stint on the program Country Junction followed, and in 1964 he became a member of Bobby Lord's TV band. In 1968, Byrd left country for good, moving to Hawaii to focus exclusively on the state's native music.


---


John Fred R.I.P.
John Fred Gourrier, best known for his 1960s hit - "Judy in Disguise (With Glasses)" - died Friday, April 15, 2005 at Tulane Hospital after being ill for months, his former manager said. He was 63. Gourrier, who went by the stage name John Fred, had been ill for months, said his former manager, Lynn Ourso, of the Louisiana Department of Economic Development.
"He had a kidney transplant seven months ago," Ourso said. "Two months after that he had another operation to remove his old kidneys and that's when things went wrong. He'd basically been in and out of the hospital since then."
John Fred & His Playboy Band had a regional following in the South when they recorded their parody of the popular Beatles' song "Lucy in the Sky With Diamonds," in 1967. Written by Gorrier and fellow band member Andrew Bernard, "Judy In Disguise" was recorded in New Orleans with the Fats Domino band on Dec. 17.
By Jan. 20, 1968 it had replaced another Beatles song, "Hello Goodbye," as the No. 1 song in the nation. The song, well orchestrated with a snappy beat, remained at the top of the charts for two weeks.
Although "Judy in Disguise" was the only Top 40 song the group ever had, Fred had made the charts before. Fred formed his first group while he was still in high school and recorded a song titled "Shirley." That made the charts and he was invited to do the Alan Freed show in New York. After that show he got a call from Dick Clark to be on American Bandstand. He told him he couldn't do it because he had to go home to play in a basketball game.
Fred was a student at Catholic High School in Baton Rouge at the time and the basketball team was in the state championship race. Fred played college basketball for a while at Southeastern Louisiana. And worked as a high school basketball coach at times.
His last performance was about three years ago. Fred is survived by his wife, Sandra, and one son.


---


Fans Keep Rockabilly Music,
Spirit Alive in Green Bay
By Steve Kirchman
skirchma@greenbaypressgazette.com - April 7, 2005
If you want to know ...
** What: Rockin' '50s Fest II
** When: Starts Monday and runs through April 16
** Where: Oneida Bingo & Casino, Ashwaubenon
** Tickets: $40 for six-day pass, $10 daily (only if available on day of show); Main Casino concierge desk, Ticket Star at (800) 895-0071 or www.ticketstaronline.com.
'ROUND THE CLOCK. They'll be rockin' around the clock ‹ literally ‹ during the six days of the fest. Shows will run concurrently on four different stages at the casino. The action will start early ‹ some days beginning at noon ‹ and will continue until 5:30 a.m. Buckle down for along day of '50s partying.
Tickets will be required for events in the Three Clans Ballroom and the Iroquois Ballroom. Shows in Purcell's and the Main Casino Lounge will be free.
Along with more than 120 live acts, there will be several other diversions. But any rockabilly fan worth his saddle shoes knows there's more to it than that. There's a love for simpler, three-chord music unspoiled by studio tricks or pop vocal acrobatics. There is the hunt for the earliest, unreleased recordings of guitar-slinging heroes. And there is a passion for a time when a kid from nowhere named Elvis Presley set the music world on fire.
Hundreds of those fans will be in town next week for Rockin' '50s Fest II at Oneida Bingo & Casino. It's a sequel to the inaugural event in 2002. More than 120 acts ‹ many of whom got their start a half-century ago ‹ will be on hand. Together they will celebrate a short period of time when rebellious teens first got a chance to revel in a music all their own.
"It's nostalgic," says Bob Timmers, a 64-year-old Appleton native who oversees the Rockabilly Hall of Fame Internet site in Burns, Tenn. "The music isn't dead. You go to Wal-Mart and you still hear Buddy Holly on the speakers."
The Web site (www.rockabillyhall.com) serves as a database for all things rockabilly. There is information on thousands of acts past and present, a message board for record hunters and an active discussion group for fans. The site receives thousands of hits from around the world, proof to Timmers that the music endures.
"I had a chance to talk to Jimmy De Knight, who wrote 'Rock Around the Clock,'" says Timmers. "He said, 'You know, this music is timeless. You go to a wedding or a party and you hear 'Rock Around the Clock' and 6-year-olds start dancing and 80-year-old grandmas start tapping their feet.'"
No one knows how many 6-year-olds or grandmas will show up for next week's fest. But Phil Doran, the casino's entertainment coordinator, says there will be hundreds of fans coming from Japan, England, Russia and Scandinavia. To them, the fest shapes up as an event of almost Super Bowl proportions.
"I'm just glad that people can still enjoy this kind of music," says Doran, a big fan of American roots music. "It's safe music. People are familiar with it and feel safe to tap their feet to it. It's so cool to see so many people of all ages come out and enjoy it."
Doran has put together a top musical lineup. Besides such pioneers as Jerry Lee Lewis, Ike Turner, Narvel Felts and Sonny Burgess, the fest also includes such contemporary high-octane acts as High Noon, the Roy Kay Trio and Jimmy Sutton's Four Charms. And there is plenty of flash to go along with six days of nonstop music: vendors selling everything from vintage clothing to old vinyl, after-hour record hops and late-night jam sessions.
But what exactly is it about rockabilly that causes fans from the Pacific Rim or Europe to make the trip to Green Bay? Or to similar fests in Hemsby, England or Las Vegas?
"It's the simplicity of this," says Bill Barker of Appleton, a 61-year-old printing business retiree. "It was just an era that became lost."
Adds Doran, "It's an underground culture of people who like the lifestyle of the '50s. Look at the cars. Who wouldn't pick up a '57 Chevy?"
The origins of rockabilly are murky at best. But music historians agree it was born in the Deep South in the late '40s and early '50s when black R&B converged with white old-time country. In roadhouses across the region, musicians crafted the hybrid music until it reached its unmistakable sound: a guitar, drums (optional) and upright bass, which was slapped to provide the traditional rockabilly beat.
Presley pushed the music out of the roadhouses and onto the main American stage. A whole wave of rockabilly acts followed, including Lewis and "Great Balls of Fire," Carl Perkins and "Blue Suede Shoes" and Holly and "That'll Be the Day."
But rockabilly's radio reign proved short. By the early '60s, record companies jettisoned rockabilly for fresh-faced teen idols like Paul Anka, Bobby Rydell and Bobby Vee. And by the mid-'60s, The Beatles and the British Invasion blew everybody off radio for good.
"What people don't realize is that The Beatles, who took the backbeat and reinvented it, loved rockabilly songs," says Barry Klein, a frequent contributor to Timmers' Rockabilly Hall of Fame Web site. "They recorded Carl Perkins' songs and they were very faithful."
Some rockabilly acts headed to Europe, where the music has remained popular ‹ especially among the post-punk crowd. Some shifted to country or R&B. Still others continued to hack out a career in the small club circuit. And all have benefited from periodic revivals, such as the one fueled by the Stray Cats in the late '70s and early '80s.
"The movement (today) is small, but it is practically a like a cult following," says Klein, 58, a developer who splits his time between Naples, Fla., and the Detroit area. "And it is American music. People want to come to America and hear it."
As long as they are coming for the music, many will want to look the part. The dress is all part of a "selective retro" look, according to Klein. For guys: greased-back hair, Masonic Lodge bowling shirts and rolled-up jeans. For women: pageboy hairdos, poodle skirts and chrome purses.
Amy Ott, whose Web site surveys the Chicago rockabilly club scene (www.rockabilly.net/chicago), estimates she has spent "thousands of dollars" on her collection of vintage clothing. These days she leaves most of it in the closet. But the 32-year-old, who once filmed a rockabilly event in Las Vegas as part of her master's degree thesis in media communication, says the fests are a chance to reconnect with like-minded fans.
"I have friends in Seattle and Florida. They wouldn't get to see these (performers) unless they came to events were so many bands play in such a little amount of time."
And Ott, who says rockabilly thrives in Chicago, is convinced the music form isn't dead.
"With the way fashion is and Brian Setzer bringing back the swing scene, I see rockabilly making a comeback," Ott says. "And it will always have the same kinds of crowds."
Timmers isn't quite as sure. He takes solace in knowing that his Hall of Fame Internet site has gone a long way toward filling in the blanks in the rich history of rockabilly.
"I don't know if this music will ever come back," he says. "But it is timeless. Everybody loves this stuff. It still affects people."


---


Return of the Weathermongers
April 1, 2005 - (UK) - THE WEATHERMONGERS are back in action this month. Their first gig is at The Keyberry Hotel, Newton Abbot, Devon on Friday 8th April. Admission is £2.50 on the door. Doors are open from 8.30pm to 12.00pm.
Since the last gig, individual members of the band have been working on a variety of different projects. Ian Jennings' band The Big Town Playboys, released a new album Roll the Dice on the Mi5 recording label. The album features several top flight guests, including Robert Plant, Jeff Beck and Jools Holland. They also recorded a session for Jools Holland's show on Radio 2. Check out the website www.bigtownplayboys.com for further details.
Weathermongers front man Ian Roberts was invited to perform lead vocals with The Big Town Playboys on several recent European shows. Steve Hamzij has also been guesting on drums with the South West based band Eel Pie Island - leading exponents of 60's Modernist R'n'B!
Several of Ian Roberts' new compositions have now been added to The Weathermongers live repertoire. Listen out especially for The Fairground Song and Trying to Keep my Head above Water - two songs where the band enter previously uncharted musical territory! Also check out the band's cracking new version of Jonathan Richman's Roadrunner.
A twelve track, all original album entitled "Introducing The Weathermongers" is available at gigs, and can also be ordered from the website www.weathermongers.com All tracks were written by Ian Roberts and the album includes "Double Shot", "Blue Is My World Without You" and "I Did No Wrong" - three songs previously performed live by The Nightporters, but never recorded. Check out the website for sound samples and further information.

To book THE WEATHERMONGERS, please contact ...
Ian Roberts
PO Box 353
Newton Abbot
TQ12 1WF, ENGLAND
Tel/Fax: +44 (0)1803 857375
Mobile: +44 (0)7970 909618
Email: ian@weathermongers.com
Web: www.weathermongers.com
---


Dwight Yoakam New Release June 14th
"There's a lot of reckless joy on this album," says DWIGHT YOAKAM about his upcoming album BLAME THE VAIN, due out June 14 on New West Records/Via Records, marking his first affiliation with New West. "We are thrilled to be working with Dwight. He had a vision for this record and delivered on every level. The songwriting, the production, the performances are all stunning. He really has delivered a magnificent album," says Cameron Strang, president of New West Records. The album's first single will arrive at radio in April, with a video to hit airwaves shortly thereafter. A major cross-country tour will launch in July.
"We never left a session that wasn't flat-out fun," continues the singer, songwriter and guitarist who solely produced the album-a career first -and wrote the music and lyrics for these 12 songs of romantic cravings and deeply felt heartaches.
Mixed by David Leonard, who did the same honors for DWIGHT's classic albums If There Was A Way and This Time, the new disc is distinguished by DWIGHT's signature panoramic meld. Country, rockabilly, chiming British Invasion guitars, classic Southern rock, Bakersfield grit-and more-are seamlessly blended in the finely etched arrangements on BLAME THE VAIN. You can hear DWIGHT embrace tradition one moment, then playfully uproot it the next, recording with such musicians as ace guitarist Keith Gattis, keyboardist Skip Edwards, bassist Taras Prodaniuk, Mitch Marine on drums, and legendary percussionist Bobbye Hall, whose work is heard (although she's often uncredited) on many classic Motown albums. She was first credited on Marvin Gaye's album What's Goin' On.
For some "psycho-hillbilly squall," says DWIGHT, there's the song "Intentional Heartache." He ups the ante with "She'll Remember": the tongue-in-cheek intro-"an homage to the Moody Blues, ELP via Monty Python," explains DWIGHT-gives way to a bracing country rock tune with disarming tempo shifts. There's also the subtly poignant innocent plea of the upbeat shuffle "I Want To Love Again," of which DWIGHT enthuses, "I have to pay tribute to Buck and the Bakersfield sound on every album." The album's title track "Blame The Vain" is classic DWIGHT: a self-effacing confessional (where he concludes "...then I just blame me") set against a beautifully raw ascending guitar riff.
This marks Dwight's first album of all-new material since 2003's Population Me on Audium/Koch Records. His current release, The Very Best of Dwight Yoakam, was #28 on the Billboard Top Country Album Chart after more than 30 weeks of release. The disc reaches all the way back to his two million-selling 1986 debut album GUITARS, CADILLACS, ETC. ETC., which secured his stature among country's elite, while subsequent albums like HILLBILLY DELUXE, BUENAS NOCHES FROM A LONELY ROOM, JUST LOOKIN' FOR A HIT, IF THERE WAS A WAY and THIS TIME all achieved platinum or multi-platinum status.
The two-time Grammy winner has garnered 21 Grammy nominations throughout his career, while selling more than 23 million albums worldwide and earning praise from the likes of Time magazine, hailing him as "A Renaissance Man," Rolling Stone, noting "he has no contemporary peer," and Vanity Fair, proclaiming "Yoakam strides the divide between rock's lust and country's lament."
This year, Dwight will have a strong presence in the film world. Look for starring roles in Bandidas with Penelope Cruz and Salma Hayek and The Three Burials of Melquiades Estrada (directed by and starring Tommy Lee Jones), plus a cameo in the Owen Wilson/Vince Vaughan movie The Wedding Crashers. Dwight first achieved notice as an actor with his film debut in Red Rock West. He went on to achieve major acclaim for his roles in Sling Blade and Panic Room. He starred in South Of Heaven, West of Hell, also directing the film and co-writing its screenplay and has also been seen in Roswell, The Newton Boys, The Little Death and The Minus Man and numerous other films that can be found on IMDB.


---


Linda Gail Lewis Rocks the Jocks
Modern rock n roll queen Ms Linda Gail Lewis recently added another Celtic country to her growing fandom base when she dazzled audiences at two stunning concerts in the West of Scotland. Brought over by local resident of Girvan, long time family friend and now rock n roll promoter, Des Johnston, she created quite a stir in the local media with local papers, local radio and especially Scotland's largest daily newspaper The Daily Record giving her a huge two page spread. Little wonder that the demands for tickets far exceeded the seating capacity at both venues, Stranraer Rugby Club and the Crosshill Inn.
Four former members of local rockabilly legends the Black Eyed Peas got together again as the Peas to back her and to open both nights. The hard rocking four piece played many crowd pleasing favourites from the greats and a few more obscure numbers for the more discerning punter. Vocals were shared between the guys and they zipped through Rock Around With Olive Vee, Mystery Train,Tear It Up,Somethin' Else and Rockabilly Boogie (which mentioned Memphis' Hernando's Hideaway to Linda Gail's delight). Stand out numbers for me were Pink & Black, Don't, Apache (a fine contrast) and a snatch of Old Shep before ripping into a frantic Hound Dog. Always hard to please a home town crowd but the country folks really did have a jamboree to the Peas Rock N Roll Music. Both nights, the dancing crowds had the boys pumped up to back the star of the evening.
Over two nights she did nearly 60 songs and sold a truck load of her latest cd Lie & Deny ( which is real gem, featuring guitar legend Albert Lee on a few tracks). In Crosshill she was even lead to the stage by a Scottish piper in full rig out,this had the crowd on its feet even before she sang a note. Romping through the appropriate Boogie Woogie Country Girl she hollered to the band ãdon't quit when it's that goodä in an extended opener.
We visited Mr Beethoven, Rattled and Rolled, Miss Mollied, Bopped the Blues and slowed it down with big bro's treatment of Hank's classic, You Win Again. On both nights the country songs, the modern songs from the new album and the roadhouse rockers all went down a proverbial storm. Great to hear a piano stomping version of All Shook Up.The band were working their sporrans off to keep the big beat a flowin' like malt whisky from the local stills. The drummer certainly earned an extra bowl of porridge for supper, particularly in a wild High School Confidential with the great ãmotha-humpin ' bluesä line. Great ad- libs in Shakin about JLL coming home with the first big pay cheque from Sun and a Fleetwood Cadillac for the family!!! Glory Days indeed.
From the new album, we had Irma Thomas' ironic You Can Have My Husband, But Please Don't Mess With My Man, Sun gem Let's Talk About Us, Fat's mid tempo groover, Wait And See, the stellar I Wish This Car Was A Train and Smokey Joe's. Even for us hardened LGLophiles there were surprises, One Night, Where Could I Go But To The Lord, Old Black Joe, Cottonfields, Wild One and a dazzling Will You Still Love Me Tomorrow which had all the men dragged out for some sultry dance floor smooching (she must record this soon). A particularly intense Old Black Joe dragged members of rockabilly band Hi-voltage up on their chairs to holler out the refrain in true Southern style, they probably woke up Stephen Foster in his US grave!!!
A wild Wicked Wanda styled Let's Have A Party, a frantic stuttering R-R-R-R-Rip It Up, we Ducked Back In The Alley and Go Johnny Go'ed all night. The late, and VERY great, Mack Vickery's anthemic Rockin My Life Away sttod out by a country furlong (a very long version which nearly finished me off permanently on the dance floor) and a stunning What'D I Say pts I & 2 with part 2 being word for word the JLL version (from the classic Smash lp By Request live album), heavy breathing and cars parked on dark levees had many elderly gentlefolk loosening collars as this raunchy vixen turned up the heat with devil's music abandon.
Mind you, in true Ferriday tradition we also got some cool country in Jambalaya, Together Again, I Can't Stop Lovin You, Crazy Arms and ,after midnight on the Sunday, Amazing Grace followed by a revival Sun styled When The Saints Go Marching In, that probably had the patron saint of Scotland St Andrew thinking there was a fire n brimstone revival down in the glens of Crosshill! I think the whole village was packed into the place.
Two magnificent nights, hearty congratulations to DJ Promotions (hopefully this will spark off further rocking nights), the willing and able to rock n roll all night Peas and Ms lucious Linda Gail who impressed all with the range of her vocal ability mastering all styles in the family tradition, the stunning hard rocking piano work, the dexterous pr skills at handling an audience and delighting everyone afterwards who wanted to meet her.
People will talk of these dazzling nights in SW Scotland for years to come. She has created a big splash in the land of lochs and the rocking ripples will be felt for many a long day.
Och will ye no' come back again hen?
Phil Davies
March 2005
ps sorry about the rugby scores boyos ;-))


---


Dangerville: Tell It Like It Is
Making it as a musician and making a living as a musician are two quite different things. Considering how little nightclubs pay bands for long hours of gigging, it's easier to earn respect in the music community than to earn a decent paycheck.
This can make it tough for West Michigan's struggling musicians to finance independent recording projects. Although the advent of affordable recording equipment has spurred some to record CDs in their basements (or garages or living rooms), most still rely on bona fide studios.
Either way, it's not cheap: A survey of artists with new albums in Local Spins shows they spent anywhere from a few months to a year to produce their CDs at costs ranging from $1,500 to $10,000. And it's anybody's guess as to how long it will take - at $10 to $15 per CD - to recover that investment, if ever.
"I have personally never made money on a local release," said guitarist Chris Andrus. "I would say that most if not all bands are just hoping to break even. I do it because I love the music ... Most bands are willing to sacrifice the money now in hopes of soliciting that (record) contract later (and) that ultimate payday."
The bottom line: These artists aren't really in it for the cash because, frankly, there's not much of it to be had out there. "It's the love of music for sure," quips Delilah DeWylde of West Michigan rockabilly meisters DangerVille. "But we're not quitting our day jobs." -John Sinkevics, The Grand Rapids, MI Press


---

Artist Marsha Rusk to Show in
Gibson's Guitar Town Project
Rusk is one of the artists to be showcased in the Gibson Guitar Town project. This project started last April with regional artists submitting designs to Gibson in hopes of being chosen to reproduce their design on a ten-foot, fiberglass guitar sculpture. Out of hundreds of applicants fifty artists were chosen to recreate their design. Thirty artists were sponsored.
The unveiling of the guitars will be on April 1 at the Gaylord Entertainment Center. The guitars will stay in front of the entertainment center for a few days and then be moved to various locations around Nashville. Rusk's guitar, "The Johnny Cash/Ring of Fire" will be placed on music row in front of Curb Records. The guitars will be auctioned off sometime this year and the proceeds will go to benefit the Country Music Hall of Fame, Cystic Fibrosis Foundation, United Way, and Nashville Downtown District.
Rusk instructs private art students on a limited basis, teaches art classes in the continuing education department at Volunteer State Community College, serves on the board of the Monthaven Art Society, is the treasurer of Art Sumner (Art Resources of Tennessee/Sumner) and is currently involved in the following events.
"The Male Divine" art exhibition at Hanging Around Gallery, 113 17th Avenue South in Nashville, Tennessee. Opening reception is Friday, March 18, from 6:00 p.m. - 9:00 p.m. The show runs through Monday, April 25. For more information call 615-254-4850.
The "Colorful Expressions Art Show and Benefit" at Saddle Up! 1549 Old Hillsboro Road in Franklin, Tennessee. The opening reception is on Thursday, April 14, from 5:00 p.m. - 9:00 p.m. and the show runs through Friday, April 15, from 10:00 a.m. - 5:00 p.m. Saddle Up! Provides children and youth with disabilities the opportunity to grow and develop through recreational therapy with horses. For more information call 615-794-1150.
The "Squarefest" in Gallatin, Tennessee which will be on Saturday, April 30, from 10:00 a.m. - 5:00 p.m. on the Public Square in Gallatin, Tennessee. This is the 5th year for the festival and over 8,000 people attended last year. Rusk will be exhibiting paintings and hand-sculpted works with Art Sumner and painting the faces of area children attending the event.


---
El Toro Records Launch New Vinyl-Only Sub-Label
One of Europe's largest independent labels bucks industry trend and returns to the analogue vinyl format with the launch of sub-label Bullseye Records.
BARCELONA, SPAIN - 8 MARCH, 2005 - El Toro Records today announces the return to vinyl records via the newly created Bullseye sub-label. The Bullseye division will focus on releasing select material from the best of today's Rockabilly/Rock and Roll/Roots artist. Although based in Barcelona, Spain, El Toro plans to fully utilise it's worldwide distribution network to ensure that Bullseye product finds it way to vinyl aficionados everywhere.
"Remember when listening to music was a total experience? From the tactile feel of heavy grade vinyl to the ritualistic act of running a dust cloth over your newest juke-box jumper? And how the warm analogue sound made the hairs on the back of your neck stand up? I wanted to ensure that today's generation not only listened to music, but experienced it" said El Toro Records President Carlos Diaz.
El Toro records, already known for the quality of it's artist, plans to ensure that only the best of the best of today's talent makes it the Bullseye division. "It's unfortunate but true that the market for vinyl records has all but disappeared" continues Mr. Diaz, "So I have to make sure that product is outstanding in every way. The songs that make it to Bullseye will be well written, well performed and well recorded to meet the ever increasing standards of vinylphiles."
"As a DJ I only play real records - real VINYL records that is" Says top London DJ Tracy Dick. "By launching Bullseye El Toro is ensuring that DJs like me can provide exposure to more of today's talent" finishes Miss Tracy.
ABOUT EL TORO RECORDS: El Toro Records was founded in 1996 by music lover Carlos Diaz in Barcelona, Spain. A lifelong fan of 1950's American rockabilly and rock and roll, Mr. Diaz' goal was to provide a vehicle to help today's talent reach a broader audience. With top-notch distribution in all major markets - Europe, America, Japan and South America, Mr. Diaz has materialised that goal. His arena of stars include releases from such well known artists as the Portugal-based Tennessee Boys, Spain's Nu Niles and America's Hillbilly Hot-rodder Betsy Dawn Williams. El Toro Records is rated as one of the largest independent records labels in Europe. For More Information, Contact: Carlos Diaz, President, El Toro Records, Box 220, Pined 08397, Barcelona, Spain. Tel & Fax (0034) 937660 117 - eltororecords@gmail.com - http://www.eltororecords.com


---


The Barbican - London Sun Studios Show
Monday, April 18th - 7:30 pm
Featuring: Ike Turner & The Kings of Rhythm + Sonny Burgess & The Pacers + Billy Lee Riley + Cowboy Jack Clement. Tickets: £12.50 / £15 / £20 / £25 -- 20% discount for Barbican Card holders (Ltd availability).
Sun Records, where Elvis and Howling Wolf recorded, where rock and roll was born. Amongst those present at the birth was Ike Turner who, in 1951, at the tender age of 20, rolled up to Sam Phillips' studio and recorded the legendary 'Rocket 88' with his band The Kings of Rhythm. Tonight he's back for a rare appearance playing his fiery brand of rhythm and blues, and hopped-up swamp boogie. Joining him is Jack Clement who wrote and produced many of the labels biggest hits; and Sonny Burgess and rockabilly legend Billy Lee Riley the two Newport Arkansas wildmen whose Red Headed Woman (Burgess) and Red Hot (Riley).
http://www.barbican.org.uk/memphis/event/sun.htm.


---


"Johnny Cash! The Man, His World, His Music":
DVD Includes Footage and Performances
With special appearances by June Carter Cash, Bob Dylan, Carl Perkins, and Carter Sisters. In Stores Now. Sanctuary Records is proud to announce the reissue of a long out-of-print documentary on one of the most beloved and celebrated voices in American Music, Johnny Cash. The Bob Elfstron film Johnny Cash! The Man, His World, His Music will be released in DVD format on March 8th, remastered in Dolby Digital Stereo and with special bonus features including rare photos and an essay by Grammy Award-winning Cash expert Colin Escott. Fully endorsed by the John R. Cash estate, the DVD includes behind the scenes footage of Johnny Cash shot between 1968 and 1969 while he toured with his wife June, was at home with his family, at work in the studio and performing onstage. Viewers may find some of the documentary surprisingly familiar ­ several excerpts were used in Cash's award winning, poignant video for his 2002 single, "Hurt."
The footage also features several interviews with Cash sharing insight into his music and his life. It is a rare look into the mind of a legend at the prime of his life and his artistry.
He spoke openly to Elfstrom about his life, his background and the origin of his songs. Cash's heartfelt and plainspoken empathy for the plight of the ordinary man is evident throughout his interviews, giving further power to his poignant lyrics. Filmed over the span of about a year, the DVD also incorporates the mixing sessions for "Land Of Israel" off his spiritual album, The Holy Land, as well as the 1969 Country Music Association Awards.
Johnny Cash! includes performances of "Ring Of Fire," Folsom Prison Blues," and "Blue Suede Shoes" along with many other classics. Appearances by Carl Perkins and the Carter Sisters are featured, as well as several duets with June Carter Cash that give an intimate and candid look into the depth of their partnership both on and offstage. The enigmatic Bob Dylan is also included in the documentary. Contact: drew@gigantemedia.com


---


Elvis Hit-Making Team Reunites
March 3, 2005 - The Music World Is Calling It A Miracle.  For the first time since Elvis died, literally the entire Presley "Hit Making Team", including original composers and producers, have been re-united in this historic music venture by John Krondes and The Jordanaires. The "TCB" Band, Elvis' American Studios Band -  "The Memphis Boys", The Sweet Inspirations, and Millie Kirkham have all answered fate's call to return to the recording studio. The Elvis  "Hit Making Machine" has started up the engines again to carry on in Elvis' tradition of music making. The mission? "Keeping The Music Alive!!!"
John Krondes kicks off his promotional tour for his upcoming single, "Vegas In The Morning", and celebrates the warm welcome given to his current single, "The End", in Albuquerque this weekend.  "The End", written by John's late father, noted composer Jimmy Krondes and Sid Jacobson, has come to be known as "A Story Without Any End". Elvis sang this very same song to his future wife, Pricilla, on the night that they met and was holding it to record at the time of his death. Coming off the success of "The End", which essentially started this "Hit Making Team" project, John and the Team are gearing up to celebrate Las Vegas' 100th birthday with their new release. "Vegas In The Morning" was written by John and Elvis-writer Paul Evans as a birthday present for America's party city, Las Vegas, for its milestone Centennial anniversary which falls on May 15th, 2005.
For more information regarding John Krondes and The Jordanaires with the Elvis Presley "Hit Making Team" please contact Gene Kennedy at  Funky Sound of America Nashville Tel: 615-754-0417 - Email: FunkySoundofAmerica@yahoo.com or Edward Lozzi of Edward Lozzi & Associates PR, Hollywood, CA at 310-922-1200 Email: epl@lozzipr.com


---


Johnny, June Boxes Sets Coming
The music of country music's most beloved couple will be celebrated with a pair of upcoming Columbia/Legacy multi-disc sets. Due June 7, "Johnny Cash - The Legend" and June Carter Cash's "Keep on the Sunny Side - Her Life In Music" will blend well-known and rare tracks in deluxe packages boasting extensive liner notes and vintage photography.
"The Legend" will span four discs and 107 Cash tracks, covering 1955-2002 and all of the Man in Black's major recordings for the Sun and Columbia labels. Seven of the included tracks are previously unreleased, including "It Takes One To Know Me." That track was written by his wife's daughter, Carlene Carter, as a teenager, and recorded in 1977. Carter recently added vocals to the recording that appears here.
The other unreleased tracks are "Doin' My Time," "I'm Never Gonna Roam Again," "When I'm Gray," a demo version of "Down In the Valley" and a version of Billy Joe Shaver's "You Can't Beat Jesus Christ" that all date to the early 1980s, and a 1973 recording of "I've Been Working On the Railroad"
A limited-edition package will include a hardcover coffee table book, a bonus CD recording of Cash's first radio appearance in 1955 and a DVD featuring the 1980 CBS television special "Johnny Cash - The First 25 Years."
The two-disc "Keep On the Sunny Side" examines the 64-year career of his wife, a member of the seminal Carter Family and a spirited and soulful songwriter and performer in her own right. The set boasts 40 songs culled from such labels as Arhoolie, RCA, Dualtone and Columbia. - Barry A. Jeckell, NY


---


Goldie Hill, Dead at 72
A long-time member of the Grand Ole Opry has died. Goldie Hill died Thursday, February 24th night at Baptist Hospital of Cancer, Nashville. Goldie was 72 years old. She began singing in her teens with her brothers in Texas then joined Webb Pierce's band in the 50's. Once she arrived in Nashville, she was dubbed "The Golden Hillbilly." Her biggest hit came in 1953 with "I Let The Stars Get in My Eyes." She retired from performing after marrying fellow Opry Member Carl Smith in the late 50's.

REMEMBERING GOLDIE HILL
(Biography by Al Campbell) - Country singer Goldie Hill, younger sister of Tommy Hill, was born in 1933 in Karnes County, TX. Music played a huge part in the Hill family. The radio was one way to block out the daily backbreaking work of picking cotton. Goldie soaked up the popular country music of the era and developed a talent for singing. Early on, Goldie's older brothers Tommy and Ken left a life of cotton picking determined to make a name for themselves in country music. Within a few years, they were backing up Hank Williams, Johnny Horton, and Webb Pierce. Sister Goldie officially got her start on the Louisiana Hayride in 1953 as part of Tommy's band. Billed as "the Golden Hillbilly," she scored a number one hit in 1953 with her second single, "I Let the Stars Get in My Eyes," originally written by Tommy for Kitty Wells. Among her other charting tunes were several duets with either Ernest Tubb's son Justin Tubb or Red Sovine, including the big hit "Yankee Go Home." In 1957 she married country singer Carl Smith following his divorce from June Carter. In the late '60s she made a short-lived comeback as Goldie Hill Smith, without much fanfare. Following Carl Smith's retirement from music in the late '70s, he and Goldie lived on their horse farm outside of Franklin, TN, and the two began to show horses professionally during the course of the decade.


---


Jerry Lee Tearing It Up With Legends
Jerry Lee Lewis has drafted some of the biggest names in rock for his first new studio album since 1995. According to his manager Jimmy Ripp, the as-yet-untitled set will feature B.B. King, Bruce Springsteen, the Rolling Stones' Mick Jagger and Keith Richards, Neil Young, Toby Keith, Robbie Robertson, Kid Rock, Rod Stewart, Eric Clapton, Little Richard, Buddy Guy, Don Henley and Kris Kristofferson.
"It was 20 of the easiest phone calls I ever had to make," Ripp tells Billboard. "Everyone wanted to play with the Killer." The set is expected to be released in late May or early June via DreamWorks Nashville.
Lewis' last studio album was 1995's "Young Blood" for Sire, which failed to reach The Billboard 200. The 69-year-old artist, who recently earned a Lifetime Achievement award at the Grammys, has three shows on his schedule at present: April 11 in Green Bay, Wis., April 30 at Memphis' Beale Street Music Festival and May 6 in Lancaster, Pa.


---


Sandra Dee Dies
Feb. 20, 2005 - There's sad news in the entertainment world. Sandra Dee, who won fame from her role as the original "Gidget" has died in Thousand Oaks at the age of 62. She had been suffering from kidney disease and was on dialysis for four years. Her son says she ended up at Los Robles Medical Center for two weeks. She lost her battle Sunday morning. Dee, who married pop singer Bobby Darrin, became a teen idol in the 1950s and 1960s. The two divorced but starred in a number of films together.


---


Mando & The Chili Peppers at Ponderosa Stomp
San Antonio Band from 1950s Helped Pioneer Tex-Mex Rock'n'Roll and Pachuco Soul... Billy Gibbons from ZZ Top Among Fans - If the name of the rock band Mando & the Chili Peppers doesn't evoke the immediate glint of recognition of, say, the Red Hot Chili Peppers, join the club. They haven't played a gig since 1959. That would exclude most us reading (or even writing) this press release.
This seminal Texas rock'n'roll band has chosen the occasion of the globally acclaimed roots music romp Ponderosa Stomp in which to reunite and show the world they can still rock ­ after more than 40 years off stage! Ponderosa Stomp is held on Tuesday & Wednesday, April 26 & 27, at Mid City Rock'n' Bowl in New Orleans, and will feature a host of blues, soul, garage rock, rockabilly, trad country, Zydeco and swamp pop originators. Details and tickets may be found at http://www.ponderosastomp.com.
Mando & the Chili Peppers have likely inspired more fantasy and fancy than anyone else in the hallowed halls where Ponderosa Stomp's Mystic Knights of the Mau-Mau dream up their doings. They've topped the wish list from day one; their shrine is bowed to daily in the Knights' Hall Of Fame; toasts are often seen raised to the glory of their sole long player, 1957's On The Road With Rock 'n' Roll. So the very idea that they're confirmed to play the 2005 Ponderosa Stomp is at once unbelievable and at the same time just as it should be.
If you're wondering what all the fuss is about, take into account that Mando & the Chili Peppers are no ordinary band. In fact, at times their very existence has seemed almost too good to be true. The aural evidence suggests a group of swamp pop fanatics (who also have a particular affinity for jazz, country & western and Little Richard) raised in a border town barrio recording at Cosimo's studio in New Orleans ­ with Crescent City session cats sitting in. And where did they disappear to after churning out that one great long player of the ages? Rumors that some of the band moved to Chicago and worked with Eddy Clearwater seemed at once too good to be true and yet...well, but of course!!
Led by one Armando Almendarez, nee Mando, the Chili Peppers originally came to life as San Antonio Alegre before changing their name to the slicker Mando & the Latineers. Texas guitarist Randy Garibay recalled the band's glorious beginnings for an article in the San Antonio Express News: "I'd go to these house parties with my brother and this guy Armando Almendarez and San Antonio Alegre would be playing. They'd do the standard polkas and boleros and then, all of a sudden, with Mando playing accordion, they'd break into 'Lucille' or 'Just Because' by Lloyd Price. It was amazing. That's when I first heard rock 'n' roll."
Inspired by Little Richard, Fats Domino, Gatemouth Brown and Clifton Chenier, when Mando began wielding his accordion for San Antonio's Rio Records in the mid-'50s, he blazed through breakneck renditions of Chenier's "Boppin' The Rock" and Chuck Berry's "Maybelline" alongside the usual crudely-recorded conjutos that the label specialized in. When Mando swapped his squeezebox for an electric bass and boyhood pal Jesse "Chucho" Perales traded his bajo sexto for an electric guitar, the Latineers were born.
By 1956, they had their own TV show on San Antonio's KCOR-TV appropriately titled "Rock 'n' Roll" and were the proud owners of a black Packard limousine which took them to engagements in Vegas and Denver, where Golden Crest Records boss man Clark Galehouse staggered upon one of their red hot stage performances in the middle of a snow storm. If the liner notes to On The Road With Rock 'n' Roll are to be believed, Galehouse, a Long Island plastics manufacturer who dabbled in big band recordings, was only in Denver due to the blizzard that had grounded his plane en route to a music convention in Idaho. Galehouse changed their name to the Chili Peppers and released their first single, a swampy, Fats Domino-esque treatment of the 1939 standard "South Of The Border" backed with the bayou-meets-barrio rocker "Don't Say Goodnight."
The results were magical. The band's insistent, triplet-infused back beat coupled with Mando's lilting, laid-back Tex-Mex vocalizing made "South Of The Border" the absolutely definitive rendition of an already great song, and it became a hit along the Gulf Coast, particularly in New Orleans. They followed it up was the frantic mambo-charged "I Love To Eat Chili in Chile," which sounded like Perez Prado cutting loose with a Crescent City R&B band.
On The Road With Rock 'n' Roll was a bold step for Galehouse, as LPs were a rare commodity for rock 'n' roll bands in 1957 (two years later, he'd roll out the red carpet for Tacoma, Washington's similarly rocking Fabulous Wailers, whose stunning debut LP was unleashed in 1959), but the album stands as one of the best ever, genres be damned. Not long after its release, the Chili Peppers drifted into rock 'n' roll's bottomless underground. By the time Ace Records reissued On The Road With Rock 'n' Roll in 1998 ­ with liner notes by Mando fan Billy Gibbons of ZZ Top - the members' whereabouts were completely unknown.
Seven years of detective work later, the Tex-Mex rock 'n' roll pioneers are set to play their first gig in over 40 years - at Ponderosa Stomp.
And Mando & the Chili Peppers are merely only one such story in the naked city. Ponderosa Stomp 2005 will also feature (in alphabetical order) The Bad Roads, Classie Ballou, Archie Bell, Eddie Bo, Blowfly, Lonnie Brooks as Guitar Junior, The Carter Brothers, Jay Chevalier, Joe Clay, Eddy Clearwater, Larry De Riuex, Deke Dickerson & the Eccofonics, Skip Easterling, Nokie Edwards (of the Ventures), Johnny Farina (of Santo & Johnny), H Bomb Ferguson, Henry Gray, Betty Harris, Dale Hawkins, Roy Head, Al Johnson, Johnny Jones, Little Freddy King, Eddie Kirkland, Lady Bo, Lazy Lester, Robert Jr. Lockwood, Matt Lucas, Barbara Lynn, Nathaniel Mayer, Scotty Moore, Phil Phillips, Freddie Roulette, Lil' Buck Senegal & the Top Cats with Stanley "Buckwheat Zydeco" Dural on Hammond B3 organ, Ray Sharpe, Warren Storm, Willie Tee, Travis Wammack, Barrence Whitfield (doubling as performer and emcee), Brenton Wood and Link Wray. (Individual artist bios are posted at http://www.knights-maumau.com/stomp_4.php)
For more information on Ponderosa Stomp, please contact conqueroo: Cary Baker (818) 501-2001 - cary@conqueroo.com


---
Merle Kilgore Dead at Age 70
The distinctive voice of Merle Kilgore, one of the most significant songwriters and entertainers in American musical history was forever silenced February 6, 2005. He died from congestive heart failure onset from medical complications related to ongoing treatment for cancer over the last few months. He passed away in a hospital in Mexico seeking alternative ways to fight the cancer.
He is survived by his wife, Judy, sons Steve and Duane Kilgore, daughters, Pam Compton, Kim Pomeroy, and Shane McBee, 8 grandchildren and 1 great granddaughter.
Born Wyatt Merle Kilgore on August 9, 1934, in Chickasha, Oklahoma - Kilgore spent much of his growing up years in Shreveport, Louisiana. As a boy of 14, Merle cut his teeth in the music industry carrying the guitar of Hank Williams Sr. to and from the stage of the historic Louisiana Hayride. Who could have known that as an adult, Merle would devote much of his career to carrying the name, the legacy, and musical heritage of the Williams family to new audiences, new heights, and virtually every great stage in country music and beyond as the manager of Hank Williams Sr.'s pride and 'Bocephus' -- Hank Williams Jr.
And never has the word ;manager' covered a broader definition. When Buddy Lee and Hank's Jr.'s mother, the late Audrey Williams, put Merle on the bill and on the road with Jr. in the '60's there was a method to their plan. The teenage Hank Jr. was growing up in a tough industry without the benefit of his legendary father. In stepped Merle Kilgore's handsome young entertainer, fifteen years older than Hank, who had already written a #1 hit for Webb Pierce, 'More And More,' and followed it with monster hits including 'Wolverton Mountain,' a 10 million seller for Claude King, and 'Ring Of Fire,' written with June Carter Cash, recorded by Johnny Cash and on its way to selling 16 million records for Johnny, June and Merle.
Few artists on the day wanted to share a stage with Merle Kilgore - even fewer wanted to follow him on stage. Merle simply stole the show on whatever stage you placed him. With his off the wall humor, string of hit songs, and glitzy brand of showmanship, rare that an artist of Merle Kilgore's caliber would take a step back from the spotlight to consider his touring partner - the teenage Hank Jr. - on his way to carving a legendary career of his own. Maybe it was a duty Merle felt to Hank Sr. ... and maybe it was just the stuff legend is made of - but to say theirs was to become a friendship and a working relationship built on mutual respect - and yes - love-would be the true definition. Somewhere on some stage, in some forgotten town long ago Merle Kilgore and Hank Jr. crossed the invisible line to form a bond 'of the road' - and became the kind of brothers and 'family' that only those in the entertainment industry can fully appreciate and understand.
Reached by phone with the news of the passing of his long time friend and manager, Hank Williams Jr. was unable to make a formal statement at this time.
Greg Oswald, Sr. Vice-President at William Morris, and responsible agent for Hank Williams jr. was a long time friend of Merle's and in constant communication with him throughout his illness. 'When my brother called me just a few hours ago with the news, my immediate thought was that only six short weeks ago I lost my mother - and the pain was equally as sharp when that news came across the phone line tonight about Merle. He was family not only to Hank, but to me and to so many in the industry. We have suffered the loss of a truly unique and great man in the country music community of the caliber we'll never again see in our lifetime within the industry.'
Merle Kilgore's management of Hank Williams Jr.'s career brought him accolades along the corridors of Music Row - including CMA 'Manager Of The Year.' He served on the CMA Board Of Directors, was elected Vice President of CMA, as well as President of both the Nashville Songwriter's Association International and the Nashville Songwriter's Foundation. He served two terms as President of ROPE. Merle became an Honorary State Senator in the State of Tennessee, was inducted into the Louisiana Hall of Fame, and even made the hall of fame in his old high school alma mater - Byrd High-- back in Shreveport. Senator Kilgore has had an illustrious life - from double dating with pal Elvis Presley to acting roles in seven movie productions.
Through it all, Merle continued not only to be one of the country music industry's most successful personal managers - but an artist in his own right. His acting roles, accolades as a performer, and songbook as a multi-million selling writer would take volumes to record.
Merle Kilgore was a friend to all within the sound of his voice and he continued throughout life to encourage those within the family of Country Music to love what they did. His legacy will continue with the legions of friends and fans around the world who will insure Merle Kilgore's legend will forever remain among those of the true giants in the music industry.
Photo: Barbara Dunn King - Ekingehk@cs.com


---


Bo Diddley's European Dates Announced
Fans living in Europe may be interested to know that BO DIDDLEY and The Debby Hastings Band have announced the following 50th anniversary tour dates for the month of April:
Sunday 17th - The Forum, 9-17 Highgate Road, Kentish Town, London, England
Monday 18th - Vicar Street, 58-59 Thomas Street, Dublin, Ireland
Thursday 21st - Lucerna, Lucerna Building, Prague, Czech Republic
Saturday 23rd - Podium, Jan Weitkamplaan 14, Hardenberg, The Netherlands
Sunday 24th - L'Olympia, 28 Boulevard des Capucines, Paris, France
Tuesday 26th - Dom Sportova, Trg Sportova 11, Zagreb, Croatia
Wednesday 27th - Hala Tivoli, Celovska Cesta 25, Ljubljana, Slovenia
UPDATE: BO DIDDLEY and The Debby Hastings Band are now set to headline the opening evening of the 19th annual April Jazz Espoo International Jazz Festival in Tapiola, Espoo, Finland. The 6-day festival, which this year runs from Tuesday April 19th thru Sunday April 24th inclusive, is one of the highlights of the Northern European jazz festival year. BO DIDDLEY's performance will be staged in the festival's E.ON Jazz Marquee, a venue designed specifically for family audiences. Further details can be obtained by visiting the April Jazz Espoo website, at http://www.apriljazz.fi/
For all the latest information regarding BO DIDDLEY's 50th anniversary tour dates this year, along with a look back at what was happening month by month 50 years ago in 1955, please check out the Forthcoming Appearances page of the BO DIDDLEY-The Originator website located at http://members.tripod.com/~Originator_2/dates.html


---
The Di Maggio Connection
Releases "The Wildest Game"
This new CD, issued under the auspices of the Rockabilly Hall of Fame®, contains almost all original compositions penned by Marco Di Maggio, Francesco Chisci, Volker Houghton. A videoclip with the song "Don't Let Me Be Misunderstood" Rockabilly version, with special guest, Claudio Gregori, aka Greg, well known Italian TV act. The style is a mix of Neobilly, Twang, Surf, Rock'n'Roll. It could be considered as a cocktail of Cramps, Setzer, Heat, in some few words ... Di Maggio style. The CD is for sale now: 15 Euros plus shipping. Send e-mail with request to: Marcodimaggio@libero.it or marco@marcodimaggio.com. For payments with credit cards: areapirata@areapirata.com or apirata@tiscali.it. "The Wildest Game" CD will available at the Rockabilly Hall of Fame® vendor table, at the upcoming Green Bay Rockin' '50s Fest in April.
TRACK LISTING:
1. THE WILDEST GAME
2. EASY FOR YOU
3. WORN OUT LIFE
4. THE TOLL
5. MY F. ROCK'N'ROLL
6. NIGHTMARE
7. KILLING ROCK
8. GOODY TWO SHOES
9. DON'T LET ME BE MISUNDERSTOOD
10. THE TICKET
11. SONGBOOK PREACHERS
12. HILLBILLY HURRICANE
13. SUPERSONIC STUFF
14. EVERY BREATH YOU TAKE
15. DANCE AROUND MY HEART
16. SURF ATTACK/DI MAGGIO THEME
Marco Di Maggio
V. Vittorio Emanuele, 11
50134 Firenze Italia
Phone & Fax: +39 (0)55 482245
Cell. +39 333 2219539
E-Mail: marcodimaggio@libero.it
http://www.marcodimaggio.com Italy
  www.rockabillyhall.com/marcodimag.html Usa








R.I.P.: Two Original Members of Doo-Wop Groups
DAVID LERCHEY, a founding member of one of the first integrated rock and roll acts, the Del Vikings, died January 29, 2005, his family said. He was 67.
Lerchey suffered from cancer and pulmonary problems and died at a veterans hospital, said his wife, Linda Lerchey.
The Del Vikings were formed by five airmen in 1955 at an Air Force Base in Pittsburgh, said Harvey Robbins, founder of the Doo-Wopp Hall of Fame of America. Three members were black, and Lerchey was one of the two white members. In 1957, the Del Vikings enjoyed two top ten hits, "Come Go With Me" and "Whispering Bells," and a third hit, "Cool Shake," that reached #12 on the Billboard pop charts.

RAY POLLARD, known to R&B fans for his work with the Wanderers, succumbed cancer late in January 2005. A Korean War veteran, Ray Pollard (born August 25, 1930) joined forces with Frank Joyner, Robert Yarborough, and Sheppard Grant to form the Wanderers in Harlem, NY in 1953. They began their career recording for Savoy and Decca (where they were billed as the Singing Wanderers on the collector's favorite, "The Wrong Party Again" in 1954).
Between 1957 and 1963, the quartet recorded a string of pleasing vocal harmony sides with Pollard singing lead. Their records, for labels including Onyx, Cub, M-G-M, Orbit, and United Artists, included "Waiting In Green Pastures", "I'll Never Smile Again", "For Your Love", and "My Shining Hour". Pollard and the Wanderers appeared in the 1955 film, "Rockin' The Blues" with the Harptones and the Hurricanes.
Pollard moved to Las Vegas in the late 1990s and had been suffering from cancer for some time. His cousin, Pat Covington, reported that Ray died in Las Vegas on Wednesday, January 26, 2005, at the age of 74. He will be buried in Nevada on February 1.


---

New Louisiana Hayride Book:
"Radio and Roots Music Along the Red River"
Overshadowed by its Nashville counterpart and mostly forgotten today, KWKH's "Louisiana Hayride" remains a critical part of country music's history.
The large brick building at 705 Elvis Presley Avenue might not look like much at first glance, but between 1948 and 1960, Shreveport's Municipal Auditorium was known to radio listeners worldwide as the home of the "Cradle of the Stars." From the auditorium's stage, KWKH-AM broadcast "The Louisiana Hayride," a weekly Saturday night showcase of comedy routines, advertisements, gospel tunes, and - most importantly - country and western songs. The roster of legendary "Hayride" acts reads like a virtual who's who of classic country artists: Hank Williams, Red Sovine, Slim Whitman, Leon Payne, Webb Pierce, Jimmy C. Newman, Johnny Cash, George Jones, Johnny Horton, Jim Reeves, Kitty Wells, Johnnie and Jack, Floyd Cramer, The Browns, Faron Young and Elvis Presley. During its twelve year run, the "Hayride" was beamed from KWKH's powerful 50-kilowatt tower to twenty-eight states. The CBS Radio Network picked up the show as part of its "Saturday Night, Country Style" and was heard around the globe on the Far East Network of the Armed Forces Radio Service. Yet, despite the caliber of its performers and the size of its audience, the "Hayride" could never escape the shadow of the slicker, more tradition bound "Grand Ole Opry." Since its final broadcast, the "Hayride" has been relegated to little more than a footnote to all but the most die-hard music critic and country music fan.
LOUISIANA HAYRIDE: Radio and Roots Music Along the Red River (Oxford University Press; ISBN: 0-19-516751-1; $29.95; December 2004) by Tracey E.W. Laird pays long overdue tribute to one of the most important regional radio shows in popular music. Not only did the "Hayride" kick off the careers of country music's most honored luminaries, its embrace of untested styles and performers set it apart from the more revered "Opry." By allowing rockabilly newcomers like Elvis Presley to take the same stage as beloved country and western artists like Hank Williams, the "Hayride" boasts the singular distinction of launching both modern country and rock and roll.
LOUISIANA HAYRIDE is also the story of northwest Louisiana's unique social, cultural and historical musical background. Laird takes readers on an immersive journey into Shreveport's early lawless river town days and explores the impact nineteenth-century music, the phonograph, the rise of radio, ad regional native sons like Huddle "Leadbelly" Ledbetter and Jimmie Davis all had on the music and the musicians that would come to prominence on the "Louisiana Hayride." Rich in historical detail, LOUISIANA HAYRIDE, is certain appeal to roots music fans, lovers of country music, and anyone eager to learn more about American music.
About the Author: Tracey E.W. Laird is an Assistant Professor of Music at Agnes Scott College in Decatur, GA. She is a native of the Hayride's hometown of Shreveport, LA.
LOUISIANA HAYRIDE
Radio and Roots Music Along the Red River
By Tracey E.W. Laird
ISBN: 0-19-516751-1
Oxford University Press
198 pages
Availble Now
$29.95
Book Review to come


---


DVD of The Blasters Final Show
DTS Entertainment announced a January 25 street date for The Blasters' "Live: Going Home," the surround record of the final show of the group's long-awaited reunion tour.
Hailing from Downey, California, The Blasters combine rockabilly, blues, country, cajun, rock'n'roll and even jazz into a vibrant explosion of great roots music. "Live: Going Home" features the original line-up of American roots rock legends, including Phil Alvin, Dave Alvin, Bill Bateman, John Bazz and Gene Taylor. On that hot August night in 2003, they were also joined by special guests Billy Boy Arnold, Sonny Burgess and members of The Calvanes and the Medallions. This special mix in 5.1-channel DTS Digital Surround features favorites performed live for the last time, including "American Music," "Border Radio" and "Marie Marie."
This surround music disc was mixed by the renowned engineer Mark Linnett, who was previously responsible for the Beach Boys' classic "Pet Sounds" surround disc, as well as stereo albums by Jimi Hendrix, Average White Band, as well as several of Dave Alvin's solo albums including the Grammy-winning "Public Domain." Most recently, he was nominated for a Best Engineering Grammy for his work on "Brian Wilson Presents Smile."
"The Live: Going Home" DVD includes extra features such as: Five bonus tracks and an On-screen photo gallery.


---


More Elvis Coming in May
ELVIS BY THE PRESLEYS, a new entertainment special that will feature a collection of new, intimate interviews with his former wife, Priscilla Beaulieu Presley, and their daughter, Lisa Marie Presley, will be broadcast Friday, May 13 (8:00-10:00 PM, ET/PT) on the CBS Television Network. Exclusive never-before-seen television performances, photographs from the Presley Estate archives and Presley family home movies will be broadcast for the first time.
CBS, SONY BMG, Crown Publishers and the Elvis Presley Estate unite in a multi-tiered effort to celebrate the life and legacy of Elvis Presley with the television special, a mini-series, a commemorative two CD set and a lavish book all coming in the month of May.
In the special, Priscilla and Lisa Marie speak with unguarded candor about their lives with the legendary Elvis Presley and offer an intimate look at their family and private life. Rare interviews with Elvis' first cousin, Patsy Presley Geranen, and Priscilla's parents, Ann and Paul Beaulieu, are also featured.
Vintage, never-before-seen performance footage will be interwoven with photographs from the Presley Estate archives and press coverage of Elvis over the years. Private home movies of the Presley family illustrate and illuminate his story with vivid detail, honest insight and great warmth. Different aspects of Elvis' life, including his tours, his time in Hollywood and his home life, are depicted with the insight that only his family can bring. His career ups and downs, his kindness and generosity and his human frailties are all brought to light as well as a reflection on his place in entertainment history and his enduring legacy.
Timed to the special, SONY BMG Strategic Marketing Group will release a two CD soundtrack collection in May. The soundtrack will include tracks from the special, Elvis' favorites and family picks by Priscilla and Lisa Marie as well as rare, previously unreleased cuts and outtakes.
Crown Publishers, a division of Random House, Inc., will publish a book, also titled Elvis by the Presleys. Along with interviews with Priscilla and Lisa Marie, taken from the CBS special, the book will include a lavish collection of personal photos, memorabilia, handwritten notes, selections from scrapbooks and previously unseen shots of Graceland from the Elvis archives. It will be in stores on May 3.
Also on CBS in May is ELVIS, the previously announced new four-hour mini-series starring Jonathan Rhys Meyers in the title role which will be broadcast Sunday, May 8 (9:00-11:00 PM, ET/PT) and Wednesday, May 11 (8:00-10:00 PM, ET/PT). The fact-based drama, about the life of Elvis Presley, is being produced with the full cooperation and participation of the Elvis Presley Estate. His electrifying yet tumultuous story -- from his humble beginnings to his meteoric rise to fame -- will be told and Presley's master recordings will be heard in a biographical film for the first time.


---


Travis LeDoyt TN Show and Update
Nashville, TN - Travis LeDoyt, who has been called "the World's Best Young Elvis," will be appearing February 12 at the Palace Theater in Crossville, TN for two shows at 6 pm and 8 pm. Titled a "Valentine Weekend With The King" LeDoyt will be performing the love songs of Elvis Presley along with the King's other great hits from the 50s. Tickets are $10 in advance and $12 at the door and will go on sale at the Palace box office in Crossville on January 24.
LeDoyt has been selling out shows and receiving accolades from audiences from all across the United States and recently returned from China where he received an overwhelming response at two shows there. He was a hit at Busch Gardens in Tampa where he performed for nearly 100,000 people over a 6 week period during the summer of 2004.
In addition to his recent performances in China, LeDoyt has been experiencing great success over the past year with capacity crowds in Las Vegas and Reno Nevada, Alabama, Arizona, Florida, Indiana, Iowa, Kansas, Kentucky, Louisiana, Massachusetts, Michigan, Minnesota, Mississippi, North Carolina, North Dakota, Ohio, Oklahoma, Tennessee, Texas, Vermont and Wisconsin. He has also performed in Chile and Canada.
To those people who think they have seen it all when it comes to Elvis tribute acts, this is the one that makes them do a double-take. There is simply no way to describe LeDoyt and his performance except unbelievable.
LeDoyt, who is based in Nashville, flawlessly captures the essence of Elvis in his prime, and restricts his shows to the hits and ambience of 1954-1960. Utilizing an authentic three-piece Nashville band featuring bass, guitar, and drums, LeDoyt takes his audience back to a genuine 1950's concert. For those who missed an Elvis concert during those years, it is a chance to relive that exciting era. For interviews, please contact Dick McVey in Nashville at 615-264-3637. For bookings contact Steve Pritchard at Music City Artists in Nashville at 615-244-3132.
Here are some of the things people are saying about Travis LeDoyt
"The world's best young Elvis." Dave Elliott, WLOX-TV - Biloxi, MS.
"This is as close as you're going to get to seeing an Elvis Presley concert in the 50's" - D. J. Fontana (Elvis Presley's drummer in the 50's) after actually playing a show with Travis.
"I met Elvis Presley when he was a young man in the 50's and you are almost exactly like him." Little Richard following a show where Travis was the opening act.
"I met Elvis in the 50's and meeting Travis was like meeting Elvis all over again." Marshall Lytle - original bass player with Bill Haley's Comets.
"Travis was the surprise hit of our festival." - Elvis Presley Festival - Tupelo, MS.
"Our guests were amazed at the likeness of Travis to young Elvis Presley. His great looks and wonderful voice, along with a vibrant live show and Elvis-like stage presence, have made Travis a favorite among our customers (and those of our competitors)!" Pete Bonner, Senior Vice President & General Manager, Harrah's Tunica Casino & Hotel
"Travis show was much more than we expected. We will definitely have him back." Hard Rock Casino, Tampa, FL.
"Not only does LeDoyt look almost exactly like the twenty year old Elvis, he has the voice and stage style." Lee Cotton, Rock and Blues News magazine and author of "Did Elvis Play In Your Hometown Too."
"The guy is just amazing!" TV personality Charlie Chase after interviewing Travis and watching him perform.
"Travis LeDoyt's show will make you think you've gone back to 1956 and you're actually seeing Elvis." Henry Harrison, founder of International Rock-A-Billy Hall Of Fame and promoter of Rockabilly Fest in Jackson, TN.
"What's so unsettling is that he not only looks like Elvis, he naturally acts like him. If there is such a thing as 'channeling,' Travis is doing it." Jeannie Johnson - Nashville Newsletter - Nashville, TN.
"Unbelievable - Travis generated more response from our patrons than anyone we have had here." Dave Hilbert, Casino Magic - Bay St. Louis, MS.
"His performance was phenomenal - we'll definitely have him back." - Trela Wilson, Isle Of Capri Casino, Bossier City, LA.
"He looks more like the early Elvis than anyone I've ever seen!" - Bill Griggs - Rockin' 50's Magazine - Lubbock, TX.
"Of all the people I've seen do Elvis material, this boy is more like him then anybody!" - W. S. Holland - Drummer for Johnny Cash.
All Star Publicity, 9 Music Square South, PMB 177, Nashville, TN 37203. Phone: 615-264-3637 - Email: dickmcvey@comcast.net