"That's News to Me" - Archive #11
Back to the Current That's News to Me" Page
A Mix of Music Related Text and Photos That You May Find Interesting






Bobby Sowell to Judge in the Mid-South Fair
August 2, 2003 - NEWS UPDATE - (Memphis, TN) Bobby has gracefully excepted an Invitation by the Mid-South Fair to be on this year's 2003 Youth Talent judge's panel. (Sept. 19th thru Sept. 26th) This Youth Talent Contest is the largest amateur contest in the world and has been inviting youth talent for the last 51 years. Bobby won it when he was 18 years old. The contestants are invited from many preliminaries from a 7 state area during the calendar year. One of the Semi-Finalists last year is now on American Juniors (the younger version of American Idol on Fox TV) and doing well. Her name is Lucy Hale and she has made it to the Final 10 on that program. Bobby and the rest of the Judges will see between 650-700 acts crossing the stage during this time frame before they decide which act will progress to be the Grand Award Winner. The program's sole purpose is the discovery, development and encouragement of young entertainers in a positive, family-oriented forum. Contestants are offered the chance to compete for over $25,000 in cash and prizes as well as $10,000 in scholarships and National Network TV appearances. Bobby says, "I appreciate the Invitation and consider it an honor and my way of giving it back, It will help my career, pride and ego as well as my reputation knowing I may have a small part in someone's future music endeavors and for that I am grateful." Who knows where it may lead? Bobby could be the next "Simon"! Only not with such frankness but a much cooler and gentler fellow. Come out and watch all the new and young talent, perhaps even the next 'American Idol'?


---


International Songwriting Competition Now Accepting Entries
The International Songwriting Competition is accepting entries until September 15, 2003. ISC prizes include $100,000 in cash and merchandise, a total of 13 categories, and 68 winners. ISC is an excellent opportunity for amateur and professional songwriters to gain valuable exposure and win great prizes. ISC's judges are the most prestigious and influential in any songwriting competition and include:
Monte Lipman (President, Universal Records), Arif Mardin (VP/GM, Manhattan Records), Bruce Lundvall (CEO/President, Capitol Records Jazz/Classics), Rob Thomas (Matchbox 20), B.B. King, Vanessa Carlton, *NSYNC (Teen Category Only), BeBe Winans, Dan Haseltine (Jars Of Clay), Pat Metheny, Paul Oakenfold, Raine Maida (Our Lady Peace), Phil Vassar, Guru (Gang Starr), Frank Callari (Sr. VP A&R/Artist Development, Lost Highway Records), Tina Davis (Sr. VP A&R, Def Jam/Def Soul), Nile Rodgers (Performer/Producer), Rose Noone (Sr. VP A&R, Epic Records), Jimmy Bralower (VP A&R, Atlantic Records), Kim Stephens (VP A&R/Promotion, Lava Records), Tara Griggs-Magee (Sr. VP/GM, Verity Records), Robert Beeson (President, Essential Records), Errol Kolosine (GM, Astralwerks Records) and Michael Gudinski (Chairman, Mushroom Group of Companies).
The ISC categories are: Pop/Top 40, Rock, AAA/Roots/Americana, Country, R&B/Hip-Hop, Blues, Folk/Singer-Songwriter, Jazz, Dance/Electronica, World Music, Gospel/Christian, Lyrics Only and Teen.
Winners will also benefit from a multilateral promotional campaign designed to give international exposure and attention to their songwriting achievements; and will be included on the ISC Compilation CD distributed to music industry professionals including publishers, A&R representatives, and media.
For more information on the contest, an entry form, or to enter online, please visit http://www.songwritingcompetition.com. Entries must be postmarked on or before September 15, 2003.
ISC is proudly sponsored by: Xytar Digital Systems, Epiphone Guitars, Berklee College Of Music, Cakewalk, Sam Ash Music Stores, Disc Makers, Sonicbids, Primera Technology Inc., L.R. Baggs, Berkleemusic.com, Mp3.com, Live365.com, FYE, The Orchard, Sennheiser, Alphabet Arm Design, Planetary Group, iRiver, Ernie Ball, and M Works.


---


First Rock Song! What's Your Take?
The following is from the book: "WHAT WAS THE FIRST ROCK 'N' ROLL RECORD?" by Jim Dawson & Steve Propes, by Faber & Faber, provides their following list of candidates:

1 Jazz at the Philharmonic: Blues, Part 2 (1944)
2 Joe Liggins: The Honeydripper (1945)
3 Helen Humes: Be-Baba-Leba (1945)
4 Freddie Slack : House Of Blue Lights (1946)
5 Big Boy Crudup: That's All Right (1946)
6 Jack McVea: Open The Door, Richard (1946)
7 Lonnie Johnson: Tomorrow Night (1948)
8 Wynonie Harris: Good Rockin' Tonight (1948)
9 Bill Monroe: We're Gonna Rock, We're Gonna Roll (1948)
10 Orioles: It's Too Soon To Know (1948)
11 John Lee Hooker: Boogie Chillen (1948)
12 Arthur Smith and the Crackerjacks: Guitar Boogie (1948)
13 Stick McGhee: Drinkin' Wine Spo-Dee-O-Dee (1949)
14 Jimmy Preston: Rock The Joint (1949)
15 Louis Jordan: Saturday Night Fish Fry (1949)
16 Professor Longhair: Mardi Gras In New Orleans (1949)
17 Fats Domino: The Fat Man (1950)
18 Muddy Waters: Rollin' and Tumblin' (1950)
19 Hardrock Gunter: Birmingham Bounce (1950)
20 Hank Snow: I'm Movin' On (1950)
21 Ruth Brown: Teardrops From My Eyes (1950)
22 Arkie Shibley: Hot Rod Race (1950)
23 Les Paul and Mary Ford: How High The Moon (1951)
24 Jackie Brenston with His Delta Cats: Rocket 88 (1951)
25 Dominoes: Sixty Minute Man (1951)
26 Johnnie Ray with the Four Lads: Cry (1951)
›››››› 27 Clovers: One Mint Julep (1952)
28 Bill Haley and the Saddlemen: Rock The Joint (1952)
29 Dominoes: Have Mercy Baby (1952)
30 Lloyd Price: Lawdy Miss Clawdy (1952)
31 Hank Williams: Kaw-Liga (1953)
32 Willie Mae "Big Mama" Thorton: Hound Dog (1953)
33 Big Joe Turner: Honey Hush (1953)
34 Clyde McPhatter and the Drifters: Money Honey (1953)
35 Crows: Gee (1953)
36 Big Joe Turner: Shake, Rattle, and Roll (1954)
37 Royals/Midnighters: Work With Me, Annie (1954)
38 Chords: Sh-Boom (1954)
39 Bill Haley and His Comets: (Were Going To)Rock Around› The Clock) (1954)
40 Robins: Riot In Cell Block #9 (1954)
41 Elvis Presley, Scotty and Bill: That's All Right (1954)
42 Penguins: Earth Angel (Will You Be Mine) (1954)
43 LaVern Baker and the Gliders: Tweedle Dee (1954)
44 Johnny Ace: Pledging My Love (1954)
45 Ray Charles: I've Got A Woman (1954)
46 Bo Diddley: Bo Diddley (1955)
47 Chuck Berry: Maybellene (1955)
48 Little Richard: Tutti Frutti (1955)
49 Carl Perkins: Blue Suede Shoes (1956)
50 Elvis Presley: Heartbreak Hotel (1956)


---


Report on Americana 2003
UK - Well another great weekend over, this year's Americana was a virtual repeat of the '94 Americana, when we got lots of sunshine, thousands of visitors and multiples of thousands of American, classic, custom automobiles & motorcycles. Even the big-rigs turned out in force, what a sight for sore eyes they were, their show area also featured the stunning display of Harley show bikes (not forgetting the excellent Gold wings on show as well).
I recently received an email that was obviously from a trophy hunter, he was compaining about a non-US pick up winning an award. As I have not seen the list of winners, yet, I can't comment on who or what won any of the top awards. I will howver state that if all these kind of folks go to shows for, they must be a little bit sad, I have probably owned more American vehicles than most people have had hot dinners. Some of them have been real showstoppers, but I have never ever gone the route of attending shows just to win a trophy, I find it all very sad indeed, especially when its my own show that they are bleating about. As for trophys we spent over 1000 on them this year, courtesy of our new sponsor THE HARD ROCK CAFE, as far as I'm concerned if the judges (which I have no jurisdiction over) choose a certain model over another, that's their descision not mine, and I respect their choice.
On another note having attended many car shows in the USA and Germany/Belgium and witnessed numerous non-American vehicles on display.I honestly cannot see why some people here in the UK whinge about other vehicles that are not built in the USA attending and are put on display. I love American vehicles of all kinds but it doesn't stop me appreciating other makes of cars from different countries if they are modified from standard, they are all interesting no matter where they are manufactured. I actually prefer the customs and hot rods more than anything else as I can appreciate the hardwork and dedication that most of the owners put into them, that makes each one an individual. Sure its nice to win an award for the effort somebody puts into his/her vehicle, but surely its not the be all and end all for everybody. Your views on this aggrevating problem are most welcome.
Back to Americana, those who (and there were thousands of you) arrived on July 4th will know that the weather was a bit iffy, but we all managed to have a great time (as we always do). The firework display got off to a rather shaky start when the first ones to be lit, didn't come up with the goods, this was two rockets that shot a thousand feet into the air, then were supposed to have exploded and opened up into a big stars & stripes flag. Well thousands of us crained our knecks as we waited for this to happen. But it didn't, the explosion apparently destroyed the flag, reducing it to the size of a standard envelope, a hard thing to see at a thousand feet.
The indoor entertainment by TALON, ANGEL MONTGOMERY, THOMAS LAVELLE, TONI CATLIN and ALAN BECK & THE CRICKHITS was superb and everybody eventually went to bed at around 1:30am Friday morning. Friday dawned with the prospect of rain, by mid afternoon it was like a mini-monsoon so we had to abandon the main stage for the confines of the huge Lady Eastwood Pavilion ... Country Cattin' then restarted their set and continued to please the growing audience with a great set of hillbilly/rockabilly numbers.
Hi Voltage then took the stage for a superb set and won many new fans as did the young Landons (formerly Young Country) who can play just about any style of music, new, traditional etc, etc. Closing the afternoon shows in fine style. Further reports of the event can be found soon on this web site, or go to www.jan-stenson@countrymusic.co.uk for her interpretation on this year's show.
Many of you have asked about my Bev, well those who attended the show will no doubt know that she was there, on the main exhibitors/trade gate as usual. Not working like she normally does, but keeping her eye on our excellent staff, sorting out problems that her team leaders (Libby, Andrea, Steve etc) couldn't sort out. Suffice to say she was totally worn out by the experience, high as a kite on morphine she got through the ten days that we were on the showground without any problems. Drugs are strange things and she can't remember a lot of things that happened, so if any of you tried to talk to her and she seemed disinterested, she wasn't and she has asked me to 'thank you all' for being so supportive to us over the years, especially the last six months or so when we really needed our friends.
I am not going to go on about the artists who played the show, but will say that there were some standout ones from the USA and the UK that will amost defintely be back in the near future. PAUL OVERSTREET, BR549, LONNIE DONEGAN, MICHAEL BALLEW, GAIL DAVIES, JANIS MARTIN and T-REXTASY (not forgetting the mighty QUILL) are on course to return to Americana, maybe not 2003 but certainly 2004. God knows how many thousands were in the main stage arena, we have never seen it like that since '98 & '99.
The sun certainly brought out the day visitors looking out of my Silvereagle tour bus at the side of the stage was a mindblowing experience to see thousands of likeminded people having a ball. This shoots down the comments that have been made in a car club and a national car magazine that you don't want to be entertained, you just want to sit in a field and look at cars all day long. I know the people who are saying these things are definitely not on the same wavelength as we are. People vote by their feet and by God did you vote for Americana this year.
Thanks to each and everyone of you we can run again next year, if it had not have turned out right we were going to sell it and get out, with Bev being so ill it was a joint family decision. But you saved us and the Americana and we genuinely love you for being there for us, and a big thank you to all the car/bike/rv clubs and the numerous traders from the UK and Europe who attended. Our pledge to you is that we will do our very best to keep on making the show exceptional value for money for everybody. Apart from a slight increase on the 16-17 year olds entry fee we have kept next year's pre-booked fees the same as this years. Please remember that it saves money if you pre-book otherwise it will cost those who choose to pay on arrival ?5 more per person, so save money and book in early. We got our first two 2003 exhibitors bookings on Saturday how's that for dedication, Kevin & Stuart Bradley are on the ball even though the booking form had the non-exhibitors fees on it, they both still booked in. If any of you exhibitors picked up next year's forms, don't be put off by the larger entry fee, I made a mistake when we printed them off. The entry fees are ths same as this year's ... if in doubt give me a call anytime before 8pm weekdays and between 9-3pm Saturdays (no Sunday's thank you).
Hopefully we'll see some of you at some of the shows like Witton Castle for the Great North East C & W festival at the end of this July, 2003, 'The Dukes 92' at Castlefields Manchester (city centre) on August 11th an AACNW show. All American, rods and customs welcome. Sounds like a great day out with lots goping on for everybody. Also another AACNW show 'Detropit Day' at Gawsworth Hall Macclesfield Cheshire entry is ?4:50 per person and includes entry to the house, grounds and antique fair. Lazy Saturday & camping at the Harrington Arms (next door to the hall) For more information on these two new shows contact: Grahame Bedwell 0161 2371870 Jim Holland 01777 711587 Chris Bowden 0161 483 3420 they will fill you in on all the details. Incidentally if you want to join a really good friendly and very active club, you could do worse than than join the AAC North West..It's our personal favourite car club (we are in lots of them all of which are good in their own way, but none have the warmth and friendliness as the AACNW does).
Don't forget the brilliant HEMSBY ROCK'n'ROLL WEEKENDER in October, be there or be square check out their web site www.hemsbyrocknroll.co.uk and see who's on this great weekender. Whilst you are at it have a good look round the excellent Rockabilly Hall Of Fame site at www.rockabillyhall.com they also have a superb country web site as well.. On that note I'd like to thank the club especially Grahame & Jim for hosting the auto club arena activities etc at this year's Americana, a big improvement over past years by any milestone ... Jim Holland and his soon to be picked team will be performing the judging at next year's Americana, anybody who knows him will know that his knowledge of American cars is way out in front of moast people and can match my old pals Pete & Steve Tucker (AACUK's regular commentator and auto judges) anyday.
One final word we want you to tell us who you'd like to see as a headliner at next year's show, (no pop bands thank you) if we get enough requests for the same act we'll do our best to book them ... So start racking your brains it must be an act that has universal appeal, all the major acts booked for 2003 will be performing on the main stage irrespective of what style of music they play.. Happy cruising and keep on rocking, -Chris & Bev


---


DJ Pioneer 'Buddy' Deane Dies at 78
PINE BLUFF, Ark. - Winston J. "Buddy" Deane, a pioneer in his appreciation of rock 'n' roll, has died at the age of 78. Deane died Wednesday, July 16, 2003 of complications from a stroke that had left him unable to speak.
A broadcaster for more than 50 years, was among the disc jockeys in the 1950s who recognized the appeal of the emerging rock 'n' roll sound and began airing the music continuously, what was then a new format for radio. Later, he hosted a popular television teen-dance show in Baltimore from 1957 to 1964 that was the basis for John Waters ' movie "Hairspray." Deane had a bit part in the 1988 production.
Deane died at Jefferson Regional Medical Center, where he was hospitalized after a stroke July 6, his son-in-law Craig Eastham said. "Arkansas has lost a true treasure," Gov. Mike Huckabee said. "He was known nationally as one of the most innovative, successful disc jockeys of the 20th century, but his greatest legacy will be his untiring community service and love for his family."
Deane started his career at Little Rock radio station KXLR, moved to Memphis, Tenn., then to Baltimore, where he worked at WITH radio station and was one of the first disc jockeys in the area to regularly feature rock 'n' roll. In the late 1950s, Deane hosted "The Buddy Deane Show" on WJZ-TV in Baltimore that became the most popular local show in America. The show featured kids dancing to live rock-and-roll bands, most of which became major recording groups. It had the city's teens in its thrall for 2 1/2 hours a day, six days a week.
Bill Haley and The Comets made their premier performance of "Rock Around The Clock" on Deane's show, and Deane was named the No. 1 DJ in 1962 by Billboard magazine.
Waters' story, about an overweight girl who wants to become a regular on the thinly fictionalized "Corny Collins Show," makes one significant departure from the real TV show: Deane's show was not successfully integrated after a stirring civil-rights struggle. In Waters' movie, Deane appeared briefly as a reporter in a scene outside the governor's mansion as the chief executive is besieged by protesters demanding immediate integration.
Unlike the hard-line segregationists depicted in the movie, WJZ-TV's managers wanted the show to integrate. But white Baltimore wasn't ready.
"The management of the station did not realize that Baltimore was very much a Southern-oriented city," Deane said in a 2002 interview with The Associated Press. "They asked each kid (on the show's committee of regular dancers) what they thought about integration, and they said, 'Well, it's OK with me, but my folks won't be happy.' That was the general consensus." The show was canceled.
Deane returned to his home state of Arkansas and acquired KOTN-FM and KOTN-AM radio stations in Pine Bluff. His stations combined rock 'n' roll with an emphasis on local news and information. Deane dubbed himself "the morning mayor," joking with listeners that he ran the town from 6 a.m. to 9 a.m. until the city's real mayor took over. He expanded his radio ownership to other stations in Pine Bluff and Dumas.
Deane was born Aug. 2, 1924, in St. Charles. He was partners with his daughter, Dawn Deane, and her husband, Easthan, in Delta Radio Inc. He retired May 1, the day the business sold its remaining four radio stations " KOTN-AM, KCLA-AM, KZYP-FM and KPBQ-FM " to M.R.S. Ventures of Tyler, Texas. (Courtesy: AP)


---


Legendary Rockers to Perform at Music Fest 2003 - Aug. 2nd
Two legendary wild men of rock & roll will blast into Houston on August 2, to benefit The Fort Bend County Women's Center in Texas. Little Richard and Jerry Lee Lewis will get a "whole lotta shakin' going on" when they arrive at H'town's Arena Theatre. Combined, they have sold over 57 million records over the past 50 years, and neither artist shows any sign of slowing down. Little Richard is considered by some of the industry's most notable musicians as the originator of rock & roll. His songs "Tutti Frutti", "Long Tall Sally", "Lucille" and "Good Golly Miss Molly" are smash hits that established the rules of early rock & roll, and influenced such legends as Elvis Presley, John Lennon and Buddy Holly. According to People Magazine, "There could not have been a Michael Jackson if there had not been a Little Richard." Jerry Lee Lewis, the original bad boy of rock & roll, is a gifted musician who approaches each performance with high energy and signature showmanship, delivering such hits as "Great Balls of Fire", "Breathless", "Whole Lotta Shakin'" and "High School Confidential". Music great Elton John has claimed that Jerry Lee Lewis is "the greatest piano player ever..."
Music Fest 2003 is presented by Bill Heard Chevrolet and supported by the additional sponsorships of Enlink Geoenergy Services, Inc., Fluor Corporation, The Wynn and Mary Geiger Foundation, Harris Construction Company, LTD, and Southern National Bank. Sponsors at the $5,000 level are invited to a special post party to meet and greet the legendary performers. Additional sponsorships are still available at levels ranging from $1,500 to $10,000. For more information on sponsoring Music Fest 2003, contact Anne Budill of the Fort Bend County Women's Center at 281-494-4545.
Tickets to Music Fest 2003 are available by calling 713-988-1020. Jerry Lee Lewis will get kick off the night at 7:30 p.m., followed by Little Richard at 9:30 p.m. H'Town's Arena Theatre is located on the Southwest Freeway at Fondren.
The Fort Bend County Women's Center provides free and confidential emergency shelter, counseling, crisis intervention, supportive services, and educational outreach to survivors of domestic violence and sexual assault and their children. For information about the Women's Center, contact their administrative office in Sugar Land at 281-494-4545. To access free and confidential services, call the 24-hour hotline at 281-342-HELP. Courtesy: Fort Bend / Southwest Sun 2003.


---


Classic Country Music is Still Alive and Well
At the Music Mill Dance Hall
Contact: Gary Scott (270) 437-4283 (270) 753-1017 email: mudpuddle@charter.net - Just north of Murray, Kentucky between Highways 641 and 1824, (Radio Road for the locals), sits a dance hall that looks like it was plucked out of Dallas and plopped down in Dexter. It's big, rustic and down home with plenty of parking out front. Inside, thereŪs a large, wooden dance floor, a big bandstand and lots of seating. Over the chatter of the crowd, and the dancersŪ shuffling feet, you hear the sounds of fiddle, guitar and piano, and lyrics from the golden age of country music.
The Music Mill is a family run and family oriented establishment with all the look and feel of a Texas roadhouse. Inside, itŪs dimly lit with just enough smoke in the air to tell you that youŪre entering a honky-tonk. The Music Mill is a place where friendly folks from all over the 4-Rivers Region gather every Thursday, Friday and Saturday night to listen and dance to the classic country/western sounds of Mudhole Slim and the Shuffle Kings.› According to many of the regulars, the Shuffle Kings lay down a beat that you can really dance to. And, they play all of the songs these country music fans love to hear.
Arliss Scott, a.k.a. "Mudhole Slim," is the band's lead guitar player. Scott is a 40-year country music veteran with experience on the Opry, television, recording sessions and too many miles on the road. He says all of the members of the Shuffle Kings are totally committed to performing nothing but classic country and western swing music.
"You won't hear any Shania Twain or Kenny Chesney at the Music Mill. ThatŪs not country. I'm really not sure what that is. What you will hear is plenty of Merle Haggard, Buck Owens, Ray Price, Bob Wills, Hank Thompson, Patsy Cline, Loretta Lynn, Willie Nelson and many others - all of the good stuff. "
Gary Scott, Mudhole Slim's son, is the band's drummer and one of the vocalists. He and his father have worked in dozens of bands together over the past 20 years. "Our mission at the Music Mill is to preserve and perform Classic Country music, and to hold in reverence those who started the tradition. And, to provide a place where discerning adults and their families can come listen, dance and downright have fun!"
In a world where music and entertainment is all too often determined by the marketplace and demographic studies, the Shuffle Kings predict that the Music Mill will succeed largely because they are sticking to their guns and doing what they love to do, and offering folks something they can't find just anywhere. "Our goal is honesty, consistency, quality and dependability. We guarantee that each and every time somebody walks through the front door theyŪll know exactly what they're going to get and when they can get it. We're taking a simple and honest approach to something that we're all just crazy about."
Mudhole Slim and the Shuffle Kings is not a show band. You won't find any of these guys dressed in sequins, cowboy hats or over-sized belt buckles. Basically, the Shuffle Kings are a group of average looking guys who do all of their talking with their music. And don't be fooled, this is not a musical trip back in time for the band. Gary Scott says emphatically that playing classic country music is no exercise in nostalgia for the Shuffle Kings. For him and the rest of the band, there's no such thing as old country music - just good country music.
"There are still plenty of people, young and old alike, who are craving to hear classic country just like we do. Despite the impression you might get from pop-culture, classic country music is still alive and well; you just have to work a little harder to find it. WeŪre all very passionate about playing classic country music. And, the people who come to listen and dance love it just as much as we do. That's why the dance floor is packed during every song."
On any given dance night, folks start showing up a couple of hours before the band starts. The regulars make the rounds, welcoming newcomers and catching up with the other dancers. When the band takes a break, folks gather on the large wooden front porch to cool off and have a smoke. Scott says the Music Mill is much more than a dance hall and place for him and the band to do what they love. He sees it almost as a community service.
"The crowd here is just like family. Folks celebrate birthdays here. At least a half-dozen couples have met here and gotten married. Some have already celebrated or are approaching their first anniversary. They tell us all the time how truly grateful they are to have a place like the Music Mill to come to. You honestly feel like youŪre a part of something bigger than the music and the dancing."
Mudhole Slim and the Shuffle Kings is a 6-piece classic country/western band consisting of fiddle, guitar, piano, bass, rhythm guitar, drums and lots of vocals. The band includes: Arliss, Larry and Gary Scott all of Murray, Speedy Wyatt of Benton, Roger Black of Goreville, IL and Danny Conger of Paris, TN.
The Shuffle Kings can be heard every Thursday, Friday and Saturday night from 7:00 to 11:00 at the Music Mill at 4311 Radio Road in Dexter, Kentucky. Admission is 5 dollars at the door.


---

Book on Avaiation Accidents and Artists
Dreamflyer Publications is pleased to announce the 2003 release of its new book, "Music's Broken Wings: Fifty Years of Aviation Accidents in the Music Industry," ISBN number 0-9660156-2-2. Covering the fifty-year period between 1935 and 1985, this 540-page book analyzes 34 aviation accidents, which affected the music in our world in some way. From the most famous American artists, such as Buddy Holly, Patsy Cline, Rick Nelson and Lynyrd Skynyrd, to the lesser-known international performers Carlos Gardel, Anna Jantar, Tamara and Kyu Sakamoto, this text covers numerous types of music and the talents who were affected by adverse aviation events.
Concentrating mainly on the aviation accident itself, the text also touches on some personal aspects of the artists' lives. From chamber music, big band, opera and tango, to country, folk, gospel and rock and roll, this book has something of interest for everyone. It also reveals some surprises for many readers. J. P. Richardson, son of the "Big Bopper" (who was killed in the Holly accident) wrote the Foreword for the book.
Written by professional airline pilot, William P. Heitman, the author successfully intertwines each story to keep the pilot, and non-pilot alike, interested in the history of the event, while providing as much factual documentation as possible to unravel the sequence of circumstances that led to the resultant accident. Complete with illustrations, photographs, airplane statistics and actual government accident reports.
The book retails for $34.95. Shipping & handling charges are $5 for delivery within the contiguous United States. North Carolina residents should add $2.45 NC state sales tax. Alaska, Hawaii and international sales inquiries are welcome. To order, or for more information, contact Dreamflyer Publications, P.O. Box 11583, Durham, NC 27703-0583, or visit their website at - www.Dreamflyer.com


---

The local paper the day after The COMETS' recent concert in Falun, Sweden (2003).
Photo courtesy of Marshall Lytle


---


Thurs., July 17th, 2003 Green Bay Memorial & Summer Show
GREEN BAY, WI - Ken Paquette, the man who created the monument at the Clear Lake, IA crash site, has created a similar memorial to Buddy, Ritchie, and the Big Bopper for the Green Bay venue. It is to be a permanently displayed historical fixture in Green Bay, and will be placed at the Riverside Ballroom, to dedicate the Riverside's historical significance as host to many Rock and Roll bands, as well as the second to last performance for these Legends, whose Music Lives On!
A 50's Era automobile Parade is planned to leave from the Titletown Brewing Co on 200 Dousman Street at 6:00 PM, proceeding through the downtown area, and end at the Riverside. The Presentation and Dedication of the Memorial will be held at the Riverside Ballroom on 115 Newhall Street, at 6:30 PM.
John Mueller and his Winter Dance Party Band will then perform their first ever Summer Show, at the Riverside at 7:30 PM. Tickets are available by calling the Riverside at 920-432-5518 Information Courtesy of Mark Steuer, Green Bay, and John Mueller's Website - www.yourbuddyjohn.com/news/news/.


---


RONNIE DAWSON
By Malcolm Mayhew, Star-Telegram Staff Writer
STAR-TELEGRAM ARCHIVES/JILL JOHNSON RONNIE DAWSON
COURTESY OF YEP ROC RECORDS RONNIE DAWSON
Life may not give Dallas rockabilly musician Ronnie Dawson the encore he deserves, but he's not changing his upbeat tune one bit.
On March 29, Dallas rockabilly legend Ronnie Dawson performed at the Hot Rod & Kustom Kar Rally, a daylong concert and hot-rod show that took place at the Fiesta Gardens in Austin. Music journalist Dan Forte was in the front row during Dawson's performance, hanging onto every note.
"He prowled around the stage with his Stratocaster, he kicked his leg up in the air," Forte says. "He musically and physically prodded his bandmates to dig in and play harder and deeper."
Forte, a close friend of Dawson, remembers that day being exceptionally cold and overcast. Nonetheless, Forte donned a pair of sunglasses. "I didn't want Ronnie to look out and see me, and everybody else, crying. It was a difficult, bittersweet occasion, because everyone knew that this might be Ronnie's last performance." Ronnie Dawson, you see, is dying.
In rockabilly music circles, and even outside of them, Ronnie Dawson is a paradox. Doesn't drink. Doesn't smoke (used to, when he was a kid, but he quit years ago). Used to run 10 miles a day. When he was on tour, instead of filling his van with beer and liquor, he carried around a juicer to whip up health drinks -- very un-rock 'n' roll. He ate well and never did drugs. All the rock-star stigmas attached to being in the limelight, being onstage, being the object of affection for women worldwide, Dawson simply wasn't interested in. His highs, he says, came from performing.
In a seemingly cruel twist of fate, doctors diagnosed throat cancer in Dawson in January. His voice, one of the two things he depended on to make a living (the other was his guitar playing), would be butchered during treatment. Last fall, after undergoing chemotherapy, he thought he'd beaten it. His wife, doctors, and fans around the globe thought he had, too. But in January, it returned, spreading to his lungs, and the prognosis wasn't good.
"It came back on me pretty quick," the 63-year-old musician says from his east Dallas home. "I was told I wouldn't have much time, months." Dawson is hoping to turn those months into years. About two months ago, he was accepted into a gene-therapy research program at Baylor University Medical Center's Charles A. Sammons Cancer Center in Dallas, where he is undergoing an experimental treatment. In an effort to shrink the tumor, doctors inject a virus into it.
The treatments are difficult. "It takes three or four days for him to begin to regain strength," says his wife, Christine Dawson. His fourth treatment will be later this month, when doctors will do another CAT scan to see if the tumor has gotten smaller.
Although a cure isn't necessarily out of the question, a little bit more time is what Dawson's hoping for. Time to be with his wife. Time to enjoy being home. Up until recently, he never had either. "I was always traveling, always on the road," he says. "And I just married a few years ago. I've spent my whole life single. So now I just want to enjoy a little more of it, enjoy being home, not having to travel. I was lucky to be able to make my living being a musician, and I would never trade those days for anything. But there's a time when the horse wants to go to the barn. It feels good, feels good to have a wife, feels good to have a home."
Ask any of the numerous musicians or music-industry reps whom Dawson has crossed paths and stages with since he picked up a guitar in the 1950s and they'll all tell you the same thing: He is an incredibly nice, humble man. Unlike so many other rock 'n' roll singers, he is not, and was not, a careerist or an egomaniac. He loves music, not the extras that go along with being good at playing it.
"He is a great man," says Tony Villanueva, guitarist and singer for the Austin-based country-rock group the Derailers, which performed at a benefit for Dawson this year at Sons of Hermann Hall in Dallas. "The first time we played in Dallas was opening for him. I learned something that night I never forgot. He came out smiling and gave it all he's got. And he's got a lot. He had twice the amount of energy as performers half his age. He pours out love for the music and love for the audience."
Lisa Pankratz, a drummer who toured with Dawson for several years in the early to mid-'90s, says she has not only been inspired by his playing but by his persona as well. "He was always very inspirational to everyone in the band, now even more so," she says. "He made you want to follow him anywhere. That's what he liked about us: We would go anywhere with him and push him. He likes that. He likes you to spar with him onstage and just have fun. With him, it's all about having fun."
Dawson has been having a blast since the 1950s. Born in Waxahachie in 1939, he is the son of Pinkie Dawson, a bassist who performed in the 1930s in Dallas' Deep Ellum, before it was Deep Ellum. An only child who got expelled from Southwestern Bible School in Waxahachie for smoking cigarettes, Dawson started playing guitar when he was in his teens, performing at sock hops.
He was so good that he landed a spot at the Big D Jamboree, a weekly music revue held at the Sportatorium in Dallas. There, he won a talent show 10 weeks in a row. At the Jamboree, Dawson also saw his share of up-and-coming performers, including Elvis Presley. For years, a rumor circulated that Presley was so nervous about Dawson's kinetic, high-energy shows that he didn't want to follow him.
In his typically humble fashion, Dawson dismisses the rumor. "Elvis was the headliner. He wasn't worried about me," Dawson says with a chuckle. "He was flying high back then." He will say, however, that he was anything but awestruck that Elvis was in the same building as him.
"I wasn't interested, to tell you the truth," he says. "I was so caught up with [Elvis' guitarist] Scotty [Moore], and how he was getting a particular sound. I found out that it was an amp that was made for him. Elvis did invite everyone on the show back to his hotel for a party, but I didn't go. People always ask me, 'Why didn't you go?' I tell them that I had already found out what I wanted to know."
In the late '50s, word had spread through the music industry about Ronnie Dawson's talents and his frenetic live shows. In 1959, he signed to Dick Clark's New York-based label, Swan Records. His career was grounded before it ever had a chance to take off. Swan dropped the ball on publicizing Dawson after the payola scandal of the early '60s, in which broadcasters and DJs were accused of accepting bribes to trumpet certain artists. Dawson appeared on Clark's American Bandstand show, but Clark soon closed the label, leaving Dawson without a deal.
He did not give up. Under the name Commonwealth Jones, Dawson signed to Columbia Records and, in 1961, released the single Do Do Do. But the deal went sour and, after a brief stint performing with local country-swing outfit the Light Crust Doughboys, he joined the Levee Singers, who had a regular gig at the Levee Club in Dallas. Again, appearances on national TV shows made success seem imminent for Dawson and the Levee Singers. Again, though, it never came. The band never landed a deal and soon broke up.
Over the years, success teased repeatedly under different guises. Playing country music, he signed with Columbia again. That went nowhere. He then formed a group called Steel Rail, but its music was so eclectic, it never found an audience. Finally, he settled for doing commercial jingles for, among other companies, Hungry Jack biscuits and Jax beer.
In 1986, he got what so many other seemingly-done musicians never receive: another chance. At that time, rockabilly was becoming increasingly popular, thanks to groups such as the Stray Cats. In England, it was all the rage, prompting an English producer to hunt down Dawson in hopes of releasing some of his early songs; it didn't hurt that the Cramps, an underground punk group with a rockabilly following, had just recorded a Dawson tune called Rockin' Bones.
Next thing Dawson knew, he was a star in England. While his hometown remained, for the most part, oblivious, he was performing in England with the likes of Carl Perkins. He signed with a British label and recorded a trio of discs, Monkey Beat, Rockinitis and Just Rockin' and Rollin'.
Eventually, his popularity leaked across to the United States, resulting in a performance at Carnegie Hall, an appearance on Late Night With Conan O'Brien and a deal with hipster Chapel Hill, N.C., label Yep Roc, which released his most recent disc, 1998's More Bad Habits. "To me, he wasn't doing something that was a retro kind of thing, but something completely vibrant and fresh," says Glenn Dicker, president of Yep Roc. "Going to see him live was an awakening experience. The way he communicated, the way he works hard up there, the feeling that he gets into the audience -- it just peels off layers of stress. It's something real special."
And something, Dawson says, real eclectic. He's actually a little uncomfortable being labeled a straight-up rockabilly musician. "I've been exposed to so many different kinds of music," he says. "I have a wide variety of musical friends. I know country musicians, people in the symphony and a lot of rock 'n' roll cats. All of that has helped my music. You can't expand rockabilly much, but I tried."
Dan Forte says he succeeded. "I take exception to applying the term 'rockabilly' to Ronnie, and I know he doesn't view himself as a rockabilly performer," says Forte, who has been a music journalist for 27 years and is an editorial consultant for Vintage Guitar magazine. "He sees what he does as rock 'n' roll. Rockabilly isn't multidimensional enough to describe him.
"[And] there's never anything negative about a Ronnie Dawson show," Forte says. "He doesn't get onstage and gripe about royalties he never received. There's no dark, sinister vibe. It's all positive energy. I can't think of an experience that's more uplifting."
Ronnie Dawson has applied the same positive energy he injects into his music to his attitude about having terminal cancer. "He's been incredibly brave dealing with this stuff," says Pankratz. "He's gone into this the same way he went into shows -- he's not going to go down, not going to give up. Whatever life he's got left, he's going to live it. Even before he was sick, he's always had that positive attitude."
What has kept his spirits up, Dawson says, is his wife, Christine. In another way, she has also, perhaps, kept him alive. "I honestly don't know if I would have pursued the chemo if I hadn't been with her," he says. "And I remember telling her, 'If I get cancer, don't ever ask me to do that.' I just never thought I would want to take chemo. But here I am, second time around, third cycle.
"But I never got mad about it," he says. "I guess it's because I've never had this kind of thing happen to me. I've been lucky. I'd never had to go to the hospital before. When this happened, a peace came over me. It wouldn't do any good to get mad about it. I've just settled into it and accepted it peacefully. I think I've done that well."


---
A Brief History of the "Valley Boys"

UNITED KINGDOM - "The Valley Boys consists of myself (vocal - double bass - rhythm) and Richard Howard, (lead guitar - rhythm - drums) occasionally we are joined by other musicians. Mark Throne (ex Fireball XL5 lead guitarist) has played rhythm guitar on several Valley Boys recordings he also played lead guitar on: It Don't Take Too Much from our first Vampirella release. (Have Myself A Ball). Others include: Nick Alexander, Andy from the Small Town Giants and Tim from the Roswell Invaders.
Our second Vampirella CD: Hot Rod Honey was released in Oct 2001, the sleeve artwork is by Simon Pritchard. He's a great rock 'n' roll artist here in the UK.
We've never actually been in a recording studio or anything like that, we write all our own material and record at home. We mix our recordings straight to CD and we have full control over the finished sound, which is great!
Richard and I have been recording together since 1988, we formed a few bands together from 1987 to 1990. Each of the bands fizzled out, but we just kept on writing and recording. Richard has upgraded his recording equipment over the years, which has greatly improved our sound.
In 1998 I gave Perry Williamson (owner of Pink & Black records) the use of a 5 track Valley Boys demo, so far he has released five tracks on his, Cat'n Around Vol. 1 & 2.
We have signed over 50 original songs to Vampirella and we are currently putting together our third and final Vampirella CD, I'm hoping sometime in the future all our unreleased material will become available."
Mark Kelf
8 Ashby Street
Norwich, Norfolk, Nr1 3PU UK
www.mkelf.freeserve.co.uk
ED. NOTE: Both CDs capture the early rockabilly sounds and are very enjoyable. Recommended!! -Bob Timmers


---


BMG/RCA Records to Release 'ELVIS 2ND TO NONE' on Oct. 7
"To Meet the Overwhelming Demand for All Things Elvis, Latest Release Features a Rare Combination of Hits and Fan Favorites and a Paul Oakenfold" Remix of 'Rubberneckin'
Over nine million albums sold worldwide last year, No. 1 in 26 territories, a remixed No. 1 single, and a national TV special all proved that Elvis Presley is still a driving force in the music industry. The historic release of "ELV1S 30 #1 HITS" captured the nation's attention as only "The King of Rock 'n Roll"(TM) can. Not only did the traditional Elvis enthusiasts respond to the release, but millions of new fans were introduced to the music of Elvis for the first time.
As the natural follow-up to last year's overwhelming success, and in keeping with their history of creating, preserving and celebrating great music, BMG/RCA will produce -- with the full participation of Elvis Presley Enterprises, Inc. -- "ELVIS 2ND TO NONE," a compilation of additional #1 singles, fan favorites, career milestones, and a few surprises including a remix of "Rubberneckin'" produced by DJ Paul Oakenfold -- one of the most acclaimed remixers in music history.
Scheduled for release on October 7, this compilation will be distinctly different and a complement to last year's compilation of No. 1 hits. "ELVIS 2ND TO NONE" will present a broader range of Elvis' talents and incorporate a multiple of musical genres including R & B, rock 'n roll, pop, country, dance and rockabilly.
"Last year's release proved that Elvis' popularity is on par with today's top artists," said Joe DiMuro, Executive Vice President, BMG Strategic Marketing Group. "For some fans, "30 #1 HITS" was a way to rekindle an old friendship and for millions of others it was the beginning of a new, great relationship. We believe that "ELVIS 2ND TO NONE" will build on those relationships."
All 30 tracks on "ELVIS 2ND TO NONE" have been mixed and mastered from the original master tapes for optimum sound quality. This is the same process that drew across-the-board raves from critics, music aficionados and the original band members themselves for the "30 #1 HITS production. This year's album will include such classics as "That's All Right," "Viva Las Vegas," "Blue Suede Shoes," "I Want You, I Need You I Love You," "Always on My Mind," and "Don't Cry Daddy." Oakenfold's remix of "Rubberneckin'" is sure to be well received among today's generation of music fans and further demonstrates the legacy of Presley's music.
"We are thrilled with this latest chapter in the Elvis legacy. This release is the natural follow-up to last year's production and we believe music fans of all generations will continue to embrace Elvis' music," said Jack Soden, President & CEO of Elvis Presley Enterprises, Inc.
Certainly the success of the "30 #1 HITS" proved that Elvis is 2ND TO NONE as a music and entertainment legend. The album reached No. 1 in 26 territories worldwide, including the U.S. where it was a chart topper for three weeks. Over 9 million albums were sold worldwide with 3.5 million in the U.S. Among the hits was the No. 1 remix of "A Little Less Conversation" produced by DJ JXL which went to No. 1 in 26 countries including the US and Great Britain. That feat pushed Elvis past the Beatles for most No. 1 hits in the UK. Following the album's release, a television special, "Elvis Lives" aired on NBC Thanksgiving night and the special claimed the all important 18-34 demographic for the hour. The retrospective on Elvis examined his legacy today and included covers performed by Norah Jones, No Doubt, Dave Matthews and Chris Isaak with LeAnn Rimes. Furthermore, the "ELV1S 30 #1 HITS" DVD audio debuted at No. 1 in the sales charts upon its release.
Of course, Elvis's musical contributions are unsurpassed: He is the only artist to be inducted into all three music Halls of Fame, including Rock n' Roll, Country and Gospel. He holds the record for most top 10 pop singles (40), the most gold and platinum awards (140) and is the world's best selling artist, having sold more records than any other artist in history. His popularity remains intact to this day as there are more active Elvis Presley fan clubs around the world than for any other artist -- dead or alive. "ELVIS 2ND TO NONE" will celebrate the music and the man that created the legend.
BMG is the global music division of Bertelsmann AG, one of the world's leading media companies. BMG owns more than 200 record labels in 41 countries including Ariola, Arista Records, J Records, Jive Records, RCA Records and RCA Label Group -- Nashville. In addition, BMG's music publishing operations are the third largest in the world.


---


Family, Music, Teaching Filled Eric Erlandson's Life
By Bob Young - Seattle Times staff reporter To Eric "Ric" Erlandson, the world really was a stage. By day, he was a teacher at Carnation Elementary School. At night, he stepped out as singer and guitarist for a classic-rock band, The Dambreakers. "His main love outside his family was playing music," said Kelly Owen, a band mate and fellow teacher. "He loved to be the front guy. He sang the majority of our songs."
Mr. Erlandson, 51, died Monday (June 2) after a yearlong battle with cancer. Despite his illness, he taught up to the second week of May. He was a public-school teacher for 27 years. As a musician, Mr. Erlandson loved strapping on his vintage Stratocaster electric guitar and pushing The Dambreakers through rockabilly songs such as "Stray Cat Strut," "That'll Be The Day" and "Honey Don't," said Owen, the band's bass player.
The band's favorite venue was The Brick in Roslyn, a tavern made famous by the TV show "Northern Exposure," set in the fictional town of Cicely, Alaska, but shot in Roslyn. The Dambreakers, who played together for 14 years, took their name from the Tolt River Dam, which was near where they practiced. Guitarist Paul Censullo, technology director for the Riverview School District, said members of the band ů which had been called Lungs and Noses, and Middle-aged Mutant Teachers ů joked that if they played too loudly, they would break the dam and flood the area.
All four band members worked for the Riverview School District in Carnation. "Because all of us were connected to the school district, people who hired us thought we were safe," said Owen. Every year, the band played at Carnation Elementary School and Tolt Middle School. One of the band's biggest fans is Kathy Spokus, an education assistant at Carnation Elementary School. Spokus, who worked in Mr. Erlandson's classroom one year, said he was as good at teaching as he was at playing music.
"He just had a rapport with the kids that was special. He seemed able to reach kids who had trouble learning or had reputations as troublemakers. Our school is like one big family, and it's like the loss of a brother," she said. Censullo said Mr. Erlandson was a good role model for boys because he was athletic, a rock musician and "very learned, with a master's degree in English literature." Mr. Erlandson went to high school with Ann Wilson, of the famous Seattle band Heart, Censullo added.
Whether on stage or in the classroom, Mr. Erlandson was demanding of himself and others, colleagues said. "He had high standards and was very hard-nosed," Censullo said. "We were more lax about the band than he was. He was the driving force in that regard." Band mates and other musicians will host a musical tribute to Mr. Erlandson June 19 at the Raging River Saloon in Fall City. In lieu of flowers, please make donations to the American Cancer Society or Make-A-Wish Foundation.


---


Louisiana Hall of Fame Honors Frankie Ford
Gretna, LA -- The legendary Frankie Ford was once again honored by The Louisiana Hall of Fame with "Million Airplay Performance Award" for his mega hit "Sea Cruise." The award was presented by LHOF founder/president Ms. Lou Gabus at their annual Induction ceremonies at Boomtown Casino in Harvey, LA on Sunday June 1, 2003. Ford also performed, along with Zebra, Dale & Grace, Jimmy Elledge and others. For more information, contact Ken Keene, Sea Cruise Productions, Inc. (504) 392-4615 or by email KenKeene@aol.com www.frankieford.com


---


B-Side Becomes Rock's Bigest Seller
by By GEOFF FOX - gfox@tampatrib.com (Tampa Tribune)
"We're gonna rock around the clock tonight
We're gonna rock, rock, rock 'til broad daylight
We're gonna rock, gonna rock, around the clock tonight"
- "Rock Around The Clock," written by Max C. Freedman and Jimmy de Knight
"Shake, Rattle And Roll." - "See You Later Alligator." - "Crazy Man Crazy." - All are songs recorded by Bill Haley and his Comets, and each helped establish rock 'n" roll as a musical form as uniquely American as muscle cars and the Mouseketeers.
But it is Bill Haley and his Comets" 1954 recording of "Rock Around The Clock" that Dick Clark once called "The National Anthem of Rock 'n" Roll." It is the song John Lennon said made him yearn to play music.
Next year, the record some argue is rock 'n' roll's first turns 50. "Rock Around The Clock" was the B-side of a song called "13 Women (And Only One Man)" that sold a modest 75,000 copies in 1954, a year before "Shake, Rattle And Roll" became the group's first gold record.
"It was a throwaway from our first session for Decca [Records], a dead song as far as we were concerned," said bassist Marshall Lytle of New Port Richey, a Comet from 1951-1955. "Almost a year later, the producer of the movie "Blackboard Jungle" heard his daughter playing "Rock Around The Clock" in her bedroom.
"This sound hit this producer and he yelled at his daughter, "Who is that?" She said, "Daddy, that's Bill Haley and his Comets." So he got ahold of the publisher, who gave permission to have "Rock Around The Clock" put in the motion picture."
When "Blackboard Jungle" was released in 1955, "Rock Around The Clock" shot to No. 1 faster than a Thunderbird in a drag race - and it stayed there eight weeks.
But is it the first rock 'n" roll record? That's hard to verify, said Terry Stewart, chief executive officer of the Rock 'n" Roll Hall of Fame in Cleveland. "There's a lot of debate among historians, professors, journalists and fans," Stewart said. "There's even a book called "What's The First Rock 'n" Roll Record?" just making the argument on what records could be the first. You get songs from the 1930s up to 1955-56."
He refers to Haley and his Comets" version of "Rock Around The Clock" as a "signature song," although it was originally done by Sonny Day and the Knights and "Crazy Man Crazy" preceded it by a year.
"Nevertheless, that song comes blaring out of the theater on "Blackboard Jungle,' " Stewart said. "I remember when I heard it I went, "Wow, what the heck is that?" It's one of the shots heard 'round the world, if not the shot."
In 1974, "Rock Around The Clock" returned to the U.S. charts when it began a two-year run as theme song of the television sitcom "Happy Days" and was the theme song of the movie "American Graffiti."
The man who played lead guitar on the record, Danny Cedrone - a friend of Haley's who previously played on a Bill Haley with the Saddlemen record called "Rock The Joint" - would never know the widespread influence his fret board tap dance would wield. "He liked to drink," Comets" saxophone player Joey D'Ambrosio (also known as Joey Ambrose) said. "Two weeks after we recorded "Rock Around The Clock," he fell at his home and died."
The Guinness Book of Records says 25 million copies of the single have been sold, making it the highest-selling rock 'n' roll song, and the second-highest-selling single, behind Bing Crosby's "White Christmas." "It is said," Canadian journalist Alex Frazer-Harrison wrote in an article for the Rockabilly Hall of Fame, "that at any given minute, the song is playing (or being played) somewhere in the world."
Reporter Geoff Fox can be reached at (813) 948-4217.


---


Book Review: "The Colonel"
Author: Alanna Nash
Publisher: Simon & Schuster
Reviewer: Ken Vrana
Three years ago, I had little if any real interest in Elvis Presley. All that would change when an old girlfriend of his suggested I do a documentary film on the man. Now, after traveling over 150,000 miles and doing some 400 interviews, I jokingly tell people I can probably tell you what color socks the guard at Graceland wore in 1965. In part, that's why I was particularly interested in reading Alanna Nash's newest book, "The Colonel. - The Extraordinary Story of Colonel Tom Parker and Elvis Presley."
It's no secret that Elvis' lifelong manager, Colonel Tom Parker has been the target or ridicule and scorn by the legions of Elvis fans who believed that Parker biked Elvis at every turn, so of course, the path of least resistance would have been to simply jump on that band wagon and enjoy the ride. Never one to take the easy route however, Alanna Nash has produced a thoroughly readable and hugely well-researched book that will both entertain and illuminate it's readers.
"The Colonel" is about 416 pages long, but Nash moves us from Parker's life as a boy in Holland, where he was actually born, Andreas van Kuijk, through his flight from that native land and subsequent years on the carnival and circus circuits, to his discovery of Elvis and their extended relationship, so effortlessly, that the book feels only half that long. Research is the key to a book like this and given that Tom Parker could have taught the Secret Service a thing or two about how to cover it's tracks, ferreting out the truth about the man seems a near impossibility. Nash has clearly been able to do it however, in part through sheer doggedness and also by interviewing as many people who actually knew the man as she could find. As I had interviewed man of the same people for my film, I can tell you she was did her homework. Moreover, Nash never takes advantage of the cheap shot and I personally know of at least one story she could have included in the book, that she decided not to use, even though it might have enhanced the sizzle factor a notch, because of her commitment to her craft.
The other danger, especially when writing a book that in this case has a built-in potential readership, is that there's no margin for error. If you've not done due diligence, Elvis fans will point it out and I was hard pressed to find any holes in the book. I was also reasonably sure that the potential market for this book, reaches beyond Elvis fans. While they will find it fascinating, because of the Elvis connection, it is also a book about a larger than life character, who in many ways helped invent what we now accept as standard talent marketing principals, well before most folks had even thought there was such a thing.
It might easily be said that if Col. TomParker had orchestrated the Water Gate Break In, the Plumbers would not have been caught, but if Alanna Nash had written the book about it, she'd have figured out who Deep Throat was, 3 weeks after it happened. Elvis may well have left the building, but thanks the Nash, Parker never made it passed the door.


---


Waylon's Grandson Dies with Girlfriend in Crash
By ANNE PAINE - May 27, 2003 - Taylor Ray Jennings, 22, a grandson of the late country star Waylon Jennings, died with his girlfriend early Saturday morning in Texas, when their car was broadsided by a pickup truck, police said. The driver of a Ford F150 pickup was speeding and drunk when he skidded through a red light and slammed into the couple's Plymouth Neon, an officer said.
"It was apparently fleeing from the scene of an earlier wreck," said Sgt. Eric Hansen of the Grand Prairie, Texas, Police Department. The pickup's driver, Roberto Estrada Adame, was treated for injuries and then arrested on two counts of intoxication manslaughter and one of intoxication assault. He also will be charged with not having a driver's license or insurance and for not wearing a seat belt, Hansen said.
Mr. Jennings, who was born in Nashville and had graduated from South Grand Prairie High School, worked as a bartender at a Tony Roma's. His girlfriend, Stacey Norman, 19, was a carhop at a Sonic Drive-In. The two were on their way home from work when the accident took place.
"They lived together, loved together and died together," said Mr. Jennings' aunt, Deana Jennings of Fort Worth. The world lost a "beautiful mind" when her nephew died, she said. "When you talked to him, you always learned something. He was very inquisitive about life and would read up about things.
Waylon Jennings, one of country music's original "outlaws," died Feb. 13, 2002, at 64 of complications from diabetes. Taylor Ray Jennings' mother, Julie, and his aunt Deana are both daughters of the late country singer. In addition to his aunt and mother, Mr. Jennings is survived by his grandmother, Maxine Hines, of Grand Prairie.


---


Entertainment: B.B. King Wins Top Blues Award
MEMPHIS, Tenn. - B.B. King won Entertainer of the Year for the fifth consecutive year at the 24th annual W.C. Handy Blues Awards. The awards show, held Thursday, May 22 at the Orpheum Theatre, honored newcomers and legends alike. Shemekia Copeland, daughter of the late Johnny Copeland, won three awards, including Blues Album of the Year for her Dr. John-produced, "Talking To Strangers."
It marks the second time that Copeland has won the category - she did the same in 2001 for her sophomore effort, "Wicked." Memphis-born Koko Taylor took home her 23rd trophy, winning traditional female artist and retaining her title as all-time Handy champion.
In the night's most diverse category, sacred steel virtuoso Robert Randolph beat out Yugoslavian blues diva Ana Popovic, hill-boogie one-man-band Richard Johnston, country-blues artist Precious Bryant and former Jimmy Rogers guitarist Nick Moss to win the best new artist debut award for his album, "Live at the Wetlands."
Magic Slim & the Teardrops were named Blues Band of the Year, while Charlie Musselwhite won Contemporary Male Artist. Musselwhite also won for Blues Instrumentalist-Harmonica. One-time Sun recording artist and Muddy Waters sideman, pianist Pinetop Perkins, won for keyboards and also was inducted into the Blues Hall of Fame, established by Handys producer the Blues Foundation.
The Memphis-based Blues Foundation is a nonprofit umbrella organization for more than 100 blues societies. The 25-category Handy ballot is chosen by an international panel of blues industry professionals, then voted on by more than 30,000 blues fans.


---

RICHARD RAY, rockabilly/country pianist (from Bartlett, TN) was Inducted into the Rockabilly Hall of Fame on Saturday, May 17th in Stantonville, TN. Eddie Bond had invited Richard over to perform at the 17th Annual Fireman Festival and Bob Timmers made the surprise annoucement on stage. Ray has performed with countless superstars, such as: Charlie Louvin, Del Reeves, Ernie Ashworth, Narvel Felts, Tim McGraw and Tracy Larence. Ray is RHOF inductee #220 and still plays a mean piano.


---
PIONEER BROADCASTER OF ROCK-N-ROLL
"Legendary Australian R&R
Disc Jockey›passes away"
Bob Hayden reports: Stan Rofe was born in Richmond on 30 May 1935. His mother was a showgirl at the Tivoli theatre and his father played football for Essendon. Throughout her life his mother was Stan's greatest supporter and strongest critic. He was a student at Faraday Street State School in Carlton and later at Collingwood Technical School.
As a very young child Stan was a fan of 3KZ. His favourite announcer was Norman Banks who set the trend for radio announcers in the forties. To impersonate Banks Stan would use kitchen pots for reverberation effects. This rehearsal went on for many years. Stan's mother encouraged him to pursue a radio career.
Stan commenced work at sixteen and a year later he was teaching ballroom dancing and was a member of the Victorian Square Dance Championship Team that was third in their national competition. At eighteen Stan was called up for three months national service training, which was followed by four years in the Citizen's Military Forces.
In 1953, after three days tuition at the Bill Roberts Radio School, a position was secured with 7AD in Devonport. After a few weeks Stan was made Chief Announcer. He recalled that, "it was a frightening experience that was too quick to worry about". Another announcer at 7AD, Harry Jones recommended Stan to the Lee Murray Radio School in Melbourne. This started a long friendship between Stan and Lee and his wife Lyn.
Lee made Stan aware of a vacancy at 3AK and, after listening to one of Stan's broadcasts, he was invited to join the station for the midnight to dawn shift. This was less than six months after leaving Melbourne for Devonport. Three months later Stan had been recruited by 3XY for the afternoon program. Bert Newton, who was still going to school, asked Stan if he could read some commercials on the show. Stan's nurturing of this new talent resulted in the then manager of 3XY, Ray Woods, congratulating Stan on his discovery of Bert Newton. Each night when 3XY would close down, Stan and Bert would walk home together swapping stories.
In 1955, at Lee Murray's suggestion, Stan was engaged as a panel operator and announcer at 3KZ. Finally the 3KZ fan had arrived at his favourite station.
Stan commenced in an afternoon trial slot combining popular music with listener's requests. Stan also presented "Call up KZ", which required listeners to identify recordings. Phil Gibbs, the program manager of 3KZ, gave Stan the opportunity to call night football games at South Melbourne football ground. On occasions he would broadcast with Phil Gibbs and Harry Mueller at Saturday games. Stan was one of only seventeen Australian Federation of Commercial Broadcasting accredited commentators for the Melbourne Olympic Games in 1956.
At the end of the 1956 Olympics Stan was presenting "Spin for the Stars" and was intrigued as to how John Laws was securing American record releases. Stan met with John Laws and then replicated the arrangement for Qantas pilots to bring the latest releases to him at 3KZ. These records were often on the Memphis based Sun label featuring artists such as Elvis Presley, Roy Orbison, Jerry Lee Lewis and Carl Perkins. Stan incorporated these recordings in to "Spin for the Stars", where they were mixed with songs by Perry Como, Peggy Lee, Rosemary Clooney, Bing Crosby and Frank Sinatra. So at the end of 1956 Stan was introducing rock-n-roll to Melbourne radio.
By 1957 Stan had become the most popular announcer on 3KZ. "Holiday Hit Time", which included about eighty percent of imported rock-n-roll records, enjoyed enormous popularity over the 1956-57 summer. Some 23,000 listeners trying to win the imported records via mail evidenced this popularity. Following this success on 28 February 1957 Stan commenced the daily "Platter Parade", which became Melbourne's most successful radio show. By the end of 1957 the Platter Parade was entrenched with an audience of 62 percent of Melbourne radio listeners.
Another 3KZ announcer, Ron Cadee, suggested Stan adopt a name that would be easily recognized by the public. Cadee proposed "Stan the Man" and it became Stan's catch cry.
Alan Heffernan, the powerhouse behind impresario Lee Gordon, regularly visited Stan at the 3KZ studios to discuss on-air the forthcoming Festival Hall shows. Heffernan gave Stan first access to the many international artists visiting Australia. This enabled Stan to record many personalised introductions. Stan was soon compering the Lee Gordon shows in Melbourne introducing acts such as Eddie Cochran, Gene Vincent, Little Richard, Buddy Holly and Paul Anka to the audience.
Johnny O'Keefe was receiving minimal airplay in Sydney so he went to Stan to get coverage in Melbourne. Stan presented every single released by O'Keefe, even when other radio stations would not play the material. O'Keefe's popularity initially soared in Melbourne and later in Sydney and other parts of Australia. Stan and O'Keefe were lifelong friends.
In late 1960 Johnny Chester approached Stan to advertise his dances at Preston Town Hall on Platter Parade. Soon after Stan was compering the dances at Preston. This led to Stan suggesting to Ron Tudor of W&G to record Johnny Chester with the Thunderbirds. Stan featured the tapes on Platter Parade and developed considerable audience reaction so that W&G released the discs with Johnny Chester's Hokey Pokey become a chart topping hit. The number of artists who were direct beneficiaries of Stan's nurturing and influence has been too many to list. And there were also his legion of fans, many of which became lifetime friends.
Stan moved to 3UZ in 1965 where he broadcast successfully for six years. He was then the music director at 3XY, hosted "Six O'clock Rock" on Gold FM and he finally retired from broadcasting at 3DB. In retirement Stan actively helped people develop their radio skills on community stations.
It was Stan who introduced the Seekers for their record breaking performance at the Sidney Myer Music Bowl, was actively involved with early pop magazines and television shows, gave Ian Meldrum the "Molly" nickname, suggested many songs to Australian artists that went on to become national hits, was the Prince of Moomba in 1968, was inducted in to the Australian Music Hall of Fame, received a special achievement award from the Australian Record Industry and hosted the first show at the Melbourne Concert Hall that featured Melbourne based rock-n-rollers.
Stan's last professional appearance was to launch the CD release of Johnny Chester's W&G recordings at Kingston City Hall. Many performers and musicians from the fifties and sixties were in attendance.
Stan passed away at the Epworth Hospital on 16 May 2003 after a short illness with cancer. His brother Roy and family survive Stan.
Ian B Allen OAM spent time with Stan recording and writing his history. Allen has been performing, producing and promoting rock-n-roll since the late fifties and has published many related articles. Source of article Roy Rofe / Ian›B Allen /Bob Hayden


---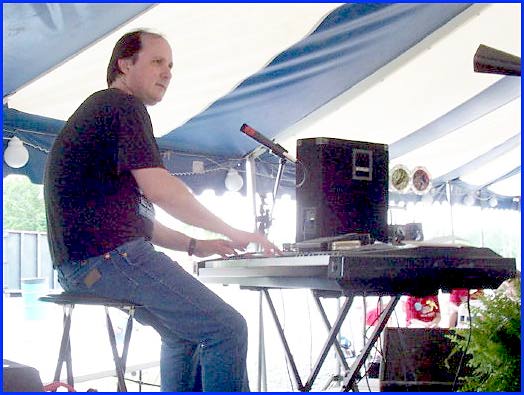 LARRY MERRITT, son of rockabilly legend and Rockabilly Hall of Fame inductee Jerry Merritt, performed at the 50th Anniversary Celebration for Burns, TN. Burns is the home of the RHOF office. Also on stage that Saturday, May 5, 2003, was Roman Self and Bob Timmers.
Larry is currently working a tribute CD that will contain some of his dad's best recordings along with unreleased material. Jerry Merritt was best known for playing lead guitar with Gene Vincent in the late '50s. Jerry wrote "She, She, Little Shelia" for Gene.


---


"Big Sandy" Joins Scotty Moore, James Burton and
D.J. Fontana for an Impromptu Set of Elvis Presley
Classics at New Orleans' Ponderosa Stomp
NEW ORLEANS (AP) ›May 2, 2003›-- All the King's men are back -- absent Elvis. Elvis' longtime musicians got together in a down-home bowling alley/music hall this week as part of the Ponderosa Stomp, a fringe festival that has sprung up around the New Orleans Jazz and Heritage Festival.
Wednesday night, the King's guitar players Scotty Moore and James Burton -- legends in their own right -- and longtime Elvis drummer D.J. Fontana played Elvis classics, assisted by Paul Burlison, Kim Curtis and others. Standing in on vocals for the ducktailed boy from Tupelo was Big Sandy, a Southern California singer whose Fly-Rite Boys travel the country in a yellow school bus playing rockabilly, Western swing and mariachi classics.
It was the closest that 700 mortals, packed into the Mid-City Bowling Lanes, a music hall known as Rock 'N' Bowl, could get to witnessing the smoldering volcano of rock's revolution. "If someone had told me that tonight, or anytime, that I would end up with Elvis' guitar players and drummer on stage, I wouldn't have believed it in a million years," said Big Sandy, who was asked out of the blue to accompany the aging legends on vocals.
Look for Big Sandy & His Fly-Rite Boys to release It's Time!, their first album for Yep Roc Records, on June 17. The album was recorded live at Joey's Place, formerly Electro Vox Studios, using vintage equipment and recording techniques for a warm, timeless sound. For more information, contact YEP ROC RECORDS: Angie Carlson (Publicity) at 877-733-3931 x 209 or e-mail angie@redeyeusa.com; Marc Schatz (Radio) 877-733-3931 x 223 or e-mail marc@redeyeusa.com.


---
German Radio
For Teens and Older Teens,
Memory Hits for Music Fans
An article from GERMANY submitted by BĖrks Bogenschneider (BBogenschneider@t-online.de) - A German broadcasting company launched a radio show in the end 60's that was received by happy listeners in most parts of Europe including the former German Democratic Republic. At that time, the radio announcers, with the nickname "memory master" diligently copied the US Americans, giving in to pressure from the listeners. Today the tradition continues to copy from the Americans, and everyone that can hold a microphone calls himself a moderator - only in those days it was a new trend. TV was a 'towncryer' and the TV Beatclub show was nothing but a poor imitation from the British version. Best not to say anything else....
The US Military Channel AFN would be listened to, and the next generation would listen to the coastal pirate transmitters, which in those days would not be criminally prosecuted. Noteworthy are the ex-transmitters of the former German Democratic Republic: "Freedomchannel 904 and the German Soldier Channel", which emulated the American transmitters by playing English music. And, oh yes, even today's RTL with their "Oldies repertoire" is just a copy of the European-wide known Radio Luxemburg. With the end of each day the slogan would become stronger: "Here comes the Prince ... Tony Prince of Luxemburg ... The station of the stars..." Who incidentally became the only privileged European to interview Elvis Presley live in the USA. The only reason for this interview was because the largest Elvis fan club listened to Tony Prince. Not even the German colleagues could get close to the King himself, his road manager blocked everyone of and anything that somehow smelled of Presleymania. I won't devulge much more at this time, you can read more at regular intervals on my monthly ONLINE MAGAZINE.
Naturally there was a German radio infusion of Radio Luxembourg, but it simply was not the same. The Europe wave Saar tried to follow the tracks by trying to stand up to the AFN-Transmitters and gained acceptance by the local residents. These were the happenings of the 60ties and then came the 70ties, when the music died, so to speak. In 1969 there also was the DLF with its Memory Musicmaster, which was originally intended for East Euorepean listeners but became a real hit with Elvis mania, and many oldies were resurrected, just as quickly as certain Star fan clubs had disappeared, Memory Hit Fan clubs sprang to live, which still exist to this date: A Europe-wide Fan Club, which a suit-clad type saw through its high and low moments of jealousy and intrigue, and who kept abreast with all the technical changes to make the club survive, - who was a sailor in the USA during the Beatarea, who sat in barbershops and as a joke broadcast Chubby Checker Style shows. Seen as a 'freak' by European standards, he would live his dream for a private radio station (which, by the way, was not just his dream, but the dream of many) and despite of the failure of many of such stations, he would become one of the pioneers of private radio station broadcasting. The new millennium began, and the MFC is still up front, saved by someone not particularly interested in commerce but who, with a group of peers, reflected their common interests right into the new Millennium of 2000. Time passed, and the fan club, including the Elvis Fan Club, in all likelihood will survive. His experience is still valued and in today's society, we could do without the commercialization of the media world. Our minds remain receptive, as always, pointed into the four directions of the wind. I'll end my commentary with this famous moderator's sentence in one hand; "Oldies Forever. Rock on, baby!" and the Memory Hits Fan slogan in my other hand: "Oldies, but goldies". On that note, we would have everything under one hat, so to speak. Yours truly, Borks B. Bogenschneider - MFC-INTERNATIONAL (C) 2000 by Memory Hits Fanclub - Rock'n Roll Radio - Oldies Studio L'beck


---


"Cancer 'gone' ... It's a miraculous recovery,"
Ronnie Hawkins tells The Sun
By JIM SLOTEK -- Toronto Sun, April 25, 2003 - Cancel the flowers. Rompin' Ronnie Hawkins said yesterday his doctors have given him an all-clear on the cancer front. Hawkins was diagnosed with pancreatic cancer last summer and operated on, apparently unsuccessfully. The prognosis was considered poor enough that the noticeably frail Hawk was given lifetime tributes at a series of gala shows, attended by the likes of Bill Clinton, Kris Kristofferson, David Foster and Arkansas "chicken king" Don Tyson. But The Toronto Sun has learned that Hawkins received results this week of a recent CT scan and MRI, which indicated the growth was gone. The Hawkins family plans to release the news today.
"It was very serious, it disappeared, it's gone, and nobody knows how to explain it," said Hawkins, who chose not to undergo chemotherapy in the wake of the surgery. "I saw the growth myself on the X-ray. But it's true, I'm clean as an angel's drawers. The doctors can't believe it. They're doing a lot of thinking ... SARS doesn't stand a chance in my body, baby." Though he didn't opt for conventional medicine, Hawkins said he tried every alternative medicine that was sent his way, "plus I doubled up on the whisky and dope. "I'd have to go into hours to tell you about all the Indian recipes and stuff that was sent to me. What's that medicine, holistic? "And then was a healer from Vancouver, a young kid, he's unbelievable. Robbie Robertson had these Indian healers, these Indian medicine men fix me up a batch of s---. (Blues-rocker) Lonnie Mack did the same thing. "I don't know which one cured me, but it might have been a combination of all of it. Personally, I think it was the whisky and the pot." Hawkins' surgeon, Bryce Taylor, was unavailable for comment yesterday.
The Hawk said he's begun rehearsing again, and his immediate plans are to throw together an Ontario tour in the summer. "I'm not gettin' out too much yet. I've been hanging around the house a lot and I gotta build up some strength. I had three major operations in 90 days last year. "But I've been feeling pretty good lately. I had a feeling I was getting better. I played some dates here and there, and I'm getting ready to tour. "Baby, I'm chasing the girls already. I just don't wanna catch 'em for a week or two."


---


"Locomotion" Singer Little Eva Dies
KINSTON, N.C. - April 11, 2003 - Her name was Eva Narcissus Boyd. But music fans know her better as Little Eva, the singer, who as a teenager recorded the hit "Locomotion" back in 1962. The singer has died. Her manager says she passed away yesterday after a long illness. Her exact age isn't known but she was believed to be between 57 and 60. Little Eva was discovered when she was baby-sitting for singer Carole King and her husband Gerry Goffin. They asked her to sing a demo of the song "Locomotion," which they had written together. After hearing the demo, they decided to release the song as a single, and it became a hit. Eva had two other top-20 songs during her career. She is survived by two daughters, a son, 15 grandchildren, two brothers and three sisters.


---


McCartney Buys Rights to Carl Perkins' Catalog
April 4- Former Beatle Paul McCartney's music publishing company has obtained rights to 23 classic rock 'n' roll songs composed by the late Carl Perkins, including ''Blue Suede Shoes,'' ''Honey Don't'' and ''Matchbox.'' Under the long-term music publishing deal announced Friday, McCartney's MPL Communications Inc. will be responsible for worldwide administration of the Perkins catalog. No financial terms of the deal were disclosed.
›''Carl Perkins was one of my earliest influences; I am quite simply a fan of his,'' McCartney said in a statement. Perkins, the ''Rockabilly King'' who died in 1998 at age 65, is considered one of the most influential singer-songwriters of his era, penning hits for such greats as Johnny Cash (''Daddy Sang Bass''), Patsy Cline (''I Was So Wrong''), the Judds (''Let Me Tell You About Love''), Elvis Presley and the Beatles.
He recorded his own hit version of ''Blue Suede Shoes'' before Presley turned it into a smash record for himself. Three songs in the newly acquired catalog were recorded by the Beatles - ''Honey Don't'' and ''Matchbox'' with Ringo Starr on lead vocals, and ''Everybody's Trying to Be My Baby'' with George Harrison singing lead. McCartney also recorded ''Matchbox'' as a bonus track on his DVD release of ''Back in the U.S.'' Other rockabilly standards in the Perkins collection include ''Dixie Fried,'' ''Boppin' the Blues'' and ''Cat Clothes.''
MPL, founded by McCartney in 1971, boasts one of the largest privately owned collections of music publishing rights, including the catalogs of such composers as McCartney himself, Buddy Holly, Jerry Herman, Frank Loesser and Meredith Wilson. (Courtesy: Reuters/VNU)


---


Rock 'n' Remember
Akron teen-agers shared stage with rockabilly legends,
basked in local stardom in late 1950s
By Mark J. Price, Beacon Journal staff writer

(Photo courtesy of Bill Allen Snivley). Akron's own Bill Allen and the Back Beats, featuring (from left) drummer Dean Hanley, singer Bill Allen Snivley and guitarist John Seli, ruled local airwaves and dominated the Ohio concert scene in 1957 and 1958. An earlier version of the group recorded the song Butterfly.
The promoters weren't kidding when they called this concert "spectacular." The rock 'n' roll show at the Akron Armory had enough talent to fill a wing at the Rock and Roll Hall of Fame.
Akron teen-agers paid $2.50 to witness a once-in-a-lifetime concert March 13, 1957. On the bill were -- get this -- Carl Perkins, Roy Orbison, Gene Vincent, Eddie Cochran, George Hamilton IV, Buddy Knox, Johnny Burnette and many others. If you think that's impressive, you should've seen it from the stage. That's where Akron residents Bill Allen Snivley and John Seli were performing, earning the night's biggest applause.
Their group, Bill Allen and the Keynotes, just happened to be topping the local charts with a song called Butterfly. The teen musicians were in the middle of an unforgettable tour. "This is the biggest package show we were in," recalled Snivley, 65, who lives in Coventry Township. "This was our first It was like going to an amusement park, it was so fun."
"Pretty exciting times," agreed Seli, 67, of Suffield Township. "I had no idea that rock 'n' roll was going to go to where it did, you know? We were kind of lucky." They were in the right place at the right time. The self-taught musicians, both graduates of Ellet High School, were discovered in late 1956 while performing as the duo Bill and Johnny at Akron's Back Stage lounge.
New York producers Bill Buchanan and Dickie Goodman, who had a big novelty hit with The Flying Saucer, caught the act while visiting Akron. The businessmen owned Eldorado Records and had high hopes for a song called Butterfly.
Buchanan and Goodman asked the performers if they'd like to make a record and invited them to WCUE radio. "They played a demo in the studio and asked if I could sing it, and John was there," Snivley said. The two easily passed the audition. "And they said 'We've got to get you a backup group,' " Snivley said. "I said: 'I know one! The Keynotes.' "
Coincidentally, Snivley and Seli had just met three doo-wop singers a few days earlier at the Airliner Drive-In, a 24-hour restaurant near the Akron airport. Bill Hall, Lou Anderson and Doug Taylor hailed from Tennessee and called themselves the Keynotes. They had traveled to Akron, but their singer had quit.
"Johnny and I stopped in to get something to eat on our way home after we got done playing," Snivley said. "And they were singing over in the corner, three-part harmony So I went over and I started, you know, 'Earth angel, earth angel' and then they started doing the background on that.
"Johnny ran out and grabbed his guitar. We just had a ball. We stayed there until almost daybreak, sitting in this empty drive-in doing harmonies on anything we could think of." Snivley had the backup singers audition for the producers. In the span of a week, Bill Allen and the Keynotes were born.
Vocals for Butterfly and its flip side, Oo-We-Baby, were recorded in New York. The music was recorded in Cleveland. "All this happened in a period of less than two weeks," Snivley said. "They released the record right away. It went to No. 1 in less than a week. We were No. 1 for six weeks." The song was a regional favorite in Ohio, Pennsylvania and Indiana. Akron radio stations couldn't play it often enough. "We were kind of caught up in it," Seli said. "Things happened fast."
The new group was added to the Rock-A-Billy Spectacular tour headlined by such acts as Carl Perkins (Blue Suede Shoes) and Gene Vincent (Be-Bop-A-Lula). "We were kids," Snivley said. " 'We're on tour with these guys? We buy their records.' " The wide-eyed Akron boys crossed the Midwest, playing two concerts a night in each city, performing on TV shows and appearing in newspaper articles. "We didn't even go on a bus," Snivley said. "Everybody drove themselves on these tours. We all showed up there. We'd all eat together. Nobody played 'major star,' and several guys in here could have."
Asked about some of his co-stars, Snivley described Perkins as "very friendly," Orbison as "real quiet" and Vincent as "an intense performer." The fan favorite, especially among girls, was Cochran. "I was in the dressing room with Eddie Cochran, and all you could hear is 'Eddie! Eddie! Eddie!' These hundreds of girls out there," Snivley said. The fans were enthusiastic at each stop. Crowds screamed in appreciation.
"Bill had the personality and a good voice," Seli said. "He was a good frontman. I wasn't that good as a frontman, but I could play the heck out of a guitar." There were loud cheers for "Akron's own" Bill Allen and the Keynotes when the tour stopped at the Akron Armory. "It was great," Seli said. "I came out onstage, I set up and started playing, and everybody's clapping and cheering. It's like, it don't matter how good you are or what. They're gonna do it anyway. You're from Akron."
Talk about thrills. Some of the musicians even got to meet Elvis Presley at a Cleveland record studio. "He just walked in," Snivley said. "We were all just sitting there, playing guitar and singing. He just grabbed my guitar, and he started singing, too. This was only about 20 minutes or so. He was just a nice guy."
Bill Allen and the Keynotes stayed with the rockabilly tour for about a month. Things were going well until crooner Andy Williams heard Butterfly and decided he liked it a lot. "He cut the same record after us and knocked us right off the charts," Seli said. "That kind of took the wind out of our sails." Williams' version went straight to No. 1 on the Billboard chart, his biggest hit.
After the tour, the Keynotes left, and the group re-formed as a three-piece: Bill Allen and the Back Beats. Dean Hanley, who lived in Coventry, joined as drummer. Eldorado sold the contract to the Roulette label. "We made a record there, which I thought was pretty good It never got released," Seli said. "It was called Let Me in Your Heart."
The band then switched to the Imperial label and recorded Since I Have You and its flip side, Please Give Me Something. The song was another hit in Akron, and the group's concerts drew big local crowds. The band had a lot of fun in 1957 and 1958, but fame and fortune were fleeting.
"I've got an old record contract with Imperial Records," Seli said. "It shows that we were supposed to get 4 percent of each record. A 45 record sold in those days for 98 cents, I believe, so it boiled down to 2 cents apiece." Snivley recalled getting royalty checks for a whopping $1.98. "It wasn't even worth the stamps on the envelopes," he joked. Seli's last check -- for 94 cents in 1974 -- is in a scrapbook. He never cashed it. It's a souvenir.
"We hardly got paid," Snivley said. "The same happened to us that happened to many, many, many rock 'n' roll groups. The people who promoted them made money, the managers made money, but the people who actually did the work had to hitchhike home usually."
The band finally broke up after members started getting married and raising families. Snivley went to work at Firestone, and Seli worked with his brother at Seli's Floor Sanding Service, a company he now runs.
But they never gave up their love of music. "I've played with a dozen different bands," Seli said. "I played three nights a week until I was about 50 years old."
Snivley has lived and entertained in Nashville, Los Angeles and Florida. In the 1970s, he performed in duos with Lynn Christie and Sherry Paige. He still enjoys playing guitar and singing, and entertains at private parties and clubs whenever he can.
Seli plays with From the Heart Singers, a group from St. Joseph Catholic Church in Randolph, and jams with friends. He recently received a patent for his invention, the Tug-A-Wah, a guitar processor built into a guitar strap. Music is still a part of their lives.
Snivley joked that he and Seli will be hall of famers someday. "But we have to buy tickets," he said. "That's the only way we'll get in the hall of fame." Seli recalls visiting the Cleveland museum a few years ago. "Boy, it brought back so many memories," he said. "They had a mannequin there with the clothes Eddie Cochran wore in those days. Just the way I remembered him." He thought back to the music, the concerts, the bands, the clothes, the travel. "I guess we had it all in those days," Seli said.


---


Going to Viva Las Vegas and wanna "get in the mood"?
Not going to Viva Las Vegas and wanna have fun anyway?
Well now is your chance ... Cherry Bomb Productions and the Blank Club presents ~1st Annual


featuring THE PALADINS
and introducing The Claimjumpers
DJs Vida Lee and Cherry Bomb
Friday, April 11, 2003 - Doors 9pm
The Blank Club, 44 Almaden @ Post, Downtown San Jose - (408) 29BLANK
We are working on getting the back parking lot for hot rods, customs, classics and motorcycles. Cherry Bomb Productions "Rockin' the Planet Since 1995" - Booking, Promotion, Production, DeeJay Services, Management - www.thecherrybombs.com


---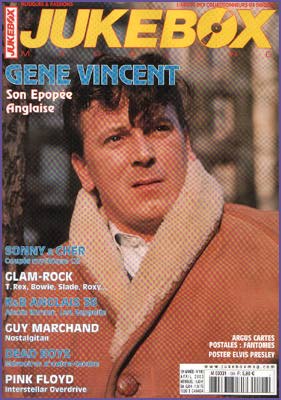 The April issue of JUKE BOX MAGAZINE contains a complete reviews of the English part of Gene Vincent's career, included with an interview of Margaret Russel and unpublished colors photos of Gene (rock across the channel). Available at: www.jukeboxmag.com


---

Second Annual Frizzell
Country Music Festival
A tribute to the legendary Lefty Frizzell
May 10th, 2003 1-7 pm 'Rain or Shine'
---
Indiana Rockabilly Legend Ronnie Haig
Shares Birthday with Rockabilly Hall of Fame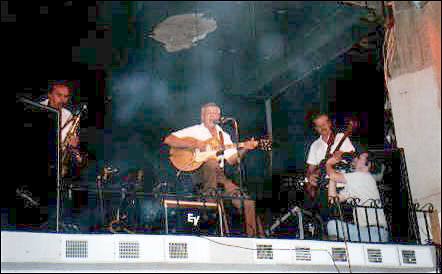 Ronnie Haig is pictured here performing in "The Fountain Room" Indianapolis, IN, 1996, with his band at that time: Delbert Baily on Bass, Paul Hutcinson on sax, Larry Goshen on Drums and Ronnie on the golden Gibson. Ronnie was born on March 21, the same date the Rockabilly Hall of Fame was founded (in 1997). HAPPY BIRTHDAY RONNIE!! Photo courtesy Nol Voorst.


---


50s/Early '60s UK Pop Star Adam Faith Dies
Posted March 8th - Actor and singer Adam Faith has died from a heart attack. The 62-year-old was staying at a hotel in Stoke-on-Trent, Staffordshire, where he was starring in the Regent Theatre's Love and Marriage.
He was taken ill at the hotel after last night's performance, an ambulance was called and he was taken to hospital. Doctors fought in vain to resuscitate the actor who has a history of heart trouble, his agent Alan Field says. Faith, who lived in the village of Tudeley in Kent, leaves a wife, Jackie, and daughter Katya, aged 32.
Mr Field said: "He had a major heart attack and died around 2am. He completed last night's show. In the early hours of this morning he got into difficulties. The emergency services were called and he was taken to hospital. He was in cardiac arrest at the hospital and he never regained consciousness."
In tribute to the man he considered a good friend as well as his client, Mr Field said: "Terry, or Tel, as we called him was one of the best communicators that I ever knew. It could be a taxi driver in the street or a member of royalty - he was able to communicate with everybody at every level and he was respected and loved by them all.
"He came through in the pioneering days of pop music and he really was a big icon along with Cliff Richard - they were the first wave of the British version of the pop music world."
Born Terry Nelhams in June 1940 on a council estate in Acton, west London, Faith was the third of five children. He adopted his stage name, Adam Faith, and went on to have a series of chart hits including number one singles What Do You Want and Poor Me.
Courtesy: Ananova Ltd 2003


---


Bo Raps Rap
Bo Diddley is no fan of rap music. The 74-year-old bluesman says rap "is not a thing that's going to last as long as I have. First of all, you can't understand what it is and it has no meaning," Diddley told an audience recently at Dunnellon High School. Dunnellon is about 35 miles from Diddley's home in Archer, near Gainesville in north Florida.
"The lyrics are very disgusting because you are a person, and a person deserves respect," he said. "I have daughters, my mother was a woman, and I don't like what I'm hearing." Diddley traded jokes, gave advice, jammed and recruited some new fans from a teenage audience not familiar with him or his hits such as "Bo Diddley," "I'm a Man" and "You Can't Judge a Book by Its Cover." He suggested students discover their talents and use them to earn a living and stressed the importance of hard work. "You've got to hustle, man," he said. "There's a legal way to hustle."
Diddley also performed his own style of "clean" rap: "Some folks say old Bo Diddley can't rap. I'm Bo Diddley and I ain't taking no nap."


---


Big Town Boogie, Ralph Rebel
(Golly Gee Records GGR 1003) Yes, we know this album was released a little over a year ago, but with the renewed interest in big band style rockabilly & rock 'n' roll music, due to Brian Setzer's Orchestra and some superb re-recordings of Bill Haley's Original Comets, we think you should definitly listen to this record.
The reknowned Long Island guitarist, Ralph Rebel, puts together a hot swing combo to record this platter full of swing classics and jumpin' originals. This is Swingabilly in the tradition of Bill Haley & The Comets with a clean modern sound. Billy Thompson's scorchin' guitar work drives this swingin' disc like nothing else recorded this decade. Just try and sit down while this baby is playing! Don't believe us? Just play some of the mp3 samples on the Golly Gee website and put on your dancin' shoes for The Big Town Boogie.
Produced by Golly Gee's own Mel Spinella and Ralph Rebel, this record rocks from A to Z, unbelievable how much rhythm these guys can put in their music. Whether you like rockabilly music, rock 'n' roll, big band, rhythm & blues or swing, this is an album for you! Ten tracks, including three* originals, will keep your feet moving for about 40 minutes. The awesome rendition of "Shake Your Money maker" gives the song a whole new dimension, while the original Betty Page, with its awesome rockabilly rhyhtm and Billy Thompson's scorching guitar , will set your ass on fire. Don't forget to check out the glamourous Betty Page lingerie shots on back cover. Great music, great production, great album covers. Well done guys...
Tracklisting:
Set 'Em Up Joe* - Long Hard Night - Big Town Boogie* - Shake Your Money Maker - Wild Saxophone - Train Kept A-Rollin' - 13 Women - (Pinup) Betty Page* - Caledonia - Rockin' Daddy
The musicians:
Ralph Rebel - Lead Vocals Pete Crugnale - Double Bass, Background Vocals Hans Koopman - Saxophone Chris Laybourne - Saxophone Mark Eiseman - Trombone Willy Wayman - Trumpet Russ Warren - Harp, Background Vocals
Billy Thompson - Guitar
Don Keiling - Rhythm Guitar
Wild Bill Piscatello - Drums
Paul Katz - Background Vocals

Contact information:
Golly Gee Records, Inc.
4001 Kennett Pike, Suite 134, #520
Greenville, DE 19807
http://www.gollygeerecords.com - info@gollygeerecords.com
Reviewed by The BlackCat, 2003V


---


Two "Rock-N-Boppin'" Reviews:
Kay Wheeler: Personal Memories Of Elvis CD
(self-released, 2002)
As a voluptuous young gal, Kay Wheeler (a 1997 Rockabilly Hall of Fame inductee) founded the first National Elvis Presley Fan Club. A few months down the line, she sassily strutted her wildly dancing stuff in the classic 1957 rock'n'roll motion picture, "Rock Baby Rock It", and she later starred alongside Gene Vincent in "Hot Rod Gang". Most importantly (for all you Elvis-lovin' ladies out there in rockabilly la-la land!), Ms. Wheeler was Elvis' girlfriend during the frenzied height of the King's early brushes with success, fame, and fortune in 1956 and 1957. And that wild'n'woolly relationship is the prime, heart-thumping inspiration for this dandy and delightful lil' disc! In a sweet, tender, country girl voice, Kay provides a descriptively picturesque montage of remembrances about her special times with Elvis. She vividly details how she first heard Elvis on a Dallas-area radio station via a live broadcast from the Big D Jamboree. She fondly relates the events that led to her forming the aforementioned Elvis fan club. She breathlessly teases the listener with some sexy, heart-racing accounts of backstage kisses and flesh-tingling embraces with the mighty, hip-swiveling Big E! She even walks you through a cozy, charming visit to the Presley family household on Audubon Drive in Memphis, Tennessee, where Elvis kept a framed photograph of Kay on the nightstand next to his bed. The entire time Ms. Wheeler affectionately reminisces about her precious moments with the King, a jaunty array of classic Elvis songs, as performed by three different tribute artists, jubilantly emanates from the background. And the lip-smackin' icing on the cake: the folded CD insert contains a handful of intimate, never-before-published photos of Kay and Elvis. All in all, this is a professionally produced package prepared with the utmost of love, adoration, and tenderness, and it's sure to provide numerous hours of awe, envy, and joy for the most faithful of Elvis fans. (Kay Wheeler, P.O. Box 53042, San Jose, CA 95153 / www.kaywheeler.com) - Roger Moser, Jr. ("Rockabilly Revue")

Various Artists: Rock Baby Rock It Soundtrack CD
(Goofin Records)
"Rock Baby Rock It" was one of those classic, black-and-white, low-budget movies that was essentially marketed to cash-in on the youth-driven rock'n'roll craze of the late 1950s. According to the liner notes of this soundtrack CD, "Rock Baby Rock It" was filmed entirely in a Dallas, Texas, hotel lobby in 1956, and it grandly debuted at a theater in the vast concrete wilderness of Big D in March of '57. Although the somewhat predictable plot follows the routine pubescent story line of all the other rock'n'roll-flavored motion pictures of that particular era, what really sets "Rock Baby Rock It" apart from the rest of 'em is its outstanding musical content (and Kay Wheeler's wildly wiggling dance acrobatics, of courseš va-va-va-voom!). There's the jumpin', swingin', jive-wailin' fury of The Cell Block 7; the boppin', upbeat, pelvis-shakin' splendor of Don Coates & The Bon-Aires; the lively, lovelorn, doo-wop glow of The 5 Stars; the gritty, smokin', late-night rhythm-and-blues strut of Preacher Smith & The Deacons; the virile, robust, juke joint-style R&B growl of Rosco Gordon & The Red Tops; the savage, wild'n'woolly rockabilly brashness of Johnny Carroll & The Hot Rocks; and the folksy, frolicking, Everly-like rural harmonies of The Belew Twins. In all, you get a grand total of 18 stellar tracks, and I'm here to tell you that there ain't one sour grape in the entire bunch! (Goofin Records, P.O. Box 63, 01601 Vantaa, Finland / www.goofinrecords.com or Kay Wheeler, P.O. Box 53042, San Jose, CA 95153 / www.kaywheeler.com) - Roger Moser, Jr. ("Rockabilly Revue")


---

Billy Adams with a fan at Tower Records, Feb., 2003

Return of the Rocker
Pioneering rockabilly singer Billy Adams is back in circulation after a three-decade hiatus. By Ron Wynn, the Nashville Scene.
Feb., 2003 - Billy Adams is as energetic and committed to playing rockabilly today as he was back in the mid-1950s, when he started Billy Adams and The Rock & Roll Boys with his brother Charles and bass player Curtis May. Now living in Franklin, Adams has never enjoyed widespread fame like others from that period, but he's widely admired and respected by fans of vintage American music -- especially in Europe.
A recent inductee to the Internet Rockabilly Hall of Fame, Adams and his band recorded numerous singles for the Quincy, Dot, Nau-Voo and Fern labels before he gave up rock 'n' roll to enter the ministry in 1965. All of those tracks, as well as unreleased material from the '50s and selections from Adams' 2000 album, Legacy, appear on Rocking Thru the Years 1955-2002, a career retrospective that testifies to his enduring body of work. Currently enjoying something of a renaissance, Adams will showcase tracks from his forthcoming album of new material with two performances this week.
"I've loved singing ever since I heard Jimmie Rodgers and The Carter Family on the radio," says Adams, who was born in rural Redbush, Ky., in 1940. "We had an old radio powered by batteries in our house. The reception wasn't always that great, but I was immediately drawn to the way Jimmie Rodgers phrased his lyrics. He was a big influence; and the Western swing pianist Moon Mullican, he used to pound those keys, he was another major influence. And, of course, when I heard Elvis in 1954, that was kind of like validating what I was doing, because his songs were using that great beat.
"It was an incredible time, a period when you could take all kinds of musical chances, and when no one really knew for sure what might or might not be a hit," Adams continues. "I think if we could have made it at Sun back then, we'd have had a shot at really being big."
Shortly after releasing his first single, "Rock, Pretty Mama," for the Quincy label in 1957, Adams called Sun Records from a pay phone following a show in Springfield, Mo.; he introduced himself as "Billy Adams from Kentucky, a 16-year-old boy with a record." Invited by "Cowboy" Jack Clement to come to Memphis and audition for Sun, Adams and his band nearly got there, but "our old Ford just couldn't make it." Adams sold the car for $50, canceled the rest of the tour and headed home. He finally reached Memphis in 1998, recording Legacy for Screen Door Records in 2000.
What's always been most impressive about Adams' music is his pliable voice and fiery guitar playing. Pivotal singles like "You Heard Me Knocking" for Dot and the maniacal "You Gotta Have a Duck Tail" for Nau-Voo, both from 1958, feature his joyous, infectious vocals. "I've always thought it was important that the singer believe in what he's singing, and communicate that to the audience," says Adams. "We really loved making those records. The only problem I ever had was having to be on the road so much, and not having songs that I thought were good become as successful as possible because of politics or distribution. Back then, though, I didn't know that much about the business end [of music]."
Although never one of the vaunted rockabilly acts of the 1950s, Adams still managed to attract national attention for early singles like "You Heard Me Knocking" and "True Love Will Come Your Way." Those records were issued on the Dot label, thanks to the efforts of Glen McKinney, owner and engineer of the Mack Recording Company, who offered Adams and his fledgling band a record deal. McKinney subsequently licensed those songs, which were recorded in his tiny Nau-Voo studios in West Portsmouth, Ohio, to Dot, the small but influential label that had been located in Gallatin until owner Randy Wood moved it to Hollywood in 1957. By the time Adams and his bandmates were putting out records on Dot, they were calling themselves The Rock-A-Teers. The combo toured extensively in 1958 and 1959, before Adams tired of the road and disbanded the group; he kept writing and recording, though, until 1965, when he totally shifted gears and took up a very different vocation.
"I was called by the Lord, and it was time for me to do something completely different with my life," Adams says of his decision to enter the ministry. "I didn't even think about what it would mean to me commercially. I was concerned about what I could do to help others find the joy that I had discovered." However, he didn't completely turn his back on the past. "I found that a lot of times, people who'd heard those songs, or knew me from rockabilly or rock 'n' roll, would be fascinated hearing me talk about the Lord. Also, I felt my inspiration to perform and my talent came from God, so it just made sense for me to use everything on his behalf."
Meanwhile, Adams' recordings remained in circulation; thanks to reissues of his early work by Ace, Bear Family and MCA, Adams and his music continued to enjoy a certain vogue, particularly overseas, where collectors are enamored of Americana of all stripes, notably rockabilly. The trouble was, several other rock 'n' roll singers named Billy Adams had surfaced in the interim, making it difficult at first for Adams to reestablish his identity as a performer.
"One of them died in 1984, and some people thought that was me, especially since I'd been in the ministry and wasn't doing rockabilly or rock 'n' roll tours," Adams recalls. "I even had a guy come up to me at a show and ask me to sign a record that had my obituary printed on the back."
Alive and quite well, Adams has since drawn rave reviews, especially for his concert appearances last summer and fall in England and for Rockin' Thru the Years, which has received high praise in a number of collectors' magazines. Not only that, his performance in Jackson, Tenn., at Rockabilly Fest 2001 was filmed and later aired on public television, attracting the attention of contemporary musicians like former Mavericks Robert Reynolds and Nick Kane.
"There's a whole new generation out there who don't know about the old days, but are hungry to hear some real music," says Adams. "I'm real happy to get back out there and show them what the real thing sounds like."


---


Wanda Jackson and The Cadillac Angels: Review
JAN. 31 - FEB. 6, 2003, Live in L.A., Let's Have a Party at the Derby, January 24 -- review by Falling James, L.A. WEEKLY. "I guess all these songs are for the women," Wanda Jackson said before launching into the original riot-girl anthem, "Mean Mean Man." Later she praised the gal who designed her acoustic guitar for thoughtfully leaving plenty of room for cleavage. A spitfire diva who toured with Elvis and wrote many of her own classic rockabilly hits, Jackson was refreshingly humble and down-to-earth at the Derby. She thanked the crowd for "letting" her have a quick, sanctimony-free run through the old-time gospel of "I Saw the Light." It had a good beat; most of the artfully decked-out extras from Happy Days kept dancing. Although her radiant voice soared unbroken throughout the too-short set, she stroked her throat and apologized "if I sound a bit Ferlin in the Husky."
Truth is, she sounded wonderful, with backing trio Cadillac Angels kicking up a driving, rootsy ramble that subsided for a precious few country ballads. "Country music and rockabilly are kissin' cousins," she explained, alluding to the days when critics from bothcamps insisted she choose only one style. (You don't want to fence in a woman who introduced "Riot in Cell Block #9" by declaring, "I've never been to prison - that's one joint I've missed.")
Despite the thrilling closing fusillade of "Let's Have a Party" and "Whole Lotta Shakin' Goin' On," the show's highlight came earlier on a casually tossed-off performance of Charlie McCoy & Kent Westberry's "Tunnel of Love," one of those haunting, soul-baring tunes - like "Sally Go 'Round the Roses" and Peggy Lee's "Fever" ů that linger timelessly, beyond genre. As the fillies' skirts whipped on the dance floor, Jackson was momentarily framed by a funnel of synchronized spinning limbs. A guy held his partner's hand behind her back for a quick moment, stealing a kiss when they paused midtwirl. Jackson looked down knowingly, teasingly, and sang, "The tunnel of love ... it's gonna get you someday."


---


Ersel Hickey in the National Press
For those interested in the man behind the most famous photo in rock 'n' roll, look for the latest issue of Outre magazine (arriving on newsstands across the country by mid February). Ersel Hickey's story is told by the man himself in a feature article written by Chicago's Ken Mottet. Photos from throughout his career(including shots from last summer's Green Bay spectacular) are included.
Outre (The Magazine of Ultramedia) is found at most major book stores in the motion picture magazine section. Look for the bright yellow cover featuring the post apocolyptic robot invasion scene.
-Ken Mottet, Chicago - gand@gand.com


---


Gene Vincent's "In My Dreams" to Movie Soundtrack
THE WORD ON THE STREET. "There's movie that is coming out is called "The Singing Detective" and it stars Mel Gibson and Robert Downey Jr. It just premiered at Sundance. It is a remake of a BBC series from the 80's starring Michael Gambone. In the movie there is a lot of lip -synching to 50's songs. But at the end credits Downey sings in his own voice "In My Dreams" by Vincent. Those who have already seen the movie say that he does it really well and it is there favorite part of the movie!! We don't know yet when it will be released but fans of Downey are very excited about it. If you need any more info on this I would be happy to share it. "
and ...
"A recent report in the New York Post's Page Six would be a dream come true for fans: Robert Downey Jr., who croons a cover of Gene Vincent's "In My Dreams" over the end credits of his Sundance film, "The Singing Detective," is eyeing a future in music. "I've written enough stuff for a musical and a couple of albums," he told The Post's Megan Turner. "I'd like to play some small venues, but under the name of whatever the band would be - not like, 'Robert Downey Jr. invites you and David Hasselhoff to an auditorium,' because I just smell the demise right there. ' The ›movie is produced by Icon ... which is Mel Gibson's company.


---


Review: Live in L.A. - "Let's Have a Party" ... at the Derby, January 24
WANDA JACKSON, CADILLAC ANGELS
(LeeRoyBrownLRB@aol.com) - "I guess all these songs are for the women," Wanda Jackson said before launching into the original riot-grrl anthem, "Mean Mean Man." Later she praised the gal who designed her acoustic guitar for thoughtfully leaving plenty of room for cleavage. A spitfire diva who toured with Elvis and wrote many of her own classic rockabilly hits, Jackson was refreshingly humble and down-to-earth at the Derby. She thanked the crowd for "letting" her have a quick, sanctimony-free run through the old-time gospel of "I Saw the Light." It had a good beat; most of the artfully decked-out extras from Happy Days kept dancing. Although her radiant voice soared unbroken throughout the too-short set, she stroked her throat and apologized "if I sound a bit Ferlin in the Husky."
Truth is, she sounded wonderful, with backing trio Cadillac Angels kicking up a driving, rootsy ramble that subsided for a precious few country ballads. "Country music and rockabilly are kissin' cousins," she explained, alluding to the days when critics from both camps insisted she choose only one style. (You don't want to fence in a woman who introduced "Riot in Cell Block #9" by declaring, "I've never been to prison " that's one joint I've missed.")
Despite the thrilling closing fusillade of "Let's Have a Party" and "Whole Lotta Shakin' Goin' On," the show's highlight came earlier on a casually tossed-off performance of Charlie McCoy & Kent Westberry's "Tunnel of Love," one of those haunting, soul-baring tunes " like "Sally Go 'Round the Roses" and Peggy Lee's "Fever" " that linger timelessly, beyond genre. As the fillies' skirts whipped on the dance floor, Jackson was momentarily framed by a funnel of synchronized spinning limbs. A guy held his partner's hand behind her back for a quick moment, stealing a kiss when they paused midtwirl. Jackson looked down knowingly, teasingly, and sang, "The tunnel of love . . . it's gonna get you someday..." http://www.laweekly.com/ink/03/11/live.php


---


Lisa Marie Presley Album Update
Wednesday, January 22, 2003 - By Roger Friedman. I broke the news a couple of weeks ago that Lisa Marie Presley, daughter of the King and Priscilla, would be releasing her first album on April 8. What would the songs be about, we wondered? Certainly a couple of them concern Elvis, according to available lyrics.
But at least one song will preach the Scientology cause that tries to stop parents from giving their children drugs like Ritalin to treat Attention Deficit Disorder. Scientology wages a constant war against psychiatry in general, hoping to attract alienated young people before they can be treated by doctors. Presley's title track, "To Whom It May Concern," is about just this.
Presley's official web site is linked to a charity called the Citizens Commission on Human Rights, which promotes the teachings of L. Ron Hubbard. CCHR has 23 listings at guidestar.org for tax free chapters. Its main chapter, in Los Angeles, has a substantial war chest to fight against psychiatry. Fellow Scientologists Kirstie Alley and Juliette Lewis are featured in pictures with Presley at rallies protesting against psychiatry.
Two years ago, Lewis turned up on a Creative Coalition panel of celebrities discussing violence in the media and their influence on kids, but she blamed psychotropic drugs for the problems affecting children.
Both Lisa Marie and her mother, Priscilla, are longtime members of Scientology, which requires hefty annual donations from its members. One wonders how much of Elvis Presley's estate has gone to Scientology and whether his millions of fans have any idea where their money has gone. Scientology seems to be in direct conflict with Elvis Presley's own personal credo, which was "Shake, rattle and roll" with a barbiturate twist.


---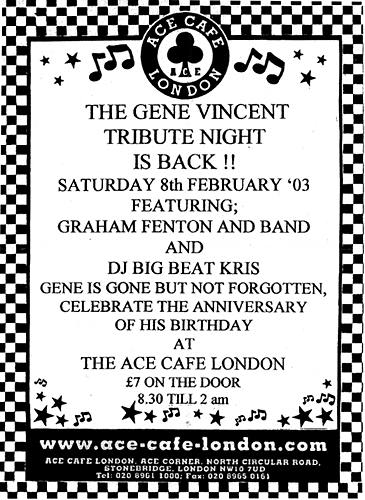 ---
Lee Rocker's "Bulletproof" CD
For more than 20 years, Lee Rocker has been one of the most successful and acclaimed proponents of Americana/rockabilly music. As a founding member of the Stray Cats, Lee Rocker's unique image and upright bass helped propel the Cats to sales of more than seven million records. In 1982, the Stray Cats were nominated for a GRAMMY, featured on the cover of Rolling Stone and appeared all over the new sensation known as MTV. The singles "Rock this Town," "Stray Cat Strut" and "Runaway Boys" all landed in the Top 10 in Europe and in the U.S. The American-released album Built for Speed occupied the number-two spot on the Billboard Album Chart for 26 weeks. The Stray Cats not only made their mark with the fans but also with their fellow musicians.
Throughout the late Ś80s and early Ś90s, the Cats recorded four more albums and continued to tour internationally. This truly cemented Rocker's reputation as the world-premier rockabilly bass man and led to Lee performing or recording with such legends as Carl Perkins, Dave Edmunds, George Harrison, Ringo Starr, Jeff Beck, John Fogerty, Robert Plant and Willie Nelson. Recently in 2002, Rocker teamed up with the groundbreaking hall-of-fame-recognized guitarist Scotty Moore - best known as Elvis' guitar man - and toured the U.S. for much of the year.
After a few months locked in the studio, Lee has emerged with Bulletproof, a recording that combines the best of what Lee Rocker does: great songs with energy and passion. Bulletproof has new Lee Rocker songs as well as Lees unique take on songs written by Johnny Cash, Lennon/McCartney, and Carl Perkins. Lee has taken all he has learned from 20 years of playing Americana music and produced the classic Lee Rocker album. Lee and his band will hit the road hard with U.S. tours from February through July 2003. Click for information on Lee's new CD.

UPCOMING DATES:

Thursday 1/30/03 - San Diego, CA - Tio Leo's

Saturday 2/01/03 - Long Beach, CA - Blue Cafe

Tuesday, 2/04/03 - Phoenix, AZ - Rhythm Room

Thursday, 2/06/03 - Anaheim, CA - House of Blues

Friday, 2/13/03 - Santa Cruz, CA - Moe's Alley

Saturday, 2/15/03 - San Francisco, CA - Biscuits 'N Blues

Friday, 3/14/03 - Minneapolis, MN - Lee's Liquor Lounge

Saturday, 3/15/03 - Rochester, MN - Love Ugly Cabaret


---


Wanda Jackson Recording Again
Jan. 14, 2003 - Wanda Jackson, legendary country/rockabilly performer for over forty years is back in the studio in Los Angeles recording a new album with stars like Dwight Yoakam, Pam Tillis, Raul Malo, Dave Alvin and others. This project has been in the works for several months and recording will begin Wednesday, January 15, 2003.
CMH Records, for over thiry years one of the top "bluegrass" labels, with artists such as the Osborne Bros, Jim & Jesse, Merle Travis, Grandpa Jones, Jimmy Martin, Lester Flatt, Johnny Gimble, Joe & Rose Lee Maphis, Carl & Pearl Butler amongst others, has lately been in an expansion mode exploring other genres while signing new and established country/bluegrass acts. For further information contact; Jim Silvers jims@cmhrecords.com - (323) 663-8073.


---


More Elvis Reisssues Repackaged
To coincide with Elvis Presley's recent 68th birthday, RCA/BMG Heritage has released four essential Presley reissue compilations that chronicle various phases of his career. Longtime Presley friend Diamond Joe Esposito explained that the most important thing to remember about Presley is his music. "Overall, the most important thing that I want people to remember Elvis about is his music and how he made them feel when he sang," Esposito said.
Each of the reissue discs represents a key segment of Presley's musical career - seminal early tracks are included on Elvis 56; love songs make up the tracks on Heart And Soul; Hollywood hits highlight Can't Help Falling In Love; and classic country is heard on Great Country Songs. The releases have been mixed and mastered directly from the original source tapes using DSD technology, and each one features rare photos and expansive liner notes.
Elvis 56 returns to the year 1956 - a remarkable year for Presley, when he spent a full 26 weeks of the year at Number One, selling 12.5 million singles and 2.75 million albums in the U.S. alone. The disc features 22 tracks including "Hound Dog," "Tutti Frutti," "Shake, Rattle And Roll," "Ready Teddy," "Lawdy Miss Clawdy," and "Heartbreak Hotel," including a previously unreleased alternate version of that song.
Heart And Soul also contains 22 tracks featuring Presley's most romantic ballads and love songs, such as "Love Me Tender," "Can't Help Falling In Love," "It's Now Or Never," "Always On My Mind," "Suspicious Minds," "You Don't Have To Say You Love Me," and "Bridge Over Troubled Water."
Can't Help Falling In Love - The Hollywood Hits features songs from the 33 movies Presley made between 1956 and 1972. Tracks include "Jailhouse Rock," "(Let Me Be Your) Teddy Bear," "Rock-A-Hula Baby," "Return To Sender," "Viva Las Vegas," and "Roustabout."
Great Country Songs takes Presley back to his roots, highlighting such classic tracks as "Blue Moon Of Kentucky," "Your Cheatin' Heart," "Kentucky Rain," "Green, Green Grass Of Home," and "He'll Have To Go." --Sue Falco, New York


---

Long Overdue Honor
There are many things in this world that are long overdue. World peace, food enough for everyone, the right to an education and fair treatment for all. Each of these things require that we try, in our own small way, to work toward their solutions every day but they are highly complex issues and none are likely to get corrected in our immediate future.
There is however something that's long overdue that we can fix and effective immediately, we here at Caitlin Productions are committed to seeing it happen. In short, it's about time that the Jordanaires received a commemorative star on the Hollywood Walk of Fame. Who better says Elvis Presley to all those who love him, than people like D. J. Fontana, Scotty Moore, Bill Black and the Jordanaires, and yet after all these years, they still do not have their own stars on that hallowed piece of real estate.
Over 2-1/2 years ago, when I begin shooting my documentary on Elvis, I knew little about the man or those who were with him back in the day, but I must confess that of the over 250 artists that I interviewed I found none more gracious than Gordon Stoker and Ray Walker. Right then and there I promised them that one of my next projects, once I had some free time and could get a few minutes to work on it, was to do everything in my power to see that they received a star. Well, I'm still buried with work and may never get the extra time I'd like to work on this project, but I've decided that if something is important enough you simply 'make the time.' To that end and effective immediately I intend to focus whatever resources I have to make this happen.
After having spoken to many of my Hollywood friends, there is huge support for this project and while the process of being invited to receive a star is far from simple, I am convinced that we the Elvis fans, can pull this off. Among other things it costs approximately $15,000 to qualify for a star and while that is certainly a lot of money, especially in this economy, if every Elvis fan sent just $25.00 each, we'd have the required money overnight.
Accordingly, I am going to start the ball rolling by pledging $1,000 of my own personal money to the cause and within the next week I intend to open an account to receive donations from those of you who love the Jordanaires like I do. If you'd like to speak to me personally about this project, feel free to call me at (919) 469-5662 or e-mail me at KVRANA@nc.rr.com. I have set a target date for collection of all the money by no later than January 1, 2004, but let's not let it take that long. Let's show them what Elvis fans can really do when they get together.
Sincerely, Ken Vrana


---


› › Elvis Presley's White Knabe Grand Piano Sold
Jan. 7, 2002 - The Blue Moon Group Inc. based in Howard Beach, NY. has announced they have acquired Elvis Presley's White Knabe Grand Piano and matching bench along with other collectible mint condition musical assets including: Presley's 1966 Gibson Red SC electric guitar, his red shirt from the movie "Spinout", RCA portable tube radio given to Elvis by RCA (circa 1955), white mat gold record for "In The Ghetto", Bo Diddley's Thunderbird guitar and Stevie Ray Vaughan's stratocaster guitar. The acquisition represents Blue Moon music group's company image and enhances their corporate value in a unique fashion.
Also included in the deal, a number of other "valued collectibles", like a gold and platinum record collection and Memphis Music Ltd., a music label featuring specific audio recordings of bluesman Albert King, Lash Laroo, contemporary guitarist Robert A. Johnson and Furry Lewis. The deal has been appraised at somewhere between $1.2-1.3 million and was consummated on Monday, Jan. 6, 2003. Musician/producer/songwriter Robert A. Johnson sold his entire collection and merged his record label, Memphis Music Ltd. with the Blue Moon Group Inc.
Elvis loved his grand piano and he often played and sang for family and friends at Graceland. Two of his favorite songs were "You Lost That Lovin' Feelin'" and "Unchained Melody" which were made famous by The Righteous Brothers. Originally, the grand piano was used in Memphis' Ellis Auditorium from the early '30's through 1957 and during that period, the white Knabe was played by such artists as W.C. Handy, Duke Ellington, Count Basie and Cab Calloway. Elvis purchases the piano in '57 and has it refurbished to his personal specifications. The white Knabe piano was the centerpiece of the Music Room at Graceland until 1969. When Priscella gave Elvis a new gold-leafed piano, the white Knabe piano was placed in storage.
Between 1976-1981, the white Knabe piano was sold (circa 1976) by Vernon Presley to Sturges Recording Studio in Memphis where it was used in recording over 50 albums by various artists including Jerry Lee Lewis. Jimmy Velvet bought the piano in '81 and it stayed in his museum until 1990, where it remained until a private individual purchased it. The "Elvis white piano" remained "privately owned" until now. The piano was recently refurbished by C.B. Coltharp and has been completely restored. He referred to old photos of Graceland and record jacket snapshots to restore the piano to its original authentic 1957 stature. The entire restoration process took almost half a year to complete.
The acquisition of Elvis' white Knabe grand piano and the other mint condition collectibles are the latest in a series of celebrity memorabilia buy-outs: Elvis' draft card was sold for $22,500 and a jumpsuit of his went for $65,000 (1999), George Michael bought John Lennon's piano for over $2 million (2000), Marilyn Monroe's baby grand sold for over $660,000 (1999), Jerry Garcia's guitars sold for $2 million (2002) and Eric Clapton's 'Layla Fender Stratocaster' sold for about $490k to Paul Allen of Microsoft fame and is now on display at the EMP museum in Seattle.


---


EDITORIAL COMMENT:
UK Proposed Entertainment Tax
(Jan. 8, 2003) - There is a proposed new law currently going through parliament that will affect anyone who plays live in the UK. For any public entertainment, the venue will have to buy a license and the artist will be held criminally liable if there is no license or it is not correct! Proposed new law will effect everyone.
Please forward this newsl to any musicians / music amateur you know, and do something before it becomes LAW. i.e: write to your Member of Parliament, your County and District councillors, and your local paper. There's a link to have access to your local politicians's email here:
(click) this is where this text has been taken.
When forwarding the mail, please copy the text and paste it in aa e-mail. Recently there have been press headlines about the government ' s proposals to abolish the restriction on pub opening hours. At last the UK will fall in line with just about every other country in the world. It lies in the less publicised parts of "The Licensing Bill" currently before Parliament.
At the same time as revising the law on pub opening, the Government is proposing to tidy up the situation on entertainment licenses which is riddled with anomalies; but rather than making the situation better, the proposed bill makes it far worse.
For a start, all the pubs and clubs that have 'got away' without needing a Public Entertainment Licence in the past because they've never had more than 2 musicians appearing at the same time will need a licence in the future. The two-in-a-bar rule was a long outdated regulation and needlessly restricted live music performance but what it is being replaced with will limit live music still further.
Then there are all the other areas of public entertainment. The bill currently before parliament contains provisions that will have a serious impact on all branches of the performing arts, both amateur and professional. All premises in which performing arts activities take place will require a licence from the local authority. No costs have been revealed, but licences will be granted only after inspection by the police, fire authority, health and safety inspectors and consultation with local residents and interest groups, so the cost will be far from nominal. At present a license for a pub can be anywhere between £100 and £3,000 depending on where in the country.
Churches, schools, village halls, pubs, restaurants, even private houses will have to be licensed if used for performance events, whether they take place frequently or only occasionally. Performances for members of clubs or for charitable purposes are also subject to this legislation, as are recording studios and premises used for rehearsals. Any performance in unlicensed premises will be a criminal offence, punishable by a large fine and costs, or a prison sentence.
Religious gatherings are exempt but here1s a prime example of the madness of this legislation. 100 people attending a church service and singing hymns with orchestral accompaniment will not require a license. But if the same 100 people go into the same church simply to listen to the orchestra (i.e. a concert) it will require an entertainment license. It really will be a tax on entertainment.
Existing legislation relating to law and order, noise nuisance and health and safety makes the licensing of premises specifically for entertainment superfluous. There is no need for new regulations. No other country imposes such restrictions on artistic activities and a leading legal authority has determined that this legislation is incompatible with Article 10 of the European Convention on Human Rights relating to freedom of expression.
Who, then, has been campaigning for these measures? Suspicion must fall on local authorities for whom this legislation will be a big money earner. These organisations have had a significant influence on the committee that formulated the Licensing Bill, while bodies representing arts interests have been refused representation.
Recent experience indicates the lengths to which some local authorities go in applying the letter of the law. A landlord was fined £500, with more than £1,500 costs, for allowing four of his regulars to sing 'Happy Birthday1 (without an entertainment license); another was threatened with court action when patrons were seen to be 'tapping their feet1 to, and therefore being 'entertained' by, unauthorised music. The new Licensing Bill provides even more opportunities for 'jobsworth' interference in harmless activities.
The net effect of this new law will be curtail peoples' freedom and drastically reduce the number of small-scale music performances. If you value your freedom to enjoy watching and listening to, or participating in live performance - be it music, drama, poetry reading, or any other performance art - then you need to voice your concern about this new legislation. Once it becomes law, it will be a difficult and lengthy process to get it changed and the damage to the performance arts could well be permanent.
Write to you Member of Parliament, your County and District councillors, and your local paper, NOW before it's too late. Rest of the story here: http://users.tinyonline.co.uk/fizgig-tom/law.htm.


---


King Biscuit Boy dead at 59
Mon., Jan 6, 2003 - Blues great Richard (King Biscuit Boy) Newell, one of the world's foremost harmonica players, has died. He was 59. He passed away Sunday in his sleep in his Hamilton home, said friend Ronnie Hawkins.
Born in Hamilton, Newell began playing blues harp in 1961. He was recruited into a Ronnie Hawkins' band as harmonica player in 1968 through the Midknights' former piano player, Richard Bell. ''He was one of the great ones, boy. He was one of the most talented kids I'd ever seen,'' Hawkins said of Newell, whom he nicknamed King Biscuit Boy after a Helena, Ark., radio program called King Biscuit Boy Flour Hour that featured harmonica player Sonny Boy Williamson.
''He didn't like (the name) so well for a year or two but then it became him,'' Hawkins recalled Monday. ''He knew all those songs and licks of the radio cats when we used to practise down in that basement (in Helena, Arkansas).''
Newell's band toured with Hawkins until 1969 when the singer fired the group saying, ''You guys are so crazy you could (mess) up a crowbar in three seconds.'' The musicians then became known as Crowbar, and released an album that same year. Crowbar had a minor radio hit with Corinna, Corinna in 1970. But Newell didn't last long in the band and they parted ways by the end of the year.
He played with several other bands before rejoining Hawkins' touring band in the 1980s. He also recorded several solo albums during the 1970s and 1980s.


---


Images of a Country Drifter
Posted January 6, 2003 - Hank Williams 50th Memorial, sets the stage for year long tour. The Hank Williams Museum, in Montgomery, AL; recently held the 50th Memorial of the death of Hank Williams, Sr. This prestigious event, to preserve the memory of our countries most famous country music singer and songwriter, will kick off a year long tribute show, called Images of a Country Drifter, a historical biography in narration and song, by David Church.
The memorial services, held New Year's Day at the grave site in Montgomery, found people attending from as far away as Europe, Japan, and several other countries. Portions of the memorial were broadcast on local, regional and National news, and made the headlines of numerous regional newspapers. David Church, a tribute artist, whose voice sounds incredibly like the late legendary father of contemporary country music, led members from the Original Drifting Cowboys in the gospel song, I Saw the Light, written by Williams. Church stated in an interview later, that it was an incredible honor, and lifetime achievement for him to be a part the memorial. Images of a Country Drifter, a historical review of the life of Hank Williams, featuring international entertainer, David Church, has gained national attention. The review includes 20 songs and is narrated by female country artist, Terri Lisa. Church performed the tribute show on Thursday evening, while the legendary steel player, Don Helms, backed him up on stage. Helmes played steel for Williams throughout most of his career. Also present during the performance were, Lum York, Braxton Shuffert, Jimmy Porter, and Clent Holmes. All who have played as members of the Drifting Cowboys during Williams short career. The show received a standing ovation from the crowd of Hank fans present for this prestigious memorial. Also in attendance were several members of the Hank Williams fan club including president, Mary Wallace, and founder of the museum, Cecil Jackson, and numerous music and local dignitaries. Mary was astounded by the performance, and asked Church to attend the June festival for Hank Williams held in Georgiana. Numerous comments were made regarding the close resemblance of Churches voice to the legendary artist, Hank Williams Sr.
After 10 years in bluegrass, David produced his first country album, which has receive fabulous reviews and airplay throughout the world. One of the songs, You've Got the Key went to #11 in the European charts. Images of a Country Drifter; the Hank Williams Tribute show, will be touring the US throughout 2003, promoting and preserving the image of Hank Williams and the museums in Alabama. Church is currently working on a recording project to include 10 - 11 original Hank Williams songs and a song that he wrote as a tribute to Hank and is scheduled to be finished late January or early February. Don Helmes will be featured on the album playing steel guitar. The next performance will be held in Huntington, WV, on Jan 25, 2003; at the Huntington High Renaissance Center.
For more information on shows and on David, visit their website at: www.davidchurch.net
For more information on the Hank Williams Museum contact 334-262-3600
Contact: Randy Shilling, Manager at: 740-453-7942


---


Elvis Fans to Go to 'Little Graceland'
LOS FRESNOS, Texas - Hundreds of fans are expected to gather Saturday, January 4th at Little Graceland to celebrate the birthday of the king of rock 'n' roll. Simon Vega, who served with Elvis Presley in the Army, has turned the second story of his Los Fresnos home into a museum dedicated to Presley, who was born Jan. 8, 1935, and died Aug. 16, 1977, at his Graceland mansion in Memphis, Tenn. There are things you wouldn't find in a normal exhibit, such as pictures with him (Vega) and pictures of Elvis when he wasn't performing, said Dan Bodeaux, director of the Los Fresnos Chamber of Commerce. There's a second celebration at Little Graceland in August to mark Presley's death. The attendance seems to increase every year, said Justice of the Peace Ramon Ortiz - master of ceremonies for last August's celebration - for Thursday's editions of The Brownsville Herald. Bodeaux said the celebrations bring business and publicity to the town. Elvis in Los Fresnos is one of those undiscovered treasures, said Mayor Tom Jones.


---


Blues Foundation Looks to Stay in Memphis
MEMPHIS, Tenn. (Jan 2) - The Blues Foundation, which has had financial trouble and has considered moving to another city, likely will remain in Memphis, the foundation's board president says. I don't think we're going anywhere, board President Kevin Kane told The Commercial Appeal recently. It would have to be something incredible for us.
Several cities have shown interest in wooing The Blues Foundation. Baton Rouge, La., came forward in October and has remained the most vocal. But Kane and Pat Mitchell, the foundation's interim director, say the city has yet to make a firm offer. We've got so much to do that we've got to focus on the obvious opportunities. And right now, the obvious opportunities exist in Memphis, said Kane, who's also president and CEO of the Memphis Convention & Visitors Bureau.
The foundation is working to erase its debt, hire an executive director and seek new alliances " all with the assumption that it will stay in Memphis. Meanwhile, Memphis & Shelby County Music Commission member Phil Trenary and others have stepped up to find new money sources, and a Community Foundation of Greater Memphis grant is in the works, Kane said. A recent Blues Christmas fund-raiser on Beale Street raised a few thousand dollars, Mitchell said, including some $2,000 through a silent auction. The organization also has raised about $20,000 through its Don't Lose the Blues campaign.
And The Blues Foundation's gift-giving mainstay, the J.R. Hyde III Family Foundation, has made its yearly $50,000 donation. The not-for-profit Blues Foundation is dedicated to celebrating the blues and preserving its history.


---


Hank Williams 50th Anniversary Memorial Celebration/Tribute Show
The Hank Williams Museum,a non-profit organization, ›in Montgomery, ›Alabama is to host a 50th Anniversary Memorial Celebration on Jan 1-3 in Montgomery. ›The celebration is in recognition of the 50th anniversary of the death of Hank Williams Sr; who died in West Virginia on New Years day, 1953. People from all over the US are expected to attend.
There is to be memorial ceremony held at the gravesite at 10:00 a.m. on January 1st. ›The public is invited to attend. Following the ceremony, the Museum will be open to the public, for ›tour and refreshments. ›At 12:00, Myra Lewiski, the famous artist will unveil a porcelain doll of Hank Williams. ›At 4:30, there will be a candlelight ceremony, at the bronze statue of Hank, by the City Auditorium. The service will be officiated by Dr. Henry Lyon III, the son of the minister who officiated at Hank's funeral. The Mayor, and other dignitaries will be present. ›The celebration will feature Jack Greene, Stonewall Jackson, ›David Church, and James Segrest and the Bama River Band. The Drifting Cowboys will also be present as well as other celebrities. Green will perform on January 2. Green topped the charts in the 60's with songs like, Statue of a Fool, There Goes My Everything, and appeared on prominent TV shows such as HEE HAW, Nashville Now and the Grand Ole Opry backstage.
January 3 will feature Stonewall Jackson, followed by a Hank Williams Tribute show, by David Church. Stonewall Jackson, a legendary Opry Star, famous for songs like Waterloo, BJ the DJ and many others. ›The Tribute show, called Images of a Country Drifter, will include historical narration on the life of Hank Williams, as well as 20 songs performed by Church. Church has ›gained popularity among Hank William Sr fans. Many people that have attended his performances have stated that David's voice is so incredibly close to that of Hank Sr. that you actually think ›it is a recording of Hank. David has performed all over the world, and has had many songs in the top 10 in European countries. ›You've Got the Key gained international recognition, when it went to #1 in several countries and was #11 on the charts for most airplay in a 6 month period in 2002. Church has had numerous additional songs in the charts.
A local band, James Segrest and Bama River, will also be performing. James has gained international exposure for his Johnnie Paycheck style with songs like The Ole Violin. ›He has produced 3 albums and received airplay around the world as well, with numerous songs such as ›She's going through my change of life, and many others. ›Many of his songs have been in the European charts, and he appeared at #39 for the most airplay for 2002. ›James's band the Bama River Band will back the performances. › For more information on Jack Green and Stonewall Jackson, visit www.msptalent.com. Church's website is: www.davidchurch.net and Segrests website is: www.jamessegrest.com
Hotel rooms for anyone coming to the celebration are available at discount prices at The Guest House Hotel and Suites and the number is: ›334-264-2231. ›For more information on the Celebration contact: The Hank Williams Sr. Museum in Montgomery at: 334-262-3600.


---


ELV1S 30 #1 HITS DVD-Audio Debuts At No. 1
Monday December 23 - Release Follows the Historical #1 Debut of ELV1S 30 #1 HITS CD. The record-breaking success of RCA Records' compilation of the 30 definitive #1 singles of Elvis Presley reached a new level as BMG and RCA announced today that ELV1S 30 #1 HITS DVD-Audio debuted at No. 1. The DVD-Audio, released on December 10 as BMG's first ever DVD-Audio, follows the success of the ELV1S 30 #1 HITS CD, released by RCA Records on September 24. The CD made history by becoming the first album ever released by Elvis Presley to debut at the top of the charts in the U.S. To date ELV1S 30 #1 HITS has sold over 8 million albums worldwide.
The DVD-Audio, which was recorded in 5.1 audio for optimal sound quality, features 30 of Presley's No. 1 singles as well as the No. 1 JXL remix of A Little Less Conversation. As added value for the consumer, the release also includes never before heard outtakes of Presley recordings and a special a:b test of three songs which demonstrates the before and after versions of the Presley recordings used to create the 30 #1 Hits package.
DVD-Audio takes advantage of the digital technology originally developed for DVD-Video. It uses the format's vast data storage potential to deliver astounding multi-channel sound enriched with the nuance, warmth and subtle overtones of a live musical performance. This extensive storage space not only allows for extended-range audio, but a lineup of interactive features such as MPEG-2 video, still images, and text, which together serve to make listening a more active experience.


---


Richard Dangel (Wailers) R.I.P.
Rich, (aka Richard), Dangel, guitarist with pioneering Tacoma,Wash. band The Wailers has died just after celebrating his 60th birthday party on Sunday, Dec. 8th. Dangel had also performed with his band the Wailers in Bremerton, Wa. in early August. Known for their hits Mashi, Tall Cool One and their strong version of Louie Louie Dangel was just a lad not yet out of high school when his band hit to stardom with the afterfore mentioned songs. It was Dangel, a quiet, unassuming man, who first heard the song Louie Louie in its original clypso (reggae like) version and he decided to rearrange the song as a three cord Rock-N-Roll song and the rest is history. Rich Dangel never braged about his achievements but he was admired by the likes of George Harrison, Jimi Hendrix and B.B. King. He could play Rock-n-roll, blues and jazz for hours upon hours and just leave you breathless.
-Ed Rollman, fan. Bremerton, Wa.


---


Recording Artists Wanted ...Old or New
HOT GUITARS (Rockabilly Artists Only). After the success of Hot Guitars - NBT RECORDS has decided to release Hot Guitars II in 2003 ... and you and/or group are invited to submit a recording for consideration. All tapes and CD's sent in will be listened to and considered for this project. Those with return envelopes and postage will be returned upon request. Hot Guitars received airplay in at least 8 countries so if your song is selected for inclusion on Hot Guitar II the chances of exposure is VERY good. Only requirement is that your song be original - No Covers. Closing Date (July 1, 2003). RIDE THE TRAIN (All Types of Music Accepted). Another project that NBT Records is going to repeat in 2003 is a follow up issue to their Ride the Train - CD. Those of you familiar with the NBT label know that their registered trademark is a train so last year they issued a CD that contained nothing but train songs. It was also highly accepted so NBT is going to release a second edition of Ride The Train. The first edition of Ride the Train contained Rock - Country - Hillbilly - Rockabilly and other Misc. selections and hopefully the NEW CD will be as diversified. Same rules as with Hot Guitars. No Covers and materials returned only if a SSAE is enclosed. Closing Date (November 1, 2003). NBT RECORDS tries to serve both the NEW artist as well as some of the legends in the business and they often blend these two type acts together on their CD releases. NBT also works very closely with the New Hope Recording Studio. If someone needs recording services - Please inquire. NBT RECORDS
P. O. Box 9
Berkeley Springs, WV 25411 or
NEW HOPE RECORDING STUDIO
P.O. Box 719
Berkeley Springs, WV 25411
americart@cartserver.com


---


Graceland Reverses Impersonator Ban
Elvis impersonators can continue swiveling their hips and quivering their lips, after Graceland reversed its earlier decision to sever its support of festivals featuring clones of the King. Elvis Presley Enterprises, the business arm of the multi-million-dollar Presley estate, decided in October to no longer associate with festivals using Elvis impersonators. But the estate gave back its backing after receiving about 30 letters from festival organizers and fans who were all shook up.
From reading these, we said, 'Let's forget about the hassles. This is something, frankly, we need to support,' said Jack Soden, chief executive officer of EPE. Most Elvis impersonators do heartfelt tributes to Elvis, said Soden. But we've all seen pictures of people who just should not have gone outdoors in outfits like that. Soden said the idea for the policy change came from some festivals becoming more about Elvis impersonators than Elvis.
But most impersonators would disagree. Everything I'm doing is just to pay tribute to him, said David Lee, a major contender on the festival circuit. Graceland disliking tribute artists is something I've never understood. (AP)


---


Former Presley Housing Project Getting Redone
MEMPHIS, November 21, 2002 - The former public housing project where Elvis Presley lived as a teenager is undergoing a major renovation. The former Lauderdale Courts will become Uptown Square, a 347-apartment complex with both rent-subsidized and nonsubsidized apartments. The site is several blocks north of the downtown business district and east of the Memphis Pyramid, a sports and entertainment arena.
A plaque noting that Presley's family lived at Lauderdale Courts went on display Wednesday. The Presleys lived at the project from 1949-53 after moving to Memphis from Tupelo, Miss. Presley died at his Graceland mansion in Memphis in 1977.
I think these four years did more to shape who he became than any other period I know of, said Jack Soden, chief executive of Elvis Presley Enterprises, the business arm of the Presley estate. The plaque notes that Presley practiced his guitar in the project's basement laundry room. The future of Lauderdale Courts has been under discussion by the city for several years. Most of the original housing project is being renovated through a $36 million public-private measure, with the other parts demolished. The first apartments are expected to be finished next fall. (AP)


---


Wisconsin County to Honor Les Paul
Sat., Nov. 16 - Waukesha County's historical society has gotten the go-ahead to turn an old courthouse into an exhibit dedicated to electric guitar pioneer Les Paul. The Waukesha County Board has approved selling the old courthouse to the Waukesha County Historical Society and Museum for $1.
Now we can finally move forward and get on track with Les Paul, museum executive director Sue Baker said after Tuesday's decision. We have been talking about this since March 2000, so this has been a very long time in coming. Paul, a native of Waukesha who now lives in New Jersey, has waited for an agreement before donating some items, Baker said.
The county's agreement also provides $5.6 million to renovate and operate the exhibit during the next decade. Paul, 87, is credited with inventing the solid-body electric guitar. His hits include Tennessee Waltz, Vaya Con Dios, Mockin' Bird Hill and How High the Moon. (AP)


---


The Platters Settle Lawsuit
Nov. 14, 2003 - The Platters have settled a lawsuit against a former lead singer they said tried to use the venerable group's name with his new band. Attorney Richard Fannan, who represented defendant Monroe Powell, confirmed the out-of-court settlement Wednesday but declined to disclose terms. Michael Machat, a lawyer for the group, did not return a phone call.
Herb Reed founded The Platters in 1953 and has gone to court several times over the years to keep control of the name. The group, known for its soaring harmonies, has had such hits as Smoke Gets in Your Eyes, Only You and The Great Pretender.
According to court filings, the original members and their manager, Buck Ram, formed Five Platters Inc. in 1956 and agreed the corporation would own the group's trademarked name. Powell, who joined the group in 1970, signed a contract saying he wasn't entitled to use the name or a Platters-related name upon termination of the contract, the lawsuit said. Powell left the group in 1995 and began calling his new group The Platters, the lawsuit said. He argued in a counter-complaint that The Platters had abandoned the name and therefore forfeited the trademark. In a similar case, a federal appeals court ruled in 1999 that Reed could continue to use the group's name and prevent the widow of original member Paul Robi from its use for a touring group she'd assembled. (AP)


---


Billy Guy, 66, Baritone Voice of the Coasters: Dead
Nov. 14, 2002 - By DOUGLAS MARTIN - Billy Guy, an original member of the Coasters vocal quartet who stood out for the raw quality of his baritone voice and sense of comedy on 50's hits like Searchin', died on Tuesday, November 12th in his apartment in Las Vegas. He was 66. The cause was cardiovascular disease, said Carl Gardner, the only surviving member of the original Coasters.
The Coasters were among the first black singing groups to be considered truly a rock 'n' roll act, not rhythm-and-blues. They are best known for their string of narrative comic songs like Yakety Yak and Charlie Brown, written by Jerry Leiber and Mike Stoller. When the Rock 'n' Roll Hall of Fame inducted its first members, in 1987, the Coasters were included. The group's doo-wop-inspired sound was characterized by the low tones of its bass, Bobby Nunn, and what MusicHound's Essential Album Guide for rock calls Mr. Gardner's wolf-in-sheep's-clothing tenor.
But it was Mr. Guy who was the exuberant lead singer on the 1957 song Searchin', which featured an alley piano style ů essentially two bass notes played alternately on every second beat ů and suitably rough vocal support from the rest of the group. Mr. Guy declares his determination to find his girl, even if it calls for the detective talents of Charlie Chan, Sam Spade and Bulldog Drummond ů not to mention the Canadian Mounties. This was one of the first songs to introduce specific figures from American culture into its lyrics, Charlie Gillett wrote in The Sound of the City: The Rise of Rock and Roll (Pantheon, 1984).
Mr. Guy said in an interview with The Milwaukee Journal-Standard in 1998, We had more fun than any other group. Mr. Guy was born in Itasca, Tex., on June 20, 1936. His birth certificate recorded that his parents were Frank Phillips and Sewille Thompson, but did not show his name, according to Vita Gardner, Carl Gardner's wife. By the time he found his way to Southern California, just as Mr. Gardner was looking for a baritone for a new group, his name was Billy Guy. Mr. Gardner and Mr. Nunn had been members of the rhythm-and-blues group the Robins, which recorded the Leiber and Stoller hits Riot in Cell Block No. 9, Framed and Smokey Joe's Cafe.
But Mr. Leiber and Mr. Stoller's small record company was having trouble distributing their successful records and sold the company, Spark Records, to Atlantic. As part of the deal, they acquired the rights to the Robins, but the Robins objected to the deal. Mr. Gardner and Mr. Nunn left the Robins to form a new group in 1955. Mr. Gardner said he needed to a new voice fast, and found Mr. Guy singing in a duo called Bip and Bop. Leon Hughes was also recruited to become a Coaster, a name chosen to refer to the West Coast.
The Coasters' first song was Down in Mexico, which was similar to Smokey Joe's Cafe. Neither it nor their next song, One Kiss Led to Another, was particularly successful. Then in 1957, they recorded Searchin' and Young Blood on the same record, and both were hits. Then came extensive tours and appearances on a wide range of network television shows, including The Ed Sullivan Show and Dick Clark's American Bandstand. Through the 1950's, they kept turning out hits, almost all written by Leiber and Stoller, including Poison Ivy, Framed, I'm a Hog for You and That is Rock and Roll.
Mr. Guy, who wrote several songs himself, including the group's hits Wake Me Shake Me and Wild One, said the wackier songs like Yakety Yak could be done only by a special mix of voices like the Coasters.' It was hard to find voices, he told the Milwaukee newspaper. The songs were really based on country-western. Remember Homer and Jethro? Everyone had to be a specialist. It was black voices singing in the middle of rhythm-and-blues and country-western.
His survivors include his companion, Vanessa Van Klyde; a sister; a brother; a son; and a daughter.


---


Annual Floyd Tillman Birthday Bash, Nov. 21
The Llano Country Opry proudly presents a special edition of the Llano Opry-the Annual Floyd Tillman Birthday Bash at the Lantex Theater in Llano, Texas, on Thursday, November 21. The show begins at 7:30 pm and advance tickets are on sale at the Llano Chamber of Commerce, Pleasingly Plus, Llano National Bank, Kingsland Chamber, KNEL radio or (915) 247-5354. Tickets are $8.00.
Several special guests have been invited to help celebrate Floyd Tillman's 88th Birthday. Past years attendees included Willie Nelson, Johnny Gimble, Big Bill Lister, Johnny Bush, Frankie Miller, Darrell & Mona McCall, Jimmie Eaves and Al Dean.
One of country music's most successful songwriters, Floyd Tillman was born in Ryan, Oklahoma in 1914. He became a singer, guitarist, mandolin and banjo player with the Mark Clark Orchestra and the Blue Ridge Playboys during the 1930's. He signed his first recording contract with Decca Records in 1939. His first hit was his self penned It Makes No Difference Now.
During the late 1940's, Tillman wrote such compositions as I Love You So Much It Hurts Me (1948), Slippin Around (1949) and I'll Never Slip Around Again (1949). These songs became instant hits and sold into the millions of copies during the early days of country music. Tillman would also add Each Night At Nine Mr. Bottle I'm Still In Love With Every Girl Cold Cold War With You I'll Keep On Loving You and Daisy Mae to his list of over 200 recorded compostions.
Tillman's biggest hit Slippin Around was the first actual cheating song written in country music. Tillman received the inspiration for the song after overhearing a man and a woman talk in a caf». It became a million selling hit being recorded by Tillman, Ernest Tubb, Margaret Whiting and Jimmy Wakely and Ella Fitzgerald.
A honky tonk hero and among the first to utilize the electric guitar, Tillman was also elected into the Nashville Songwriter's Hall of Fame in 1970 and into the even greater Country Music Hall of Fame in 1984. Floyd Tillman is one of the greatest songwriters and entertainers in country music, Willie Nelson said during 1999's Floyd Tillman Birthday Bash in Llano.› He was one of the first stylist and still have the ability to keep an audience in the palm of his hand. He is one of my heroes and I love him.
Others already slated to be on the show include Frankie Miller, Pete Mitchell, Tommy Kent, Frank Torres, Justin Trevino, Dora Lee Sewell, Jimmy Eaves, Don Ricketson, Melanie Tacker and Sammy Geistweidt. Tracy Pitcox will MC the show.
The Llano Country Opry will move to the second Saturday of every month beginning in 2003. Several acts have already been booked for next year including Ray Price and the Cherokee Cowboys, Johnny Rodriguez, Jean Shepard, The Hortons, Gene Watson and the Farwell Party Band, Johnny Bush and Tony Douglas and the Shrimpers.


---