A R C H I V E - #9

Left to right: Bob Kelly, Bill Medley, Kirby St. Romain, Jerry Brown.
Three of the Expression band members got together Saturday, Nov 20 for their 40th Reunion. Bob "Git it" Kelly, Kirby "Summers Really Comin'" and Jerry Brown. Jay Ramsey couldn't make it. They went to see their old friend Bill "Righteous Brothers" Medley at the Orleans Hotel and Casino here in Las Vegas. The Expession alternated with Bill many times over the years in the Nevada Casinos.

---
THOMAS HECKERT CD
Thomas Heckert, Born Nashville, Tennessee, August 8, 1937. Started playing a plastic guitar at six and moved up to the real deal at 12. He has been playing ever since. Wherever the music takes him is where he goes. Born to be a Rockabilly and he remains true to his roots. Larry Merritt performs on this disc. Larry was also helpful in producing the project for Thomas. Prices: CD - $12.00. Postage and Handling: $3.00. Tracks:
1) Muddy River
2) Can you hear me now?
3) Ready to fall in love
4) She use to be mine
5) Keep this in mind
6) Two-timing man
7) Satisfaction Guaranteed
8) Running Wild
9) Want to be alone
10) Car of many colors
Remittance Address:
Thomas Heckert
1314 Kenton Place
Nashville, TN 37217
Contact: 615-361-6878

---
Shawn Nagy of The Shackshakers has lots of UK, Texas, Starday, King, and various other rockabilly classics on rotation on his internet station. www.SuperOldies.com. Plays all charting songs from '55-69 of all genres, doo-wop, 60s garage rock, etc.

---
Hey BO DIDDLEY Fans:
BO DIDDLEY's highly acclaimed performance at Little Steven's International Underground Garage Festival in August is expected to feature in a new documentary movie titled "3-D Rocks", due for release next year.
The "high definition, three-dimensional experience" concert film, which is currently in post-production, is directed by Chris Columbus for his 1492 Pictures production company. Other performers who appeared at the 12-hour celebration of garage rock music which took place at Randall's Island in New York, NY, included The New York Dolls, Iggy Pop & The Stooges, Nancy Sinatra and The Strokes.
Director Chris Columbus' credits include "Home Alone" and the first two "Harry Potter" films. Musician, actor and broadcaster Steven Van Zandt, who organised the festival which featured more than 40 garage rock bands and performers from around the world, describes BO DIDDLEY as "the spiritual godfather of garage".

---
---
The Bim Bam Records Top 20 - compiled from sales Oct. 20, 2004). All available right now on-line at www.bim-bam.com
1) v/a Gene Vincent Cut Our Songs....Ace
2) Freddie Hart...Juke Joint Boogie...Bear Family
3) Larry Williams...At His Finest - The Specialty Rock'n'Roll Years....Ace
4) v/a Sick Sober & Sorry...Indigo
5) v/a Teenage Crush vol 4.....Ace
6) The Crickets & Buddies...USA Sovereign Artists
7) v/a The Roots of Rockabilly ...Indigo
8) v/a Well Now Dig This.....Castle
9) Darrel Higham.....Believe What You Hear
10) v/a Modern Downhome Blues Sessions vol 3...Ace
11) Jesse Belvin....Guess Who...Ace
12) Jack Scott...Spirit Moves Me/Burning Bridges...BGO
13) v/a Rockin' Hillbilly vol 7.....Cactus
14) Kenny Parchman...I Feel Like Rockin'....Hydra
15) Rusty Rookes...Drivin' It Home...Rocka-phonic
16) Nervous Norvus...Norton
17) Dwight Pullen...Sunglasses After Dark....Hydra
18) Johnny Restivo...The Shape I'm In....Teensound
19) Texas Mike Bell...For The Love Of Buddy...Blue Avenue
20) Jules Blattner & The Teen-tones....Teen Town...Hydra

---
Newport's Sonny Burgess to appear on 'Gene Williams Show'.
10/29/04 - Rockabilly's Sonny Burgess is the next guest star on the Gene Williams Country Television Show, the longest running weekly television show in Branson which is broadcast to more than 20.5 million homes nationwide.
"My friend Sonny Burgess from Newport, Ark. is one of the wildest rockers to perform for the legendary Sun label in Memphis. His music spans five decades and his recordings remain landmarks of the early rockabilly style. His band, Sonny Burgess and the World Famous Pacers, performed with the likes of Johnny Cash, Roy Orbison, Jerry Lee Lewis, Carl Perkins, Elvis Presley, Conway Twitty, Patsy Cline and many more," said Gene Williams, creator and star of the show taped live in Branson, the live entertainment capital of the world.
The "Gene Williams Country Television Show" with Burgess airs on Jonesboro's KAIT8 Sunday at noon and on Little Rock's KARK 4 on Saturday at 6 a.m.
Williams began his career in the country music field as a DJ in Memphis on KWAM in 1957 and was named 1961 Grand Ole Opry DJ. In 1963 he started the "Gene Williams Country Junction Show" on KAIT-TV in Jonesboro and KARK-TV in Little Rock and syndicated it nationwide to 173 markets. He has made two movies: "Country Music Jamboree" filmed at Parkin, and the "Sound of Country Music" which starred more than 39 Grand Ole Opry stars including Ray Price, Carl Smith, Jordanaires, Kitty Wells, Little Jimmy Dickens, Grand Ole Opry Square Dancers and the late Marty Robbins, Webb Pierce, Ernest Tubb, June Carter, Bill Monroe, Duke of Paducah and Faron Young. Williams is an inductee to the Memphis Music Hall of Fame and was recently honored by the Missouri Senate for his contributions to the tourism industry.

---
JOHNNY CASH TRIBUTE and RYABURN ANTHONY NEWS...
A Tribute To The Tennessee Three - Bob Wooten, W.S. Holland and Rayburn Anthony will be playing a Johnny Cash tribute at the Paragould Theatre, Arkansas on Friday November 5th. Show starts at 7.30 pm. The group draws heavily on Cash's Sun material and does songs like "Big River", "I Walk The Line", "Luther Played The Boogie" and "Give My Love To Rose." Also appearing will be local acts Lexie Love, Steve Cook and the Larry Meggs showband. Tickets are $10.
ROCKABILLY IN JACKSON, TN Every Tuesday at the Blueberry Hill lounge close to the Casey Jones square in Jackson, Tennessee the Sun Survivors group consisting of W.S. Holland drums, Rayburn Anthony vocals and bass, C.W. Gatlin vocals/guitar and Jimmy Williams vocals/keyboard. The band does a wide range of material from instrumental hits "Tuff", "Green Onions", "Honky Tonk" through rock'n'roll classics,"Blue Suede Shoes", "Shake Rattle and Roll", "Memphis, Tennessee" and Rayburn's own rockabilly "Jackson was Jumpin'" to country music "Hey Good Lookin'", "Tennessee Waltz", "Don't Rock The Jukebox", "Legend In My Time" or just about anything they get requests for. They do "You Send Me" and "Margaritaville". Check 'em out and bring your dancin' shoes. Tony Austin drummer for the Burnette band has been known to drop by and sing a few with the band. Best night out around midweek.
Rayburn Anthony will be recording a new rockabilly CD for Rhythm Bomb Records in Berlin in November. His "Jackson Was Jumpin" CD was rated one of the best rockabilly CDs for many years. Look out for the new one which will be out in time for his appearance at the Green Bay festival.  After the recording sessions he will fly to Sweden for several shows. Anyone interested in adding a gig contact Rayburn233@aol.com.
Info courtesy: Jim Newcombe

---

Larry Lee Phillipson is a Rockabilly Hall of Fame® Inductee!

---
Legendary DJ John Peel Dies.
2004-10-26 - Legendary music disc jockey John Peel has died suddenly in Peru age 65. He was on holiday with his wife Sheila in the ancient Inca city of Cuzco. Peel was one of the greatest influences of British pop music, starting in the Sixties and still playing new and experimental music on his weekday Radio 1 show. He went on to become a broadcasting legend, famous for championing new bands and music genres long before they crossed over into the mainstream. Of interest to readers is due to his Dandelion label releasing I'm Back and I'm Proud LP by Gene. He often played Gene, Eddie, Duane Eddy and many obscure 50s artists on his shows through the years.

---
Eddie Angel's Guitar Party with The Lustre Kings: On Tour in November.
Grammy-nominated guitarist Eddie Angel will join The Lustre Kingsfor a rapid and exclusive tour through the Northeast! Eddie Angel will be playing original garage/surf/rockabilly instrumentals made popular by his bands The Planet Rockers, The Neanderthals, and Los Straitjackets, in addition to his solo releases. With a wild guitar sound that's been around the world on both stage and screen, this will be an exciting chance for audiences to catch Eddie Angel's rowdy Guitar Party for themselves.
Eddie Angel will be backed and supported by The Lustre Kings, who are fresh off a successful tour backing Rock and Roll Hall of Fame nominee Wanda Jackson. The Lustre Kings have a new CD, "That's Showbiz" which reflects their tight sound developed by playing 150 dates a year throughout the United States. This lineup guarantees a fantastic night of raucous music, and is sure to please fans of rock and roll each and every night!
TOUR DATES
Wednesday, November 10th - 9:00 pm
Cafe' Nine, 250 State Street, New Haven, CT
Thursday, November 11th - 9:00 pm
Mac's Bad Art Bar, 1799 Brewerton Road, Mattydale, NY
Phone: 315 455-7223
Friday, November 12th - 9:30 pm

Happy Tap Bar and Grill, 601 East Fourth Street
Bethlehem, PA, Phone: 610 865-2790
Saturday, November 13th - 10:00pm
Ale House, 680 River Street, Troy, NY
(Contact: Mark Gamsjager, 518 966-5572, mgams@att.net - www.LustreKings.com)

---
CHARLIE GRACIE poses with FABIAN (in baseball cap) and the ORIGINAL BILL HALEYS' COMETS (Franny Beecher, Johnnie Grande, Joey D'Ambrosio, Dick Richards and Marshall Lytle) at rehearsals last weekend (Oct. 16. 2004) at the new Wildwood Convention Center, NJ. 5,000 came out for the concert that evening which starred:   Charlie Gracie, the Comets, Fabian, the Orlons, Danny's Juniors, the Rip Chords and Dovells.   
       Charlie Gracie also performed with the Rip Chords ("Little Cobra") earlier that afternoon on the boardwalk to another 1,000! It was all part of the first annual FABULOUS FIFTIES' WEEKEND in the Wildwoods. On Sunday the 17th, CHARLIE became the first recipient of the WILDWOOD MUSIC APPRECIATION AWARD at a special ceremony with 500 in attendance. Gracie has performed in that popular New Jersey resort city almost every summer since 1957! More pics to come! -Chas., Jr.

---
GRAG SHAW R.I.P.
"Dear Friends,
It is with deepest regret that I must tell you that my husband, Greg Shaw, passed away in the hospital Tuesday night (Oct. 19, 2004).
Greg had a vibrant spirit, but his physical health was always fragile. Last week, for reasons that are unclear, he developed an extremely high blood sugar and was rushed to the hospital. The level of blood sugar was so high that all of Greg's vital functions were subjected to trauma, and he developed complications as a result. Nevertheless, for several days he remained in stable condition. He was conscious the entire time, and his doctors were quite optimistic that he would recover. Sadly and shockingly, he went into cardiac arrest on Tuesday night around 11:30pm. The wonderful people at the hospital worked for a long time to try and save him, and Greg fought very hard too. He was tenacious to the end.
Greg was given the very best care, and during his stay in the hospital he had the constant love and support of his family. His passing was not gentle, but I am comforted by the feeling that he is now at peace and free of all pain.
Tristan and I are grateful for the sympathy and support we have already received, and we ask for your prayers for Greg and for us throughout this difficult time. We also send our condolences to everyone who is sharing our grief. Very best wishes to all of you,
Phoebe Shaw
Tristan Shaw
Comment from Larry Shell: (lawrenceshell@comcast.net) I just found out that Greg Shaw passed away and I didn't even know that he'd been sick. Any collector or fan of 60s rock n' roll worth their salt knows of Shaw's BOMP! Magazine and the Bomp! Records label. The former stopped publishing years ago but I was a big fan of his mag at the time and I can say, without hesitation, that Shaw's mag was a real inspiration to me and my own half-baked rock writings as well as turning myself onto many great performers like the Flamin' Groovies among others. Bomp's PEBBLES albums came soon after the first NUGGETS Box Set and 60s revival that followed it. Bomp's output included Stiv Bators, Iggy & The Stooges, and so much more with new albums by new artists like The Konks and The Coffin Lids being released in 2004. There's a long informative interview with Greg conducted by Ken Shimamoto for the zine, Black to Comm, posted here: http://www.bomp.com/BOMPPress3.html To put it simply, Greg was one cool guy who truly loved the music. He will be missed by all who knew him or knew of him. Rest in Peace, Greg.
Comments from Ronny Weiser:(rockronny@aol.com) Greg Shaw, through his BOMP magazine, was the first American writer/publisher to pay attention (and praise) Rollin' Rock Magazine first, and Rollin' Rock Records later. He then continued to promote Rollin' Rock in Phonograph Record Magazine, where he used the word "rockabilly" which he had read in Rollin' Rock. (Until then it was called "1950s Rock" or "vintage Rock", as you can see in a story on Sun Records in Rolling Stone magazine where the word "rockabilly" is never mentioned once!) Lester Bangs wrote both for Phonograph Record (in which he read Greg's use of the word "rockabilly") and Rolling Stone. That's how the word "rockabilly" finally got into Rolling Stone magazine thus crossing over to the mainstream. I did not know that Greg was sick, nor that he died. I'm very sad to hear this news. I always will be grateful to Greg Shaw for all his help, and hope he's still rockin' on in Rock'n'Roll Heaven. Always Rollin' The Rock, Rockin' Ronny Weiser

---
Hey BO DIDDLEY fans,
BO DIDDLEY is due to perform at the Leary Firefighters Foundation's 4th Annual Bash For New York's Bravest at the Capitale, 130 Bowery, New York, NY on Monday November 8th. This annual invitation only event honors and celebrates the men and women of the FDNY. The Leary Firefighters Foundation was founded in the year 2000 by actor Denis Leary. In the wake of the events of September 11th 2001, the Foundation created a separate fund, the Fund for New York's Bravest, to raise money for the families of the 343 firefighters who perished in the line of duty. Since its inception, the Fund for New York's Bravest has raised and distributed $1.9 million to the families of these fallen heroes. Leary Firefighters Foundation website: http://www.learyfirefighters.org/
Note: Despite published reports suggesting otherwise, NONE of Bo's upcoming concert dates have been canceled:
Sat 10/23/04 - Uncasville, CT Mohegan Sun Casino
Sun 10/31/04 - Beaumont, TX Blues Festival
Fri 11/05/04 - Healdsburg, CA Performing Arts Center
Sat 11/06/04 - Salt Lake City, UT The Velvet Room
Mon 11/08/04 - New York, NY Private engagement
Fri 11/19/04 - Johnson City, NY Magic City Music Hall
Fri 12/03/04 - Kent, OH Kent Stage
Wed 12/29/04 - Seattle, WA Showbox
Thu 12/30/04 - Portland, OR Berbati's Pan
Sat 01/22/05 - Alton, IL Alton Belle Casino
Thu 03/17/05 - Lancaster, CA Performing Arts Center

---
FOR SALE: The Gibson is a 1966 or 1967 ES 330, Serial #840747. Both guitars are all original, and in really good shape. According to "The Encyclopedia of Guitars," the Gretsch is a 59 and a half Diamond Anniversary Edition, Serial #29019. For more information, please contact: Andy Forsythe, Columbia, TN, 931-381-9494 - usscvr@charterinternet.com (Tell him Bob Timmers sent ya.)

---


NARVEL FELTS "Birthday Bash"
& "Larry Kelley's BIG 60 Party!"
Featuring THE LEGEND!! NARVEL FELTS!!
The Bill Barnett Band,
Jim Morris and his Trailhands & Molly Slone
Saturday, Nov 13, 2004 - 6:00PM till ?
Trail's End Country Music Showroom
near Lovelaceville, KY
Admission: $15.00 For Tickets and Information call:
270-335-3696 or Toll Free: 1-800-493-9696
Email: wgky@brtc.net or Log on: www.96classiccountry.com


---
Hey BO DIDDLEY fans,
We are delighted to be able to announce the details of BO DIDDLEY's forthcoming 76th birthday party! One of the undisputed legends of rock & roll and a true original, BO DIDDLEY will be celebrating his 76th birthday live on-stage at Berbati's Pan, 10 SW Third Avenue in Portland, OR on Thursday December 30th. Further details can be obtained by calling the Box Office & Info. Line on 503-248-4579.
The previous evening, Wednesday December 29th, BO DIDDLEY will be performing live at The Showbox, 1426 First Avenue in Seattle, WA. Further details of this gig can be obtained by calling the Info. Line on 206-628-3151. Please note that dates and venues are subject to change. Please check with the Forthcoming Appearances page of the BO DIDDLEY-The Originator website at http://members.tripod.com/~Originator_2/dates.html for the latest updates.
If you can't make it to the above shows, you can still send BO DIDDLEY your special 76th birthday greetings and messages by signing the BO DIDDLEY-The Originator website's Guestbook which is located at http://members.tripod.com/~Originator_2/guestbook.html You can rest assured that BO DIDDLEY will get to see each and every one of your messages.

---
RICKY NELSON FANS; NEW BOOK FOR THE FANS. ONLY 500 COPIES PRINTED. RICKABILLY; DAY BY DAY. Everything you wanted to know about Ricky Nelson all in chronological order, day-by-day. Every show, t-v appearance, movie, each singing appearance on Ozzie & Harriet, every single and album release, box sets, personal life history...just everything. Contact: Paul MacPhail p_macphail@hotmail.com - RICKY WAS ONE OF TOP 5 SELLING ARTISTS OF ALL-TIME.

---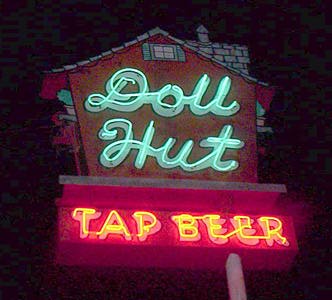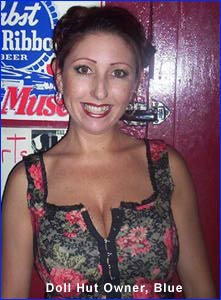 ROCKIN' AT THE DOLL HUT, Amahiem, California, Saturday, October 9th.
Photos: Rockabilly Hall of Fame

---
---

A photo from Robert Gordon's excellent show at the "Lantaarn" in Hellendoorn - Holland on Saturday, October 2nd, 2004 (Photographer: Arjan Deelen)

---
WORTH A CLICK:
CHUCK BERRY TRIBUTE CD
---
R.I.P.
Doug Winston Poindexter, 76 of Memphis retired owner of Southern Statistical Computer Consultants and former employee of Wonder Bread died Friday, October 1, 2004 at Baptist Hospital, Memphis. Grave side services were at Vanndalee Ark. Cemetery. He formed the Starlight Wrangler Band and played with Scotty Moore, Bill Black & Elvis Presley.

---
"GAYLIA PUSSER, Gaylia Pusser, sister of "Walking Tall" Sheriff Buford Pusser, (a one-man wrecking crew who cleaned up corruption in McNairy, Co., Tenn. and got stabbed 7 times and shot 8 times for his efforts, and had 5 movies made about his life,has passed away in Tenn. They were fans of RockABilly and Buford even made Faron Young a "Special Deputy." I had just interviewed Gaylia in July and now shes gone. Rest In Peace Gaylia, you were wonderful and kind." Ed Rollman,Bremerton,Wa. - rollm3@aol.com (Sept. 30, 2004)

---
RAY PRICE HOSPITALIZED, ROVERING IN HOUSTON
Country Music Hall of Famer and 2004 ACM Pioneer Award recipient Ray Price was hospitalized Thursday, September 23. "Price was flown from his home in Mt. Pleasant, TX to a hospital in Houston suffering from chest pain. Additional tests revealed blockage in Price's main artery. Surgery to remove the blockage took place this morning (24th). Ray is recovering in a Houston hospital," says Price's publicist Kirt Webster. Cards may be sent to Ray Price, P.O. Box 1986, Mt. Pleasant, TX 75456. Ray recently finished recording his new album, 'My Old Friend,' which is a tribute album featuring songs originally made popular by country music's most memorable legends.

---
SKEETER DAVIS R.I.P.
Country Music Legend Skeeter Davis passed away at 3:15 Sunday, September 19, 2004. Skeeter had been battling cancer for a number of years. She rose to the top of the Country and Pop charts with "The End Of The World." She was a great inspiration to everyone throughout her battle with cancer.
Skeeter Davis has never gotten a lot of critical attention, but in the '50s and '60s, she recorded some of the most accessible crossover country music, occasionally skirting rock & roll. Born Mary Penick, Davis took her last name after forming a duo with Betty Jack Davis, the Davis Sisters. Their 1953 single "I Forgot More Than You'll Ever Know" was a big country hit; its B-side, the remarkable "Rock-a-Bye Boogie," foreshadowed rockabilly. That same year, however, the duo's career was cut short by a tragic car accident in which Betty Jack was killed and Skeeter was severely injured. Skeeter did attempt to revive the Davis Sisters with Betty Jack's sister but was soon working as a solo artist.
In the early '60s, Davis followed the heels of Brenda Lee and Patsy Cline to become one of the first big-selling female country crossover acts, although her pop success was pretty short-lived. The weepy ballad "The End of the World," though, was a massive hit, reaching number two in 1963. "I Can't Stay Mad at You," a Top Ten hit the same year, was downright rock & roll; penned by Gerry Goffin and Carole King, it sounded like (and was) an authentic Brill Building girl group-styled classic. Goffin and King also wrote another successful girl group knockoff for her, "Let Me Get Close to You," although such efforts were the exception rather than the rule. Usually she sang sentimental, country-oriented tunes with enough pop hooks to catch the ears of a wider audience, such as "I Will."
Davis concentrated on the country market after the early '60s, although she never seemed too comfortable limiting herself to the Nashville crowd. She recorded a Buddy Holly tribute album in 1967, when Holly wasn't a hot ticket with either the country or the rock audience. But she certainly didn't reject country conventions either: She performed on the Grand Ole Opry and recorded duets with Bobby Bare, Porter Wagoner, and George Hamilton IV. In the 1980s, she had a mild comeback with the rock crowd after recording an album with NRBQ; she also married NRBQ's bass player, Joey Spampinato. (CMT)

---
LIGHT CRUST DOUGHBOYS
The Grammy Award-winning Light Crust Doughboys will present a special performance on Monday, October 4, to benefit one of their longtime artists. Bill Simmons, a world-class keyboardist and a Light Crust Doughboy legend since 1954, is undergoing cancer treatment; the medical expenses are astronomical, so his friends, fans and band mates are staging this Benefit Concert to assist with treatment and hospital costs and get him back on the keyboard.
Bill Simmons' multi-faceted accomplishments in music go back to Memphis' most popular radio show of the era, Eddie Hillâs "High Noon Roundup," where Bill, as staff pianist, co-starred with the likes of the Louvin Brothers and the Blackwood Brothers Quartet. Bill composed the pop classic "M-I-S-S-I-S-S-I-P-P-I," recorded by Ella Fitzgerald, the Doughboys, and others, and played on million-selling records such as "Hey, Paula," produced by his longtime friend and fellow Light Crust Doughboy, Marvin "Smokey" Montgomery.
The Pocket Sandwich Theatre is located at 5400 East Mockingbird, Suite 119, Mockingbird Central Plaza, one block east of Central Expressway. Dallas. For reservations or information, 214-821-1860, between 2 and 6 P.M.

---
Tickets for the January 7th Elvis Presley Birthday Pops concert by the Memphis Symphony Orchestra are on sale now. Follow this link to the full Elvis Birthday Celebration calendar and all event ticket information and links: http://www.elvis.com/graceland/calendar/elvis_birthday.asp

---
We hope you will make plans to join Travis LeDoyt ("The World's Best Young Elvis")
at The Palace Theater in Crossville Tennessee for an intimate Christmas Show for his fans on December 11, 2004. More details will follow. Watch Travis's website at www.travisledoyt.com for showtimes and ticket information.

---
TOM WALLIS.
From Lorene Bryant Epps [lobryantepp@alltel.net] Jimmy Bryant's sister.
"Tim Wallis is one of the most awesome and original - type guys I ever met. See his web site: www.TimaraStringBenders.com.  I was amazed to see him play guitar at the Steel Guitar Convention! Jimmy Bryant is his hero influence and it shows. I heard Jimmy's licks throughout his performances. He was playing lead guitar with the some of the Best Steel players during the recent St. Louis convention. He is the inventer of the StringBenders; they put a set of those on the guitar they presented to me! I love it.   Tim also owns part of SteelRadio.com and was instrumental in it's "lift off" about seven years ago. He is the DJ for many of the programs they play and a comedian when interviewing certain type personalities. I don't know how one man can do all that he does. He is 42 years old, outgoing, wonderful sense of humor, etc. I have learned to love him like a son, a brother, all wrapped into one! I think he deserves much recognition in the music world. He loves Country, and many other genres in his music."

---
"There is a website that helps organize informal, free, get togethers on various topics, and I noticed rockabilly is one of the topics. On www.meetup.com, if at least 5 people in any given local city, sign up to meet a local area (like a restaurant) a local meetup is on, a great way to make new friends! They recur monthly, so if you miss a month, is ok, try again next month. Not alot of people singed up yet, so i hope to get the word out! The next event is Wed Oct 13, 7pm! (local time, so whatever time zone you are in,it is 7pm your time). There needs to be at least 5 people in your city that sign up, mpre info on their website. Hope this opportunity grows, and we all get to meet other 50's fans in person. By the way, you can also suggest new topics, and other music topics are listed. So lets try to sign up for next months!"
Courtesy Ron from Sarasota, FL. - betabo5@yahoo.com

---
GATEMOUTH BROWN PRESS RELEASE
(Sept. 9th) - Clarence "Gatemouth" Brown faces the hardest trial of his eighty years with the revelation that he has lung cancer. He has undergone rigorous testing at the M. D. Anderson Cancer Center in Houston, Texas, arguably the top cancer center in the world, and after considering his treatment options, has chosen to forego treatment and face this challenge head on with a positive spirit, much the same way he faces any challenge. He chooses to continue performing, savoring every moment day by day with an eagerness to be with his fans.
Presently, he is not experiencing any significant symptoms. The cancer was discovered in a routine check-up. As long as his quality of life allows, he feels it is important to do what he does best, share his music with the world.
Brown is enthusiastic about his new HighTone CD, "Timeless," released September 14th that encompasses dynamic performances and a wide range of musical influences. He feels the new recording is a true representation of his energetic live shows. He looks forward to actively promoting the new release with his upcoming tour dates. Any well wishes can be officially e-mailed to: realrecords@bellsouth.net .

---
WORTH A CLICK: (Posted Sept. 10th) Details for the April/May 2005 European tour of Elvis-The Concert are now posted on Elvis.com.
Direct link to the tour schedule page
Direct link to a detailed article in News
Six cities (seven shows) have been confirmed and posted. Two additional cities should be confirmed and posted soon.

---

Dubbed "The Rockin' Rollin' Treniers" years before the term rock 'n' roll had entered the mainstream vocabulary ... [as well as] One of the first singing groups to choreograph their act, The Treniers inspired many of the doo-wop and vocal groups of the 1960s to do the same. A vital link between the swing era and rock 'n' roll, the group used humor in a freewheeling show that contained vaudeville elements such as tap dance, football formations, sight gags, stunts, and wild, acrobatic leaps choreographed to the group's music. "After Hours" and "By The Sea" are the only LPs that The Treniers recorded for the legendry DJ Hoss Allen who was known as the jive-talking "Hossman" to R&B fans across the United States who picked up WLAC's 50,000-watt signal from Nashville...Bringing the pair of rare LPs together, this CD makes these albums available for the first time since they where originally released four decades ago.
The Fabulous Treniers: The Hoss Allen Sessions
Night Train International CD 7120
1 Rocking Is Our Business
2 Jambalaya
3 Stella by Starlight
4 Charmaine
5 Baldhead
6 Why
7 After Hours Bossa Nova
8 People Will Say We're In Love
9 San Francisco
10 Around The World in 80 Days
11 Lover Come Back To Me
12 In The Still of the Night
13 Roses of Picardy
14 Tomorrow Nite
15 Margie
16 Bootie Green
17 On the Street Where I Live
18 Drinkin' Wine Spo-De-O-Dee
19 But Not For Me
20 Wild in the Wildwood
21 Rock Me All Night Long
22 On the Outside
23 The Suitcase Song
Courtesy: Tapio Vaisanen - tapio.vaisanen@beveric.com

---
Belated R.I.P. Notice
Jerry Hedges who played guitar with the Jiants and co-wrote Tornado and She's My Woman for Claudra Records with Andy Anderson, passed away on January 23, 2004 in Valparaiso, Indiana.

---
From Bob "Git it" Kelly:
Sept. 1, 2004 - "I have a very nice retrospective interview in The Lance Monthly on the internet and thought you might like to read it. http://www.lancerecords.com look under "In This Issue" section. It's long, but correct, because Dick Stewart actually printed my exact words as I wrote them from an e-mail interview. That's really refreshing to have something printed the way it actually happened. Everythings fine here in Las Vegas - still doing some recording and trying to keep busy so I can take vacations to California to visit with family." Bob "Git it" Kelly - kellybob@cox.net

---
CD TRIVIA.
What was the first cd ever released to the public? The first cd released to the public was in Japan on 10/1/82 - it was Billy Joel's 52nd Street Cds were not introduced to the US until March 1983
What was the first cd to be manufactured in the U.S.? Actually, there were 2 - a promotional cd sampler called the Edison CD Sampler and Bruce Springsteen's Born In The U.S.A.

---
Johnny Bragg R.I.P.
Johnny Bragg, a singer-songwriter who co-wrote the song "Just Walkin' in the Rain" as a state prison inmate, has died in Nashville. He was 79 when he died of cancer September 1, 2004 at a nursing home. Bragg was the lead singer for the Prisonaires, a vocal group he formed while in the Tennessee State Penitentiary in the 1950s. Written by Bragg and another inmate, Robert Riley, "Just Walkin' in the Rain" was a pop hit for Johnnie Ray in 1956. Bragg was pardoned in 1959, but he landed back in prison a couple more times before leaving for good in 1977.

---
Joe Barry R.I.P.
Louisiana great, JOE BARRY ("I'm A Fool to Care"), has passed away. He suffered from rheumatoid arthritis, chronic asthma, bronchitis, emphysema, cariomyopic disease, diabetes, and an infected immune system. Born Joseph Barrios, July 13th, 1939, he released his last CD in April of 2003. There is a great double-CD set from Night Train Records which collects all his early recordings.

---
Recently "Rhythm' Train" played with the Di Maggio Brothers from Italy. It was a great concert and at the end they did a big session (pictures). That was an the Ranchparty in Triengen, Switzerland. Contact: Rhythm' Train, c/o Urs Odermatt, Kehrsitenstrasse 18, CH-6362 Stansstad, Switzerland. Phone 079 - 719 24 52. Privat 041 - 611 02 62, www.rhythmtrain.ch

---
Hey BO DIDDLEY fans,
Fans may be interested to know that the popular British Broadcasting Corporation (BBC) Radio 2 rock & roll music show "Mark Lamarr: Shake, Rattle & Roll" has a special edition titled "Buddy Holly's Jukebox" beginning at 9.00pm BST on Thursday September 2nd.
The hour-long program is devoted to tracks that were in Buddy Holly's record collection when he died in February 1959. The singer's stack of discs included BO DIDDLEY's singles "Bo Diddley"/"I'm A Man" (Checker 814) and "Hey Bo Diddley"/"Mona" (Checker 860), along with the Mickey & Sylvia 1957 hit records "Love Is Stange"/"I'm Going Home" (Groove 0175) and "There Oughta Be A Law"/"Dearest" (Vik 0267).
Buddy Holly recorded his own cover versions of the BO DIDDLEY songs "Bo Diddley", "Mona", "Love Is Strange" and "Dearest" (retitled "Umm, Oh Yeah"), with his recording of "Bo Diddley" becoming a posthumous UK Top 5 hit for him in the summer of 1963.
"Mark Lamarr: Shake, Rattle & Roll" is available on-line to listeners around the world via the BBC Radio Player's "Listen Live" and "Listen Again" functions located at http://www.bbc.co.uk/radio2/shows/lamarr/

---

THE STARFIRES. "Here's a photo of our group with our DiPinto guitars. It was taken the evening of August 14 in Tunkhannock, PA after we had played a gig for a Presbyterian group. We had a connection: our bass player is an ordained Presbyterian minister!" John Hall - jbhall@earthlink.net

---
WILLIAM "LUM" YORK, a musician and comedian who played with Hank Williams and many other country stars died Sunday, August 15, 2004. He was 85. York was a Upright Bass player with Williams and his Driftin' Cowboys band in the 1940's. He also played for Marty Robbins. York was a member of the Driftin' Cowboys from 1944-49, Including the time Hank Williams was part of the  Louisiana Hayride in Shreveport, La. York switched to playing spoons after a heart attack forced him to stop preforming the Upright Bass in 1998. In recent years he had played spoons for Hank JR., Hank the 3rd and Jett Williams.

---
JOHNNY POWERS COMING TO CALIF. Saturday, Sept. 11th
Johnny Powers Exclusive Show, Performing all his hits! Rockabilly legend Johnny Powers returns to San Francisco to perform a exclusive engagement at the legendary 23 Club in Brisbane. He'll perform "Long Blond Hair", "Mean Mistreater", "With Your Love, With Your Kiss", and many other legendary songs. Plus, one of the hottest Rockabilly bands on the planet, Omar and the Stringpoppers, Show starts 9:30pm. DJs Reb and Fancy Dan. Early arrival strongly suggested, this will be a sell out show! Demarco's 23 Club, Visitation Walk, Brisbane, CA, 415-467-7717

---
G6120RHH Reverend Horton Heat!
Long time Gretsch player Reverend Horton Heat recently inked a deal with FMIC/Gretsch for a rippin' signature model 6120. The guitar which combines features from various Gretsch "time-zones" is scheduled to be available in stores beginning in January 2005.
http://www.gretschguitars.com/whatshot/rhh.html

---
GQ names the 25 most stylish musicians of all time in its September 2004 Big Style issue. The hotlist includes: Andre 3000, Beck, Chet Baker, David Bowie, Nick Cave, Johnny Cash, Miles Davis, Bob Dylan, Bryan Ferry, Serge Gainsbourg, Liam Gallagher, Marvin Gaye, Jimi Hendrix, Thelonious Monk, Jim Morrison, Gram Parsons, Elvis Presley, Keith Richards, Frank Sinatra, Gene Vincent, Charlie Watts, Paul Weller, Pharrell Williams, and Steve Wonder.
Johnny Cash: The Man in Black also understood the elegance of a crisp white shirt, bold cuff links, a sharp watch, and the power of pomade.
Elvis Presley: Movies trivialized him; pharmaceuticals wrecked him. But for those few magical years before he shipped off to Germany, Elvis was the most magnetic creature on the planet.
Gene Vincent: If Elvis had been a bit tougher, he would have grown up to be Gene Vincent, a motorcycle-riding, leather-wearing rebel who soared to fame in 1956 with "Be-Bop-a-Lula."
For others, see: http://biz.yahoo.com/prnews/040816/nym144_1.html - "The 25 Most Stylish Musicians of All Time," appears in the September 2004 issue of GQ, on newsstands nationwide Tuesday, August 24, 2004.

---
MELVIN ENDSLEY R.I.P.
Monday, August 16, 2004 - This sad news from Bonnie Brown, about one of country musics' great artists.  Our prayers and condolences go out to his family. You may remember one of his: "I Ain't Gettin' Nowhere With You" a great song. 
"Sorry to say that our dear friend Melvyn Ensley died this afternoon from Heart Complications. He was such a sweet person, and altho he had polio at an early age, he  overcame all the hardships of that life, and wrote such wonderful songs for such persons as  Marty Robbins,  (singing the blues) ... and one for us that we loved ... called "I'd just Be Fool Enough To Care", and then  he ran a very successful  cattle farm in Heber Springs, Ark. from his wheelchair. And, he had a wonderful wife and family that loved him dearly.  Melvyn was a fantastic person ... and loved Country Music and the people in Country Music.  I am sure his fans and friends in the Country Music Business will miss him so much, as we, The Browns, will." -Bonnie Brown Ring
www.katv.com/news/stories/0804/166857.html
---
WORTH A CLICK:
Book Reveals Johnny Cash Sick, Grief-Stricken
---
WORTH A CLICK:
JAMES BURTON: Guitarist praises Elvis!
---
WORTH A CLICK:
LITTLE RICHARD: BIG IMPACT!
---
WORTH A CLICK: COUNTRY MUSIC CHANGED MY LIFE. Ken Burke's Books: Tales of Tough Times and Triumph from Country's Legends

---
WORTH A CLICK:
Carl Perkins' Suede's Restaurant closes its doors
---
STOLEN GUITAR. (Posted 8/12/04) My guitar player's truck was broken into this week and guitar stolen. any help is great. pass the word. pass the photo ... just please, help us get it back. it's so missed. It's a total mutt of a guitar. Black silvertone hallowbody F hole guitar, dice volume and tone knobs, gretch bigsby. gibson tuners. barb - barb@rockabilly.net

---
R.I.P. Hunter Hancock
It is with a heavy heart that we report that Hunter Hancock famous West Coast DJ here in Los Angeles passed away this past weekend after a lengthy illness.
Hunter had been retired from Radio since 1967, but is credited to being the first DJ ever to have his own Radio show devoted entirely to Rhythm and Blues (then called Race Records) back in 1948. Rock- it Radio was fortunate enough in the year 2000 to have Hunter return to the microphone for one show here on the Rock-it. He was then in his early '80s, but you would never know it by his show. In his memory and a tribute to such a fine gentleman, we are rebroadcasting that show and putting it in our archives under show #1034. To tune into Hunter for one last time you can at: http://www.palmsradio.com/rockittext.htm And then click to show #1034.
RIP Hunter! Bennie Dingo, Rock-it Radio - http://www.rockitradio.net

---
Hey BO DIDDLEY fans, The Australian reissue specialist label Raven Records is set to release a new BO DIDDLEY compilation CD on Tuesday September 14th.
Titled "Drive By Bo Diddley: Tales From The Funk Dimension 1970-1973" (Raven RAV CD 196), the 20 tracks on this new CD are compiled from BO DIDDLEY's Checker/Chess albums "Black Gladiator" (1970), "Another Dimension" (1971), "Where It All Began" (1972) and "Big Bad Bo" (1974), the original LPs of which have all gone on to become highly prized in rare groove and breakbeat collecting circles.
Amongst the most sampled tracks included on this new compilation are "Elephant Man", "Black Soul", "Pollution", "Go For Broke", "Bite You", "Bad Side Of The Moon" plus "Bad Moon Rising", which was famously sampled by the Finnish DJ collective Pepe Deluxe for their track "Woman In Blue" and "Hit Or Miss", recently sampled by the popular hip hop group De La Soul for their track "Buddy". Raven Records: http://www.ravenrecords.com.au/

---
Sleepy LaBeef's Guitar Stolen.
(Aug. 4, 2004) This is Jimmy (Caddilac Crumb) Davis, Sleepy's bass and guitar player. He had a 1954 Gibson 150 stolen in Sweden. Is there a way we could get the word out? My email is cadcrumb@yahoo.com

---
Hey BO DIDDLEY fans, Fans in the UK of the great blues performer Muddy Waters may be interested to know that Channel 4 TV is due to broadcast the 2003 documentary "Muddy Waters: Can't Be Satisfied" on Thursday August 12th at 11.40pm.
The hour-long profile by Robert Gordon and Morgan Neville was originally broadcast in the US last year as part of the Public Broadcasting Service (PBS) series "American Masters" and includes interviews with Chuck D, BB King, Bonnie Raitt and Keith Richards as well as archive footage of Muddy Waters in performance and off-stage.
In 1967, BO DIDDLEY and Muddy Waters memorably collaborated together with their fellow labelmates Little Walter and Howlin' Wolf on the Checker albums "Super Blues" and "Super Super Blues Band", on which they reworked BO DIDDLEY hits including "I'm A Man", "Who Do You Love", "Bo Diddley", "You Don't Love Me", "You Can't Judge A Book By The Cover" and "Diddley Daddy" and Muddy Waters hits including "Long Distance Call" and "I Just Want To Make Love To You".

---
WORTH A CLICK:
Elvis Presley Boyhood Home To Open To The Public.
---
FANS ENVISION ELABORATE ELVIS STATUE. Fans of Elvis Presley are trying to raise $80,000 to have a statue of the rock 'n' roll icon created in time for the 50th anniversary of Presley's first appearance on Louisiana Hayride. Friends of the Municipal Auditorium and a fan club known as Elvis Angels plan to ask the Shreveport, La., Downtown Development Authority next week for money, said Johnny Wessler, past president of the auditorium group. Artist Eric Kaposta of Houston, who once lived in Shreveport, said he could have the statue ready in time for the Oct. 16 anniversary if backers can come up with $20,000, Wessler said. Wessler said Kaposta has created a bust of Presley that bears such an accurate resemblance to the singer that Memphis, Tenn.-based Elvis Presley Enterprises, which handles Presley's image, agreed to sanction the project. "The statue will be on a tremendously large granite base that will tell a story and include lyrics from his songs," Wessler said..."

---
JASON D. WILLIAMS (second from left) and his band Friday, July 16, 2004 at the Green Bay, Wisconsin Onedia Casino. Pictured at the right is Bill Barker, Rockabilly Hall of Fame staff member. Photo: Dave Hermsen

---
Hemsby Promoter, Willie Jeffery with Billy Adams after Billy came off stage at the Americana Festival in Newark, UK on Saturday 10th July 2004.

---
WORTH A CLICK: Who's your daddy? Rock 'n' roll's roots are many and varied Rock 'n' roll's roots are many and varied ...

---
WORTH A CLICK: EDY'S GRAND ICE CREAM. Edy's Grand Ice Cream Debuts Two Collector's Edition Elvis Flavors.

---
WORTH A CLICK:
HOW TO SELL ELVIS AGAIN.
---
AT THE REHEARSAL FOR THE SUN RECORDS' 50 YEARS OF ROCK & ROLL CELEBRATION, JULY 5th 2004. From left to right standing: Bubba Feathers, Sam the Sham, Jimmy Van Eaton, Billy Lee Riley, Scotty Moore, Billy Swan, Stan Perkins, D. J. Fontana, Ronnie McDowell, W. S. Holland, Ace Cannon, Jerry Phillips, C.W. Gatlin. From left to right seated: (??), Isaac Hayes, Smoochie Smith & Kim Curtis. (July 4th photo courtesy: Wanda Feathers)

---
DON RADER. Detroit rock and country music pioneer lost his battle with heart disease on the 5th of July, 2004 at University Of Michigan Medical Center in Ann Arbor. Don had congenital heart defects that he had battled since childhood and underwent three major surgeries in the past 12 months.
&nbsp Don Rader was born & raised in Royal Oak Township and was Detroit's first rock recording artist, releasing "Rock & Roll Grandpap" in 1956. He followed it wi th a string of hit singles, moved to Chicago in 1959, and later hosted his own TV show in Florida. He recorded "Goodbye, I Hate To See You Go in Nashville in 1967, presaging the country rock boom spearheaded by The Byrds the following year.
&nbsp Don was well-known and well-liked by many of country music's biggest stars, some of whom requested him on the bill for their Michigan shows. Johnny Cash, Carl Perkins, Hank Williams Jr., Ernest Tubb, Kitty Wells, The Kendalls were all familiar with Don and his music.
&nbsp Don experienced a resurgence of popularity with the release of his "best of" CD "Detroit Rockabilly Man" in 1995. The European import featured Don's hits along with unreleased recordings dating back to 1952. A European tour was planned for this fall and a New York date was being arranged by Mink DeVille guitarist/producer Rick Borgia.
&nbsp For more information and free music downloads, go to Don Rader.com.

---
"WILD ONE" R.I.P. Marlon Brando Dead at Age 80. The man called the greatest actor of all time has died. Thursday July 1, 2004 in Los Angeles. Brando may be best known for his roles in "The Godfather" and "On the Waterfront". He won oscars for his work in those 2 films.

---
BAD HABITS RECORDS
They are going to release in August the compilation "Rockin All Over The Place", featuring rockabilly / rock'n'roll bands from USA, Europe, Australia and Brazil:
-Taggy Tones (Denmark)
-Alex Valenzi & The Hideaway Cats (Brazil)
-The Gamma Rays (USA)
-Kentucky Boys (Germany)
-The Sin Tones (Canada)
-Teddy Trigger & The Gatling Guns (Norway)
-Rhythm Bound (USA)
-Small Town Ramblers (Norway)
-Lil Bit & The Customatics (USA)
-Ultra Kings (USA)
-Crazy Legs (Brazil)
-High Rollers (USA)
-Johnny Black (Australia)
-The Broken Toys (Argentina)
For further information badhabitsrecs@yahoo.com.br - Bands submit your material!! Fabio Marconi

---
"Jimmy Lee " Fautheree Has Passed Away June 29, 2004.
Just to inform the readers of the passing of our dear legend - "Jimmy Lee" Fautheree. Jimmy died this date at 12:20 pm at his home in Dallas, Tx, after a 4 month battle of cancer. Arrangements are pending at this time, but will post the time and place when I'm am notified. We have all lost a most talented, and truly a rock n roll, country, gospel, and rockabilly legend, whom we will never forget. -Dan D.

---
WORTH A CLICK:
Elvis to rock around the clock ...
---
CHARLIE GRACIE and BOBBY RYDELL at Frederick's in "Olde City" Philadelphia. Both artists paid tribute to legendary Philly dj DON CANNON who called it quits after 34-years!

---
KEN NELSON. Legendary Capitol records producer Ken Nelson 93 years old has written a book titled "My first 90 years." He is a Country Music Hall of Fame member. He also is the man who discovered Gene Vincent, Buck Owens, Merle Haggard, Sonny James and many more. He is in very poor health. He would love to hear from people. His address is 4743 Club House Drive, Somis, California 93066. The book has not been published, yet.

---
ELVIS THE WINE. (By Paul Cashmere) - Elvis Presley is about to become a wine. Fans will soon be able to sip a Blue Suede Chardonnay, A King Cabernet Sauvignon or Jailhouse Red Merlot. California based Signature Wines is about to release their Graceland Cellars line. "We are very proud of the wines we have created to honor the King of Rock and Roll," said Scott Cahill, CEO of Signature Wines in a statement. "Our wineries have worked hard to put the same care into our wines that Elvis put into his music. We think fans of wine and Elvis will agree."
The 2002 Blue Suede Chardonnay has citrus, pear and floral aromas. It is a light, toasty oak with hints of butter and vanilla.
The 2001 Jailhouse Red Merlot features the aromas of berries and fresh herbs with toasty vanilla flavor.
The 2001 The King Cabernet Sauvignon is made from lush, ripe fruit of black cherry, currant and blackberries..."

---
JOHNNY CASH VS. MUSIC ROW, featuring interviews with Rosanne Cash, Kris Kristofferson, Ricky Skaggs and manager Lou Rubin will air on CMT on July 16th. The hour long special chronicles Cash's struggle to find a place for his music as country radio playlists were drastically changing and country radio was not playing his records. In 1986, Columbia Records dropped him after a 28-year recording relationship, His new union with Mercury Records in 1987 yielded little success. He signed with the non-Nashville American Records and finally found a home for his music. For an insider's look at what the Nashville music scene, and country radio has become ... this telecast should be very interesting. -Bill Morrison

---
YEP ROC RECORDS News, upcoming releases and tour dates! (Through September 2004). June is turning out to be the biggest month ever for Yep Roc, with new releases from Dexter Romweber (long before the Black Keys and the White Stripes, Dex was tearing it up with his eerie blues-based guitar/drums due The Flat Duo Jets), Grammy-winner roots-rock legend Dave Alvin, dB's co-founder and studio wizard Chris Stamey, Caitlin Cary side-project Tres Chicas (featuring Glory Fountain's Lynn Blakey and Hazeldine's Tonya Lamm), Philly's own Marah, amped-up Atlanta garage-rockers The Forty-Fives and Texas guitar legend The Reverend Horton Heat. All of these artists are hitting the road for summer tours and festivals, with The Forty-Fives joining the Reverend for a solid month of July dates, including the July 3 Hootenanny in Irvine, CA at the at Canyon Ranch with The Cramps, The Blasters, Big Sandy, Lee Rocker and others. For a full list of Yep Roc artist tour dates, go to http://www.yeproc.com/tour.php.

---
ELVIS: A MUSICAL INVENTORY 1939-55 will be published on Monday, July 5th 2004 - the 50th anniversary of the recording of the song that started it all, "That's All Right". Format: Paperback; Number of pages: 264. Recommended retail price: GBP 17.99 (approximately US$ 31) For more information/latest news on the book, please visit http://musicmentor0.tripod.com/book_elvis_a_musical_inventory.html

---

Elvis' Army Discharge Document. Click for larger view.

---
Hey, BO DIDDLEY Fans!
BO DIDDLEY is scheduled to perform on-stage with guitarists David Hidalgo of Los Lobos and Joe Walsh of The Eagles at the all-star special benefit concert to be held at the Cotton Bowl Stadium in Dallas, TX on Sunday June 6th as part of Eric Clapton's Crossroads Guitar Festival.
Highlights of the concert are to be broadcast by the US Public Broadcasting Service (PBS) in a program titled "Great Performances: Guitar Gods The 3-day Festival, to be held over the weekend of Friday June 4th thru Sunday June 6th, is a one-time event to raise money for Crossroads Centre Antigua, founded in 1997 by Eric Clapton and created to provide treatment and education to chemically dependent persons, those with other compulsive addictive behaviors, their families and significant others.
Jeff Beck and John McLaughlin have recently been added to the line-up for the all-star concert which features the biggest names in guitar music and is being hailed as "a guitar Woodstock Other musicians provisionally scheduled to perform at the concert, which begins at noon on June 6th and is expected to last for around 11 hours, include Doyle Bramhall II, Larry Carlton, Eric Clapton, The Robert Cray Band, Vince Gill, Buddy Guy, Eric Johnson, BB King, Sonny Landreth, Brian May, Pat Metheny, Otis Rush, Carlos Santana, Neal Schon, Hubert Sumlin, Booker T & The MGs, James Taylor, Dan Tyminski, Steve Vai, Jimmie Vaughan and ZZ Top.
BO DIDDLEY's many fans living in Europe will soon have the opportunity to join in with the celebrations as his 75th birthday tour arrives there this summer. The highly successful year-long birthday tour has already taken BO DIDDLEY coast to coast across the US and to Japan and now a select number of performances in Germany, The Netherlands and England during the months of July and August have been announced.
Further details of these European shows, along with a complete listing of all his upcoming US and Canadian dates, can be found on the Forthcoming Appearances page of the BO DIDDLEY-The Originator website at http://members.tripod.com/~Originator_2/dates.html Please note that dates and venues are subject to change and you should continue to check with the website throughout the coming months for all the latest news on the tour.

---
WORTH A CLICK: Johnny B Goodbye CHUCK BERRY is set to play his last ever Scottish gig in Edinburgh next.

---
JOHNNY POWERS VIDEO:
Production will begin soon on a Johnny Powers documentary video. Anyone (fan or band) that may have footage of Johnny to share, please contact: Jet-Eye Music.

---
Ray Condo Memorial in Los Angeles.
As many of you know Ray Condo passed a couple of weeks ago. He was a great spirit in the music community and had many friends. We wish you all to come on down to the DERBY Sunday May 16. This will be a benefit for a Vancouver foundation that Ray was a part of. The donation for this memorial is $7.00. The entertainment for the evening will feature many of the friend and bands Ray knew and met over the years. This is just a sample of the bands appearing also on the bill Los Rythm Rockets who opened for Ray on his last Los Angeles show here at the DERBY. Come early the door open at 7PM. With the number of bands appearing the sets will be very short and quick so do not miss out. Ray was a whirlwind of energy come celebrate his life and music. This show would not be possible without Pamela Esposito who called and arranged this in Ray's honor. For more info go to www.highoctane1.com

---
CARL PERKINS' STAMP?
"Every since Carl Perkins died, I have been collecting signatures to have Mr. Perkins honored with a US commemorative postage stamp. I have recently put this petition on-line. The web-site is: www.petitiononline.com/Perkins/petition.html." Courtesy: Mark Crawford, Nashville, TN

---
HEMSBY LINE UP FOR OCTOBER 2005. May 5, 2004 - Courtesy of Rod Pyke, we have just received the Hemsby Headliners for the October 2004 Weekender:
LINK WRAY
ROBERT GORDON
JOE CLAY
BOBBY HENDRICKS
LEE ROCKER

---
SLIM JIM'S AUCTION. Starting May 3, 2004 Jim will be auctioning off a selection of his sticks and beaters to visitors of SlimJimPhantom.com. Exclusively for members of his mailing list here's a preview of the first item being auctioned via Slim Jim's Rockin' Web Store over this coming week. Full details of how to bid on the item below will appear on the Store page of the site http://www.slimjimphantom.com/store.htm. The first item to be auctioned off will be one of Jim's Vic Firth Stray Cats signature sticks (pictured above). A real collectors piece the stick has been autographed by Jim and was used at the 2003 Hootenanny festival when the Stray Cats reformed last year.

---
JACK SCOTT APPEARANCES:
May 22 & 23,2004 Car Show Port Austin,Michigan.
August 7 & 8, 2004. Mohican Sun Casino in Connecticut.
April 13, 2005 Oneida Casino Green Bay, WI. Jack is part of the Rockin 50-s Fest it last from April 11 To April 16, 2005. There is going to be a lot of great performers there. If you can stay the whole week which I would Strongly recommend it you won't be disappointed.I was to the one in 2002. It Was Great This one will be even be  Greater.  Keep Rockin', Tony Flores - flores_tony@msn.com

---
CHARLIE GRACIE HONORED ON MAY 11TH - ELECTRIC FACTORY
CAST YOUR VOTE NOW!

Other Guest Presenters include: Couzin Ed, Harvey Holiday, Michael Tearson, Soul Survivors, Stewkey from the Nazz, Stephen Caldwell from The Orlons, Len Barry from The Dovells, and The Stylistics with Performances by: AUTOMATIC BLACK, OCTANE, CARFAX ABBEY, TANGLED THOUGHTS, THE JEALOUS TYPE, CANDIFLYP and more.

---
Hey, BO DIDDLEY Fans!
BO DIDDLEY and The Debby Hastings Band are scheduled to perform at an all-star special benefit concert to be held at the Cotton Bowl Stadium in Dallas, TX on Sunday June 6th as part of Eric Clapton's Crossroads Guitar Festival.
The 3-day Festival, to be held over the weekend of Friday June 4th thru Sunday June 6th, is a one-time event to raise money for Crossroads Centre Antigua, founded in 1997 by Eric Clapton and created to provide treatment and education to chemically dependent persons, those with other compulsive addictive behaviors, their families and significant others.
Other musicians provisionally scheduled to perform at the concert include Doyle Bramhall II, Larry Carlton, Eric Clapton, The Robert Cray Band, Vince Gill, Buddy Guy, David Hidalgo, Eric Johnson, BB King, Sonny Landreth, Brian May, Pat Metheny, Otis Rush, Carlos Santana, Neal Schon, Hubert Sumlin, Booker T & The MGs, James Taylor, Dan Tyminski, Steve Vai, Jimmie Vaughan, Joe Walsh and ZZ Top.

---
Dick Clark Has Diabetes, says PR firm. (April 17, 2004) Clark, renowned as "America's oldest teenager," has diabetes. Clark, 74, has had type 2 diabetes, formerly called adult-onset diabetes, since 1994, but kept it a secret from everyone except close friends and family, according to the Ogilvy public relations firm. Clark, the former host of "American Bandstand" and producer of the American Music Awards, declined to speak to The Associated Press Tuesday after word of his illness was first reported in a gossip column in the New York Daily News.

---
---
WORTH A CLICK: Bill Haley's Original Comets: NEWS. VJ King Jr and HeartBeat Entertainment bring you regular updates on the activities of the perennial alligators of Rock 'n' Roll, Marshall Lytle

---
Haley/Comets Wall Street Journal Article (April 4, 2004)
---

The SLAPBACKS - "Net. Wt. 2.5 oz." PART-CD 656.001. An exciting Austrian rockabilly combo, featuring 16 tracks of solid non-stop vintage sounding material. The group is big in their home country, Germany and surroundong areas. This is their second release with a little bit of rockin' hillbilly, a little bit of up tempo swing-blues, all combined with a certain fundness for doo-wop. Contact: pat@slapbaks.com - www.slapbacks.com

---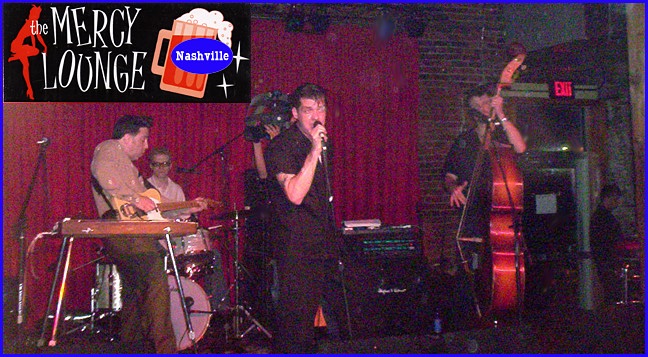 LIVE ROCKABILLY MUSIC at the Mercy Lounge on Monday nights. Pictured above: Chris Casello, Jerry Roe, Nick Roulette and Ron Crutcher ... some of the best rockers in Music City.
Directions to Mercy Lounge: Once on Broadway, go south on 8th Ave. Vere right when 8th splits and look for a large sign about a block ahead on the side of a big building that says "CANNERY ROW NASHVILLE". Turn right onto Cannery Row (just before sign) and follow about 50 yards to the Mercy Lounge parking lot and the Mercy Lounge. Enter under the deck.

---
Cash Family Releases Statement Re Arrest of Carlene Carter. April 3, 2004: The Cash family released a statement Friday night about the arrest last week of Carlene Carter. Carter, daughter of Carl Smith and the late June Carter Cash, was arrested Thursday by Tennessee authorities, apparently over violation of her bond in connection with a previous case. A television station said Carter's bond was revoked because she failed a drug test. In the statement, the family said, "The past several months have been traumatic for Carlene and the entire Carter and Cash families. We regret the current situation that Carlene faces and we will be supportive of her in overcoming the current challenges."
In December 2002, Carter was arrested in connection with identity theft to obtain prescription drugs. Carter allegedly used the identity of a boyfriend who died a month earlier to get two prescriptions for Zoloft. Carter faces an April 12 court hearing in the case and could face 2 to 12 years if convicted. In June 2001, Carter was arrested in New Mexico on heroin possession charges. She received 18 months probation in September 2003.

---
CRICKETS CONFIRMATION! J.I. Allison confirmed that The Crickets are coming to the UK in September, but they are not touring. They will attend the 'Fender 50th Anniversary' show in London on Friday, Sep 24th and will be appearing at Chippenham on Saturday Sep 25th.
-from the organisor of the Eddie Cochran Weekender

---
WORTH A CLICK:
HANK GARLAND
---
LORETTA LYNN will release her new studio album, Van Lear Rose, on April 27, 2004 on the Interscope label. Lynn, who wrote every song on the album, has filmed a video for the first single, "Portland, Oregon." Jack White of the rock band, the White Stripes, produced. Van Lear, KY., is a community near Butcher Holler, KY., where Lynn grew up.

---
ENVIKEN RECORDS has some excellent CDs available. Among them are the two pictured above: Gene Summers' 18-track "Do Right Daddy" and Ray Campi's "The Road to Rockabilly, 1951-1958". Ray's disc has 19 tracks, including 5 previously unrealeased recordings. Also available fom Enviken are albums by Curly Phillips, Nick Willett, Nosey Joe, Rusty York and Glen Glenn. To contact Eviken Records, write to: Box 8, S-790 26 Enviken, Sweden. www.envikenrecords.com

---
JOHN CARTER CASH EXTINGUISHES "RING OF FIRE" CONTROVERSY WITH PHONE CALL TO MERLE KILGORE. Merle Kilgore, legendary co-writer of Johnny Cash's legendary hit "Ring Of Fire," is throwing cold water on the rumor of a rift between he and the Cash family. The flare up occurred over sound bytes that Roseanne was upset over the rumored use of "Ring Of Fire" in an upcoming ad campaign for Preparation H. The publisher, was in fact, in conversation with the ad agency about the song, and Merle, as a co-writer of the hit with the late June Carter Cash, was contacted. The news came out of the blue.
"I jokingly said I'd consider it for a million dollars - never assuming I'd get that amount of money or this amount of media," noted Kilgore from his office in Nashville. "Ironically, John used to kid onstage, as well as offstage, about this very idea for 'Ring of Fire.' I never went looking for the Preparation H folks, and was as surprised as anyone when I was contacted about their interest. Roseanne couldn't have known all the facts - John Carter called me to apologize for any misunderstanding and really there's no more to the story than that." The good news is that all relationships between Merle and the family are intact. There's no hard feelings between Merle and John Carter and they have shared a laugh that Johnny and June would have no doubt thoroughly enjoyed.
No further word about interest in "Ring Of Fire" from the ad agency that originally created smoke where there was no fire. And that says Merle, is the "bottom line."

---
WORTH A CLICK:
When copyright is king (Elvis related).
---
Toby Rider has started a new Yahoo group, please check it out, it's called "The Bakersfield Sound":
http://launch.groups.yahoo.com/group/bakersfield-sound/
---
Jimmy Lee Fautheree Ill
March 27, 2004 - Jimmy Lee returned home from England ('Rockabilly Rave') very sick with pneumonia and has been hospitalised for two weeks. He is also fighting a battle with cancer and has begun treatments. Would like to ask everyone who loves his music and Jimmy  Lee, to lift him up with your prayers. Music is still a love of his life, along with his wife, Nancy and family, and also a big plus for him is his love for The Lord. (Letter from: Martha Fautheree).

---
WORTH A CLICK:
Little Richard by Little Richard
---
WORTH A CLICK:
Joe Perry on Chuck Berry
---
WORTH A CLICK:
Bono on Elvis
---
For those of you who are fans of the Bakersfield Sound, here's your chance to own a piece of history by the man who started it all, Bill Woods "The Godfather of The Bakersfield Sound." This is a very rare live recording of Bill performing on the stage of the infamous Blackboard Nightclub in Bakersfield with his friends Don Rich (guitar player for Buck Owens) Don Markham (current sax/trumpet player for Merle Haggard) Fuzzy Owen (who has been Merle's road manager) and Red "Hello I'm a Truck" Simpson. These two 60 minute shows recorded in 1961-62 are from jam sessions that were held on Sunday afternoons and answer the question I get all the time "Glenn what were the old clubs that spawned the Bakersfield Sound like?"
Here's the best part. We will donate $5.00 of every Cd sold to our friend Bob Timmers of the Rockabilly Hall Of Fame who is our "That Bakersfield Sound" website designer. As you know Bob has never asked any compensation for all the effort he has put into this site but relys entirely on donations and contributions to keep his www.rockabillyhall.com and www.countryhall.com operating in the black. So you not only have the oppurtunity to own a great CD but help our friend Bob Timmers in the process. Amount: $15.00 (includes shipping and handling). Make payment to:
Glenn J. Pogatchnik
1675 Los Osos Vly Rd. #130
Los Osos,Ca 93402

---
Hey, BO DIDDLEY Fans!
March 25th - BO DIDDLEY is included in "Rolling Stone" magazine's list of "The Immortals - The 50 Greatest Artists of All-Time". The list is included in the first of 3 special issues of the magazine to be published in 2004 to commemorate the 50th anniversary of rock & roll. Votes were cast by a number of leading musicians, historians, industry executives and critics, including BO DIDDLEY. BO DIDDLEY's nomination came from musician Iggy Pop, the former lead singer with the influential punk rock band The Stooges. The magazine and the list is published tomorrow, (Friday).
Also, the newly published 10th anniversary issue of "Juice" magazine, (issue #57), includes an interview by Steve Olson with BO DIDDLEY. The Santa Monica, CA-based "Juice" magazine specialises in coverage of the skateboarding scene along with interviews and features on skate rock, punk rock, rock & roll, metal, hip hop, reggae, rap and hardcore music.

---
PAUL EVANS NEWS:
Paul and his vocal group, Group 5ive, have been asked to back the stars on PBS's "MAGIC MOMENTS - THE BEST OF THE 50's POP", another program in that network's great Oldies series. As of this posting, the scheduled performers are: Patti Page, Pat Boone, Don Cherry, the Diamonds, the Four Lads, the Four Coins, the Four Aces, The Four Preps, the Four Freshmen, the Chordettes, Al Martino, the Crewcuts, and Don Cherry. The show will be taped at the Taj Mahal Hotel in Atlantic City on April 21st. Check your TV listings for the program's broadcasting schedule in your area. Paul said, "I'll be singing with some of the great stars that I cut my musical teeth on. This will be an honor, a thrill, and great fun for me."

---
WORTH A CLICK: Elvis Roots 'Lead to Scotland'.

---
Hey, BO DIDDLEY Fans! BO DIDDLEY's original girl guitar player, LADY BO, is included in the line-up for the opening day of the 3rd Annual Ponderosa Stomp to be held at the Rock 'n' Bowl, Mid City Lanes in New Orleans, LA between 5.00pm-2.00am on Tuesday April 27th. The 2-day event celebrates the unsung heroes of the blues, soul, rockabilly, swamp pop and New Orleans R&B. LADY BO began her recording career with BO DIDDLEY in 1957 and appears on many of his classic recordings, including "Hey Bo Diddley", "Mona", "Say Man", "Story of Bo Diddley", "Road Runner" and "Bo Diddley's A Gunslinger.

---
"BABE SOCIETY" has presently (March, 2004) climbed to the No. 1 slot on the Live365.com broadcasting network rockabilly list. So if you too, wanna listen to a broad selection of rare '50s rockabilly, rock'n'roll, doo wop and rhythm'n'blues songs, feel free to visit www.babesociety.dk and tune in. You can listen on the Live365.com network or via Windows Media Player and AudioRealm.com. "Babe Society" is by far the most hardcore 50s radio station on the internet. Contact: Kim Nřrskov - norskov@tdcadsl.dk, President of "Babe Society", Copenhagen. Around the clock rockin' radio: http://www.live365.com/cgi-bin/directory.cgi?autostart=babe_society.

---
RONNIE HAIG CD. Rockabilly Hall of Famer Ronnie Haig has released his latest project, "Up Close and Personal". 21 new songs, a variety of great rock'n' roll/rockabilly/country and more. For more information, e-mail: Ronnie.

---
---