A R C H I V E - #8
AUSTRIA RADIO SEEKS MATERIAL: "I'm Pete Lenloy, music journalist over the last 35 years, from Vienna, Austria. AND a great rockabilly and rock and roll fan over the years. I'm still working for radio and newspaper. Would you be so kind and send information about artist, music and CD's for my daily radio work. Radio Carinzia is a 24 hours radio station. My address is: Pete Lenloy c/o Radio Carinzia, P.O.Box 54, Neuhofen 11, A-3382 Loosdorf, Austria, Europe. E-mail: pete.lenloymusic@gmx.at. Thanks in advance and all the best Pete L."

---
SONNY ROWLAND (www.toastedhippies.com) of "The Calaviers," received his RHOF Induction Certificate at a recent (Feb. 2004) gig. Also pictured are Sonny's friends Randy and Mickey.

---
WORTH A CLICK: For Guitarists: Strat Collector News Desk.

---
Reported March 1, 2004 - The daughter of Larry & Nona Emmons, and granddaughter of Buddy & Peggy Emmons was killed in a tragic 1 car accident on Hwy. 70. (Bellvue, TN). Nikia Emmons was 24 yrs. old,when her car, apparently, went out of control and left the road, hitting a tree on the driver's side. The family requests that, in lieu of flowers,donations be made to the F.O.P. Youth Camp #5, 440 Welshwood Dr., Nashville., TN 37211.

---
March 5: 41th anniversary of Patsy Cline's Death
Patsy Cline was the first female solo artist to be elected to the Country Music Hall of Fame. She was, and is, a huge star, even though she died at age 30 and her real stardom only launched three years before her death. Born Virginia Patterson Hensley (the "Cline" is from her first husband, Gerald) on September 8, 1932 in Winchester, Va., Patsy wanted to be an entertainer all her life. She first performed in public at age four, when she won a tap dance contest. Soon, though, she switched to singing, and would sing anywhere and everywhere she could.
She had to quit high school in order to clerk in a drug store to help support her family. In fact, when Roy Acuff offered her a job on his radio show, Patsy decided that she could make more money working in the drug store, so she went back to Winchester.
Soon, though, she began appearing on shows like the Old Dominion Barn Dance, the Ozark Jubilee, and The Jimmy Dean Show. Reportedly, Ernest Tubb himself helped her get her first record deal, and there she met Owen Bradley, the producer who would guide her sound for the rest of her career. In fact, Owen says his only problem with Patsy was that she "had such a beautifully silky voice [that] it was hard to get country radio stations to play her records. We did try to rough those records up a little, so that maybe they'd be considered more country."
Patsy's records became classics. In fact, her Greatest Hits album is still a huge seller. But once you hear Patsy sing "Walkin' After Midnight," "I Fall To Pieces," or "Crazy," you cannot forget that voice. The Mar. 5, 1963, plane crash that silenced Patsy also took the lives of Cowboy Copas, Hawkshaw Hawkins and Cline's manager, accompanist Randy Hughes. The plaque on her grave says, "Death cannot kill what never dies." To Hear Tom Tripp's tribute to Patsy Cline, please click here www.soundclick.com/tomtripp.

---
MUSIC HISTORY RECORD IN MUSEUM
By Deborag Highland, The (Gallatin) News Examiner - Sumner County's rich musical heritage is heralded by the county's museum. "Sumner County is steeped in music history," said Allen Haynes, chairman of the Sumner County Museum Board.
From locals in Portland who make dulcimers to the stars such as the late Johnny Cash, Sumner has been known for its musical heritage for decades. Because of those musical roots one portion of the county museum is dedicated to musical artifacts such as Dot Records of Johnny Maddox recordings to the old neon sign that once hung at Randy's Records in Gallatin, the largest mail-order record store in the country during its heydey.
"That put Gallatin on the map right there," Haynes said about Dot Records and the record store. Below the neon sign is an old photo of Dr. Humphrey Bate and the Possum Hunters of Castalian Springs, who were early stars of the Grand Ole Opry. Bate's daughter, Alcyon Bate, was the first female singer to perform at the Opry.
"Sumner County has a lot of connections with the Grand Ole Opry and country music," Haynes said. "It's an important part of history and especially local history."

---
BOBBY VINTON COLLAPSES ON STAGE. Tues., Feb. 24, 2004 - Singer Bobby Vinton collapsed during a performance Sunday night in central Pennsylvania, but his condition apparently improved backstage and he refused hospitalization, officials said. Vinton, 68, had been performing at the American Music Theatre for about an hour when he sat down beside the piano player and dropped his head toward the keys. "The piano player caught him, and Bobby said the show was over for the night," said audience member Don Eves, who said Vinton had been heavily perspiring. Vinton, a native of the Pittsburgh suburb of Canonsburg, recovered backstage and later joined his family at a nearby hotel, the Intelligencer Journal of Lancaster reported. Jim Herr, a supervisor with Lancaster County Communications, confirmed Monday that an ambulance service had been called. He didn't know details of the singer's condition, but said no one was transported for treatment. Vinton's hits include "Roses Are Red (My Love)," "Blue Velvet" and "Mr. Lonely."

---
ROBERT GORDON AT HOLLAND'S ROCKABILLY AMERICANA FESTIVAL. Big news, big news! Mister Red Hot, Black Slacks, Fire, The Fool, Bad Boy, It's Only Make Believe, etc., etc., ROBERT GORDON (U.S.A.) is coming to Sinderen at the 15th of May (Holland) for a gig with another 12 national and international top bands. And also is coming to the same festival at the 14th of May ... LINDA GAIL LEWIS (U.S.A.) "Little Sister of Jerry Lee". This all gonna happen at The New Dutch Festival called :.....ROCKABILLY AMERICANA FESTIVAL. http://people.zeelandnet.nl/nooij/. BE THERE. nooij@zeelandnet.nl - Also visit The Second Dutch Teddyboy R'n'R Weekender site: Vlissingen, 19/20 Maart 2004.
---
RICK RENNIE R.I.P. Feb. 20, 2004 - Jamie, Rick Rennie's wife has announced that Rick passed away. Rick is known around the Elvis world for his wonderfully good quality recordings of Elvis' concerts in the 1970's. Among them are recordings like the ones that you can find on CD's like Double Dynamite, Sheik Of The Desert, Have Some Fun Tonight, You've Lost That Loving Feelin' and many more. Many of his recordings were recently released on the Czech Memory records.

---
STRAY CAT EURO TOUR. For ticket info on the 2004 Stray Cats European Tour, see Slim Jim's website

---
REDD STEWART DAY INVITATION! We would like to invite you to a very special day planned in honor of the late Redd Stewart, country musician/songwriter of great hits, such as Tennessee Waltz, You Belong To Me, Slow Poke, Bonaparte's Retreat, Soldiers Last Letter, and many, many others. As you may know, Redd passed away this past August 2003, due to complications from injuries he suffered in the early 1990's after a fall at his home in Louisville. His son, Billy and daughter-in-law, Sharon have taken over his music business, Ambridge Music, Inc. and have recently launched a beautiful, tribute site for him located at www.reddstewart.com.
We will be holding a country music jam session and festival, along with a formal induction of Redd into the Traditional Country Hall of Fame. His son, Billy and Sharon will be traveling from Norfolk, Virginia to accept the honors! The festival will be held at the Olive Branch city park in Olive Branch, Mississippi, on Saturday, September 18, 2004 from 10:00 a.m. till 10:00 p.m. (or later).
We are currently scheduling artists and bands to participate in this event, and would like to add you to our list! This would be a great way for new, upcoming artists to promote themselves, and show others their talents, along with the more seasoned artists and bands generously offering their time and talent to a worthy cause for a pioneer of the country music industry. Please contact Colonel Robert Morris for more information at: colonelrobert@bellsouth.net
Thank you. Colonel Robert Morris, Rockabilly Hall of Fame, and Traditional Country Hall Of Fame and Bob Timmers, Founder of Rockabilly Hall of Fame. *Please contact us as soon as possible, as we are trying to get everything lined up way in advance! "In Loving Memory of Redd Stewart"

---
LITTLE JIMMY DICKENS UPDATE.
Feb. 18th, 2004 - For many of you the following news will probably come as a surprise. Those of us that listen to the Grand Ol' Orpy on Friday and Saturday know that Jimmy Dickens performed this past weekend on the Opry. He left Sunday for Cleveland where a carotid stint was installed in one of his carotid arteries. Doctors are pleased the the outcome of the surgery. Jimmy will return to Cleveland for a similar procedure in a month on his other carotid artery. Jimmy and Mona thank all of you for you prayers and concerns for Jimmy's health. He is going good, and they both send their love to all of you. You may send get-well cards an wishes to Jimmy in care of" The Grand Ole Opry, 2804 Orpyland Drive, Nashville, TN 37204.

---
Little Richard Honors Late Musician
Little Richard attended funeral services for a Georgia musician who helped him get started in the recording industry and once supplied him with a shirt and a car for a performance at the Apollo Theatre. Melvin C. "Percy" Welch offered Little Richard a place in his band in 1952.
"I didn't have clothes," Little Richard recalled Saturday at Welch's funeral in Macon. "My mama had 12 kids. My daddy was a bootlegger, and the boot was empty that day." Welch, 75, died Feb. 8 of kidney failure. Welch also coached Otis Redding and worked with Aretha Franklin, Etta James, Gladys Knight and The Drifters, according to friends.
Welch remained with family in Macon rather than seek fame in Hollywood. "He never did get what he should have gotten as far as his music is concerned," Little Richard said.

---

In Loving Memory of Redd Stewart
"We would like to invite you to visit our newly launched tribute site to Redd Stewart: www.reddstewart.com, a site launched in memory of Redd (writer of Tennessee Waltz, You Belong To Me, Slow Poke, Bonaparte's Retreat, and many more!) Please sign our guest book so we know you stopped by! Did you ever record, perform, or meet Redd or Pee Wee King? We'd love to hear about it! Thank you." Sharon Stewart - Redd's daughter-in-law - sharon@reddstewart.com


KATZ KOBAYASHI R.I.P.
(Feb. 14, 2004) - The Associated Press reports that Katz Kobayashi - former steel guitar player for Marty Robbins, Bill Anderson, Johnny Russell, Jeanne Pruett, Alan Jackson and other Grand Ole Opry stars - died at his home in Panama City Beach, Fla., on Feb. 8 of complications from a stroke. In the early 1990s, he performed on the Carolina Opry in Myrtle Beach, S.C. A native of Japan, Kobayashi was 60 at the time of his death.

---
PATSY CLINE MEMORIAL SHOW
Thursday March 4, 2004 ... sponsored by the Benton County Chamber of Commerce located in Camden, Tennessee. If you are interested in donating your singing talents and time contact Bill Kee at the Benton County Chamber Of Commerce at Phone Number 731.584.8395 for information. Funds generated raised will be used to renovate the current Patsy Cline Memorial located at the Plane crash site which also claimed the lives of manager & Pilot Randy Hughes, Hawkshaw Hawkins & Cowboy Copas.
Contact: Bill Kee
Benton County Chamber Of Commerce
202 Main Street West
Camden, Tennessee 38320 USA
Phone: 731.584.8395

---
GENE VINCENT NEWS NOTE from Derek Henderson:
Magic Records has issued another CD repro of a French EP - Pistol Packin' Mama. I've posted details at: http://www.derek.henderson.btinternet.co.uk/additscds.htm - Derek

---

JOHN BELAND at a radio show on WTUL, New Orleans, in early February 2004.

---
WORTH A CLICK: Ronnie Hawkins & the Hawks, 1959.

---
WORTH A CLICK: Michael Buffalo Smith (and friends) latest CD, "Southern Lights" has received a five star review in the online Roots Music Report. Michael is a big RHOF supporter!

---
WANDA JACKSON'S KNEE SURGERY>
Here's a from message from Wendell, her husdand, today (Feb. 5th).
"Wanda is doing fine and came home from therapy Tuesday 2/3/04. The surgery and rehab seem to be easier this time, as she had the other knee done six years ago. She still has a long way to go to completely rehab the knee and get the motion back, so please continue to pray for her. Thanks and may God bless you all."

---
GENE HUGHES R.I.P. Feb, 4, 2004 - "Sorry to report that Gene Hughes lead singer of the Casinos ("Then You Can Tell Me Goodbye") died Tuesday night at about 9:00 pm. He was 67.
GENE HUGHES BENEFIT!
Fans in the Nashville area can show their support by attending a benefit being staged by Buzz Cason (Statues on Liberty, etc.) and Steve Jarrell and Sons of the Beach.
Tuesday, February 10th, 7:00 PM
The Trap, Nashville, TN.
Tix only $10 at the door, or available soon online at musicnashville.com - Artists include Clifford Curry (Five Pennies on Savoy, Hollyhocks on Nasco). Bucky Wilken (Ronnie and the Daytonas), Larry Henley (Newbeats), Dickey Lee, Bruce Channel and probably more.

---
JAMES BURTON called the RHOF office today (Thurs., Feb 4th) to report that he had cataract surgery this morning. The procedure took all of seven minutes and he's doing fine. James also informed us that 2004 will be a busy year for him, with many shows already booked, including Virtual Elvis concerts throughout the world. He said to tell all his fans: "Hi" and "Thanks."

---
Lots of exciting news for "Bones" Maki & the Sun Dodgers for 2004.
Our second full-length CD release on Woodward Records (US) and Rhythm Bomb Records (Worldwide) is garnering rave reviews and selling briskly. You can read about the CD here: http://www.rockabilly.nl/ - http://www.rockmag.org/
In May we embark on a tour of Europe (mostly Germany and Holland) beginning with a 10 p.m. Saturday appearance at the famous Hemsby Rock 'n' Roll Festival in England. http://www.hemsbyrocknroll.co.uk/main.html - We'll be returning to Europe a month later to perform at the Screaminí Festival in Spain: http://www.screaminfestival.com/ We're looking forward to a bit of leisurely beach lounging there at Callelasís beach Riveria. Ahhh!
After coming back home we'll be making our second appearance at David Loehrís Rockabilly Rebel Weekend #12. http://www.rockabillyrebelweekend.com/ - Always a crazy fun time in Indy and we certainly encourage everyone to go.
Locally, we will be appearing with the Lustre Kings from Albany, NY at the New Way Bar in Ferndale, MI on Friday, May 5th.
On a sad note, WSDS radio has sold itís Sunday evening 8 p.m. slot so the Huron Valley Jamboree is now looking for a new home and Bones and I are looking to play some live country music on the radio again. Long Live HVJ!
THANKS! "Bones" - Graham - Kenny
"Bones" Maki & the Sun Dodgers
http://www.sundodgers.com

---
Attention French Rockabilly Fans ... RAY CAMPI will be appearing on Sunday, April 11th at the Rock Festival to be held in Vergeze, France (near Nimes, Gard, France).

---
Bob Timmers to Appear at Southern Rock Benefit. Gritz Magazine and The Crawlers are happy to announce a joint venture benefit concert for The Archangel Foundation, a charity that helps musicians and others in their time of need with financial assistance. A Southern Rock Family Reunion will be held on February 21, 2004 at Otter¹s inside The Space and Rocket Center Marriott Hotel in Huntsville, Alabama, Music is scheduled to begin at 6 pm. Tickets available at the door. Door prizes will be awarded.
The event will star The Southern Rock Allstars, featuring former members of Blackfoot, Molly Hatchet and The Gary Rossington Band. Also starring the fabulous classic Southern Rock band, The Winters Brothers Band, and Alabama¹s hot blues-rockers The Crawlers. Additional guests scheduled to jam include Tommy Crain (The Charlie Daniels Band), Jo Jo Billingsley White (Lynyrd Skynyrd), Amanda Quarles, Bob Timmers (Rockabilly Hall of Fame), and Michael Buffalo Smith.

---
WORTH A CLICK: That's not quite the 'ring of fire' Cash sang about .

---
WORTH A CLICK: ELVIS STILL MAKES PEOPLE CRAZY.

---
"50th ANNIVERSARY OF ROCK N' ROLL"
ELVIS INTERNATIONAL - THE MAGAZINE announces that on the 50th Anniversary of Rock N' Roll, fans from around the world will salute the legendary performers and musicians who worked with Elvis on stage as well as on his recordings.Scotty Moore, DJ Fontana, The Jordanaires, Boots Randolf, Milllie Kirkham and so many more of the original force behind Elvis and other Rock N' Roll performers will return in an all star gathering on Aug. 13th in Memphis. The 2004 Edition of Elvis Week, the annual August festival of dozens of events at Graceland and throughout Memphis in recognition of the anniversary of the entertainer's passing will take on a 50 Years of Elvis/50Years of Rock N' Roll theme. Elvis International ... The Magazine who brought the Legends Concert to Memphis on the 25th Anniversary is happy to have worked out August 13th with the Graceland schedule to bring this special tribute together once again. For more information on this event please contact Elvis InternationalŠThe Magazine at 818 991-3892 or fax 818 991-3894 or e-mail: elvisint@aol.com

---
COMET PHOTOS. Lotsa Chet Helms pix from Bimbos.

---
SLIM JIM PHANTOM
---
ANNOUNCEMENT:
Truly Lover Trio's first release on El Toro Records is coming out soon. "Hey Little Girl!" will be available in less than 2 months in the US, Europe and worldwide. Check http://www.eltororecords.com/  for updates. Watch out for Truly Lover Trio playing at a fine establishment near you.
January 22 - Revolution Bar and Restaurant. Fullerton, CA w/ DJ Satoshi.
January 24 - Rumble Bar in Paramount, CA with Guana Bats from UK.
February 13 - Mr. B's in Burbank w/special Guests.
February 14 - Hully Gully in Downey. Valentine's Day Party w/Annette Valdez.
February 17 - Beachfire in San Clemente, CA. 8:30 PM.
March - AZ, dates to be confirmed.
March 5 - Fresno, CA.
March 6 - Mad and The Dog. San Francisco, CA.
March 27 - Club Neptunes in Sunset Beach, CA with Rory Justice.
April 11 - Viva Las Vegas 2004. Las Vegas, NV
http://www.geocities.com/trulylovertrio/index.

---

REAL ILLUSIONS IN OIL
"Which Elvis fan does not wish itself once beside it to have confessed. With it to laugh, play, car drive or it to embrace I fulfilled this dream to me. And me with Elvis in oil painting perpetuates. And even if you have this dream, then write me and I paint you with Elvis in the float, which you would like.    Naturally I am pleased also always about feedback, completely directly, as it precipitates. If you experienced Elvis live, I would be pleased, if you tell me your history. "
Many greetings from Carolin from Leipzig.
http://www.elvis-in-oel.de
http://www.elvis-paintings.de

---
Click for Details
---
Join us this Saturday night for a night of classic New Orleans' RnB. Mystic Knights of the Mau Mau presents Congo Mombo #5: Clarence "Frogman" Henry & "Fess" Tribute W/ Tom Worrel, Sheba Kimbrough, and Alfred "Uganda" Roberts. Saturday, January 17th, 2003 at the Rock N Bowl, New Orleans, LA - 10 PM. $10.00. New Orleans RnB Ain't Dead!
Clarence "Frogman" Henry. He needs no introduction - and puts one hell of a show. Come see one of the true masters. "Troubles, Troubles,' "On Bended Knee," "Ain't Got no Home" - he will do it all - even the classic swamp pop material. Nuff' said!
Professor Longhair Tribute. Many claim to play it- but only one is the best- and that's Tom Worrel. Backing him up are Fess's original drum section- Sheba Kimbrough and percussionist Alfred "Uganda" Roberts.
The Grease. Be there at 9 p.m. to warm up the dance floor as DJ Shatter spins the finest lost rock 'n' roll records.
Visit PonderosaStomp.com for music samples, bios and even more! www.knightsmaumau.com.

---
GRAMMY HALL OF FAME NEWS:
Jan. 14, 2004 - The Recording Academy(R) has announced the newest additions to its GRAMMY(R) Hall Of Fame, adding 33 recordings to a timeless list that now includes 639 titles. The Hall Of Fame serves as a celebration and reminder of the triumphs and achievements of the recording arts. Selections are drawn from all major categories of music, acknowledging the diversity of musical expression for which the Academy has become renowned.
The GRAMMY Hall Of Fame Award was established by the Recording Academy's National Trustees in 1973 to honor recordings of lasting qualitative or historical significance that are at least 25 years old. Winners are selected annually by a special member committee of eminent and knowledgeable professionals from all branches of the recording arts.

---
---
Posted January 6, 2004
Rockabilly singer Eddie Seacrest (Melvin Edward Seacrist, Sr.), best known for "Shakin' with a Flavor," died Monday. Obituary soon to be up at WVGAZETTE.COM. Dan Davidson - DebD@attbi.com

---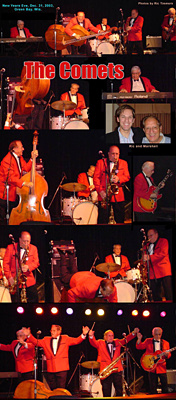 Click to view larger image of THE COMETS performing New Years Eve
---
WORTH A CLICK: BRIAN SETZER (leans on patron saint of the impossible).

---
VISIT THIS GREAT HISTORIC VENUE'S WEB SITE
---
ROY COST is a member of the Rockabilly Hall of Fame and the RHOF e-mail Yahoo Discussion Group. He has a new CD for Sale. "The Rocking Rockabilly". Roy also hosts a daily internet radio show at www.roycost.com. Roy is from Arkansas, contact him at roycost@conwaycorp.net

---
MEMBER OF ROCKIN' REBELS ("WILD WEEKEND")
A lesser known musician, but one that scored a big hit is Paul Balon. He with the Kipler Twins, Jim and Mickey, and Tom Gorman started the band the "Rebels." They asked Buffalo DJ Tom Shannon and his partner Phil Todaro to listen to their version of Shanon's vocal radio theme song. As quick as you could, Tom and Phil had the kids in the studio. Shannon and Todaro's Mar Lee Records released "Wild Weekend" and it became a regional hit. Bernie Bennick heard the single played years later and contacted Shannon for the masters. That was all it took. Paul Balon created the throbbing bass line for Wild Weekend. 1962 was a good year for the band and Swan Records, with appearances on American Bandstand and tours. Dick Clark objected to the Rebels name as his "client" was Duane Eddy And The Rebels. The kids became the "Buffalo Rebels" and later the "Rockin' Rebels."
Balon played in local Buffalo bands after the group broke up. (The Jesters, another local band became the Rebels, and most later Swan releases were done by them, with an occasional side recorded by Kathy Lynn & The Playboys.The Jesters photo appears on the sheet music.)
(Rocking Crickets was done by the Hot Toddy's, released first on Tom and Phils Shan Todd label.) Paul had heart disease and at age 61 he passed away on December 17, 2003. Done too soon! Dan Davidson - debdav1@attbi.com

---
12/18/03 DONNIE BROOKS was in a serious auto accident near Las Vegas a couple of days ago. Donnie drove into the back of a truck loaded with pigs at 85-mph and the truck dragged his car quite a ways until they stopped. His left lung isn't working and some ribs are crushed. He's in a Vegas hospital and is able to speak. I'm sure that he'd appreciate your prayers.
Johnny Faire/Donnie Brooks: Donnie Brooks (real name John Faircloth) with his early recordings (as Johnny Faire, Dick Bush and Johnny Jordan) are certainly top grade material. Before his '60 million seller "Mission Bell" and other hits for Californian Era and Reprise labels, Johnny used to perform at juke joints with people like Johnny & Dorsey Burnette, record wild novelty rock'n'roll singles such as "Bertha Lou", "Fell For Your Line", "Sway And Move With The Beat" and "Hollywood Party", tour with Gene Vincent and Bobby Vee & The Ventures. There were times when Donnie was known as "King Of The Twist" at Ciro's on The Sunset Strip, and he also appeared in a few 1960s movies including "The Swingin' Set", "Swinging Summer", "Get Yourself A College Girl" and "The Love-Ins", where he managed to make a scene together with Raquel Welch herself!

---
THESE LOVEABLE ROCKABILLY RODENTS are the offspring of Gene's Vincent original drummer man, Dickie Harrell. "Elvis" is picture to the left. "Vincent" is on the right.

---
PRESLEY RELATIVE FOUND DEAD IN PRISON.
Parchman, Miss. 12/16/03 -- A relative of Elvis Presley, imprisoned for a drug-related accident that killed a woman, was found dead in his cell Tuesday, an apparent suicide, authorities said. Mississippi Department of Corrections officials said Patrick Presley, 31, was found hanging in his cell shortly after midnight. Officials said security officers had observed Presley in his cell during a security check less than a half-hour earlier. Presley's father was Lee County Sheriff Harold Ray Presley, who was killed in a shootout during a manhunt in 2001.
The younger Presley was convicted in March of being under the influence of drugs when his vehicle was involved in a collision that killed Melissa White, 37, in July 2002. Tests showed Presley had methamphetamine in his system. He was sentenced to life in prison under Mississippi's "depraved heart" murder statute, which applies to deaths caused by reckless conduct. The late sheriff's father was the brother of Elvis Presley's grandfather, making them first cousins once removed. After he became sheriff in 1993, Harold Presley received calls from Elvis fans and covered a wall of his office with Elvis pictures and posters. Officials said that while there had been no specific threats against the younger Presley, he was given extra protection in prison because of his father's office.

---
UK - The famous Elvis Presley movie JAILHOUSE ROCK
will come to a West End stage from 26 March 2004. The musical, by the writer of Buddy, will run at the Palace Theatre in Manchester from 9-20 March before opening in London. Buy your tickets now for Manchester.

---
NEW YEAR'S EVE IN NASHVILLE!
The club, "Harley Holt Building," located at 317 Broadway, downtown Nashville will host a giant bash featuring Ronnie McDowell and the Rhythm Kings. Buffet from 7-9, party favors, champagne toast at midnight. By reservation only. Please call 615-726-0463.
Also, TOOTSIE'S will be running 4 bands on New Years Eve. So plan to ring in the new year on Nashville famous "Lower Broadway" - honky tonk street USA.

---
Linda Gail Lewis at the William Morris School, 27th September 2003, Walthamstow (Darren Vidler). This is one of the greatest shows I've seen Linda do also it was only half an hour from my home (and where I grew up as a child) which you don't get very often these days. Linda's backing group came and warmed every one up (you'll have to forgive me for some reason I did not make a note of the name of the Band). They performed a great set with good versions of Gone, Gone, Gone, Something I Said Honey I Don't, Rip it up, Kansas City etc. Then on came the lady herself and opened up with her usual Boogie Woogie Girl from Tennessee, and followed it with Boppin the Blues, Roll Over Beethoven, a wonderful Crazy Arms, Jambalaya, a breathtaking You Win Again and Let's Talk About Us. There was a birthday so Linda sang Happy Birthday to the person concerned. The setting of the show was in the Assembly room so although there was a number of people there it had a cosy sort of feel about it. I was there with my father (who saw Jerry at Regal Edmonton in 1958), Lee Wilkinson, and Tony Papard. Linda then went on to do some Rock 'n' Roll classics Blue Suede Shoes, All Shook Up, and Party. She rocketed into What I'd I say as the second half started. Linda then slowed down with Tennessee Waltz and Cottonfields. This in turn led us a fabulous version of Always on My Mind, which I Haven't heard Linda do before. The original You can have my Husband followed that which led on to the Jerry Lee classics High School Confidential, Whole Lotta Shakin Goin' On and Great Balls of Fire. After rapturous applause Linda came back with Will you love me Tomorrow, Shake Rattle and Roll and storming version of Old Black Joe which we sung our hearts out to. What a great way to finish the show, one of those gigs youíll remember forever.

---

LIFETIME ACHIEVEMENT AWARD
Presented To
Gene Summers
At The Rockabilly Reunion
Waco, Texas
In recognition & appreciation of a lifetime of contributions to
the entertainment industry and rockabilly music through
songwriting, publishing, and performances worldwide.
Presented by
KICKING-EAGLE ENTERTAINMENT
December 6, 2003

---
WORTH A CLICK:
Writer forever linked to "Unchained Melody"
---
WORTH A CLICK: WANDA JACKSON STILL ROCKIN' LIKE A HURRICANE. (Fort Worth Star-Telegram)

---
NEW BOOK
American Rock 'n' Roll The UK Tours 1956-72 by Ian Wallis from Music Mentor Books, priced UK £25 55 including postage Europe £26 10 USA/R O W $42 75 surface mail $49 air mail Music Mentor Books, 69 Station Road, Upper Poppleton, York, YO26 6PZ UK. web site http://musicmentorO.tripod.com or e-mail music.mentor@lineone.net - This is a great book compiled by Ian Wallis to chronicle every visit to the UK by U S A and Canadian rock 'n' roll artists from 56-72, This is a MUST HAVE. -Bill Beard

---
Louvin Brothers Tribute: December 13th
Some of today's top stars are stepping onto the Opry stage to pay homage to one of country music's most renowned duos of all time, the Louvin Brothers, during a special tribute show Saturday, Dec. 13. Dierks Bentley, Terri Clark, Ronnie Dunn, Rebecca Lynn Howard, Del McCoury, Joe Nichols, Jon Randall, and Rhonda Vincent are among those scheduled to appear along with Opry and Country Music Hall of Fame member Charlie Louvin as the Opry continues its winter run at the historic Ryman Auditorium. One hour of the performances will air on "Grand Ole Opry Live" on GAC: Great American Country at 7 p.m. Central.
These performers can be heard performing songs popularized by Ira and Charlie Louvin and included on the new collaboration, CD Livin', Lovin', Losin': Songs of the Louvin Brothers, on Universal South Records. The project was released Sept. 30.
The Louvin Brothers, who are members of the Songwriters' Hall of Fame and were inducted into the Country Music Hall of Fame in 2002, became members of the Grand Ole Opry in 1955. Before Ira's death in a car accident in 1965, they penned more than 500 songs. Many of those now-classics such as "If I Could Only Win Your Love," "Cash On The Barrelhead," "I Don't Believe You've Met My Baby," and "How's The World Treating You" can be found on their tribute CD.
Opry tickets are available by calling (615) 871-OPRY or by logging on to www.opry.com. Adult ticket prices range from $44.50-$32.50, and prices for children (ages 4-11) range from $44.50-$22.50.

---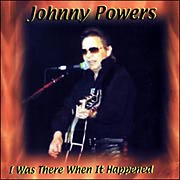 JOHNNY POWERS, "I Was There When It Happened"
"This disc is one the best I've heard in a long time from a legendary artist. Johnny is at his best. With a variety of material and a voice that brings back memories of Elvis and Conway Twitty, this album is a must for any roots rock, rockabilly and traditional country buff. A least two tracks here are certainly worthy of mainstream airplay in today's market and could help bring basic rockabilly and true country music back onto the scene. Great backup band, too!" - Bob Timmers
CLICK HERE FOR ORDER INFO.

---
SAMMY GOWANS
Unfortunately, another sad death notice:
Sammy Gowans (real name Cole Ghoens) passed away on November 15. Besides his amazing '58 United Artists recording Rockin' By Myself, Sammy (a.k.a. Danny Denver) was also known for his works with Roy Buchanan and Ray Vernon in the 1960s and the early 1970s. Sammy's wife Pat contacted me and asked about his old recordings. I repeat her message here in case there's anyone on this list who could help her. -Pete Hoppula

"Do you have any of the records or albums (particularly "The Best of Danny Denver with Roy Buchanan) available to purchase? If so, could you please respond to my e-mail. I am Danny Denver's wife and don't have any of this music (he gave it all away). He passed away on November 15, 2003 and I am desperate to obtain his albums or 45's or tapes or whatever anyone might have. I know that he did some stuff with Ray Vernon in earlier years - but I don't know how to contact anyone. Thanks," Pat Denver - e-mail patg1947@aol.com

---
"THE SEASON'S COOLEST CD!"
Called "the season's coolest CD" by The Dallas Morning News, the Nokie Edwards & The Light Crust Doughboys album, A SURF N SWING-FRET N STRING CHRISTMAS, is now available for your seasonal listening pleasure. The king of instro guitar, Nokie, joins the kings of western swing for a delightful, eclectic romp through Christmas carols, Hawaiian-flavored songs and even a bit of surf rock in tribute to the former lead guitarist of The Ventures. And where else can you hear fifty banjos for Christmas? A SURF N SWING-FRET N STRING CHRISTMAS is a must-have CD for every fan of the electric and acoustic guitar, folk music, western swing, Christmas spirituals, and dixieland banjo. Among the album's highlights are some of the last recorded works of Smokey Montgomery (1913-2001), acclaimed Light Crust Doughboy banjoist from 1935-2001.
Join The Light Crust Doughboys for their annual Christmas concert/party and CD signing at Dallas' Pocket Sandwich Theatre on Dec. 1, phone 214/821-1860. Visit www.artgreenhaw.com and www.nokieedwards.org for further information and have A SURF N SWING-FRET N STRING CHRISTMAS.

---
WORTH A CLICK: BUDDY HOLLY'S LITTLE-KNOWN ENCORE. 'Apartment Sessions' Taped Weeks Before Artist's Death

---
TONY WILKINSON MINI REVIEW
UK, Nov. 24th - Just back from the seventh Rhythm Riot, a tired but happy bunny:
Big Al Downing: once again hammered the piano keys into submission. Perhaps too may medleys but he sure can rock.
Mike Sanchez (substituting for Knockout Greg). Really very good, some spell binding moments (best version of 'Breathless' after Jerry Lee).
Otis Grand. Boring modern blues, even allowing for Jimmy Thomas (ex Ike Turner Revue) on vocals
Dexter Shaw & The Wolf Tones (in reality The Marx Brothers reincarnated).  Good authentic blues, lead singer very much in the Lowell Fulsom mould).
Lazy Lester. Fine set when he sang but possibly lived up to his name as many songs had two guitar solos, one harmonica break and one piano solo.
Frankie Miller and Jim Eaves. Jim sounded just like Hank Williams Snr on around a half dozen of his songs. Frankie in fine voice, basically straight fifties style country with 'True Blue' the only song approaching rockabilly.  Great voice.
The Cleftones. Splendid set from the vocal group quartet. A selection of their own songs and some covers. Good harmonies on a mixture of up tempo and slow numbers. Bags of visuals as well. This is how vocal groups should be.
Benny & The Fly By Niters. Competent workman Australian R&B come jump jive outfit.
Billy Bros. Jumpin' Orchestra. Same comment for this Italian outfit although much more swing styling.
Miss Mary Ann & Her Ragtime Wranglers. Great blending of western swing, rockabilly and country. Fine vocals, fine backing. The lady has talent in abundance.
Young Jessie. Great set, plenty of numbers from the fifties performed to perfection. Jessie still has the voice along with stage presence. The backing was good, especially from the two saxmen.
Billy Lee Riley. By common consent (not just my biased view) the best act of the whole festival. A superlative selection of blues, rockin' blues and straight ahead rock 'n' roll. Billy was in great form, jump hoppin' all over the stage and that voice still has its cutting edge.
The Metrotones. Okay set from UK vocal group who were clearly enjoying themselves. Regards, Tony Wilkinson

---
BONES is BACK!
The sound of rowdy rockabilly joy returns when Bones Maki & the Sun Dodgers "Ride Again" with their new release on Woodward! 14 tracks dig that beat as it should be dug, with new finger-licking licks by guitarist Graham Tichy, bouncy bass pounding by Kenny Bruce, and Bones' original vocals. (For our neighbors across the seas, Rhythm Bomb Records just released a slightly different version of "Ride Again." A bonus studio track on the Woodward CD was swapped out for a program transcription recorded last March during the WSDS Huron Valley Jamboree in Ypsilanti, Michigan!) No need to wish for days of old, as these boys deliver the noise into the now!
You can purchase "Ride Again" from: Hepcat Records ... or from Rhythm Bomb Records: http://www.rhythmbomb.com/
Thanks! "Bones Maki & the Sun Dodgers Ride Again"
WWD-CD-104 / Woodward Records - www.sundodgers.com
Barry Klein's Review

---
BOB WHITE, R.I.P.
Floyd L. "Bobby" White passed away 21 November 2003 at Fort Smith, Arkansas. He was born 15 June 1932 at Jenny Lind, Arkansas to R. F. and Zella White. He was preceded in death by his brother, CB White and his parents. Surviving daughters include Cathy, Laura and Snow. Surviving sons are Ricky, Robert and Bobby.
Bob White was a world class musician, master of the steel guitar. He played, as a teenager, with Bob Wills' Texas Playboys. After leaving the Playboys, Bob joined up with Hank Thompson's Brazos Valley Boys. The Brazos Valley Boys were selected country touring band of the year, by Billboard Magazine, for 14 consecutive years. He was a member of the Steel Guitar Hall of fame and is credited with pioneering the 10 string steel guitar. He originated scores of enduring licks and riffs and introduced the Major 7th and Major 9th pedal changes. Bob was considered the foremost swing steel player of the 1950's.
Bob retired from the road in the early 1970's and returned home to Fort Smith, Arkansas. He was a well known nightclub owner for many years in Fort Smith, he and his brother ran a family business that was originally opened circa 1946. This was known as the Crossroads Club. Bob performed with a house band there for many years.
Unless you ever heard Bob play steel guitar there would be no way to describe the pure electricity that flew from his hands, he was a legend.

---
Don Gibson Memorial to Be Held Dec. 3rd
NASHVILLE, Tenn. - A public memorial for Don Gibson, who wrote and recorded country standards such as "I Can't Stop Loving You," will be held Dec. 3 at the Country Music Hall of Fame and Museum.
Gibson died Monday, Nov. 17th at Baptist Hospital. He was 75. The singer-songwriter was inducted into the Hall of Fame in 2001. "There will be some very well-known names and fellow Hall of Fame members participating," Richard Frank, Gibson's lawyer and friend, said Thursday. Details will be announced later. Gibson and others helped create the "Nashville Sound" in the 1960s - clean, uncluttered music that remains an influence today.

---
UK STORE NOTICE:
"Memphis Flash Memorabilia, stocks and sells 50's and 60's Retro and Elvis Memorabilia, we have official merchandise from Memphis (Graceland, Elvis Presley Blvd, Beale Street & Sun Studio) as well as other rock'n'roll and rockabilly related items from DVD's, video's, CD's, t-shirts, sweatshirts, glassware, cards, posters, books, clocks, stationary, jewelery, wallets, metal advertising signs, bar stools, etc, etc.    We are based in Bristol in the South West of England. Although I am a huge Elvis Fan which is what the shop is based around, I am also a huge rockabilly fan and promote as many of the gigs and events, national and local as I can. Every weekend I am out playing to rockabilly audiences with our band, Rudy La Crioux & The Allstars, or I am supporting and watching other live rockabilly bands. It is great to have the support from such a prestigious site as yourselves, thanks again."
Best Regards, Ian Hibbert - Memphis Flash Memorabilia, 351 Two Mile Hill Road, Kingswood, Bristol, BS15 1AF, England.

---
Hey, BO DIDDLEY Fans! BO DIDDLEY's 1987 CD "Bo Diddley"/"Go Bo Diddley" (Chess/MCA CHD 5904) is included in "Rolling Stone" magazine's list of its "500 Greatest Albums of All-Time". The album is a reissue of BO DIDDLEY's 1958 debut LP "Bo Diddley" (Chess LP-1431) and his 1959 LP "Go Bo Diddley" (Checker LP-1436) and includes such classic tracks as "Bo Diddley", "I'm A Man", "Bring It To Jerome", "Before You Accuse Me", Who Do You Love", "Crackin' Up", "Say Man" and "The Great Grandfather".
To determine their list of the 500 definitive music albums, "Rolling Stone" magazine surveyed more than 800 leading artists, journalists and music professionals. A special collectors' issue of the magazine detailing each of the 500 top albums will be published November 21, 2003

---
Claude Trenier passed away November 18th in Las Vegas. He was hospitalized mid-October with bladder cancer. See article: Pioneer Rock 'n' Roller Trenier Dies.

---
WORTH A CLICK:
THE DEATH OF THE ALBUM?
---
WORTH A CLICK: THE ROOTS OF ELVIS. There are plenty of books about Elvis already, of course -- more than two-thousand titles, in fact! -- but Roots Of Elvis is something different! It does not retell the story of Elvis's life; it is not a tell-all exposé by someone who once saw Elvis across a room; it is not the tale of an ex "friend" or family-member

---
RADIO STATION WANTS CDs TO PLAY. Contact: Paul Lauson, WCUM-FM, 7 Benham St., Worcester, MA 01604. paullauzon134@msn.com

---
The musician and songwriter who co-wrote the instrumental "Yakety Sax" has died.
Nov. 11, 2003 - Family members say James Rich (known as "Spider") was 80 years old. He died Sunday in Tennessee. Rich co-wrote "Yakety Sax" with Boots Randolph. It was number 35 on the pop chart in 1963 -- and later became the theme song for British comedian Benny Hill's T-V show. In 1965, Chet Atkins reworked the song as "Yakety Axe" and it hit number four on the country charts. Atkins recorded other pieces of Rich's music, including "Hidden Charm," "Siesta" and "Hocus Pocus."

---
WORTH A CLICK: The 10th Night of 100 ELVISes. At the Lithuanian Hall in Baltimore, MD on December 5th & 6th. As in previous years, this multi-talent event benefits the Johns Hopkins Children's Center.

---
Novemember, 2003 - The Comets are due in England in a couple of weeks time if you want to catch one of their shows go to http://www.tennesseeclub.net/events/cometstour.htm for details.

---
D.J. FONTANA UPDATE. Oct., 2003 - Here is a petition available to help get D.J. inducted into the Rock & Roll Hall of Fame, Cleveland. Spread the word and SIGN YOUR NAME NOW!
---
WANDA ROCKS
Just playing the new Wanda Jackson CD 'Heart Trouble' on CMH CD-8708. Whilst I readily admit to being a bit of a Wanda perv, this album is bloody marvellous. Sixteen tracks in all, some re-recordings of previous Wanda tracks and some are new songs or her versions of county favourites. Where they are re-recordings, these are new arrangements and are certainly not slavish copies or pale imitations. But the main thing is that voice. It still raises the hairs on the back of the neck, it has lost none of its power or intensity. The backing musicians have got it just about right. Five tracks feature Dave Alvin on guitar. Other lead guitar work is taken by the likes of Smokey Hormel or Tony Balbinot, names new to myself but I have no doubt that somebody out there in SAO land will advise further.
Regards, Tony Wilkinson

---
WORTH A CLICK:
PONDEROSA STOMP ... The early sound still rocks on!
---

Courtesy: wildboppinnol@hotmail.com

---
WORTH A CLICK:
Rompin' RONNIE HAWKINS credits high-school healer for help in curing his cancer.
---

BIRTHDAY BOYS: October, 24th - Sanford Clark turned 68 and Glen Glenn hit 69.

---
WORTH A CLICK: WANDA JACKSON ... the Rockabilly queen is back

---
WORTH A CLICK: MAC CURTIS ... got himself a new radio show and his first gig in the Fort since 1957.

---
WORTH A CLICK:
CASH'S "UNEARTHED" BOX SET UNVILED.
---
CMT TO TELECAST REMARKABLE "JOHNNY CASH MEMORIAL TRIBUTE" NOVEMBER 15 AT 8:00 PM, ET. The JOHNNY CASH MEMORIAL TRIBUTE to celebrate the life of iconic music legend Johnny Cash will be telecast on CMT Saturday, Nov. 15 at 8:00-10:00 PM, ET/PT.* Stars will perform at Nashville's historic Ryman Auditorium to honor the extraordinary life of the Man in Black including daughter Rosanne Cash, Kris Kristofferson, Sheryl Crow, George Jones, Travis Tritt, Willie Nelson, Hank Williams Jr., Rodney Crowell, Marty Stuart, Dwight Yoakam, Jack Clement, Steve Earle, Larry Gatlin and Jimmy Tittle. The Johnny Cash Memorial Tribute will be held on Nov. 10 at Nashvilleís historic Ryman Auditorium. Special moments will include pre-taped messages from entertainers including Academy Award winning actress Whoopi Goldberg. For more information THE JOHNNY CASH MEMORIAL TRIBUTE, visit CMT.com - http://www.cmt.com/cmt/event.

---
WORTH A CLICK: THE ELVIS HUNTER. "On the Trail of the King with Ernst Jorgensen, The Man Behind Presley's Latest Comeback" by David Segal, Washington Post Staff Writer.

---
DARREL HIGHAM GIGS:
After performing for Paul McCartney's Daughters wedding, Darrel Higham and the Enforcers, will appear at the Thunderbird R&R Club, Embankment, Wellingborough, Northants. UK. Friday 24th October 2003. Only £6. 01638 750 724.

---

Shake, Rattle & Roll Weekender, Nov. 14-16
GENE SUMMERS, CHARLIE GRACIE, many others.

---
UPCOMING JOHNNY POWERS' SHOWS:
November 20th - Tio Leos Lounges, San Diego, CA
November 21st - Spike's Bar, Los Angleles, CA
November 22nd - Tokyo Gardens, Frenso, CA

---

New Gene Vincent Discography Book
The new 400+ page Gene Vincent worldwide discography with cover pictures can be ordered direct from the author by registered post to:
Guitton Yvonnick
19 Rue Greneta
Paris 75002, France
gene.vincent@mageos.com
The price is 60 EUROS including mail to Europe. (This is slightly more than 70 USD or over 42 UK pounds). -Derek Henderson

---
A recent pix of "Hack & The '57s."
---
(UK) ON THE 10TH ANNIVERSARY OF THE TENNESSEE CLUB ... Vardon Suite - Trent Park Golf Club - Bramley Rd - Oakwood - London N14 - Phone: 07976 964086
Sunday 5th October 2003
THE FRENCH CONNECTION with the sounds of Gene Vincent from ERVIN TRAVIS & THE VIRGINIANS. Ervin will be doing 2 sets, plus TOP DJ, BAR & MUSIC - 8.30pm-1.00am - Admission on the door: £10.00. Applications for advance tickets to: Tennessee Club, PO Box 7443, London N14 6JW or reserve them by phone ( 07976 964086 ) - pick them up and pay for them on the night. Cheques (for advance tickets only) payable to Ritchie Gee

---
Motel Burns Down on Chuck Berry Estate.
WENTZVILLE, MO, Sept. 23rd - A suspicious blaze has destroyed a motel on Chuck Berry's estate, fire officials said. The assistant chief of the Wentzville fire district, Austin Worcester, said no one was injured. The cause of the fire was being investigated. Worcester said the 76-year-old singer-guitarist was out of state at the time of the Saturday evening fire. The building, known as the old Chuck Berry lodge, was in unincorporated St. Charles County. It had eight suites and used to house Berry's visitors, Worcester said, but had been used for storage in recent years. It's located on property about 40 miles outside of St. Louis, near Wentzville. The two-alarm fire started around 6:30 p.m. Other buildings on the property weren't damaged.

---
WORTH A CLICK:
Is It a Happy Birthday for the Blues?
---
BRANDY ROBERTS has a new web page and has released his latest CD, "A Classic Tune Up." Brandy is still touring with Penny Gilley. Got a minute? Visit his and sign his guestbook. Brandy Roberts Official Web Page.

---
ELVIS CLUB, MEMPHIS, CLOSES. Elvis Presley Memphis, a restaurant-nightclub run by the king of rock 'n' roll's estate, closed Tuesday after six years in business on Beale Street. The club was once seen as perhaps the first in a series of Elvis-themed restaurants in such cities as New York, Las Vegas, London and Tokyo. Elvis Presley Enterprises, the business arm of the estate, refused to say why the club closed. The restaurant's employees, who had gathered Tuesday at a nearby eatery, said business had been slow. "The times when the most people were in there were Friday and Saturday nights, whenever we had good bands. But we're open a lot more hours than that," said bartender Donald Edmondson. The Elvis nightclub was the estate's first business venture not focused primarily on Presley's music, movies or his former residence, Graceland.

---
The Elvis "Rubberneckin'" remix has debuted at #1 on "Billboard" magazine's singles sales chart. Tell all your friends to buy the single and let's see if we can keep it at #1 a while. Also, please call the radio stations in your area to encourage them to play the song. Mabye we'll also see it hit the Billboard Hot 100 singles chart, the one that reflects airplay as well as sales. Read more about this in NEWS on Elvis.com. Here's a direct link to the NEWS page: http://www.elvis.com/news/default.asp

---
CASH NOTE: There's a Johnny Cash exhibit at the Museum of TV & Radio from October 3 to January 25. CLICK HERE.

---
WHAT DO CASH, PRESLEY, BUFFETT, HAWKINS HAVE IN COMMON? Their Influences Can Be Heard On Cotton's CD. Georgetown Artist Neil Cotton has recorded 7 original songs on his new 8-song CD, NEIL COTTON AND FRIENDS. The CD Release Party is on October 4, 2003 at the McGibbon Hotel in Georgetown Ontario. If you like Hip-Hop, Rap or Celine Dione, this CD is probably not for you. This is country-rock. The influences of Johnny Cash, Elvis Presley, Jimmy Buffett, Ronnie Hawkins and Alan Jackson can be heard on this 8-song selection. It is entitled NEIL COTTON AND FRIENDS. The FRIENDS include Sean Cotton, John Cox, Gary Creary, Paul Gardiner, Steve Klodt, Suzie McNeil, Robert Porter, and Dickson Zee. Neil Cotton and his band Hawk's Nest have been performing in the Toronto area for many years. This is his first CD. For further information on performer/songwriter Neil Cotton go to www.upickedcotton.com or contactcottonneil@hotmail.com

---
Darrin's Web Site
---
RONNIE DAWSON NEWS. - September, 2003.

---
New KC Venue Booking Rockabilly/Garage/Surf.
The El Torreon in Kansas City, Missouri, famous as the place where Cab Calloway and Benny Goodman played in the 40's, the big building that became a roller skating rink in the 50's, booked Frank Zappa, The Who and Led Zeppelin in the 60's and 70's (back when it was the Cowtown Ballroom) and is notorious for booking all age punk shows in the 90's is now ACTIVELY seeking to book American roots music. Rockabilly, garage, surf, psychobilly...if it rocks they want to book it. Touring bands bookmark the El Torreon website and when you are ready to set dates across the Midwest, get in touch with Abe at vonhodad@kc.rr.com

---
ROCKABILLY QUEEN MARRIES. Josie Rose Kreuzer and Eric Joseph Barajas are proud to announce their recent marriage, which took place in an intimate ceremony, August 16, 2003 in Las Vegas, NV.

---
NEW JIMMY EVANS CD available now. Nice variety of sounds, Jimmy's still got it!! "10-O-C" was the backup band on this 16-track album: "Arkansas's Been Rockin'". Contact: Jimmy Evans, 210 Newman Dr., Helena, AR 72342.

---
THE KILLER SPEAKS OUT
Nesbit, MS September 1, 2003. The "Killer," Jerry Lee Lewis, was shocked to learn that his estranged wife is still advertising that he would be attending a birthday bash in his honor.
He and Kerrie McCarver Lewis are currently involved in divorce proceedings and Mr. Lewis had informed her last February that he would not participate in the festivities this year. The fan club get together is still scheduled to be at his home on September 27.
Kerrie McCarver Lewis is still selling nonrefundable tickets at around $250.00 per person. "I don't want my fans taken advantage of like this," said Lewis when he was told that the web site operated by Kerrie Lewis McCarver had given no indication that Lewis would not be there.
He continued, "I told her several months ago that I would not be involved with her party. She has known this since February; I don't understand why she is doing this to my fans." Lewis said that Kerrie informed him back in July that she was going to be issuing a press release canceling the event because she knew Jerry Lee had a show booked in Detroit on the day of the party. " I thought she had done the press release and that everything was fine." Lewis added, "this situation was just brought to my attention and I can't believe it." Jerry Lee is scheduled to perform at the Fox Theater in Detroit, Michigan on September 27, 2003.

---
EDDIE COCHRAN. Nice to see Eddie getting some ink in the U.S. mainstream music press. From the Sept. 18 issue of Rolling Stone magazine:
BOOK. Three Steps To Heaven: The Eddie Cochran Story (3 stars)
By Bobby Cochran with Susan VanHecke (Hal Leonard)
Eddie Cochran, who was killed in a car crash in 1960 at age twenty-one, will forever be remembered for "Summertime Blues." In Three Steps to Heaven, Cochran's nephew, the producer and guitarist Bobby Cochran, offers a biography that benefits from memory and family lore as well as interviews and research. Inspired by seeing an Elvs show in Memphis, Cochran quickly established himself with late-Fifties hits such as "C'mon Everybody." Three Steps to Heaven's most moving moments describe the lasting impact that his brief life had on his family and especially on the young nephew who idolized him.
Contact: Sue (author) - Sweetgene@aol.com

---
Hey, BO DIDDLEY Fans! BO DIDDLEY is included in the current "Rolling Stone" magazine music writers' listing of their "100 Greatest Guitarists of All-Time". The list, which also includes BO DIDDLEY's fellow Chess Records stablemates Chuck Berry, Buddy Guy and Hubert Sumlin, can be found in the current issue of "Rolling Stone" magazine, available on news-stands from tomorrow, (Friday, August 28, 2003).

---
Worth a Click ... ELVIS' EMPIRE AS STRONG AS EVER.
By Michael Lollar.

---
CLIFF GALLUP GUITAR AT THE ROCK & ROCK HALL OF FAME.
Cleveland, OH - August 25, 2003 - Bonnie Creef has made an agreement with the Rock & Rock Hall of Fame to have one of her father's (Cliff Gallup) guitars on display of the R&R HoF's museum. Beginning today, visitors will be able to view the instrument that is featured along with guitars from Roy Orbison, Johnny Cash and Phil Everly. Speaking for the hall of fame, Howard Kramer said, "I can't tell you how thrilled I am that we can finally do something to honor Cliff. He's truly one of the great unsung heroes of Rock and Roll."

---
MIKE VINCENT, (recording artist) recently stopped in at the RHOF office in Burns, TN and traded Elvis, Jerry Lee and Gene Vincent stories with Bob Timmers. Mike (and his wife Sandy) wanted us to say "hello" to all our readers and wish you well. Mike appears on Bob Timmers' CD singing "La Den Da-Da" featuring D.J. Fontana on drums.

---

BIG SHOWS -THE LEE GORDON YEARS. Above is the cover of this new book just released in Australia. It covers all the big R&R tours from the mid 50's thru to the early 60's. Interested in getting a copy? Please email Alan Heffernan at bigshows@tpg.com.au.

---
August 16 2003 - Ed Townsend, a singer, songwriter and producer best known for his 1958 pop single "For Your Love" and for writing and co-producing Marvin Gaye's No. 1 hit "Let's Get It On," has died. He was 74. The complete article can be viewed HERE..

---
GLEN GLENN with Alan Clark will be appearing at the Rumble Bar, 1423 Garfield Ave., Paramount, CA on Saturday, August 23rd. Also on the bill: The Silverjets!

---
See DEREK HENDERSON'S Site on GENE:
Information about the new CD on Rockstar containing Australian radio broadcasts of Gene, Eddie, Little Richard, and Bill Haley

Information about the new CD on Magnum Force - Gene Vincent "Rebel Heart Vol. 8"

---
CHUCK BERRY & JERRY LEE LEWIS Return to Detroit's Fabulous Fox Theatre Saturday, September 27. Tickets Go On Sale at 10 a.m. Saturday, August 16! Goodness, gracious, great balls of fire, Rock 'n' roll legends Chuck Berry and Jerry Lee Lewis bring their sounds to Motown when they perform at Detroit's fabulous Fox Theatre at 8 p.m. Saturday, September 27. ($37.50, $49.50, with limited VIP seats) go on sale at 10 a.m. Saturday, August 16 and may be purchased at the Fox Theatre and Joe Louis Arena box offices, Hockeytown Authentics in Troy (with no service charge), and all Ticketmaster locations. Tickets may be charged by phone to Visa, MasterCard, American Express, and Discover at 248-433-1515. To purchase tickets online hit www.ticketmaster.com . For information, call the Olympia Entertainment event hotline at 313-983-6611, or visit the Olympia Entertainment Web site at www.olympiaentertainment.com - Detroit's crown jewel is a diamond this year ... the Fox Theatre celebrates its 75th Anniversary all-year long starting.

---
JOHNNY CASH IS SELLING THE LOG HOUSE that he and his wife, June Carter Cash, used as a weekend retreat. "This is the hide-out he and June used for 14 years," said Johnny Cash's brother, Tommy Cash, an agent with Crye-Leike Realtors in Hendersonville, which is handling the sale. The two-story house, located on a hillside on 5 wooded acres, is listed for $325,000. Cash, 71, owns a home in Hendersonville and a 100-acre farm in Bon Aqua, about 34 miles southwest of Nashville. Tommy Cash said the country singer has no plans to sell those properties.

---
Worth a Click ... Carol Hunter - THE ELVIS STORY. A tribute to Elvis and the "Men who Made his Music": Scotty Moore, D.J. Fontana, The Jordonaires with Bob Moore.

---
Worth a Click ... Some pics from Robert Gordon's show in Finland past June.
---

Courtesy: http://www.ma-shed.co.uk/subjects.html

---
REGARDING RAY PETERSON: Fans can write to Ray, or an Agent may want to book Ray for a concert. He still sings great!! Ray is managed by Alan Freed Productions. E-mail Comedyhall@aol.com Ray will see any mail coming in. And public appearances can be arranged through his Rock n' Roll company.

---
Worth a Click ... SUN RECORDS: HISTORIAL SITE
---
Rock-it Radio show #730 -- Otto Fuchs & The Rocket 88 show with a special feature of Roman Self and the Music of Ronnie & Roman Self. (7/25/03). See: Rock-it Radio Archives page

---
NEW CD!! DON WILSON - "We Gonna Rock!" Don performs with Billy Swan, Glen Glenn, Alan Clark and Russell Scott. The album was produced by Glen Glenn and engineered by Pat Woertink. RABHOF CD117. See more information on: Don's RHOF web page - ORDER HERE

---
Worth a Click ... Chuck Berry cartoon drawing.
---
JERRY LEE SEEKS 6TH DIVORCE!
NESBIT, Miss. (AP) - Jerry Lee Lewis, known for hits such as "Great Balls of Fire" and "Whole Lotta Shakin' Going On," and his sixth wife, Kerrie McCarver Lewis, are suing each other for divorce. The 67-year-old singer filed a divorce petition April 16 in DeSoto County Chancery Court. Kerrie McCarver Lewis sued in May. Until recently, Lewis and his 40-year-old wife — president of Lewis' JKL Enterprises Inc. fan club — lived together at a 40-acre ranch near Nesbit.
The couple were married in 1984; they have a 16-year-old son, Jerry Lee Lewis III. It was her second marriage. Kerrie McCarver Lewis has asked for an injunction ordering Lewis to pay unspecified child support, temporary alimony and all medical bills. She also seeks to bar him from any transfer or disposing of assets until a full accounting is made.

---
Worth a Click ... Remastered Recordings Resurrect SAM COOKE'S sound.
---
ROC LaRUE is looking for some original rockabilly songs for a possible new CD. Please send demo tapes/CD's to: Roc LaRue, 13893 Hanover Park Ct., Jacksonville, FL 32224

---
Worth a Click ... BIG SHOW!! news from Jerry Naylor"

---
MARCO DA SILVA and THE MIDNIGHTERS' first CD. The group is from Rome, Italy and sounds great! Vocalist Marco da Silva has played and sung rockabilly music since 1978. For more informattion, contact: dasilvabilly@mclink.it - Website: www.dasilvabilly.it

---
An amazing book about the first french Rock'n'roll band. If "LES CHAUSSETTES NOIRES" hadn't start we're not sure than Gene Vincent had made his career in France. It's a beautiful biography of this incredible Rock'n'Roll band - included rare and inissued pictures of Eddy Mitchell with Gene Vincent. Complete discography 190 pages of pure gold included a free cd with covers of LES CHAUSSETTES NOIRES standards. (limited edition). - delcourt.didier@wanadoo.fr

---
Worth a Click ... It's time for Big Sandy and His Fly-Rite Boys, by Jon Johnson, from the new "Country Standard Time"

---
Worth a Click ... The King's Texas days recalled
---
RE: JOE LEONARD JR. "My name is Timothy L. Parks. I write concerning a recent interview I did with Joe Leonard Jr. and the subsequent three part series that ran in the Journal of North Texas 2/20, 2/23 and 3/13 of 2003. My wife and I own a small bookstore in Gainesville, Texas and have been active in promoting and selling Joe's book. Aside from the bookstore and other responsibilities I write at times for the Journal of North Texas. This three part series is something fans may enjoy. Thank you. Best, Timothy Parks. ParksT@adaf.admin.unt.edu"

---
---
Hootenanny 2003 has moved to Cal State Fullerton College
July 5th and July 6th. Featuring: The Stray Cats Reunion / Social Distortion/ Little Richard and more. Go to http://www.thehootenanny.com

---
NEW ... CHARLIE GRACIE E-MAIL DISCUSSION GROUP.
Join by simply send a blank email to this address. charliegracie-subscribe@yahoogroups.com

---

ROSE MADDOX - BOURGES FRANCE - 1993
Courtesy: Littlejim505716@aol.com

---
Worth a Click ... ROCKABILLY MUSIC STATS: - RHOF inductee Col. Robert Morris' material is tearing up the chart. The Jukebox Will Ring Our Wedding Bells (http://www.soundclick.com/thesmokintoads) by The Smokin Toads, written by Col. Robert Morris & James C. Allen. Check it out.

---
RAY CAMPI UPDATE:
Ray has just finished recording a 1930s style blues album in Chicago. On the session Ray played guitar and dobro. All the instruments used (guitars, drums, etc.) were vintage. The CD is scheduled for a September release on St. George Records.
Ray's Tour Schedule
June 7th, Caiella, Spain (near Barcelona)
June 9th, Wallforf, Germany (near Heidelburg)
June 14th, Record Release Party, Evikken Records, Evikken, Sweden
June 28th, Malmkping, Sweden, Live & Jive Festival #10
August 15th, Toyko, Japan
August 16-17, Kawasaki, Japan

---
LISA MARIE: "Driven: Lisa Marie Presley," premiering Sunday, June 1 at 9pm (ET/PT) is the story of a little girl who was famous before she was born and spent the next 35 years finding her way to music on her own terms. Born to the King of Rock 'n Roll, Lisa's musical legacy is stronger than any single singer alive today. She didn't have the luxury of a normal childhood much less a musical career. This episode will tell of her search to find her own voice and tell her own story through her recently released debut album, To Whom It May Concern.

---

CLICK HERE
---
Historic 1961 WRR Broadcasts Found, This page contains a nice article about Bob Kelly producing and recording the Nightcaps Album back in 1961 at the old WRR radio studios.

---
Worth a Click ... A LEGENDARY FAREWELL TO JUNE CARTER CASH
---
GENE SUMMERS' 1st ever California Show! WILD Presents: Another WILD exclusive show. Rockabilly Legend, GENE SUMMERS will play at Crazy Jacks on Saturday, June 21st with all star band. Unbelievably, this is Gene's first ever show in California. Gene is best know dance floor fillers are "Fancy Dan", "School of Rock n Roll", and lots more! Crazy Jacks, 4311 W. Magnolia Blvd., Burbank, CA 91505 - 818-845-1121

---
BARBARA BURNETTE has recently moved from Nashville to Las Vegas. She was pleasantly surprised to see her CD in the rack at the local Tower Records store there. Her "My Tattoo" is a real hard-core rockabilly disc that features her excellent pickin' and song writin' talents. Good luck in Vegas, Barbara!

---
Sunday, June 1 - A Tribute to Rockabilly Legend Ronnie Dawson
Sons of Hermann Hall Dallas, TX
Scheduled to perform include the Derailers, Wanda Jackson, Cowboys & Indians, Eleven Hundred Springs, Sid King, Mac Curtis, Gene Summers, Huelyn Duvall, Ted Roddy, Ray Sharpe, the Susans, Cornell Hurd, Marti Brom, Hepcat DeVille, and more! Show runs 2:00 to 10:00 PM. Cover is a donation of $12 or more. All proceeds go to Ronnie to help with medical expenses.
http://www.sonsofhermann.com

---
"THE CHUCK BERRY STORY" is the title of a major new six-part series to be broadcast by BBC Radio 2 between 10.00pm-10.30pm BST beginning next Wednesday evening (21st) thru June 25th. The series is narrated by The Who's Roger Daltrey. Fans living outside the UK can hear this series streamed as RealAudio by visiting the BBC's website at http://www.bbc.co.uk/radio2/ In 1964, BO DIDDLEY and Chuck Berry recorded the 2 lengthy instrumental tracks "Bo's Beat" and "Chuck's Beat" for the Checker Records "Two Great Guitars" album and the 2 friends have performed on-stage together many times throughout their lengthy careers.

---
MINI REVIEW: GOSPEL ROCKABILLY. "I remember about 10 years ago making a comment, 'I wonder if gospel music could be played with the rockabilly style'. I never heard any until now. Bob Timmers sent me a CD by Jerry Yates called 'Looking Up'. There are only 7 songs on it, 6 written by Jerry and a remake of 'What a Friend We Have in Jesus'. I never imagined that song being played 'rockabilly style' - but Jerry did it and to perfection. The other 6 songs are done with a nice country/rockabilly sound - very pleasing to listen to. I would highly recommend this CD to all 'Rockabilly' fans to add to their collections." -Roc LaRue - RALARUE@GAPAC.COM

---

LEFT: Fur Dixon, Bob Timmers, Steve Werner at VLV #6 - RIGHT: Fur & Steve
FUR & STEVE: Like Johnny and June, Emmylou and Gram, Conway and Loretta, the collaboration of Fur Dixon and Steve Werner is as natural and American as red meat and potatoes. They met onstage early this year and have been traveling and performing together ever since. The combination of Steve's testosterone-fueled tales of life on the road and Fur's poetic take on the human condition is already garnering a groundswell of praise and attention from LA to Nashville to New York and across the pond in Europe. Their powerful songwriting, perfect harmonies and loose, friendly stage manner make them a hugely entertaining pair to watch. Contact: Fur Dixon furball11@earthlink.net

---
TERRY DEWEY R.I.P. It is with sorrow we report that the one living member of the 50's Rock N' Roll duo, Don & Dewey, Dewey Terry has passed away. The duo, who recorded for Specialty ("Justine", "Koko Joe", "Leavin it All Up to You") also were members of The Squires and The Titans out in California on the West coast DooWop scene. Dewey Terry, 66, passed away Saturday Night May 12th, losing his long and painful bout with cancer. He died Sunday morning, May 11th (4:30 am) at Cedars Sinai Hospital in Los Angeles. As well as being a rock and roll artist, he also had a few blues CDs. Sympathy cards can be sent to: Dewey Terry Memorial, P.O. Box 1480, Rosamond, CA 93560-1480

---

Seen at Ponderoa Stomp #2 - Photos courtesy: Sheree Homer

Worth a Click ... PONDEROSA STOMP #2 REVIEWS.
---
A new French tribute to Gene Vincent: Just comin' out HOT CHICKENS PLAY GENE. A group from the north of France who play's their tribute to Gene. 12 greats covers of Gene songs included two very excting renditions of Ain't That Too Much and I'm Going Home. Contact for record sales - h.loison@wanadoo.fr

---
ROCKABILLY RADIO! Rockabilly Radio and The 45 RPM Network proudly announce the launch of a new high speed version of Rockabilly Radio for listeners with broadband connections. The new station, Rockabilly Radio II, available at http://www.rockabillyradio.net, features newly released CDs in full stereo. This combined with Rockabilly Radio which has been optimized for dial up listeners should provide hours of enjoyable listening for Rockabilly fans. Both stations are available 24/7. Contact: Don Freeman, Rockabilly Radio - don@45rpm.net

---


Rare JOHNNY LEGEND poster found in Vegas ;-) Click for larger view.
---
Worth a Click ... RAY BUTTS R.I.P. (April, 2003) See an interview with Ray here.

---
Hey, BO DIDDLEY Fans!
BO DIDDLEY is scheduled to perform on the "Rock & Roll 50: The First Decade" concert due to be taped at the Benedum Center in Pittsburgh, PA on Tuesday May 13th. The show, the latest in the series of popular "American Soundtrack" TV music specials featuring the original stars of rock, pop and doo wop, is a production of WQED Pittsburgh for the US Public Broadcasting Service (PBS). Admittance to the concert is only available to members of WQED Pittsburgh.

---
COMING SOON (from the Blue Ridge Opry) ...
The 1950s are back and "Everybody's Moving'" with GLEN GLENN at the
Rockabilly Reunion 2003

Date(s) and Location(s) to be announced soon.

---

JEFF POTTER & THE RHYTHM AGENTS, "Rhythm Riot" CD. Reviews: "Potter has a knack for putting his real personality into the music and his personality is bizzare enough to make it fascinating ... This is gritty stuff." - "Jeff plays a heady mix of piano boogie, rhythm 'n' blues and rock 'n' roll ... " Contact: Raucous Records - www.raucousrecords.com

---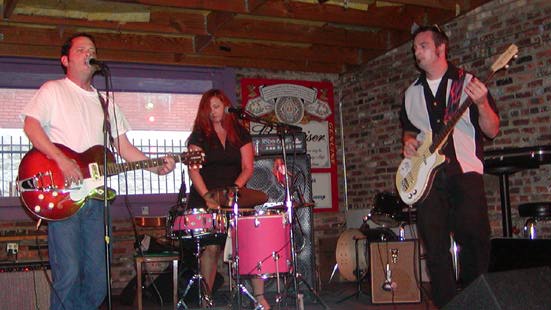 Florida's "Johnny Fire Band" appeared Nashville at Tootsie's on March 25th. To find out more infromation on this unique Gothic/Surfbilly group (including how to obtain their new CD) please contact: Johnny Fire Trio - J.F. Smith - johnnyfiremusic@yahoo.com

---
FYI ... BOBBY COCHRAN'S "ROCK AROUND THE CLOCK SHOW" www.bobbycochran.com for bookings only: 800-863-4605. In the words of our clients, peers, and the press; "Experience the musical ride of a lifetime. This carefully crafted production segues from one costume change to another, all the while encouraging audience involvement & participation." -- "Bobby Cochran's "Rock Around the Clock Show" create a brilliant illusion of a super dream concert where rocks pioneers and legends are united on one stage and perform the hits that made them famous." -- "I've never seen so many truly talented people on one stage. It's the best rock and roll show I've ever seen!" -- Bobby Cochran Band, www.bobbycochran.com UK and Europe contact: Brian 44-208-524-7650, Sue: 44-1775-713-598. Featuring the UK all stars:
Brian Hodgson: Billy Fury, Marty Wilde, George Harrison, Eric Idle, Neil Innes, Matchbox, Shaken' Stevens, Dennis Waterman, Billy J Kramer, Johnny Halliday, Lonnie Donegan, Peter Sarstedt, Sonny Curtis, Hayden Thompson, Kirstie McColl, Richard Harris, Angus Deaton, Jerry Hall, Jeremy Clarkson's, Hogan's Heroes and Albert Lee, Dave Edmunds and Mike Berry
Gary Baldwin: Jimmy Smith and Jimmy McGriff, Doris Troy, Georgie Fame, Fats Domino, John McLaughlin, Kiki Dee, PP Arnold, Clare Martin, Benny Green, Jim Mullen, Tommy Chase, Mighty Flea Connors, Mick Hanson and Shuggie Otis.
Howard Tibble: Shakin' Stevens Kim Wilde and Mel Smith, "Livin' Doll" with Cliff Richard and The Young Ones, Cliff Richard, Gary Glitter, Billy Fury, Mike Berry, Alvin Stardust, Paul McCartney, Lonnie Donegan, Phil Everley Little Richard, Carl Mann, Jack Scott, Warren Smith, Linda Gail Lewis, Charlie Feathers, Del Shannon, Meatloaf, Boy George

---
Worth a Click ... BILL HALEY'S COMETS. Follow this link to some great pictures of the Comets in action on Friday, March 21st at the Rock & Roll Hall of Fame, Cleveland.

---
Sleepy undergoes Successful Heart Surgery!
A message to all Sleepy fans from Linda LaBeef
March 19th - I'm sitting in front of my computer struggling with how to word this announcement to explain why the sudden disappearance of Sleepy's scheduled shows has just happened. Let me tell y'all just like it happened. Sleepy came in off his last road tour on Christmas Eve sicker than I have seen him in 30 years. Because of the holiday and a snowstorm that very day, we were not able to find out that he had had pneumonia for several weeks until December 26. Of course, he was put on medication and I tried to give him lots of TLC but even after several weeks, while the infection had cleared up, he still felt tired, a bit more weak than we felt was right and had experienced a couple of strange feelings in his chest. We went back to the doctor and he wanted Sleepy to have bloodwork, x-rays, and a stress test done. We had the first two done on February 20 and then went in for the stress test Wednesday, February 26. Much to our surprise (and most likely to yours if you have seen Sleepy perform!) the doctor wanted to admit Sleepy into the hospital on the spot as the treadmill test had shown irregularities he felt needed to be checked out with a heart cath. So Thursday Sleepy had the heart cath done and we were surprised yet again to be informed that he needed to have bypass surgery done. He underwent the single bypass surgery on Friday, February 28. He came home from the hospital on Tuesday, March 4 and is recovering wonderfully. While he regrets having to cancel the shows that were scheduled during March and most of April, he will be looking forward to seeing all of you at those venues as the shows are rescheduled!
Throughout all of this rather intimidating situation, those of you who were made aware of the situation (either because of your closeness to our family or because the timing of the surgery affected a show at your venue) have been so concerned and thoughtful. We have been overwhelmed by the calls, e-mails, cards, and messages via Ray conveying your thoughts and prayers for Sleepy. We know that we've had people from nearly every denomination praying for Sleepy: Pentecostals, Baptists, Catholics, Church of Christ, Assemblies of God have all let us know they were praying. As Sleepy put it, "How could we miss?" Truly, we know that Jesus had his Hand on both Sleepy and I in this entire situation. As one friend prayed with us "Sleepy was never alone as he went through this" for God was there every step of the way. Talk about a "Footprints" moment - we have just lived through one!
We want to thank all of you for your prayers and support during this time and as Sleepy continues to recover. He is progressing remarkably well - he even asked me as I walked with him in the hospital "You need me to slow down?"- and we are anticipating his return to performing in mid- to late-April.
We also want to thank the doctors who were involved in this: Dr. David Fort, who sent Sleepy to have the stress test done; Dr. Pete Ball, who explained the necessity of having the heart cath done ( and offered to drive me home in his 4-wheel drive vehicle as my transport home was one of Sleepy's arguments against immediate admission to the hospital ); Dr. Ted Fish, who performed the heart cath and discovered the blockage in Sleepy's artery;the anesthesiologist, who made sure that Sleepy knew absolutely NOTHING about what was going on until it was over; Dr. Russell Wood, who performed the bypass surgery; Karen and Stephanie, his ICU nurses, who gave him professional, compassionate care during his time in the ICU; Dr. Chad White, who we saw daily at the hospital and signed our release; and many other nurses, aides, techs and other personnel who made his experience at the hospital, Washington Regional Medical Center, in Fayettville, Arkansas, a pleasant, healing experience. We also want to give a special thanks to: Dr. John H. Moore - we hope he knows just how much his friendship and support has meant to both Sleepy and I; our pastor and his wife, Rev. Tom and Becky Singles, who spent so much time both with us and in prayer for us; Loyd McCord, Sleepy's "brother" and true friend; and of course, our families: Sleepy's siblings, Corine, Louise and Otis, my sister, Sandy, and our children, Melody, Paul, Jessie, Melinda, and Tomie. And there are so many who visited, called, e-mailed and, most importantly and appreciated, prayed for us.
We hope that you know that we most sincerely thank the Lord for all of you! With much gratitude, Linda LaBeef

---
---