A R C H I V E - #7
ANNOUNCING ... STOCKCAR NAMED DESIRE - "Low to the Ground" CD. The group is diverse blues, jazz, swing and rockabilly roots all coming together in a fiery fusion of high energy and hard driving full throttle rock 'n' roll. Travis Merchant on high-octane vocals and blazing guitar. Ben Craig slaps the upright. Andrew Kolstad on keys and James Olson on the drums. Contact: Wampus Cat Records, P.O. Box 6397, Minneapolis, MN 55406. 612-722-6649, e-mail: sk@millcitymusic.com

---
BOOK: "Rock, Roll and Reminisce" by Joe Andrews. This book is the author's first in a Music Series. It's fun filled with 364 pages of information and rare facts. Great to have around for trivia and research. If you are interested in obtaining a copy, please contact: Joe Andrews, P.O. Box 1214, Melrose, MA 02176. OR, go to amazon.com, rock and roll, books.

---
JERRY YATES - "Looking Up" CD. Rockabilly meets Jesus, and we love it. Our favorite track is "In Heaven I Can Eat," hey, it rocks! From Newnan, GA Jerry Yates and Rock Solid Revival is breaking new ground by spreading the wildfire of country/rockabilly music as a means of proclaiming the Gospel. For more information on Jerry Yates and the group, please go to http://www.indieheaven.com/artists/jerry_yates or contact Jerry at 404-803-4760.

---
Worth a Click ... A RECORD JUNKIE'S HABIT.
With a true fan's zeal, Richard Weize puts out exhaustive collections on his BEAR FAMILY label.

---
IAN SAMWELL DIES. Cliff Richard songwriter and guitarist died at 66 Saturday, 15th March 2003. British guitarist Ian Samwell, who wrote hits for Sir Cliff Richard and was the band America's producer, has died in California at the age of 66. Samwell's career began as a guitarist with Sir Cliff, and The Drifters. In 1958, he wrote Move It, which reached number two in the UK charts. He then began writing songs full time for Sir Cliff, including a follow-up hit, High Class Baby. He was a record producer in the early 1960s, becoming involved in the British Mod scene.
In 1971, Samwell produced the first album from the band America, which included the hits A Horse With No Name, I Need You, and Sandman. He moved to Sacramento in 1980. In 1991, he had a heart transplant after being diagnosed with an enlarged heart, his long-time friend, Jeff Hughson, said. Samwell's friends raised nearly 100,000 for the operation. He died at Mercy San Juan Hospital in Sacramento, hospital officials said. Mr Hughson said the cause of death was heart failure. Samwell is survived by his sons Ralph Samwell and Tyson Haynes, both from London.

---
LEE ROCKER will be performing in Rochester, NY on Wednesday April 23rd, 2003 at Montage Grille And Music, 50 Chestnut Street, Downtown, Rochester, NY. 14604. Tel: 585-232-8380. 1 show at 8:00pm! Please pass the word on if possible!

---
SLEEPY LaBEEF. It was reported on March 8th that Sleepy LaBeef had a mild heart attack and underwent open heart surgery. He is doing fine.<
---
Worth a Click ... CHUBBY CHECKER GETS "TWISTED" ABOUT NOT BEING INDUCTED.

---
PAUL EVANS REPORTS:
My Kalin Twins hit, "When", is featured in a new film, "THE SINGING DETECTIVE", starring Robert Downey, Jr., Mel Gibson, Adrien Brody (the star of "The Pianist"), and Robin Wright Penn. It's scheduled for a November release. The film uses some of the great music from the 50s and early 60s: Here's a list of songs in the flick:
"At The Hop" (Danny & The Juniors)
"Flip Flop & Fly" (Big Joe Turner)
"Harlem Nocturne" (The Viscounts)
"How Much Is That Doggie In The Window" (Patti Page)
"Important Words" (Gene Vincent)
"In My Dreams" (Gene Vincent)
"It's All In The Game" (Tommy Edwards)
"It's Only Make Believe" (Conway Twitty)
"Just Walking In The Rain" (Johnnie Ray)
"My Special Angel" (Jimmy Duncan)
"Mr. Sandman" (The Chordettes)
"Poison Ivy" (The Coasters)
"Three Steps To Heaven" (Eddie Cochran)
"When" (The Kalin Twins)
"Woman Love" (Gene Vincent)
"The Singing Detective" is based on the 1986 BBC mini-series written by Dennis Potter.

---
Worth a Click ... MOURNERS RECALL JOHNNY PAYCHECK.

---
GENE VINCENT - BASS GUITAR?? "My name is Drew Minasian, and I live near Charlottesville, VA. I have a good friend who lives in Atlanta, GA., who owns the bass guitar shown in the attached pictures. He bought this bass in the early '70s ('71 or '72), but has no information about it. He plays regularly in the Atlanta area. I am trying to authenticate his bass - find out who it belonged to, when it was played with Gene Vincent, etc. Any pic of this bass being played with GV would be very helpful - I've tried many on-line sites with no luck yet. My friend suspects that this bass was used during Gene's time in England, during the '60s, but to be honest I don't know enough about GV's history to be able to confirm this. Any help you can provide would be greatly appreciated! Thanks! Drew - tbells@rlc.net

---
The 1st Edition of the Rockabilly Radio - 45 RPM Network Newsletter has been posted on the web site at http://www.rockabillyradio.net.

---
RAYMOND CARL SANDERS R.I.P.
Raymond Carl Sanders played bass guitar for acts from Jerry Lee Lewis to Rufus Thomas during a career that spanned 40 years. Sanders died of respiratory failure Tuesday, February 18th at Memphis Veterans Medical Center. He was 54. The native Memphian began playing guitar at age 14 after he saw the Beatles. "He started playing after these four guys from Liverpool came out with I Want to Hold Your Hand, and he has been a musician since," said his brother, Robert L. Sanders III of Cordova. Raymond Sanders played in several local bands from the Memphis All-Stars to the Famous Unknowns. He also toured with the Drifters and Chuck Berry. "My brother loved music, especially Memphis music with that Delta blues influence," Bob Sanders said. "He did what he loved and that was being a professional musician." He leaves another brother, John Richard Sanders of Carrollton, Texas. Funeral services will be at noon Friday at Memorial Park Funeral Home North Chapel. The family requests that memorials be sent to the American Cancer Society or the Veterans Foundation.

---
Worth a Click ... THE FUTURE OF MUSIC CAREERS: QUANTUM CAREER DEVELOPMENT IN A TRANSFORMING INDUSTRY by Peter Spellman

---
Worth a Click ... BO DIDDLEY: Pioneer of a Beat Is Still Riffing for His Due by Bernard Weinraub

---

Charlie Gracie's "Honeymoon"
February 15, 2003
"DEAR FRIENDS: thought you'd get a charge out of this: my parents were married 45-years ago today and the Philly-metro area was socked with a huge snow storm (another is coming tonight). My dad was scheduled to begin a 6-week concert tour of the British Isles the following week and so it would have to double as a "Honeymoon." Turned out well though: my parents flew out of La Guardia on the same plane (12-hour jaunt then)  with Pat and Shirley Boone, Mort Lindsey, Patricia Neal, the Hilltoppers and Florian Zabach! What a combination--huh??? The circus British Press made a big deal of of it the next day: "CHARLIE GRACIE HERE WITH 'SECRET BRIDE!" ... "SO, CHARLIE IS MARRIED NOW?"  My poor mom was a bit overwhelmed by the raucous reception they got at the London Airport - hundreds of fans, press people, camera lights and flashes going off! One reporter even shouted the question: "Are you taller than Charlie?" Hey, this was still nothing compared to the arrival two months later of JERRY LEE LEWIS with MYRA! As they say ... the rest is history! SOME INTERESTING FACTS FROM THE GRACIE ALMANAC - oy vey!" --Charlie, JR.

---
Worth a Click ... JOHNNY CASH - "My Only Prison Concert Video" for sale

---
JOHNNY HORTON NEWS: THE HORTONS, Tommy & Debbie, of Branson, Missouri will host the Second Annual JOHNNY HORTON Friends & Family Reunion Show at the CROCKETT CIVIC CENTER in Crockett, Texas this coming Saturday, February 15th, 2003. The Hortons very special guests this year will be The Plainsmen Quartet. The Plainsmen were the original back-up performers on many of Johnny Horton's greatest hits. The Hortons will be performing their awesome tribute to their family legend, Johnny Horton, and The Plainsmen Quartet will join them on the stage for songs like "The Battle of New Orleans", "Sink the Bismark", and of course, "North to Alaska". Several local performers will be featured during a pre-show and many members from the Horton family will be in attendance and speak during the show. The profits from this show will go toward the restoration of a local community center. For information and tickets, please call 936-636-2267. Pre-Show: 7:00pm, Showtime: 8:00pm. Visit The Hortons web-site at: www.thehortonsshow.com

---
THE DERAILERS TO PERFORM AT "SXSW". The Derailers will release their sophomore album, Genuine, on March 25, and perform at the mega music conference, South x Southwest on March 14 at Auditorium Shores in Austin. The group will be joined by Robinella & the CC String Band, The Gourds, and The Del McCoury Band.

---
Worth a Click ... Original Elvis Disc 'Stampers'
---
The Second Annual Ponderosa Stomp will be held April 29, 30 and May 1 at the World Famous Rock 'N' Bowl, Mid-City Lanes in New Orleans. This one of a kind musical event is sponsored by the Mystic Knights of the MauMau, and features an unbelievable lineup of Rockabilly, Blues and Swamp Pop performers. Complete lineup is available at www.knightsmaumau.com

---
Rockabilly Hall of Fame Endorsed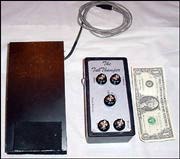 ANNOUNCING ... THE TUBTHUMPER!!
A stand-alone electronic bass drum! Be able to produce earth-shaking, window-rattling sounds! Perfect for small combos or enhancing bands. Produces excellent recording capabilities without expensive microphones. Powered by a standard 9-volt battery and micro-power electronics. Can be driven by a foot petal or any simple switch. Has built-in automatic function for metronome emulation with variable rate. Plug it into any bass or P.A. amplifier, either high or low level, with adjustable output control. Has variable frequency control, from a small kick drum to sub-sonic. Has variable decay, from "tight" to "boom". Small in size, fits easily in the palm of you hand. Can be fitted to attach to the foot petal on a bass drum to provide extra "punch" to your group. For further information, contact: Marty Jensen, 608/241-0159, E-mail martyj@chorus.net

---
JOHNNY POWERS with the STARLIGHT DRIFTERS.
3/28 - Rodeo Bar and Grill, 212-683-6500, 375 Third Ave., New York.
3/29 - TKs Corral & Uptown Lounge, Allentown, PA.

---
Worth a Click ... WINTER NAMM 2003 PHOTO GALLERY BY JAMES ROY
---
Worth a Click ... THE SLAPTONES AT THE DOLL HUT, PHOTOS.
---
Worth a Click ... THE YEAR THE MUSIC DIES. Record labels are under attack from all sides - file sharers and performers, even equipment manufacturers and good old-fashioned customers - and it's killing them. A moment of silence, please. (By Charles C. Mann)

---

New JIME CD - "It's Still Rock¹n¹Roll To Me" is available from HepCat, USA. You can of course always buy it from http://www.nervous.co.uk/reviews/nerd102.htm - Nervous, UK also. You pay the same (free postage!) and get it almost as fast. Because ²It¹s Still Rock¹n¹Roll To Me² is brand new, only three reviews has been made yet: The biggest rockabilly site in Europe [http://www.rockabilly.nl/] Blackcat in the Netherlands gives it a 5 star (out of 5) recommendation in the "What to buy" section. Jungle Records in Finland gives it 4 out of 5 stars. Howard Raucous, Raucous Records, UK: "Sweeping aside the trend of primitive recording techniques within rockin' music, The Jime perform well crafted, well produced Neo-Rockabilly inspired by the likes of the early Stray Cats output and the later recordings by The Bluecats. Maintaining all of Rockabilly's most appealing aspects (catchy guitar riffs, pumping slap bass), The Jime present their excellent third album!"

---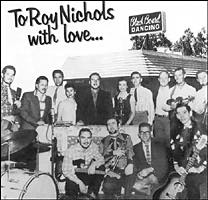 ROY NICHOLS TRIBUTE CD. Order information.

---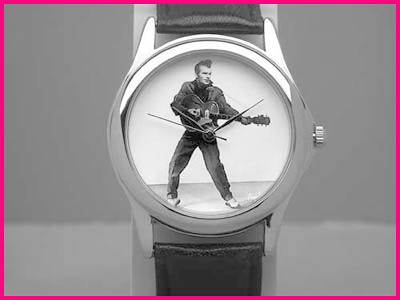 ERSEL HICKEY WATCH! Now available. Click here.
---

MATT LUCAS: NEW CD REVIEW, January 2003

---
A TRIBUTE TO THE RAMONES: DV8/Columbia Records will release the eagerly-awaited star-studded We're A Happy Family - A Tribute To Ramones to stores on Tuesday, February 11. The initial run of the project comes packaged in a deluxe limited edition digipak designed by Rob Zombie with a 28-page booklet featuring rare photos and an appreciation of the Ramones penned especially for this collection by the best-selling novelist Stephen King.

---
ELVIS TO HEADLINE CLINTON EXHIBIT. LITTLE ROCK, Ark. - The next Clinton library preview exhibit, "America Presents: A Collection of Gifts and Books From the Clinton Presidency," will include a special Elvis Presley display. "Clinton's Secret Service code name was Elvis, and we have a huge collection," said Clinton Foundation President Skip Rutherford. "So there will be a special section on Elvis." Construction on Clinton's presidential library began last June. Workers are expected to begin installation of some 20,000 square feet of exhibits in the summer of 2004, with an opening date planned for 2005.

---
Worth a Click ... HANK WILLIAMS III DOES HIS OWN THING. Blue-blood Boil. Nashville, beware. By Henry Cabot Beck from the Phoenix New Times

---
ARE YOU READY? Lisa Marie Presley's Debut Album Due In April. Elvis Presley's daughter Lisa Marie Presley is following in her father's footsteps: Her debut solo album is due out April 8 via Capitol Records, according to her official website http://www.lisamariepresley.com/ The 34-year-old singer penned all of the songs on the collection. The project has been in the works for several years. Producer and label head Glen Ballard told us nearly three years ago that Presley's debut would be a diverse offering: "I think that it's a pop record, but it also has elements of blues, funk, country, R&B, hip-hop - it's sort of the confluence of whatever modern-day Memphis is right now." He added, "It has a lot of influences, and it continues to grow and evolve. It sort of grew up in the soil from which she sprang."

---
"ELVIS" MEGA-JACKPOT HITS AT TUNICA HORSESHOE!   Jan. 8 - Today is Elvis Presley's birthday, and many celebrations are scheduled in and around Memphis. Iris South, of Memphis, celebrated last night when she won $1,618,783.07 on an Elvis® video slot machine at the Horseshoe Casino in Tunica, MS. South said she'd played $22 in the machine when it hit.
South said Horseshoe has always been her favorite place to play and that she had a feeling she would be lucky yesterday. "Seven is my lucky number and my horoscope predicted good fortune," she commented. South will have no problems spending her winnings; she has seven children and 15 grandchildren and plans on spending lavishly on all of them.
The Elvis® MegaJackpot(TM) can be won for a three-coin (75-cent) wager. The 3-reel machine offers an irresistible blend of traditional slot jackpots with multi-media enhanced bonuses. The game is filled with Elvis trivia and a variety of Elvis images that can only be seen on this IGT machine. After the Elvis® MegaJackpot(TM) was verified, the meter was reset at $100,000. There are 42 Elvis® MegaJackpots(TM) machines linked in 12 casinos throughout Mississippi. >br>
---

MARCO DI MAGGIO'S 2nd EDDIE COCHRAN TRIBUTE CD will be ready in February, 2003. It will available from Vampirella Music or from Marco.

---
GRAMMY NEWS. Country and rockabilly roots artists, The Jordanaires and The Light Crust Doughboys, have received Grammy Nominations for their southern/country gospel album, WE CALLED HIM MR. GOSPEL MUSIC: THE JAMES BLACKWOOD TRIBUTE ALBUM. Highlights of the album include previously unreleased James Blackwood performances such as "James Blackwood's Vision", new Jordanaires originals such as "Always Hear The Harmony" and a special "song for banjo great, Smokey Montgomery", "Music Man, Play On." Visit the Gospel field Grammy Nominations, category of "Best Southern, Country, or Bluegrass Gospel Album of the Year".
www.thelightcrustdoughboys.com
www.grammy.com

---
KING MEMPHIS GUITARIST/VOCALIST MATT ROBBINS will be showing an exhibit of his photographs - entitled "Not Fade Away: The Culture of Modern Rockabilly" - at Local 188 (188 State Street) in Portland, Maine starting next Thursday, January 9th and he asked me to extend an open invitation to anyone who's interested in attending the opening reception, which will be held from 5pm to 8pm that evening. Besides being a helluva guitarist (perhaps the most underrated in the biz, for my money), producer/engineer, and fellow motorcycle enthusiast (he rides a vintage BSA Gold Star), he's a terrific photographer and has had a unique vantage point to chronicle rockabilly music over the past several years. If you can't attend the opening, but plan on being in the Portland area in the near future, I believe the exhibit will be running through March.
   The link to the Opening..
Matt's Photo Website.
--Jon Johnson

---
Worth a Click ... ELVIS STAMP Follow this link for all the details about special cachets, cancellations and more to commemorate the 10th anniversary of the USPS Elvis stamp.

---
Worth a Click ... ELVIS BIRTHDAY> The Elvis Presley Birthday Celebration 2003 in Memphis runs January 4-8.

---
Worth a Click ... Marshall Lytle's new "CRAZY LYTLE PAGE."
---
Worth a Click ... European Copyrights Expiring on Recordings From 1950's.

---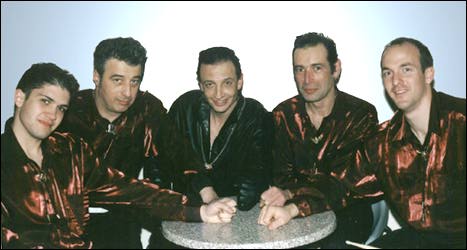 The ERVIN TRAVIS BAND (France) with their new bass player (since Dec 2002 ) - Gilles Tournon, Left to right: Piano, Alain Neau - Guitar, Philippe Fessard - Vocal, Ervin Travis - Upright bass, Gilles Tournon - Drums, Arnaud Brulé. Contact: phis.records@libertysurf.fr

---
"KILLER" BOOK! Jerry Lee Lewis fans take note. If you want to know everything about the Killer, then this is for you. "The Ferriday Fireball: Jerry Lee Lewis". This is a new book that is bigger than the Bible, and is in day-to-day format with everything ever written on Jerry Lee and then some. This book was 44 years in the making. I began the book shortly after first hearing Jerry on the radio. Find out all there is to know about the greatest live show on earth. E-mail me for details. Or write me at: Paul MacPhail
34 Mt. Herbert Rd.
Stratford, PEI, Canada C1B 2S4
e-mail: p_macphail@hotmail.com

---
Worth a Click ... LITTLE JOE COOK:. A Doo-Wop Legend Lives On.

---
Clash Singer Joe Strummer Dies at 50 December 23, 2003 - Joe Strummer, the gravel-voiced lead singer of the legendary band The Clash, whose hits "London Calling" and "Rock the Casbah" electrified the punk scene, has died at age 50. The singer, guitarist and songwriter died Sunday at his home in Broomfield, in the southern county of Somerset, his record company said. The Clash's video director Don Letts as saying Strummer died of a heart attack.

---
NEIL COTTON has written and recorded a tribute song to Ronnie called the MAYOR OF OLD YONGE STREET. Hear a sample at http://upickedcotton.tripod.com/neil: (tunes). The bridge mentions the Rockabilly Hall of Fame. Also read the NEWS section about Ronnie's CD release party.

---
BUCKY BARRETT'S official website address is: http://www.buckybarrett.com. The email address for Bucky Barrett is guitardude@earthlink.net - CDs are offered on the site plus after the first of the year videos will be added along with new CD projects. There are lots of photos of recent guitar clinics that Bucky has done along with photos of a couple of friends of his, Roy Orbison and George Harrison. A Rockabilly project will come out in 2003 like the one that Bucky did with the Nashville Superpickers that had the hit in Europe "Bread and Butter". Check the site often for updates and new photos.

---
ANNOUNCEMENT. Hey, BO DIDDLEY Fans! We are delighted to inform you that thanks to the very positive reaction that BO DIDDLEY has received to "We Ain't Scared Of You", promotional copies of his new song are now available on CD priced as follows:
USA: $7.50 + $1.99 each CD and $0.99 each thereafter for shipping.
Canada: $7.50 + $3.49 each CD and $1.49 each thereafter for shipping.
Europe: $7.50 + $3.99 each CD and $1.99 each thereafter for shipping.
Rest of world: $7.50 + $3.99 each CD and $2.49 each thereafter for shipping.
If you would like to purchase a copy/copies, please send a money order or international bank draft payable to Ellas McDaniel, (sorry, no personal checks), to: Ellas McDaniel, c/o 5038A Foothills Rd., Lake Oswego, OR 97034 USA. Please allow 28 days for delivery. Please also note that BO DIDDLEY will soon be offering secure credit card orders through PayPal for certain items such as CDs, so please check the "Bo Bo Diddley's Turnup Root" website at http://www.turnup-root.com/ periodically. BO DIDDLEY appreciates your interest and support. Remember also to check out his limited edition items on sale at CafePress.com! Best wishes, David Blakey, Webmaster, http://members.tripod.com/~Originator_2/index.html

---
THE CAMAROS - "Right now I hate you" CD. Brandnew Release on FRANKIE BOY RECORDS - Germanys finest in Retro Music - Fantastic swingin' Country Rockabilly with a Punk Rock Attitude and a female singer that will break your heart! Coming from Nashville this band has recorded a Masterpiece in famous Sun Studios in Memphis! The King would love it and Johnny Cash and Mike Ness already fall in Love with them... For ordering, free MP3s and more Info check out: www.wolverine-records.de. Also check the bands page for more Info: www.thecamaros.com (official Store Release in Germany is 25th November, but you already can order it directly at Wolverine).

---
Worth a Click ... THE JOHNNY CASH INTERVIEW WITH LARRY KING TRANSCRIPT. Show aired on CNN TV Tuesday. November 26, 2002.

---
ELVIS HAIR SELLS FOR OVER $100,000. A wad of Presley's jet black locks, about the size of a baseball, sold at auction Saturday for $115,120. The bidder was anonymous. MastroNet Inc., a suburban Oak Brook Internet auction house, listed the hair in a sale that began last month and ended about 3:30 a.m. Saturday, November 16th. Bidding started at $10,000. Thirty-two bids were placed, said Julie Stoklosa, spokeswoman for MastroNet. "As soon as one bid would be placed, it would get hit again. It was quite fun," she said. A hair sample from a favorite celebrity gives a fan "an association much more personal than that of a simple autograph," a catalog from the auction said. The Elvis locks were collected by the king of rock 'n' roll's former hairstylist, Homer "Mr. Gill" Gilleland, said Brian Marren, MastroNet vice president of acquisitions. Gilleland, now deceased, gave the hair to friend Tom Morgan, who sold it through the auction house. The clippings, which Gilleland had in a plastic bag, are now kept in a jar with a vacuum seal.

---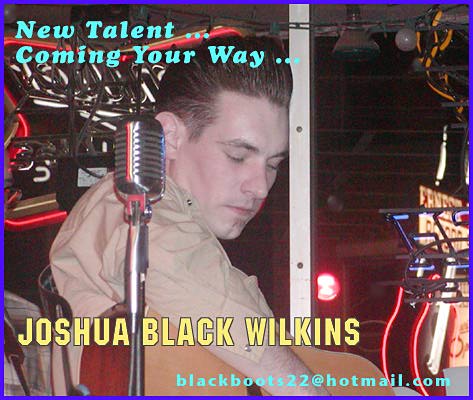 ---
Las Vegas OKs Impersonators Deal. November 14 - It's good to be The King ... and profitable, too. The Las Vegas Convention and Visitors Authority this week approved a one-year contract extension with talent agencies that book "meet and greet" Elvis Presley impersonators for the authority's marketing events. Elvis impersonators will continue to get $650 per daily appearance on behalf of the city where the rock 'n' roll icon never really left the building. FYI: The amount is nearly double the $350 that showgirls receive for similar four-hour gigs.

---
MEMPHIS ROCKABILLY RADIO:
"MY NAME IS BOB HOLDEN AND I HAVE A RADIO SHOW ON WQOX-FM 88.5 IN MEMPHIS, TN. ON SATURDAYS FROM 1PM TO 5 PM. WE PLAY A VARIETY OF MUSIC FROM ROCK-A-BILLY TO ROOTS, BLUES TO SOUTHERN ROCK -- ANYTHING DELTA IN NATURE. I SPENT 15 YEARS PLAYING DRUMS WITH THE BILL BLACK COMBO AND VARIOUS GIGS OFF AND ON WITH EDDIE BOND AS WELL AS OTHER COUNTRY ACTS. IF ANYONE WOULD LIKE AIRPLAY THEY CAN CONTACT ME AT: JUKE N' JAMM, % BOB HOLDEN, WQOX-FM, 4005 COVINGTON PIKE, MEMPHIS, TN. 38135. PHONE 901-386-3115. WE ARE A 30,000 WATT STATION AND GET OUT 80 MILES IN ALL DIRECTIONS OF MEMPHIS. KEEP ON ROCKIN', BOB. BHOLD2U@bellsouth.net".

---
DEAD CATS. Not rockabilly, but their video feature is way cooool. And, the kids will dig it.

---
RAY CHALRES RECEIVES AWARD. Nov. 13, 2002 - Music legend Ray Charles was honored at the 20th annual Media Access Awards for raising awareness about disability issues in the entertainment industry. The American Federation of Television and Radio Artists presented Charles, 72, with the Disability Awareness Award at a Universal Studios ceremony on Saturday, Nov. 2nd. Charles, who lost his sight at age 7, has won 13 Grammy Awards, including a Lifetime Achievement Award. He was inducted into the Blues Hall of Fame in 1982 and was one of the original inductees to the Rock and Rock Hall of Fame in 1986. Classic songs include "I Got a Woman," "What'd I Say" and "Georgia On My Mind." (People with disabilities make up 20 percent of the U.S. population, but less than 2 percent of TV and film characters have disabilities, according to the California Employment Development Department. )

---
ELVIS DISPLAY DRAWS IOWA CROWDS. Mon Oct 28 - Call it Elvis on wheels. A 53-foot-long trailer filled with Elvis Presley memorabilia made a weekend stop in Council Bluffs. The display includes Presley's elementary school report cards, his favorite guitar and clothing he wore in movies and onstage. Tour promoters said many items hadn't been seen outside of Graceland, Presley's home in Memphis, Tenn. Promoter Dave Curley said Mobile Graceland gives people who might not be able to visit Memphis a look at some of the singer's personal items. "It also educates them about the impact he had on popular music and American culture," Curley said. Stops scheduled in November include Reno, Nev.; Los Angeles; Lake Tahoe, Nev.; San Diego; and Las Vegas.

---
RADIO INC. has picked the WGN Radio (Chicago) website as the best! Seve King and Johnnie Putman of WGN are long time supporters of rockabilly music and the Rockabilly Hall of Fame. We are happy for 'em.

---
COMET INTERVIEW/MUSIC CD. "The Original 1954-55 Comets have just released a new, and somewhat atypical CD featuring interviews with members of the original band, recorded backstage at a recent show in Gainesville. The CD also features bonus live performances of Rock Around the Clock and Rock the Joint from the same show ... and the recording of Clock features the first release (with the Comets) of Marshall Lytle singing the song since Jacko Buddin is not touring the US with the band. For more information and to order the CD online, go to http://www.originalcomets.com. I'll have more information about this new release on my Haley page at the RABHOF in the near future."
Cheers!
Alex F-H - http://www.rockabillyhall.com/Extra.html

---
Worth a Click ... BAWDY BURLESQUE IS BACK.

---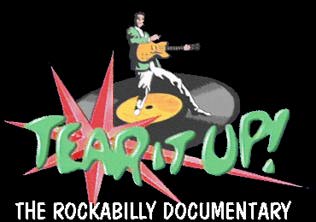 Tear It Up!: The Rockabilly Documentary
---
Worth a Click ... THAT'LL BE THE DAY. Niki Sullivan recalls his days playing guitar alongside Buddy Holly.

---
Worth a Click ... At home and at peace, JOHNNY CASH keeps the albums coming, though his days of touring are just a memory. It seems illness won't silence the Man in Black.

---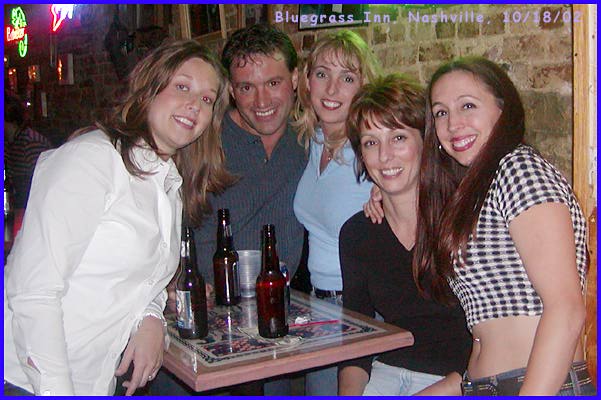 ENJOYING THE GREAT MUSIC ... Monica, Mike, Debbie, Kim and Tracy.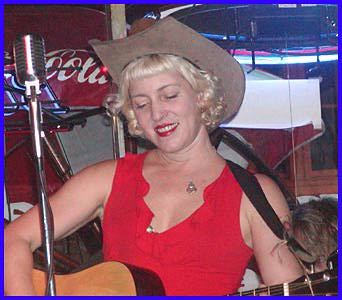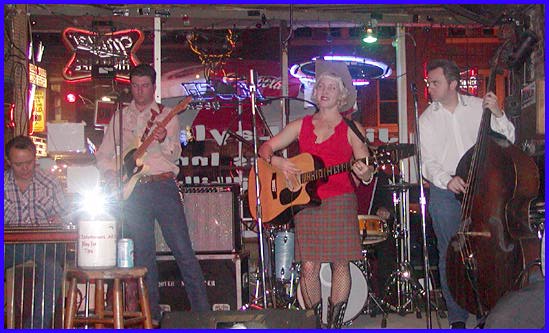 JEN JONES & THE CAMAROS at the Bluegrass Inn, Nashville, Oct. 18, 2002

---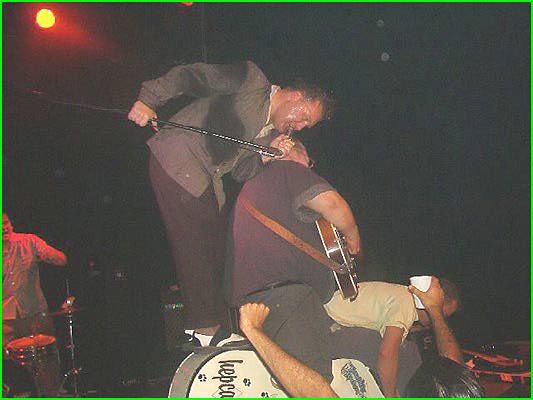 Wildfire Willie in Portugal, it's fantastic!!
(from: Paulo Rocker - paulorocker@hotmail.com)
---
Those Fabulous Fifties
by Carole Homer [homersm2001@yahoo.com]
As I was listening
to my records
and reflecting
upon the past,
I couldn't believe
that the 50s
went by so fast.
I loved the rockabilly music,
and the lines of the caddy,
the full skirts we wore,
and the hair on my daddy.
t was fun watching Lucy;
we had no cable.
The movies were great
with Liz or Clark Gable.
Elvis made his debut,
us gals were screamin'.
The way he moved when he sang,
I thought I was dreamin'.
He invited me to wear
his ring around my neck.
I couldn't turn down the offer,
sure I would, what the heck!
Oh bring back those days,
so I can live them once more.
I don't want to ever forget
the years that I adore.

---
FRANKIE FORD'S NEW CD "Night Songs" featuring his showstopping hit "Gone" has been released on Briarmeade Records BR-200 CD. Order your copy by sending a check for US$20.00, payable to Sea Cruise Productions, Inc. - P. O. Box 1875 - Gretna, Louisiana 70054-1875.

---
JACK SCOTT APPEARING LIVE ON WPON RADIO WEDNESDAY, OCTOBER 16, FROM 5-7 P.M. EASTERN TIME. Rockabilly and Rock & Roll legend Jack Scott will be the special guest on Detroit's WPON-AM on Wednesday, October 16, from 5-7 p.m. EST on 1460 AM. The broadcast is also on the internet at www.wpon.com - The program is hosted by Roman Franklin, M.D., also known as the "Doctor of Doo-Wop". Special guests include the Rockabilly Hall of Fame's Barry Klein, a long-time Jack Scott fan, and Benny Spear, leader of the iconic Detroit rock band, Benny and the Jets. The special will include a live interview in the studio with Jack Scott, and recordings of his many hits, as well as some country favorites of Jack's. We don't hear a lot of Jack speaking to the media, so this promises to be something special! Listeners may call in during the broadcast at (248) 332-1460. There will be some trivia contests. Dr. Franklin is a hematologist and oncologist who is active in cancer research and fund-raising.

---
ELVIS PRESLEY'S FIRST GUITAR is going on the auction block this weekend (Oct. 12-13). Guernsey's auction house is taking bids on the grand piano Liberace played in concert, a piano from the Motown studios and guitars that Jimi Hendrix, Waylon Jennings and B.B. King (news) owned. Presley received his guitar from his parents in 1946, according to organizers of the auction. Another Presley guitar, described as one of the last he played before his 1977 death, also is up for sale. The world's "oldest guitar" dates to 1590. The auction will be held at The Altman Building in New York City.

---
Worth a Click ... ARE THE BLASTERS TROUBLE BOUND? By Jon Johnson.

---
BLASTERS HIT THE ROAD AGAIN!! Reunited roots rock kingpins the Blasters will hit the road next month for their first tour in nearly two decades. Although other incarnations of the act have existed in that time, this will be the first time the band's original members -- guitarists/vocalists Dave and Phil Alvin, bassist John Bazz, drummer Bill Bateman, and keyboardist Gene Taylor (who joined the group in 1981, two years after its formation) -- have taken their legendary live show on tour in 17 years. The trek will kick off in Chicago with a pair of Nov. 6-7 shows at Fitzgerald's. So far eight dates have been confirmed with more shows expected to keep the band out through the fall and winter. The band will be supporting "Trouble Bound," a live album recorded during a string of spring reunion shows in its native Los Angeles. Due Oct. 15 via Hightone Records, the 17-track set features spirited renditions of such Blasters favorites as "Long White Cadillac," "Marie Marie," and "Dark Night." The Blasters' last studio album was 1985's "Hard Line." That Slash/Warner Bros. set peaked at No. 86 on The Billboard 200. Here are the Blasters' tour dates:
Nov. 6-7: Chicago (Fitzgerald's)
Nov. 8: Cleveland (Beachland Ballroom)
Nov. 9: Cincinnati (Bogart's)
Nov. 13: Alexandria, Va. (Birchmere)
Nov. 14: Philadelphia (TLA)
Nov. 16: Boston (Paradise)
Nov. 18: New York (B.B. King's)

---
R.I.P. - J.A. "Bobe Wes" Balthrop: Songwriter for Elvis, Dean Martin. Mr. Balthrop, 74, died Sept. 26, 2002 at Baylor University Medical Center of complications from a stroke. The son of a traveling fundamentalist preacher, Mr. Balthrop spent much of his early life around church music. His musical legacy remains today in songs such as Elvis Presley's "It Won't Seem Like Christmas (Without You)" and Mr. Martin's "Blue Memories." Mr. Balthrop also wrote "Railroad Bum" and "You're Slipping Away From Me" by Jim Reeves. Throughout his adult life, though, music was his passion. Mr. Balthrop frequently traveled to New York and Nashville, playing songs in clubs and trying to sell his work to popular singers. Along the way he also worked with Willie Nelson and the late country legend Lefty Frizzell, with whom he co-wrote "It Costs Too Much to Die." "He always wanted his guitar," his son said. "He was just a magnet for the limelight."

---
TWO RECENT REVIEWS OF LONG ISLAND ROCKABILLY BANDS IN NEW MEXICO'S LANCE MONTHLY at www.lancerecords.com
Peter and the Wolves "Trouble With Girls" (Golly Gee Records) - "A disc no record collection should be without! " Numerous bands over the years have called themselves Peter and the Wolves, but these four cats are a contemporary act and play pure-as-snow rockabilly. "Trouble With Girls" is a chestnut of an album, and really illustrates everything good and evil there is about the vein of music on which this boisteorus combo concentrates. Song titles like "The Joint's Gonna Rock Tonight," "Moonlight Cruise," and "Rock 'n' Roll Boogie" squarely verify Peter and the Wolves' live-and-breathe-roots rock and roll. Sexy, lusty and stocked with sturdy arrangements, "Trouble With Girls" shakes and bakes with vicious dynamics, which determines time and time again how tight the band is. I can just imagine how entertaining they are in concert! Not only will rockabilly enthusiasts put "Trouble With Girls" at the top of their lists, but even those who aren't particularly avid cheerleaders of the music will sport wide grins when hearing these bold and bouncy tunes. This is a disc no record collection should be without! www.GollyGeeRecords.com
The Long Island Hornets "Road Kill" (Golly Gee Records) - The energy expended on Road Kill' is high and contagious, while the lyrical content is just as engaging." A warning to the wise: "Road Kill" is stuffed silly with scorching hot rockabilly tricks and treats, so it's probably a good idea to have a pair of sunglasses and some sun screen handy when spinning these wicked romps! Oh yeah, "Road Kill" is definitely a keeper. "Pink Lincoln," "Tequila And Chainsaws," "The Long Ride Home," "Lone Wolf" and the title track of the album dial in as quintessential rockabilly pieces, conducted by growling vocals, hard-hitting guitar chords, rattling drum beats and the savage slapping of an upright bass. The energy expended on "Road Kill" is high and contagious, while the lyrical content is just as engaging. Here's a disc that makes for a perpetually fun listen, and for all you dancers out there, slip on those blue suede shoes and get your rear-end wiggling! www.GollyGeeRecords.com

---
Worth a Click ... HANK SR., Lack of star power at tribute is a disappointment at rock hall.

---
REVIEW: "I'M COMING HOME" by RUSTY EVANS. Rusty Evans is a country rockabilly singer who now resides in California. His biggest influence is beyond obvious, the man in black, Johnny Cash who is also one of my favorite traditional country singers. Rusty's voice sounds uncannily like Johnny Cash in his prime. He even looks like Johnny in his promo picture posing with a black guitar dressed in black. He wrote 7 of the songs and the others are covers. It's produced by Danny Uzilevsky. It was recorded, mixed and mastered at Owl Mountain. An awesome recording,very ear friendly. The songs he writes sound like songs Cash would write, but his style is more rockabilly with some awesome guitar pickin'. This is a very enjoyable album to listen to. Major label sound quality and one of the best indie recordings I've heard. Rusty can really pull you into a song, sings with warmth and emotion.
There are 11 songs, it's hard to pick a favorite as they are all good. Rusty covers Fred Neil's "Everybody's Talkin", Shel Silversteins' "Couple More Years" and Tim Hardin's "Lady came from Baltimore". Some of Rusty's songs are "New Century Cowboy", "Travelin Shoes", "Prettiest Train" and "I Can't Win for Nothin'". Okay, maybe I like these 4 a little better than the others. This guy's won me over after one listen. He is definitely my pick for one of the top male indie artists. His band has it's own sound, mostly acoustic rockabilly with a country touch. His voice is awesome, he really knows how to use it too. -Jim's Country Page - www.geocities.com/guit30

---
GENE VINCENT HOME TOWN NEWS - (Dickie Harrell and Tommy Facenda should be next!!)
NORFOLK, VA - Nobody loves me, nobody cares, hardworking trouble, I've had my share. That may be what Gary "U.S." Bonds sang to a crowd gathered on Granby Street Wednesday, Sept. 25th - but the reason they were there defied the song's words. Bonds and seven other musicians became the first to be honored at the unveiling of Norfolk's Music Walk of Fame Wednesday.
Included in the walk are Ella Fitzgerald and Pearl Bailey of Newport News, Bonds and Dorothy Maynor of Norfolk, Bruce Hornsby of Williamsburg, Ruth Brown and Tommy Newsome of Portsmouth, and Charlie Byrd of Suffolk. Round, bronze plaques set in marble now stretch across the sidewalk between the Roper Fine Arts Center and the Backstage Cafe. More artists will be honored in the future.
The honorees arrived in Norfolk to unveil their own plaques. Family members and town officials unveiled the plaques of Fitzgerald, Bailey, Maynor and Byrd, who are dead, and Brown, who was ill Wednesday. "We came down here about a year ago when we found out that he was going to be honored,'' said Laurie Bonds, Gary's wife. But to actually see the plaque is really fantastic.'' - Courtesy By Stephanoe Heinatz & The Virginian-Pilot

---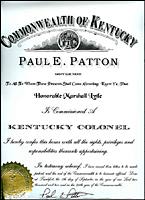 The Comet's MARSHAL LYTLE is now a "Kentucky Colonel". Click the graphic above to view his full size certificate.

---
LEGENDARY OUTLAWS OF COUNTRY MUSIC FEATURED IN CMT SPECIAL "THE HIGHWAYMEN IN CENTRAL PARK". Vintage Special to Air on Sunday, September 22 on CMT - When country legends Johnny Cash, Willie Nelson, Kris Kristofferson, and Waylon Jennings came together in the mid 1980s to form "The Highwaymen," the superstar foursome collaborated on hit records and did a successful series of limited concert tours. Their 1990 concert in New York City's famed Central Park drew legions of fans and now CMT viewers can re-live that historical event when they tune in to THE HIGHWAYMEN IN CENTRAL PARK airing on Sunday, Sept. 22 at 3:00-4:00 PM, ET/PT* on CMT: Country Music Television. The one-hour vintage special features songs which helped lock these singer/songwriters into legendary status like Johnny Cash's "Get Rhythm" and "Ragged Old Flag," Willie Nelson's "Blue Eyes Crying in the Rain" and "Crazy," Waylon Jennings' "Are You Sure Hank Done It This Way" and "I've Always Been Crazy," and Kris Kristofferson's "Help Me Make It Through The Night." The special also features Jennings, Nelson, Cash and Kristofferson taking the stage to sing "Me and Bobby McGee," "Desperados Waiting for a Train," "Big River" and "Highwayman." This telecast will begin at 3:00 PM, Eastern; 2:00 PM, Central; 4:00 PM, Mountain; 3:00 PM, Pacific.

---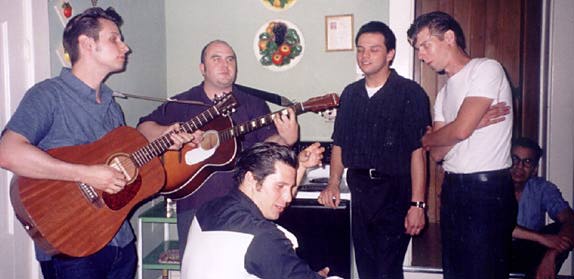 The James Dean Fans Weekend 2002. Hanging out at the James Dean Gallery after a show ... Derek Stroh, Donnie Briggs, Chris Rhoades (of Bar Brawl III), Mike Medina, James Byron, and Lenny (in the background). Photo by David Loehr.

---
RONNIE HAWKINS: There will be tribute show for Ronnie Hawkins, October 4 at Massey Hall in Toronto. Earlier that day, they're putting Ronnie's star on Canada's "Walk of Fame"; it's a star on the sidewalk that will be right in front of where Le Coq D'or was and normally they only do the honours in June, but due to the nature of Ronnie's illness, they're doing it now! Ronnie's quite thrilled about that. As well, Toronto is calling Oct 4 "Ronnie Hawkins Day" and giving him a key to the city. Dale Hawkins will be at the tribute show too.

---
---
WORTH A CLICK: - JACK NEAL: Gene Vincent's Music Reborn. A surviving Blue Cap recalls the legend of Gene Vincent.

---
WORTH A CLICK: - Johnny Cash Surprises Americana Awards Crowd
---
WORTH A CLICK: - Lone Wolff to Lone Star: A bittersweet beginning for Sophia Wolff and the Cubs

---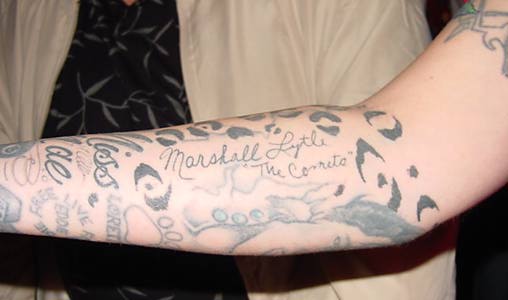 MARSHALL LTYLE REPORTS: "This lady had this done after I autographed her arm last year at Bubba Maxx in Sommers Point NJ. I took this picture during the autograph session. I wish i had a photo of her face, she was pretty. I am deeply honored." RATC, Marshall (The Comets).

---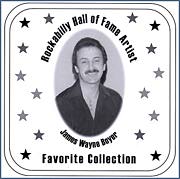 "FAVORITE COLLECTION" by James Wayne Boyer. (deceased). Rockabilly Hall of Fame Inductee (#164), Jimmy had many good friends in the music business, including Lou Hobbs and Billy Swan. Billy told us about this disc and that Jimmy had just completed it before he passed away. It is a unique collection features a wide variety of material from early-on through Jimmy's life as he grew in his music. The CD is available from his wife: Joan Boyer, 26753 Park Lane, Woodhaven, MI 48183, jwboyer@ili.net. The cost is $16 (Money Order) and Joan will ship postpaid. Thank you for your support

---
LA / VLV#6: Gator informed us that there's a girl named Tahyler that's booking a club in L.A. called the Garage. She's been doing a pretty good job and he was telling her that she should do pre and post VLV shows. She's totally interested. A possible alternative to Vegas pre and post shows. The bands that can't play in Vegas can play for Tahyler. So, if you know of any bands that would be interested please have them contact Gator (bassrat999@hotmail.com) or Tahyler at blkcatstyl@hotmail.com.

---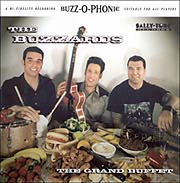 "THE GRAND BUFFET" CD by The Buzzards. This group was one of the pleasant surprises on the Rockablly Hall of Fame stage at Viva Las Vegas for 2002 when they performed a slammin' good set. They are returning for VLV 2003, April 18-20. Three powerful cats on stage or on disc. 13-tracks with a nice mixture: rockabilly, surf, blues and traditional country ... from Link Wray to Lefty Frizzell. Contact: www.thebuzzards.com

---
Singer Gordon Lightfoot Hospitalized. Sun Sep 8, 2002 - Singer-songwriter Gordon Lightfoot, known for hits such as "If You Could Read My Mind," "Carefree Highway" and "Sundown," was being treated in a hospital Sunday for an undisclosed ailment. Lightfoot, 63, was rushed to a hospital in Orillia, Ontario, shortly before he was scheduled to perform Saturday night, according to a hospital spokesman. He was later flown in an air ambulance to the McMaster University Medical Center in Hamilton, Ontario, 30 miles west of Toronto, said Jeff Valentin, the hospital's director of public affairs. Lightfoot is one of Canada's best-known and most-honored performers, receiving the Order of Canada and the Governor General's Performing Arts Award. He was inducted into the Canadian Broadcast Hall of Fame during its 75th annual convention last October.

---
ELVIS: STILL THE KING OF STAMPS. When it comes to collecting stamps Elvis is still king. Some 124 million stamps featuring the rock 'n' roll star have been purchased and never used to mail a letter, the Postal Service reports. That means the 29-cent Elvis stamp issued in 1993 made a tidy $36 million profit for the post office. The post office used surveys to track what it calls stamp retention; that is, stamps that are purchased but never used. Mostly it reflects the purchases of stamp collectors, but on special items like the Elvis or Marilyn Monroe stamps many people who are not normally collectors buy some of the stamps and save them too. Placing second to Elvis were the 1992 wildflowers stamps, with a retention of 76.2 million, according to figures released by the Postal Service. Third at 75.8 million stamps are the rock 'n' roll/rhythm and blues stamps issued in 1993. The 1999 insects and spiders stamps are fourth at 60.9 million followed 53.9 million for Legends of Baseball issued in 2000.

---
JERRY SCHILLNG QUITS POST. MEMPHIS, Sept. 6 - Music industry veteran Jerry Schilling, who was a confidante of Elvis Presley, has resigned as president and chief executive officer of the Memphis and Shelby County Music Commission. His resignation was announced Wednesday, Sept. 4th. He took the post in 1999. Schilling, 59, wouldn't discuss the reasons for his departure. But he told The Commercial Appeal, "I think the timing is right for a change ‹ but I'm definitely going to miss it."
In the 1960s and '70s, Schilling was Presley's bodyguard and a member of the "Memphis Mafia," a group of men who were the performer's closest friends. He later managed the Sweet Inspirations, Presley's backup singers onstage, and the Beach Boys. Schilling said he'll look into opportunities in the Memphis area and on the West Coast. He lived for many years in Los Angeles, where he ran Jerry Schilling Management and also worked as a film editor. At the April meeting, Commission chairman Onzie Horne had complained about a "crisis of vision" and "crisis of leadership" on Schilling's part. Schilling's departure was his own decision.

---
RONNIE HAIG CD NEWS. "Radio Active Gold" now has "Still Kickin'Butt" listed on www.Amazon.com - You can buy it, rate it, whatever? To contact Ronnie direct, e-mail: Backporchpicker@aol.com

---
BACK BY POPULAR DEMAND! Rockabilly Hall of Fame member Barry M. Klein and Craig "Bones" Maki have been invited back by Detroit area "Rare Oldies" station WPON-AM 1460 to host another 2-hour Rockabilly Special on Monday, September 9, from 7:00 a.m. to 9:00 a.m. Eastern Time. The show will be repeated at 2-4 p.m. on the same day. WPON can be listened on-line at www.wpon.com. Maki was the host of Rockabilly Roll Call on Detroit radio for 7 years, and is the leader of the rockabilly band "Bones Maki an the Sun Dodgers". Barry is in his fourth year writing for the Rockabilly Hall of Fame on the internet www.rockabillyhall.com, and emcee's the Rockabilly Hall of Fame's annual stage shows at Viva Las Vegas every Easter Weekend www.rockabillyhall.com/vlv2003.html. Barry Klein and Craig Maki will talk about rockabilly music and play the popular, as well as some of the more obscure, rockabilly music that has kept people all over the world dancing and toe-tapping for nearly 50 years.

---
"JUKEBOX FEVER" from Blue Suede News, is now available. 18 song compilation of Northwest Rockabilly and Rock'n'Roll. 5 previously unreleased tracks - including the first ORIGINAL Kingsmen song in 30 years or more! Also the demo that got the Magnetics on Rollin' Rock Records!! 2 others from currently out of print CDs. 1 more song never on CD before. $16 ppd.  Order Now!!! .

---
SOUND CLIP:
A nice 17 minute piece from NPR's Weekend Edition on the new collection of Sun Records gals, including interviews with Barbara Pittman and Barbara Thomas Salloum. Well worth a listen. CLICK HERE.

---
Photos by James Roy: [jamesvroy@hotmail.com]
Gibson Lounge Show, Aug. 16, w/Lee Rocker & Scotty Moore
Elvis Week, 2002


---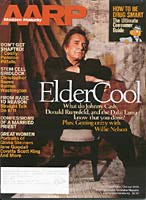 AARP COVERS JOHNNY CASH. Click here for a larger view.
---
Cash Plans Release of The Man Comes Around. Johnny Cash delves into an eclectic collection of songs for American IV: The Man Comes Around, his new album for American Recordings/Island Def Jam. Set for Nov. 5 release, the 15-track album includes Cash's versions of Hank Williams' "I'm So Lonesome I Could Cry," Simon & Garfunkel's "Bridge Over Troubled Water" and the Beatles' "In My Life." Cash also covers Depeche Mode's "Personal Jesus," Nine Inch Nails' "Hurt" and Sting's "I Hung My Head." Eagles founding member Don Henley makes a guest appearance on Cash's version of "Desperado." The project features other guest appearances from Marty Stuart, Randy Scruggs, Fiona Apple, Nick Cave, Billy Preston, John Frusciante (of the Hot Chili Peppers) and Benmont Tench and Mike Campbell (of Tom Petty & The Heartbreakers). Cash also recorded three of his own songs -- "The Man Comes Around," "Tear Stained Letter" and "Give My Love to Rose."

---
In May/June 2003, ELVIS-THE CONCERT will have its fourth tour of Europe. See the tour schedule page in the ELVIS-THE CONCERT area of Elvis.com,br>
---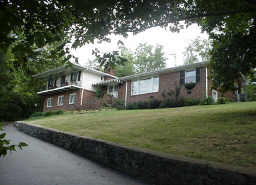 GORDON STOKER'S (JORDANAIRES) FORMER HOME FOR SALE. The house was built by Gordon Stoker Nashville in 1958 - quite a mansion back then! (Gordon hasn't owned it for many years). The current owner is looking for someone who would appreciate this home's musical heritage - Elvis visited there too! 3228 sq. ft., spectacular hilltop view, 4 BR, 2.5 BA - a super home on a great piece of land in Green Hills, TN. Contact: pam@pamsimmons.com - Info page on this house.

---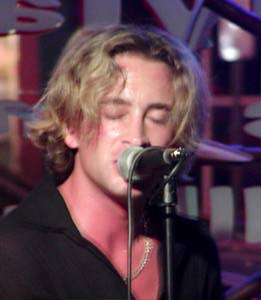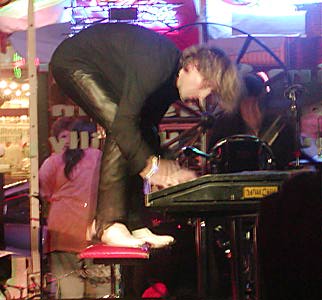 BRANDON GILES tears it up at Jim and Layla's Blue Grass Inn, Nashville, Saturday, August 18, 2002

---

L. to R.: Barry Klein, Johnny Powers, (Program Host), Jack Earls, Craig Maki

LIVE ROCKABILLY RADIO SPECIAL BROADCAST HEARD AROUND THE WORLD ON THE INTERNET. Rockabilly Hall of Fame member and featured columnist, Barry Klein, guest hosted a two-hour rockabilly special radio show on Detroit's WPON 1460 AM on Wednesday, August 14, 2002 from 6:30 a.m. to 8:30 a.m. eastern standard time. The station, which is a free-form oldies station, broadcasts live on the internet: http://www.wpon.com. Special guests included Craig "Bones" Maki, former host of the long running Detroit radio program, Rockabilly Roll Call, and currently the lead singer of the rockabilly group Bones Maki and The Sun Dodgers, which recently made appearances at the two largest U.S.A. rockabilly festivals, the Oneida Casinso's Green Bay Rockin' 50's Fest in Green Bay in July and Viva Las Vegas in March. Also guesting on this program was Jack Earls and Johnny Powers, two rockabilly legends, each of whom recorded at the famous Sun Studios in Memphis in the 1950's, in the same era as Elvis Presley, Carl Perkins, Jerry Lee Lewis, Johnny Cash, and other rockabilly legends. Both Jack Earls and Johnny Powers performed on the main stage at the recent Green Bay Rockin' 50's Fest, and both have recently released new CD's.

---
Elvis Reaches 100 Million Sales Mark. August 13, 2002 - The Recording Industry Association of America (RIAA) has announced that the sales of Presley's albums has reached the 100 million album mark in the United States. This recent milestone places the "King" behind only the Beatles - who've sold 165 million units in the U.S. - British rockers Led Zeppelin, and country superstar Garth Brooks, who have each sold 105 million units. In all, EP has received 88 gold records, 45 of which have been certified platinum, and 22 have gone multiplatinum. He has received more gold and platinum singles than any artist in history with 51 gold singles, 27 of which went platinum with seven certified multiplatinum.

---
Elvis leads list of top-earning dead celebrities. A quarter-century after his death, Elvis Presley continues raking in the big bucks. For the second year in a row, Presley leads the list of the top-earning dead celebrities, according to Forbes magazine. Sales of all things Elvis totaled $37 million from June 2001-June 2002, $4 million of which came from a British dance remix of his 1968 song "A Little Less Conversation."

---
From Rockabilly Hall of Fame inductee KEITH MURPHY: (murphy@eclipse.net)
"Here's some big news I'd like to share ... I wrote and sing the theme song to OUTDOOR USA. It is an outdoor show on the Outdoor Channel. It is on digital Cable and shown all over the US (60 million people hooked up I think) It is shown 3 times a week. At the closing credits, it says music by Keith Murphy. I asked the Host/Owner (Bill Rock - how's that for a pun?? His real name) of the show if he could put "Keith (O'Conner) Murphy, Rockabilly Hall of Fame Inductee, www.rockabillyhall.com". I would think this would give the RHOF site some nice exposure to a reasonable target. It won't start until the new shows begin. " Take care, Keith

---
WORTH A CLICK: - Reinventing Elvis - Can the King rise again?
---
WORTH A CLICK: - Roger ''Roc'' LaRue Enters The Rockabilly Hall Of Fame by Ron Johnson

---
WORTH A CLICK: - "Johnny Cash: The Spirit Is Willing" - The Journal of Country Music Interview - Part I

---
WORTH A CLICK: - A Primer on the Life And Times of Elvis Presley
---
PRISCILLA PRESLEY PLANS PROJECT. Mix together Elvis Presley, "American Idol" and the Abba musical "Mamma Mia" and you get the latest project from Priscilla Presley. Elvis's ex-wife has just signed a deal with Immortal Entertainment to create a musical based on her relationship with the King of Rock and Roll. Immortal says it will be a contemporary yet nostalgic musical, like the Abba production. The leads for the show will be found through a nationwide search, along the lines of Fox's "American Idol." Priscilla Presley will judge the contest, but there will be an audience participation aspect as well. The winners will portray Elvis and Priscilla.

---
Elvis Ranch Developers Face Hurdle. If the developers of the Elvis Presley Ranch to leap several legal hurdles pretty quickly. The developers want to build a $500 million resort and entertainment complex on 800 acres near Horn Lake, Miss. ‹ part of it on land once owned by Elvis. The DeSoto County, Miss. planning director says the developers still haven't gotten approval on the final site, which means the county can't issue a building permit. But a spokeswoman for the developers insists they will break ground on the 25th anniversary of Presley's passing. She says the ground-breaking will be ceremonial, and zoning regulations aren't a problem for "a bunch of people sticking shovels in the ground and tossing small amounts of dirt in the air." Meanwhile, expect Elvis sightings to increase between now and mid-August. Not necessarily sightings of The King himself ‹ but stuff about him is going to be everywhere. Two of the niftiest new pieces of Elvis-a-bilia will set you back plenty. Two new coffee table books, "The Elvis Treasures" and "Elvis: A Celebration," cost $50 apiece. "The Elvis Treasures," published by Villard, is like owning The King's scrapbook. It tells the story of Presley's life through letters, press releases, film scripts, photographs, movie posters, print ads, record sleeves, magazine covers, and a CD of Elvis interviews from the 1950s through the 1970s. Meanwhile, DK Publishing's "Elvis: A Celebration" is 600 pages, and was done with the support and authority of the Elvis Presley Estate.

---
LIGHT CRUST DOUHBOYS' BOOK. Fans of Texas-style country music, electric guitar pioneers, Texana, and the culture of the southwest will enjoy checking out the new history book just released at www.unt.edu/untpress ... titled: THE LIGHT CRUST DOUGHBOYS ARE ON THE AIR! Swing and rock on, Art Greenhaw - www.artgreenhaw.com - www.unt.edu/untpress

---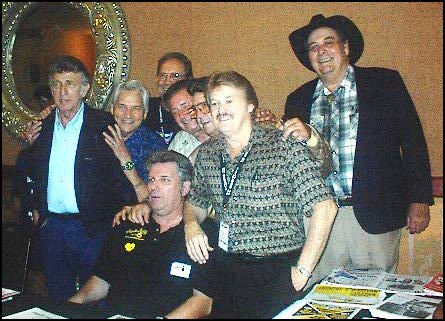 SOME FAMILIAR FACES at the recent Oneida Casino Green Bay Fest: D.J. Fontana, Billy Lee Riley, Paul Burlison, Glen Glenn, Eddie Bond, Alan Clark, Sleepy LaBeef and Bob Timmers seated. Photo: Barbara Burnette

---
Lillie Gerron, mother of Peggy Sue Gerron, passed away July 16 in Lubbock, Texas at 92. Buddy Holly had a big hit with a song about her daughter in 1957. Peggy Sue was married to Crickets drummer Jerry Allison for awhile.

---
---
Comet Basist MARSHALL LYTLE sports a new look with a little extra hair on his face and chin. This drawing was done 7/15/02. Marshall said, "I wanted to see want would come out if I let it grow. I was hoping for a salt and pepper look, but I wound up with much more salt than I needed."

---

ROCKABILLY HALL OF FAME HATS and POLO SHIRTS! This is what happened when Marshall got his hands on one of our suede hats. The Comets' "Viagra Rock" song is doing well in many markets. Good luck boys!

---
BELATED OBIT: Marshall Leib, a member of the Teddy Bears ("To Know Him is to Love Him") with Phil Spector and Carol Connors, died March 15 at 63. He was also a record producer in the '60's and a member of the Hollywood Argyles! For some reason, his death went totally unreported. (Thanks to Dan Davidson)

---
Frankie Ford's new CD "Night Songs" featuring his showstopping hit "Gone" is scheduled for release on July 15, 2002 on Briarmeade Records BR-200 CD. Order your advance copy by sending a check for US$20.00, payable to Sea Cruise Productions, Inc. - P. O. Box 1875 - Gretna, Louisiana 70054-1875. It may be awhile before it's available in stores.

---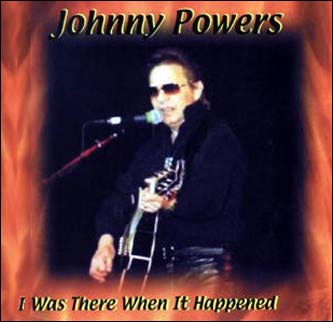 JOHNNY POWERS, "I Was There When It Happened" - Released: July 1, 2002 "This disc is one the best I've heard in a long time from a lengendary artist. Johnny is at his best. With a variety of material and a voice that brings back memories of Elvis and Conway Twitty, this album is a must for any roots rock, rockabilly and traditional country buff. A least two tracks here are certainly worthy of mainstream airplay in today's market and could help bring basic rockabilly and true country music back onto the scene. Great backup band, too!" - Bob Timmers, Johnny will autograph the CD if asked.
CLICK HERE TO ORDER

---
WORTH A CLICK: - Jon Johnson's HIGH NOON Interview
---
WORTH A CLICK: - Jon Johnson's DOMINO KINGS Interview
---
Click here to access the songs.
---
JACK CLEMENT PLANS NEW CD. NASHVILLE - "Cowboy" Jack Clement is working on a new CD with Cowboy's Ragtime Band. Clement is a Nashville legend whose writing credits include the Johnny Cash hits "Ballad of a Teenage Queen" and "Guess Things Happen That Way" and the Porter Wagoner/Dolly Parton classic "Just Someone I Used to Know." He has produced Cash, Jerry Lee Lewis, Billy Lee Riley and U2, among many others. With Bobby Wood, Dave Roe, Kenny Malone, Billy Burnette and Shawn Camp, Clement will appear July 10 at Douglas Corner Café in Nashville for the third in a series of live recordings.

---

RONNIE HAIG, "Still Kickin' But!!" Ronnie's style is very distinctive - both his fine voice and pickin' are exclusively "Ronnie Haig" - and that's a good thing. He's not copying anyone, he's a creator. He even does an answer song to his hit, it's called "Didn't You Hear Me Calling Baby." The 22-song CD contains a wide variety of music. There's: rockabilly, rock 'n' roll, do-wop, ballads, swing, surf and blues, all done flawlessly. AND, Ronnie wrote all his own material. Ronnie's personal e-mail is backporchpicker@aol.com - To order, mail $12.00 (via check or money order to) West Hills Productions (make check out to same). 1088 Beers School Rd, 2nd Fl., Moon Twp., PA 15108 attn: Dave Justice - radioactivegold@hotmail.com

---
Backup singer DUANE WEST Duane West died in Nashville on Sunday (June 23) at age 61. West was one of Sonny James' Southern Gentlemen in the 1960s. During this time, when available, he also filled in for various Jordanaires when the need arose. Following the death of Hoyt Hawkins in 1982, West became the official Jordanaires baritone. He remained with the group until 1999.

---
EDDIE BOND JR., 34, of Bolivar, Tenn., formerly of Memphis, radio disc jockey and entertainer, died Wednesday, June 27th at his home. He was a member of Willow Oaks Pentecostal Holiness Church in Memphis. He leaves a daughter, Alexis Bond of Nashville; his parents, Gladys and Eddie Bond of Bolivar, and two sisters, Becky Bond Collins of Bolivar and Lisa Bond Seawright of Olive Branch, MS. Eddie Jr. was found dead in his bed around 10am by his sister Becky. He complained of not feeling well the night before. At this time no cause of death has been determined. Please include the Bond family in your prayers. Burial date: June 28, 2002.

---
RANDY JONES R.I.P. It is with deep regret that we announce the passing of Randy Jones. Randy is best known for singing with many famous groups to include: The Platters, The Meadowlarks, Don Julian and the Larks, The Penguins, The Jacks, The Cadets, The Robins, The Coasters, Vernon Green and the Medallions, The Flares. Randy recorded two songs on his own: "Pass the Gin" and "LSMFT Blues". Randy was a beautiful person, and a wonderful friend. He will surely be missed. His bright smile, and wonderful sense of humor will never be forgotten. The rock N roll world lost a legend....there is now a fine bass singer added to the heavenly choir. Monetary donations are requested in lieu of flowers. They may be sent to:
Randy Jones Family
C/O Anthill Productions
P.O. Box 1480
Rosamond, CA, USA 93560-1480
+001 (661) 789-9235
Submitted by Joy - anthillprod@yahoo.com

---
WORTH A CLICK: - ON CDs, ELVIS IS STILL ROCKIN' ... from the Boston Globe, by Steve Morse, Globe Staff, 6/23/2002

---
WORTH A CLICK: - B.B. King Celebrates Anniversary
---
KITTY WELLS and JOHNNY WRIGHT are icons in country music. Their names are synonymous with the Grand Ole Opry and country music. They left the Opry for a short time in the '60s as did many otherentertainers. Most were taken back when requested reinstatement. Kitty and Johnny, however, were denied by a Gaylord Entertainment official on the basis that they were "not the type of artists the Opry was signing now" to quote him directly. This is absurd and so unfair. There are several older entertainers signed to the Opry, and rightfully so, but is Kitty Wells and Johnny Wright any less than them? Please go to the online petition site by clicking on the link here and sign your name. Kitty Wells Reinstatement on Grand Ole Opry Petition

---
New Crazy Legs CD. São Paulo, Brazil - Their CD release "Right On Time" is available now! Please check the trio's merchandise page at www.crazylegs.com.br for price and details about how to purchase. For further info: crazylegs56@hotmail.com

---
#1 U.K. Hit Single "A Little Less Conversation" Goes On Sale in U.S. June 25th. 25 years after his death, Elvis Presley has another #1 record in the UK, overtaking The Beatles as the artist with the most #1s. Remixed by Amsterdam based DJ JXL, the song has exploded on charts all over the world. It goes on sale in the U.S. Tuesday, June 25. Buy your copy from Elvis.com at ShopElvis, or visit your local retailer. Let's all help push this great song to #1 in the U.S.! For more info and to hear "A Little Less Conversation" go to: http://www.elvis.com/news/full_story.asp?id=197

---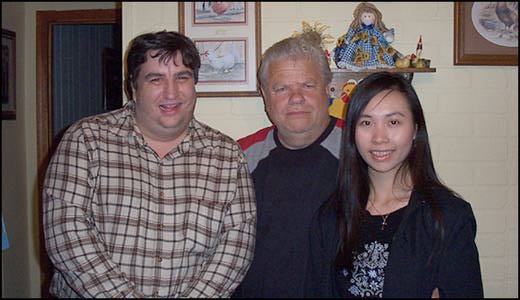 LOU HOBBS is doing fine these days. He is pictured here with Mike and Catherine of Culmei Productions. They stopped by Lou's home and presented him with a copy of their syndicated radio program out of St. Louis, MO. Lou was a special guest on the program. If any other artists are interested in doing the show contact Mike or Catherine at 1-866-828-5634.

---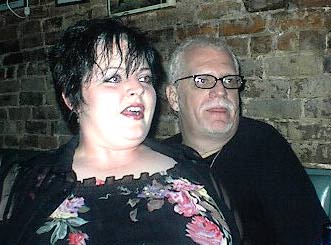 AUDREY & DAVE ROE at the Bluegrass Inn, downtown Nashville. Dave (former bassist for Johnny) will release his Johnny Cash tribute CD early in September. We have heard the disc and it's great ... one of best Cash tributes yet!

---
RAYBURN ANTHONY, who got rave reviews on his Vampirella rockabilly CD "Jackson Was Jumpin'", shows the other side of his talents on a brand new all country CD "Everything's Bigger In Texas." Title track shows some rare humour as Rayburn laments he keeps losing out because "His is bigger than nmine." A great ballad "Yes Love" is getting lots of play on the Country Bear station. All tracks are co-written by Rayburn and other titles include "You Can't Go Wrong With Love," "Thank God It's Monday" and "Thank You Very Much" a tribute to Elvis. Dj's; e mail Rayburn at Rayburn233@aol.com to get a copy and fans can buy it direct. See his website www.rayburnanthony.com for details or e-mail him.

---
Nashville - LARRY MERRITT, son rockabilly/country legend Jerry Lee Merritt, told the Rockabilly Hall of Fame that he is busy working on an ablum of his father's material. The project will included many lost and rare tracks and a detailed history of Jerry's career.

---
WORTH A CLICK: - Cash Comes Around This Fall. Fourth recording with Rick Rubin due in September.

---
Elvis, Wynonna on Disney Soundtrack. Young listeners may get their first taste of Elvis in the upcoming animated feature, Lilo & Stitch. In the Walt Disney Pictures film, a young Hawaiian girl goes crazy for t he King. Five of Elvis songs -- "Stuck on You," "Suspicious Minds," "Heartbreak Hotel," "Devil in Disguise" and "Hound Dog" -- appear on the soundtrack, as does Wynonna's take on "Burning Love." The Disney soundtrack is due June 11; the film debuts in Los Angeles on June 16 and nationwide June 21.

---
WORTH A CLICK: - Buddy Holly's Concert Schedule 1957-1959
---
WORTH A CLICK: - Les Paul has seen it all in his 87 years. The man behind the electric guitar.

---
Orville Couch RIP. Posted, May 28, 2002 - ORVILLE GEORGE, JR. 67, resident of Combine, Texas for 22 years. Born in Grapevine, Texas on February 21, 1935. and raised in Patrick, Texas. Orville never lost his faith in God, while suffering from acute lymphoblastic leukemia with bone marrow necrosis, during the last six months. He was a member of Point View Baptist Church in Combine, where he was active in music with the church band. He spent a life time in music writing, composing and singing classic country and gospel music. He was a family man who loved his family. Surviving is his wife, June Hopkins Couch, son Orville Couch, III and wife, Kathy, daughter, Tammy Couch Jones and husband, Michael Jones, mother, Ophelia B. Couch, all of Combine, brother, Jerry Richard Couch and wife, Barbara of Seagoville. Grandchildren; Dean, Dustin, and Sydney Couch, Tayler, Michaela and Bailey Jones. Services will be held 10 a.m. Wednesday at Point View Baptist Church in Combine and burial in Lancaster, Texas Cemetery. Open visitation on Tuesday, 6 to 8p.m., at Roselawn Funeral Home in Seagoville. Memorial contributions may be made to Point View Baptist Church Building Fund, 110 Hwy. 3039, Combine, Texas 75159.

---
DICK DALE OFFERS CONDOLENCES. (ET) - The tragic death of National Guard Sergeant Gene Arden Vance Jr. in Afghanistan on May 19 had many Americans offering condolences to the soldier's family, including guitar legend Dick Dale. When Dale learned that Vance had been a longtime fan, he personally called the soldier's wife Lisa to offer his condolences and support. During the telephone conversation, Dale learned that Vance had seen him in concert many times over the years, and that he owned a vast array of Dale's albums. Vance's wife told Dale that "Miserlou" was her husband's favorite Dick Dale song, and asked if he would have any objections to having the classic song being played at her husband's funeral. Dale was touched and extended an invitation to Vance's family and friends to attend his June 3 Morgantown, West Virginia, show as his personal guests. Vance was a newlywed preparing for his honeymoon when his West Virginia National Guard unit was called to active duty in Afghanistan following the September 11 attacks. Vance, 38, was killed when his unit came under fire. Dale feels deep empathy for Vance's family, knowing firsthand the horrors of war and loss. Dale himself served as a member of the Crash Crew in the National Air Guard for the 146th Fighter Inceptor Squadron, rescuing pilots and crews from downed aircrafts before they perished. He has incorporated the tragedy of Vance's death into his live shows as a cautionary tale of awareness and love, pleading with his fans each night to love, unconditionally, the family and friends around them. Before playing "Miserlou" each night, Dale shares his thoughts with his fans, saying, "There may come a day that you are not able to tell your loved ones how much they mean to you. Sgt. Vance was called away to serve his country and made the ultimate sacrifice and now nothing can change that. I want every one of my fans to think about that. Take the time to let your loved ones know just how much they mean to you because you never know if you will get another chance. Do it for them, do it for you, do it for Sgt. Vance." -Sue Falco, New York

---
B.B. King / Sam Phillips Win Blues Awards. MEMPHIS, Tenn. - B.B. King won entertainer of the year for the fourth straight year at the 23rd annual W.C. Handy Blues Awards. Other winners included Buddy Guy, guitarist of the year; Koko Taylor, best traditional female artist; "Presumed Innocent" by Marcia Ball, blues album of the year; and "Here and Now" by Ike Turner, comeback blues album of the year. Sam Phillips, who founded Sun Records in Memphis and signed Elvis Presley to a recording contract, was given a lifetime achievement award. The Memphis-based, nonprofit Blues Foundation presented the awards Thursday, May 24. More than 30,000 international blues fans and professionals voted for winners in 25 categories. The awards are named after the composer of "St. Louis Blues," who is known as "the father of the blues."

---
Barbara Burnette's title track from her "My Tattoo" CD took only five days to jump to the #1 spot on mp3.com's popular "rockabilly" category. The tune entered the competition, of close to one thousand other rockabilly songs, at #35 on May 19th and by May 23rd and 24th it was sitting on top, receiving the most plays and downloads. The Rockabilly Hall of Fame is proud to carry Barbara's song on it's page at mp3.com. Great driving rockabilly, give it a listen. See Barbara's Page for more info, and, how obtain to her CD - a tribute to Johnny Burnette and Paul Burlison. Posted May 24, 2003

---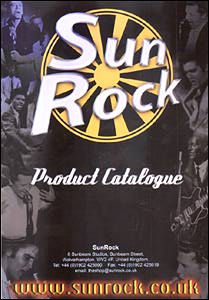 SUN ROCK.
T-shirts: Chuck Berry, Elvis, Buddy Holly, Fats Domino, Little Richard, Jerry Lee Lewis, etc. Also JLL wall plaques. A UK based company. Check it out!

---

SERIOUSLY FOLKS ... DICKIE has some unique stuff for sale. The original drummer of Gene Vincent's Blue Caps (who screamed on "Be Bop A Lula) has a great deal going. A BLUE CAP, PAIR OF HIS OWN DRUMSTICKS and a T-SHIRT FROM "THE CAPS" FROM THE RECENT WEST COAST TOUR. Special: $34.00 for all three items. PLUS ... Free Photos with every order. E-Mail Dickiebebop@aol.com for futher more information. Send positive e-mails only, let's have some fun. Dickie has a great sense of humor and some nice merchandise to offer. Thanks and enjoy the rest of the show.

---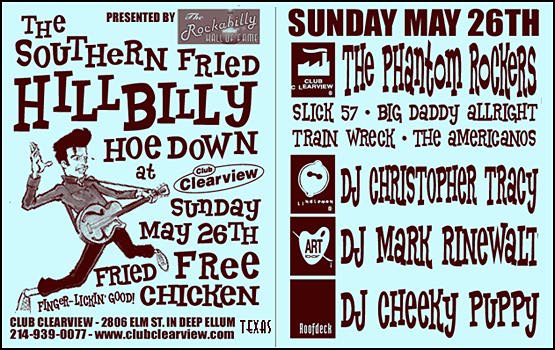 ---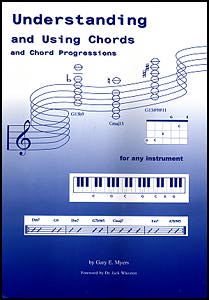 BOOK: "UNDERSTANDING and USING CHORDS and CHORD PROGRESSIONS" by Gary E. Myers. 110 pages. ISBN: 0-9643073-5-9. Published by MusicGem, PO Box 4777, Downey, CA 90241-1777. E-mail Gary: gem777@earthlink.net

---
New "Rockabilly Hall of Fame" Feature Column ...

CLICK HERE TO ENTER
---
SOME HEMSBY #28 PHOTOS. Couresty: Kizmiaz@planet.nl

---
WORTH A CLICK: - Radio Patter From the Past: Vintage D.J.'s Rock On
---
The "Cradle of the Stars" rocks again in a revival of the Shreveport, La.-based Louisiana Hayride. The famous variety show, once broadcast on KWKH, was staged anew Saturday night (May 4) at its original home, Shreveport's historic Municipal Auditorium. The Hayride was first broadcast on April 3, 1948. Among the original cast were Johnnie & Jack with Kitty Wells and the Bailes Brothers. Hank Williams Sr. made his first appearance on the show in August 1948, and Presley was a regular from October to December 1954. Many other country greats advanced their careers with stints on the show, among them Webb Pierce, Johnny Horton, Jim Reeves, Faron Young, Floyd Cramer, James Burton and Johnny Cash. For many, the Hayride was a proving ground before moving on to Nashville's Grand Ole Opry, earning it the nickname "Cradle of the Stars." The CBS radio network broadcast a portion of the Hayride show beginning in 1953, but discontinued the broadcasts in 1958. The show went into decline and ceased live, weekly broadcasts in 1960. The Hayride continued in various forms into the 1970s and for a while moved to nearby Bossier Parish as Hayride USA. That program ended in the early 1980s. Guitarist Richard Bennett, who has played with Neil Diamond, Steve Earle and Mark Knopfler, discovered the Hayride through his love of Horton. He praises the show, saying its flare and electricity Š jumps right off the grooves of live radio transcriptions now 40 and 50 years old.

---
HANK JR. AND MADDEN RECORD NEW MON. NIGHT FOOTBALL PACKAGE. Hank Williams Jr. and sports announcer John Madden were in Nashville the week of April 15th to record this season's series of theme songs for Monday Night Football on ABC. This is Williams's 14th year as the voice behind the theme song. Williams won four sports Emmys for his contribution to Monday Night Football.

---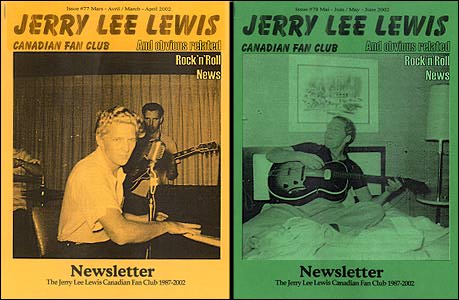 JERRY LEE LEWIS CANADIAN FAN CLUB NEWSLETTER, "A whole lotta text and photos goin' on!" Over 60 pages per issue! Contact: The Jerry Lee Lewis Canadian Fan Club, 1808 Aird Ave., Montreal, Quebec, Canada, H1V 2V6 - website: http://pages.infinit.net/alphan/ejerry.htm - e-mail: alphan@videotron.ca - 1-year membership (in Canadian currency): Canada $30, USA $35, Europe $40. Yvon Bonneville, president; Lucien "Luke" Bonneville, vice-president; special collaborators: Jean Robert, Camille Lord, Mario Lucchesi. Webmaster, Eric Bonneville. The fan club was founded in 1987.

---


MATT LUCAS and wife Barbara have been rockin on the high seas ... really rockin, they had 25 ft. seas of the coast of Jamacia and could not dock there. Worked with a reat band!! Matt is looking forward to England and Europe on May 7th.

---
CARL BUNCH WEBSITE. New and under contruction ... visit and sign his guestbook.

---
BO DIDDLEY, CHUCK BERRY and LITTLE RICHARD are the first 3 recipients of the Broadcast Music, Inc. (BMI) Icon Award, to be presented to them at the BMI 50th Annual Pop Awards dinner at the Regent Beverly Wilshire Hotel in Los Angeles, CA on Tuesday May 14th 2002. The performing rights organization is honoring them with this prestigious new award in recognition of their many contributions to contemporary music. Bo Diddley fans, you can keep up to date with all the very latest "Bo" news and information by visiting the Hot News page of the Bo Diddley-The Originator website at http://members.tripod.com/~Originator_2/hotnews.html - the most detailed and accurate source of information about Bo on the web.

---
EARLY CASH OF BEAR FAMILY DVD. Germany's Bear Family Records has issued a DVD, Johnny Cash at "Town Hall Party." The disc features Cash and the Tennessee Two (Marshall Grant, bass, and Luther Perkins, guitar) in appearances on the West Coast TV show from Nov. 15, 1958, and Aug. 8, 1959. The DVD runs nearly 70 minutes and features 24 performances captured on kinescope including the Cash classics "Get Rhythm," "Folsom Prison Blues," "I Walk the Line," "Don't Take Your Guns to Town" and "Big River." The set also includes Cash imitating Elvis Presley on "Heartbreak Hotel." The Bear Family Web site is at bear-family.de

---


"Stuck In The 50's". This is the long awaited album of new Rockabilly tunes by Rockabilly Hall Of Famer, "Col. Robert Morris." aka "The Rockabilly Cat." As a former drummer for the great "Charlie Feathers," The Colonel learned the tools of his trade, and that experience, stayed with him throughout his career. Today, he & his wife, "Irene," own and operate "Old Dogs Records." They also host a yearly Rockabilly Festival in North Mississippi. Robert is also known for his unique songwriting, and singing, as is portrayed in this album. This Album is dedicated to "Bob Timmers," the man behind the "Rockabilly Hall Of Fame," and a close personal friend of the Colonel! Here is a sample.. To order this CD send $10.00 to Col. Robert Morris, P.O. Box 816, Senatobia, MS 38668, Include your mailing address to where the product is to be shipped. Make payment by postal money order to Robert Morris and product will be shipped within 48 hours. Price includes shipping and handling and a free autographed 8X10 photo of the Colonel.


WORTH A CLICK: - RETURN OF THE KING, NEWSWEEK's Suzanne Smalley looks at the coming Elvis onslaught.

---
WORTH A CLICK: - SMOKEBOX. More info on Gene Vincent, Link Wray, etc.

---
WORTH A CLICK: - The End Is (Not) Near. Repentance is futile in Reverend Horton Heat's wild, wild world by Paula Felps.

---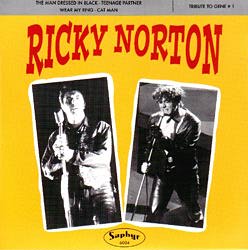 The french Gene Vincent EP tribute from RICKY NORTON - included :THE MAN DRESSED IN BLACK (featuring CHRIS SPEDDING on lead guitar) TEENAGE PARTNER, WEAR MY RING, CAT MAN is available from: SAPHYR, BP 14, 68230 TURCKEIM, FRANCE or send a mail to: liesenth@calixo.net

---
WANDA JACKSON. There's an interview with Wanda Jackson from the American Routes radio show at http://www.americanroutes.org/

---
VERNON TAYLOR NEWS:
SHOWS - Fairplay Carnival, June 21st, 2 shows, 6:30 & 10:30 pm
Green Bay, Wisconsin, Oneida Casino, Wed., July 10, 5:45 pm.
NEW RECORD - Vernon has a new 45-rpm record released in January, 2002 on the NBT Record label. Vernon covers two classics on this vinyl platter with the (A Side) "Young Love" and the flip side is "I Ain't Never." These are two "new" releases by Vernon that have NOT previously been released.
OTHER CD's and RECORDS -
VT#1, Your Lovin' Man (1995) CD, 29 tracks - $15
VT#2, Daddy's Rockin' (1999) CD, 12 tracks - $12
VT#3, Now and Then (2000) CD, 10 tracks - $12
VY#4, Great Big Rock and Roll Show, 45-rpm (2000) - $3
VT#5, Young Love, 45-rpm (2002) - $3 "new"
Shipping and handling for each item, add $2
Vernon Taylor, P.O. Box 381, Myersville, MD 21773-0381 USA

---
DANNY CEDRONE'S GUITAR: "I am a musician in Philly and I work in a band w/ Danny Cedrone's nephew Danny Venore. You will be happy to know that Danny's guitar is now on display at the Rock & Roll Hall Of Fame museum in Cleveland. Please pass this along for the fans." -KennyKirby - kenneth.kirby2@verizon.net

---
NEW PHOTOS POSTED: Link Wray and Narvel Felts.

---
BMG issued a worldwide press release formally announcing the scope of their plans for Elvis in 2002. Perhaps you have seen some of the select media coverage the record company arranged in advance of the actual press release and perhaps you'll now see part of the information as interpreted by the media who respond to today's announcement. If you want to read all the information word-for-word, the full-length press release is now posted in the News on Elvis.com. Here's a direct link to it:
http://www.elvis.com/news/full_story.asp?id=169
Also, there are some more updates to the Elvis Week 2002 calendar of events. Here's a direct link to that:
http://www.elvis.com/graceland/calendar/elvis_week_2002.asp

---
NEW TO THIS SITE: The Phil Davies Report
---
Culmei Productions is proud to debut a new energetic syndicated radio show of an Old style with a New sound that started September 1st 2001 called Rockabilly Renew. This weekly show is available to your station in two ways: The first option is barter of time, which means Rockabilly Renew is 48 minutes continuous which gives your Commercial or Non Commercial station 12 minutes for local Advertising or Promotions you can put in the show . Also Rockabilly Renew is looking for new artists to air on the show. For more information visit www.culmei.com or call toll free 1 (866) 828-5634. Thank you for you time and God Bless. Mike Cullen, Pres. Culmei Prod., mikecullen@culmei.com

---
Billy Lee Riley Dates:
To contact for bookings e-mail: billyleeriley@hotmail.com
June 29, 2002 - Partytimers Showdown - Paris, France
July 10, 2002 - "The Greatest Rock-a-Billy Show on Earth" - Green Bay WI.
August 11, 2002 - Lincoln Center - New York
August 15, 2002 - Virginia Museum of Fine Arts - Richmond, VA.
August 24, 2002 - Milwaukee, WI.
September 28, 2002 - Jerry Lee Lewis Birthday Party & Convention - Holiday Inn Select Memphis, TN. Invited as special guest for this event, will be doing interviews, pictures and some songs with Jerry.

---
WORTH A CLICK: Blood Brothers The Blasters, Dave and Phil Alvin agree to disagree

---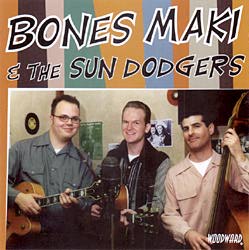 Woodward Records presents the "BONES MAKI & THE DUN DODGERS" CD. Grounded in western and rockabilly music, Craig "Bones" Maki sings, plays and writes tunes that remind you of sounds that flourished during the 1950s. Bassist Kenny Bruce is a established veteran of the Detroit 1980's - 90's rockabilly scene. Playing guitar withe virtuousity that many mature pickers wish for, Graham Tichy goes a great job on the leads. The CD is availble through Woodward Records, P.O. Box 494, New Baltimore, MI 48047.

---
NEW TO THE ROCKABILLY HALL OF FAME PAGES ...
The Lorne "Flash" Eckford Photo Gallery
---
Suzette And The Neon Angels Signed To Realbilly Records, Suzette and the Neon Angels have been signed to new Nashville label, Realbilly Records. The label's motto is "Real Country, Real Rockabilly, Real Music". The label focuses on rootsier, edgier alternative country and moves away from Nashville country-pop sound. Suzette and the Neon Angels have made a splash while touring Europe and the U.S. with their rockin' version of honkytonk, hillbilly and rockabilly. Upcoming European tour and West Coast dates! Email: suzette.lawrence@owen.vanderbilt.edu - Url: http://www.realbillyrecords.com/

---
PRESIDENT PRESLEY? Aren't American Presidents (other than Susan B. Anthony on the dollar coin) the only faces we put on our coins? Then, when was Elvis elected President? You see his face will soon appear on the Quarter, well, not all quarters...only those in Tennessee, well just some of those. Elvis Presley Enterprises has licensed a company to replace George Washington on some of Tennessee's 2002 quarters with a color illustration of the King of Rock 'n' Roll. AP reports that the coins, minted as souvenirs honoring Presley on the 25th anniversary of his death, went into production this month through the International Collector's Society. The process fuses a color portrait of Elvis over Washington's face. Pete Davidson, EPE's senior licensing manager, said the British colony of Gibraltar mints Elvis coins as part of its currency, but the refaced quarter is the only option in U.S. currency.

---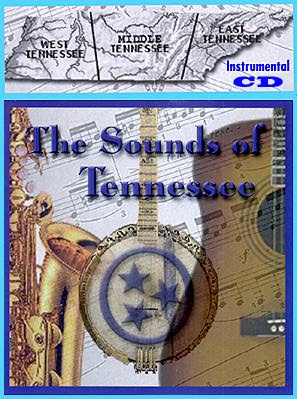 THE SOUNDS OF TENNESSEE CD. 12 enjoyable, easy-listening instrumental tracks, equally divided into three categories - all capturing the sounds and flavor of Tennessee's musical heritage. "A must have for every collection, one you'll play over and over. An excellent musical backdrop for that 'special moment'." Musicians: Larry Merritt (son the late Jerry Lee Merritt), Joe Paquette, Terri Allen, John Heinrich and Arvel Bird. Recorded in Nashville. To obtain a copy, send $13.99 (+ $4 shipping) - US funds, money order or check - to: LBJ Productions Inc., P.O. Box 231, Goodlettsville, TN 37070-0231. Tell 'em the Rockabilly Hall of Fame sent ya!

---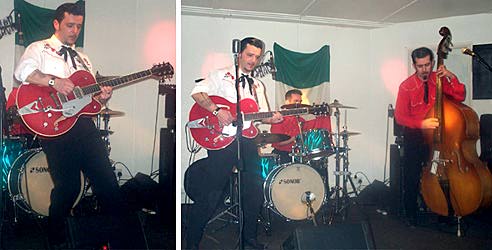 Photos: Rod Pyke

MARCO DI MAGGIO at THE CHICKEN SHACK BROGBOROUGH
SATURDAY 9th FEBRUARY 2002
Courtesy: Colin Kilgour - Feb. 11, 2002 - UK - A few Listers converged on the minuscule village of Brogborough near MK. There was CK, Rod Pyke, Rob Humphreys and after navigating their way, Bill Beard and family. We witnessed a superb set from Italy's Marco Di Maggio who proved to be not only an excellent performer but all-round nice guy as well. His scorching fingerwork across the Gretsch fretboard made me expect the cherry red beauty to burst into flames at any time. In fact he's so damned fast, I wouldn't be surprised if a computer count registered a million notes during the set. But it wasn't all about speed, if anything I enjoyed it more when he varied the tempo and highlights for me included:
I Just Found Out
Blue Days Black Nights
I Don't Care if The Sun Don't Shine
Sittin' In The Balcony
I Need Your Love Tonight
Crying, Waiting, Hoping
and a tasty instrumental (o' course) Sleepwalk
To quote a certain Mr. Knopfler, writer of one of the tracks on the 2 CDs I bought after the gig from Marco's trunk, "Oh yeah the boy can play" My word, can he play. I detected a touch of the Scotty Moore's here & there and Rob said the same re some Cliff Gallup flourishes. The only disappointing thing for me (and it applies to most things I go to see) is the apathetic attitude of the majority of the audience. Granted it's difficult to applaud with a pint in yer hand but there are ways of yelping your approval. The man from Florence deserved better but it was a tribute to his professionalism and obvious enthusiasm for the music that he didn't let it stand in the way of putting on a helluva show for the folks who were happy to demonstrate their pleasure.

MORE : MARCO DI MAGGIO AT THE CHICKEN SHACK, BROGBOROUGH
By Rob Humphreys. Marco barnstormed into Brogborough for the debut of his current tour and took no prisoners. Playing for around 90 mins he left us all exhausted and dazzled by his sheer artistry and commitment. He started in about third gear and swiftly moved up into overdrive. The only let up came when for one number he slowed things down and treated us to a multi chorded version of that old instrumental classic Sleepwalk - oh he also paused after about an hour to change his trusty Gretsch for an old battered Fender. Backed by just slap bass and drums this was a tour de force of Rockabilly - Blue Days, Black Nights, All By Myself, I Don't Care If The Sun Don't Shine, Cabin On The Hill - I can't remember them all but trust me they were excellent. Some Elvis (pre '60 of course..), some Eddie, a few instrumentals of his own. You might say why all the cover versions? But these aint cover versions 'cos he makes them his own and what better excuse to embellish those favourite guitar breaks of ours with even more fancy licks! The highlight number for me was Double Talkin' Baby with some three-dimensional Cliff Gallup guitar runs. There were quite a few calls for Highway Patrol (off Marco's Superpickin' CD) and this one Marco really has made his own - the tune is still running through my brain 24 hours afterwards. Marco and the boys came back for a three-song encore and the stand out track was the Stray Cats Rock This Town Tonight and Marco now back with his Gretsch went into warp speed. Aspiring guitarists go to see this man at your peril as you will realise how futile your own efforts could be. I'm sorry if this review is too enthusiastic but I cannot find any faults - like the old showmen used to say 'you get your money's worth in the first ten minutes and the rest of the show is free'. The flyers advertise Marco as 'from Florence' - don't let that make you think you aint gonna get the real thing - he's really from Planet Rockabilly .......
It was also nice to meet fellow Listers Colin Kilgour, Bill Beard and Rod Pyke.

---
WORTH A CLICK:
Scotty, ex-Stray Cat Back on Mystery Train
---
The Iowa RockNRoll Music association 2002 inductees are now listed. Congratulations to them all! See: www.IowaRockNRoll.com

---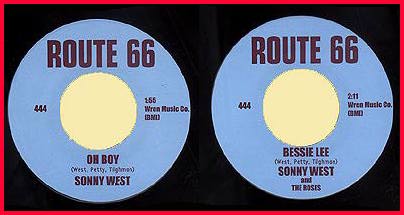 The world's first recording of OH BOY is now available.
CLICK HERE.
---
From RONNIE HAIG: BACKPORCHPICKER!
&nbspYou know you're a "BACKPORCHPICKER" if:
(1) You woke up one morning and realized you were 21 and didn't know
&nbspwhat a girl was, because all you'd ever had your arms around was
&nbspa "GIBSON LES PAUL"
(2) You're 60 years old and your back quits working from toting that
&nbsp200 pound "Marshall" in and out of every National Guard Armory
&nbspin the country.
(3) You have an open account at every guitar shop in town. (dollar down
&nbspdollar a week!
(4) You're out of gas, food, the car payment's past due, you're behind on
&nbspchild support, and you go out and buy new strings with rolls of pennies
(5) Every end table in your house is covered with picks.
(6) Tell everyone your fee is $ 500.00 a night, but wind up playing every
&nbspjam in town cause (you just love to play).
(7) Amount of time spent on the road includes every time you packed your
&nbsp"axe" to a friends house to steal his licks.
(8) None of the girls in town wear pantyhose when they're with you 'cause
&nbspthe callouses on your left hand rip them to shreds,(or they just use
&nbspthat for an excuse ).
(9) You get a job as carpenters assistant (between gigs) the first time
&nbspthe boss says "get me a clamp" you run to the car and fetch your capo.
(10) You're doin' a show,all the girls are goin' nuts, and you think it's
&nbspthose great licks you're playing; then you get done, go back stage
&nbspand find out all that time your fly was open ...
I'm sure you can add something to this list. Well what are you waiting for? Add yours to the bottom of this list and forward it to a fellow BACKPORCHPICKER! - Ronnie Haig
Anyone who might have memorabilia re: Ronnie Haig like pictures, old posters, albums, videos, etc., please contact him via e-mail - backporchpicker@aol.com

---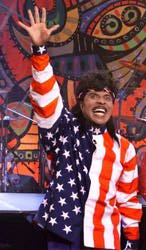 Little Richard waves to the audience after performing on The Tonight Show with Jay Leno with fellow rocker Chuck Berry during a taping at the NBC studios in Burbank, California, January 24, 2002.

---
WHERE IS EDDIE CASH? Now he does amazing tributes to the singing stars of the past. You see his shows and you still can't believe how great he does them. Eddie has moved to Green Bay, Wisconsin and has a dinner theater, there. They are lucky to see him regularly. The Eddie Cash Show Page

---
Bluesman John Jackson, who went from gravedigger to one of the nation's pre-eminent blues performers, died Sunday, Jan 20th from kidney failure. He was 77. During his long career, Jackson played for presidents and in 68 countries. Jackson earned a living as a cook, a butler, a chauffeur and a gravedigger before his music career took off. He was playing guitar for some friends at a gas station in Fairfax in 1964 when Charles L. Perdue, who teaches folklore at the University of Virginia, pulled in to get some gas. He listened as Jackson taught a song to a mailman he knew. He and Jackson became friends, and Perdue eventually helped launch Jackson's career by introducing him to people in the music business. The seventh son of 14 children, Jackson had just three months' education at the first-grade level. But he earned the admiration of fans from all walks of life around the world. B.B. King, Eric Clapton, Bob Dylan, Bonnie Raitt and Pete Seeger are among the performers he has played with and befriended. Among his numerous awards is the National Endowment for the Arts' Heritage Fellowship Award, which he received in 1986.

---
WORTH A CLICK:
Singer Peggy Lee Dies at Age 81
---
WORTH A CLICK: Art Greenhaw: collaboration with Ann-Margaret up for Grammy.

---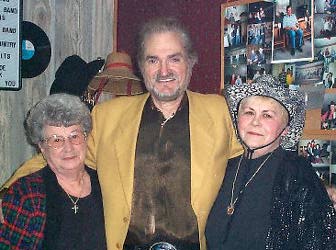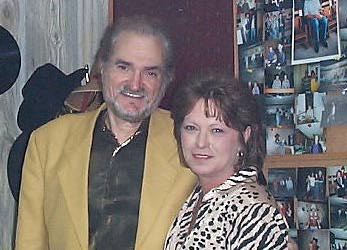 NARVEL FELTS appeared at Bootscooters in Dryersburg, TN on Saturday, January 12th. Narvel gave another "outstanding" performance. The highlight of the evening was when Narvel sang the US national anthem a-capella and the audience rose to listen, pay tribute to America and hear one the greatest versions every performed. You could have heard a pin drop. Pictured above is Narvel with Charlie Feathers' wife Rosemary and Shirley Richardson, Charlie's fan club president. The other pose is Narvel with Charlie's daughter Wanda. See Narvel's Photo/Review Page for two other photos taken that evening.
All photos courtesy of Wanda

---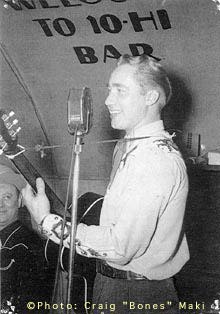 Eddie Jackson passed away Jan. 14, 2002 of respiratory failure. He was sick for nearly two and a half years. It's impossible to sum up the man's musical influence on Detroit's country & western scene (besides his influence on my own music-making) in this message. Pick up his Woodward LP and give it another listen while you read the liner notes. Please spread the word, remember him in your prayers and spin a 1940s Bob Wills w/ Tommy Duncan record after you hear Eddie's own recordings again. So long to a man who left everyone happier than they were before he arrived. God bless Eddie Jackson and his family.
Courtesy: Craig "Bones" Maki

---
Reminder: NEW DARREL HIGHAM CD. The new 12 track CD - Ghost Of Love - Debut release on new label, Hunka Burnin' Records, is now available through www.hunkaburnin.com or www.darrelhigham.co.uk - All 12 songs have been specially written for this CD by Darrel, and all are very much in the modern Rockabilly style, no authenticity here - Guaranteed!

---
NEWS from BRIGITTE HANDLEY: rockafilly@hotmail.com - "The website has just been updated to include some live shots of the Riff Randalls in action. Check out: htttp://www.brigittehandley.com - If you haven't got your copy of Brigitte Handley w/ Danny B Harvey, 'Stand Your Ground' CD you'd better be quick! Seems they are selling so fast that Revell Yell has decided to do a limited re-press!! The best way to get your hands on a copy is through one of the following:
Hepcat Records (US): http://www.hepcat.com/records/
Revell Yell Records (Japan): http://revely.room.ne.jp/%7Eryell/
Raucous Records (UK): http://www.raucousshop.co.uk/
For more details please check out: www.brigittehandley.com "

---
EDDIE ZACK DEAD. His friend Matt Connelly informs us: "I wanted you to know that Eddie passed away January 9, 2002. He was a great man, a class that few ever achieve. He helped many musicians, myself included, along the way. I am honored to have been one of Eddie's friends. He was so proud to have been a member of the Rockabilly Hall Of Fame. For that, I want to thank you. Eddie will be truly missed." Sincerely, Matt

---
SANFORD CLARK NOTES: "The Tawng Gang CD" - Is a great CD including two songs Sanford did for the Jamie label. Other artsist include: Donnie Owens, Two Dons, Mark Robinson, Al Casey, Duane Eddy and Lee Hazelwood.

---
WORTH A CLICK: Payola Talks, Talent Walks. "The fact of the matter remains that 99% of songs you hear on commercial FM radio have been bought and sold."

---
WORTH A CLICK: FEATURE: Marshall Lytle of Bill Haley's Comets
---
Alan Clark's 12/01 Blue Caps Tour Photos, 2 large pages.

---
21 PHOTOS: Blue Caps Tour, San Francisco show, 12/8/01, courtesy Kay Wheeler

---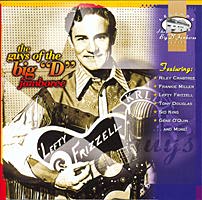 "THE GUYS OF THE BIG 'D' JAMBOREE CD IS AVAILABLE NOW! David Dennard, DSR, announces: For anyone who's interested, the new Dragon Street CD called "The Guys of the Big 'D' Jamboree" is available now from the DSR web site at www.dragonstreet.com as a pre-release on the web only. The regular street date for this CD is Tuesday, February 12, 2002, but we're making it available early on the web to any interested parties. Find out more about this title by visiting the DSR web site. Artists include Lefty Frizzell, Riley Crabtree, Frankie Miller, Tony Douglas, Joe Price, Gene O'Quin, Mitchell Torok, and many more. 30 live and studio tracks (72 minutes of music) with a 36 page booklet, including many unpublished photos, and a discography by western swing historian KevinCoffey. Very cool Texas honky tonk and early rockabilly stuff. (dragonst@flash.net)

---

BOOK: "WE GOTTA GO NOW," by Dennis A. Blackledge. Based on a true story and presents a backstage look at five working class young men and their attempt to break into the music business during the mid-1960s. Windholme Press - www.WeGottaGoNow.com - PO Box 2892, Wheaton, MD 20915-2892. 1-888-549-3909 - WeGottaGoNow@aol.com
---
CHURCH OF E, by author Scott Linker. Download and enjoy a comedy novella about a futuristic religion that worships Elvis.

---
NEW from HUELYN DuVALL
.

"She's My Baby" - Brazos Valley Records BV3020 Playing Time: 28.28 - She's My Baby / Face To Face / Magic Spell / My Love / It Wasn't Me / Surrounded / I Love Her So / Let's Make A Block / Does She Love Me / Hey Brutus
and
"The Best Of Huelyn Duvall 1957 - 1958" - Brazos Valley Records BV 3030 Playing Time: 27.59 - Three Months To Kill / Little Boy Blue / Teen Queen / Comin' Or Goin' / Boom Boom Baby / Pucker Paint / Juliet / Friday Night On A Dollar Bill / Hum-m-m-m-Dinger / You Knock Me Out / Fool's Hall Of Fame / It's No Wonder / Susie's House

---
WORTH A CLICK: The New Times article on George Harrison's passing November 29, 2001
---

2-TONES, CD: "No More Nothin" - Great rockabilly swing from The Netherlands, 24 tracks! Contact: Rarity Records, P.O. Box 656, 2003 RR Haarlem, Holland. E-mail: nooij@zeelandnet.nl - Fax: +31-(0)118-571294 and/or visit the website: www.people.zeelandnet.nl/tgilde/

---
WORTH A CLICK: Whole lotta shakin' going on: In `Good Rockin' Tonight' From the Boston Herald: Performers laud and lash out at Sun Records founder Sam Phillips, by Larry Katz

---
WORTH A CLICK: Sun Records Owner Looks Back At Historic Heyday
---
WORTH A CLICK: Chuck Berry Turns 75 - from Rolling Stone mag.

---

Courtesy: www.jerryosborne.com/art.htm
---
CD
POSTER

"ROCK BABY ROCK IT" - The CD, music tracks from the first rockabilly movie ever made. Now you can hear all 18 songs, including tunes by Johnny Carroll, Rosco Gordon and others. The liner note insert folds out to a nice size full color movie poster. It's a great package!. Available from: Goofin Records, PO Box 63, 01601 Vantaa, Finland. E-mail: info@goofinrecords.com - www.goofinrecord.com - The movie features dancing of Kay Wheeler.
The "Rock Baby Rock It" video is available here.

---
GENE WOOTEN R.I.P. - NASHVILLE - Gene Wooten, a Dobro player who backed Patty Loveless, the Osborne Brothers, Wilma Lee Cooper and other country stars, died Wednesday (Nov. 7th) of lung cancer. He was 49. Wooten, a native of Franklinton, N.C., moved to Nashville in 1977. He played on this year's "Mountain Soul" album by Loveless and was voted best Dobro player three times by the Society for the Preservation of Bluegrass in America.

---
RAYBURN ANTHONY has his own site. Please visit.

---
This is a recent photo of Matt Lucas on the "Rapsody of the Seas" cruise ship, taken summer of 2001 off the coast of Alaska.
---
Good Rockin' Tonight- Sun Legacy CD -- Ahmet Ertegun's latest production is released.
Bruce Sinofsky - Eynesse@aol.com - (films director): "Good Rockin' Tonight- The Legacy of Sun Records is a 16 track homage to the great records label. I was involved with this project and I hope you will all love it as much as I do. My film of the same title premiered on PBS November 28th 9 PM (est) I put my heart and soul into the film ... you will spend time with Sam and Jack Clement, Billy Lee Riley, Scotty Moore, Sonny Burgess, Malcolm Yelvington, Rufus Thomas, Johnny Bragg, Ace Cannon, Carl Mann, W.S. Holland, J.M. Van Eaton to name a few. Paul McCartney, Led Zeppelin, Mark Knoffler, Live, Matchbox Twenty with Jerry Lee Lewis are a few of the stars in studio interpreting Sun classics many of them are on the CD. Hope you watch and listen. I promise you it'll be an experience you won't soon forget."

---
THE BOP KINGS, "Blue Moon Bop". Good hard core originally rockabilly tunes and sounds. Casey Miller, vocals and guitar; Johnny Mendez, upright bass; Mike Nesloney, electric guitar. Most songs written by Casey, Contact The Bop Kings at 210-859-2643.

---
WILMA & THE UNKOOL HILLBILLIES, "A Home in Montana." (Yodeler 101) The first full-length alum of this Swedish act. A mixture of old time hillbilly music, wild rock and roll and solid rockabilly. Recorded live in studo with vintage equipment. Features Anders Umegard on piano. Most tracks are originals. Available from proper rockabilly dealers. Further info: Yoleder Records, e-mail: toe_tappin@hotmail.com - http://www.mp3.com/unkool

---
ANOTHER SAM PHILLIPS INTERVIEW, "Sam Phillips, the Sun king" - posted Oct. 29, 2001.

---
GOOD OL' FASHIONED ROCKABILLY!! Jumpin' is collection of rockabilly and primitive RnR titles from The Sugar Creek Trio, from Oxford UK. The tracks, all covers (some well known, some obscure), are delivered with vigour and conviction, while adding the band's own original style. For CDs and other info, e-mail Sugar_Creek@hotmail.com; Tel. +44 (0) 1865 516732

---
THE STUMBLEWEEDS, "Pickin' & Sinnin'" CD. The Stumbleweeds are an authentic 1950s honky-tonk country band out of Boston. Featuring powerhouse female vocals from Lynnette Lenker and re-hot playing by Tom Umberger (Racketeers), Red Soares (Speed Devils), Hot Carl (Speed Devils) and Kimberly Rullo, The CD, Pickin' and Sinnin', released in Spring 2001 on the Rawk Record label, is loaded with great originals about diggin' women and beer drinkin' men. Contact Information: Lynnette Lenker, PO Box 509, N. Chelmsford, MA 01863, 978-251-4179 - E-Mail: stumbleweeds@aol.com - http://hometown.aol.com/stumbleweeds

---
"SATURDAY NIGHT JAMBOREE" Memphis
"The 'Saturday Night Jamboree' was probably where the first live rockabilly was performed."

---
The Legendary Johnny Powers has his "New Spark (For an Old Flame)" CD available. This disc is packed with 73 minutes of American roots music. It includes 4 tracks where Johnny is joined by George Clinton. Snap up your copy(s) today. $12 per CD + $2 S&H. Jet-Eye Music, Inc., 7405 Crissman St., Utica, MI 48317. Check or money orders accepted.

---
MARCO DI MAGGIO is now the Official Representative for the Rockabilly Hall of Fame in Italy. He would like to review your CD for Italian magazines and news media. Please contact Marco on how and where to submit your material. ALSO: Marco is doing booking in Central Europe under the Rockabilly Hall of Fame name. Please submit your PR info to him. He sincerely wants to help promote rockabilly in Italy and Europe. MARCO plans on being in the United States during the end of March and full month of April 2002. He will be available for shows. Please contact Bob Timmers (bob@rockabillyhall.com) OR E-mail Marco. Thank you.
NOTE: (Nov. 17, 2001) - Marco has asked us tell RHOF readers that his computer was crashed by a virus and if you need to contact him, please write. He also lost all his contact info, so you might want to send him a note to help him get his address book restored.
MARCO DI MAGGIO
VIA V.EMANUELE II, 11
50134 FLORENCE, ITALY
0039 055 482245 (PHONE & FAX)


---