A R C H I V E - #10
Penny Pynchers 1st Annual Rat Riot '05
When? August 6th 2005. Open 8am-4pm Registration 9-1.
Where: Amanns Reservior St Rt 309 South of Galion, Ohio 44833
Open to all ol'school type of cars, kustoms, trucks, bikes (choppers bobbers, etc.) mid sixties type slingshots, alterds, drag cars etc. welcome 1966 and under, no exceptions. This show is dedicated to all the home built/low budget cars of yesteryear. Old originals discouraged, but welcome. No Billet rides! Must have carb(s), or old style fuel injection, (factory, old hillborn etc.) NO trophys (awards for events, contests only). No selling from your car, please be fair to the folks that paid for their swap meet spot. Games and events planned, pin-up girl contest (picked by applause) food, sorry no alcohol. Email: timex123@bright.net or call Bill 8-5est. 419-468-1254

---
MATT LUCAS REPORTS IN:
June 22, 2005 - We leave for shows in Sweden on July 4th then Copenhagen on the 10th, Tallin, Estonia on the 12th, Helsinki the 13th, St. Petersburg Russia on the 15th, Gothenburg Sweden for a show on the 19th, my 70th birthday then back home on the 21st just in time to mow the lawn etc. Then fly to London on August 28th, Paris Aug. 30th, Plymouth England 31st, Cork Ireland 2 days later then Halifax, Portland, Boston and home on Sept. 22nd. Hugs, Matt & Barb

---
WORTH A CLICK:
HEAVY TRASH. Diving in the Rockabilly Dumspter
---
---

3rd Rhythm & Booze Weekender, July 1-2-3, 2005
at the Historic El Monte Elks Lodge, El Monte, CA
Featuring Johnny Powers and Hayden Thompson
Contact: Von_Badsville@writeme.com

---
JODY GIBSON died June 8, 2005 at his home after a long bout with cancer.

---

Artist: Screamin' Scotty
Genre: Authentic Rockabilly
Location" Colorado
Label: Sin'Gal Records
Singles: Jenny Jean/2002, My Baby's Got Eyes In The Back Of Her Head/2005
Website: www.screaminscotty.com
Contact: scotty@screaminscotty.com"

---
ART GREENHALL INTERNATIONAL GUITAR NIGHT.
Hosted by Art Greenhaw and DFW International, the Third Annual Art Greenhaw International Guitar Night will be held at the Pocket Sandwich Theatre on Friday, July 1, at 7:30. The show will be an evening of eclectic music celebrating guitar and string instrument music from around the world. Art and other of the Light Crust Doughboys will join with many of their international string-playing friends to present the best in folk and popular string music. The show will celebrate music prior to the "rock era," with special emphasis on western swing, finger-style American country, European gypsy, and the exotic sounds of guitars and strings instruments of South America, Mexico, and Asia.
The theatre will open for the International Guitar Night at 6:15 on Friday, July 1, and the show will begin at 7:30. Dinner and beverage service will be available. Tickets are $16.00. The Pocket Sandwich Theatre is located at 5400 East Mockingbird, Suite 119, Mockingbird Central Plaza, one block east of Central Expressway. For reservations or information, 214-821-1860.

---
WORTH A CLICK:
Rockabilly revivalist Robert Gordon on comeback trail
---
ROCKABILLY.US MUSIC SHOWS.
New Florida Music Show Generates Excitement for All Ages with Golden Oldies, Elvis, and Country Music with a 'Twist'. RockAbilly.US Music Shows, a very large musical production group is taking Florida by storm. The group has been working full time to produce and prepare their shows for several years, and in the last few months since their debut in March at the Sumter County Fair, their name and fame are spreading rapidly across the country. They are not just an oldies, Elvis, and country music show. They have added so much more, and their fans keep literally begging for more shows, more often. Their web site has a lot of info: www.rockabilly.us.

---
JOHNNY CASH HOME FOR SALE.
The Hendersonville home of Johnny Cash and June Carter Cash, where the country music legends lived for 35 years and played host to a long list of musicians, movie stars and other celebrities, has been put up for sale by the late couple's family.
The 13,880-square-foot home on the edge of Old Hickory Lake was listed Monday with a $2.9 million asking price. The house has 18 rooms, including seven bedrooms, five full baths, an outdoor swimming pool and bell garden.
Plans to put the Hendersonville home at 200 Caudill Drive on the block have been in the works since Johnny Cash died on Sept. 12, 2003, about four months after wife June's passing. But any sale had to wait for the couple's belongings inside the home to be distributed among family members or donated for public display.

---
BO and CHUCK NEWS.
The special limited edition 50th anniversary reissue of BO DIDDLEY's debut single "Bo Diddley"/"I'm A Man" set for release by the Universal Music Group in the UK on Monday June 20th will be available in 2 formats: 2-track CD (Chess 9830032) and 7" vinyl (Chess 9830033).
The 50th anniversary reissue of Chuck Berry's debut single "Maybellene"/"Wee Wee Hours" will also be available on both 7" vinyl (Chess 9830034) and 2-track CD (Chess 9830035) formats on the same day.
Both singles are described by Universal thus: "We present this historical 50th anniversary limited edition single. Celebrating a pivotal moment in modern guitar music that changed the lives of both the people who heard it, (The Beatles and The Rolling Stones included), and the direction of music itself".

---
WORTH A CLICK: Around the Clock at WLAC Nashville. More about Don Boner's feature-length screenplay. "WLAC Nashville."
Ed Note: "I've read the script and found it very accurate and entertaining. It brought back many memories for me ... listening to John R., Hoss Allen, Gene Nobles, and Herman Grizzard late at night, ear pressed to the radio." -Bob Timmers

---
Ponderosa Stomp 2005 Revisited Link Photos and Movies!

---
JERRY ENGLER'S CD, "A Whole Lotta Years, A Whole Lotta Music," features two cuts with Buddy Holly on guitar and Jerry's great hit "Sputnik." More information here: cdbaby.com/cd/jerryengler

---
VIVIAN LIBERTO R.I.P.
Johnny Cash's first wife, Vivian Liberto, died Tuesday (May 24, 2005) in California at age 71 following a battle with cancer. The couple met during his military duty at Brooks Air Force Base in San Antonio before marrying and settling in Memphis in 1954, prior to his first recordings for Sun Records. In addition to singer-songwriter Rosanne Cash, they had three other daughters - Kathleen, Cindy and Tara. They divorced in 1966, and he married June Carter in 1968. In October 2004, Liberto - by then known as Vivian Liberto Distin - asked the city of San Antonio to give her a bench into which Cash had carved the words "Johnny Loves Vivian" in 1951. City officials declined her request, removed the bench from the city's downtown Riverwalk and placed it under lock and key.

---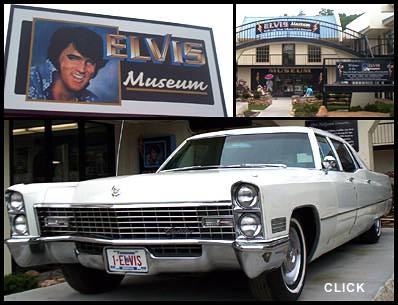 Elvis Museum, Pigeon Forge, Tennessee
Located at 2638 Parkway, Pigeon Forge, TN at Traffic Light #3. Above is Elvis' Hollywood Limousine. This 1968 Special Edition Cadillac was the limousine that Elvis used to travel from his Beverly Hills home to the Hollywood studios while filming movies. The vehicle was later used by Charles Bronson in the movie, "The Mechanic."

---
CHAN ROMERO NEWS.
"Just wanted to let the fans know that Chan Romero is currently touring Australia for the a series of concerts on the Eastern side of Australia. he did a very successfull show in Melbourne last night (Sat 28th) and will de doing a few more in the Sydney area before heading to the Australian Rock and Roll festival at Wintersun the following where he will be one of the main attractions." Kind regards, Bob Hayden - bobhayden@ozemail.com.au

---
WORTH A CLICK:
Take a CASH course
---
HAPPY BIRTHDAY (May 25th) to Mitch Margo, lead singer of the Tokens.

---
---
May, 18, 2005 - Frank Gorshin, the actor and impressionist best known as the Riddler on the Batman TV series, has died at 72. Gorshin died of lung cancer, emphysema and pneumonia with his wife, Christina, at his side. A skilled impressionist, he did more than 40 impressions including Al Jolson, Kirk Douglas, Bobby Darin, Dean Martin and James Cagney. He was a regular in Las Vegas, opening for Bobby Darin. His movie roles included Bells Are Ringing (1960), with his idol Dean Martin, and B-movies such as Hot Rod Girl (1956), Dragstrip Girl (1957) and Invasion of the Saucer Men (1957).

---
SLIM JIM PHANTOM TOUR NEWS
May 18th - Only one week before the first leg of Jim's summer tour kicks off and the guys are raring to go. For the very latest CAT WITH 9 LIVES tour news please read below:
We are pleased to announce two newly confirmed dates:
Wednesday 20th July: B72 Club, Vienna, Austria
Friday 29th July: The Tivoli, Helsingborg, Sweden
Due to circumstances beyond our control, we sadly have to announce that the following date has been cancelled: -CANCELLED - Tuesday 28th June: Los Picos, LiŽrganes Santander, Spain - CANCELLED
VENUE CHANGE: Please note that the venue for the Koln, Germany show on Sunday 7th August is the PRIME CLUB and NOT Live Music Hallen as previously stated.
TRIO LINE-UP NEWS: We are happy to welcome guitarist Tara Novick to the tour.
Please note that the Trio line-up in Sweden (May 25th to June 12th) will be:
TARA NOVICK (guitar)
JONNY BOWLER (bass)
SLIM JIM PHANTOM (drums)
The line-up for the remainder of the tour will be:
DARREL HIGHAM (guitar)
JONNY BOWLER (bass)
SLIM JIM PHANTOM (drums)
[www.slimjimphantom.com]

---
BLUEGRASS LEGEND JIMMY MARTIN DIES
Bluegrass pioneer JIMMY MARTIN died in Nashville, Tennessee Satyrday, May 14, 2005, one year after being diagnosed with bladder cancer. He was 77. Martin shot to fame in the 1950s with bands such as THE BLUE GRASS BOYS and THE SUNNY MOUNTAIN BOYS, and was inducted into the International Bluegrass Music Association's Hall of Honour in 1995. The legendary singer and guitarist was later honoured on screen in the 2003 documentary film KING OF BLUEGRASS: THE LIFE AND TIMES OF JIMMY MARTIN. Fellow Bluegrass musician Jeff Hanna said of the star, "He's a wild man in the best sense of the term, and he's the only one who brought the fire of rockabilly music to bluegrass." He is survived by his son, Lee Martin.
Jimmy Martin slide show
Jimmy Martin speaks

---
TOWN TO CREATE HANK SR. MUSEUM
Oak Hill, W.Va. - The town of Oak Hill plans to turn the former Pure Oil service station - where a chauffeur discovered the death of country singer Hank Williams Sr. - into a museum. Williams was being driven from Montgomery, Ala., to Canton, Ohio, for a concert when his driver found him dead after pulling the songwriter's baby blue Cadillac into the station. The 29-year-old Williams, whose hits included "I'm So Lonesome I Could Cry" and "Your Cheatin' Heart," was declared dead on New Year's Day in 1953. He died of a drug and alcohol overdose.
The lease will be held by the town until it can be turned over to a new foundation that will administer the museum, Oak Hill Mayor Barbara Hickman said. Hickman is encouraging donations of memorabilia and hopes that state funds will be allotted for the project. But Williams' memorialization hasn't enjoyed universal support among state lawmakers. A measure to designate a section of state Route 16 in Fayette County the "Hank Williams Sr. Memorial Road" failed during this year's legislative session.

---
LITTLE ARON & THE EAST RIVER BOYS from Alvdalen, Sweden play "freakin' good rockabilly." Both of their CDs are available HERE.

---
LEFTY FRIZZELL SPECIAL
Nashville, TN: On Thursday, May 26, 2005 ... A Special Two Hour "Online" Special to Lefty Frizzell Starring David and Allen Frizzell at 8:00 PM Eastern / 7:00 PM Central will take place. Price of admission is $3.00 for this great two hour performance. Please help spread the news to other traditional country fans. Just click this link for more details: www.originalcountryradio.com.

---
CD Review: Elvis By The Presleys. I grew up listening to Elvis Presley. But even though the King left a lasting impression on me, it had been a long time since I had listened to more than a quick radio oldie. Luckily I was able to pick up a copy of 'Elvis by the Presleys' and relive some old memories. The album is a companion to the documentary to be aired Sunday, May 8. The album, a 2 CD set, is a broad stroke of Elvis music - from one of his first demos to some of his last performances. The whole multimedia event is especially vivid due to the intimate involvement of Priscilla and Lisa Marie.
The first CD starts out with a bang with 'Trying To Get To You' and the classic 'Heartbreak Hotel'. The pace keeps hot until Elvis's rendition of the old gospel tune 'There Will Be Peace In The Valley' slows things down, along with the 'Hawaiian Wedding Song' (with a little bit of 'Trouble' thrown in for good measure. I had also forgotten how many songs Elvis had made his own, such as 'The Ghetto', 'Suspicious Minds', 'Bridge Over Troubled Water' (though Simon and Garfunkel still did it the best), and 'Welcome To My World', the old Dean Martin theme. Personally I love the rockabilly, rock n roll Elvis better than the crooning balladeer, but have to admit he did it all, as he sings in 'My Way'.
The second CD of the set is the real collectors item. At least 5 previously unreleased versions or recordings, including two private recordings, reside on this disk. The first song is an almost unrecognizable young man singing 'It Wouldn't Be The Same Without You', one of the very few known demos Elvis made in 1954 before signing with Sun Records. There are several studio takes of songs such as 'Jailhouse Rock'. The private recording of 'I'm So Lonesome I Could Cry' is probably Elvis at his best - strumming his guitar in an intimate environment and singing a soulful song.
This CD set is a must for not only those who are fans of the King, but for all those who grew up with his music and want to relive a bit of their past. 'Elvis by the Presleys' released by Sony BMG. -J. Thompson (www.elitestv.com>

---
CAMEO-PARKWAY "KIDS ... CHARLIE GRACIE with his first "gold disc" for 'Butterfly,' the song that started the C.P. dynasty, with Dick Clark-the biggest booster of C.P. artists, Jerry Gross and Marc Stevens of the DOVELLS, DEE DEE SHARP, BOBBY RYDELL AND CHUBBY CHECKER. THE CAMEO-PARKWAY 4-CD BOX IS SET FOR WORLD-WIDE RELEASE ON MAY 17TH! More photos to come! - chas., jr. - butterfly1957@rcn.com

---
2nd Annual HOOTENANNY IN THE HILLS, July 8-10, Salem, Massachusetts. This years hootenanny will take place in downtown Salem, Mass, at Dodge Street Bar & Grill, 7 Dodge Street. This will be a three-day event. The hootenanny can best be described as a rockabilly, psychobilly, punk, lifestyle event with an edge.
July 8 - 8pm The Demon Truckers, 9pm The Devil Spades, 10pm The Brimstones, 11pm The Cobra-Matics, 12pm Los Retros, Plus DJ Kelly Barr
July 9 - 3pm The Fury 3, 4pm The Twilight Ranchers, 5pm The Stumbleweeds, 6pm Johnny Carlevale and the Broken Rhythm Boys, 7pm The Revival Preachers, 8pm Thee Monkey Butlers, 9pm The Tombs Tones, 10pm Ace Brown and The Helldivers, 11pm The Coffin Lids, 12 pm The Raging Teens
July 10 - 4pm The BobCat Six, 5pm Miss Lauren Marie, 6pm The Automations, 7pm Grave Yard BBQ, 8pm Zippo Raid, 9pm Six Gun Republic, 10pm Los Gatos Locos, 11pm Sasquatch and the Sickabillys, 12pm The Photon Torpedoes (Reunion Show), Plus DJ Texas Bob Tickets are $5 online for July 8 ($7 day of show), $10 online for July 9 (12 day of show), and $10 online for July 10 ($12 day of show). More info at: http://www.hootenannyinthehills.com/bands.htm

---
---
JOHNNY MEEKS (April 30, 2005) reading the recent issue of Gritz Magazine. RHOF curator Bob Timmers writes a rockabilly column for Gritz, published by Michael B. Smith. Johnny was on a break while doing his weekly one-man show near Greenville, South Carolina.

---
BRIAN SETZER will release the twenty-three track "Rockabilly Riot Vol. One - A Tribute to Sun Records" on July 26th. The album pays to tribute to the early songs of Elvis, Jerry Lee, Johnny Cash and Carl Perkins. The former Stray Cat and orchestra leader takes on his most obvious set of covers yet ­ an accomplishment in and of itself ­ with his CD. As its title implies, Setzer turns his sites on rockabilly standards produced in Sun Records' glory days. Expect covers like Carl Perkins' "Blue Suede Shows" and Warren Smith's "Red Cadillac and a Black Moustache."

---
DL CHUY is on the radio ... Internet Radio.
Starting Monday April 25th you can tune in to XRADIO.BIZ he'll playing all your favorites from Rhythm N Blues, Doo-Wop, 50s Rock N Roll, Rockabilly and Roots Music. Be on the look out for special guest bands, Djs and everyone else involved in Rockabilly Music.
Monday-Saturday
Dj Chuy - 2pm-6pm
Red West - 6pm-10pm

---
---
Original Ramones Drummer Goes Country
Tommy Ramone, the first drummer to sit behind The Ramones' kit, announced he's starting afresh, as an old-time country act. His latest project, Uncle Monk, draws on classic country and bluegrass, and promises to bring some of the punk spirit into the alt-country arena. Don't hold your breath waiting for the doubletime 4:4 beats Ramone pioneered, however: He steps out from behind the drums to play guitar, mandolin, banjo and dobro.

---
NEW ART ADAMS CD
"I have the honour and pleasure of announcing that Art's new CD - ROCKIN' MY WAY AROUND - is now available! Just released on Collector Records. 26 GREAT TRACKS! Including; Tear It Up (Burlison/D.& J. Burnette), The Wreck Of Old 97( J.Cash), Red Headed Woman (S. Burgess) and 7 great songs by Art, including She's From Tennessee! And you can get an autographed copy from Art for only $15 U.S.! Just send your cheque or money-order to:
Art Adams
2774 Jefferson Dr.
Plainfield, Indiana U.S.A. 46168"
- Hank, hmengel@hotmail.com

---
LINDA GAIL LEWIS
"Linda Gail has a new album released in Denmark with daughters Annie & Mary Jean, THE LEWIS THREE. With the exception of Chuck Berry's 'Johnny B. Goode', it's mainly 3 part acoustic harmony, not a rock n roll album at all. Particularly impressive was their unique rendition of 'Mansion Over The Hilltop' which will be familier to Elvis followers. At times it reminded me of fifties girl group The Miller sisters who recorded at SUN. Perhaps best known for "Ten Cuts Down" a recognised rockabilly classic. They cut many unreleased pure country sides for Sam. -Barrie Gamblin
The Lewis 3's "Perfect World" CD is available from me for £12 inclusive of postage worldwide: peterchecksfield@aol.com
Upcoming Linda Gail Performances:
April 16, 2005 : Majons College Near Airport, Majons College Plymouth United Kingdon
April 20, 2005 : Pilot / Bear Pit, Queens Road Penarth United Kingdom
April 21, 2005 : Pill Memorial Club, On A269 Near Royal Dano Bristol United Kingdom
April 22, 2005 : Sailsbury Club, Walters Road Swansea United Kingdom
April 23, 2005 : The New Ritz, Bradford Road Brighouse United Kingdom
April 24, 2005 : British Legion Club, Station Approach Penarth United Kingdom

---
WORTH A CLICK:
Rockabilly singer Wanda Jackson gets her due
---
WORTH A CLICK:
SHEREE HOMER'S VIVA LAS VEGAS 2005 PHOTOS
---
MAKE PLANS NOW

Friday 15th July 2005 - The Mill, PRESTON, UK
Saturday 16th July 2005 - The Charlotte, LEICESTER, UK
Sunday 17th July 2005 - Lock 17 (Dingwalls), LONDON, UK
LEE ROCKER & His Band (ex-Stray Cats)
+ UNION AVENUE
+ CATHOUSE CREEPERS
Tickets: 0115 912 9000
www.seetickets.com

---
THE BIM BAM RECORDS TOP 20 COMPILED FROM SALES
ALL AVAILABLE NOW ONLINE AT (http://www.bim-bam.com/)
April, 2005
1) DARREL HIGHAM ... MIDNIGHT COMMOTION ... FOOT TAPPING
2) VARIOUS ... BLOWING THE FUSE - ALL VOLUMES ... BEAR FAMILY
3) BOYD BENNETT ... ROCKIN' UP A STORM - BEST OF ... ACE
4) GENE VINCENT ... THE ROAD IS ROCKY ... B/F
5) V/A SATURDAY NIGHT ON BOP STREET VOL 8 ... BOP
6) V/A CENTRAL ROCKS ... ACE
7) THE LAMPLIGHTERS ... LOVING-ROCKING-THRILLING ... ACE
8) V/A EARLY GIRLS VOL 4 ... ACE
9) RUSS HAMILTON ... RAINBOW ... OMG
10) THE R&B YEARS - 1954 ... BOULEVARD VINTAGE
11) TERRY DENE ... DECCA SINGLES COLLECTION ... VOCALION
12) VARIOUS ... BIG NOISE ROM PLANET BOPS VOLS 1-4 ... BOPARAMA
13) LINDA GAIL LEWIS ... LIE AND DENY ... .LANTASI
14) VARIOUS ... STAY ALL NIGHT: BUDDY HOLLY'S COUNTRY ROUTES ... TEXAS ROOTS
15) VARIOUS ... STOMPIN' SINGERS & WESTERN SWINGERS ... PROPER BOX
16) LORD ROCKINGHAM ... DECCA SINGLES COMPILATION ... VOCALION
17) THE CRYSTALAIRS ... STAR CATCHER ... SWEET BEAT
18) JOHNNY KIDD ... UNRELEASED BBC SESSIONS 1959-1961 ... BLAKEY
19) DICK DALE ... SURFIN' AND A SWINGIN' ... SURF
20) VARIOUS ... THAT BRITISH SOUND VOL 3 ... BLAKEY

---
WORTH A CLICK: SCOTTY MOORE - Props for the CBS Elvis mini series

---
WORTH A CLICK:
VIVA LAS VEGAS 2005 #8 PHOTOS
---
STUDIO IN ROMANIA
"We are Sfera Studios a new company located in Bucharest, Romania. And we are interested to find new contracts in order to be the no.1 sound selling studio in Eastern Europe. Our company offers professional services. We are no.1 recording music studio in Romania, but also we are one-stop shop for original advertising jingles, radio commercials, custom made music, logos, dubbing and sound design. Give us a test." For further details, please contact: Costin Dumitrache, +4 0722.911.711 - costind@studiourilesfera.com - visit: www.studiourilesfera.com

---
Concert promoter Saul Holiff, Johnny Cash's manager, dead at 80.
Nanaimo, British Columbia -Saul Israel Holiff, a former concert promoter and Johnny Cash's manager for 17 years, has died at age 80. Holiff, who also managed Tommy Hunter and the Statler Brothers, died Thursday, March 17, 2005.

---
"THE DI MAGGIO CONNECTION" CD
Here is the info on how to order Marco Di Maggio's new CD. You should be able to order with paypal, credit cards and cash. The CD, The Di Maggio Connection,  is on the Area Pirata label, www.areapirata.com.
E-Mail contacts:
apirata@tiscali.it
areapirata@areapirata.com
apirata@areapirata.com

---
The Ervin Travis DVD is now available.
ORDER IMFORMATION:
Details of the DVD can be found on Big Beat's website at www.bigbeatrecords.tm.fr.
For UK customers
The DVD will retail at £17.50
UK postage & Packing = £2.00
Payment of £19.50 accepted by Cheque/Postal Order
Payable to L.CARRINGTON (NOT Big Beat as we dont have a UK account with that name!) and posted to:
Big Beat Records
270A Carlton Road
Worksop
S81 7LQ
Notts
Payment can also be made by Paypal using ID: bigbeat2@wanadoo.fr.
For European and worldwide sales of Ervin's DVD
The European price incl P&P = 28 Euros - Cheque payable to HVC Musique. Orders and enquiries can be sent either by email to bigbeat2@wanadoo.fr or to Big Beat's address in France, which is:
Big Beat Records
BP 44
Les Issambres
83380
France
Payment can also be made by Paypal using ID:  bigbeat2@wanadoo.fr.
For USA Sales
The USA price incl P&P = $38 - Payment can only be accepted by Paypal by using ID  bigbeat2@wanadoo.fr.
If you are a Gene Vincent fan, you shouldn't miss purchasing this DVD.

---
WORTH A CLICK:
BOOK - Rock Around the Clock: The Record that Started the Rock Revolution!

---
ART ADAMS YAHOO E-MAIL GROUP
Art Adams invites you to join his Yahoo online group. You'll get emails letting you know about his upcoming shows, and be able to post pictures and post group messages to other Art Adams fans and friends all over the world! Join by going to: http://launch.groups.yahoo.com/group/ArtAdams/. Art's got lots of shows coming up, his new CD's about to come out, AND he's working on two movies! Hank Engel is the group's moderator.

---
WORTH A CLICK:
Upcoming Buddy Holly Show in Canada
---
NEW ARTISTS ADDED TO PONDEROSA STOMP
Upadte 3/2/05 - Master of Ceremonies for both nights, Earl Palmer! Sun Records rockabilly legend, Hayden Thompson. Jimmy "Funny How Time Slips Away" Elledge. Zigaboo Modeliste. James "Blood" Ulmer.
Ponderosa Stomp Internet Radio: Listen to all of your favorite Mau Mau artists in our free internet radio station at Live365.com. Click for Over 6 Hours of Music. (Or go to Live365.com and search the stations for "Ponderosa Stomp.")
Order Your Tickets Now. Tickets are $35 per night can be now be purchased online. We ship tickets first class mail in the USA and also ship internationally.) In New Orleans, tickets can be purchased at the Louisiana Music Factory, 210 Decatur Street, New Orleans, LA 70130. (504) 586-1094.

---
WORTH A CLICK:
Singin' the blues: Black artists deserve their due.
---
WORTH A CLICK:
We've Got the Blues ...
---
ATTENTION LINK WRAY FANS:
Thought I'd pass along the word that Link Wray will be back touring the USA in April and May. There's still some dates available if anyone knows of a club owner who would like to book Link. They should contact Link's official booking agent, Marc Menchner at http://www.actionpackedevents.com or mainemench@aol.com. I've got the schedule so far listed on my fan site http://www.WraysShack3Tracks.com - The direct link is http://www.WraysShack3Tracks.com/2005TOUR.html - Think Link! Greg Laxton

---
Hey BO DIDDLEY fans.
To mark US Black History Month 2005, the popular Soul-Patrol.com website is to host a special on-line chat session with BO DIDDLEY beginning at 10.00pm EST next Wednesday (February 16th), (03.00am GMT/UTC on Thursday February 17th). Fans and their families around the world wishing to take up this very special opportunity to chat live and on-line with BO DIDDLEY about music, history, culture and more should visit the Soul-Patrol Chat Room, located at http://www.soul-patrol.com/chat/ shortly before 10.00pm EST next Wednesday February 16th (03.00am GMT/UTC on Thursday February 17th) and submit a valid e-mail address and their Zip code to enter the Chat Room. Soul-Patrol.Net Radio will also be broadcasting the music of BO DIDDLEY directly into the Chat Room for the duration of this chat session. In order to enjoy the full Soul-Patrol Chat Room experience you will need to have the Macromedia Flash Player and RealPlayer installed. Both are free downloads and are available from http://www.macromedia.com/ and http://www.real.com/ respectively. Soul-Patrol is a series of Internet resources focused on soul, funk, jazz and blues music and culture of the 1950s thru 1980s. Do not miss this special opportunity to chat on-line with BO DIDDLEY on Wednesday February 16th, beginning at 10.00pm EST.
Soul-Patrol website: http://www.soul-patrol.com/
Soul-Patrol Chat Room: http://www.soul-patrol.com/chat/

---
Deke Dickerson's New DVD, Guitar Giveaway.
You may have heard what a good time was had at Deke Dickerson's second annual Guitar Geek Festival a few weeks ago. If you missed the 2004 Guitar Geek Festival, or if you were lucky enough to be there and want to re-live the memories, Deke has now made available a DVD of that great event! Just $15 plus shipping at http://www.dekedickerson.com (if the popup doesn't come up immediately, click on the poster image!)
ALSO ... Everyone who buys this DVD will be automatically entered into a drawing to win a BRAND NEW Fender Squier Telecaster with Seymour Duncan-designed P-90 pickups, autographed by the stars of Deke's 2005 Guitar Geek Fest: Nokie Edwards, Dick Dale, Lady Bo (of Bo Diddley's 1950s band), T.K. Smith, Big Sandy, Sugarballs Sprague, Del Casher, Brian Lonbeck, Dave Bunker, Jeremy Wakefield, Mel Bergmann of the Phantom Surfers and Venturesmania, Garrett Immel of the Ghastly Ones and Venturesmania, and yours truly! The drawing will be held at one of Deke's upcoming L.A. shows. (Shipping will be free in the USA. If the winner is outside the U.S., then all they have to pay is shipping.)

---
Little Richard's Vegas Dates
Wed 05/11/05 - Las Vegas, NV - Orleans Casino
Thu 05/12/05 - Las Vegas, NV - Orleans Casino
Sat 05/14/05 - Las Vegas, NV - Orleans Casino
Sun 05/15/05 - Las Vegas, NV - Orleans Casino
Sat 09/24/05 - Las Vegas, NV - Orleans Casino
Sun 09/25/05  - Las Vegas, NV - Orleans Casino

---
WORTH A CLICK:
The Gene Summers Bio at AllMusic
---
WORTH A CLICK:
BUDDY HOLLY / SURF BALLROOM
---
HEAVY REBEL WEEKENDER 2005 ANNOUNCED!
The 5th annual HRW is coming in July - 1st 2nd and 3rd! With over 75 bands scheduled, on three stages. HRW Custom Car and Bike Show, Mud Wrestling, Art Gallery, Vendors Galore, CrossRoads Guitar Contest, Most beer in 60 seconds contest, Wet-Wife Beater Contest, Greaser Auction, Bananna Pudding Eating Contest and A LOT more. Band line-up coming. TICKETS: 65.00 for ALL THREE days, OR, 25.00 per day (US Dollars). ALL AGES show. Rocket5201@cs.com - www.HEAVYREBEL.net

---
CHUCK BERRY to play France, Flordia
Wed 03/16/05 - Sanary, FRA - Theatre Galli
Thu 03/17/05 - Cournon, FRA - Zenith D'Auvergne
Fri 03/18/05 - Beauvais, FRA - Elispace
Sat 03/19/05 - Lille, FRA - Theatre Sebastopol
Sun 03/20/05 - Nancy, FRA - Zenith Nancy
Fri 04/08/05 - Sarasota, FL - Van Wezel Perf. Arts Hall
Sat 04/09/05 - Clearwater, FL - Ruth Eckerd Hall
Tue 04/19/05 - Melbourne, FL - Maxwell C. King Center
Wed 04/20/05 - West Palm Beach, FL - Raymond F. Kravis Center

---
WORTH A CLICK:
JAMES DEAN
Hey BO DIDDLEY fans, A number of broadcast and on-line music programs around the world are planning special shows and features during the months of February and March to mark the 50th anniversary of BO DIDDLEY's debut recording session. One of the first of these specials is billed as a 2-hour "BO DIDDLEY Blast-O-Rama" of classics and covers in homage to The Originator and is due to be broadcast on the weekly "Rock & Roll Radio" show hosted by Jim Stark on WUSC-FM 90.5 between 8.00pm-10.00pm EST this Wednesday (February 2nd) (1.00am-3.00am GMT/UTC Thursday February 3rd). WUSC-FM 90.5 free-format alternative radio station is the student-run station of the University of South Carolina, Columbia Campus and is available to listeners around the world via audio stream webcast by visiting the station's website located at http://wusc.sc.edu/ and clicking on the "Listen" link.
WUSC-FM 90.5 website: http://wusc.sc.edu/
"Rock & Roll Radio" program website: http://rnrradio.com/
Another one of these specials is now planned for Sunday March 6th between 6.00pm-9.00pm EST (11.00pm-2.00am GMT/UTC Sunday/Monday March 6th/7th) on the weekly "Outsight Radio Hours" show hosted by Tom Schulte and webcast on the Berkeley, CA-based station LUVeR. That evening's show will conclude with an uninterrupted and complete playing of both sides of BO DIDDLEY's 1958 debut LP "Bo Diddley" (Chess LP-1431), which includes amongst the 12 tracks such early classics as "Bo Diddley", "I'm A Man", "Bring It To Jerome", "Before You Accuse Me", "Hey Bo Diddley", "Diddley Daddy", "Diddy Wah Diddy", "Who Do You Love", "Pretty Thing" and more. "Outsight Radio Hours" eclectic, live Internet radio is available to listeners around the world via RealOne audio webcast by visiting the LUVeR station's website located at http://www.luver.com/ and clicking on the "Watch/Listen to LUVeR!" link. The program is also available to listeners around the world on demand 24/7 via the show's Live365.com webpage located at http://www.live365.com/stations/94510
"Outsight Radio Hours" program website: http://www.new-sounds.com/
LUVeR station website: http://www.luver.com/
"Outsight Radio Hours" Live365.com webpage: http://www.live365.com/stations/94510

---
WORTH A CLICK:
A WANDA JACKSON Feature Article
---
Bill Simmons, Doughboys' Keyboardist, Dead at 80.
Irving, Texas ‹ Veteran Western swing musician Bill Simmons, keyboardist with the Grammy-award winning Light Crust Doughboys, has died. He was 80. Simmons died Monday, Jan. 24, 2005 at his home from cancer of the esophagus, said Art Greenhaw, who re-formed the 1930s-era group in the 1990s.
Greenhaw said Simmons, who had played with the band since 1954, was a creative musician and "a good, honorable man whose word was his bond." The Doughboys, with Simmons on keyboard, have been nominated for Grammies seven times. The Greenhaw-produced "We Called Him Mr. Gospel Music: The James Blackwood Tribute Album," featuring The Jordanaires, Larry Ford and the Light Crust Doughboys, won "Best Southern, Country or Bluegrass Gospel Album of the Year" in 2003.
Simmons had been inducted to the Texas Cowboy Hall of Fame, Texas Western Swing Hall of Fame, Rockabilly Hall of Fame, International Country Gospel Hall of Fame and the Texas International Music Association. Survivors include his wife, Bunny; children; and grandchildren.

---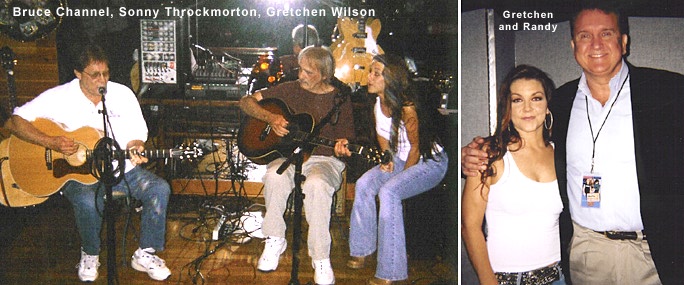 HEY BABY"
"Here's a brief story that goes with the above pictures. Sonny Throckmorton, Freddy Powers and I made a trip to Nashville on a tour bus to help Sonny with an album project. While on the road to Nashville,  Freddy called his friend John Rich. John had recently formed a new group called "Big & Rich."  We were going too stay at a hotel in Nashville but John Rich and his manager, Marc Oswald, insisted we stay at this huge log house near Nashville called "Fontanel" which happened to be Barbara Mandrell's former log home (it is the largest log home in the world and sits on 140 acres). Marc was one of the owners of Fontanel."
"The first night at Fontanel, John invited a few friends over, which included Gretchen Wilson, James Otto and others for a pickin' party. Sonny invited Bruce Channel.   It was a great moment: seeing these stars of the future, Gretchen Wilson, John Rich and others singing harmony with an already legendary star Bruce Channel. We had one incredible party with about 50 guest which were all knocked out when Bruce sang "Hey Baby."  Also, that night, John ask me if I would be interested in hosting  his duet-partner, Big Kenny's surprise 40th birthday party at my nightclub in Austin, Texas and I agreed. That was quite a party too, that spilled over to my home in Austin with the "Muzik Mafia."
  -Randy Willis - randywillis@ev1.net

---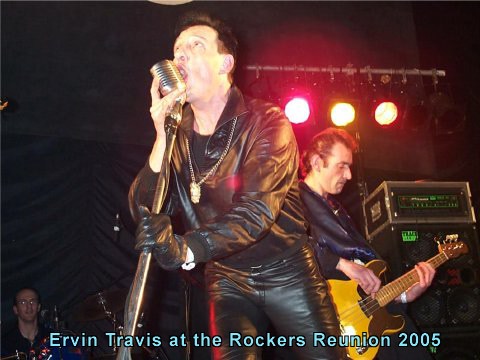 ---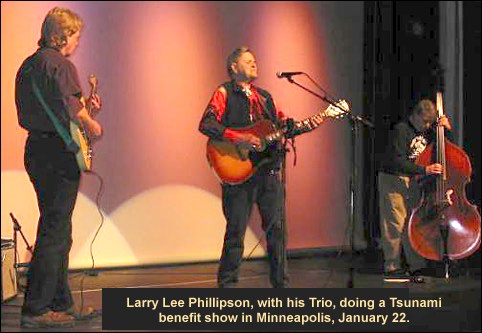 ---
WORTH A CLICK:
Deke's Guitar Geek Fest Sparks the NAMM Show Weekend. (Posted Jan. 21, 2005)

---
Hey BO DIDDLEY Fans:
To mark BO DIDDLEY's 50th anniversary in music, we are pleased to announce a couple of new features for 2005 on the BO DIDDLEY-The Originator website. As regular visitors may already have seen, on the Forthcoming Appearances page of the site we are currently presenting a month by month listing of 1955 career highlights, spotlighting the main recordings and events throughout BO DIDDLEY's explosive breakthrough year. Check out http://members.tripod.com/~Originator_2/dates.html each month to see where BO DIDDLEY is due to be performing in 2005, along with what was happening 50 years ago.
We would also like to take this opportunity to remind his many fans living in Australia that BO DIDDLEY & The Debby Hastings Band are due to perform dates in Sydney, Byron Bay and Melbourne during March. Further information is available on the Forthcoming Appearances page of the website.
We now have a comprehensive listing available on-line of more than 1,800 recordings by other artists (both live and in the studio) of songs originally recorded by BO DIDDLEY.

---
Carl West R.I.P. On Monday, January 10, former West Coast Playboy Carl West passed away, he was 69. Carl, who played steel guitar with Wynn Stewart's West Coast Playboys from 1957 to 1959 began his career in the early 1950s. He also worked in various bands with future Champ band member Dale Norris, as well as Eddie and Hank Cochran before they started their recording careers as the Cochran Brothers.
In the 1960s he worked with a variety of bandleaders, the longest of which was Eddie Drake and a semi-regular gig with Jerry Inman which led to Carl appearing as a sideman on Inman's 1967 country album of Beatles' songs. He also recorded various over the years including dates for Wynn Stewart, Bobby Vee, Dorsey Burnette and the Byrds.
In the early 1970s he retired from the music scene, taking a day job for close to 30 years. After retirement Carl once again took up the pedal steel guitar, although as a recreational pastime. After Carl had experienced a short period of ill health, he was diagnosed with terminal cancer and passed away quietly at home with his family at his side.

---
Archer signs LaVere. Archer Records has signed singer and songwriter Amy LaVere, and will release her debut album later this year. LaVere, who was raised in a Texas/Louisiana border town, has worked Beale Street and Murphy's in Midtown as part of the Gabe and Amy Show. She plays the role of rockabilly singer Wanda Jackson in the Johnny Cash biopic "Walk the Line," which was filmed partly in Memphis. The movie is slated for a November release. Archer Records is based in Memphis, where the company was founded in 2001.

---
ELVIS TO BE 1,000th #1 in the UK. (London, Jan.14, 2005) - Elvis Presley looks set to be crowned the 1,000th number one in the music charts this weekend, but the king of rock'n'roll would be crying in the chapel over the recent slump in record sales. Elvis is odds-on favourite to claim the coveted 1,000th number one spot. He already reigns over the singles list with a record 19 top slots, a milestone he reached from beyond the grave with the re-release of "Jailhouse Rock" this month. He is poised to make it a round 20 on Sunday with "One Night", which first reached the summit in 1959. But the impressive run masks a more worrying statistic for the record business: "Jailhouse Rock" secured the top slot by selling only 21,262 copies, the lowest tally ever and a fraction of the figure needed to reach the summit in the recent past.

---
Dick Clark Still Hospitalized. (Jan. 14, 2005) - "American Bandstand" host Dick Clark is still hospitalized nearly six weeks after a mild stroke, but his publicist said that he continues to progress in his physical therapy and he is closer to going home. He's still doing rehab and he's closer to being released from the hospital. A date for his release hasn't been determined. Clark was hospitalized at an undisclosed Burbank hospital on Dec. 6 after suffering a mild stroke. Clark, who went from hosting "American Bandstand," "Bloopers" and game shows to producing awards ceremonies, including the Golden Globes, the American Music Awards and the Academy of Country Music Awards.

---
John Fogerty and Keith Urban Unite for 'CMT CROSSROADS'. The latest episode of the critically acclaimed series CMT CROSSROADS pairs up two of the most electrifying guitarists and performers to hit the stage - legendary rocker John Fogerty and country superstar and three-time 2005 Grammy nominee Keith Urban. The one-hour CMT CROSSROADS will be taped in front of an invitation-only audience in Los Angeles and is slated to premiere Saturday, Feb. 19 at 9:00-10:00 PM, ET/PT* on CMT. The original CMT series, CMT CROSSROADS, teams-up country music stars with music stars from other genres - pop, rock, R&B - to play together, swap stories, and share their common love of music.

---
It's Now Or Never: All Shook Up Opens in Chicago Jan. 13; Broadway Bow Is Feb. 20. Following fine-tuning in previews in its Chicago tryout, the new Joe DiPietro-Christopher Ashley musical All Shook Up officially opens there Jan. 13 at the Cadillac Palace Theatre. Performances continue in the Windy City to Jan. 23 before the company ships out to Broadway for its first preview Feb. 20 at the Palace Theatre. Opening night on Broadway is March 24. DiPietro's original plot about a leather-jacketed stranger (played by Cheyenne Jackson) who shakes up a dull Eisenhower-era American town - all to the music made famous by Elvis Presley. (The musical direction and arrangements are by Stephen Oremus, who might be considered one of the stars of the show.) At the start of the Chicago run, the score overflowed with songs by many writers that Elvis made rich: "Blue Suede Shoes," "That's All Right, Mama," "Can't Help Falling in Love," "Jailhouse Rock," "Heartbreak Hotel" and more.

---
HEY, TRADITIONAL COUNTRY MUSIC FANS! CHECK THIS OUT ...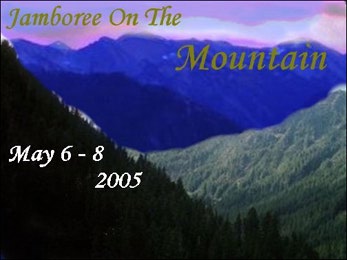 Check here for event updates: www.jamboreeonthemountain.com

---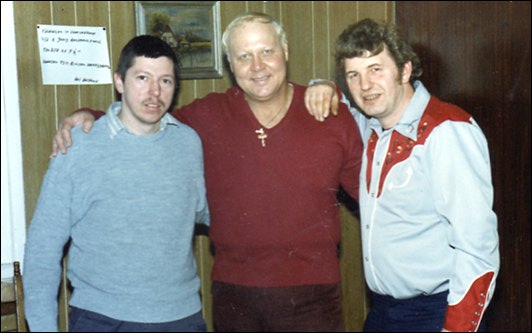 GREAT ROCKABILLY FANS FROM MAASTRICHT, NL, WITH JOHNNY OLENN: Mattie, Johnny and Nol Vroost. Photo taken at a radio station in Sweden.

---
WORTH A CLICK:
Jan. 4: Music Scene in Middle Tennessee in 1964. Source: TENNESSEAN.COM

---
GLEN GLENN / ELVIS TRIBUTE, January 8, 2005. Elvis Presley tribute with Young Jessie, Tommy Sands, Glen Glenn, Evie Sands, The Blasters at the Henry Fonda Theater. If not for all those pesky pills and his generally wasted state of health, the Hillbilly Cat would¹ve been 70 years old today, an occasion always marked by the dogged local rock & roll entrepreneur Art Fein¹s stellar package revue. He has assembled a typically broad range of E.P. acolytes (the Knack¹s Doug Fieger, '60s pop-soul enchantress Evie Sands, Ian Whitcomb, the Blasters and James Intveld, among others) and a couple of big-beat originators who both knew the King: Tommy Sands, the teen idol who first recommended Presley to Sands¹ then-manager, Col. Tom Parker, and the righteously gone California rockabilly cat Glen Glenn. A particularly meritorious addition, though, is the Los Angeles R&B pioneer Young Jessie, an artist who was cutting, circa 1953, precisely the sort of wild-ass, wig-flipping rave-ups that allowed Presley to ascend to deity status. Note that this year¹s tribute is a matinee session, 4-9:30 p.m. 6126 Hollywood Blvd. (323) 464-0808.

---
"HEE-HAW" NEWS: January 11th will see the retail store release of Hee Haw - Collection Vol 3. Or you can order it at Amazon.com for 10% off the $14.95 list price. Here's what the distributor, WEA, has to say about this: The whole Hee Haw gang is back again, pickin' and grinnin', singin' and spinnin' tall tales, this time with a special musical lineup of stars, beginning with the first lady of Country music, Tammy Wynette. She makes her Hee Haw debut with her signature song, Stand by Your Man. Tammy's new husband George Jones even stops by to perform his #1 hit White Lightnin', in this loose-limbed, rollicking song, complete with hiccups and slurred vocals.
Also included is Faron Young's fast-paced top-20 shuffle She Went a Little Bit Farther. Plus, bonus material of Hee Haw's own Roy Clark warmly reminiscing on his years as co-host and star of Hee Haw! In this recently shot exclusive interview, Roy gives fans an incredible behind-the-scenes look at what made Hee Haw a comedy classic. Running time is at 80 minutes.

---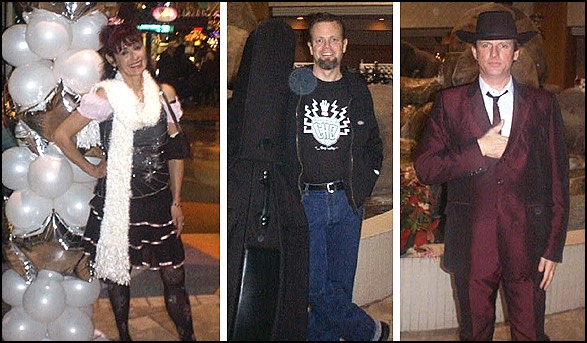 NEWS YEARS EVE (Dec. 31, 2004) at the Oneida Casino in Green Bay, Wisconsin. L to R: Rosie Flores, Kevin Smith of High Noon and Chuck Mead from BR549. (Photos: Jerry Wiegand)

---
Help find a good home for Bill Monroe's Historic
Tour Bus, known as "The Bluegrass Breakdown"
What a great story, that a family bluegrass band originally from the hollows of Virginia and Kentucky, living in Ohio, they bought the bus, from a widow woman, who was upset when her husband bought the bus, with his retirement money, she would not listen to the story of why he wanted it so badly, because they loved each other so much, they did not bring up the topic again, sadly her husband passed away suddenly at a Bluegrass show, after owning the bus for two weeks. The bus remained parked for two years, covered over with a tarp.
A fan told us, "One Way Rider", about a lady having a bus for sale, we ran right over, and when the tarp came off, we fell in love with the old bus. We new it had been a entertainer's bus, it had Gary Brewer and Ky Rambler's on the side. OWR sold everything they owned and swept out the old bus, and packed it up and headed off to Nashville! What a surprize when the bus was truly documented, and this poor family had bought it in Ohio, just like Mr. Bill Monroe had many years before, after touring and living in the bus, OWR is willing to let go of their honor of getting to pay their dues, just like many others before them!
New rebuilt 238 Detroit Deisel, new roof air, new transmission. repainted back to two-toned blue! For serious inquiries only contact http://www.onewayrider.com valerie@onewayrider.com - 1-330-677-6953

---
LADY BO, along with former BO DIDDLEY band members drummer Clifton James and bass player Wally Malone, are included in the line-up for next year's 4th annual 2-day "Ponderosa Stomp" taking place on Tuesday and Wednesday April 26th/27th at the Mid City Lanes Rock 'n' Bowl, 4133 S. Carrollton Ave. in New Orleans, LA. Billed as "Two Nights of Insane Rock & Roll", this popular annual event celebrates the unsung heroes of the blues, soul, rockabilly, swamp pop and New Orleans R&B. Further details of these "Ponderosa Stomp" concerts can be obtained by calling 504-482-3133. Rock 'n' Bowl website: http://www.rocknbowl.com/

---

THE COMETS were featured in the UK magazine "Nursing Older People" September 2004 issue.

---

Our favorite 2004 Season's Greetings card. Thanks Hack! - Bob Timmers

---
WORTH A CLICK:
'All Shook Up' Rumbles Into Chicago Prior to Broadway
---
WORTH A CLICK:
BRIAN SETZER (Grammy Nod)
---
New 45 Single with Two Songs
Recorded by RAY CONDO:

"Sweet Love on My Mind" recorded with the Hardrock Goners in 1987, and "Big Dog Little Dog" recorded by Ray and his last band in Vancouver, in spring 2004. The Ray Condo single is for sale NOW for $5.00 US each (plus $1 postage for North America, $3 postage to Europe). Pay by PAYPAL at www.slimsandy.com.
You can email Slim Sandy at psandmark@yahoo.com or Stephen Nikleva at s-nikleva@shaw.ca to order! Dealers: please enquire about discounts for bulk orders!"

---
December 7, 2004 - Jerry Scoggins died Tuesday, Dec. 7th at age 93. He was the singer on the Beverly Hillbillies TV show and the 1993 movie. Lester Flatt and Earl Scruggs played guitar and banjo on the TV show and sung on their  hit recording. Jerry Scoggins was a good guitar playing, vocalist and leader of the group, Cass County Boys. They were in western movies, and were often Gene Autry's band. He lived near L.A. A life of music. - www.surfnetinc.com/chuck/singing2.htm.

---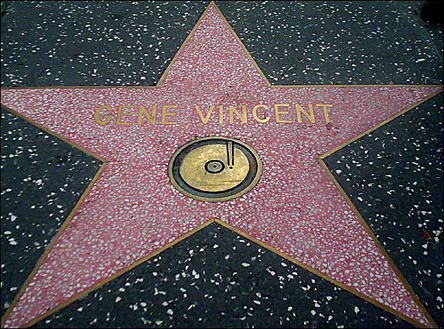 GENE VINCENT'S "HOLLYWOOD WALK OF FAME" STAR is located at 1749 N. Vine in Hollywood, California ... a little north of the famous Hollywood & Vine intersection, right across the street from the Capitol Recording building (1750 N. Vine). Hollywood Walk of Fame Web Site. Photo: Rockabilly hall of Fame® Dec., 2004

---

Gene Vincent: A Companion
THIS NEW BOOK incorporates and updates all the information in Derek Henderson's definitive Gene Vincent A Discography (1998), adding a number of new features. Paperback 176 pages (available February 11, 2005) Spent Brothers Productions - ISBN: 0951941674

---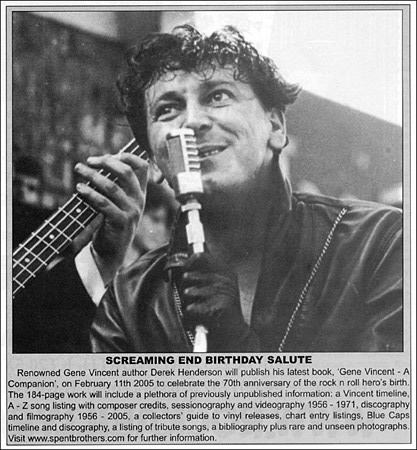 Courtesy: Now Dig This

---
---