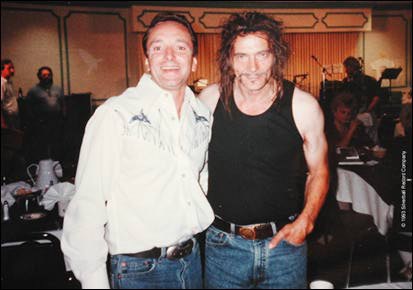 Stephen Janci (left) and Mad Mike Metro, now deceased (right).



"SILVERBALL RECORDS"
&nbsp Sometime in the early 90's I was approached by a Stephen Janci to see if I had any songs "in the can" (so to speak) that had been recorded, but never released.
&nbsp As it was I did have some material that had been laying around for a good long time and after a long search, found it and played it for him. Stephen loved it and asked if he could release it on his "Silverball" label. After talking about it for awhile, I decided "why not?" So, one by one, these 45 RPM records started coming out. You see, these were recorded at WIBC radio station here in Indianapolis back in 1961 by Bouncin' Bill Baker, (twice DJ of the year) but had never been released.
&nbsp They were "Open House" "Unforgotten Love" "Just One Kiss" "The Old Malt Shop" "Mucho Fine" "Go on Go on" Pork's Chop Boogie" "Hey Little Baby" and "Traveler of Love" (alternate version) Stephen took these, one by one, to Nashville Tn and had them digitally remastered. They came back sounding great, considering they were transfered from a 1/4" 30 year old tape. Stephen then approached me to come to Pittsburgh with him for a weekend. At first I said no, but later changed my mind and went. How glad I am. Pittsburgh is a rare place indeed. If they like you as an entertainer, they will do everything they can to lift you higher then a mountain. Not only did I go with him that particular weekend, but several more also. It was through Stephen that I was able to meet guys like "Mad Mike Metro" a long time oldies DJ up there, "Pork the Tork - Porky Chedwick" from radio station WAMO. It was Porky that put a needle on my first record and got things to moving not only around there, but also up and down the east coast as well. When Porky started aging a bit, Mad Mike came along and started doing an oldies show. He wore my record out doing that show. Mad Mike and I became close friends and I cherish what he did for me. A great fan and supporter of Ronnie Haig.
&nbsp Porky asked me to record him a theme song for his show on one of those visits. I did, and we called it "Porks Chop Boogie" I say "we" because Stephen came up one weekend and we recorded it right there at my house. It was Stephen's ideas that made the song "happen" All I did was play on it. This then lead to my being invited to do a show at the world famous "Benedum Theater" with The "Roots of Rock & Roll" Groups like The "DelVikings" "The Marcels" "Jimmy Beaumont and the Skyliners" "The Vogues" etc. It was on that first show that They decided to make me an honorary "Pittsburghian" Henry Deluca who has done countless shows of old "Doo Wop" for Public TV,not only had me do that show, but I've been back to Pittsburgh many times since and have made many many friends in that town.
&nbsp Another guy I met through Stephen was "Charlie Apple". He is deffinitely a Legend in and around Pittsburgh for supporting the "old guys" like me, and never giving up playing our records. I owe him a lot. Charlie kept spinning my record even when the others had stopped. It's because of him, Mad Mike and Porky that my old record of "Don't you hear me calling Baby" is still in the "All time top 100 songs" of Pittsburgh PA.
&nbsp There's only one Pittsburgh folks, and as far as I'm concerned - there's only One Stephen Janci. He's about the most straight shooting record label man I have ever met. His word is good, and he gets results. In this business, it don't get much better than that. So, if I were to pick an individual that picked me up when I was a little down, and got me back to work again- I would have to say Stephen Janci of "Silverball Records" was that man. Thank you Pittsburgh, and thank you Stephen Janci.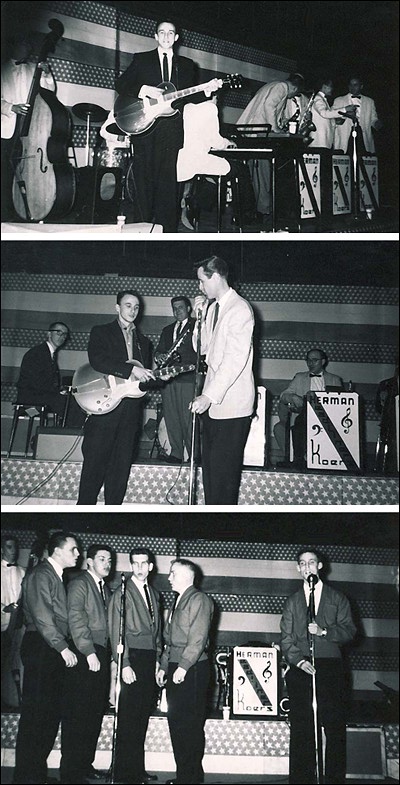 Very rare photos of Ronnie Haig, taken before the Chess recording period for the NOTE record "Dont You Here Me Calling Baby" (before 1958). The bottom one is with The Five Stars.





This is a picture of the Twilighters in 1957 after Dave Woempner had graduated and we were trying out different Bass voices to replace him. The Gibson ES 295 was about a year old. As far as we know this is the only copy of this picture.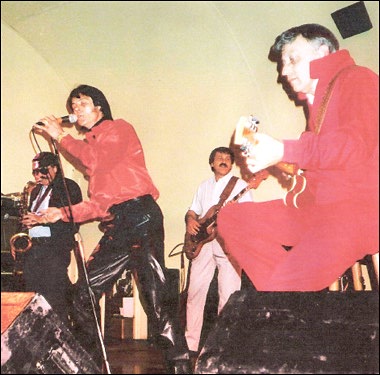 Marden Baker on sax (toured with Bill Dogett that did "Honky Tonk). The late great Danny Dollar. Big John Magee (my bass player for 12 years) and me of course, about 1993 I think.





"Roadshow Records" is Releasing a Brand New CD of:
The Great "Kitty Houston" and yours truly
"Ronnie Haig" on the same disc.
AVAILABLE NOW!
I consider it a privelidge to be sharing the same CD with Kitty. Her late husband "Lew Houston" was the steel guitar player for Conway Twitty for several years, and Kitty was one of Conway's back-up singers. This gal can really belt out a song, for sure! She invited me to do this project with her, and I'm glad she did. A good Christian lady, and a real friend. Kitty and I are splitting up a 22 song CD of both Country, Country Rock, and Gospel music. If you are interested PLEASE get in touch with either Kitty or myself for your autographed copy. I personally guarantee you will NOT be sorry you did. E-Mail us and get ordering instructions -just in time for Christmas too! Don't miss out on this one! Good Stuff! from good People! hahahaha! THANX!
RONNIE HAIG & KITTY HOUSTON
kshulrob@cox.net





It was 1957 and the Senior Prom.
I wrote my first record about this girl, "INDA ROBERTS". Back before cell phones, call waiting, and caller ID. I was trying desperately one night to call my girlfriend; but "the telephone was busy busy busy all night". Not knowing what else to do, I sat down and wrote "Don't you hear me calling Baby" and it wound up on ABC Paramount Records. I kept her name secret for a lot of years, but now (with her permission), here finally, is the girl that inspired that song. Still a good friend, and still, a Wonderful Christian Lady. Thank you Inda, for a song that has taken me half way around the globe and back. Never, in the farthest reaches of my mind, did I ever think almost 50 years later, I would be writing this. - RONNIE





HERE'S THE MAN THAT MADE "RONNIE HAIG" WHATEVER HE IS. "BOUNCIN' BILL BAKER" The first DJ to put a needle on his record at WIBC RADIO, INDIANAPOLIS, IN.


---
---
---
---

B.J. Rogers and Ronnie at his store "Guitar Island" located in Indianapolis, where you just might find Ronnie hangin' out.


---
---
---

"Inspiring Moments"
For most of my life, I have consentrated on recording the music "I" wanted to hear. I guess I felt like it had to be "Rock & Roll" or it wouldn't be me.
Then one day I started thinking. It was God who gave me the talent in the first place. It was God who gave me the songs I write. Just maybe it was God, trying to speak through me, to those who don't know Him. So, I began to look at my Gospel songs in a different way. I have over 100 of them to date. All total, I have over 500 songs written, most being secular songs. I told myself that it was about time I did an album that I feel would be God's will, and quit hiding those songs in my closet, where they will do absolutely nothing. The lead off song, is one I wrote for "Elvis" over 30 years ago. Unfortunately he passed before I could get it to him. It's called: "Keep your eyes on the horizon, not the waves" Each song on this CD contains a message I feel God wants me to take to the people "out there" who need Him, and who need to hear his story. So,my prayer is, that the messages will be heard.That they will make a difference in someone's life. They certainly have mine. I feel it's the least that I can do when I think of all that God has done for me. Please listen to the lyrics. Remember! It's the message that counts. PASS IT ON!
Please feel free to write me anytime you like at Thank you for your support.
Your friend in Christ
RONNIE HAIG
"Ronnie Haig Music" BMI
"GENTRE RECORDS"
$10 (US Dollars) each CD, add $4 more for overseas delivery.
Ronnie Haig's e-mail


---


Page Updated: August 16, 2004
So many times in my life I have found myself just too busy to stop ... and say "Thank You" to those who have made a difference in my life. Even folks that I have never met face to face (but would like to) have gone out of their way to make my day a "better day" or just sent me an uplifting e-mail. I just get so tied up doing "stuff" that I don't take time to tell them what it means to me. Yes, there are a lot of things that I can't do anymore; or do as I once did, but if I focussed on that, I would go nuts. God never closes one door without opening another. I believe that.I have been able to write some stories about the old days of Rock & Roll, and most of you have read them. I'm also blessed with being able to write a column in the local news paper about this old neighborhood of mine, and what it means to me. A couple of other stories of mine have found their way to magazines both here and overseas.I play guitar everyday here at home, and once in a great while do a little snippit of a show. Sitting up there on my old stool feels good, and it's great to just be able to do THAT! I've been able to record my songs here at home and have 4 cd's out there floating around. All because of friends ... like YOU who have supported me and what I do. When I look back at my life, it's been full of bumps and grinds ... just like everyone elses I guess, but mostly, it's been full of blessings that can't be counted for sure.

"YOU" meaning my friends:
Have lifted me up, when I've been down for one reason or another.
Have helped support me by buying my products.
Have stood beside me, when others would not.
Have prayed for me when I requested it.

Some of you have even been to our home here in Indy. We've really enjoyed that!The old Studio upstairs smiles with joy everytime I open the door and turn on the lights and see all those happy faces on the wall staring back at me.(if you haven't already - send me an 8 x 10 for my music room) What a joy it is knowing all these folks are in one way or another, "MY FRIENDS" What an inspiration!

I thank God for all He's done for me. Hey! I'm still walking! Some days are more difficult than others, but no big deal. God is there, right beside me, every step.I also thank all of YOU, for your kindness, your support, and mostly for just being my friends. NOTHING in my lifetime ... outside of my "Rockabilly Queen" Susie, will ever replace that. NOTHING!
THANK YOU ALL! AND MAY GOD BLESS!
RONNIE HAIG



---

At Arthur's Music Store July 2004. Paul Gilvery from Chicago on Bass.



Ben Townsend sent this to me this morning. It was taken right after I got out of the army in 1964. I had never seen this shot before. I had just bought a 1964 Fender Jaguar. Wouldn't hold a candle to my Gibson ES 295. Thought you'd like to see it. I was 25 years old. -Ronnie (The amp: 1956 Fender Bassman. All tubes, 4 -10 inch Jensens Speakers, 60 barn stormin' watts.)


---
Page Updated: March 9, 2004

Latest CD for Ronnie
Rockabilly Hall of Famer Ronnie Haig has released his latest project, "Up Close and Personal". 21 new songs, a variery of great rock'n' roll/rockabilly/country and more.


---
.

"TREASURES OF TIME"
Throughout my life I have had the pleasure of recording many songs, most of which I have also written. This CD -"TREASURES OF TIME" is a collection of 13 original Gospel songs, carefully sellected and grouped together in a way to stir the mind. In it you will find an abundance of toe tappin' southern Gospel, as well as some contemporary ones.
All the songs are personal to me, as I had the pleasure of writing them as well. "TREASURES OF TIME" which is the 13th cut, is a very warm, family type song that paints word pictureson your mind of days gone by. A loved one is lost and the family now gathers around the bed with pictures spred out, bringing back special moments of their history. As the title says: "TREASURES OF TIME" The upbeat southern gospel rhythms of the rest of the songs are typical to the midwest and south's old country church meetings that are heard across the country, as you travel. Some are very thought provoking My Christian heritage, as well as some memories of my childhood are recorded here for all to see and hear. God has blessed me with 90 gospel songs down through the years. This is but a small collection of some of my favorites.
$12.00 for USA orders (not including Hawaii) $16.00 for Hawaii and overseas orders including the postage. AMERICAN DOLLARS PLEASE!, or Money Orders. Make payable to: Ronald D. Hege. Send to: 1302 Woodlawn AV. Indianapolis, IN. 46203 - the1haig@aol.com
On "GENTRE RECORDS" through "Ronnie Haig Publishing BMI" 2003. Please allow time for mailing and give your complete mailing address, and zip code.
Order through: Ronnie Haig's e-mail




Page Updated: May, 2002

RICK NELSON & JAMES BURTON
Well, I hadn't been out of the Army long, and heard that Rick Nelson was coming to Indy. I called the entertainment editor (at the time) of The "Indianapolis News" to ask him what my chances were to getting back stage. I had allready purchased a ticket. The thing was to be at the "Indiana State Fair Collisium" a real barn of a place with sound that could only be matched at "Grand Central Station". The opening act was a group called The "Hondells" that had "First gear, that's all right" whatever the name of that was, "Little Honda" I think. Anyway, They came and got me at the beginning of the show. As we made our way backstage, we were fighting crowds and some people recognized me (I took that as a compliment) Asked me if I was gonna play! When we finally got to the door, It opened and there stood Rick in his RED boxer shorts. He had a metal case that stood on end with his clothes hanging in it, with a cup of coffee sitting on top. He put on his shiny silver tux slacks and reached out to shake hands with me, and WHOOPS! there went the coffee. Right down the front of those beautiful slacks. Man, I felt awful for him. He said "Oh well, got another pair in here" I could hear "First gear" going on out front as I glanced around the room at the band making last minute preperations. There was an old broken down couch sitting against the wall. There was this skinny guy sitting on it with a Telecaster on his lap. He had his head down with his ear on it trying to tune up. (Just put on new strings) I walked over and introduced myself to James Burton. He was very polite, and I'll have to admit as he did a few licks, I put them in my memory bank. Went back over to see Rick one more time before he went on, and he said "You ought to come out to California where it's really going big". He was a gentleman, very soft spoken, about 6'1" 175-lbs. and seemed to be very interested in what was going on with my music. Someone said "IT'S TIME TO GO RICK" and "he" all of a sudden became "RICK" the business man. I shook his hand one more time and begun to make my way back to my seat, feeling just a little taller knowing I had just met a real rock and roll legend. After Ricks death, and up to now, I never do a show without doing a little medley of his songs. At the end as the music fades -I always say (looking up) "that's for you Rick". A real prince of a guy, and will always remember James sitting there on that couch. Just "Guys" you know? But what guys they were. What music!!! -Ronnie Haig, 1965


---


Page Updated: May, 2002

REMEMBERING ...
It's May 1955. I get an idea from a friend of mine it would be neat to sell newspapers at the 500 mile track. So (after getting permission ) I get up at 4am, go downtown, board a special train, and we modock toward the track. Upon arriving, we are given a certain number of papers in exchange for the money I had to pay for them. I watched the sun come up that morning and as I recall froze to death, as I watched the cars start their entrance into the track-all racing to get to their favorite spot to drink - I mean watch the race that would begin at 11:00. I had never been inside there before and to tell the truth, the whole thing was a little overwhelming. Sixteen years hadn't prepared me for some of the things I was seeing. After the lengthy pre-race activity,The race was on.
Since I had the freedom of the track, I was bound and determined to go everywhere I could. It wasn't too long before I sold almost all my papers. During my last sale -I was making change for this guy when an announcement came over the loud speaker. I was right! The firey accident I had just seen from directly accross the track on the backstretch was in fact Bill Vukavich, my hero. The flames were terrible,and the smoke drifted accross the track into my face. I kept wiping my eyes trying to see what was going on. I could hear everyone yelling, and screaming including Bill. Someone jumped up on the side of the wall and with a long pole, reached down into what was left of his Blue Crown spl. They pulled out a helmet with a hole burnt through on side. The loud speaker came on again saying we had lost a great race driver today at Indy. It was then I remembered what Bill had said just before the race. They were doing an interview with him. No one had hit 150mph as of yet - and when questioned about it Bill said: "I'll hit 150mph or die trying" He was clocked on his last lap at 149.728mph. I'll never forget that. Recently Susie and I were guests of USAC at the track for qualifications. We went all over the place and had a great day. We could've gone to the race itself, but didn't. I have never been back to a race since that day in May.
1955 .... Memories
Ronnie


---


Page Updated: April, 2002

CHUCK BERRY MEMORY
It seems like only yesterday I was in Chess studios (Chicago) We were recording four songs for "Note Records" two of the songs would wind up on ABC Paramount March 1958. During the halftime break in walked a tall black man.Didn't recognize him at first. He went upstairs to the soundroom said Hi then back down and in the studio with all us musicians. He looked at me and said "Can I see your guitar man?" I still didn't know who was asking the question. "Yeah sure - but be careful with it - it cost a lot of money" I replied. I then went up to the soundroom and saw Jack Sheldon the baddest engineer in the biz. I could hear music but the tape wasn't running. I asked Jack "where's that coming from?" He said "Why that's CHUCK - you told him he could see your guitar" I was absolutely floored. Went back downstairs - walked up to Chuck who was sitting Indian fashion on the floor with my GibsonES295. I said "Chuck, I feel like an ass not knowing who you were" "Don't sweat it man grab an ax and have a seat" He replied. I reached over to get Wes Montgomery's guitar and stopped-turned and said "Hey Wes - can I use your guitar a minute?" He replied with " Oh yeah! (laugh) but be careful with it - it cost a lot of money. I had the thrill of my life that Feb 18th at 3:00 AM just sitting down on the floor- face to face with my hero (and still today) and learning some of his licks. I doubt if Chuck even remembers that meeting. But you know what? I'll never forget it if I live to be 100. God Bless CHUCK! Keep that Reelin'-a-Rockin' and thanks for a wonderful experience that most guitar pickers only dream about. You can bet one copy of your new album is SOLD! P S You're right I had no camera with me. I was 18 and green.
-Ronnie Haig


---


Page Updated: January, 2002

A NOTE FROM RONNIE:
Hey "Rockabilly Nuts" this is Ronnie Haig saying Hi from Indianapolis. In 1958 I recorded a song on A B C Paramount called "Don't you hear me calling baby". I had a lot of fun with that record. Met a lot of cool people along the way, and guess what? It's still being played today around the world on radio. That's a really neat feeling. I've always loved the fans, and I thought this might be a good opportunity to sit back and chat with some of them a little. I'd love to bang heads with all of you, so come on now, hit my e-mail address as soon as you can. (I ain't gettin' no younger).


---
Scroll Down to the Bottom of this Page for Info on
RONNIE'S "BRANCHING OUT" CD
---
Ronnie Haig's
"BRANCHING OUT" CD/Tape
"Branching Out" does exactly what it says. There's a variety of songs from Rockabilly, to heart pounding rock, such as "Nickels And Dimes". There have been many styles of music to have influenced me through the years. You will find a little country, blues, and a couple of ballads, such as "Tell Me" written in 1956. While maintaining my roots, on this CD, I've branched out.

After waiting thirty years to get back in the studio, "Thank You" seems a little lame. I would like to thank God for the talent, and desire, he instilled in me when I was very young. Also to Jerry L. Williams, the easiest going producer/engineer I've ever known. Thanks to mom for just being a loving mom and Christian example and putting up with me all these years. A very special thanks to Greg Hall for rebuilding my 1956 Gibson ES 295; (and also for a great guitar lick). And a very special thanks to Beverly and Diece Abrams for all their support. To "Susie" for the great back-up voices, for giving me more encouragement than I deserved, and for being the greatest wife in the world.

This album is dedicated to my late father, Frank Hege, who couldn't even play a radio, but loved my music. (I finally got it done "POP.")
By Ronnie Haig


Ronald D. Hege, otherwise known as Ronnie Haig, is a familiar name. Is he a singer? A songwriter? A musician? A bandleader? An arranger? A producer? Well, the answer is yes. All of these things and more. He has paid his dues. Ronnie has written hundreds of beautiful songs. He writes from the heart and soul. In this album there is a collection of great songs. He writes from the heart and soul. In this album there is a collection of great songs that will be everybody's favorites. His songs are delivered with all the dynamic power of his big, rich voice and backed by his own musicianship. Great sounds like "Who's Rubbin' Your Back Tonight," and "My Own Little Son." There's magic in the song "Nickels and Dimes." Great, great songs. Ronnie brings romantic charm to the song "Tell Me." I remember his hit song from 1958 he had on ABC "Don't You Hear Me Calling Baby," b/w "Traveler of Love." Then came "Rocking With Rhythm & Blues," b/w "Money Is A Thing Of The Past," on the NOTE Label. This album will bring Haig Magic to everyone who's heard him sing. Recording Ronnie's songs have been a very rewarding time for me.

By Jerry L. Williams



Vocal: Ronnie Haig - Voices: Ronnie Haig, Susie Hege - Lead Guitar, Acoustic Guitar and Bass: Ronnie Haig - Drums: Jerry L. Williams, Adam T. Williams, Ronnie Haig - Engineer, Mixing by: Jerry L. Williams - Asst. Engineer: Susie Hege - Produced by: Jerry L. Williams and Ronnie Haig - Recorded at: Solid Gold Recording Studio - Mastered and Manufactured at QCA, Inc., Cincinnati, Ohio - Graphic Design by: Susie Hege and Nancy Williams - Photography by: Susie Hege - Special Thanks to: Micheal Petrucci, IRC Audio

ORDER YOUR COPY TODAY

$10.00 - Post. Paid for CDs
$8.00 - Post. Paid For Cassettes

- Overseas -
$15.00 Post Paid. for CDs
$13.00 Post Paid. for Cassettes

U.S. Money Orders Only

CONTACT
RONNIE HAIG MUSIC





Ronnie Haig with Jerry L. Williams




The Dreams of A Young Man

Posted Jan. 13, 2003 - The first time I heard those guys on the Grand ole Opry on Saturday night over WSM, I was about 6 years old. My brother had an old accoustic guitar standing in the corner of our bedroom. Jack was always a sharing type and didn't get mad if I picked it up now and then. I also had two cousins Jack Combest and his brother Johnny Combest, that were active in country music. Nothing big you understand, just played regularly. Jack played stand up bass, and Johnny played guitar. When they would come to visit , they would bring their instruments and I was just amazed to say the least. This took place in about 1946 - 1948. So the big guys were Red Foley, Hank Williams, Jimmy Dickens, T Texas Tyler, Eddie Arnold, Granpa Jones and Roy Accuff. Later came Lefty Frizell, and Carl Smith and the likes. Faron Young, Marty Robbins, I could go on for hours. I began to wonder how in the world they could get up there on stage and just go. It was so fantastic to me. During the week I would practice by standing behind Moms old upright sweeper for a microphone. The mirror became my audience. (Always got a standing ovation too) As time went on - My audiences became much more selective. Like The trash men twice a week going down the alley, the milk man who brought our milk to the porch, the mailman, etc.I guess from as early as age 10 I was getting in front of anyone who would listen and sing. I wanted so bad, to be there. Oh I had already played with the best. VIA the radio, (we had no tv till 1955) I would sit and listen and learn. Some of the best teachers in the world. As I got involved in music in school, I got to perform at different functions and parties. I really have never had a time that I can remember, that I was afraid to do what God had given me to use. Just raw, untrained talent. I thank him for that too. Daily! Hardly a day goes by that some kid or someone that has a kid asks me how can they get involved in the music business. I just always say the same thing. DO IT! Go out there and play, make mistakes, learn. I have seen bands practicing in garages all over the place. I have asked them- how long you been doing this? Answers are similar, a year, two years, whatever. I always ask, why not practice in front of an audience? Get out there. Let the people see you grow! Let the people decide! Get out of the garage and do it! You'll be there at age 50 wishing you could. Waiting till you're good enough is like a girl that is waiting to learn to cook before she gets married. You get married, you'll learn to cook. Well, get out there, the people are very forgiving. You will see your mistakes and fix them. Believe me. There is just something magic about being in front of a crowd that nothing can surpass. You get up there , dress well, and keep it clean, and the people accept you as a professional. You know why? Because YOU my friend are DOING what they WISHED they had done years ago. So whether YOU do it or go on WISHING, depends on YOU, not a "big break" If you're meant to perform, it will happen. You may not ever be a Chuck Berry, or Elvis, or Jerry Lee, or any of the others you admire, but look at it this way. You'll have the very BEST seat in the house! If you're lucky, you may even get paid. So, those were my dreams as a kid. To do what everyone else said was impossible. Me! just some kid on Woodlawn Avenue in Indianapolis with a dream. That's how I did whatever it was I did. Some folks know me as a performer. Others never heard of me at all. I'm still working on that one. An old friend of mine asked me one day" Ronnie, when are you going to grow up and get out of that stupid music business" My answer was, and still is, I hope I never grow up! -Ronnie Haig








The last oficial performance of Ronnie Haig on New Years Eve, 12-31-1998 in "Sahara Grotto".



Ronnie performing at school at graduation day, 1958.








I hadn't been on line but maybe a week and this man writes me from Maastricht Netherlands. He told me about his love for Rockabilly Music, and how he would love to have a copy of my "Don't you hear me calling baby" It surprised me, so I answered him. Since then, we have stayed in contact about everyday. We talked about how similar our lives were, even though we were thousands of miles apart. Over the last couple of years, I have grown to realize just what a great man this NOL VOORST really is. He was raised by his grandmother - his parents were part of the "work camp" program set up by Hitler. He comes from a large family, and is one of the most sensitive men I've ever known. He's a huge supporter of Rockabilly Music, and those who perform it. He even designed the artwork for my "Treasures of Time" CD. He spent 18 years playing professional soccer. He's a great carpenter, and still has time to get involved with youngsters who are in need of guidance in the real world; and spends countless hours counseling them. I am proud to have NOL VOORST as my friend and Christian brother,and thank him for the sponsorship of this page. --RONNIE HAIG









The ROCKABILLY HALL OF FAME
© Rockabilly Hall of Fame ¨