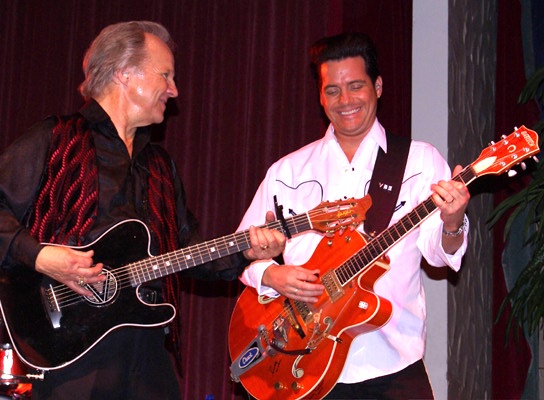 ROBBY BRYAN VEE, second generation rocker! Hails from one of popular music's most hallowed legacies - "the Rock 'N' Roll family".

Named after his father Bobby Vee (Take Good Care of My Baby, the Night Has a Thousand Eyes, Rubber Ball), and family friend, Brian Hyland (Sealed With a Kiss, Gypsy Woman), both legendary pop music icons, he's steeped in rock's timeless tradition of pop, swing, rockabilly and bop.

Robby's talent, creativity and perseverance as a singer/ guitarist/ songwriter and entertainer has captured the attention of audiences and respected industry professionals world wide for more than a decade. He has learned from, and shared credits and stages with the architects and legends of Rock 'N' Roll, such as Little Richard, the Everly Brothers, Carl Perkins, Sir Paul McCartney, Eric Clapton, Dion, The Righteous Brothers, Buddy Holly's Crickets, Dick Clark and his 'Caravan of Stars Rock 'N' Roll Show' and many more.



Check out Robby on his latest 2006 release "Liquid Love". a project started with legendary record producer Greg Ladanyi in Los Angeles. He shares co-writes with Ron Wood, Waddy Wachtel, Freddy 'BOOM BOOM' Cannon, Kevin Bowe and others.


Also look for Robby on the NEW Crickets CD, "The Crickets and Their Buddies" and his 2003 release "BOP" out in stores now and available at www.robbyvee.com


For more info and tour dates visit: www.myspace.com/robbyvee & www.robbyvee.co.uk


For electronic Media Kit (I-FILES) downloads & music samples visit: www.devildogmusic.com/robbyvee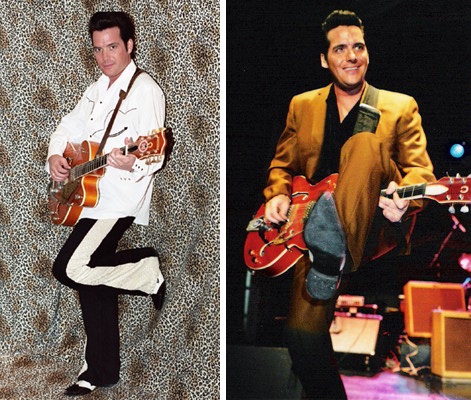 ROBBY VEE is an advocate for the
NATIONAL FALLEN FIREFIGHTERS FOUNDATION
Profits from his CD sales are donated to this foundation.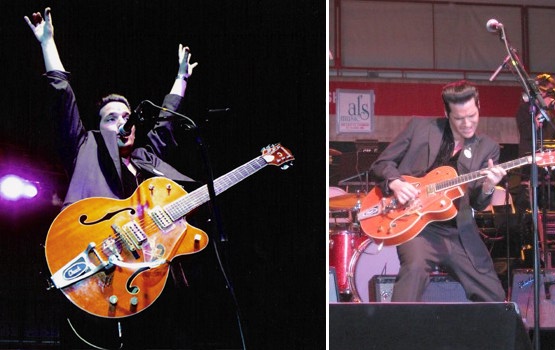 What are people saying:


"This cat sure can play."
­Carl Perkins

"Writings confident and inspired."
-Marshall Crenshaw

"Yet another superb collection of songs. 'Champagne Lane' is one of my favorites."
­Sir Tim Rice (playwright)

"These guys rock ... A wickedly good band, Robby's a true guitar slinger!"
­Ronnie Wood of the RollingStones

"Always a brilliant show."
­Sir Andrew Lloyd Webber (playwright)

"These guys could play on any stage."
-Sir Paul McCartney

"This is the same stuff I used to make my records with ... Straight from the hip."
-Dion

"It's a great show!" ­Sir Tim Rice (playwright)

"You are a writer, and a damn good one ... "My boy you got it, you've got hit songs in you."
­Freddy'BOOM BOOM' Cannon

"Great Band, Great show." ­Robert Plant of Led Zeppelin

"Robby can do it all ... sing, play, write ... and look at him."
­Greg Ladanyi producer for Jackson Brown, Don Henley and Warren Zevon.

"He's got the talent."
­Tommy Roe

"I can here it, you inherited it."
­Julian Lloyd Webber

"Itıs a great show."
­Sir George martin (producer of the Beatles)

"The talent in this family is staggering and the sheer joy of the performances ... shines through with every chord."
­Sir Tim Rice

"Love Robby's guitar playing"
-Trini Lopez"

"Great CD...I like the direction. Keep up the good work!!"
-Neil Morrow (recording artist)











SHOWROOMS & CLIENTS:

"Robby Helped me get re-elected with ROCK THE VOTE"
-MN. Senator DAN SPARKS

"Extraordinary show! Very talented bunch...best party ever."
-Senator JIM METZEN, President of the Senate

MYSTIC LAKE CASINO:
"Very high energy, tunes are great...he has alot of fun with the crowd!" "I had good feedback from your performance and would like to have you back."
-Joshua Flom, Entertainment Manager

TREASURE ISLAND CASINO:
"Some-one who knows what hes's doing ... So much talent, always know thier gonna get the job done."
-Ken, Entertainment Director

DAKOTA MAGIC CASINO:
"I give them 11 out of 10!"
-Managment

JACKPOT JUNCTION CASINO:
"So many great comments and good feedback."
-Bar Manager

MAHNOMAIN CASINO:
"Got great feedback from the crowd"
-Comment cards

BLACK BEAR CASINO:
"So much fun, we hope you come back."
-Staff

LAKE OF THE TORCHES CASINO:
"We loved your music."
-Shift Manager

DAKOTA SIOUX CASINO:
"We loved your show...we were bop'n along."
-Staff

GRAND CASINO HINCKLEY:
"Always great shows...and great weekends."
-Manager

NORTHERN LIGHTS CASINO:
"Great high energy show, people had alot of fun... Perfect act for the event we'll use you again and again."
-Promotional Manager (Darrin)

PRIVATE PARTY, YOUNG AMERICA, MN:
"It was the most fun we've had in 30 years!"
-Buyer

DIAMOND JOES CASINO, NORTHWOOD IA:
"This is the perfect show for this crowd, works well."
-Head of Entertainment

MYSTIC LAKE CASINO:
"Best artist we've ever had at the winner circle stage."
-Staff

"Your ability to entertain and to get the audience involved exceeded all my expectations. You truly are an outstanding entertainer."
-Jerry Sodemann /Legion Hall Concert buyer Marshall. MN.

MINNESOTA ROTARY CLUB:
A+++, its all everyone talked about all weekend!
-Michael Mullin, Pres.
"Exceptional...we thoroughly enjoyed you! Terrific performance."
-Kathy Alvig, MN. school Principals board director

"I just had a customer come in that happened to be in jail when you were here, and he heard all about the wonderful performance you put on. So word got out there."
-Jerry/ venue manager