Also visit: http://www.redrobinson.com/.




An Easier Way to Get There from Here... The
Traditional Country Hall of Fame
The Rockabilly Hall of Fame's sister site, the "Traditional Country Hall of Fame," now has a new URL that makes it much easier to remember and access. Now, by typing in "http://www.countryhall.com/" you will be transferred directly to our roots country pages. Try it for yourself ... http://www.countryhall.com. If you haven't been there yet, please stop by, we think you'll enjoy it ... lots of traditional country related news, features, artist profiles and links.
So, for rockabilly it's http://www.rockabillyhall.com/.
And, for true country it's http://www.countryhall.com/.
We'd thought you'd like that.






REVIEW: ANOTHER GREAT HEMSBY
Hemsby Rock 'n' Roll Weekender No. 29
3rd October to 7th October 2002
Oh yeah, it was time to rock 'n' roll again with a bevy of American, local and other international acts and so bidding a fond farewell to Mrs. Wilkinson for a few days (I could not help noticing that there was a smile on her face as I left) I headed off northwards to the Pontins Holiday Centre at Hemsby to recharge the rock 'n' roll batteries. Upon arriving, it was quickly back into the familiar meet 'n' greet routine with old friends plus, as always, the opportunity to make new acquaintances. This proved to be another great festival with high quality performances, especially from the American visitors.

Thursday
Because of other commitments, I was unable to get there for the opening night but from all accounts this Hemsby got off to a good start with a rockabilly set from Sheffield's The Tennessee Trio who were followed by the jump jive band of King Pleasure & The Biscuit Boys. The latter were substituting for Freddie Bell, who was forced to cancel as the rest of his European tour evaporated.

Friday
The opening acts for the commencement of the festival proper were two UK bands. First up was the Memphis styled music of The Planet Boppers, who concentrated their repertoire on the lesser known gems from the capital of rock 'n' roll and The Infernos who performed numbers in quite a frantic style. However, Jack Earls joined them on stage for a spirited workout on 'Crawdad Hole'.
It was the time for the first of the acts from across the water, namely rock 'n' roll originator Billy Adams who bought his own band The New Rock-A-Teers with him. I had seen Billy on two previous occasions in the USA and knew the performance would be good. This time around it exceeded expectations. He and his band (Clif Doyal on drums, Dave Moore on lead guitar (previously seen with Vernon Taylor) and Bobby Smith on upright bass and whom had backed up Jack Scott) were now gelling as a very tight outfit. The set consisted of a mixture of Billy's songs from the fifties/early sixties blended with a selection of his more recent recordings and were all, with one exception, original numbers. This added to the strength of this sparkling performance.   Complete with a magnificent quiff and looking every inch the rocker, he launched into 'Honey Bee' followed by 'Sweet Sugar Blues and, his answer to Bobby Bare/Bill Parsons, 'The Return Of The All American Boy'. This was great rockin' music which was followed by 'That's My Baby', the cult 'You Gotta Have A Ducktail' before slowing the tempo slightly with 'Goodbye Loraine' and the bluesy 'Blue Eyed Ella'. On the last mentioned the evocative feel of the number was enhanced by the addition of a sax player. Served up next was the old standard 'Mama Don't Allow' during which the New Rock-A-Teers showed the quality of their musicianship with extended solos. Billy also demonstrated his musical upbringing by thumping his knuckles on an amplified bucket lid. It was then into a great interpretation of his Dot recording 'You Heard Me Knocking' before he was joined on the stage by Wayne Hopkins on a second upright bass, much as his stage act in the mid fifties. The set ignited with 'Rockabilly Special' and continued this way with 'Hey Jesus', the wonderful 'Hot Dog I'm A Real Cool Cat', the melodic 'True Love Will Come You Way' before closing out with his classic 'Rock Pretty Mama'. That was rock 'n' roll. Based on this performance, I suspect that Billy and the boys will be back in Europe before not too long.
The final act of the night was The Marsdens, the latest band to be fronted by Mousie Zinn. There was a little too much thrash for my tastes but they were well received.

Saturday
This night promised to be a Sun Sound special but up first was the Spanish group The Bop Pills who were certainly visual on such numbers as 'Lonesome Train' that was partly sung in Spanish and complete with the bass player rolling around the floor.
The legendary Hayden Thompson then took the stage and who played the best performance that I have ever seen him give. Dressed in black from head to foot, it was straight into the superb rockabilly sounds of 'Fairlane Rock', 'Blues, Blues, Blues', 'You Are My Sunshine', 'One Broken Heart For Sale' and, one of the best numbers to come out of Memphis, 'Love My Baby. Hayden was cooking and this was demonstrated by hot renderings of 'Kansas City', 'Don't You Worry', 'Call Me Shorty' and a lovely fine tribute to the late Rosco Gordon with 'Cheese And Crackers'. It was then time for one of Hayden's set pieces, his Johnny Cash medley, before going into the cult 'Rockabilly Girl' and 'Mama, Mama, Mama'. His powerful voice was amply demonstrated on an emotive 'I Forgot To Remember To Forget'. Another medley of 'Shake Rattle And Roll/Mean Woman Blues' then ensued before a reprise of 'Love My Baby', the not often performed 'Tell Me That's The Way' and finishing off with a great interpretation of 'Gone Gone Gone'. It was good to see Hayden is such good form.
One of the purest rockabilly voices still performing today is that of Jack Earls and his show demonstrated why he is justifiably so popular today. Backed up by Wildfire Willie And The Ramblers, this was take no prisoners Memphis rockabilly all the way and, I guess, as close as to the Sun sound that we are going to get. Kicking off with 'Flip Flop And Fly' and followed by 'Take Me To That Place', 'Hey Jim', 'Sign On The Dotted Line' and 'Let's Bop', the set kept upping the levels of excitement. The ballad 'They Can't Take Me From You' provided a nice contrast before going off into orbit again with 'She Sure Can Rock Me', 'My Gal Mary Ann', 'Game Of Love' (from his new CD) 'Roll Over Beethoven', 'My Little Mama', 'Rockin' Daddy', Crawdad Hole' and 'Rock 'n' Roll Ruby' By now, I hope that I have painted a picture of incendiary rock 'n' roll coming from the Hemsby stage. Interspersed between numbers were some homespun comments from Jack that were appreciated by the audience. But it was the music that mattered and we were treated to 'Slow Down', 'Sick And Tired' and Jack's quite moving 'Tribute To Carl Perkins'. Earls was a close friend of the late and great Charlie Feathers and Jack concluded his act with his versions of 'Wedding Dress Of White' and 'Tongued Tied Jill'. Be in no doubt, this was rockabilly at its finest.
The reformed Restless closed out the Saturday night live performances. They were and remain a neo-rockabilly band and for those who love this style, they are the tops. (There were quite a few walking wounded the next day as a result of self-inflicted literal head bashing). 

  Sunday
British band The Hullabalues opened up Sunday night's proceedings, a jazz jump jive tinged band and who played an appreciated set with numbers such as 'Jump Jive And Wail plus 'Fools Fall In Love'.
  I was not too sure what to expect from The Edsels but from the commencement, it was obvious that we were in for a treat. Full of well-drilled routines and great harmonies, this vocal group was visual masters of their craft. Comprising three original Edsels and three sons of founding members, they were sympathetically backed by The Swing Kings and showed in no uncertain way that why the USA leads the world in this genre of music. On Hank Ballard's 'Let's Go, Let's Go, Let's Go' and Jackie Wilson's 'Baby Workout', The Edsels filled the stage with non-stop action complete with fine vocals plus oodles of co-ordinated leg and arm movements. From this great start, it was on with their workouts of 'Duke Of Earl', 'Every Beat Of My Heart' and 'Zing Went The Strings Of My Heart'. Up to now, the act had been covers but now it was time for original material with the awesome balladry of 'What Bought Us Together' and also their own ''Do You Love Me'. The act built up to a finish with several intentional false starts (such as Marcels style 'Blue Moon' /Get A Job/Why Do Fools Fall In Love') before settling on their real biggie 'Rama Lama Ding Dong' which was magnificently performed. For the well-deserved encore, it was the acapella 'When We Are Made as One' complete with soaring harmonies. They came, they sang and they conquered. Come back and see us soon. The close out live act of this festival was 'Hot Rockin' complete with, er, 'unique' dress style and act to match.

The quality of the headlining acts was up there with previous Hemsbys' and it was a joy to watch and listen. But wait, let us consider 6th to 12th May 2003 at Hemsby when we be visited by Jack Scott and his American band, Joe Bennett and the original Sparkletones, The Jacks/Cadets, Marvin Rainwater and Johnnie 'Mr. Swamp Pop' Allan. A mouth-watering line-up.

© Tony Wilkinson
November 2002




Danny Gatton CDs Available

If you've heard him ... we need say no more. If not, you are in for a rare treat. See why guitar giants such as Les Paul, Eric Clapton, Joe Pass, Jeff Beck, Joe Perry, Scotty Moore and many others are so amazed by the "Worlds Greatest Unkown Guitarist". CLICK HERE FOR INFO.



Skiffle King Lonnie Donegan Dies
Monday, 4 November, 2002 - Musician Lonnie Donegan, known as the "king of skiffle", has died aged 71. The Glasgow-born singer was midway through a UK tour after recovering from a heart operation earlier this year and was due to play a concert in Stoke, Staffordshire, on Monday.
One of the most successful recording artists of the pre-Beatles era, he had three number one hits and numerous top 10 entries in the UK chart. The star was with his wife and son when he died in Peterborough, Cambridgeshire, on Sunday. He had been complaining of back trouble shortly before he fell ill.
The skiffle king's hits included "Does Your Chewing Gum Lose Its Flavour," "My Old Man's A Dustman," "Cumberland Gap" and "Puttin' on the Style". His more recent work with Van Morrison led to a resurgence in his career. His skiffle music was a mixture of folk, jazz, gospel and the blues.
Dire Straits guitarist Mark Knopfler, who recently played with Donegan in London, called him one of his greatest musical influences. Elvis recorded one of his songs, I'm Never Gonna Fall in Love Again, and in 1978 Sir Paul McCartney was the driving force behind a tribute album featuring appearances by Sir Elton John and Brian May.
Donegan has been described as Britain's first musical superstar and his skiffle music swept through the country in the 1950s. His single Rock Island Line, released almost as an afterthought by Decca Records, sold three million copies after being played on BBC radio and gave him a hit in the UK and the US. He quickly became a star in both countries although he had only ever wanted to be a jazz banjo player.
In May this year he had heart surgery in London and seemed to have been on the mend, although he had suffered from cardiac trouble since the 1970s. Christened Anthony James, the star changed his name after a master of ceremonies confused him with the American guitarist Lonnie Johnson, and the name stuck. He was married three times and has seven children.






London Stage Presentation
Legend of Eddie Cochran
An Gene Vincent:
Race with the Devil
Written by John Collis and John Joe Turner
Directed by John Joe Turner
The Rosemary Branch Theatre 2 Shepperton Road, London N1 3DT
(on the junction with Baring Street and Southgate Road)
Race with the Devil is back - the most successful rock 'n' roll musical ever to play the London fringe. Paul C Maitland is Gene Vincent, and the music is performed by the world's top rockabilly musicians, The Blue Cats, who also team up with Paul C in a Vincent 'tribute' show that tours worldwide. Pat Myers plays Eddie Cochran, the home-loving boy who created some of rock 'n' roll's most enduring anthems.
Incidentally, Paul Maitland shares his birthday with Gene, the hero he was born to emulate. And when legendary television producer Jack Good, a pivotal character in Race with the Devil, revived his groundbreaking TV show Oh Boy! in the 1980s he immediately hired The Blue Cats. Full circle. The band have also played with such legends as Carl Perkins and Roy Orbison.
And yet Race with the Devil is a play with music, not a compilation show or nostalgia revue. It is set during the trailblazing UK tour of 1960 headlined the two stars who introduced rock 'n' roll music to this country. The tour ended in tragedy, with Eddie Cochran's death, and the play is in part about the perils of rock 'n' roll life on the road - Cochran died young, but Vincent's death through drink, drugs and despair took another eleven years.
Race with the Devil is also about the unlikely and tempestuous friendship between the precociously talented Cochran, songwriter, producer and virtuoso guitarist as well as a singer with James Dean's good looks, and the dissolute Vincent, a devil with the voice of a bruised angel. It captures the excitement as Britain emerged from the drab 1950s and awoke to rock 'n' roll, as well as the humour, drama and above all the music of the era. So, a play about rock 'n' roll is also the classic rock 'n' roll musical.
22 October - 10 November 2002
Tuesdays to Saturdays 8.00pm
(except Friday 1 November, 7.00pm)
Sundays 4.00pm - £10 (£8 concessions)
All seats £8 on Tuesdays
24-Hour Box Office (020) 7704 6665
email: cecilia@rosemarybranch.co.uk
or contact John Collis: 07816 130 166
Hugh Collis, Race with the Devil Productions, 10 Drylands Road, London N8 9HN, Tel 020 8348 2741, Mobile 07957 509991






Mini Review
Hemsby 29 Was a Rockin'
Feast from Beginning to End
Posted 10/9/02 - Of the American visitors, first of the block was Billy Adams and The New Rock-A-Teers. He was in great voice, backed by his own USA band and augmented, when the number required, by UK musicians. His set featured, apart from one, his own numbers and boy they rocked. It was a mixture of songs he first recorded in the fifties/early sixties and the session he held at the Sun Studio, Memphis in 1998. He looked and sounded every inch a rockabilly/r 'n' r originator. Great show and he will be back to Europe, that's for sure.
Hayden Thompson oozed confidence and also rocked. This time around, he only featured one of those dreaded medlies, concentrating instead on full blown songs and the show was all the better for it. Interestingly enough, he did a tribute to Roscoe Gordon with a sparkling 'Cheese And Crackers', a number Hayden claimed from the stage that he originally wrote. It was all there, 'Love My Baby', 'Fairlane Rock' etc. A sparkling set from a man with a great voice, despite the backing band making the odd mistake (but those got swal Jack Earls, now aged seventy, showed many a youngster just how it should be done. His stage presence is awe inspiring and his voice remains pretty powerful. Clearly enjoying himself, and receiving a total in sync. backing from Wild Fire Willie & The Ramblers, this was the purest rockabilly show of the whole festival. He featured virtually his complete Sun catalogue plus his interpretation of many other songs.
For myself, The Edsels performance wise held a big question mark. I am able to advise that visually they were one heck of a sharp act and the harmonies were spot on. They featured well drilled routines throughout their set and it was generally excellence from beginning to end. Theirs is a five vocalist line up (three originals) plus their own lead guitarist and on this occasion they were backed up by the six piece Swing Kings. The set consisted, apart from three original numbers, their interpretations of covers ranging from 'Let's Go, Let's Go' through 'Duke Of Earl' and 'Every Beat Of My Heart' to a blinding acapella version of 'When We Are Made As One'. 'Rama Lama Ding Dong' was performed with gusto and an exciting routine. This group is the business, certainly up there with the best of the vocal groups to appear at Hemsby.
Audience attendance was down a little, but those who made it along had a great Hemsby with rockin' music par excellence.
Regards,
Tony Wilkinson



Scotty Moore's Official Web Site: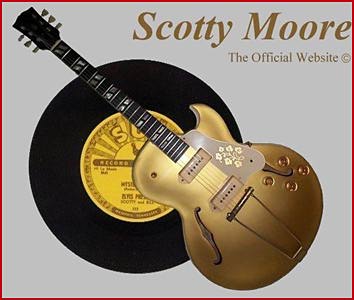 CLICK LOGO ABOVE TO ENTER
D.J. Fontana's Web Site

New Rockabilly Magazine
Sheree Homer has just published the premiere issue of a new magazine, "Rockabilly Revue," is now available. It is a 16 page black and white magazine filled with photos. It will be available every three months. September's featured artist is Dale Hawkins. He sang the smash "Suzie Q" in 1957. It also features an up and coming rockabilly trio from Wausau, Wisconsin. Get your copy today for only $3.50 plus $1.00 for shipping in the states. International shipping is as follows: Europe $2.50, Australia $2.60, and Canada and Mexico $1.10. You can send check/money order for US customers or international money order for international customers to: Sheree Homer/Rockabilly Revue, 4421 32nd Avenue, Kenosha, Wisconsin, 53144. Any other questions feel free to email Sheree at homersm2001@yahoo.com Thanks for your support and keep on rockin'!




Billy Adams -
Rockin' Thru The Years 1955-2002
Sanctuary Records is set to release Billy Adams-Rockin' Thru The Years 1955-2000 (Castle Music CMRCD581) and a limited-edition vinyl single (CMN07581), on October 7, 2002. The 27-track career retrospective marks the first time that all of the early recordings of this Kentucky-born rockabilly and rock 'n' roll legend have been gathered on one album. The pre-release for the record will coincide with Adams' first European headliner performance on October 4, at the 29th Hemsby Rock 'n' Roll Weekender, in Norfolk, England - one of the top rockabilly festivals in the world. The compilation was produced by Nashville talent manager Clif Doyal, with assistance from Adams himself, who also currently resides in Nashville, and it is the first release to be licensed from their joint-venture label imprint, Redbush Classics Records. The Sanctuary CD features liner notes by top rock 'n' roll authorities, Stuart Colman and Tony Wilkinson, and includes a 16-page booklet with many historic label shots, photographs, and period reviews from Billboard Magazine. All of Adams' original recordings for Quincy, Dot, Nau-Voo and Fern Records are featured here, including many that have not been re-issued since they were first debuted. The digitally re-mastered collection also includes historic unreleased tracks, "living room" recordings from the late 50's, selections from his 1998 CD, Legacy (recorded at Sun Studio), and recent live recordings from a 2001 performance at Billy Block's Western Beat radio show, in Nashville. The release is being supported by press ads, and numerous magazine and radio features, both in the U.S. and Europe.
Rockabilly Hall of Famer, Billy Adams, began his career with the landmark song, "Rock, Pretty Mama," released on Quincy Records, in 1957 (the new Sanctuary vinyl single is a re-issue of this sought-after recording, together with a previously unreleased track from his Sun sessions). The original 45 rpm record of "Rock, Pretty Mama" is now valued between $1,500-$2,000 in The Official Price Guide to Records: 2002. Adams followed this with a string of releases including, "You Heard Me Knocking" for Dot Records, the teen anthem, "You Gotta Have A Duck Tail" and "Return of the All American Boy" for the legendary Nau-Voo label, and "Darling Take My Hand" for Fern Records, among others (many of these original records are housed in the collection at the Country Music Hall of Fame). Those seminal recordings have cemented Billy Adams' status as one of the originators of the rockabilly sound, and they have been included on over 20 compilation releases on MCA, Ace, Bear Family, Collector, and other labels worldwide, for the past 25 years. While those releases have helped to maintain the visibility of this influential artist, Billy Adams-Rockin' Thru The Years 1955-2002 is a complete career retrospective that spans Adams' nearly 50-year career (until recently many people thought him to be dead), and fills in the gaps of this musical survivor's recording history. Sanctuary's release of Billy Adams-Rockin' Thru The Years 1955-2002 will further develop a major revival of interest in Billy Adams' career in Europe, and the US.



Former Blue Cap Juvey Gomez RIP
Juvenal Gomez passed on to Heaven September 12, 2002 and left behind close friends and family members who will hold his memories deep in their hearts. Juvey was survived by: Wife, Linda Gomez; Daughters, Lisa Gomez Wright, Monica Lezley Gomez and Lauren Gomez; Sons, Tony Heart, Tony Gomez & Richard Gomez; Brothers, Joe Gomez & Johnny Gomez; Sisters, Mona Gomez & Sonya Gomez; Father, Joe H. Gomez. Rosary services were held 6:00PM Monday September 16, 2002 at Gonzalez Funeral Chapel.
"Juvey Gomez who was Blue Caps drummer, photo from 1958, died of a heart attack at his home in Dallas on Spetember 12, 2002. Gomez was a life time resident of Dallas and well known and respected as a drummer in the Dallas area up till his death. Juvey was really more a jazz drummer than rock 'n roll in his long career mainly playing in Dallas. However, he was alway more than glad to talk about his days with Vincent and being around people like Eddie Cochran, and Ricky Nelson. Though rock 'n roll was not his first love in music he would get totally excited and carried away talking about his Vincent days when he was 15 years old. He did not know till years later how much interest there was in his Blue Caps days. He once told me when he was a little kid before he took up the drums he was a stage dancer and that gave him the rhythm to be a good drummer. I can tell you he was very proud to finally have his picture on the cover of a Vincent release which was the 1998 cd Gene Vincent and His Blue Caps - The Lost Dallas Sessions-1957-'58." -Steve Bonner
Juvey played on the famous Capitol Tower sessions which featured Eddie Cochran on backing vocals. The last track he played on was "Now Is The Hour".





Rockabilly Hall of Fame's
First Mini-Museum in Middleton, TN
Eddie Bond's "Home Grown Country Museum & Music Hall"
and Rockabilly Hall of Fame Combine Efforts
MIDDLETON, TN - September 8, 2002 - Eddie Bond and Bob Timmers have agreed to combine forces to create the first mini-museum for the Internet's "RHOF". The Rockabilly Hall of Fame (a registered and trademarked entity since 1997) will supply Eddie Bonds's building with memorabilia and merchandise.
Eddie's Museum & Music Hall, located at 111 Main St., Middleton, TN, offers live traditional country and rockabilly music every Saturday night starting at 8 pm. If Eddie's band is on the road, don't worry, you'll always have a top group taking the stage. For more information contact The Eddie Bond Organization office: 400 Deer View Lane, Bolivar, TN 38008. 731-658-5935, fax 731-658-4197.


Eddie to Appear at
Viva Las Vegas, Easter Weekend 2003
Eddie Bond and long-time side-kick Bo-Jack Killingsworth will be on stage during the annual Rockabilly Weekender held in Las Vegas, NV. The boys are scheduled to appear Sunday, April 20, 2003 at 6-pm in the Dance Hall of the Gold Coast Hotel. They will be part of the Rockabilly Hall of Fame's Stage Program.







Ronnie Hawkins Ready to Rock
By Brian Gray - Toronto Sun - Aug. 29, 2002 - "He's in great spirits," the legendary rocker's daughter-in-law Mary McGillis said yesterday. "He looks great but he's a little tired like anybody would be after surgery." The Hawk underwent cancer surgery at Toronto General Hospital on Aug. 13 when a tumour was partially removed from his pancreas. He returned to his Peterborough-area home six days later, where he has been recuperating. Hawkins' doctors said in a statement the entire tumour could not be surgically removed but there is no sign of any spread of the cancer and Hawkins is feeling good. "The cause of pancreatic cancer is not known, and when surgery cannot be completed, there is no cure," his doctors wrote. "However, Ronnie met with his doctors (yesterday) and it was agreed that since he is doing so well there is no need to start chemotherapy in the foreseeable future. He will continue to be monitored by his doctors in Peterborough and Toronto." McGillis said Hawkins is up and around and visiting with family and friends. So far, no plans for the fall have been altered.
&nbsp There will be tribute show for Ronnie Hawkins, October 4 at Massey Hall in Toronto. Earlier that day, they're putting Ronnie's star on Canada's "Walk of Fame"; it's a star on the sidewalk that will be right in front of where Le Coq D'or was and normally they only do the honours in June, but due to the nature of Ronnie's illness, they're doing it now! Ronnie's quite thrilled about that. As well, Toronto is calling Oct 4 "Ronnie Hawkins Day" and giving him a key to the city. Dale Hawkins will be at the tribute show too.




Kay Wheeler Appears on NBC Nightly News
Kay Wheeler, founder and president of the first Elvis Presley Fan Club in the world will appeared on Tom Brokaw's NBC nightly news network program on Friday evening, August 16, at 6:30-7:00 PM, ET.
&nbsp Kay Wheeler has written an autobiography with noted author, Allen Harbinson who wrote the book "Evita" from which the movie starring Madonna was adapted. The title of Kay's book is Growing Up With The Memphis Flash. A screenplay adaptation has also been completed by Alan Harbinbson.
&nbsp Kay was called to meet with the news team in Las Vegas  for the interview and to show her collectibles of Elvis to a nationwide audience! She has also released a 13 track CD, Kay Wheeler's Personal Memories of Elvis with voice-over by Kay to such songs as Good Rocking Tonight, Love Me Tender, and Hound Dog, in which she shares in exciting detail the mutual attraction between her and Elvis during their meetings when Elvis was on tour in Texas and Louisiana!  The Fan Club miracle, plus an exclusive interview Kay had with Elvis' beloved mother, Gladys Presley at their home in Memphis.
&nbsp The Australian Network, ABC TV, aired their interview with Kay on August 14, Wednesday at 7:00 pm. Sunday World, the number one newspaper in Ireland with circulation in the United Kingdom, ran photos of Kay & Elvis in their Sunday issue, August 11.  A major Detroit Michigan newspaper has interviewed Kay and has published a featured story. Giant Gene, famous world wide DJ is playing Kay's CD as is Rockabilly Radio and StudioEnglandLtd. The #1 Elvis website world-wide ELVIS COLLECTORS GOLD has an interview, the NBC News Ad, and the Fan Club Letter sent to Elvis Presley Fan Club heads and members around the world! Also at ELVIS COLLECTORS GOLD you can hear a sound clip of Kay's Moving Fan Tribute!
&nbsp To contact kay, join the fan club and/or obtain her CD Click on WWW.KAYWHEELER.COM






Oneida Fest, Green Bay, Wisconsin,
7th July to 13th July 2002
Phew what a festival! Probably the greatest rock 'n' roll festival yet. The organisation was spot on, all acts started on time and generally finished on time. Every artist appeared to excel themselves.
&nbsp Large roomy hall with air conditioning where you could see from any vantage point and was complete a marvellous sound system. There were two other halls/lounges operating at the same time. All together I caught around 46 acts but missed around another 60+.
&nbsp Only two no shows, Roscoe Gordon (the reason all too now sadly apparent) plus Don & Dewey (again medical reasons given).
Bobby Caraway - okay but not too exciting with Las Vegas style rock 'n' roll.
Huelyn Duvall, inspired show backed up by Wildfire Willie & Ramblers.
Royal Crown Review, only jump jive outfit on bill. Got a bit boring with elongated numbers.
Mac Curtis, back to rockin' form.
Glen Glenn/Gary Lambert. Quite unique, good rockabilly from hyperactive man.
Treniers. Sublime, basically same set as Hemsby with bags of oomph and style.
Sonny Burgess & Pacers. Straight ahead no frills rock 'n' roll.
Collins Kids. Just wonderful and what class.
Gene Summers, okay but a little too much of a night club style act.
Wayne The Train Hancock. Just like Hank Williams on speed.
Alvis Wayne, back to top notch rockabilly form.
Sid & Billy King. Never seen better.
Jimmy McCracklin. This time he tailored his set to the type of show, great.
Sanford Clark & Al Casey. Better than at Hemsby, enjoyable.
Lew Williams, again never seen him better
Dale Hawkins. First time for myself and what a blistering performance. Backed up by Deke Dickerson, he was a highlight for yours truly.
Narvel Felts, another blinder from Narvel the Marvel.
Charlie Gracie, only caught the final number but he got rapturous applause.
Marti Brom, she just goes from strength to strength. Hope she headlines at Hemsby soon.
Sleepy LaBeef. Probably the most countryish set of all acts, enjoyable.
Larry Donn, he came, he sang, he pounded the piano and he rocked.
Jack Earls, simply marvellous.
Vernon Taylor, total enjoyment.
Hayden Thompson, great voice, best I have ever seen him.
Billy Lee Riley had the crowd eating out of his hand. True showman.
Jack Scott, another highlight. His set was perfection.
Robert Gordon. Good, he had Eddie Angel and Marco DiMaggio on lead guitars.
Rosie Flores. Very very tasty and good band (The Falcons) behind her.
Billy Adams, a revelation and his performance bodes well for next Hemsby.
Ray Campi, standard Campi fare which went down well.
Eddie Bond, still with great rockin' voice and now a crown topper.
Big Al Downing. To use his own words, bought a little colour to the proceedings and boy did he rock.
The Crickets, simply blinding.
The Comets (but no Jacko Budding). As far as the audience was concerned, the hit of the festival.
Marvin Rainwater, good normal Rainwater rockabilly set.
Johnny Powers, fine rockin performance with bags of Presleyish overtones.
Ersel Hickey, moments of fragmentary brilliance but a flawed performance (he was short of breath).
Rocky Burnette, Paul Burlinson and DJ Fontana. Good but also had the Dempseys in the act which gave the sent too much thrash.
Rudy Grayzell, fine energetic rock 'n' roll.
Sonny West, basically the same set as at Hemsby but a bit more cohesive.
Janis Martin, announced as the Queen of Rockabilly and she lived up to the name.
Ronnie Dawson. Second biggest hit of the festival, looked more gaunt than ever and was not quite as heavy sound-wise as last time I saw him.
Joe Clay, performed a typical set which was enjoyable.
James Intveld. Bags of stage presence, lot of original numbers, great voice.
Barrence Whitfield, plenty of excitement and originality. Will be a natural for the Rhythm Riot.
Young Jessie. Basically the same set as at Hemsby which equals good.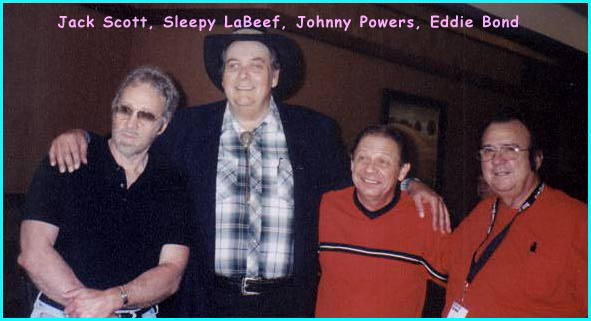 &nbsp A lot of the artists were walking around before and after shows, talking to anybody who stopped them, Great atmosphere. There is talk of having the event again next year, but in the fall as it was such a success. All in all, the musical experience of a lifetime.
Regards,
Tony Wilkinson







Memphis Bluesman Rosco Gordon Dead at Age 74
With profound sadness, Stony Plain Records shares the news of the recent passing of recording legend - and dear friend - Rosco Gordon. The rhythm 'n blues pioneer and a guiding light of both rock and reggae was found dead of natural causes at his Queens, New York, residence on July 11, 2002, where he had lived since moving from his Beale Street roots in the early 1960s.
&nbsp A native of Memphis, born April 10, 1928, Gordon skyrocketed to fame in the early fifties with a string of hits for the Chess, RPM and Duke labels, including originals like Booted" and "No More Doggin'." Many of his early recordings (some of which are available from ACE Records in the UK) were made at Sam Phillips' Memphis Recording Service, alongside friends and fellow music phenomenons Ike Turner, Howlin' Wolf, B.B. King and Little Milton.
&nbsp At the radio powerhouse WDIA, where Rosco played piano and sang on his popular weekly show, he made additional recordings with friends Johnny Ace, Bobby "Blue" Bland and Earl Forest, and when Sam Phillips created the Sun Records label in the mid-fifties, Rosco returned to work with his favorite producer and continued to release brisk selling singles for the growing radio market throughout that decade. A noteworthy contribution to pop music during this phase of Gordon's career for Sun included "The Chicken," a song which not only started a dance craze but also made famous a rooster named "Butch," who, decked out in miniature suits to match his owner, gyrated and drank scotch during live performances, to the delight of audiences. However, Butch succumbed to his excesses at an early age, and Rosco could never find an equal talent among the henhouses of the South.
&nbsp In 1960, inspired by a riff from fellow musician Jimmy McCracklin, Rosco penned "Just a Little Bit," a song which has become one of a handful of standards from the R&B era, but remarkably, on the heels of the success of his original rendition, Rosco walked away from the music business for love. After the failure of his first marriage to Ethel Bolton, thanks largely to the lifestyle of the touring musician, Rosco elected to settle down with Barbara Kerr, near the bright lights of Manhattan, to raise his second family. He purchased part ownership in a laundry business and became a full-time father to three sons and principal caregiver when Barbara was diagnosed with bone cancer in 1982.
&nbsp Following Barbara's death in 1984, Rosco felt the pull of his first and most enduring love, music, and renewed his live performance career in the New York area, while writing and recording new material at home. His uncommon rhythmic expression was ill-suited to the synthesized trend, and Rosco suffered a number of disappointments before pairing with guitar great Duke Robillard for the recording of "Memphis, Tennessee," released in November, 2000, by Stony Plain Records. Duke and his band recreated the shuffling beats and honking saxophones that had characterized Rosco's early career and restored the vigorous appeal of early hits, as well as providing the "Rosco Vibe" on new songs like the title track, a tribute to Gordon's hometown and musical past. As a result of the attention garnered by the album, Rosco was nominated for a Handy Award as "Comeback Artist of the Year."
&nbsp Although suffering from diabetes, heart disease and a herniated disc in his lower back, Rosco jumped into his second coming with an energy and enthusiasm that delighted audiences everywhere. He participated in several major documentaries about early rock and R&B and performed in festivals at every opportunity. In May, he returned to Memphis, joining old friends B.B. King, Ike Turner and Little Milton for a performance tribute to Sam Phillips during the 2002 W.C. Handy Awards Show (which will be broadcast by PBS later this year). He culminated the busy weekend of activities and honors with a show featuring blues great Reverend Gatemouth Moore and jazz legend Calvin Newborn. Rosco Gordon was an influential performer-composer, whose unique contributions to contemporary music of many styles will long endure. Among friends and family, he will be especially missed for his youthful optimism and unquenchable creative spirit.
&nbsp A final farewell is scheduled for Thursday, July 18th, 2002, at Walker Funeral Home in Elmhurst, New York, with interment following on Friday at the Rosedale Cemetery in Linden, New Jersey.
-courtesy Dan Davidson




D.J. Fontana's Book & CD
"The Beat Behind The King" is now available. The drummer who played with Elvis Presley offers a book and CD that covers his fourteen years with "The King." It's a personal look at D.J.'s life on the road, plus recordings, movies and TV appearances including the famous '68 Comeback Special. The book contains over 50 photos ... rare and candid shots of D.J. and Elvis. Fontana recalls the memories as only he can tell them, and insights into Elvis at work, rest and play and dispells some of the myths that still persist about the man and his music. This book and free accompanying CD are available from Elvis International, P.O. Box 3373, Thousand Oaks, CA 91359. You can also order by phone (818-991-3892) or fax (818-991-3894). USA price is $24.95 plus $5 shipping (foreign airmail, add $15). Published by Darwin Lamm, the editor and publisher of "Elvis International - The Magazine."






Billy Lee Riley Says:
"I Have a New CD Available"
"Thought some of you might like to know that I have just released a new CD. It was recorded with a live audience at the Historical SUN STUDIO'S in Memphis, Tennessee. The same place I recorded all of my records in the fifties. It is recordings of some of my fifties things including ... "Flyin' Saucer Rock n Roll", "Red Hot" and many others. If you are interested in purchasing an autographed copy, the is ... $20.00 postage paid in the U.S. and $22.00 for Canada and Europe. Email me for more information or send your orders to:
Billy Lee Riley
302 Marchand Street
Newport, AR 72112
mygal68@yahoo.com - briley156@excite.com "




New: Charlie Feathers "Live" CD
MEMPHIS, TN - AVAILABLE NOW ... a CD of the Charlie Feathers live concert performance in Paris, France, February 28, 1987. This is one of the last performances by Charlie and one that is still remembered today. The show also features Bubba Feathers, Charlie's son. The disc will available at the Green Bay Rockabilly Week show, July 7-13 at the Rockabilly Hall of Fame vendor table. Charlie's daughter, Wanda, will be there also. Contact information: Charlie Feathers - Live In Paris, France 1987.
(Peepineyes Records, 2550 Fairbrook Cv., Horn Lake, MS. 38637. E-mail: PEEPINEYES55@aol.com)






"Roots of American Music"
Sunday, Aug. 11th in NYC
NEW YORK, NY - At New York City's Lincoln Center Damrosch Park at 5:45pm, a non-stop Red Hot Rockabilly Party will commence! This unprecedented evening features an all-star cast. PAUL BURLISON (a member of the Original Rock 'n' Roll Trio with Johnny and Dorsey Burnette) created the fuzztone rockabilly guitar sound. ROCKY BURNETTE (son of Johnny) carries on his father's hard-driving rock 'n' roll tradition. NARVEL FELTS,country/rockabilly legend from Arkansas, recorded for Sun Records in the 1950s & won the 1975 Record of the Year award with "Reconsider Me." ROSIE FLORES, a San Antonio native, was the first Hispanic woman to have a country hit with "Cryin' Over You." Her group was voted Best Swing Rockabilly Band in 1998; the L.A.Times said Rosie "rocks and swings like crazy." WANDA JACKSON became America's first female rock 'n' roll singer in 1956. Her hits include "Let's Have A Party," "Fujiyama Mama," & "Right or Wrong;" she was featured on the PBS "Women of Rockabilly" special. BILLY LEE RILEY's monster hits of the 1950s on Sun Records include "Red Hot" and "Flying Saucer Rock 'n' Roll." His voice is better than ever & his energy level will amaze you. Jack Scott charted 19 songs from 1958-1961, including "My True Love," "The Way I Walk," "Goodbye Baby," "Save My Soul," "What in the World's Come Over You," & "Burning Bridges," & he is still rockin' with the best of them.
&nbsp The hard-rockin' all-star group JIM WEIDER & HIS ROCKABILLY GURUS, featuring RANDY CIARLANTE on drums & LEE ROCKER on bass, will be kicking off this party. As a special added attraction, THE PERSUASIONS, the finest a cappella group performing today, will sing a unique tribute to Elvis. If you like early rock 'n' roll, if you like a good time, if you like great entertainment, this is the one set not to miss. It's New York's tribute to the King on the 25th anniversary of his passing. WFDU 89.1 FM Farleigh Dickenson's global voice will be heard at the Roots of American Music Festival.
&nbsp Bob Timmers, founder of the Rockabilly Hall of Fame, Nashville, will be on hand to assist the artists with their merchandise sales and meet rockabilly fans and visitors in the New York area. If you would like to contact Bob for an interview while he is in New York the weekend of August 9-10-11, please call 615-740-7625.






Boyd Bennett R.I.P.
Boyd Bennett, who wrote the song "Seventeen" and was once a fixture in Louisville radio, television and dance bands, died Sunday of a lung ailment in Sarasota, Fla. He was 77. "He helped put Channel 32 on the first time it went on the air," said his widow, Margaret. Bennett was the general manager of WLKY-TV in the early 1960s and had appeared on WAVE-TV in the '50s. Bennett appeared on several shows and created "Boyd Bennett and His Space Buddies," in which he was a local Captain Video character. He liked to tell people that he'd given comedian Foster Brooks his first break in television on that show. The songwriter, musician and TV producer was born in Muscle Shoals, Ala., but was raised in North Davidson, Tenn., just outside Nashville. He began his musical career singing gospel songs with his grandfather and started his career playing guitar in honky-tonk bars. Bennett served in the Navy in World War II and suffered a serious leg injury at the Normandy landings on D-Day. After the war Bennett worked the nightclub circuit and was a disc jockey and announcer on several radio stations in the Louisville area.He started his own band, Boyd Bennett and his Rockets, in the 1950s and hit pay dirt in 1955 with "Seventeen," a huge hit that was also recorded by several other groups and earned him several million dollars. He left Louisville in 1970 to pursue business interests in Dallas and returned from 1989-96 before going back to Texas. He had moved to Florida a few months ago. Bennett's funeral was Friday, June 7th in Sanford, Fla. He is buried there.



Free Promotion for Your CD
RHOF Label Offers New Showcase
CD Series for Artists & Labels
The Rockabilly Hall of Fame label is doing a series of Showcase CDs, pressing approximately 250 copies of each disc. This project is in addition to the Volumes #1 through #5 the label already offers. The Showcase CDs will contain 15 tracks from 15 various artists - with all material taken from different rockabilly artists' new and/or current CDs. Featured on the tray card is the artist's Labels name, album title, and track (that is used) plus a line or two of text giving patrons a place of contact and/or point of purchase address. These sampler CDs will only be sold within the Rockabilly Hall of Fame web site or at shows they attend. Any profits will be used to help keep the RHOF going and growing. No CDs will be send to distributors or wholesalers for resale, but some may be given to the media, provided they have the proper credentials.
INTERESTED? Send your CD to:
Showcase CD
Rockabilly Hall of Fame
P.O. Box 639
Burns, TN 37029 USA
Also, send along the words of copy ... as to where your full CD is available for purchase and/or where people can obtain more information about your act. The big Green Bay show is coming up soon. Shouldn't you be represented there? The RHOF will be attending the entire week and can make your song available on a Showcase CD. ALL MATERIAL SUBMITTED MUST BE ROCKABILLY RELATED! [The RHOF reserves the right not to accept poor quality material and songs that do not properly represent the genre.]







REVIEW: Hemsby Rock 'n' Roll Weekender No. 28
THE BEST HEMSBY YET?
7th May - 12th May 2002
Once again, it was time to jump in the chariot and head up the road to the Pontins Holiday Centre at Hemsby to recharge the rock 'n' roll batteries. This one had the potential of being one of the best so far and, on reflection, it realised this exalted achievement. Indeed, it has to be regarded as possibly the best Hemsby yet. Clearly the international malaise that affected the last event, which was shortly after the shocking crazy events on September 11th, had been discarded and come the Saturday, the house full signs were in evidence. 

Tuesday, Wednesday and Thursday
&nbsp This Hemsby kicked off on the Tuesday evening with the appearance of HOT ROCKIN', a UK band from Norwich, who proved popular with the early arrivals. They were followed on Wednesday by THE SUGAR CREEK TRIO and GENE GAMBLER & THE SHUFFLERS. The last mentioned contained two members of The Rimshots who are one of the best bands on the UK scene. Thursday night saw the festival crank up a few gears with the appearance by THE TINSTARS from Holland who gave a lively performance with their versions of some rockabilly classics such as Wynn Stewart's 'Come On' and Roy Orbison's 'Mean Little Mama. Good lead guitar but possible a little too much thrash. The boys returned to the stage to support the first of the American visitors ALVIS WAYNE. 
&nbsp This guy is a true rockabilly originator from Texas and on the previous occasions I have seen him, he has turned in powerhouse performances. Sadly, this was not to be one of them. He stepped on stage with an out of tune guitar, which he corrected, and it was then into his unique brand of music with 'Swing Bop Boogie' and 'Rockabilly Daddy'. I guess that everyone has an off night and it quickly became evident that this performance was falling into that bag. The previous killer edge was just not there, coupled with a lot of talk between numbers. The set consisted of a mixture of his originals for the Westport label such as 'I Gottum', 'Lay Your Head On My Shoulder', 'Don't Mean Maybe Baby' and 'Sleep, Rock-a-Roll Rock-A-Baby' together with selections from his two albums for Rollin' Rock Records in the form of 'Here I Am', 'You Can Have Her', 'Those Lonely Lonely Teardrops', Johnny Horton's 'Honky Tonk Man' and Ernest Tubb's 'Thanks A Lot' before closing out with 'I'm Movin' On'. I look forward to seeing an on-form Alvis the next time around. 

Friday
THE RIMSHOTS commenced Friday night's proceedings in the main ballroom with a really solid set. These guys just go from strength to strength and enhanced their reputation with this crowd-pleasing set. Walking onto the stage next was the Arkansas piano player TEDDY REDELL, looking totally resplendent in a white suit. He demonstrated his virtuosity on the ivories by performing solo on some untitled boogie woogie instrumentals and vocalising on such as 'Got You On My Mind', 'Baby What You Want Me To Do' and 'Sitting On Top Of The World' before being joined by the backing band, Sweden's Wildfire Willie And The Ramblers. Boy, Teddy sure can play the 88 keys but this solo section probably went on a trifle too long for a main hall performance. However this was quickly overcome as he and the boys launched into the catalogue of music that he had laid down for the Vaden, Hi, Rimrock and Atco labels in the late fifties and early sixties. Opening up with 'Knocking On The Backside', 'Before It Began (Shame Shame)', 'Corinna Corrinna', it was into such goodies as 'Gold Dust', Pipeliner', 'I Want To Hold You' and 'I Sail My Ship Alone'. This was glorious mid tempo piano lead rock 'n' roll. Next up was the newish number 'Boogie Woogie Bill From Shelby County Tennessee'. Special mention must be made of the spot on backing throughout this portion of the show from Wildfire Willie and The Ramblers, once again they had done their homework. This was followed by 'Judy', which of course has been recorded by Elvis, before Teddy closed out the set with 'Brain Cloudy Blues' and a reprise of the aforementioned 'Boogie Woogie Bill'.
&nbsp The next American visitor was Memphis born extrovert MATT LUCAS. This is the first time I have witnessed a guy screamin' out exhilarating rock 'n' roll whilst pounding the drums at the same time throughout the set. Matt is a total professional and, from the outset, he gave 110% with oodles of visuals. The opener was 'Oobie Doobie' followed by 'Ubangi Stomp' and 'Drinkin' Wine Spo Dee Oh Dee' complete with high pitched squeals. The non stop rockin' music continued with a frenzied interpretations of 'Put Me Down' and 'Mystery Train' before he slowed the pace down a little with 'Baby, What You Want Me To Do. But that could have only been a pause for breath as he then launched into his own unique stylings of 'Sweet Little Sixteen', 'Down The Line' and 'Maybelline'. The in sync. backing was provided by Wayne Hopkins and The Hemsby House including Thomas Lavelle on piano and Dave Briggs from The Avengers on guitar, they were clearly all having a ball. Matt had been the drummer in the Narvel Felts band when he broke into the American charts with his styling of 'I'm Movin' On' and, for this occasion, Narvel joined him on stage to play the lead guitar, wonderful moments. The set concluded with a marvelous workout on 'Midnight Special. The whole set can best be summed up as high energy roadhouse rock 'n' roll. Performances on Friday came to an end with a fine hillbilly, rockabilly and western swing tinged set from LYNETTE MORGAN & THE BLACK WATER VALLEY BOYS. Lynette is charismatic and possessing a great voice. Hopefully she will succeed in her selected music styling. Before we leave Friday night, special mention must be made of a fairly momentous event: Dave Travis of Stompertime Records went up to the bar and bought a round of drinks. I was there when it happened!

Saturday
The live music on Saturday commenced in The Queen Vic Pub, normally reserved for disc jockies to play first rate rockin' wax but at ear splitting volume. First up was The Sugar Creek Trio who had been previously seen in the ballroom. They were followed by IAN CALFORD & THE BRAKEMEN who have the Johnny Cash sound down to a fine art. Overall, a pleasing and enjoyable performance and worth a ballroom performance next time around. The show in the main hall was lead off by THE SEAT SNIFFERS (I kid you not!). This is a Belgian roots music band whose musical style is loosely in the Barrence Whitfield and Blasters bag, certainly different. Next up was Swedish band WILDFIRE WILLIE & THE RAMBLERS, an exciting band, who laid down a highly visual selection of rock 'n' roll with a mixture of originals such as 'Go Mad Cat' and covers like 'Let Me Slide'.
&nbsp Then came the unique talent that is LEW WILLIAMS, backed up by The Rimshots. As one has come to expect, Lew's performance is based on his original song stylings that he cut for Flair, Imperial and Hamilton in the fifties. Impeccably dressed and looking a young 68, it was straight into 'Bop Bop Ba Doo Bop' followed by 'Don't Mention My Name' and 'I'll Play Your Game. This was Texan rock 'n' roll colliding head on with jive talk. Lew again appeared a little nervous but he had previously confided that this was his natural styling, whatever it was appealing. With short jerky movements he followed with 'I'll Play Your Game', the classic 'Abracadabra', the great 'Teenagers Talkin' On The Telephone' and the beat balladry of 'I Saw You Crying In The Show'. Lew was performing one great number after another as he served up 'Centipede', 'Gone Ape Man', 'Something I Said' and the classic 'Cat Talk'. The enjoyable set closed out with two more readings of 'Cat Talk' and further versions of 'Something I Said' and 'Teenagers Talkin' On The Telephone'. He certainly is different and totally authentic. After a break, The Rimshots returned to the stage to once again back up the show stopping NARVEL FELTS.
&nbsp I have seen Narvel on quite a few occasions previously and he has never failed to excite with a breath taking performance. It was no different this time and quite rightly he is known as Narvel The Marvel. The rockin' opened up with 'Go Go Go', 'Kiss A Me Baby', 'Baby Let's Play House' and 'Pink And Black Days' before slowing down for a tremendous treatment of 'My Prayer. I know that The Platters had the original on this but Narvel's interpretation makes the song his own. Looking every inch a top rock 'n' roll star and using the stage with style and high energy movement, it was quickly back up to top gear with 'Rockin' Daddy' and 'Cindy Lou' before singing a tribute to his son, the late Albert Narvel 'Bub' Felts Jr. with the moving ballad 'Even Now'. 'Foolish Thoughts' and the show stopping 'Since I Don't Have You (which had to be reprised twice there and then) came next along with frenetic vocalising on 'My Babe' and 'Great Balls of Fire' before a version of his biggest ever hit 'Reconsider Me', a tune first performed by the tan canary Johnny Adams but which has now been well and truly 'Narvelised'. The Rimshots were providing great backing as Narvel launched into 'I'm Heading Home', 'Lonely Teardrops' and another show stopper the cult 'Did you Tell Me' from his days at Sun Records. Matt Lucas then joined Narvel on the stage to play drums on 'Tongue Tied Jill' before the set closed out with an unrehearsed but near perfect treatment of Roy Orbison's 'Crying'. On a scale of ten, this show earned ten, pure magical moments. Narvel will be back in the UK in October as the support act on the Slim Whitman tour, go and see him. The final live act for the night was Chicago resident NICK WILLETT, a young singer who has all the female hearts fluttering. He is the natural successor to Jack Baymore and is loaded with talent.

Sunday
Gene Gamblers & The Shufflers gave another performance in the Queen Vic Pub before the proceedings in the ballroom kicked off with THE HOEDOWNERS from Finland, a trio in the High Noon bag. They were then followed by Texas rock 'n' roll originator SONNY WEST who wrote and recorded the original version of 'Rave On' and penned another Buddy classic with 'Oh Boy'. The performance had a tentative start with three West originals 'Dire Need', 'A Bad Case' and 'The Rave Is Gone' before igniting with Sonny's work out on Peanut Wilson's 'Cast Iron Arm'. It then started to go into the stratosphere with 'Big City Woman' and 'Big Bessie Lee' before exploding with 'I've Had It'. The last mentioned is a song from Roy Orbison and Peanuts Wilson and is not the same as the hit record from the Bell Notes. Sonny has a great rock 'n' roll voice and is fortunate to have plenty of original material, none better than the dynamite versions of ''Rave On', the cult 'Sweet Rockin' Baby' and a first rate work out on 'Oh Boy'. The set finalized with two work-outs on the classic 'Rock-Ola Ruby. I look forward to seeing Sonny again over here again after the most enjoyable performance.
&nbsp Although billed as the doo wop band for the festival, MAURICE WILLIAMS AND THE ZODIACS were more that that, indeed they were more than a vocal group, they were a marvelous show band. Still containing three original members from their hit making days, the outfit quickly showed why they are an in-demand must see group on the 'Shag Scene' that exists down in the Carolinas. The started with 'Shoop Shoop' from their Excello days as The Gladiolas and then went into perfect harmonies on the Drifters 'This Magic Moment'. The stage was full of changeover movements as the group, in their sparkling suits, went into 'Come Along' and 'I Remember' from their days at Herald Records and then into an extended doo wop medley of 'Tears On My Pillow/Silhouettes/Cherry Pie/For You My Love'. The harmonies were spot on and the visuals were pulsating. Seemingly back in the USA the group is a self-contained outfit providing their own backing but for this night The Swing Kings provided the backing. Uplifting the tempo a Little Richard medley followed with great treatments of 'Tutti Frutti/Good Golly Miss Molly/Long Tall Sally' before it was a return to the tight harmonies on the ballad 'We're Lovers'. Then it was the turn of Hank Ballard's 'Let's Go, Let's Go, Let's Go' and still there was no let up in the excitement being emitting from the stage. 'The group's performance was so polished and professional that they even got away with the rather hackneyed 'Unchained Melody' before a spell binding 'Stay' which thankfully was longer than the original 1.28 minutes of the recording. For an encore, Maurice sang 'Little Darlin', which is his original composition, before the group finally exited the stage with a short version of 'Shout'. I have said previously that the vocal group spot at Hemsby has been filled by some wonderful acts but Maurice Williams And The Zodiacs is one of the best yet. This performance was near perfect, another ten out ten. Hopefully they will be back in the UK before not too long, please Mr. Promoter.
&nbsp The final live set for this Hemsby was by SOPHIE GARNER & THE SWING KINGS, a fine mixture of R&B and swing music.
&nbsp To reiterate, this was a first rate Hemsby with a good selection of musical styles and a wedge of stand out performances. The line up for next October's (3rd to 7th) Hemsby is again mouth watering with Jack Earls, Billy Adams and his own band The Rock-A-Teers, Hayden Thompson, Freddie Bell, The Edsels and the original line up of Restless. I am so determined to be there that I have insisted that my daughter has her wedding the following weekend. See you there ...
© Tony Wilkinson, May 2002






Let's All Contribute and Make It Work ...
Syndicated Rockabilly Radio Show
Culmei Productions of St. Louis, MO, is proud to debut a new energetic syndicated radio show of an Old style with a New sound. It's Rockabilly Renew. The weekly program is available through two different options. E-mail Mike Cullen for information on how to obtain the show. Your station can air it on any day of the week at any time of day. The 1-hour program (with time allowed for local commercials) is on a CD.
&nbsp EDITOR'S NOTE: The Rockabilly Hall of Fame has heard the program and highly recommends it. This is what America and the world needs ... a good syndicated rockabilly radio show that will respresent old and new artists. If we all rally and support one solid source, we can hope to bring the the masses more attention to our music and give the artist's a universal spring board. We have met with Mike and Catherine Cullen from St. Louis and will be working closely them as they expand. We encourage all rockabilly artists to submit their CDs to Rockabilly Renew, P.O Box 38878, St. Louis MO 63138, Tel# 1(866) 828-5634, Fax# 1(866) 832-9634. Don't just think about it - do it!






Norman Petty Studio & Holly Documentaries
This fall Shawn Nagy of www.buddyhollyonline.com and SuperOldies.com will also be producing a definitive documentary that includes new interviews with the prime recording artists that made the Norman Petty Studios famous, as well as including an in depth look at Buddy Holly. Interviews & special features on The Fireballs, Terry Noland, Charlie Phillips, Tommy Allsup, Carl Bunch, The Bowman Brothers and others will be part of the Clovis, NM taping at the famed 7th Street Studio of Norman Petty's this fall.

A separate Lubbock taping will deal exclusively with Buddy Holly's career: Patricia, Larry & Travis Holley, Jack Neal, Larry Welborn, Echo McGuire, The Picks, Peggy Sue Gerron, Gary & Ramona Tollett & others. Special editing will feature footage Robert Linville of The Roses, and George Atwood (Petty Studio bassist).

With the new capabilities of the DVD format, editing will be kept at a minimum and as much of the group discussions included on the release as possible (much like the Rock & Roll Graffiti series)...up to 6-7 hours of material for the hard-core Petty Studio & Buddy fans! Note: REMINISCING the DVD - to be released in 2003 on the new SuperOldies label.






Sharon Sheeley RIP, Age 62
MAY 18, 2002 - Songwriter Sharon Sheeley, who as a teen-ager wrote the 1950s hit Poor Little Fool, has died of complications following a cerebral hemorrhage. She was 62. Sheeley died at Sherman Oaks Hospital Medical Center on Friday, May 17th, family friend Elizabeth Asher said. A hospital spokesman confirmed the death and declined to give further details. Asher said Sheeley had been hospitalized since she suffered the hemorrhage on May 12.

Rick Nelson, teen idol and star of TV's Ozzie and Harriet, recorded Poor Little Fool and it climbed to the top of the charts in 1958. Sheeley also was the girlfriend of guitarist Eddie Cochran, who sang Summertime Blues and C'mon Everybody. Cochran has a wide following in England and was killed in a car crash there at age 21.

Cochran influenced a generation of British musicians, including the Beatles, the Rolling Stones, the Who (who covered Summertime Blues) and Rod Stewart. British fans mark the anniversaries of his birth and death. Cochran had just completed a tour of England in 1960 when the hired car carrying him to London's Heathrow Airport smashed into a concrete telephone post. Cochran died the next day. Sheeley and fellow rocker Gene Vincent survived the crash.

My most vivid memory of Sharon was of her living in London in the swingin' 60s, Sheeley's friend Asher told The Associated Press on Saturday. She was such a California gal so she was always in a miniskirt and sandals then complained about being cold all the time. Asher also remembers the notes commending her talent that Sheeley received from the Beatles John Lennon and Paul McCartney. She was inspirational to other people, certainly women, since she was an integral part of the male-dominated rock world, Asher said. -by LOUINN LOTA, Associated Press Writer

See: Another news story on Sharon's passing.






Graham Nash Helps Revive
Bill Haley Documentary Project
Plans for a major documentary on the life of Bill Haley are back in motion again after close to 10 years, thanks to rock icon Graham Nash. Nash, of Hollies and CSNY fame, confirmed on an Internet forum at his Web site press reports that he is working with filmmaker Rob Nagy to revive the project, tentatively titled Rockin' the Joint. Nagy's film was in production in the early 1990s andwas even featured on an edition of Entertainment Tonight. Production coincided with the publication of the Bill Haley biography Sound and Glory by John Haley and John von Hoelle. The proposed film was to include rare footage and interviews and be a celebration of the Father of Rock and Roll's career. But little had been heard about the production for nearly a decade, until John Haley - Bill's eldest son - was informed of recent press reports about Nash's involvement in reviving the project.

Nash is a lifelong Bill Haley fan. He was in the audience at one of Haley's 1957 UK concerts, and says he still carries the ticket stub from that show in his wallet. More information about this project will be posted to the Bill Haley column Extra! here at the RABHOF as it becomes available. -Alex Frazer-Harrison






Looking for Bands to Play Italy
From the Rockabilly Hall of Fame office in Italy -
In Italy, most of the club owners and their artistic directors (who choose the bands who will play in their clubs) don't know about the kind of music we're dealing with. So, as we're trying to break grounds and find clubs who will work with us (by the way, I found three so far, which is very good for Italy). They ask me to give them ideas of the particular groups we deal with. So, although we haven't contacted anybody yet so far, maybe though, there are bands which are booked or plan to be be booked in europe. Those are the bands who should send us material and also let us know they're coming, because we are ready now to accomodate bands. We are creating a good network in europe with people who already book rockabilly bands, and as we grow we'll hopefully be able to be the starting point for tours. It's a hard road, but so far I have found a lot of cooperation from good people that make our work easier. God Bless!
Sandra Dee and Marco Di Maggio - E-mail Sandra / Italian RHOF office






Songwriter Otis Blackwell RIP
NASHVILLE, TN - Otis Blackwell, who wrote dozens of hit songs, including Don't Be Cruel for Elvis Presley, died Monday, May 6, 2002 of a heart attack. He was 70. Blackwell wrote more than 1,000 songs that were recorded by performers such as Ray Charles, Billy Joel, The Who, James Taylor, Otis Redding, Peggy Lee and Jerry Lee Lewis. Some of Blackwell's other credits include Great Balls of Fire and Breathless, both recorded by Lewis; Handy Man by Taylor; Fever by Lee; Daddy Rolling Stone by The Who; and Return to Sender and All Shook Up, each recorded by Presley. Blackwell was credited with writing songs that sold more than 185 million copies. Born in Brooklyn, N.Y., Blackwell grew up wanting to be a singer. While recording songs for a small company in New York City, he was asked to write songs as well. Blackwell often sang the songs himself before they were recorded, and some music historians believe his style influenced Presley's. (AP)
A 1979 interview with Otis - click here



He was around for Gene Vincent's WCMS demo session
Joe Hoppel Inducted As a DJ
Hall of Fame Broadcaster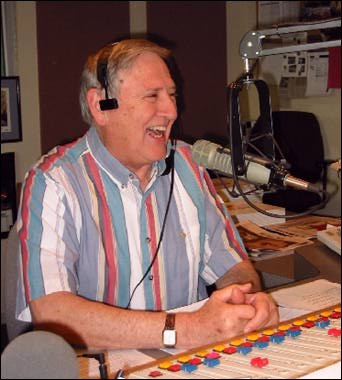 NORFOLK, VA - Above, Joe Hoppel reacts to the news that he's been elected to the Country Music DJ Hall of Fame. It's a well deserved honor. Joe has been waking up Hampton Roads on WCMS radio for over 45 years. Joe is still on the air at WCMS, weekdays 5:30am-10am. Congratulations, Joe! The induction ceremony will take place in Nashville on June 27th. (photo courtesy: WCSM)

Joe Speaks to Rockabilly Hall of Fame Fans ...
My first taste of radio was when I was in high school in Pennsylvania. A new station was going on the air and they advertised for local people to work there. I had never been inside a radio station before, but, at my mother's urging, I auditioned along with 90 other people. I was called back for my second interview and that's when they realized I was still in school! They allowed me to be a gofer ... and that's when I got the bug. I went to radio school after high school and there came my introduction to Tex Davis. The station he worked for was looking for an all night man and he suggested that they call his alma mater for a suggestion from their graduating class. I was recommended and got the job over the phone. I stayed at that station for three years. Tex left to join WCMS and when they needed a jock a year later, he suggested me again. That was in 1955 and I've been here ever since.

I was in the control room the day Gene Vincent auditioned for a live stage show we produced (he sang Heartbreak Hotel). Later I cut the acetate disc we sent to Ken Nelson - Bop A Lula. I was the WCMS Program Director from 1957 until 1979. Twice I turned down the offer to be station manager. (I like what I do and don't want to be the boss).

As for changes: in the early '50s we played music from 78-rpms, then 45s and LPs, then carts followed by CDs and now hard drives. You have have gotten a hernia carrying around 6 hours of music on 78s. Music programming then was up to the jock (boy has that changed) as the jock were given much more freedom to be personalities. However, pay and working conditions are much better today.

FYI: The Country Music DJ Hall of Fame recognizes and honors the best country radio announcers and radio showmen, and Country Radio Broadcasters, Inc. is proud to be the trustee of the institution. You can visit the Country Music Disc Jockey Hall of Fame plaques proudly displayed at the Opryland Hotel in Nashville, Tennessee.Information on the Country Music DJ Hall of Fame, and information about the Country Radio Hall of Fame is available by clicking here.



CARL PERKINS:
70th Anniversary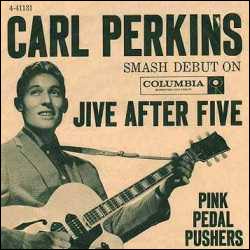 Born Carl Lee Perkins, 9 April 1932, Tiptonville, Tennessee
Died 19 January 1998, Jackson, Tennessee
Carl Perkins would have been 70 this month. The following is a short tribute that I wrote for a rock'n'roll list.
Carl Perkins is the epitomy of a rockabilly singer, from his singing and guitar playing to his choice of material, all revved up stories of dances, clothes and slitting throats with razors. Born to sharecroppers he spent his early years picking cotton and playing guitar. With his brothers Jay and Clayton he formed the Perkins Brothers Band and played the tough honky tonk bars of Jackson, developing a sound that mixed hillbilly with flashes of rhythm and blues. It was a new style that no-one had heard before so upon hearing Elvis on the local radio one day, Carl knew that there was someone out there who shared his ears and vision, and more importantly, that there was someone who was willing to record and issue the stuff. That someone was Sam Phillips and his label was Sun Records, sixty miles down the road in Memphis.
The brothers drove to Memphis and auditioned for Sam The Man who was impressed with what he heard. He cut their first single, the hillbilly duo, Movie Magg and Turn Around. It wasn't until Elvis had moved to RCA that Sam really let the Perkins boys put their cat clothes on, but when he did, the sparks flew. Blue Suede Shows backed with Honey Don't became the first single to top the pop, country and blues charts and was also the first million seller for Sun. They went to New York to promote the song on the Perry Como show but smashed into the back of a poultry truck on the way. Carl fractured his skull and Jay suffered a broken neck, an injury that he never really recovered from, dying a couple of years later. To add insult to injury, as the brothers lay in their hospital beds, Elvis was singing Blue Suede Shoes on the Dorsey Brothers Show.
When Carl returned from his lengthy lay-off he was unable to repeat the success of Shoes despite some classic rockabilly numbers like Boppin' The Blues, Dixie Fried, Your True Love, Put Your Cat Clothes On and Matchbox which featured young wildcat Jerry Lee Lewis on piano. In 1958 Perkins followed Johnny Cash to Columbia but numbers like Pointed Toe Shoes failed to find an audience. A spell at Decca was just as fruitless, but the spirits were raised with a triumphant tour of Britain in 1964.
He became a member of the Johnny Cash entourage where he stayed for a decade. His song-writing remained constant and Johnny Cash (Daddy Sang Bass), Patsy Cline (I Was So Wrong) and the Judds (Let Me Tell You About Love) all benefited from his craft. He was elected into the Rock 'n' Roll Hall of Fame in 1987. He fought a long battle with throat cancer before succumbing to the illness in 1998. Me and Phil visited his house in 2000 and were really pleased to see that he'd spent so many years in such a lovely area of Tennessee. A true Southern gentleman, and the King of Rockabilly - not a bad combination.
Recommended listening:
The Classic Carl Perkins - Bear Family (5CD)
Back On Top - Bear Family (4CD - late-'60s and early-'70s)
Born To Rock - Liberty
Further reading: http://www.rockabillyhall.com/CarlPerkins.html
Autobiography: Go Cat Go ! The Life and Times of Carl Perkins, the King of Rockabilly. (With David McGee) New York: Hyperion, 1996.
-Shaun Mather, April 2002 - Shaun.Mather@btinternet.com

New Comets' CD Released
The new much awaited Rollin' Rock Records CD by Bill Haley's Original Comets is finally out, and it celebrates the Comets' 50 years involvement in Rock'n'Roll music. The CD includes the hit song 'Viagra Rock' which is receiving Top 40 airplay on several large station in Florida and elsewhwere, outdrawing 80% of the other songs in listener requests. All this with ZERO budget for promotion.

Rollin' Rock's honcho Ronny Weiser is looking for a major label to release and promote this single on a national and international level to fully achieve its hit potential. Contact Ronny Weiser at: rockronny@aol.com

EDITOR'S NOTE: Marshall Lytle, Comets bassist, has informed us of the real ingredients in Viagra: 3% Vitamin E; 2% Aspirin; 2% Ibuprofen; 1% Vitamin C; 5% Spray starch and 87% Fix-A-Flat. Get your free sample of VIAGRA (rock) here - www.originalcomets.com

REVIEW:
A couple of weeks ago, Ronny Weiser announced the release of a brand new Rollin' Rock CD ... well ... that's normal, you might think ... it happens all the time, doesn't it? This time however, something very special happened. The Original Comets are celebrating their 50-years in the Rock'n Roll business right now. I can guarantee you all that they are doing it with style! The gang who wrote the book on how to rock chooses Rollin' Rock for that purpose. A good choice! This CD is no less than GREAT!! I have played it over and over again several weeks now, and I just can't get enough of it! When I'm at work or out walking my dog, it plays in my head. I just can't get it out of my brain. It's my best buy this year! Those of you who has heard Still Rockin' Around The Clock (Rollin'Rock CD-103), knows that these old masters still have what it takes! They can still rock around the clock like a bunch of youngsters! With this album, they go beyond that. They give us a bigger taste of their songwriting abilities, which includes a doze of humor and showmanship. Jacko Buddin (the guy from Dynamite Band and Flying Saucers) does a fine job on the Haley songs ... even better than on the last album! But I think the songs that are sung by the Original Comets sounds much better!

The first song to catch my attention was Viagra Rock. A potential HIT!! Some radio stations in Florida has played this song a lot, and the humor in it combined with the high classed vocals of Marshall Lytle, brilliant musicians and a catching melody might make this a BIG thing for the Comets. I would not be surprised if this song is what it takes to get Jay Leno or David Letterman to notice these giants (hopefully Leno, because I can't see Letterman at home)! And ... what a commercial it could be for THE(!) pill!! You can all find a little taste of this song just by clicking on this link www.originalcomets.com - Even cooler is We Ain't Dead Yet! Just like Viagra Rock it has a big doze of humor and style. Marshall Lytle is the singer, and he does a very fine job.

These are the two new songs I got hooked on the very first time I heard the CD. I also felled for the Jodimars old classic Eat Your Heart Out Annie, and also the new versions of the Haley songs Happy Baby, Dim Dim The Lights, Burn That Candle and most of all ... a super fine Jacko-job on Two Hound Dogs! This Jacko-cat is getting better all the time ... amazing!

THE VERY BEST SONG!!! No doubt whatsoever! I have finally made up my mind (permanently!) that You're The Greatest is the absolute number one track on this CD ... it's unbeatable! It's not a Rock'n Roll song, it's very slow and soulful ... beautiful melody ... VERY nice saxophone.. intelligent and sensitive lyrics ... and not to forget ... a beautiful vocal done by Slappin' Marshall Lytle!

All of the songs on this CD are good! I could praise songs like Car Jam, I've Got Love For You Baby and specially (!) Somewhere There's A Woman all night long ... This CD is BRILLIANT from start to finish!! I'm very impressed, and I strongly recommend it to all fans of really good rockin' music! You can buy it directly from Rollin' Rock - RockRonny@aol.com , or at www.d4haley.com (great web-shop!). Think about this: if you won't buy it after reading this, then who will?? And if you won't. .. how can Ronny keep on giving us great music?? BUY IT!! It's the only right thing to do.. If you are going to buy only one CD this year, then this should be the one!!

-Svein Norjalainen Amundsen - svein_amundsen@yahoo.com






ITVS (Independent Television Service):
USA Showing of
The Women of Rockabilly TV Special
The special, written, produced, and directed by Peabody Award winner, Beth Harrington, provides a unique insight into the women performers who gave rockabilly its voice.

A note from Beth Harrington to the Rockabilly Hall of Fame:
March 1, 2002 - Hi guys - Just wanted to give everyone a heads up that starting this month (March 2002) many, many PBS stations will be airing our new film Welcome to the Club - The Women of Rockabilly. Airdates will continue throughout the spring and summer. I hope you'll visit the website of ITVS (the film's major funder -- www.itvs.org) to check for listings in your area. If you don't see your city and station, keep checking back. The carriage list will be updated on the site every week. If you STILL don't see your station, please give your PBS station a call and tell 'em you want to see the show. If they hear it enough, maybe they'll play ball. Right now there's no home video deal so this is the only way to see the film at the moment!(I still hope to remedy that. Nothing that money won't cure...)

I want to say thanks again to Bob Timmers for his encouragement and for all the rockabilly fans who have been so supportive of this project. I hope you like the film; it came from the heart. The women I featured - Wanda Jackson, Brenda Lee, Lorrie Collins and Janis Martin - are so very cool and they all seem pleased with the end product. And that makes me happy, needless to say.

Also, if you're inclined to surf another site, ITVS (in conjunction with PBS) just launched a cool little website for the show: www.pbs.org/welcometotheclub. Probably nothing you diehard rockabilly fans don't know, but might be fun in any case. There's a place for your feedback. Let us know what you think of the film and the site.

Thanks again!
Beth Harrington - Betuccia@aol.com
ALSO READ ... The women of rockabilly tell their story By Jon Johnson






Waylon Jennings: 1937-2002
Waylon Jennings, known for his musical style of blues, rock and country, passed away peacefully at his home in Arizona from complications of diabetes Wednesday, February 13th. He was 64. His foot was amputated in December of 2001. He had trouble walking the last several years of his life. Waylon was one of the founders of the Outlaw movement, had 60 albums, 16 number one singles, had a career that spanned 30 years ... and was one the the few performers in the world to be recognized just by the use of his first name.

He was scheduled to fly on the light plane that crashed and killed Holly, Ritchie Valens and J.P. The Big Bopper Richardson. Jennings gave up his seat on the plane to the Richardson, who was ill and wanted to fly rather than travel by bus with those left behind.

Having known Waylon since 1956, he was one of those guys that earned his stripes, paid his dues. He always said that determination was the most important thing for a musician, and he proved it. He will be sorely missed. -Sonny West






Brenda Lee News Update
(Jan. 14, 2002) - This year is already shaping up as a high profiler for BRENDA LEE. Busy doing media set-up for the support of both her induction into the 'Rock & Roll Hall Of Fame' (March 18th), and the release of her much anticipated autobiography, Little Miss Dynamite: The Life & Times Of Brenda Lee, (March 6th), BRENDA got the news during a headlining performance at the Orleans Hotel in Las Vegas that she is part of a Grammy nominated album project.

I did a vocal cameo on a polka project that Jimmy Sturr released last year, BRENDA noted by phone from Vegas. I was really surprised - and thrilled - when my publicist called from Nashville to tell me the album is on the NARAS ballot for a Grammy! Bring it on!

BRENDA is also preparing to do a audio book of her new autobiography, which reveals the never told stories of her unique rise from rags to rock & roll riches while still in her teens. As one reviewer put it, I was Britney Spears in the '60's. I guess I just never put it in that context until we started working on research for the book.

BRENDA will appear on national television again on March 7th, when she guests on ABC-TV's, Good Morning America.



Italian Office Secretary Sandra Dee Reports ....
Rockabilly Hall of Fame
Opens Office in Italy
January 3, 2002 - The Rockabilly Hall of Fame has opened a new chapter in Italy! I still can't believe this is happening in my lifetime! All our efforts will go towards promoting this kind of music and the musicians that have kept it alive until now.
I know that most of you who will read this have probably only come to Italy on vacation, therefore, our goal is to possibly open up a new territory for touring, so maybe we can stretch your tours a little when you happen to be in Europe. At the same time, we are stubbornly devoted to making the audience grow larger and larger, and to take care of that, we are already making sure that every month all the main music magazines and fanzines in Italy have an article, record reviews and concert review by us on their desks (let alone that Marco takes his music on the road almost everyday!!).
So, wish us good luck and if you feel we could be of any help to you, let us know. You can send us your recording material (double copy, please), press kits, contact us about booking your show in Italy, tell us something we may have forgotten about, or: invite us to a party, what th'heck! Hope to hear from you soon. Hasta la vista.
More news will be posted here. Watch for our Special RHOF Italian Site!!
Italian Office, Rockabilly Hall of Fame
Marco Di Maggio, Manager
phone & fax: + 39-(0) 55-48 22 45 -- cell.333 2219539
E-mail: marcodimaggio@libero.it -- www.marcodimaggio.com
Mailing address:
V. Vittorio Emanuele, 11
50134 Firenze, Italia
Sandra Dee, Secretary
Phone: +39 -(0)586 - 211 444
E-mail: sandydee@libero.it
Mailing address:
Corso Amedeo 174
57125 Livorno, Italia



Review: Rhythm Riot No. 5
Camber Sands Holiday Centre, Rye, England
23rd to 26th November 2001
By Tony Wilkinson - This year down at Camber Sands, the weather was in the main just fine and inside the halls at the Holiday Centre it certainly was Rockin' Is Our Bizness at the fifth annual Rhythm Riot. As usual for this event, there was a wide ranging variety of artists playing rockabilly, rock 'n' roll, hillbilly boogie, jump and jive, rhythm & blues down to the blooze. For sure, there was some hot music and sparking performances.
It is always difficult being the opening act at any festival of this ilk but THE HI-FLYERS from Italy kicked off the event with an acceptable performance. They are a jump jive R&B band with a greater accent on the musicians rather than the vocals. Featuring some originals, there was a heap of covers such as Boogie Woogie Country Girl, Rocket 69, Good Rockin' Tonight (Roy Brown style) and a great That Mellow Saxophone. The next act up was THE LARIAT 5 from Scotland who I suppose could be best described as electric bluegrass meeting rockabilly. They featured a mandolin as one of the lead instruments and were lead by an attractive young lady vocalist. Theirs was an okay set with songs such as Mr. Whizz, Four Big Brothers, Shame On You, Crazy Over You and Lovesick Blues. They could probably do with a bit more rehearsal and would do well to drop the fake American accents.
A 72 years young CHUCK RIO of The Champs was the first of the visiting American acts and I had the pleasure of talking with him. Both he and his wife are real lovely people. Backed by the hard working house band, The Rhythm Riot Kings Of Rhythm, it was a fine selection of numbers mainly from the Champs catalogue. Opening up with Tequila, it was swiftly followed by hard rockin' latin tinged rockers such as Sky High, Too Much Tequila, Night Train, Midnighter, Train To Nowhere Sombrero and La Cucarcha. Every year the Rhythm Riot features a saxophone player of repute and Chuck can justifiably stake his claim with those who have preceded him, his musicianship was great. There was a splendid workout on Margarita and Chariot Rock, the latter including a vocal version lead by his wife. For Chuck', his only vocal number of the night was Don't Go Baby which he released under the name of Danny Boy. The enjoyable set closed out with a reprise of Tequila but not before Chuck was presented with his certificate of entry, along with The Champs, into the NDT Rock 'n' Roll Hall Of Fame. With the aid of the backing band, this was as close to the sound of the Champs that one could have hoped for and it was good. Hopefully Chuck will visit these shores again soon.
The closing act on Friday was American KENNY BLUES BOSS WAYNE who now bases himself in Canada. He appeared at the Rhythm Riot two years back and went down a storm. This time around, he passed all expectations with a performance that can only be described as faultless. Dressed in a bright red suit and hat together with a shirt that one had to wear sunglasses to look at, he came on playing by walking through the crowd. Once on stage, he played a New Orleans style number albeit with sparse vocals but in essence a pounding piano lead boogie woogie instrumental. He then followed this with a Fats Domino styled tune Don't Knock On My Door, great voice, and a real extended but totally exhilarating Blues Boss Boogie in which he pounded the piano into submission. He was working The Rhythm Riot Kings of Rhythm hard but clearly they were really enjoying themselves. This was followed by She's A Potential Danger and his own song Nadine (not the Chuck Berry tune) which segued into Jambalayua During the show, he picked up a somewhat peculiar instrument which was a miniature keyboard with a sax/flute type arrangement on the top. Blowing, singing and playing, he left the stage followed by the two sax men and paraded through the crowd for an extended When The Saints Go Marching In. For an encore, he returned to the stage for a great jump blues boogie number and a sparkling rendition of Blueberry Hill. He left the audience yelling for more, no mean feat at 3.00 am in the morning. He is a master showman.
The opening act for Saturday was THE ALABAMA SHAKERS, who sadly I missed but reports were that they were good. They were followed a new to myself act, namely MISCHIEF from Holland. These guys were a rockabilly trio, with the guitar player handling the lion share of the vocals and he has a good r 'n' r voice. Plenty of energy and good stage presence with numerous Carl Perkins wiggles thrown in. The act was a mixture of originals and covers with I Can't Fly, Wake Up and Maybe Baby (not the Holly song) as examples of the former and fine readings of I'm Coming Home, Hot Rod, Hey Mae Sweet Love On Your Mind, Rip It Up (Everlys style) and Justine. Certainly a band with potential and one to look out for.
I was not too sure what to expect from THE BOBBETTES but any doubts were soon dispelled. They are now down to a foursome with two original members plus the sister of another original. Dressed to kill, the girls started off with Ain't That Good News which was followed by Revival Days. The vocals were spot on and the songs were performed with fine co-ordinated routines. These were followed by Zoomy. You Are My Sweetheart, Rock And Ree-Ah-Zole and Don't Say Goodnight. This was a finely balanced set between rockers and ballads as was amply demonstrated by Come-A, Come-A, Look At The Stars, Have Mercy Mercy Baby complete with gospel overtones and Oh Mein Papa which worked surprisingly well. A highlight of the set was Dance With Me Georgie but Mr. Johnny Q and Speedy should also not be overlooked. The lead vocals alternated between the various members and this splendid set climaxed with Mr. Lee linked straight into I Shot Mr. Lee. Come back real soon please ladies, you are the business.
Maybe I was expecting too much from JIMMY McCRACKLIN, but in all honesty he was disappointing. There were good moments for sure but the set came over as somewhat self indulgent and disorganised, certainly he and the band were not as one at times. He started off with The Wobble before sitting down at the piano for Reconsider Baby and ten into The Walk. This was followed by After Hours Blues and Baby What You Want Me To Do before following with Georgia Slop. In reality, this was thrown away as he performed it standing up whilst the song demanded his good piano playing. Think came next before he then re-performed The Walk (better this time around) and After Hours Blues. Other numbers performed included I Gotta Know and Every Day I Have The Blues. The final act of the night was RAY COLLINS HOT-CLUB, a jump jive outfit from Germany who were entertaining.
Sunday saw BIG JOE LOUIS perform a solo set at lunch time although he was joined towards the end by Rob Glazebrook and his fellow Houserockers. This was good. The evening's entertainment commenced with JP & THE WISEGUYS, a British R&B / jump jive group who were just fine on JP Boogie, Mad At You, Bim Bam and a first rate Mambo Rock complete with the sax player laying on his back honking away. They were followed by the UK roots blues outfit THE MARQUES BROTHERS whose set got better as it progressed.
Next came another highlight act, the undisputed queen of rock 'n' roll, WANDA JACKSON. Backed up by the house band, she launched Rockabilly Fever complete with raunchy strutting, she carried on with Stupid Cupid, Mean Mean Man and Hot Dog That Made Him Mad. Boy, her strangulated tonsil style of made this old man feel young again and smile knowingly at She Who Must Be Obeyed. These were followed by her tribute to her roots with moving song tributes to Jimmie Rodgers and Hank Williams before launching into I Gotta Know. At this point, she received her plaque denoting her entry into the NDT Rock 'n' Roll Hall Of Fame, the elite body for real rock 'n' roll. Gaining further inspiration she carried on with. Funnel Of Love followed by Riot In Cell Block No. 9, Right Or Wrong, a good workout of Presley's One Night and an absolutely splendid Fujiyama Mama. She then performed her normal religious number 'I Saw The Light' with the set then going into the stratosphere with a dynamic Let's Have A Party and closing out with 'Whole Lotta Shakin' Goin' On. Baby, that was rock 'n' roll.
The final American visitor for this festival was H BOMB FERGUSON. He is a great entertainer wearing various coloured wigs throughout his set which contained his interpretations of songs made famous by others mixed in with a selection of his own material. In essence, he is a blues shouter extraordinaire who plays a good piano. This was amply demonstrated on Please Me, Lawdy Miss Clawdy and I'm In Love Again, the last mentioned undergoing subtle lyric changes into I'm Drunk Again. H Bomb was accompanied by The Rhythm Riot Kings Of Rhythm and his own guitarist Lance Boyd who sang a couple of numbers such as Kansas City. The set also included Midnight Ramble, Baby What You want Me To Do, Bad Bad Whiskey, No More Dogging, I'm Walking, Fine Brown Frame I Ain't Mad At You and Romp Baby Romp. With the band all wearing sparkly wigs, he concluded with Shake Rattle And Roll and Tutti Frutti complete with his own lyric transformations such as got a gal named Ida who smells like apple cider. Good entertainment from a fine artist, performed with bags of humour and plenty of facial expressions. The festival closed out with THE RHYTHM RIOT RHYTHM & BLUES REVUE, basically the house band (they sure did work hard over the weekend) with guest appearances from the likes of the aforementioned Big John Lewis of the Rimshots. Overall it was a splendid event.
Rhythm Riot 6 is to be held at the same venue between 22nd and 25th November 2002. Headliners so far announced are Lewis Lymon and The Teenagers and Jimmy Cavello but I understand that negotiations for several other top acts are well advanced and should be announced soon. Telephone (0)20 8566 5226, fax (0)20 8566 2525 or contact the web site www.rhythmriot.com for information and booking details.

© Tony Wilkinson
American Music Magazine
December 2001





Rufus Thomas Dies at Age 84
MEMPHIS - December 15, 2001 - Musician Rufus Thomas, whose Bear Cat helped Sun Records get its start and whose Funky Chicken gave a boost to the Stax Label, died Saturday, Dec. 15th. He was 84. Thomas' son, Marvell Thomas, said his father died in St. Francis Hospital. He had been hospitalized since Thanksgiving for a short illness. This is the end of an era, and the world will miss him dearly, Thomas said.

Rufus Thomas was best known for novelty dance recordings like Walking the Dog, Do the Funky Chicken and Push and Pull. He began tap dancing on the streets of Memphis for tips and performed in amateur shows in high school. In the 1940s, Thomas ran his own Beale Street amateur show that attracted B.B. King, Bobby Blue Bland and many other performers who went on to become famous. In his declining years, Thomas took on the title of Beale Street Ambassador and liked to refer to himself as the world's oldest teen-ager. In 1998, he underwent open-heart surgery at a Memphis hospital.

Thomas was born in Cayce, Miss., in 1917 and grew up in Memphis. In high school, he met Nat D. Williams, a history teacher who organized annual variety shows. In the late 1940s, Williams became one of the first black radio personalities in the South. Then, a black man on the radio had always been taboo, Thomas once told The Associated Press. When they heard that black voice advertising their products, most of the advertisers pulled their ads.

In 1953, Thomas recorded Bear Cat, an answer to Big Mama Thornton's Hound Dog, and it became Sun Record's first hit. That was before Elvis Presley arrived on the scene to become Sun's undisputed star. Thomas complained in later years that Sun's black artists were pushed aside after Presley became a hit. In the 1960s, Thomas became one of the founding performers for Stax Records, which created what came to be known as the Memphis sound, with performers like Isaac Hayes, Otis Redding and Sam and Dave.






GRADY MARTIN RIP
Michael Gray (12/04/2001) - Guitarist Grady Martin, one of country music's most acclaimed sidemen, died Monday night (Dec. 3) of congestive heart failure at Marshall Medical Center near his home in Lewisburg, Tenn. He was 72. Ailing for years, Martin retired from Willie Nelson's road band for health reasons in 1994.

A native of Chapel Hill, Tenn., Martin is among a select group of studio musicians in Nashville known as the original A-Team, a group of session masters including late guitarists Chet Atkins and Hank Garland, late pianist Floyd Cramer and drummer Buddy Harman. Grady had a natural talent for guitar, a natural feel for it, Harman said. He invented many great sounds on record - intros and all kinds of things - he was heads and shoulders above most of the other players. He's going to be sorely missed.

Martin's studio work included hundreds of sessions; he backed artists ranging from Hank Williams to Bing Crosby to Elvis Presley. On many sessions, he served as bandleader and de facto producer, meaning he led the musicians and directed the impromptu arrangements that became a trademark of Nashville sessions. Martin's recording contributions spanned several decades, from Red Foley's 1949 Chattanoogie Shoe Shine Boy to Merle Haggard's 1983 That's the Way Love Goes.

His insistent riff on Roy Orbison's Pretty Woman, flamenco-flavored stylings on Marty Robbins' El Paso and distorted fuzz guitar solo on Robbins' Don't Worry are among the most memorable guitar signatures in all of country music. Martin's other classic credits include Nelson's On the Road Again, Johnny Horton's Honky-Tonk Man and Battle of New Orleans, Loretta Lynn's Coal Miner's Daughter, Sammi Smith's Help Me Make It Through the Night, Lefty Frizzell's Saginaw, Michigan and Ray Price's For the Good Times.

Known for his versatility, Martin also played on pioneering rockabilly recordings by the Johnny Burnette Trio, Janis Martin, Buddy Holly and others. Martin signed to Decca as a solo artist and cut over 170 titles through the 1950s and the first half of the '60s. However, the guitarist preferred to stay in the background and was most active as a sideman.

By the late '70s, Martin had become somewhat disillusioned with the methods and fads he believed had come to dominate the session scene. He cut down drastically on his work but still played sessions for friends like Conway Twitty and Nelson. In 1978 Martin briefly joined Jerry Reed's band, making a living on the road for the first time in many years, before beginning a 14-year tenure with Nelson's Family band.

Martin was honored April 5, 2000, at Nashville's Ryman Auditorium during Witness History III: The Twang Years, the keynote event of Chet Atkins' Musician Days. Health problems prevented Martin from attending the tribute concert. Nelson, Vince Gill and Marty Stuart presented the Chetty award - named after Atkins - to Martin's son, Joshua. Atkins, Duane Eddy, John Fogerty and others also were on hand to honor Martin.

Martin had a considerable influence on Nelson's use of the nylon-string guitar and his playing technique. Grady's an old friend, and I'm probably his biggest fan, Nelson told country.com at the tribute concert. Grady has a touch on the guitar that you really don't hear from any other guitar player. It's a very distinctive tone. Players like Chet Atkins and Django Reinhardt have their own tones and sounds, and Grady Martin has his. It's a sweet tone; the notes are huge. I've tried to rip him off and I never could, Nelson joked, acknowledging that the subtleties of Martin's playing are hard to reproduce.

Lawrence Funeral Home in Chapel Hill, Tenn., is handling funeral arrangements. Details are incomplete. Martin is survived by 10 children, seven grandchildren and one great-grandchild.

The Rockabilly Hall of Fame has started a Tribute Page for Grady. Friends, fans and family are invited to share their thoughts and comments.






Robert Linville (Roses) RIP
From:Shawn Nagy, The Shackshakers -- Robert Linville of The Roses passed away Saturday, November 3, 2001 of heart failure. For more inforamtion: http://www.angelfire.com/mn/pdp/news.html on the Buddy/Clovis site.






Make Plans Now for Next July 8th thru 12th
Biggest Rockabilly Event Ever Held:
Green Bay, Wisconsin R&R Festival 2002
COMFIRMED ARTISTS & OTHER INFO.

Oneida Casino is in Green Bay WI. At The festival there will be two main Ballroom stages, overall capacity 7,000 people and one night club/lounge stage capacity 200. On the main stages, music will be happening from 2pm-2am. In the lounge, music will happen from 9:30 pm - 1:30 am. The festival is July 8-12. It is Free. No Ticket - no cover charge - no badges!

The Rockabilly Hall of Fame will be represented by Bob Timmers and staff. The RHOF will have a large vendor area where artists will sell merchandise and sign autographs. And ... the RHOF will soon open a special page regard this Once-in-a Lifetime Event. We are working very closley with the casino and it's booking agency.

MORE INFO WILL BE AVAILABLE SOON at the Casino's web site.



Chuck Berry Recording New Album
Legendary guitarist Chuck Berry is recording a new album, his first with new material in 20 years, in a St. Louis studio in celebration of his recent 75th birthday. Berry tells Billboard he hopes that an album will be completed and released before the end of the year, promising new versions of some of his biggest hits, as well as new tunes.

Asked why he has recorded so sporadically in recent years, Berry admits, It's laziness, or after you've had so much success, you get slack on the ability and the initiative, you know? And it's not right! It's my profession -- it's what I should be doing.

The album is being recorded on Pro Tools digital software at Four Seasons Media Productions in St. Louis. That's a big change, says Berry of the migration from magnetic tape to computer-based Pro Tools. I've done 30 hours there already, and I'm going to finish the record there. It's great, really up to date, and brand-new.

Forty-six years ago, Berry queried Muddy Waters, following the latter's performance at the Palladium in Chicago, as to the possibility of recording his music for commercial release. Waters referred him to Leonard Chess of Chess Records, and only days later, Berry, with pianist Johnnie Johnson and drummer Eddie Hardy, were making history with Roll Over Beethoven, Maybellene, and Wee Wee Hours. At 75, Berry's enthusiasm for recording is clearly re-energized. I want this to be like no other record I've ever put out, he says. --Christopher Walsh, N.Y.