"Loy passed away peacefully on 2/20/11 in South Jordan, UT."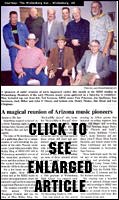 If there was a man ...
who was burning both ends of the candle it was Loy Clingmam, who was recording, writing and performing his tunes on the weekend as he supported his family on a teacher's wage in the tiny town of Arlington, west of Phoenix. He taught the sixth-grade for 27 years.
Born in Williams, Arizona, Clingman's family moved to Texas and New Mexico before returning to the Grande Canyon State for grade school in Ashfork, high school in Wickenburg and college in Tucson. He began teaching and started to develop his writing focusing on the Western lifestyle that he knew so well. Soon Lee Hazelwood signed him to Viv and later he became the owner.
Clingman recorded "Rockin' Down Mexico Way" at his tiny garage studio in 1960 after the Indian School studio closed and he assumed the meager assets of Viv Records.
He would continue to write and produce there for the next 15 years, well into the early '70s. Around this time Clingman and his wife Hassie opened a coffee house in Scottsdale on weekends, to give local performers exposure. He recorded for Liberty Bell, Dot, Four Corners and Capital as well as his own labels under a variety of different names. Very few copies of Viv 3401 were press, making this one of the most sought after desert discs by collectors.
Clingman continues to write and record at his home in Mayer, Arizona.
-by John Dixon, Tempe, AZ.