After the seemingly endless and cold winter we had here in the UK, it was a pleasure to jump into the chariot and head northwards to the Seacroft Holiday Centre that is host to the Hemsby Rock 'n' Roll Weekender. Mrs. Wilkinson appeared to be beside herself as I left home - no doubt anticipating that bunch of flowers that I just remembered to get on the journey back home on the Monday?!? The whole rockin' scene was once again in place from the start and stayed that way throughout the whole weekend - yes, this was THE place to be for rock 'n' roll music. Hemsby continued to reign supreme as the festival covering all shades of rock 'n' roll - promoter Willie Jeffery had maintained that winning streak.
All four main sections at the centre were again thriving. Going from west to east, the first is reception and the Trafalgar Ballroom which had shows, a good bar and disc jockies playing through each night until after dawn had broken. This was also the area that contains Record Stalls (where I continued with my investments for the children's future inheritance) and two nearby 50's Vintage and Retro Markets. From here it was on to the Mayflower Restaurant, where food and refreshments were available until the early hours of each morning, and an even larger adjacent 50's Vintage and Retro Market. Next along is the Blue Lagoon bar that was well stocked and stayed open until midnight each night. Finally, just across the way is the Nelson Ballroom which is where the main musical acts took the stage, the heart beat of Hemsby.
Thursday night saw the first wave of live music for early arrivals. This was provided by The Borderlines, an English band that rocked out like there was no tomorrow with two shows. The basis of their set was R&B with a pronounced rockin' tinge but their lead, Johnny Hammond., showed that he could also pound the piano into submission with some excellent boogie woogie treatments.
Friday, 14th May 2010 (it's the beat, the beat ...)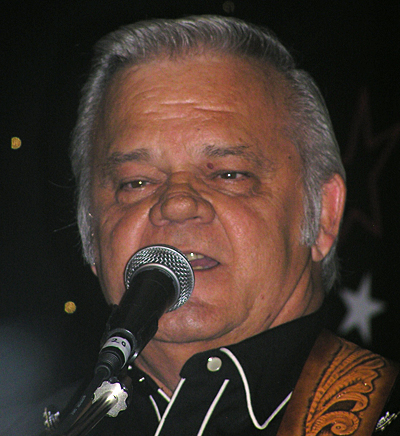 Roc LaRue
In the Trafalgar Ballroom, Hemsby 44 really took off with performances from L.P & His Dirty White Bucks, a rockabilly trio lead ex-Planet Boppers Dave Flynn, and who were followed by the Scottish outfit The Fret-Tones fronted by Keith Turner on lead vocals and who had previously been seen with Hi-Voltage. Over in the main Nelson Ballroom, the opening act was Carmen Ghia with The Hotrods, an English band that had a sax and piano in the line-up. Carmen may be small in stature but she possesses one powerful voice as she raunched her way through a tasty selection of numbers like 'Tough Lover' and 'Mama, He Treats Your Daughter Mean'. Mixed in along the way were a few current songs like 'Johnny Go A Boom Boom'. This show provided an excellent portend for the remainder of the night. Next up was American originator Roc La Rue making a welcome return to the Hemsby stage. Roc had expressed concerns that there had not been time for rehearsal with the backing Hemsby House Band (lead by Wayne Hopkins) prior to the show but, in the event, these worries proved groundless as it was a seamless performance by all concerned. Indeed, I can go as far as to say that this was the best performance that I have seen from Roc, he was inspired. He opened up with 'One More Time' and proceed to rock there was no tomorrow with 'Red Headed Baby' and 'Who's Gonna Love You' - the last mentioned being a song that he had recorded in the fifties but which was not released at the time. He continued with 'Do You Know What I Mean' a song recorded by Ricky Nelson that was written by the unjustifiably overlooked talent that is Mickey Jupp. The set also contained a storming treatment of 'Believe What You Say', complete with great guitar work, and as a fitting tribute to rock 'n roll greats sadly no longer with us, very tasty workouts on 'Boppin' The Blues' and 'Summertime Blues'. Roc then reverted to his own back catalogue with vibrant deliveries on 'I Don't Care If The Sun Don't Shine' and the classic 'Baby Take Me Back'. He was working the stage well and the rockin edge was sparking. After a good 'C.C. Rider, and a reprise of 'Baby' Take Me Back', it was over for this time around. Based on this performance, he will hopefully be returning to these shores before not too long.
The penultimate act for the night was Dutch band Mischief making their third Hemsby appearance. They repeated their previous high level of rockin' entertainment that came complete with top quality musicianship and vocal harmonies. The set included a selection of numbers from their new CD 'Hot Wheels' as well a careful compilation of covers. Their treatment of 'Hey Mae' was a standout in a faultless set. The close-out act was Frantix, a band first formed in the eighties. Sadly, whilst they lived up to their name, I was unable to take to their over the top neo rockabilly approach.
Saturday, 15th May 2010 (rockin' into orbit).
Happily the classic car cruise, organised by Andy Molineux and Liz Holt, was back with us and it was just great to see all those fine old vintage type cars on the road. Indeed, a group - complete with their automobiles - came over fro Holland specifically for this part of the weekend. Apart from jive lessons from Kav Kavanagh (still remaining the rock 'n' roll version of Bruce Forsyth on television's 'Strictly Ballroom'), all the stalls were open and going great guns. The afternoon also included live music from Johnny Bach (aka John Lewis from the Rimshots) and The Infernos, interspersed with some top notch recorded rockin' music from the various DJs. Early evening in the Blue Lagoon Bar saw the Hemsby Pin Up Queen Contest which made me fell frisky all over.
The opening act in the main hall was the Truly Lover Trio from the USA. Whilst I had heard of this trio's reputation, I had not anticipated the awesome performance that unfolded before our eyes and ears. With Ricky McCann on drums and Randy Stanton on upright bass, they are fronted by Marcel Riesco on lead guitars and vocals. Marcel has a great stage presence and a voice comparable to that of the late Roy Orbison - but complete with his own styling. Added to this, he was responsible for a set that consisted of mainly original sparking materials taken from their CDs, especially the newie 'Bullseye'. Other great new songs included were ''Don't Sweat It' and 'Blueberry Eyes'. Inevitably with the voice that Riesco possesses, there simply had to be a selection of Roy Orbison songs included. '(A Cat Called) Domino' has never sounded better and his treatment of 'Only The Lonely' was one of those occasions that will stick in the memory for a long time. This band is scheduled to return next year and I, for one, look forward to this with eager anticipation.
The next act was going to be Jack Earls but he was forced to drop out late in the day due to ill health. His place was taken by Rudy Grayzell, veritably one of the wild men originators from Texas. For this time around, he appeared to be super charged with the amount of energy expended - and the resultant excitement thus created - nearly being beyond belief. I can honestly say that this is the best that I have seen Rudy yet - and I have seen him a few times. After making his way through the audience wearing a long coat, carrying an iron and a tennis racket and being lead on a dog's lead, it was straight into a wild 'Gonna Have A Ball', quickly followed by 'One Mile' and 'You Hurt Me So'. He is a wild man on the stage but at the same time clearly knows what he is doing and the outcome is impressive - make that superb. The hard rockin' continued with 'Jag-Ga-Lee -Ga', complete with a lion tamer routine, and followed by 'You're Gone' from the Clint Eastwood movie 'The Merchant Man' made around eighteen months ago. We were treated to manic and inspired versions of 'Do The Rudy Tutti', 'FBI Story and Judy' before the set closed out with 'Ducktail' and the wildest treatment of 'Let's Go Wild'. It is an understatement to say that this had been a powerhouse performance.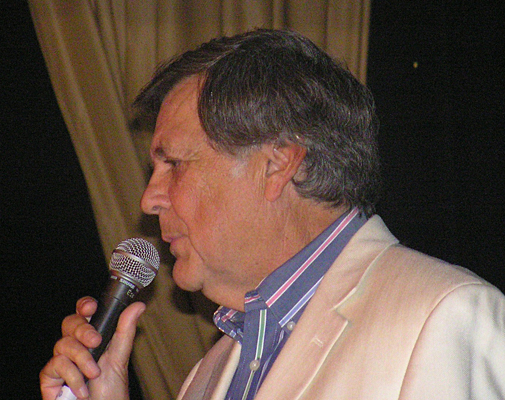 Don Woody
American Don Woody then took the stage. This is the guy who at the height of the Rockabilly Revival achieved a near chart hit with 'You're Barking Up The Wrong Tree', not bad for a guy who left the music business around 1959, has made a successful career in other fields and has only recently made a few scattered performances. He looks great and after overcoming an initial spell of nervousness, he settled into a comfortable set that included virtually everything he has recorded. He has a smooth casual style along with a good singing voice. Opening up with the crowd pleasing 'Bird Dog', he followed with the likes of 'Lesson In Love', 'Red Blooded American Boy' before settling into the rockabilly styled grooves of 'Make Like A Rock 'n' Roll', 'Morse Code' and the entertaining 'Hula Hula Girl'. The hit song 'Bigelow 6-200' that he composed for Brenda Lee worked really well and he had won the audience over. This was further amplified by the aforementioned 'Barking Up the Wrong Tree' (sung twice) and a reprise of 'Bird Dog'. Don had clearly enjoyed himself and the audience demonstrated their appreciation.
Close out act for this night was the Spanish rockabilly outfit Charlie Hightone & he Rock-Its. The lead singer has a good voice and the musicians are very competent. Charlie chose to sing some numbers in English and others in his native Spanish. On the latter, he was clearly more comfortable. All in all, a nice set to finish off the evening with.
Sunday, 16th May 2010 (Fine Rockin' Conclusion).
The Sunday commenced with the regular boot fair with a few bargains to be had. During the afternoon, it was time for the regular rockin' sold out boat cruise on the nearby Norfolk Broads, organised by Liz Holt and Andy Molyneaux. This time, it was on a new to us larger boat and stretch of the nearby Norfolk Broads.
Back at the camp, there had been an afternoon jam session with Blue De Ville and a performance by Relentless, a new band from the Midlands in England. In addition, there was the second round of Kav's Jive Lessons
The evening's events in the main ballroom commenced with a performance by Mary Jean Lewis backed by The Starlighters. Mary is a daughter of the incomparable and great Linda Gail Lewis - and for the next generation of Lewis's, she demonstrated that she has rock 'n' roll blood coursing through her veins, the family musical lineage is in good hands. She plays the piano well and has a good singing voice. Mixing the numbers and tempos well with her renditions of 'Crazy Arms, 'Dixabilly', 'Here Comes That Feeling Again', 'Got A Lot Of Rhythm In My Soul' and 'I'm On Fire', this was a sparkling and rewarding set.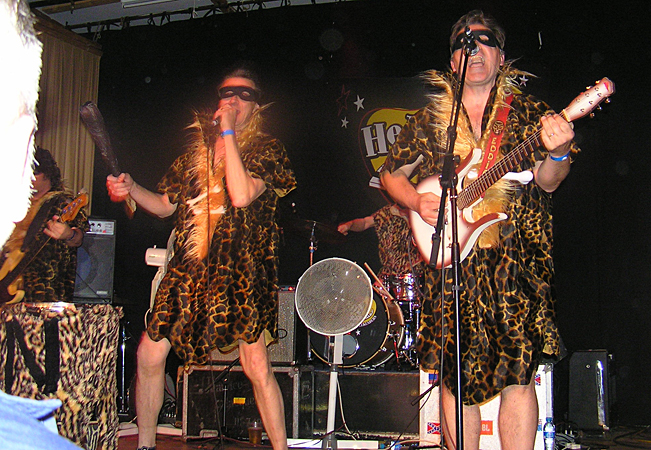 Neanderthals
After the Jive Contest - I retired hurt just watching the participants - it was time for a late addition to the bill in the form of The Neanderthals from the west coast of America. Lead by the guitarist's guitarist Eddie Angel, this was a no hold barred, straight in your face rock 'n' roll onslaught. It was both fun and exciting plus being crammed full of musical excellence. Angel along with Pete Curry on drums, Sam Bolle on bass and singer Johnny Rabb - who also pounded an upright drum into (literal) broken submission - were dressed in animal loincloths and Lone Ranger style masks. Opening up with a raucous version of 'I Go Ape', the set comprised mainly original tunes such as 'Werewolf From Outer Space', a breathtaking 'Rampage', ' the hugely entertaining 'Caveman' and 'Girl In A Hot Rod'. Along the way, the guys worked in 'Chantilly Lace', 'Betty Lou's Got A New Pair Of Shoes' and a marvelously unique workout on 'Suspicious Minds'. Whilst the guys performed oh so professionally, I was bopping' around like a demented maniac - accompanied by the rest of the audience -all clearly enjoying ourselves. This had been a highlight of the whole Hemsby, truly a must see again act.
In a return to normality, The Sureshots were the next to perform. That they are competent musicians is beyond doubt, and this being despite a late bass player change. When they knuckled down to play music, they were good - especially their treatments of 'Fire Engine Baby', 'Little Pig' and 'Let's Flat Git It'. However, I found the yawning gaps between songs whilst they chatted to friends in the audience off putting - maybe this was because I was still fired up from The Neanderthals but, for myself, there was no real comparison. Final act for this Hemsby was Finnish band The Rockin' 8-Balls who produced a brand of rockabilly with a frantic expenditure of energy. Some of this worked but, sadly, not all of the time.
That was it and a further return to the reality of these troubled times. However, there is next October to look forward to with the likes of the return of Art Adams, Bobby 'Itchy Twitchy Feelin' Hendricks, The Tennessee Three lead by Bob Wooten, Texas Wildman Mack Stevens, a reformed Rimshots and numerous other rockin' acts. Make a note of 8th through to 11th October 2010 in your diaries.
© Tony Wilkinson
July 2010.
SHOW REVIEW
FROM THE DESK OF TONY WILKINSON
4 North Street, Great Wakering, Southend-on-Sea, Essex SS3 0EL
Tel: (0)1702 219 179 - Fax: (0)1702 218 850 - E-mail: waxowilko@aol.com


SPONSORED LINKS: