THE ROCKABILLY HALL OF FAME PRESENTS



© 1999, Ken Burke and The Rockabilly Hall of Fame - Posted Sept. 12, 1999

History Of The Paladins:
The Dave Gonzalez Interview!


The Paladins helped pave the way for the rockabilly revival during the early 80s and are still among its finest purveyors. Whether jamming out hard electric blues, jumpin' r&b, country-flavored rockabilly, Tex-Mex, or elemental swing, the trio conjures a full, rhythmic sound unmatched by both contemporaries and up and comers. In addition, they possess an uncanny ability to find old songs which fit their style. and in various configurations, have proven to be formidable songwriters whose material cleverly accentuates their blusey, early rock edge.
However, talent, indefatigable energy, and a nearly fanatical following in clubs worldwide, does not always translate into mainstream success. With the exception of their two wonderful blues-oriented discs on Alligator, most recordings by The Paladins have been hard to find in stores, and seldom (if ever) played on the radio.
As a result, whatever momentum they gained when the Stray Cats and Blasters made rockabilly popular again, had been stalled by lack of promotional savvy from such off-brand labels as Wrestler, Sector2, and 4AD.
The Paladins never considered quitting. They pressed on, taking their unique musical storm into every local gutbucket bistro and foreign roots festival smart enough to book them. Finally, after nearly 20 years on the road, all that faith and effort seems to be paying off. Slippin' In, their debut on Ruf Records, has garnered more attention for The Paladins than anything they've done since they left Alligator, and has given the rockabilly faithful cause to positively reevaluate this legendary trio.
I phoned Paladins lead guitarist/singer Gonzalez at home during a rare break from the road, just before the Labor Day weekend got under way. Blessed with enthusiasm, candor, and sincerity to spare, Gonzalez spoke at length about the band's early history, influences, record labels, and the fresh emphasis his band is placing on rockabilly music.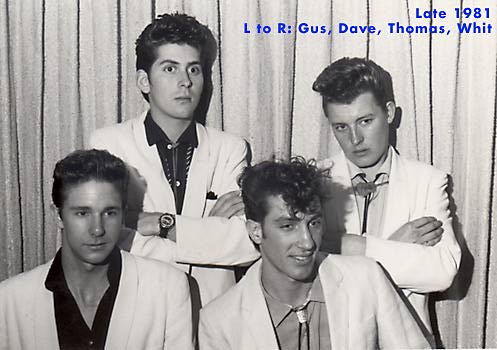 RHOF: Let's start at the beginning. Tell us about the area where you and your bandmates were raised and the early sounds which influenced you.
DG: I actually grew up in (East L.A.) Whittier and then in the early 70s my family moved up near Thousand Oaks. That's where I first started playing guitar. I lucked out and had a cousin by the name of Greg Leach, he was about ten years older than me, he was already playing in bands and stuff. He gave me my first electric guitar in about '74 and told me to get a Fender Bassman amplifier -- and I still play out of one. He gave me my first Freddie King record, that really changed me. It was blues but it was also rock'n'roll. So, Greg knew what was going on then and we're still really tight. He's not playing out live anymore but he inspired me to go for it. When I was in junior high and high school I got a chance to hook up with a lot of cats who were older than me. I felt really fortunate because they helped me bypass a lot of junk that was on the radio at the time. Instead I found out about Muddy Waters, Johnny Winter, B.B. King -- I found out about all those guys at an early age. It really left an impression on me. Besides jamming with all these older cats who were into blues-rock, well, my mother was a big rock'n'roller -- in fact she still is. When the Beatles came out she bought all their records, and the Stones, Carl Perkins, she loves Roy Orbison and Elvis. So, again, I lucked out having those records around the house and always hearing them when I was growing up. Then my country side of it comes from my father who really loved Buck Owens and Merle Haggard and that whole Bakersfield sound. So when he'd come home from work, he'd put the country records on and I got a chance to hear all that stuff. On top of that, my grandmother was married to a guy who was a horn player and arranger for Stan Kenton. She was into jazz! So I really got a chance to mix it all up, and that's what the Paladins have been famous for all these years. We're not just a strict rockabilly band, we have a lot of flavor from these other kinds of music.

RHOF: When did you decide to form the group?
DG: Well, Thomas Yearsley and I met in high school in '78. We started jammin' together, he was actually playing guitar at the time, but we could never find a drummer. Then Thomas joined the high school jazz band, but they already had a guitar player, so he switched over to stand-up bass right there on the spot. That's when we started messing around with the big bass. We actually ran into this other cat named Whit Broadly, and he was really into rockabilly music! I was into old music: Elvis and Buddy Holly, Bo Diddley, the Beatles and the Stones as well as John Lee Hooker and Muddy Waters and all that stuff. Whit was into the same thing too except he had a whole bunch of rockabilly records! So I taught him some guitar chords and Thomas, Whit, and I started jammin' together. Then we finally found a great drummer by the name of Gus Griffin. That was in about late '80. Whit named us The Paladins right after we added Gus on drums. We were a four piece band and we started playing around town, going up to L.A. now and then, and going to Las Vegas, and a lot of shows in Phoenix, which during the early 80s had a really strong rockabilly scene.

RHOF: Did he get that name from the old Richard Boone western TV series?
DG: Yes. That's exactly where we got it, Paladin - Have Gun Will Travel. We were really into rockabilly but we weren't into dressing like modern country and western stars or something, we wanted to look like a cross between Richard Boone and early Elvis. Whit was really into it. Believe it or not, he had this Paladin lunch box -- he'd carry that thing around and it used to be full of rockabilly cassettes that he'd make.

RHOF: What was the reaction to the band during its earliest days?
DG: When we first started out, we all really felt like outcasts, man. We got called all kinds of names and people tried to pick fights with us because we had leather jackets on and greasy hair. People would call us "Sha-Na-Na" and they didn't know what we were. They were afraid of us because they thought we were punk rockers or ...I don't know what. (laughs) But when the Stray Cats finally hit, all of a sudden a lot of bands were getting greasy hair, playing Gretsch guitars, and even though most of 'em aren't around anymore, they opened it up and made it a valid music.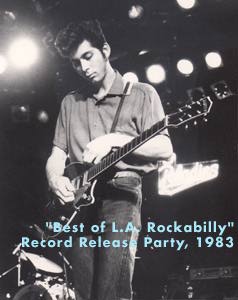 RHOF: What did your folks think about you going into the music business?
DG: Oh, they were so supportive of me all the time. My biggest fans and I'm so fortunate that they've always been there for me. We never thought like, "We're going to be in the music business now." We got our guitars and we just dug rockabilly music so much and thought "We've just gotta keep playing this, because nobody else is playing this stuff and this is the real deal." We were doing it because we hated Disco. That's what we had to deal with when we were in high school in the late 70s. We were bummed. That's why I dug the blues stuff and, of course Elvis, and other stuff that was raw and real -- it was anti what was the fad at the time, that cheesy disco sound.

RHOF: Tell us something about your early days on the road.
DG: We started touring around at that time with Whit and we were driving around in a '59 Cadillac Fleetwood. We had twin reverbs, me and him would both play out of it. We had Gussie just take a snare drum and we'd stick the stand-up bass in the trunk or that backseat and we'd go for it. We'd pile into the Cadillac and cruise around to where ever we could get a gig. I guess in about late '81 - '82 we started going to Phoenix. We used to play out there at Merlin's, the Mason Jar, and the old Chuy's. In '82 we got our first recording out on a compilation record called Who's Listening? and we did one of our favorite songs of all time -- still my favorite song of all-time, "Lonesome Train" by Johnny Burnette. That established us as a rockabilly band. That was right about the same time the Stray Cats were coming out so people were getting hip to rockabilly. There were some other great rockabilly bands besides them an us like the Blasters. They were the ones we really identified with. They were kind of rockabilly but they were also r&b, blues, country, and folk all at the same time. They played Jerry Lee Lewis and they played Junior Parker. Then they'd play "Marie Marie," which Dave Alvin wrote. To me, those guys were they greatest, they smoked everybody. The could combine all those elements to come up with their unique sound. They had the biggest influence on us at that time. Still do. I love those guys. Also there was a a real good group called the Kingbees. Then in '83 we got on the Best Of L.A. Rockabilly compilation that Art Fein put out on Rhino Records. That LP featured Los Lobos before they were signed, James Intveld, Dave Alvin from the Blasters, one of his very first solo efforts. Billy Zoom of X produced the Red Devils -- it was a great, great record. We did "Double Datin'," which was produced by Mark Neill, that one goes way back for us. We toured all the way down through Louisiana, Mississippi, all throughout Texas off that L.A. Rockabilly compilation.

RHOF: So you guys developed a strong following in clubs early on?
DG: Real early on. We just did it because we were hungry for it. We were young and it didn't cost us a lot to stay out. That's when it was really rockin' because the drinkin' age was 18 or 19 in most of those Southern states. So it was going off ! It's a lot different now because they switched it to 21.

RHOF: When did the Paladins switch from being a quartet to a trio?
DG: In late '83, when Gus Griffin left the group and we started to borrow this great drummer named Scott Campbell. He was the original drummer for the Red Devils. At the same time, Whit was getting kinda burnt from using a different drummer every time we played a gig. Then, after a few months, Scott joined our band full time and came down to San Diego. Whit did one really long road trip with us all the way out to Texas and back. It was pretty rough in the early days and we didn't make a whole lot of dough and we had to sleep in the car and all that. So he ended up going "It might take a while and this is not that glamorous." -- it still isn't. But Whit ended up saying it would be better if we just went ahead without him and remembered him, so we officially became a trio then. We're still really good friends.

RHOF: Tell us a bit about the band's repertoire. There are a lot of obscure cover versions of songs on your discs. Is that by design?
DG: Oh yeah. You know, you don't want to always be playing the standard covers. You know, we write a lot of songs, but that doesn't mean that every single one we write is going to be on our record. We try to make them all kind of fit together and come up with tunes that nobody else has done yet. You can't always do it, because sometimes you find out later "Oh man, I didn't know he did that song." I remember we did this one song called "Right Now" on our first album, then Marshall Crenshaw came out and he had it on his album. Everybody was coming up to us at our gigs and saying "That Marshal Crenshaw song you guys are doing is really cool." I'd say "Oh man...you're kiddin' me. That's a Gene Vincent song." So, you can't always win, but we did our version of it and we're still out there playing it.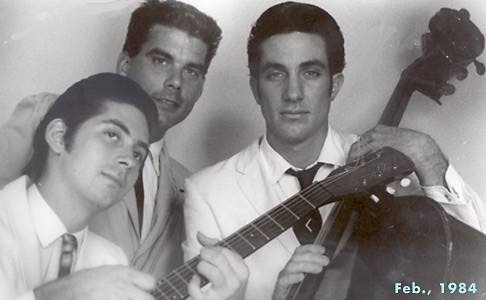 RHOF: Are you guys all record collectors and archivists?
DG: Fully. I used to really buy a LOT of records. 45's mostly for my jukeboxes. I've got two right now. There's still a lot of records out there, but it's not like it used to be, most of 'em are snatched up. But it's great that all these CDs are coming out with all this obscure stuff that's really easy to get a hold of now. That's not how it used to be. We really had to search -- every town we went in we'd go into record stores, dig through records, go to thrift stores, talk to people at shows and find out who had all the coolest records in town. We got a chance to meet a lot of hip people and discovered the early sound and production styles from searching for these old funky records. Blues records, rockabilly records, country records, everything.

RHOF: Tell us about your early association with the Fabulous Thunderbirds and Los Lobos.
DG: We used to all play at the same clubs in Hollywood when we were starting out. A little funky joint called The On Club, where sometimes the gunshots were louder than the band. I'm serious, that place was evil . Los Lobos played there a lot, so did we. We've been really good friends ever since. We used to play this other place, The Cathay De Grande, which was a little hole down in the basement of some funky joint down in Hollywood. Everybody used to play down there. As a matter of fact, that's the first place I ever saw Stevie Ray Vaughan. That was in about '82. We were playing the Cathay De Grande and we walk in and hear this guy wailin' . Sounded like Albert King-meets-Jimi Hendrix. I said "Oh my GOD, what is goin' on?" We ran down there and it was Stevie Ray -- playing right there at the Cathay De Grande. I know he played for not much more than we made, which was about fifty bucks. That was right before he even recorded his first record. I looked up on the stage and I already knew who his bass player was -- Tommy Shannon, from those Johnny Winter records. So I ran up "What are you guys doing?" He said "Oh, we're in L.A. fixing to record a record." "Well, who's that guy playing guitar?" "That's Jimmie Vaughan's brother." I some people from Corpus Christi, Texas that grew up with Chris Leyton and we really hit it off good. As a matter of fact, after their record came out and our record came, we were very fortunate to do a couple of tours with Stevie.

RHOF: You're a pretty formidable guitarist yourself. Did you ever get into any jam sessions with Stevie Ray or Jimmie Vaughan?
DG: No, we never did, man. People used to ask us why we didn't and I said "They were the ones playing the big shows and as much as these people think I'm a great guitar player, I'm nothing compared to those guys." Honestly man, I never expected to ever be called up. I was always completely in awe. I saw Jimmy Vaughan the other day, we played together in Belgium. We played right before him and we played really good. We've got a lot of fans over there. Everybody was asking "You gonna jam with Jimmie? You gonna jam with Jimmie?" I just told them "I spoke with him, we said howdy to each other, but he never asked me to sit in and I don't expect it." Someday maybe I will. But when I hear those guys play...they smoke me! I'll be glad to just watch 'em.

RHOF: Tell us about your group's first album on Wrestler.
DG: That first album came out in '87, and it's just titled The Paladins. By the way, that was produced by Mark Neill, we had been recording with Mark since 1982, who did our new record Slippin' In. He did our first record "Lonesome Train." In '83 he did "Double Datin'," and in '84 he did our first 45, which was "Slippin' In" b/w "Honky Tonk All Night." Then, in late 1985, we s tarted to put together our first LP and Mark was producing that. He hipped us to lot of things, like Murry's, pomade, and taught me a lot about amplifiers and speakers. He always helped us out a lot. He recorded all of that early stuff on vintage equipment. As a matter of fact, I was even singing out of the same microphone on the new record as on that first one. After we finished those recordings with Mark, we headed down to Texas. We got invited to record and play some gigs with a great piano player/vocalist named Katie Webster, she was killer. Kim Wilson was producing her and her manager offered to help us out with Kim producing us as well as having us back Katie. We really liked a couple of those recordings and performances, "Let's Go" came from that session, so did "Lover's Rock" with Anson Funderburgh. Anyhow, we already had the LP we did with Mark Neill, and then we had all this other stuff we did with Kim and Katie. So we put it all together, and that became our first album. Now that I look back on it, I wish we would've made two records out of all that. I wish we had an LP of that original session and an LP of that Texas session. We recorded our first LP on a three-track machine.

RHOF: Who distributed that one?
DG: Man, I don't know, but the guy blew it. First of all, before we even signed to 'em, Keith Ferguson from the Tailgaters called me one night and said "Don't do it. The guy's jive, he won't pay you, he'll rip you off. He owes us a bunch of money." I said "Oh man, we need a record out so bad. We're out here on the road with our little single, we're starving to death, and we need to make an album. We've got all these songs in the can we cut with Mark Neill, we gotta release 'em, we gotta sell it to somebody" "Well, don't do it." So we thought about it and thought about it and Keith really got mad at me, but we did it. We signed with Wrestler and less than six months after that records came out, we were playing Chicago and Alligator came to our show and said "We know of you guys, we liked your demo, we wish we would've signed you. So, if you can get out of your deal with Wrestler, you have a deal with us." So, I got Alligator to buy 'em out. By the end of that year, we were on Alligator. We didn't have to stick around Wrestler too long but we never got one dime from them, and that record has been released worldwide and it's still in print. Alligator wanted to buy that record when they bought our contract and the guy wouldn't sell it to them because he was holding out, trying to sell his whole catalog. Alligator only wanted us.

RHOF: Did you like working with Alligator?
DG: Oh yeah, they're great people, I liked working with them a lot, at first. I think the first record Years Since Yesterday, has a good sound we had control of our production at that time. But then, on Let's Buzz!, they started trying to control our sound and productions, so we left.

RHOF: On Let's Buzz! what was it like to work with legendary saxman Lee Allen? DG: Oh man!! It was the coolest. We knew him for many years because he'd been playing with the Blasters, who we played a lot of shows with. We loved Lee and Lee loved us! We hit it off really good, he knew where we were coming from, and he was always very complimentary to us. A lot of times after a show he'd jump in our van and go drinkin' with us. Finally, when we got to do Let's Buzz! with Steve Berlin producing he said "We should call Lee." I said "Yeah, we should, because Lee always tells me to call him and I never do." Sure enough, Lee came down and man he played great on "Kiddio!" That was one of the highlights of my whole life! I still get chills when I hear Lee on that record.

RHOF: Do you keep many of the old numbers in your set or do you rotate them?
DG: The way we do it is we try to get in most of our new songs. Then, there's the ones people always call out for ""Going Down To Big Mary's," "Let's Buzz," "Keep On Lovin' Me Baby," "Hold On," "Lover's Rock," "Years Since Yesterday," and "Kiddio." Most of the time we play those. When we don't, it never fails, somebody'll come up "Man, I haven't seen you in five years! Why didn't you play 'Let's Buzz'?" "Aw man, we just played it eighteen nights in a row. We just decided not to play it tonight and now you're asking for it. I'm really sorry..." "Fifteen days Under The Hood," that's one of our new favorites. Everyone requests that one everywhere we go. That's like the national anthem for the rockabilly gear-head set. We have a lot of song so we can contour our set depending on the show.

RHOF: Do you guys hit the stage with a playlist or do you make it up as you go?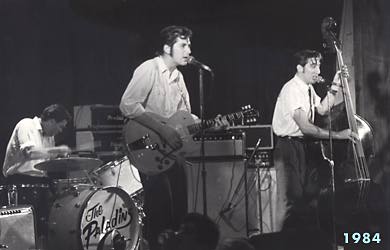 DG: We wing it every time, man. We never use a set list. It just happens from night to night and we keep some songs in rotation. Lately, since we got the new record going we're trying to fit in more of our old rockabilly stuff to match the new songs.

RHOF: The music of The Paladins crosses a lot of boundaries, are you guys perceived by audiences as blues, roots rock, rockabilly or what?
DG: It kinda depends on where we're at in the world. In Australia we were one of the first rockabilly bands to go over there. The Stray Cats went there early on and we went there in '89. We played a bunch of rockabilly stuff, but we had this great blues singer Smokey Wilson touring with us. So we played all this Howlin' Wolf, T-Bone, and all this killer blues stuff with this authentic, killer Smokey Wilson from Mississippi singing with us.

RHOF: What type of crowds do you generally draw?
DG: We get a big mixed crowd of people and that's great because I think our music appeals to a lot of people. Some of the really straight, strict blues people they won't dig it because it's too western or it's too punk. Some of the punk people might not dig it because it's too bluesy. We've always been walkin' the fence of being one or the other. At some of our earliest tours of England we'd play these festivals and we'd go over HUGE! But then we'd go play these clubs and the rockabilly people would get pissed off because we weren't rockabilly enough and the blues people would get pissed off because we were too rockabilly. We've always said "Man, that's weird! Because it all comes from the same place and this is just our version of it." I like a bluesy feel and a way in the back of the pocket backbeat, but I like country music which is always on top of the beat. So, can't we meet somewhere in between and put rock'n'roll in the middle? Rockabilly, all those cats on Sun Records and Johnny Burnette, those guys were country cats playing blues and rocking it up! Paul Burlison? man that guy was playing unbelievable swing, jazz, blues, country, and rock'n'roll all at the same time. That's what we're trying do and have done for a long time now.

RHOF: Do you get a lot of Swing kids at your shows?
DG: Oh yeah. The new Swing thing, even though there's a couple of really great groups like Royal Crown Revue -- who are a really big favorite of mine, a lot of 'em are just doing it because it's the latest fad. Just like when blues hit again and we were on Alligator and all these Top 40 and disco players started playing blues. And they weren't really playing authentic blues. It was just like all these country records that are on the radio now. They're making billions of dollars and they're not even country. It's just some fad, a way for them to make money, and previously they were all playing in Top 40 bands their whole life. To me, the honesty of it and the rawness are where it's at. I don't go to a gig and try to dress up and be the flashiest guy in the whole place, or think our band is the "coolest" thing ever. We just go there and try to play raw and play real. Most of the people who come to our gigs are rockabilly people, blues people, and we do get some Swing people. Don't get me wrong. I'm GLAD to see people get dressed up again, wearing nice clothes, and gettin' haircuts. I'm all fine with that. It's cool, except when you go to some places like Swing Night at the House Of Blues where all of a sudden you see all these yuppies dressed up in fake Swing clothes. It's like Halloween. I don't know why you have to wear a costume. I've always been that way about rockabilly too. People don't have to have greasy hair to play this music. They don't have to have blue suede shoes. Me, I might wear a western shirt, Levis over some cowboy boots, but I really don't care because it's not a fashion show. I just dress like I normally dress and if somebody comes out to the gig and they really dig our band and they've got a leather jacket or spiked hair or long hair or a lumberjack suit on, I don't care. If they can relate to the music, that's cool! And they can probably turn me on to something I might dig that I don't even know about. It doesn't matter to me how they dress, we're all there for the music. Most of the people who come out to our shows in California, they grew up hearing us play along with James Intveld and other rockabilly bands and they wear their jeans rolled up with cowboy boots or their creepers or western shirt or something. But most of those people, that's how they live their life every day. It's not a costume to them, it's a way of life. If they're into old hot-rods and the classic greaser look and have whitewall tires on their car, that's what they dig! It's not a fad to 'em. I think it should just be about the music. If I dig the band, whatever they look like, I don't care, it's all about the music.

RHOF: We went through a real long spell in music where hardly anybody danced in clubs or at live music shows. Has that changed?
DG: It depends on where you go. Down here in San Diego, I swear this is the first place where I really saw people Swing-dancing. We used to play at this little funky, honkytonk dive called Bodie's by the University, and there was a set of dancers who used to come down there and tear it up, Swing-dancing. We'd be playing all these rockabilly tunes, Gene Vincent and all this stuff. It started out with this man and this woman dancing, then pretty soon there's be two or three other couples. Pretty soon the whole place was packed with people dancing, and this was around '82, '83, and '84! This lady would give classes, her name is Molly, and she still teaches dance classes down here, and as far back as anywhere I've ever toured and anywhere I can remember, she was the first one I ever saw doing it. So down here in San Diego, there's always been people dancing. Now it's funny. When we come home to play there's so many people at the gig they're packed up to the front of the stage and all the dancers are mad because there's no room to dance Everybody's standing there watching Joe, or watching my guitar solos and stuff and they won't dance. They'll watch every note that you play like you're under a microscope. I wish everybody would just forget about that, loosen up, and just start partying!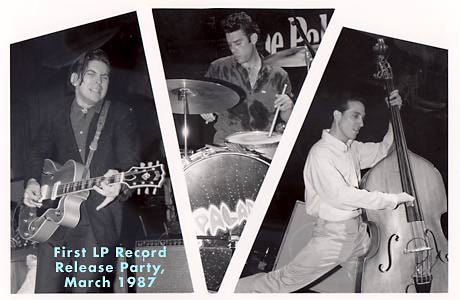 RHOF: What about on the road? Are people dancing there?
DG: In Texas, they like to dance a lot. They always have. Even when we were playing at the Continental Club in the mid-80s or at Antone's, people would always come out and dance. I think our music has a good beat to it, a good feel, and it makes you feel loose and start dancing. We've been playing with a Swing feel for a long time. Rockabilly has got a Swing feel to it, it just doesn't have the horns. A lot of those people who like Swing music, they also like rockabilly. But back when we were playing a whole lot of blues clubs, there weren't a whole lot of people dancing. So, I've been glad that the Swing movement at least has the people getting dressed up and out dancing again.

RHOF: Tell us a bit about your bass player, Thomas Yearsley and why he left.
DG: Well, when we first started, not that many people had seen bands with the stand-up bass and there was Thomas Yearsley, one of the greatest showmen I've ever seen. Thomas had been wanting to get off the road so he could be home with his kids and his wife is Candye Kane, she's on tour a lot. As a matter of fact, me and Tom produced her first album on Antone's, Home Cookin'. We got Roy Gaines on it and all these great special guests. Me and Tom always wrote and produced our stuff, our demos anyway, and then we'd go into the studio and work with Steve Berlin or Mark Neill.

RHOF: Is producing something you'd always wanted to do?
DG: Over the years, a lot of people have asked us to produce 'em, and after all these records and working with Mark Neill, Mark Linett who is a great engineer or Rick Brown or Cesar Rojas -- I felt we could produce somebody good if we had the time to do it. So, I turned down a lot of stuff until finally Thomas, Candye, her manager, and Clifford Antone kept bugging me non-stop for about a year about producing Candye's first record until I finally said "OK, OK, I'll do it." We did it right here in the house. We got everybody to come over to the house ever day for two weeks in a row, and went through every song, wrote songs with Candye, arranged the whole thing, got everybody to play right, cut all the demos, turned 'em into Clifford and he OK'd the project. We got funded and made the first record. After that, quite a few people have asked me to do it, including Joe and Brian wanting me to produce this new record of ours. But I told 'em I wanted to go back with Mark Neill, he's light years ahead of me as far as being an engineer and a producer. AND, his equipment in top-notch. But let me tell you this, Thomas Yearsley is a great songwriter, a great producer, and me and him really work together good. I've got stack and stacks of demos that we've produced here in the living room. Right now, I haven't got time to produce anybody. I'm the bandleader, the guitarist, the mechanic, the songwriter, and the manager. We haven't had a manager for a few years, we just have an agent here in the U.S. and an agent overseas. So, people who come up to me and ask me to produce 'em, I've turned 'em on to Thomas. Thomas has always had a bunch of tape recorders and he'd hook up all my stuff with all of his and we'd come up with some pretty cool, raunchy sounding demos. Tom's got a great ear. He has got pitch like nobody else I've ever heard, he's super musical and he's always got ideas that come from outer space! That's what makes a great producer -- to hear different sounds, to try to create something that's a little bit different than what the last guy did. Tom has that magic about him, He got off the road, he came home and built that studio at his house and cut a bunch of demos for Candy. He just finished up a record for a guy in Belgium, Mark Tjis, who's a white guy who sounds like Roy Brown on acid! Tom just went to Europe to do a couple of shows with this guy and I'd been over there with our new record Slippin' In. People would ask every night "What's up with Tom?" and I'd be on the microphone saying "Tom's doing fine, he's producing Mark Tjis and other records, he's got a studio. Now his phone's ringing off the hook." That's great because he has a talent for that and he doesn't want to be on the road all the time. I'm glad for him because I think he's really going to do good at it.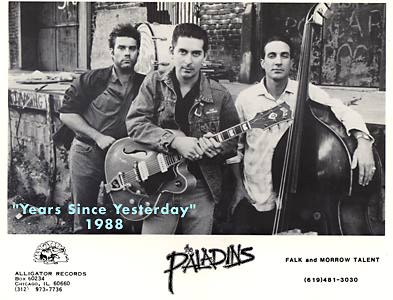 RHOF: Tell us about how your current bassist.
DG: Joe Leon Jazdzewski! He's from right here in San Diego and I've known him since he was 14. He started coming out to these undercover blues jams we played at this club over here under the name The Joint Chiefs. We used to have special guests come over and he used to sneak in on Sundays along with his buddy Robbie, who was a great guitar player, and they used to sit in. I couldn't believe these 14, 15 year old kids, they could really play! I mean these cats could play good ! So we became good friends and they both started playing bands around town, and then the next thing you know, James Harman hired 'em. They went on the road with James for almost four years and learned how to really play blues, how to tour, and they became really great players. Then, right after Tom quit the Paladins Joey broke his arm and had to take time off from James Harman. When James got another bassist to fill in, I asked him to join The Paladins and the rest is history. Joe was the perfect man for the job because he grew up watching Tom play. He grew up watching The Paladins and he knew where we were coming from already.

RHOF: How do you feel about all the personnel changes throughout the years?
DG: Well, there really haven't been that many of them, and as far as I'm concerned they're all still Paladins. For one reason or another, they decided to leave the band, but they know that they're still a part of the puzzle.

RHOF: Tell us about your sideband, the Joint Chiefs.
DG: The Chiefs are like a real traditional blues thing we've done on the side since '84. We haven't been playing that much lately because The Paladins are so busy. We have a rotation of a couple of different horn players, sometimes a piano player, sometimes another guitar player who really sings good and plays slide like Elmore James. We started the Chiefs out to back up a lot of stellar blues people that were coming down to San Diego, like Lowell Fulson, William Clark, Smokey Wilson, Hollywood Fats, Al Blake, Al Duncan (house drummer for the Regal Theater and on all the early Impressions records) who played drums on a number of Chiefs show, Junior Watson. I started recording The Chiefs right about the same time Joe joined up with The Paladins. Then I said "You know what? The Paladins are still going strong, but I've got people calling every day asking us to sign with 'em. I'd better concentrate on The Paladins." So, I kind of put the Chiefs on hold. As a matter of fact, the North Sea Jazz Festival called because they wanted the Chiefs -- they had heard my tape because our agent in Europe was shopping it around. They said "We want The Paladins, but we also want those horn players." They loved it.

RHOF: Does your band still play 200 dates a year?
DG: This year easy! For the last few years it's been more like between 100 and 150.

RHOF: Can you make it financially if you play less than say 150 gigs a year?
DG: Oh , we can make it. We just have to save our money and not go to the record store as much. That sort of thing.

RHOF: For us guitar wonks, what are playing these days?
DG: Well, I'm a Guild man. I'm still playing the same guitar as on Years Since Yesterday, the Guild X-550. I'm still using the Fender 410 Bassman and an old Echoplex. I've been using the same rig pretty much since we started The Paladins. When we first started out I got a Gretsch and I went through a few of those until I got a Gibson, which I thought was a little better. And I've still got a few Gibsons but then I got a Guild which smoked 'em all. I got my first Guild in '85 and then I got another one in '88, which is the one I'm playing now. In the studio I've used another little Guild called the Bluesbird, which is a 1959 and kind of looks like a Les Paul, and I've used a D-35 Guild acoustic guitar.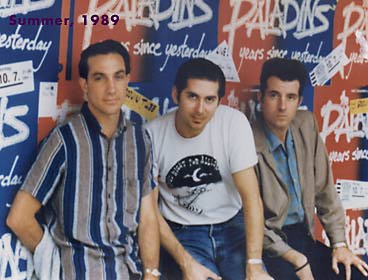 RHOF: Is a blues label a better fit for your band than say a pop or mainstream label?
DG: I don't know for sure the answer to that question because I've never been on a really major label before. Our current is a blues label, even though our new record is not a blues record. But the label owner is into really rootsy music and he loves rockabilly. Before we went to Wrestler, we had meetings with Slash, but for one reason or another, it didn't happen. Then we went with Wrestler. then when we got with Alligator. We made our first album with them [Years Since Yesterday], and then just before Let's Buzz! came out, Geffen called us and we went and talked to them, and we had all the demos for Let's Buzz! ready. We turned 'em into Geffen, they liked 'em and they said "We don't want to mess up anything between you and Alligator. If this is your last record with them, then do it and then you'll have a deal with us.""OK great." So we fulfilled our contract with Alligator with no hurt feelings. But then the A&R person who was at Geffen lost her job. Right after that Brian Fahey left. It took a while but we finally got Jeff Donovan in the band and wrote a bunch of new songs and that same gal who wanted us at Geffen, got a gig at Interscope. She said "Hi remember me? I'm at Interscope now. I'm going to sign you guys. It's a done deal." So they gave us some money, we made some recordings for them and then, at the last second, they passed on 'em. We were really bummed. So we called up the guy who eventually did the Sector 2 Ticket Home record. He said "I love all the demos. I'll put the demos out right now." I said "OK, we'll do it."

RHOF: The Sector 2 disc has been really hard to track down. Why was that?
DG: It went out of print! That thing went out of print less than six months after it came out. But we leased it to these cats overseas Munich Records, so Ticket Home was always in print over there, but here it was out of print. We finally regained control of our masters and no we have rereleased it. It's got four extra tracks on that one that weren't on the original release and we've reissued it under its original name Rejivenated.

RHOF: What about Million Mile Club?
DG: That's still available. We're real proud of it, that's our live album. Me and Jeff used to really go off and play heavy jazz stuff, I really did some extended guitar pieces on that. That's my guitar record! That one was on 4AD and a lot of people were confused because it's known to be a punk/gothic type label. But the president of 4AD is a big fan of blues, rockabilly, and roots, and he really wanted to a big heavy guitar record.

RHOF: Let's talk about your current CD Slippin' In. I believe this is your group's best one yet. If radio were a more hospitable place, there'd be several hit singles coming off of this one.
DG: Thanks. You know we've made a lot of records before and we've had management, record companies, and agents tell us "Give us something to put on the radio, you've got to be more modern and.." Well, we've tried it, we've done it all and we still try to be rootsy about it. Now on this new CD we said "You know what? Let's just make a record that is where we came from, that's where we're at, and it's old style." So we just did it our way.We really feel fortunate that after all these years we can still do what we want to do. We're not famous, we're not rich, but we still get to do what we want to do.

RHOF: Tell us about Ruf Records.
DG: Ruf Records, they're in Germany. Thomas Ruf is the guy who rediscovered Luther Allison and got him touring again, recorded him, and then leased him to Alligator. He got turned on to Ticket Home. He fell in love with the record and called me one day out of the blue and told me "I love this record, I can't stop listening to it. What are you guys doing? I can't believe I never met you before." Then I told him "Wow, that's great! I'm glad you like that record, except the new band doesn't really sound like that band any more. We still play a few of those songs, but let me do this. Let me send you all of our other records and see how you like 'em." I thought he'd call me back and say he liked The Million Mile Club the best. He called me back and I said "OK, which record do you like best?" He said "Without a doubt, the first record." I said "That's cool, because we just wrote a bunch of new songs and we've booked some studio time and we want to return to that raw, stripped down rockabilly sound." He said "That's fine with me, let's go!" So, once we had the OK on that we recorded a couple of tunes and he called me up and said "You got anything to send me yet? Give me the fastest, roughest, coolest thing you've got." I said "OK, I'll send you "Slippin' In." After he got it he called me back "I LOVE it! This is the title!" I really wanted to call it The Hard Way, just like Ticket Home was really supposed to be called Rejivenated. The guy at Sector 2 changed the title at the last second, Thomas Ruf did the same thing. He said "Man, that's great title, it's a great song. I'm putting out my Ruf Records sampler and I'm going to a convention in France in two weeks. I gotta put the song on the record, so can I title it Slippin' In?" I said "OK." But I really wish it was called The Hard Way.

RHOF: But basically, with the exception of the title change, you had creative freedom and control?
DG: Oh yeah. We turned the whole thing in and after he digested it for a while he said "Man, you've just given me the most beautiful record. I love this record. Everything about it is so musical and it's everything you said it was going to be, and I love the whole thing." I just went "Whew!! Thank you and Amen, brother."

RHOF: Was there a game plan for Slippin' In?
DG: That picture on the front of our new record? [A classic '54 Seeburg Jukebox] That's in my living room. I've had that box for twelve years and it has original Louvin Brothers, Muddy Waters, Gene Vincent, Willie Nelson, there's everything playing on that. I've always wanted to make a record that sounded like what the jukebox looks like. That's what we did, when we started making this record we knew what the cover was going to look like and I think we've made a record that matches it. It sounds like how a jukebox would sound if you plugged it in and played a honkytonk song, a blues number, some rockabilly numbers, a novelty number, and it all clicked. I'm really proud of it. I think the band sounds good and we still have a lot of energy. Through the years we've had great response and great reviews for all of our different records and I'm proud of everything we did. But over the years I've had so many people say "I like the first album the best. Why don't you make another record that sounds like your first one?" So that's why we went back to Mark Neill. We had written all these new songs that were really a lot like our first record.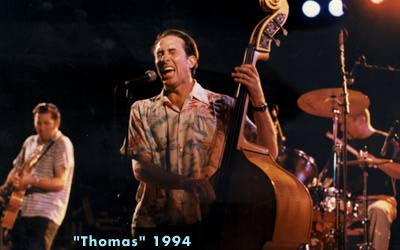 RHOF: Tell us about some of the more unusual cover tunes you selected for this disc.
DG: You know that one song "Five Minute Love Affair?" You know where that song came from? That's the B-side of Johnny Bond's "Hot Rod Lincoln." The Gram Parsons number ["Strong Boy"] that comes from our days with Whit, because Whit was totally into him. We just never had a steel player and in those days I didn't feel I could sing well enough to pull it off, but that happened to be one of my wife's favorite songs. We were in the front room practicing one day, she came in and said "There's this one song I really want you to do, it's on this tape." We said "Aww, man that song's great! It reminds me of something." So we kept messing with it and then I called up that steel player you hear on the record, Gerry Walker. I said "Man, my wife just hipped me to this song." And he said "I know who that is man, that's the International Submarine Band -- Gram Parsons." I said "That's it! Whit used to play that stuff."

RHOF: Tell us about the Tennessee Three sound you got on "Lady Luck."
DG: Well, you know we've always loved Johnny Cash. We used to play "Straight A's In Love" for a long time and we had all those Sun Records and stuff. My wife came up with "Lady Luck." She came home one day and said "I just wrote a song, I really want you to hear it." (sings) "Well I rolled the dice and I didn't think twice..."I said "That's GREAT! Let's start writing it." So we got out the acoustic guitar and started messing with it, then the guys came over for rehearsal a couple days later and we started playing like Johnny Cash. Once we got it in the studio, it really happened because Mark Neill can really get that Sun sound. He did the same thing on "Baby Don't Move," he's a genius.

RHOF: When I hear you do stuff like "Rain Rain," "You're The One That Done It," or "The Hard Way" I think you are a good singer.
DG: Well, I get by, but I've always wanted to be a singer like James Intveld. I've always felt that I was more of a guitarist than a vocalist and I wish it was the other way around.

RHOF: How does a trio like yours manage to achieve such a full sound?
DG: I don't know man, we just do. On this record we added a little bit of accordion on one tune, a steel player. Half the record we recorded with the acoustic guitar right there in the room with the drums and the bass, and we played it really quietly.

RHOF: Do you record most of your stuff live?
DG: Yeah. The type of production we want on our records, and that Mark Neill is famous for, it's really the old-style way to record. It's not a multi-track scene.

RHOF: Is that really important to your sound?
DG: I think it is, because we're really trying to achieve that authentic sound and feel. On a couple of tunes like "California Boogie," that's all of us, vocals, Gerry Walker on steel, and everything at one time live. That was the hardest song we recorded on the whole album and it came out sounding the most fun and we were all about ready to kill each other. (laughs) The arrangement kept changing and everybody was getting mad at each other, but it ended up to be a beautiful number.

RHOF: It seems to have some elements of Western Swing in it.
DG: Yeah, it sure does, man. I was listening to some different Western Swing records and I was actually on my way home with the Paladins from a trip to Seattle and I came up with "Way out west in the golden state.." a truck-drivin' Western Swing kind of deal, and said "That's it!" I got home, finished it up then went over to Jerry's house and worked up that intro part, then went to the studio and did it right there, live. That's one we don't do much as a trio, because some songs just don't work unless you bring in a special guest.

RHOF: Your band is so dynamic live, do you have a hard time capturing the character of the band's live sound in the studio?
DG: Well, it's different. When we play live we sometimes get carried away and play kind of loud, but we don't want to record like that. We want to record traditionally, especially with Mark Neill producing. He doesn't want it to be too loud in there. He wants to turn the microphones WAY up and really get the studio dynamics together. So, it was quite a challenge for us, even though we practiced and practiced and practiced here at the house. But, my room is completely different from the studio and I'm playing out of a Super-reverb and playing pretty loud. So when I got into the studio, everything was too loud. I ended up cutting almost the whole album with a little Princeton reverb amp, and even that was almost too loud. But making it sound good and getting that old-style feel was really important.

RHOF: Speaking of old-style feel. Is playing on vintage equipment, things like tube amps, really important to you and your band?
DG: That's where it's always been at. We still use all old equipment and really try hard to present our whole sound as authentically as we can and make it really sound like how it used to be when the original cats were playing.

RHOF: How do you generally choose songs for an album? Do you normally test them out on stage first?
DG: You know, some of them go that way, and some of them don't. Some end up being surprises on the record, and some of them end up like "Slippin' In," for example. The old Eddie Bond song. We played that song when we were a four-piece and I have demos of it when Whit and Gus were playing with us. When we first started playing live, that was one of our big numbers. And for some reason, when we made our first record, we never used it. At the time, our record company and our managers were saying "Man, you gotta have more originals. You can't come out and do just a bunch of covers." We had a lot of originals, but we wanted to pick the rockers for our record whether we wrote 'em or not, the ones people really like. But, we had pressure from them and our publishing company at the time saying "Do at least 50% originals." So, that's kind of where we've stayed all these years. Even though we write a lot of songs and try a lot of different things. Ticket Home is a testament to all the styles we write in. But "Slippin' In" goes back to earliest days of the Paladins and one that fits the band so good. When Joey Jazdzewski came on board and replaced Thomas on bass and Brian had already come back to the band, the feel was so much like the early band -- I didn't want to try and make those guys play like Tom and Jeff. And, we were starting to play a lot more rockabilly shows around L.A., especially like the Hootenanny Festival and a lot of these clubs where Big Sandy, Deke Dickerson, and Kim Lenz played. A lot of these bands were inspired because they went and saw us play in the early 80s, and I said "You know? Our band sounds like that again. We've got to write a bunch of new tunes that have that feel, and we'll call Mark Neill and we'll make another record where we sound like we did when we started."

RHOF: One of the best originals on your new CD is "The Hard Way," which I think has the same feel as Marty Stuart's "Tempted."
DG: That's quite a compliment, but I don't know that tune. I wrote that song with my acoustic guitar and it was like a country song. So Brian came over and I told him "Listen, I've got this song in my head and I can't tell if I hate it or I like it, and it won't go away." (laughs) So we started messing around and the next thing you know, Brian's over there playing the "Peggy Sue" kind of drum beat. I said "That's what we need! We don't need a slow country song, we need like a Buddy Holly song." Buddy Holly and the Everly Brothers were such big influences on me. So we got Buddy's records out and started playing 'em, we got the Everly Brothers out and played 'em and said "OK, NOW we know what we're doing." All the words were there, we just needed the right beat. Once that happened it was just automatic. Then, when I took all the demos into Mark Neill, his eyes just lit up -- because he even looks like Phil Everly. The guy is so into it and he knows everything about that RCA Studio-B Nashville sound -- he's a complete student of that. So his eyes lit up when he heard that song, and he pulled that melody right out and put it right on that six-string baritone guitar and threw down an extra acoustic guitar with a Nashville tuning, which is something I didn't know about, and he just turned that song into something I'm really proud of. We played it live about a half-dozen times trying to find the tempo and seeing what the audience would do, and everybody really liked it. Everybody could relate to it.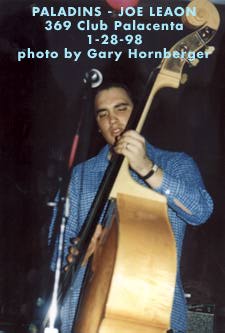 RHOF: On your lone instrumental "Return To Polara," I hear the influences of Link Wray and Dick Dale.
DG: Exactly! It was a cross between the two. I'd seen Link Wray three times and he blew my mind! We used to play his versions of "Mary Ann," "Rawhide," "Rumble," "The Swag" -- all those different songs were played by the early Paladins, and I love that stuff. And Dick Dale, he used to play down the street from here at the Belly-Up. Then we got to play with him in Detroit and man he was stellar ! I had just seen Link Wray for the third time a month before I saw Dick Dale, and I said "If these two guys could play together it would be the unbelievable guitar duel of all time. It'd be the showdown at the O.K. Corral." I already had the title too because I had been going on and on for the last few months about the favorite car I've ever had, the '64 Dodge Polara. It was the perfect theme for a surf/space/Link Wray type of thing, it was an automatic title. Overall though, I really like the album because it's not a huge guitar record. I wanted a very authentic sounding record that everybody could just sing along to and that's why there's a lot of harmony on it and some cool guitar sounds, but I don't feel like it's the epic guitar album.

RHOF: So far, how is the new disc doing?
DG: A couple weeks ago, I spoke with Ruf Records and they said they're really happy and that it's selling steadily. So, I think it's going to keep going.

RHOF: You dedicated the album to the memory of Clark Cruz, Bruce Hamblin, and Lester Butler. Who were they?
DG: Lester Butler was a great singer and harmonica player from Los Angeles that fronted the Red Devils. He was a big Paladins fan and very nice to us through they years, but he was one of these guys who was always messing around with drugs. I always steered clear of him because I never did any drugs, I don't drink to excess, I've never been into that. I've seen too many people like the Great Hollywood Fats and all these people just keep dying from drugs and drinking. Most recently, Lester made his own solo record and we really liked it and we ended up being on a couple of festivals together in Europe. Then he came out to a few shows here in the states and sat in with us. We always had musical respect for each other but I never really warmed up to him because I just can't relate to drug people. But he was so sincere and I heard from everybody that he was clean and trying hard to behave, so when he came out we really hit it off. We had some good conversations and I started really liking the guy in the days before he died. Bruce Hamblin was the same way. Our drummer Brian Fahey and Bruce they played together in one of the versions of Bill Haley's Comets road band for a while in the late 70s, early 80s. He played all these shows with Jerry Lee Lewis, the Clovers, and all these bands that were, in one form or another, still playing. Bruce talked Brian into moving to Phoenix. So they got off the road with the Comets and they formed a band called The Varmints.

RHOF: I loved The Varmints!
DG: That was Bruce and Brian, and Mario Morena! A great guitar player. Bruce would sing all those western songs, like Sons Of The Pioneers and stuff. Bruce was the real deal . We met the Varmints early on in like '82 and we got to be great friends. When Scott Campbell quit our band, we asked Brian to join up, Brian was happy with The Varmints but he was ready to make more money and get out on the road. Bruce passed away from drinking too much. He was on the waiting list for a liver and checked out before he got one. e loved the guy so much and he was the real deal. He was like a hero of mine.

RHOF: And Clark Cruz?
DG: Clark Cruz was a real nice guy who was there from the beginning. He was one of those cats who was one of the first dancers we ever saw down at Bodie's. He was always there on Swing Dance night, always at all the Paladins shows, and he always had his camera with him. Some of the earliest promo pictures of The Paladins were ones that Clark took. He was always there and was a great friend of mine for years and years. He just started losing weight and he couldn't figure it out. He went to all these doctors, specialists. Finally they told him he had Lou Gehrig's Disease. Then he went to another specialist who said "No, it's something else." Then another specialist who disagreed. Nobody ever figured it out and nobody could cure him. He just lost all his weight, got weak, and then passed away. But he was always there for us. Anytime we needed a new promo picture, he'd come out to the shows and take pictures of us, and later bring 'em to us. He was a neighbor of mine, I used to ride my bike down the hill, stop by and see him all the time. He was a really positive great guy. Didn't smoke, didn't do drugs, he was a health food cat who went surfing every day. One of these guys you'd think would live to be 95 years old no problem -- it just doesn't figure. You see all these other guys smoking, drinking, doing drugs and all this crazy stuff, and this other guy who took care of himself-- nice person, good, honest, polite, really great guy, and look what happens. He gets sick, nobody can figure it out, and he passed away. It ain't fair.

RHOF: How did you avoid succumbing to alcohol, which is so abundant in everywhere you play?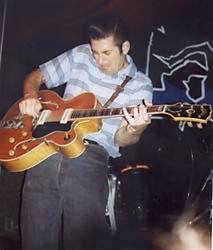 DG: Myself, I feel fortunate that I'm still around. In my younger days, I drank some beer, drank some whiskey and partied down a little bit, but I never let it get out of control. When they changed the drinking age from 19 to 21 and they were starting to get down on everybody about drunk driving, I said "That's it, I'm not going to drink." And I didn't drink for many, many years during all that early Paladins stuff. Then we got sponsored by Miller Beer and pretty soon I started having a couple of beers every night, then when Jeff Donovan joined the band he was drinking quite a bit, so we started drinking together. Then I realized "You know what? I don't like drinking and I'm not a pro partier, and I'm the one who always drives the van and I don't want to get pulled over." So I just quit. I felt like the only way I was going to survive in this business was to stay straight, work hard, save my dough, and I'm glad I did. I worked really hard and ended up being lucky enough to buy my own house and I feel really fortunate to be able to do that considering we've never really had a hit record. I'm poor, but I've got a house and I've got a beautiful wife and I couldn't be happier. I feel very fortunate that we're still playing. I feel like we never tried to contour our sound to become what the next fad is and I've never had to play in a Top 40 band. We barely were out of high school and we were jammin' with people playing house parties, shopping centers, community centers, wherever we could get a gig. Then I met Thomas, then we met Whit, we became The Paladins and the next thing you know, we've been doing it for 20 years.

RHOF: After all this time, do you still like playing the music?
DG: I love it! I can't get it out of my head, I'm writing songs all the time and I just wish I had more time to do everything!

RHOF: I'll give you the final word. What would you like to say to your fans and to all the lovers of original rock'n'roll music?
DG: Don't give up on it. It's good music and if you treat it right it'll always be around. It may not be the most popular thing, but it's the coolest.



Our sincere thanks go out to Alexandra Greenberg at Hoopla Media and Public Relations for setting the interview up and to Dave Gonzalez for personally fact-checking the transcript of our conversation. You can order all of the discs discussed here through the band's website www.thepaladins.net and e-mail the band at: thepaladins@hotmail.com.



Ken Burke can be reached at: DrIguana1@aol.com

photos courtesy Dave Gonzalez