Capitol Records Reissues
2 Original Gene Vincent Albums
On September 17, 2002 Capitol Records will reissue the legend's first 2 original albums, BLUEJEAN BOP and GENE VINCENT & HIS BLUE CAPS. Both Gene Vincent and the Blue Caps albums have been completely remastered with added bonus tracks, and the latter album also includes an essay from fan and guitar-legend-in-his-own-right, Jeff Beck.

Rockabilly legend and mythic Rock figure, Gene Vincent, lead the early Rock 'N' Roll charge along with friend Eddie Cochran (Gene survived the same 1960 car accident that killed Eddie). Known mostly for his 1956 smash crossover hit "Be-Bop-A-Lula" (#7 Pop, #8 R&B, #6 CW) and a singing style similar to Elvis Presley, Gene had several brilliant lesser hits now included as bonus tracks on his reissued first album. His dynamic act was also captured in one of the earliest Rock scenes in a Hollywood movie, THE GIRL CAN'T HELP IT. The sophomore 1957 album, GENE VINCENT & HIS BLUE CAPS, features some of his best Rockabilly work with band The Blue Caps. One of Rock's original bad boys, he died at the age of 36 in 1971 from a ruptured stomach ulcer and was inducted to the Rock & Roll Hall Of Fame in 1998.

TRACK LISTINGS:
BLUEJEAN BOP
1. Bluejean Bop (#49)
2. Jezebel
3. Who Slapped John?
4. Ain't She Sweet
5. I Flipped
6. Waltz Of The Wind
7. Jump Back, Honey, Jump Back
8. Wedding Bells (Are Breaking Up That Old Gang Of Mine)
9. Jumps, Giggles And Shouts
10. Lazy River
11. Bop Street
12. Peg O' My Heart
BONUS TRACKS
13. Woman Love
14. Be-Bop-A-Lula (#7)
15. Race With The Devil (#96)
16. Gonna Back Up Baby
17. Well, I Knocked Him, Bim Bam
18. Crazy Legs

GENE VINCENT & HIS BLUE CAPS
1. Red Blue Jeans & A Pony Tail
2. Hold Me, Hug Me, Rock Me
3. Unchained Melody
4. You Told A Fib
5. Cat Man
6. You Better Believe
7. Cruisin'
8. Double Talkin' Baby
9. Blues Stay Away From Me
10. Pink Thunderbird
11. I Sure Miss You
12. Pretty Pretty Baby
BONUS TRACKS
13. Important Words (version one)
14. B-I-Bickey-Bi, Bo-Bo-Go
15. Five Days, Five Days
16. Teenage Partner (version one)
17. Five Feet Of Lovin' (version one)

---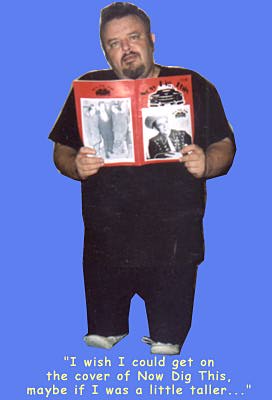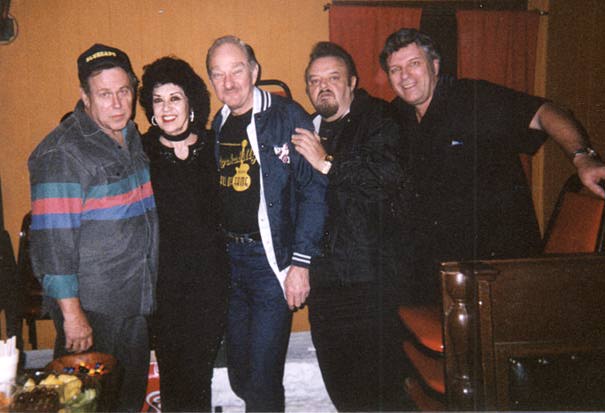 December 2001, California, with me friends.