ROCKABILLY HALL OF FAME® MERCHANDISE & SERVICES
Beaumont High Grads: Please see the bottom of this page.
This page sponsored by: "Friends of Burl Boykin"

The Johnny Cash / Burl Boykin connection is found in the lower portion of this page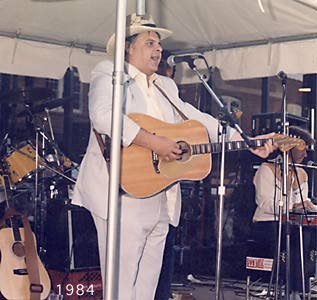 BURL BOYKIN
The music spotlight falls on boisterous Burl Boykin of Beaumont, once known as "Little Elvis" for his spirited version of "Hound Dog. Boykin, no lightweight in either physical presence or performance, said he loses 27 pounds everytime he does a rendition of the song. Boykin's true ideal, however, is country music star Johnny Cash. Like the Man In Black himself, Boykin always wears black on stage. He also does a credible performance of Cash's songs.

Boykin hit the music trail as a 6-year-old yodeler, learned to play the guitar in high school, and formed his first band, The Rockin' Rebels, with Johnny Winters, who himself went on to fame, as lead guitarist. In 1960, Boykin cut a rockabilly tune "Let Me Come Your Way," that became a big hit in England.

He has promoted, traveled and performed on the road with country music stars Cash, Buck Owens, June Carter, Carl Perkins, The Statler Brothers, and the Tennessee Three. His boisterous and joyful performances have never disappointed an audience.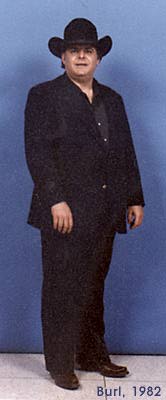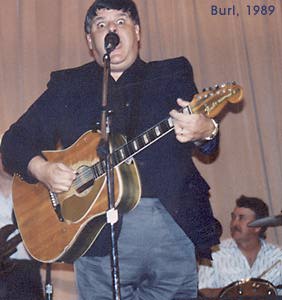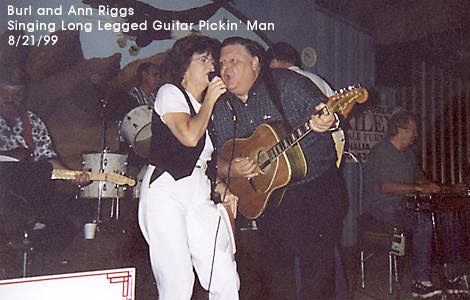 ---
Let Me Come Your Way
by Burl Boykin and Robert Todd

Hey, little girl
Tell me where you're going
Let me come with you
And then you'll be knowing,
That I love you, will be true
No one else will ever do.
Let me come your way.

You say you're just walking
Why don't we start talking
I want to tell you,
I'll treat you right
The rest of your life
You'll never ever have
Any trouble or strife.
Let me come your way.

Well, I must be going
See you tonight
We'll be together
Gonna hold you tight
Kiss your lips,
Hold you tight
It's gonna be this way
The rest of my life
'Cause I'm coming your way
'Cause I'm coming your way
'Cause I'm coming your way





Flipside: "Life In A Dream"
BURL BOYKIN, Vocal
JOHNNY WINTER, Lead Guitar
JIMMY SIMMONS, Saxophone
MIKE GRIMES, Piano
TOBY HANKS, Slap Bass
DAVID WILSON, Drums

ACA RECORDING CO.
Houston, Texas
Glad Music Publishing, Houston, Texas, 3-60





---





Personally Handled by Burl Boykin
With Meeting Planners, Promoters and Organizers...


Mid Term Democratic Convention
Church of God in Christ - 20,000 +
Amway National Convention
National Square Dancers Convention
National Fire Fighters Convention
International Winston Car Show
National Home Builders Show
Mid South Arts & Crafts Show
National Gospel Quartet Convention
Closed Circuit T.V. Boxing - 10,000
WWW Wrestling
USA-USSR Boxing
Kick Boxing
Orgill Brothers Trade Show
National Assoc. Of Talent Directors
Federal Express Christmas Parties/Trade Shows
New York Metropolitan Opera
Memphis Symphony
Memphis Ballet
Memphis Opera
Helen Britt Gift and Jewelry Show
American Bowling Congress (set up complete bowling alley)
Cotton States Fashion Show/Trade Show
Oral Roberts/Jimmy Swaggert/Reverend Ike
Johnny Cash/Statler Brothers/Carl Perkins/Carter Family
Rodney Dangerfield/Bob Hope/Joan Rivers
Hank Williams, Jr./George Jones/Jerry Lee Lewis
Willie Nelson/Waylon Jennings
Air Supply
Wayne Newton
Ted Nugent
Stevie Wonder
Billy Joel
Donnie & Marie Osmond
Tom Jones
Eddie Murphy
Foreigner
Mid South Concerts
Barry Manilow
Amy Grant
Kenny Rogers and Dottie West
Sha-Na-Na
A/C D/C
Johnny Winter/Edgar Winter/Rick Derringer
Alabama/Lee Greenwood
Reba McIntire/Steve Warner
Elvis Presley (Back Stage)

Plus many more too numerous to mention
Burl is a Member of the following organizations:
Ole Miss Alumni
National Assoc. of Talent Directors
Country Music Association
Kappa Sigma Alumni
International Assoc. of Auditorium Managers
Delta Sima Pi Honorary Business Fraternity
Pi Sigma Epsilon, National Marketing Fraternity
International Assoc. of Amusement Parks and Carnivals
Nashville Association of Talent Buyers

---




BEAUMONT, TX HIGH SCHOOL, the school that graduated the "Big Bopper" J.P. Richardson,
Burl Boykin, and the Winter Brothers: Johnny and Edgar.

In 1959 on Burl's Clover Records, "Let Me Come Your Way" and "Life is a Dream" were recored at the ACA Recording Studio. The band members: Burl Boykin, vocals and guitar; Johnny Winters, lead guitar; Edgar Winters, sax; Dave Wilson, drums; and Mike Grimes, piano.




Burl in 1957 while at Beaumont High








Also visit the Rockabilly Hall of Fame's EDDIE BOND PAGE


SONNY TAYLOR, R.I.P.



C. W. Gatlin, notice the soulful look of his Telly!


Burl recommends that you visit and support the Sheriff BUFFORD PUSSER Home & Museum Website. Eddie Bond is releasing a song new dedicated to Bufford.






SUNDAY, SEPTEMBER 14, 1969, Jane Boykin (at age 25) and Burl Boykin (at age 29) with Johnny Cash backstage at the Hemisfair Arena in San Antonio, Texas. 22,000 people attended the show.


IN 1995, Johnny Cash marked his 40th anniversary in country music - also a Grammy winner that year. Burl had the opportunity to celebrate with Johnny and June for a weekend at the Cash's Nashville home.







above photos courtesy: Burl Boykin














Rockabilly Hall of Fame Related Sites
Eddie Bond | Mack Self | Elvis Presley | Elvis Lives Here
Bufford Pusser Museum Page

Contact Burl: 662-234-0402








© Rockabilly Hall of Fame ¨