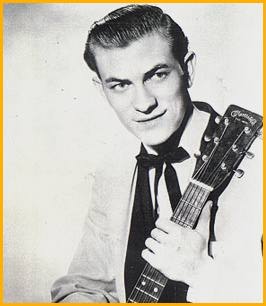 May, 2002
What a pleasure it is having a page here and what an honor to be inducted into the Rockabilly Hall of Fame. When I departed MGM, I never expected all these wonderful things that have happened to me to take place after all these years.
My dispute with MGM was with producer Morty Craft, who "doctored" my recordings to make then "sound better." I simply felt it was not true Rockabilly. Then a popular DJ named Jim Flaherty, a good friend, called one day to play a record over the phone by this kid from Sun Records who was playing Bill Flagg music, he said. This young man from Memphis was turning out some good recordings while I was being pushed into the pop market.
Morty Craft, Monty Bruce and Dave Miller were partners in a small label called Bruce Records of New York City. They broke up when Dave Miller discovered Bill Haley and released the first "Rock & Roll Records, Rock Around the Clock."
Morty Craft went with MGM as A&R man and Monty Bruce started his own label, Tetra Records. He signed Jody Gibson (Joe D. Gibson) who told him about the music I was playing in Hartford and the big crowds we were drawing with it. At that time I called it "Rockbilly."
Monty offered me a contract naming himself as manager of my affairs. This was a ploy utilized by many small label owners in those days. He was also the son-in-law of famous DJ Alan Freed, who, as you know, named Rock & Roll. Freed was amused at my referring to this sound as "Rockbilly", and I think it was he who talked Monty into eventually changing it to "Rockabillie," so it wouldn't sound so hillbilly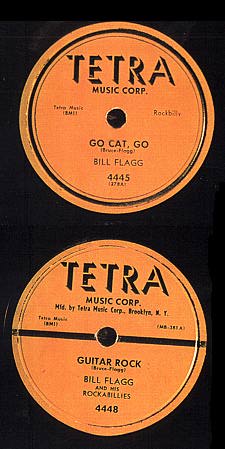 We went to Bell Sound in New York and recorded "Doin' My Time" - "Roll in My Sweet Baby's Arms" - "Can't You Hear Me Calling" and "Six White Horses." This was the music I was playing back in Hartford that was commanding such a big following. After the session Bruce wanted information on all these wonderful songs I had written and when I told him none of them were mine he nearly fainted, exclaiming he would not release anything but original material. So at 3-AM that morning I was sent into a back room to write four original songs to be recorded then and there. I had never written a song in my life, and obviously Mister Bruce was no A&R man.
After both recordings, "Go Cat Go" and "Guitar Rock" went into the Billboard charts, Bruce told me he was selling my contract to MGM and would retain the position as my manager. After what Craft did to "I Will Always Love You" and "Doing My Time." I decided to seek another label. At that time my father suffered a heart attack and I decided to remain at home and help in his business of buying and selling saddle horses.
As time went by I abandoned the idea or recording for I came to think I'd never get to put down the true Rockabilly sound. By this time Elvis was already overwhelming the market. I played the same club for the next ten years keeping a rather low profile. During that time my dad passed away and I finally gave up music to pursue other interests.
My son Bob had joined a Bluegrass band and was plying festivals regularly. I wrote a few originals for them and every now and then I sat in on a recording session or a rehearsal. Several times they offered me a guest spot with them, but playing festivals miles from home was not a top priority on my list of fun things.
They booked a festival in Stafford Springs, about an hours drive from where I lived, so I decided to play it with them. The response was overwhelming. The people seemed to enjoy the music of an old has-been. The entertainment director for the town of East Hartland, Jennifer Abalan, offered me the opportunity to produce a Bluegrass festival for the town. The festival was a great success from the start and this led to a CD by popular demand. People wanted recordings of my songs.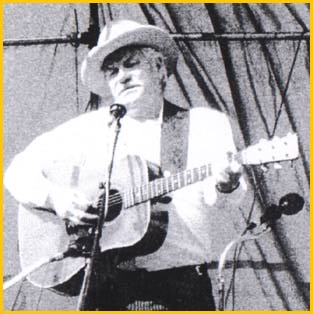 A popular DJ in Springfield, Dave Helman, played "The Great American Special" and the thing took off, not only selling here in the USA bit reaching foreign markets as well. It was strange, but a great deal of my correspondence from overseas was inquiring if I was the same Bill Flagg who recorded Rockabilly music back in the fifties.
My next recording project, health permitting, will be to do Rockabilly the way I should have done it in the first place, just for the satisfaction of getting it down the way I intended it to be.
Whether or not I am recognized as the originator matters little to me now, for I never thought of myself as doing anything more than giving this great music a name.
It's just an honor to be accepted into the Rockabilly Hall of Fame and if I had the opportunity I would not hesitate to do it all again. I didn't make money, but I played the places the ordinary beer-joint entertainer could never dream of playing, and met people I new would have met otherwise.
Sincerely,



Bill Flagg, "Hobo Bill"