HANK III FOLLOWS "FAMILY TRADITION"
AND OTHER REVIEWS

BY BARRY M. KLEIN - March, 2002


Three recent CD releases by traditional country music icons, Merle Haggard, Hank Williams, Jr., and Freddy Fender, are drawing attention from today's critics and listeners, and it's warranted.

As no surprise to anyone who reads my articles and interviews for the Rockabilly Hall of Fame, I admit to being a Merle Haggard fanatic, and I'm not yet in recovery. His most recent release, "Roots Volume 1", has been well received. Even rock critic and author, Dave Marsh, in the January 2002 issue of Playboy, lauded "Roots" and rated it a 9 on a scale of 0 to 10.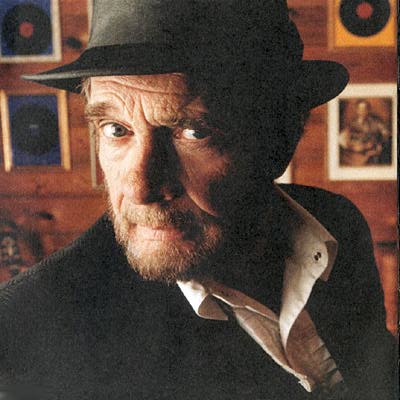 MERLE HAGGARD

The "angle" on this CD is that, for the most part, the songs are a tribute to traditional country artists, including Lefty Frizzell (whose songs comprise five of the twelve cuts on the CD), Hank Thompson, and Hank Williams. This is not necessarily a new concept for the Hag, who in 1978 released a wonderful LP entitled "That's The Way It Was In '51", which was a tribute to Lefty Frizzell and Hank Williams. The title cut on that LP was penned by Haggard and was a poignant, heartfelt song. Anyone who has heard Lefty Frizzell's songs can identify the significant influence he has been on Merle Haggard's own unique persona as a song stylist. The year before "That's The Way It Was In '51", Willie Nelson did a tribute LP entitled "To Lefty From Willie", and this album was devoted solely to Lefty Frizzell's songs. What makes "Roots Volume 1" unique is the appearance of Norman Stephens, Lefty's long-time guitarist, who joins Haggard's tremendously talented band, The Strangers, for this CD, and perhaps on a regular basis.

There is even a very well produced video of the Lefty Frizzell song, "If You've Got The Money (I've Got The Time)" from "Roots Volume 1", which I saw recently on CMT, and is lip-synced by Hag and his band on the video. It really is a lively video, but seeing the frequent shots of the Hag, along with long-time Stranger's drummer Biff Adams in the background, it seems somewhat anachronistic to have these honky-tonk legends immersed in a high production video. Every time I ever saw Hag sing on TV before this, it was really "live", and captured the flavor of his personal appearances. Notwithstanding all of this, the CD is very good, and was recorded in Merle Haggard's living room with no overdubs.

Two pages of the liner notes on the enclosed booklet in the CD are penned by Norm Stephens, who reminisces about how he met Hag, the good old days with Lefty, and how Norm and Merle Haggard hooked up recently after years of not being in touch.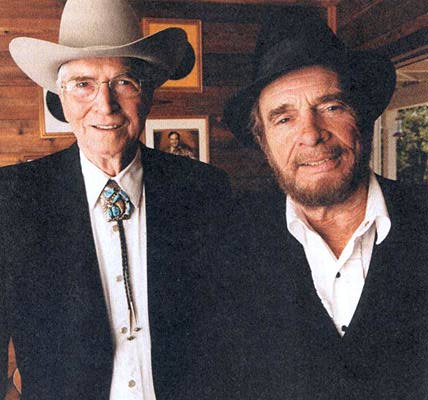 NORMAN STEPHENS, FORMER GUITARIST FOR LEFTY FRIZZELL,
JOINS MERLE HAGGARD ON HIS NEW CD,
"ROOTS VOLUME 1"



Before specifically addressing Hank Williams, Jr.'s recent release, "Almeria Club", I'd like to share some irony of having these two county music giants releasing CD's within close proximity of each other.

In 1981, I think (I am dictating this review from my Florida home, and do not have access to my bigger music library in Michigan) Hag and Bocephus were at the pinnacle of their careers, and each released a CD at the same time. On Hag's CD, he covered Hank Williams, Jr.'s "I Don't Have Any More Love Songs" and playfully acknowledged "borrowing" Hank's song for his CD. On Hank's CD released at the same time, he covered a Hag classic, "Footlights", and dropped Hag's name in turn.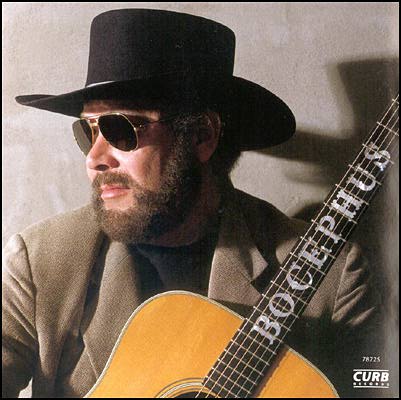 HANK WILLIAMS, JR.

Well now I can report that both Hag and Hank can "crowd every jukebox" in 2002 (just like Hank, Sr. and Lefty did in '51), because Bocephus does a great job of integrating all of his musical influences on this CD. Much of "Almeria Club" was recorded at the landmark night spot, which was built as a schoolhouse in 1907 and Hank Williams, Sr. performed there in the late 1940's. The first song on the CD, "Last Pork Chop", is a Thunderhead Hawkins song and demonstrates Hank Jr.'s ability to sing an up-tempo blues song. The second cut, "Go Girl Go", is a rockabilly song that Hank puts his own imprint on, and it too really rocks and sounds great. The third song is a masterpiece called "The 'F' Word", which not only pokes fun at the morals of cussing in country music, but also features the harmonizing vocals of Kid Rock, and some of Bocephus' observations about the next generation, including Kid Rock and "Shelton", the real name of Hank Jr.'s son, rising star Hank Williams, III.

"The 'F' Word" is still clean enough to play on country radio, and it's hard to listen to the song and not chuckle. There really aren't any "fillers" on this CD, with the possible exception of an acoustic version of "Last Pork Chop", which still showcases Hank's musical talents.

Listening to these two CD's reminded me of how lucky I was in 1986 to see, at Detroit's Cobo Hall, a concert opened by Ricky Skaggs, followed by Merle Haggard, and then closed by Hank Williams, Jr. It had to be one of greatest country concerts I have ever seen, and during Hag's set, one of his fiddlers at the time, Jimmy Belkin, gulped down a whole bottle of whiskey during one of the songs. Notwithstanding the fact that Hank Jr. was known for some erratic performances in the heyday of his career in the late 70's and early 80's, his performance in Detroit was practically "other worldly" - he was winging it all the way, playing whatever he wanted from country to rock to blues, and tackling every instrument on the stage from drums, piano, guitar, etc. That night particularly showed the genius of Hank Williams, Jr.

A few nights before dictating this review, I listened to the first CD of the "Bocephus Box" while driving from Miami to Naples, Florida. It is interesting that in the careers of Merle Haggard and Hank Williams, Jr., there have been so many hits played on the radio, followed by compilations of "greatest hits", people tend to overlook the old records and CD's, most of which contain some great "gems" that don't find their way on to the later compilations. I have noticed recently that amazon.com has some remarkable sale prices on older Hank and Hag CD's, and many of these contain some great songs that do not appear on the later "packages of hits". It is a nice feeling to know that these two icons of country music can still release material that is good, and still demonstrate why they are legends.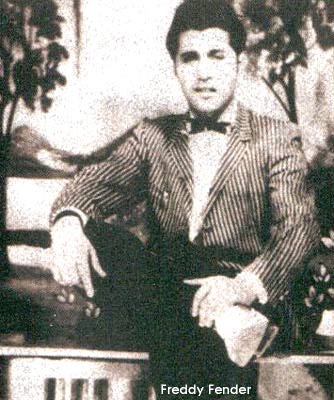 .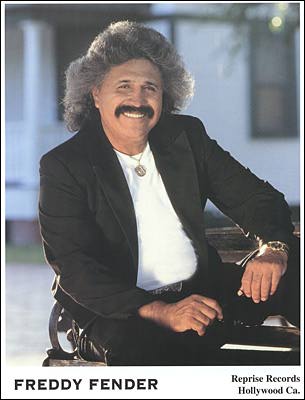 FREDDY FENDER - Then & Now

Another country singer, Freddy Fender, released an album recently, just prior to his well-publicized kidney transplant. Freddy Fender released a new CD, "La Musica De Baldemar Huerta", which is Freddy's real name. Fittingly, most of the songs on this CD are in Spanish, except for the last two bonus tracks which include English versions of two of Freddy's hit classics, "Before The Next Teardrop Falls" and "Secret Love".

Overcoming a difficult childhood, growing up in a poor Hispanic neighborhood, Freddy performed as a rock & roller in the late 50's, using stage names such as El Be-Bop King, Freddy Fender, Eddie Madina and Scotty Wayne before finally settling on Freddy Fender.

During the dawn of the Texas "Outlaw Movement", Freddy's major breakthrough came in 1974 when "Before The Next Teardrop Falls" topped both the country and pop music charts. Another gold record classic, "Wasted Days and Wasted Nights", followed, as did another crossover smash hit, "Since I Met You Baby". Between 1975 and 1977, he had nine songs in the country top ten charts! The last song on this CD, "Secret Love", was written by Freddy but became a number one hit for Doris Day. Freddy broadened his career to acting in the 1980's including a co-starring role in the Robert Redford indie smash, "Milagro Beanfield War", and shortly after that, he became a member of the super group, "The Texas Tornadoes", whose members included Auggie Meyers, the late Doug Sahm (Sir Douglas Quintet), and Flaco Jimenez.

"La Musica De Baldemar Heurta" features Fender returning to his roots and recording songs he first heard during his youth in Texas's Rio Grand Valley.

While Freddy is coming "full circle" in his career, his recent kidney transplant demonstrates something of a similar phenomenon: his daughter, Marla Huerta Garcia, underwent laparoscopic surgery to remove one of her kidneys in order to donate it to her father. During his recovery, Freddy requested that his fans donate blood to their local blood banks in lieu of flowers or gifts.

After hearing about Hank Williams III music and live performances, I thought I should listen to his new CD, "Lovesick Broke & Driftin'". Being an owner of every Wayne Hancock CD, I can say it is no small coincidence that Hank III salutes Wayne as "My best friend out there", because Wayne is an obvious influence on his material, and I intend this as a compliment.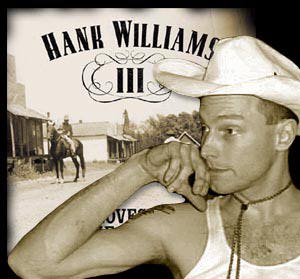 HANK WILLIAMS III
PROMO PICTURE FOR "LOVESICK BROKE & DRIFTIN'"

There are some very quality performances here, and much of the songs' themes focus on the honky-tonk style of "Wayne the Train". The first cut, "7 Months, 39 Days", sure reminds me of Johnny Paycheck's "Eleven Months and 99 Days", but why quibble, because this is a product that is very listenable, and I enjoy the CD every time I play it.

I read an article about Hank III in the March-April issue of "No Depression", and it was interesting to learn some of Hank III's influences, which, like his dad, cover many genres of music, which makes him the same rebel today that his father was 20-25 years ago. Yet in the article, he seemed to distance himself from his dad, citing his being raised substantially by his mother, and that his dad provided little financial help. I suspect there's a little denial here, but Hank III is determined to do it his own way, just as his father did, and he's off to a good start, at least in the music department. As far as the lifestyle, maybe he ought to listen to Waylon Jenning's "Are You Sure Hank Done It This Way?"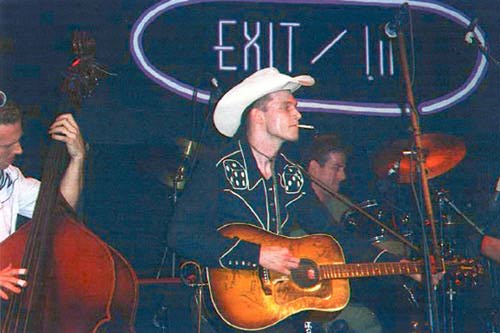 HANK WILLIAMS III in NASHVILLE

In many ways, Hank Williams III is following the "Family Tradition". Live long and prosper, Shelton!




Editor's Note: Barry Klein writes for the Rockabilly Hall of Fame, and his book, "Sex, Drugs and Rock & Roll", was published in 1997.




© Rockabilly Hall of Fame®