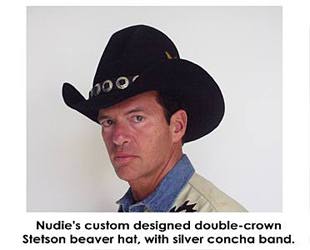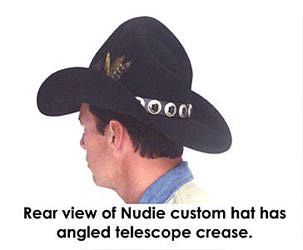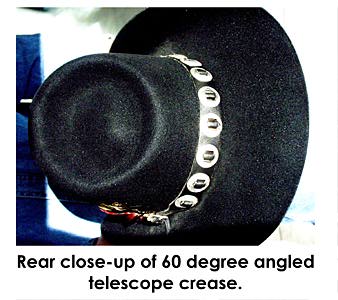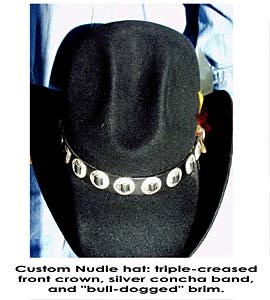 September 27, 1980
By Barry M. Klein

Copyright 2000
Rockabilly Hall Of Fame and Barry M. Klein
All Rights Reserved

Nudie. Do you know that name? If not, then you might be familiar with his work. How about the $10,000 gold lame' suit (pictured here) that Nudie designed for Colonel Tom Parker to have Elvis Presley wear in 1956.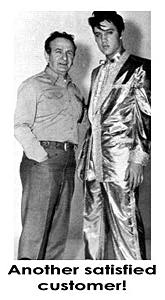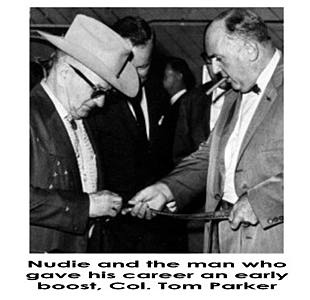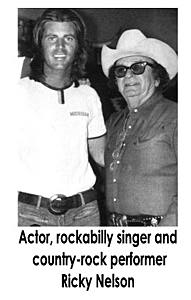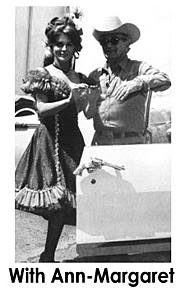 Having been exposed to country music in 1963, when by serendipity I discovered a Detroit country station playing an all day tribute to the late Jimmie Rodgers on the 30th anniversary of his death, my love for country music particularly flourished in the 1 970's when I abdicated listening to much of what was passing for rock and roll at that time. After first discovering Jerry Jeff Walker and the "Texas Outlaw Movement", I became a Merle Haggard fanatic, and the rest is history. By 1980, following the popularity of the movie "Urban Cowboy", it seemed as if everybody was getting into country music.

I had heard of Nudie's North Hollywood "Rodeo Tailor" store during several business trips I had made to Dallas in the 1970's, and when I knew that I was going to be in Los Angeles attending a shopping center marketing conference at the Bonaventure Hotel during the last weekend in September 1980, I knew there was one "side trip" I had to make.
On Saturday, September 27, 1980, I rented a Hertz car and drove to the Nudie Rodeo Tailor store on Lankershim Boulevard, just a stone's throw from the famous Palomino Club. After parking my car in the back and coming in the rear entrance, my senses perceived three surprises: The first was the magnitude of the store. It looked more like a small town main street department store than a tailor shop, the rooms being divided into three large specialty areas. The second surprise, especially for someone walking into a store just after noon on a Saturday, was the sound of a live band playing. The third feature was that practically every square inch of wall space was covered by pictures of Nudie's friends and clients, as well as Nudie's own memorabilia including some Masonic certificates.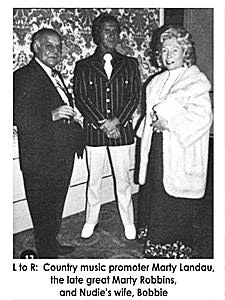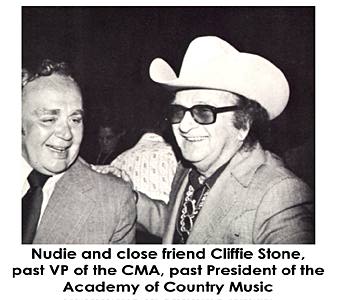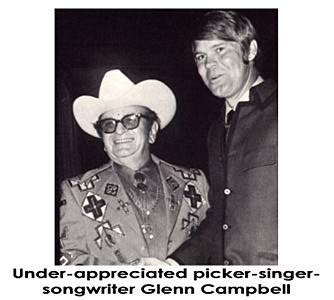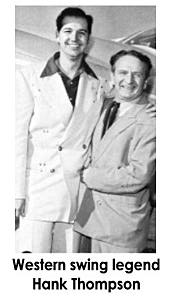 I really didn't know if Nudie was going to be in the store when I arrived, but within 60 seconds, I practically bumped into him while perusing the store. There was no mistaking it was Nudie. Dressed in a bright ornate green suit, a cowboy hat, and two different cowboy boots, one made from snakeskin and the other from ostrich, Nudie overwhelmed me before he said anything. I told Nudie that I had traveled over 2,500 miles from Detroit, Michigan to do two things: attend my shopping center conference and meet him. Nudie immediately took me on a tour of the store, and I found out that the store was basically divided into three parts: Ready-to-Wear clothing, Custom Clothing, and the Boot Department. In the Ready-to-Wear Department, the country band that I had heard when I entered the store was still playing and Nudie apparently had amplifiers and a set of drums available for local groups to play, mostly on the weekends, hoping to be discovered by any of the celebrities, recording stars or producers who came into the store.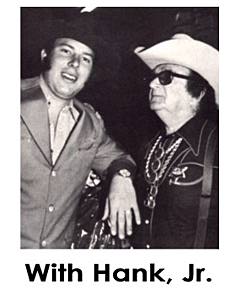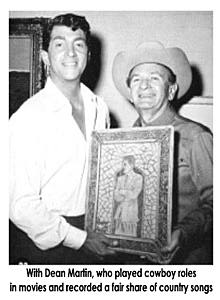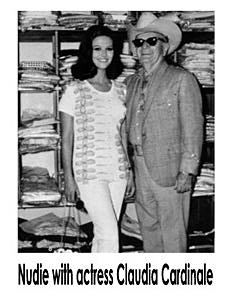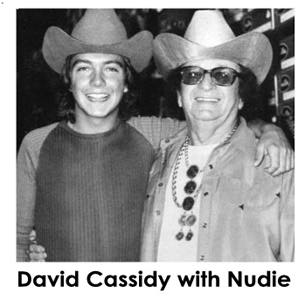 The more Nudie and I talked, the more "common denominators" we found that we shared, and the more relaxed and easygoing he became. When I told him I was from Detroit, he remarked that he lived in the Cass Corridor area of the city of Detroit during the Prohibition Era, and he was a bootlegger at the time, bringing rum and whiskey across from Windsor, Ontario (Canada) into Detroit. When I told Nudie that I was an active Mason and Past Worshipful Master of a Masonic lodge that was located in the Masonic Temple off of Cass Street, very close to where Nudie had lived in the 20's, Nudie told me that he was a Mason, and showed me some awards and certificates he had on his wall. We didn't discuss our religious backgrounds, but I think Nudie could tell I was Jewish, and I noticed his name appeared as Nudie Cohen on several certificates on the walls of the store.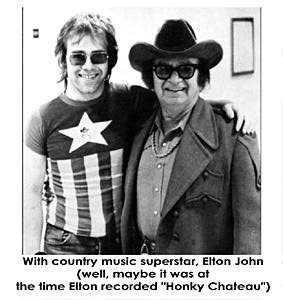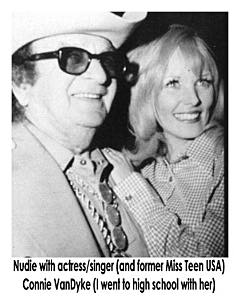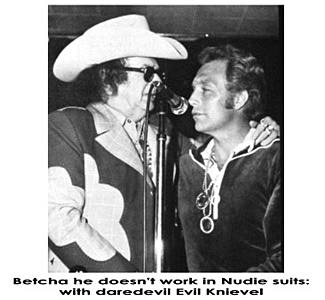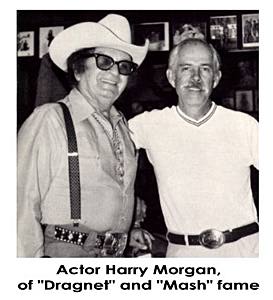 Well, I can tell you that I was in the store with Nudie for that entire afternoon and, although Nudie personally did sell me some merchandise, I could sense he was almost having as good a time as I was. I think Nudie was impressed that a nice Jewish boy from Detroit was knowledgeable about country music. When he asked me who my all-time favorite country singer was, I told him Merle Haggard, and Nudie told me that when Hag comes into the store, he buys at least six suits at a time. I remarked that I once saw Merle Haggard wearing a suit jacket on which there were several pockets with downward pointing belt buckles as ornaments, and Nudie told me that was his jacket.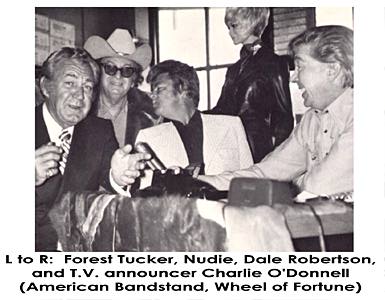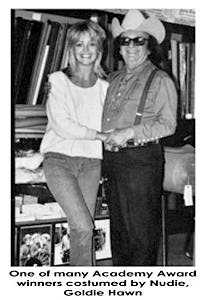 As we went from department to department, Nudie introduced me to the people who worked there, including his Custom Tailor Department. At that time, Nudie was selling suits with short jackets for $750.00, and long jackets for $1,000.00. I really didn't feel I would wear these types of suits back in Michigan, and at that time I wasn't spending that much money for nice business suits either. Having bought a pair of exotic boots about every time I went to Dallas in the 70's, I told Nudie that I probably didn't need any more boots, but inquired if he could do anything special with cowboy hats. Nudie then took me to the Hat Department, where he had some beautiful felt hats by both Stetson and Resistol. Most of the hats I had collected in Texas had been Resistols, but I found a big black, beautiful Stetson 4 X beaver fur hat, and I asked Nudie that since I owned a few hats, could he put his indelible "touch" on coming up with a custom shaping for this hat. Nudie then called in his hat shaper, and had him bow the front and back down while putting a nice bend on the brim sides. Then he had the fellow peak the hat, putting a telescope-style portion on the sloping rear and a triple crease in the front. The hat shaper came back to Nudie a few times while we were talking and looking around, and Nudie would ask me what I thought about it and would tell the shaper what to do next. When it was done, it was a real masterpiece! We looked at hatbands, and Nudie asked me to pick out a concha band, which he thought would look better than the then-fashionable feather bands. The concha band was 40% of the hat's price, but Nudie gave it to me.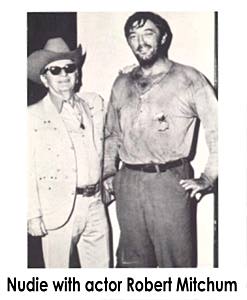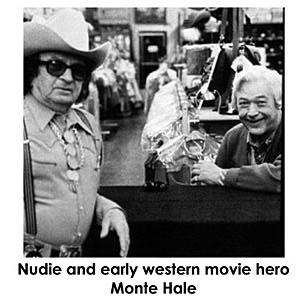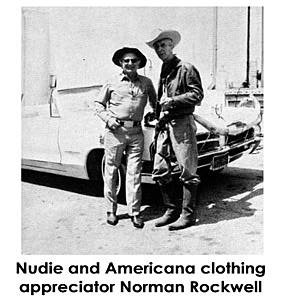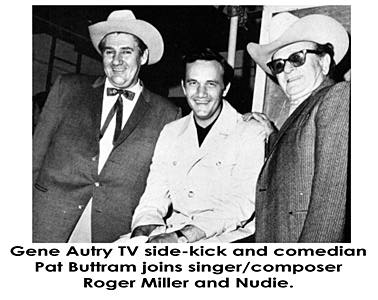 A brief "sidetrack" story: The first time I wore this hat was to a Willie Nelson concert at Pine Knob, a large Detroit area outdoor summer concert venue. I was sitting near the stage before the concert started. About forty rows in back of me, unbeknownst to me at the time, was friend of mine, Scott McCarthy, who was with his wife and two other couples. While looking at the audience, Scott all of a sudden exclaimed, "WOW, LOOK AT THAT BAD ASS HAT!" When he looked through his binoculars, he realized it was me wearing the hat.

Between shopping, talking with Nudie about some of his favorite customers whose pictures were on the walls, and telling me some of the stories behind the stars, I could hardly tell that I was spending hours with Nudie in his store. There were a few occasions when customers would come in and Nudie had to excuse himself for a few minutes, but he always returned to me.
One time a familiar looking tall, trim man approached Nudie to say hello. The man was wearing an outfit that was de rigueur in 1980 for a handsome Hollywood male: White long-sleeved dress shirt, designer jeans and western boots. Nudie introduced me to the man who turned out to be Jim Stafford. Jim was a country singer ("Spiders and Snakes" and "Cow Patty"), comedian, sometime move actor ("Any Which Way You Can") and later television co-host, along with Burgess Meredith and Priscilla Presley, on the series "Those Amazing Animals". Jim and Nudie started to talk, and after a while Nudie asked Jim to join him in performing a song in the bandstand area. Nudie took out his mandolin and asked Jim to accompany him on the piano. A crowd of people who were shopping in the store saw what was going on and the crowd started gathering around the stage area. I initially stepped aside to join the audience, but Nudie made me sit in a director's chair between him and Jim Stafford. Jim had no idea what Nudie was playing, but once they got in the same key, Nudie started singing a song he composed, the main refrain of which was something like:

"Oh baby, why did you leave me?
Oh baby, why did you leave me?
And baby, if you won't come back to me"

Well, the crowd was getting into the song, Jim was keeping his piano up with Nudie's mandolin, and after a while, Nudie concluded by singing the chorus:

"Oh baby, why did you leave me?
Oh baby, why did you leave me?
And if you don't come back to me"

THEN SCREW YOU YOU GOD-DAMNED BITCH!!"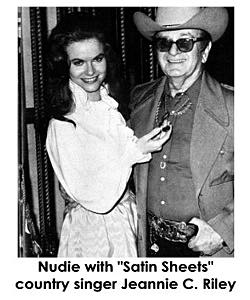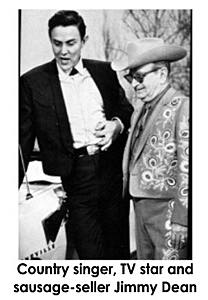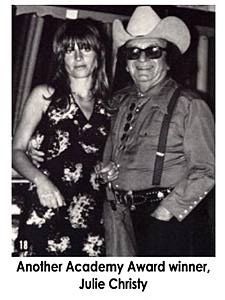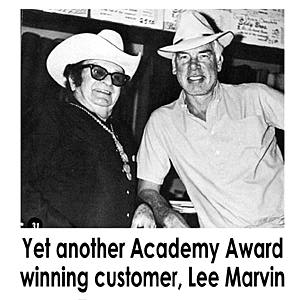 With that conclusion, the audience, as well as Jim Stafford and I, started laughing uncontrollably and applauding, for Nudie's conclusion was such a funny and shocking departure from his gentlemanly demeanor.

Nudie also took me outside to the back parking area and showed me one of his custom automobiles, also pictured in this article. Resplendent with embedded silver dollars, steer horns, guns, rifles, holsters and saddles, I was told that his cars were frequently part of the annual Rose Bowl Parade.

There were at least two or three times during the afternoon that I felt a little self-conscious about all the attention I was getting from Nudie, and I would say, "Well Nudie, you've taken so much time with me and I think this is about all the merchandise I'm going to buy - I should really be getting back to the hotel" Nudie would say, "What's your hurry? Stick around here with me!"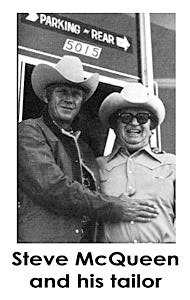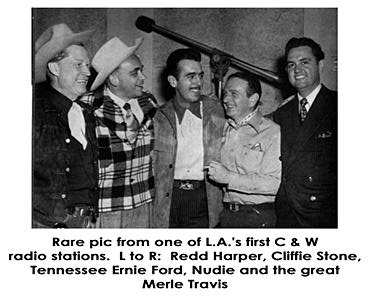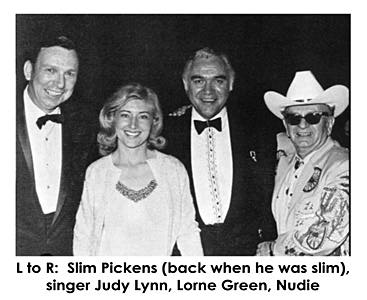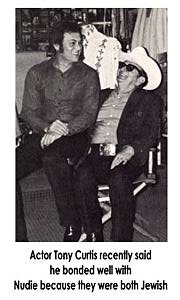 When it was about five o'clock, I finally told Nudie that I really did have to go because there was an awards program that I had to attend, and when it came time to tally up some of the merchandise I bought, Nudie had given me the silver concha band for my hat, a belt, a Nudie's Rodeo Tailor's tee-shirt, and 25% off a corduroy jacket with leather yokes that he had to order and ship me in my correct size. He also gave me an album entitled "Nudie and His Mandolin" which featured over 60 photographs, many of which are included in this article.

Twenty years later, the jacket, belt, tee shirt and, unfortunately Nudie, are gone, but the hat and more importantly, my fond memory of Nudie the Rodeo Tailor, will be with me forever.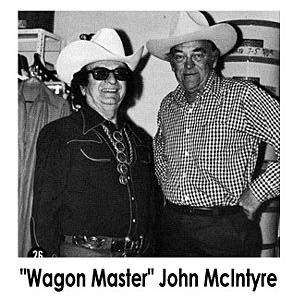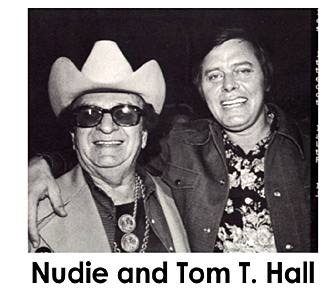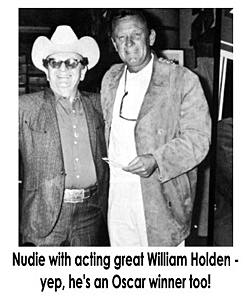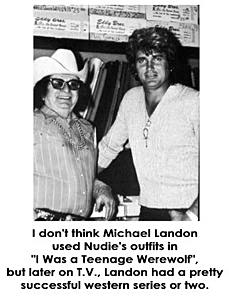 Editor's Note: Barry Klein writes for the Rockabilly Hall of Fame, and his book, "Sex, Drugs and Rock & Roll", was published in 1997. To contact Barry, email him at bmk@bmkre.com


Nudies Rodeo Tailors official website of Nudies suits


© Rockabilly Hall of FameĆ