ROCKABILLY HALL OF FAME® MERCHANDISE & SERVICES
PAGE #15
Viva Las Vegas 2002, #1
Below Article
More VLV 2002 Photos Here




Las Vegas, Nevada, March 29, 2002
Glen Glenn, Sandy Nelson and
Alan Clark at the Gold Coast
by Alan Clark
On March 29, 2002, I had the pleasure to appear at the Gold Coast with rock-a-billy legend Glen Glenn and legendary drummer, Sandy Nelson. We were introduced by Shelby Riggs. The group consisted of myself on guitar; Steve Werner, also on guitar and two of the best slapping bass players around - Russell Scott and Gator; and Sandy Nelson on drums. He can still play the hell out of those drums.
Backing on my part of the show was Russell Scott. Russell is a very talented singer and leader of his own great group, the Red Hots. We opened up with "Summertime Blues," followed by the Gene Vincent hit, "Lotta Lovin'." The room was packed with a great rockin' crowd that made us feel right at home. Next came "Whole Lot of Shakin' Goin' On" with Steve and I sharing leads on this Jerry Lee classic. We then went into one of my favorite Cochran songs, "Twenty Flight Rock." I toured with the Eddie Cochran band in the 1990s. I also recorded a tribute CD of Cochran songs with the Kelly Four. Next came "Red Hot Saturday Night." a song I wrote and recorded with the great Ray Campi on slapping bass. I ended up my set with "Jeanne Jeanne Jeanne." This was Mrs. Cochran's favorite song by her son, Eddie.
Next up was Mr. Everybody's Movin' himself, Glen Glenn. I have had the pleasure to open for Glen on many different occasions. Backing Glen in bass was Gator. He can sure slap the hell out of his bass. Glen opened up with one of his classic, "One Cup of Coffee." He introduced himself and we went into a rockin' version of "down the Line." Glen then gave out some of his photos of him with Elvis. The girls all rushed up to the stage to try to get one. It was great. Next came "Jack & Jill Boogie." Steve played two great guitar solos on this tune. Glen does a fine job on this one. Up next was "If I Had Me a Woman." For some reason, I started this song a little too slow, It still come out good. Glen then went into "Dim Lights, Thick Smoke and Loud, Loud Music." A great old country song.
Glen then introduced Sandy Nelson. The crowd went wild. Sandy went into his classic. "Teen Beat." On his original record, Eddie Cochran's bass player, Connie 'Guybo' Smith played bass. He then into a wild driving drum solo that even had Glen dancing around around on the stage. The whole band just stopped and watched as Sandy did his solo. It was fantastic and the crowd just ate it up. Glen then called Johnny Vallis up to the stage. Johnny is a very talented young man. He also does a great show as Buddy Holly. Johnny and Glen did a great duet on "Blue Jeans and a Boy's Shirt." It went over real well. Glen thanked Bob Timmers and The Rockabilly Hall of Fame. He also thanked Barry Klein for doing a great job as M.C. Next came "Laurie Ann" (Bob's favorite) and "Kathleen" followed by Glen's signature song, "Everybody's Movin'." The crowd really got into this song. Glen still has a great time singing to his many fans. It was a great night at the Gold Coast.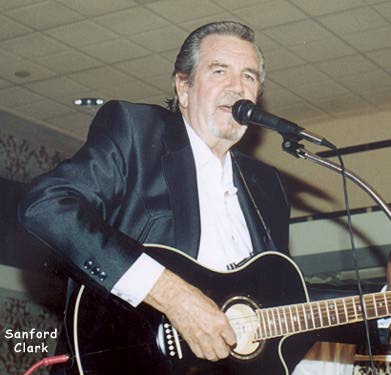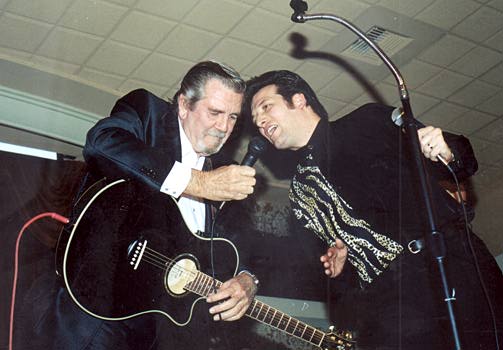 Sanford and Johnny Vallis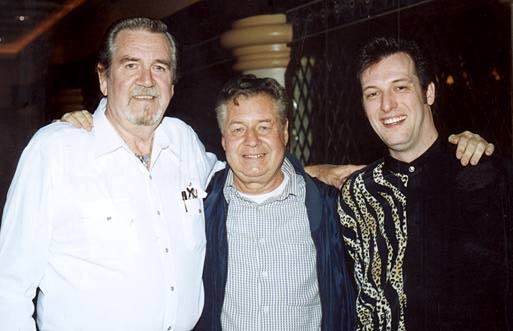 Sanford, Glen Glenn and Johnny Vallis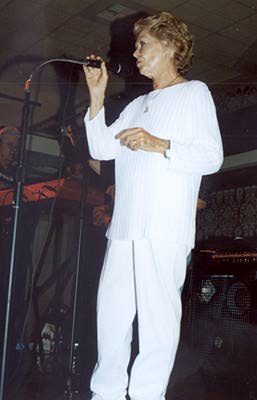 Sue Thompson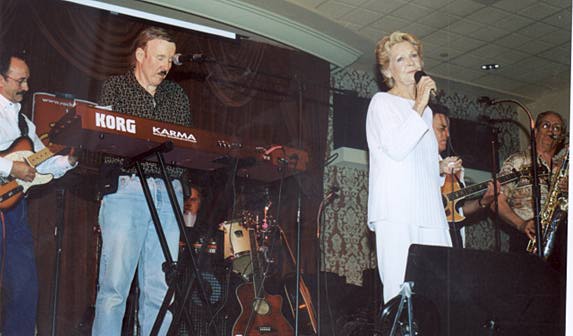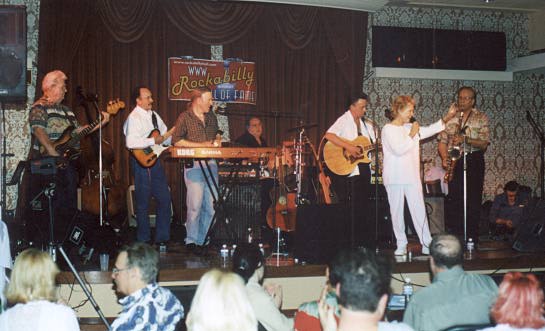 Sue with her "Original" Band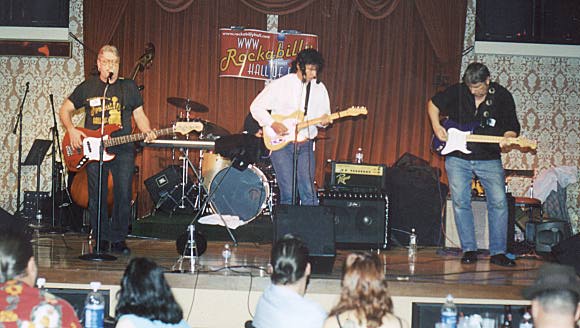 Ronnie Lee Twist (center) with Dave Hermsen and Bob Timmers
Hidden is drummer T.C. Gebheim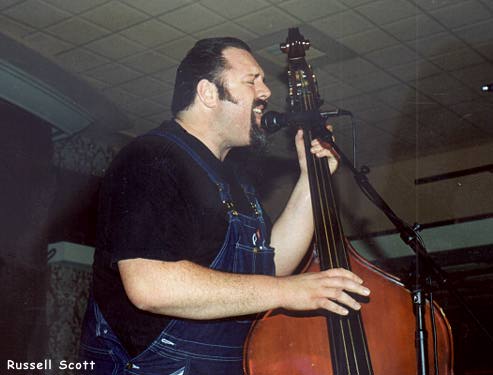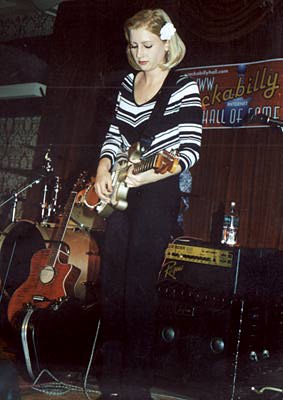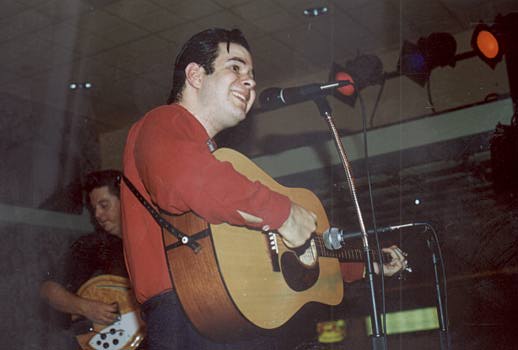 Rip Carson
Barbara Burnette and Bob Timmers
Sanford Clark and Bill Mack
More VLV 2002 Photos Here
© Rockabilly Hall of Fame ®