ROCKABILLY HALL OF FAMEŽ MERCHANDISE & SERVICES

This page is available for "SPONSORSHIP"
BRIAN SETZER 68 COMEBACK SPECIAL
Update: July 1, 2001
BRIAN SETZER '68 COMEBACK SPECIAL IGNITION!
Surfdog Records SD-67124-2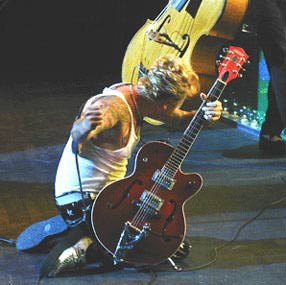 Brian Setzer's back behind the wheel of a rockabilly hot rod and he's taking us all for a breathtaking drive with the trunk full of fourteen brand new tracks. After a couple of years singing about Nightingale's in Berkeley Square and Sammy Davis City, Brian is singing like it's 1981 again. The most devastating thing about the whole album is his guitar playing, which sounds better than he's ever done - and that's no mean feat!
68 Comeback Special who consist of Brian together with slap bass playing friend of the RHOF Mark Winchester, and drummer Bernie Dresel, put their feet to the floor and let rip in all but one song and even that's got a late night cruisin' past the diner feel to it.
The title track is an explosive start and although the backing vocals aren't exactly Moonglows-esque, the guitar more than compensates. 5 Years, 4 Months, 3 Days is a driving rocker influenced by Six Days On The Road.
The next couple of numbers are co-writes with Mike Himelstein, and they're both top notch car songs. Hell Bent is an atmospheric tale of dead-end racing with dynamic guitar and a relentless beat. It's a James Dean film with a Link Wray production. All it needs is for Dennis Hopper to make a cameo. It's impossible to listen to Hot Rod Girl without singing Rant 'n' Rave's, Hot Rod Gang in the chorus. 8-Track is a superb road movie song with a bouncy country beat and if the hot hillbilly pickin' ain't enuff fer y'all, he even gives us an extended yodel. This is a pick-up truck track, not a hot rod job Bob!!
Brian writes his own epitaph on '59. If you want to know what makes the man tick over, just take a listen to this. Mark Winchester joins in the fun, singing his own Rooster Rock, an excellent, macho, rockabilly tale. Santa Rosa Rita is split tempo, mixing swaying cha-cha with manicabilly.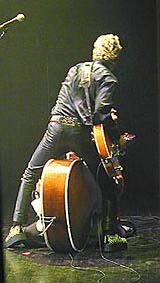 (The Legend Of) Johnny Kool (Part 2) leaves burn marks on the asphalt, with rhythm section and guitar jelling in perfect unison. A scorching guitar solo is as demented as Johnny Kool himself, and both the man and the song come to an end, way too soon. Get 'Em On The Ropes is a far from subtle item, which probably works better live than on my CD player. Joe Strummer and Brian became friends in the early London days of the Stray Cats and have remained close buddies ever since, even going on family holidays together. They've collaborated on the plodding auto-dittie Who Would Love This Car But Me? which has some nice slide guitar, sounding in places very much like George Thorogood. His picking on Blue Cafe echoes back to his Cat days.
The only ballad on the CD is the smooth, doo-wop, curb crawler, Dreamsville. Anyone whose heard Ritchie Valens' version of Malaguena will know what to expect here. Brian and the boys play the hell out of it, and it's a fine way to end the album.
Brian Setzer has been at the front end of a rockabilly revival and a swing revival. Let's hope this is launch of a rockabilly re-revival. It's about time, and this could just be the one to do it. My wife thinks it crap and the worst thing he's ever done. Our divorce is being filed next week. I'm giving her the weekend to listen again and change her mind.
Steel a copy and go for a joy ride. Roll on October, I've got tickets for the London gig and can't wait.
Shaun Mather
June 2001
Shaun.Mather@btinternet.com


---